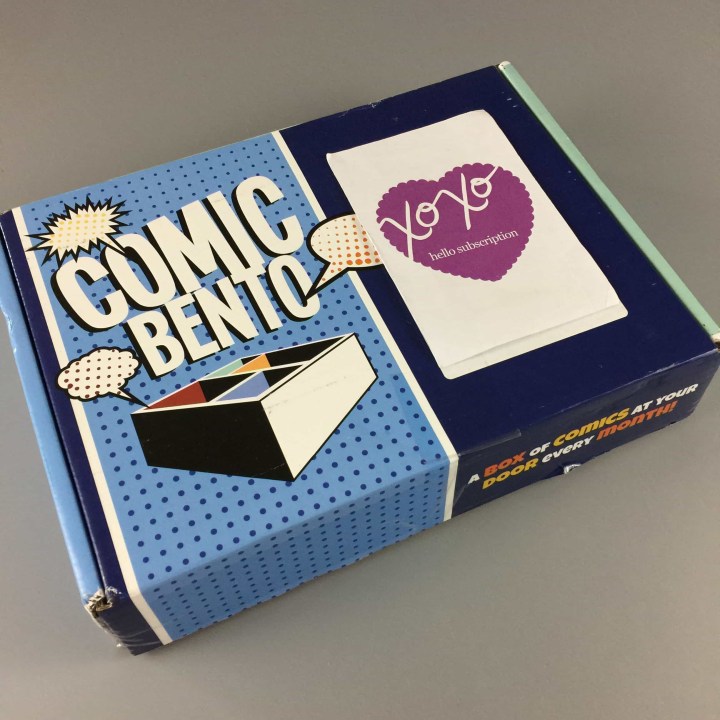 Comic Bento is a monthly comic book subscription service that delivers graphic novels and comics each month. This is a great value because every month, you'll receive at least $50 in books.
Special care is given to each box. To keep the books from jostling about, Comic Bento has all books packed together in plastic with cardboard to keep everything straight.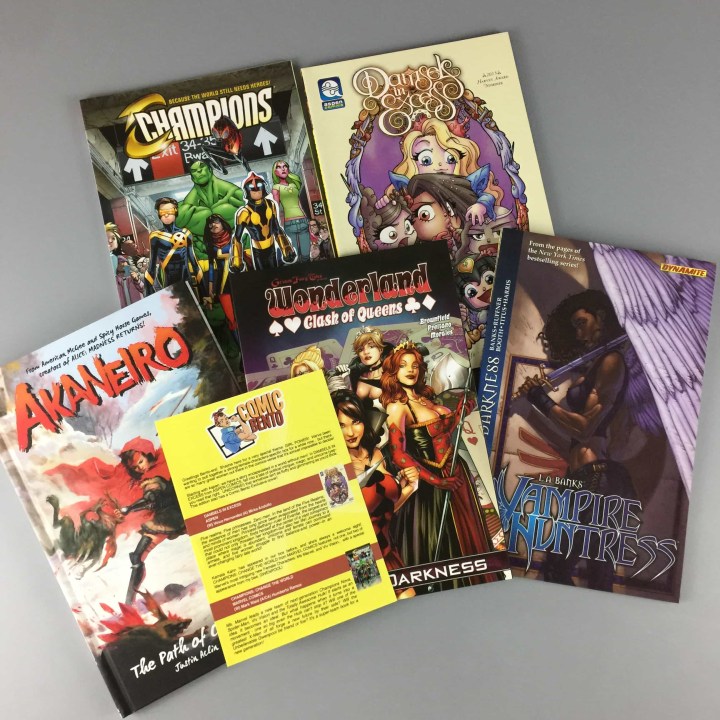 Five books from different publishers. Comic Bento did well including some nice items to their offering this month.
DEAL: Save 15% on any subscription with coupon code FRIEND15.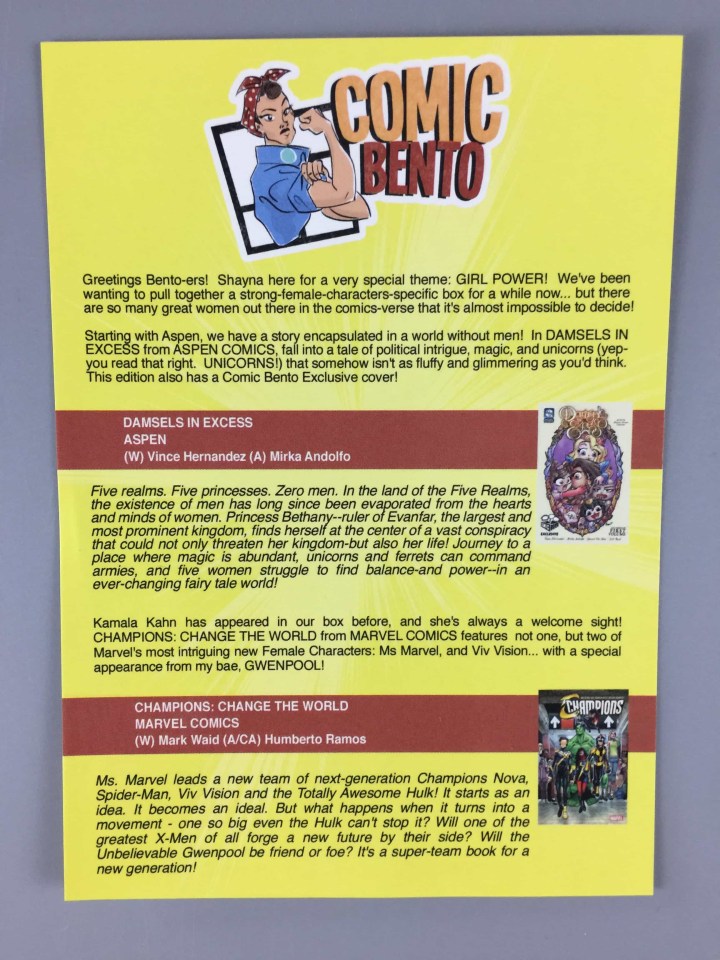 Comic Bento includes a 2-sided card that gives you some insight into the books they sent. They also give some backstory as to why they chose the books within the subscription box. This month's theme is "GIRL POWER!" The big question I have is, "Where is Wonder Woman?" Come to think of it, I don't think I have ever received a DC book from Comic Bento.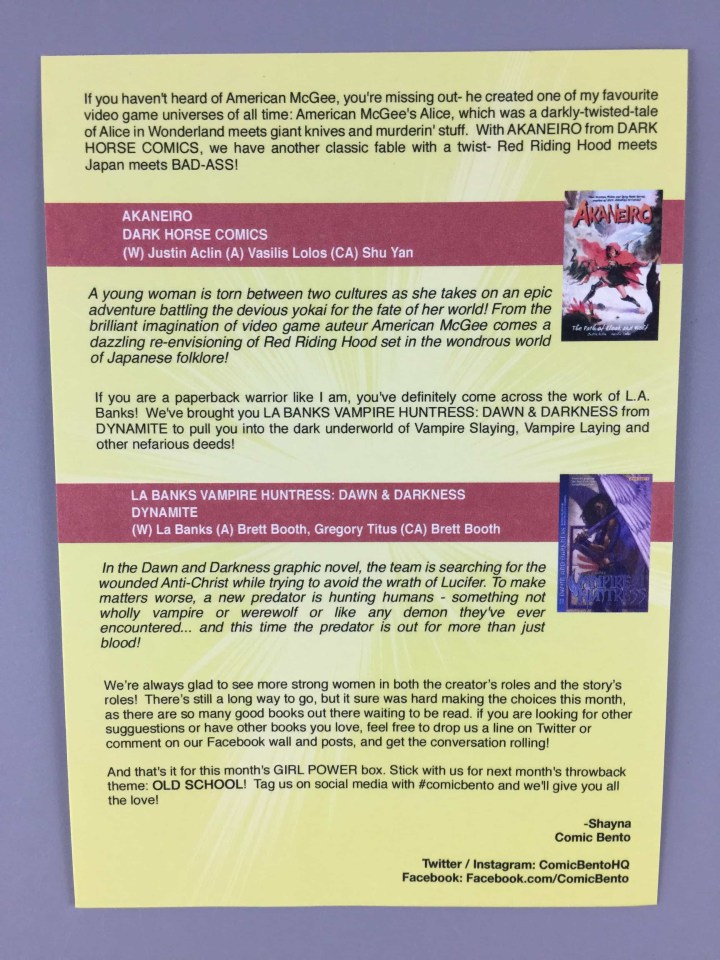 Comic Bento is great at providing variety while sticking to their theme.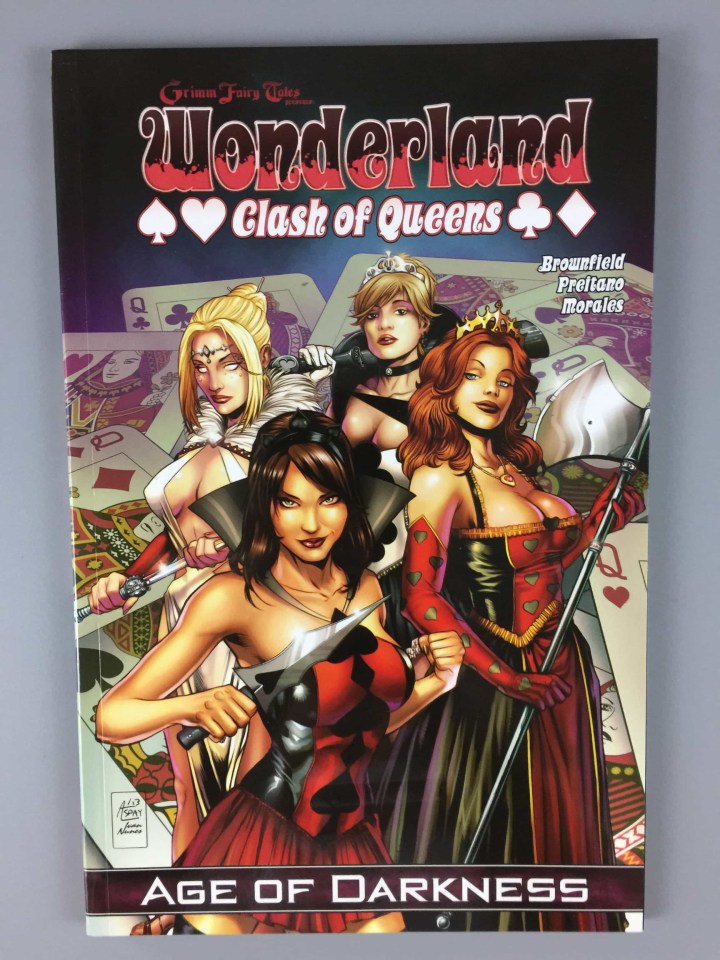 Wonderland: Clash of Queens – Zenescope – $15.99 cover price. The Grimm Fairy Tales from Zenescope have become quite popular.
Vying for control of the realm of madness, each Queen has a trick up her sleeve and an army at her disposal. But a wildcard named Trickster has her own bag of tricks planned. and she's about to throw a monkey wrench into all four Queens' plans.

Zenescope's newest Wonderland spinoff series has arrived and heads will roll!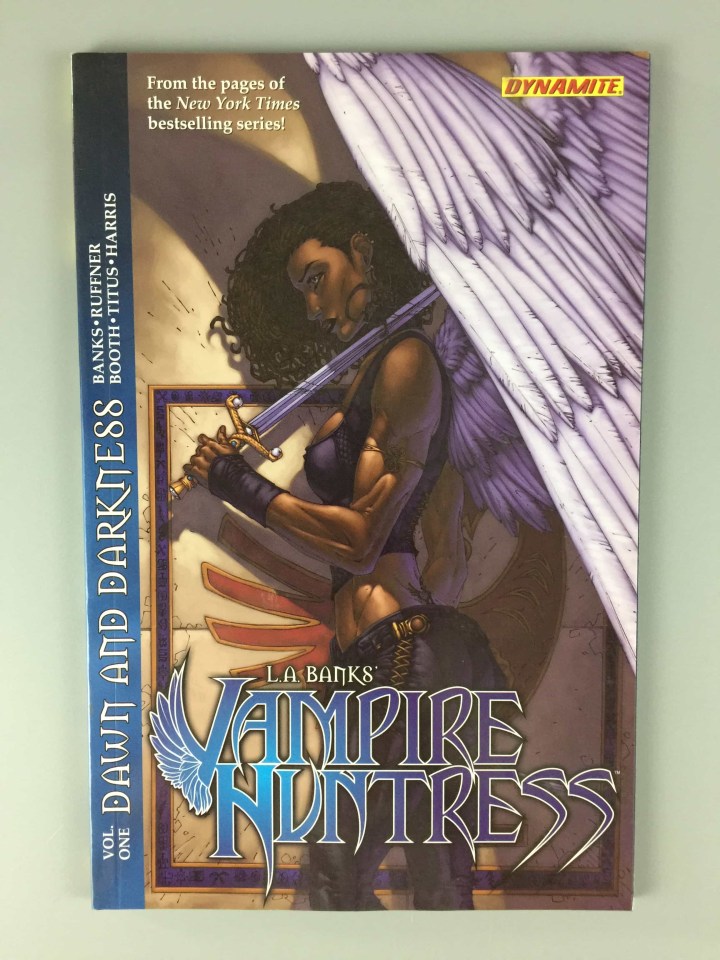 L.A. Banks' Vampire Huntress – Dynamite Entertainment – $16.99 cover price. This sounds like it could be a fun book. There was a certain "Vampire Slayer" that many seemed to enjoy so I'm sure a "Vampire Huntress" should be too far off. One of my favorite artists, Brett Booth, did the cover artwork.
Follow the famed Neterus and the Neteru Guardian Team from the epic 12-novel Vampire Huntress Legend series as they take the fight against evil beyond the Armageddon. In the Dawn and Darkness graphic novel (collecting the four-issue series), the team is still searching for the wounded Anti-Christ while trying to avoid the wrath of Lucifer. Complicating matters, several members of the team are pregnant with the next generation of Warriors of Light, and the darkness wants them and their unborn wiped off the face of the planet. To make matters worse, a new predator is hunting humans — something not wholly vampire or werewolf or like any demon they've ever encountered… and this time the predator is out for more than just blood!
Damsels in Excess – Aspen Comics – $14.99 cover price. This book was up for a HArvey Award in 2015. It definitely looks interesting.
In the land of the Five Realms, the existence of men has long since been evaporated from the hearts and minds of women. Princess Bethany–ruler of Evanfar, the largest and most prominent kingdom, finds herself at the center of a vast conspiracy that could not only threaten her kingdom-but also her life! Journey to a place where magic is abundant, unicorns and ferrets can command armies, and five women struggle to find balance-and power–in an ever-changing fairy tale world!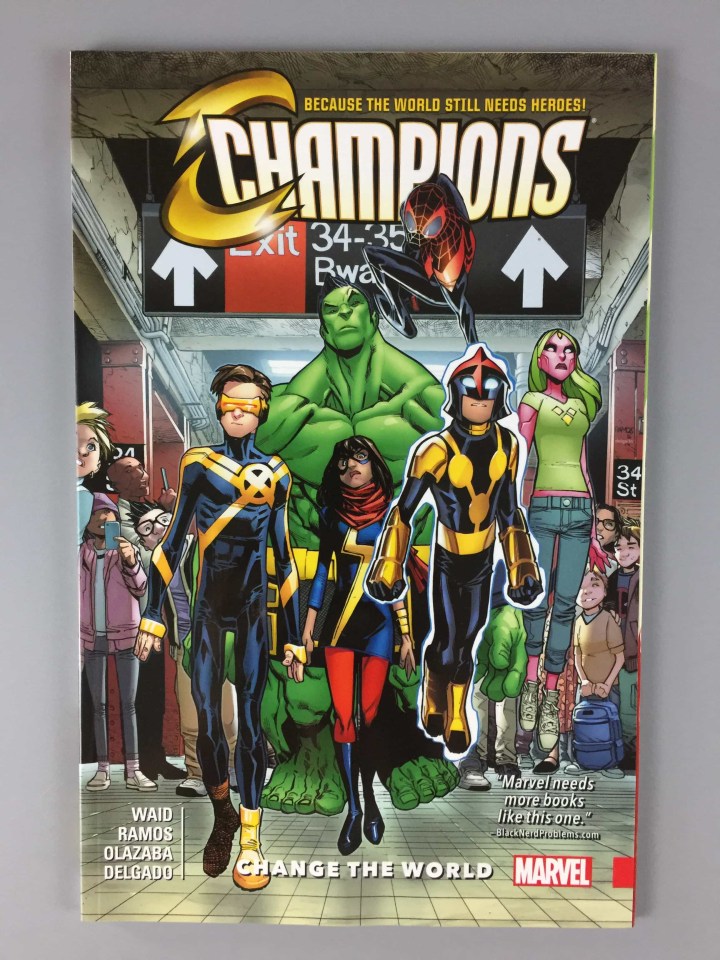 Champions: Change the World – Marvel Comics – $15.99 cover price. I never really got into this series as all of the characters are just re-tooled versions of previous incarnations. I like Ms. Marvel but Hulk with a faux-hawk just doesn't do it for me. My daughter, at age 12, enjoyed the first issue.
One of the great team names in Marvel history returns, in incredible new fashion! During the fallout of Civil War II, Ms. Marvel, Nova and Spider-Man quit the Avengers and strike out on their own! With Viv Vision and the Totally Awesome Hulk by their side, these young heroes are determined to change the world their own way – and they're only the beginning! It starts as an idea. It becomes an ideal. But what happens when it turns into a movement – one so big even the Hulk can't stop it? And will one of the greatest X-Men of all forge a new future by their side? Welcome to the Champions, Cyclops! Unfortunately, not all of your new would-be teammates are glad to see you!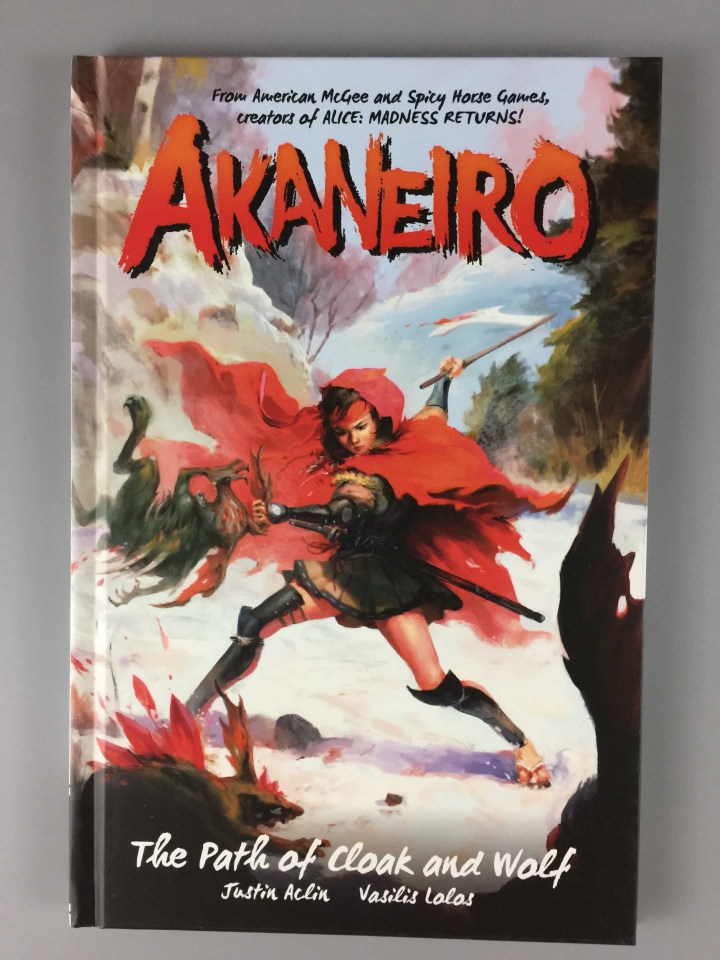 Akaneiro: The Path of Cloak and Wolf – Dark Horse Comics – $14.99 cover price. The story of Little Red Riding Hood has been told and retold in many ways. This version has an anime style to it and it looks pretty cool.
From the brilliant imagination of video game auteur American McGee comes a dazzling reenvisioning of Red Riding Hood set in the wondrous world of Japanese folklore! Justin Aclin and Vasilis Lolos take Kani — a young woman torn between two cultures — on an epic adventure battling devious yokai for the fate of her world!
Comic Bento is such an awesome value! All four of these books were packaged so well together and arrived in spectacular condition. As stated earlier, there is a theme but there's also a ton of variety, and the theming of this box is pretty unique amongst comic subscriptions. The curator's notes really bring the theme together, and that made this box even more awesome!
What did you think of this month's Comic Bento theme?