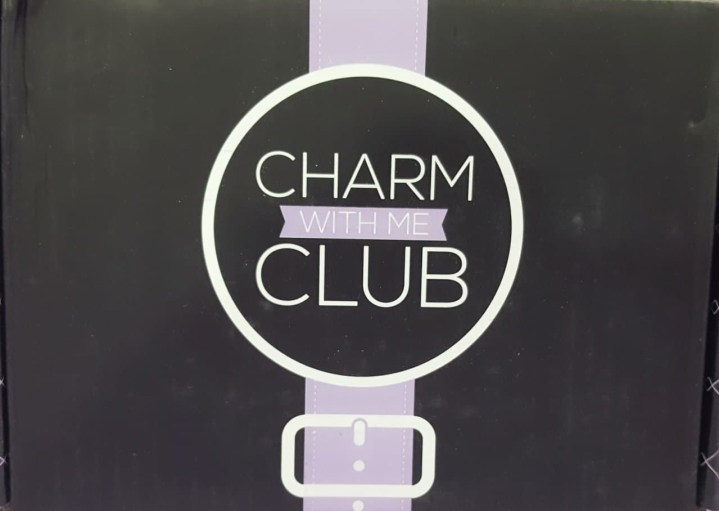 Charm With Me Club is a monthly subscription box that brings the most amazing fandom charms! With your first month, you'll be sent a starter bracelet, and then you can build your own bracelet with themed fandom charms that fit on Pandora bracelets each month. The subscription costs $19.99 per month and ships in a cute little mailer box.
Note: once you're a member you'll need to watch for the theme announcements. If you don't like the theme you can switch your subscription to "surprise me!" Also note – this subscription sells out!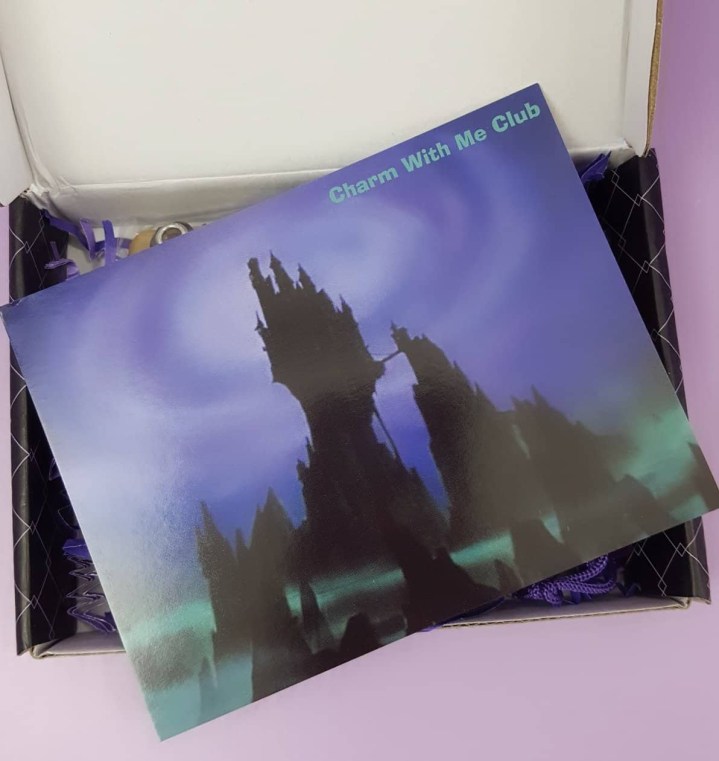 DEAL: Save 10% on your subscription! Use coupon code HELLO10.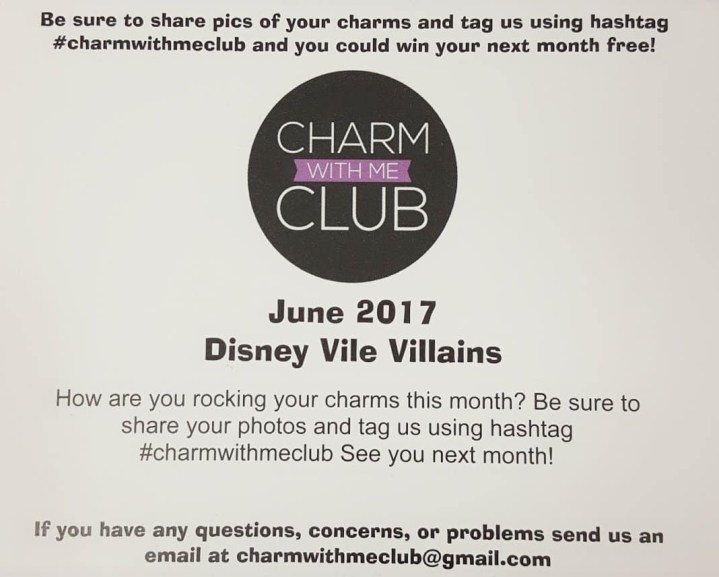 This month's theme is Disney Vile Villains! This could not be better since my other love besides subscription boxes is Disney and who doesn't love a good villain. As soon as the theme was announced I knew it was going to be spectacular. Each month, the charms come in little sealed bags with a velvet bag to store them in. I store them in a container that I have shared with you a couple months ago.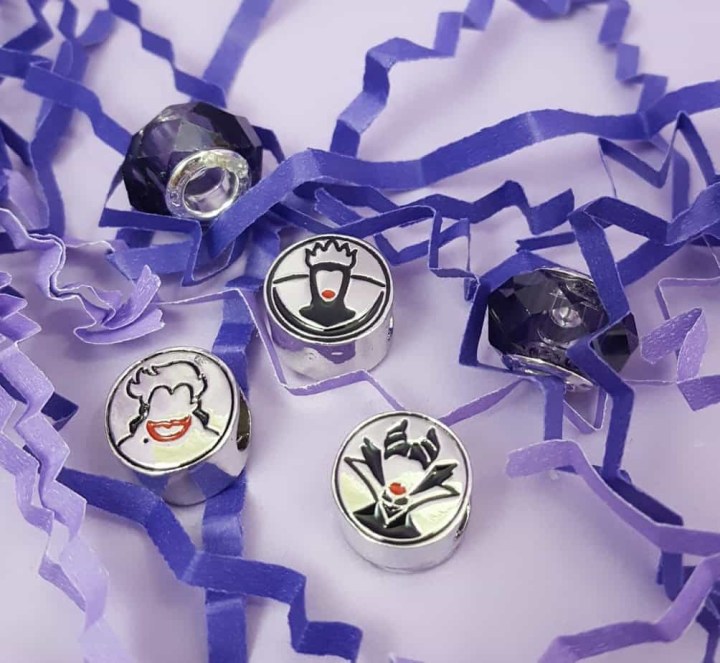 This month we got a set of 3 metal charms and two glass beads.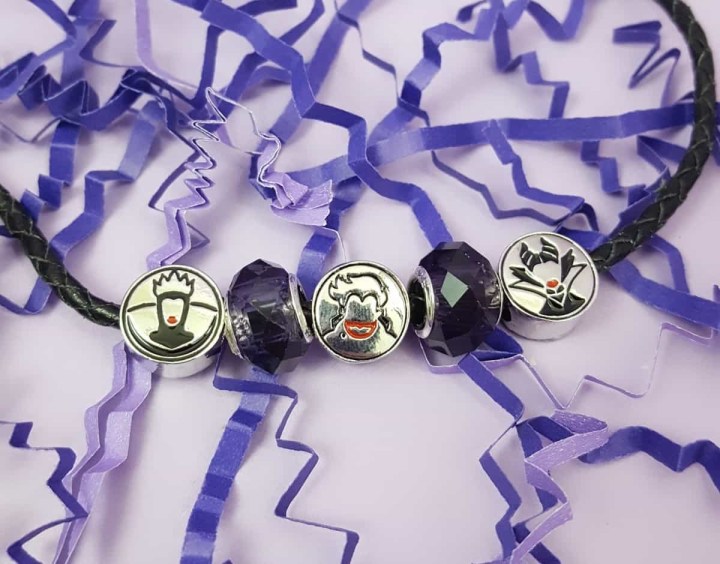 Oh my goodness these are so fantastic.  They are really nice and heavy and look great on a chain together.
Not only do we have the Villains likeness on the front of the charm we have a known saying about them on the back!
Ok, I'm going to admit something a Disney lover shouldn't. I have never seen Maleficent. I know shocking but we do own it and my boys have seen it but I've just never sat down to watch it. I have never been a fan of hers in any of her versions so the movie just doesn't call me. I will have to check it out sometime but I do love the charm and the image is so great.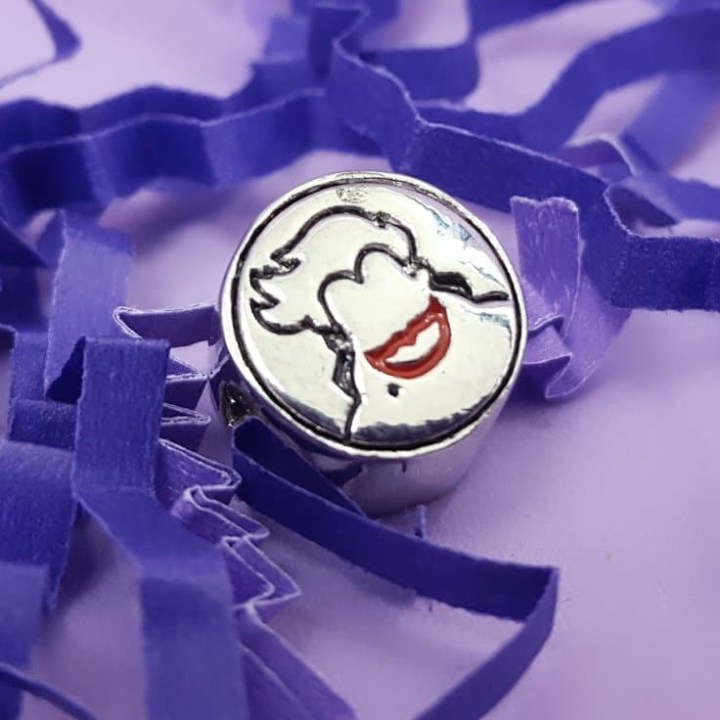 On my favorite of the bunch. I love the Little Mermaid and Ursula and just so evily fun. I can't wait to see more of her in the new Descendants movie as her daughter joins the group.
And finally the Evil Queen herself. She is the epitome of a villain in the Disney world. Of course I think of her more from Once Upon a Time and she has been redeemed on that show so I'm a little skewed but she is still awesome.
The whole collection is rounded out by some dark eggplant purple glass beads. As you can see in the bracelet I made above, they are perfect to go in between the villainous charms to complete the strand.
What a perfectly vile box from Charm With Me Club this month. These are going right into my storage with my other Disney charms for when I want to have a full theme bracelet. I love being able to mix and match and create to my hearts content with my growing selection of charms. These charms are nice and heavy and will be great to add to almost any strand since they are nice and round and just plain ole fantastic.
After the subscription has shipped, you can go on their site and normally order the beads themselves. However, the monthly sets go for about $29.99, so getting the subscription is the better deal. You can always go and check out the past months and see if there are any that you missed and want to add to your collection.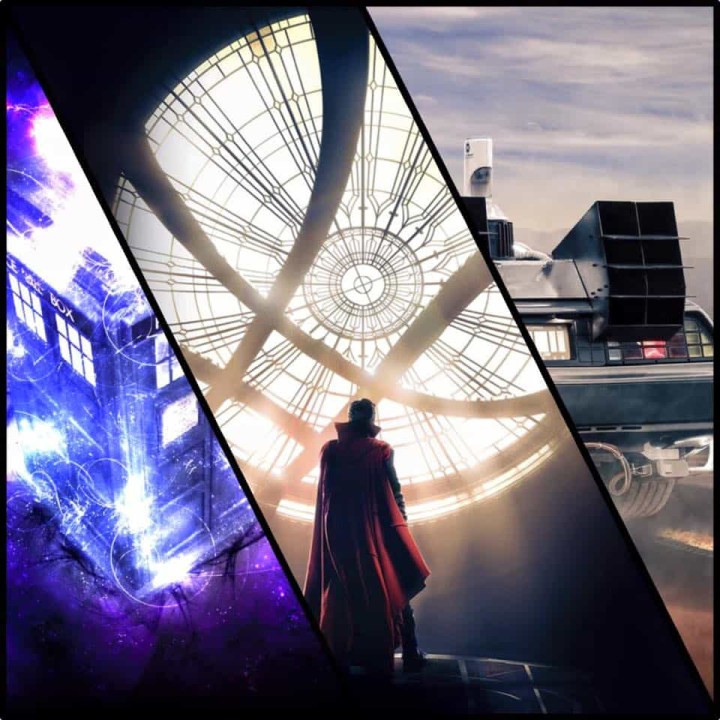 The theme for July is Time Travel! Which will include a charm inspired by Doctor Who, Back to The Future and Doctor Strange. (Doctor Strange is more of a time manipulator, but how can you not love him?)
What did you think of the Charm With Me Club charms this month?