The Cate & Chloe VIP program is a jewelry subscription box delivered to your front door once a month. Each box contains on point and on trend Cate & Chloe pieces!  Choose between 3 subscription options starting at $19.99 – The Starter Package (1 item), Double the Fun (2 items), and Full VIP Status (3 items). The cost per box drops with extended subscription terms, so the longer the subscription, the more you can save!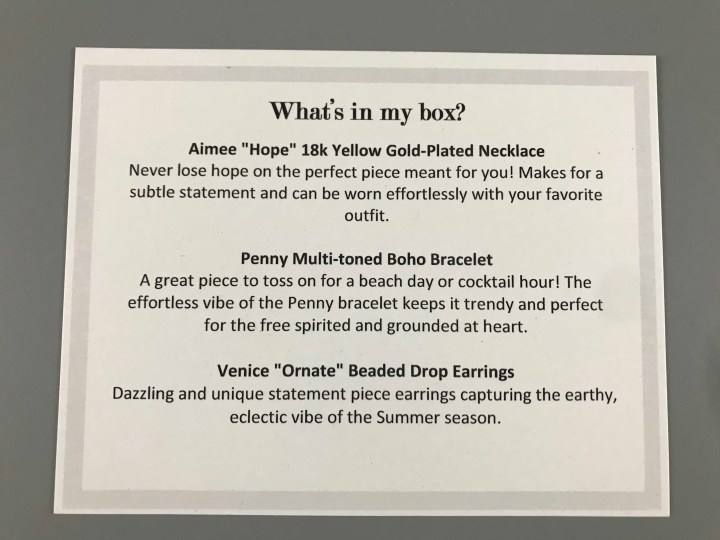 What's in my box? Well, this contents card not only tells you what to expect but also gives a brief description of each item. The only thing missing is a price tag.
DEAL:35% OFF All One Month Subscriptions (The Starter Package, Double the Fun, Full VIP Status)! Use Exclusive Code: HSWANDERVIP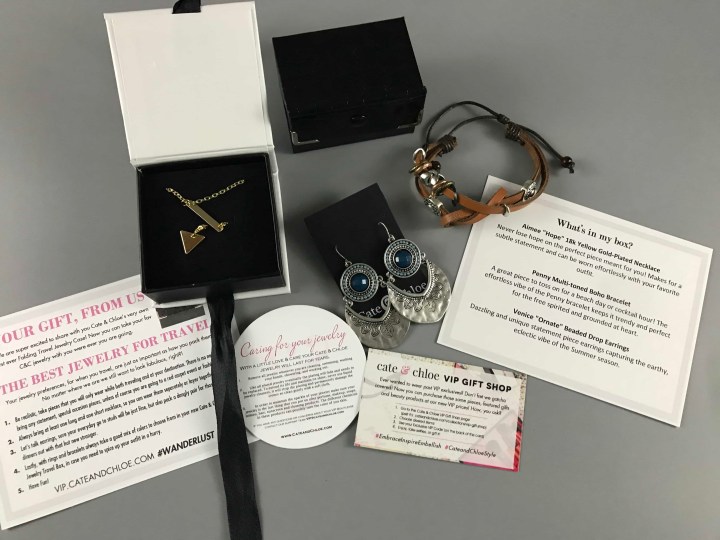 Everything revealed…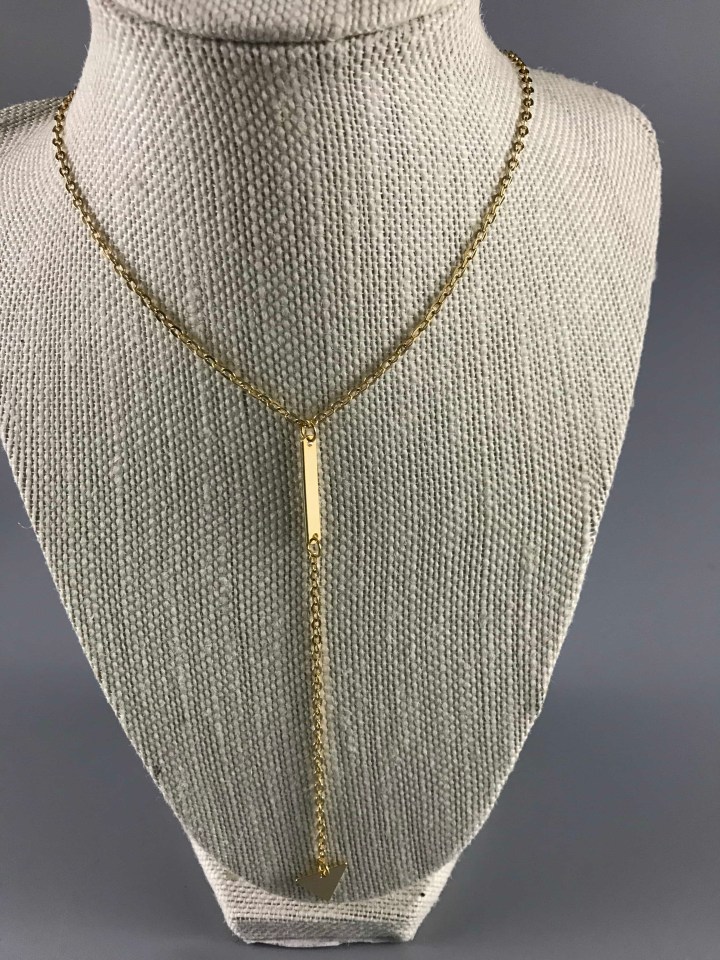 Aimee "Hope" 18K Yellow Gold-Plated Necklace ($59). Never lose hope on the perfect piece meant for you! Makes for a subtle statement and can be worn effortlessly with your favorite outfit.
What I like about this necklace is that it reminds me to follow my own arrow, that my path is the right one for me. I like that it will go with any outfit I can imagine. Pieces that go from one style to then next without any trouble are the ones I tend to wear the most.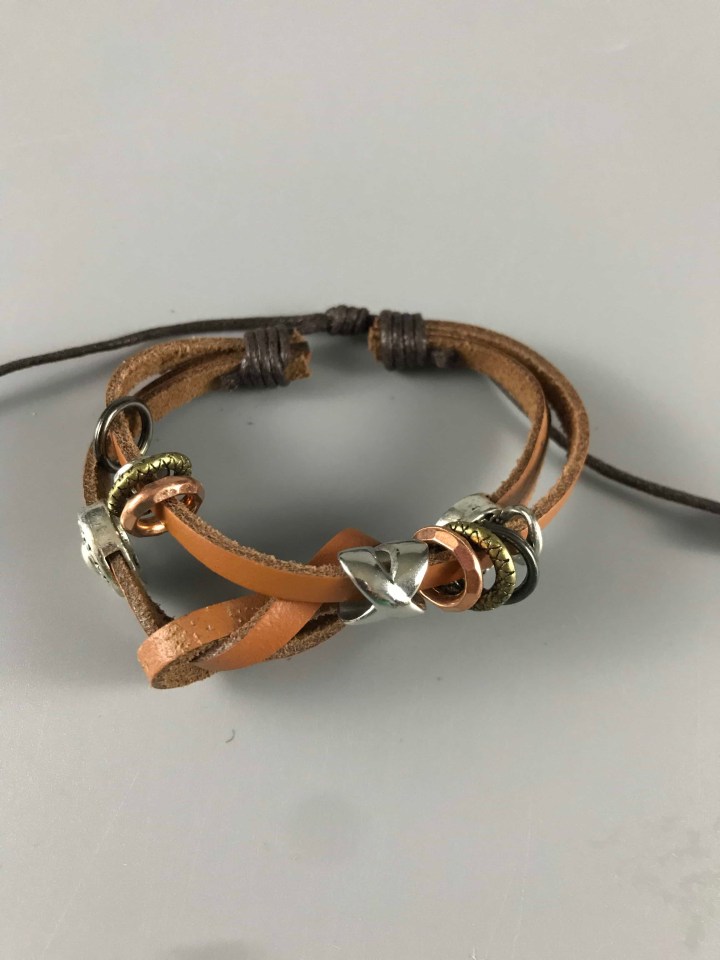 Penny Multi-toned Boho Bracelet ($55). A great piece to toss on for a beach day or cocktail hour! The effortless vibe of the Penny bracelet keeps it trendy and perfect for the free spirited and grounded at heart.
I love leather bracelets! There is something so magical about the leather changing tones with wear and how it makes me feel at peace with mother earth. The added charms on this one scream summer fun but also let me flash my wild side at work. So far this is my favorite piece to date from Cate & Chloe.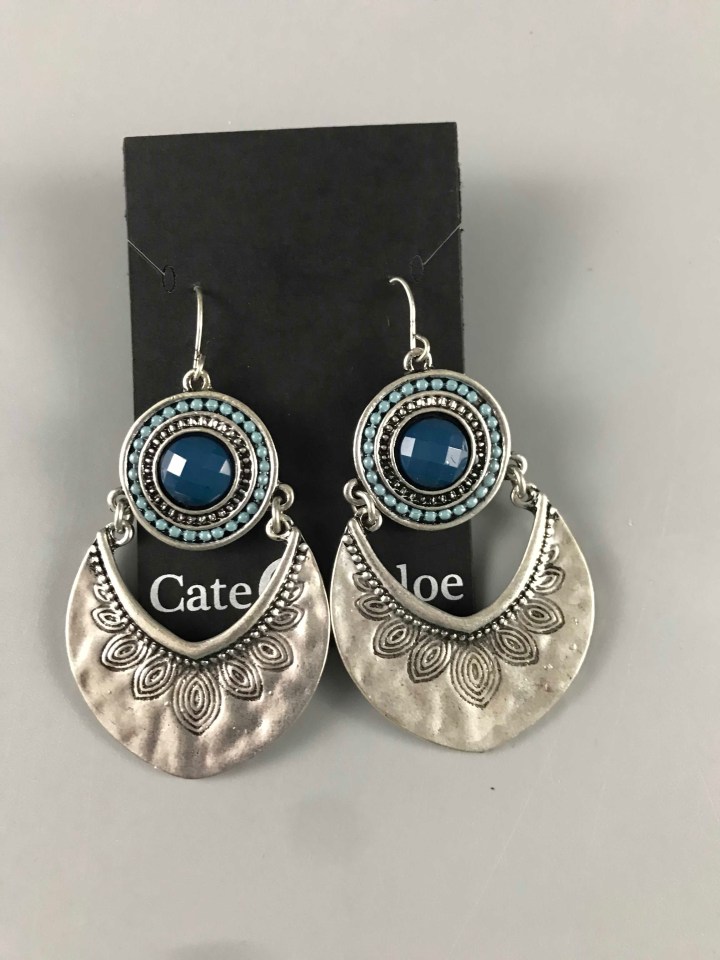 Venice "Ornate" Beaded Drop Earrings ($57). Dazzling and unique statement piece earrings capturing the earthy, eclectic vibe of the summer season.
These earrings are extremely heavy and I'm not sure I could wear them more than a few hours for date night but I like them a lot. The blue in the beading is my favorite hue and will compliment my summer wardrobe.
Folding Traveling Case for all your jewelry needs….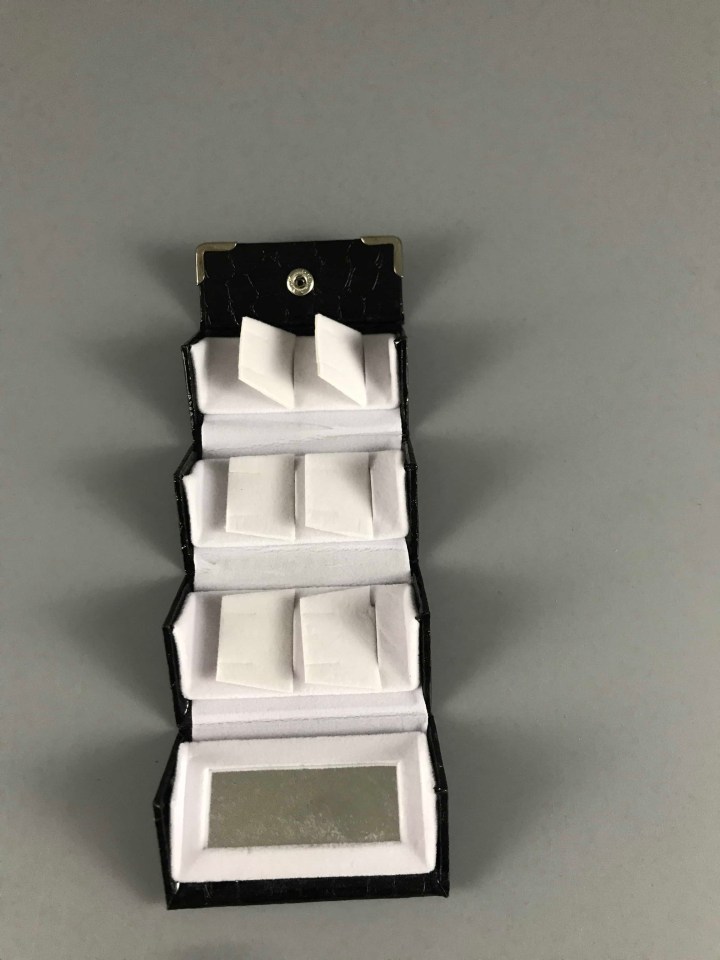 It's pretty big once folded out with a nice sized mirror.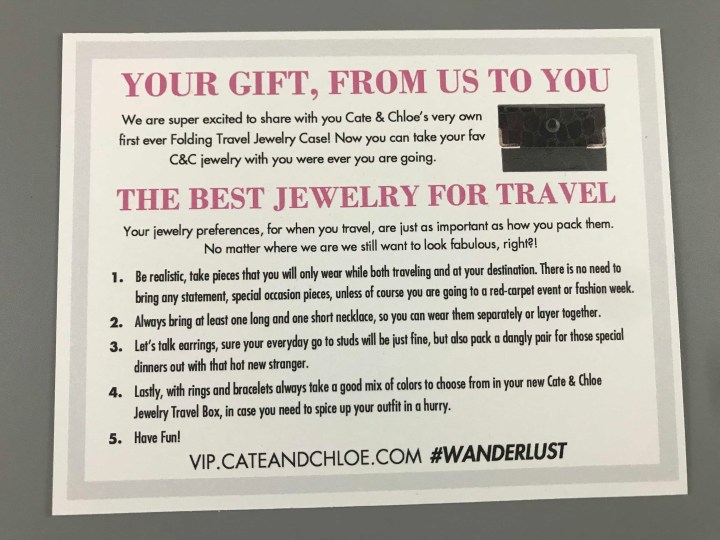 I love the list of things to consider when packing jewelry for a trip, it's like they are in my head when I say how much should I bring and what am I actually going to wear.
Care Instructions! I like this new addition… with the price tag of this amazing jewelry, I want to do everything in my power to make it last for ages.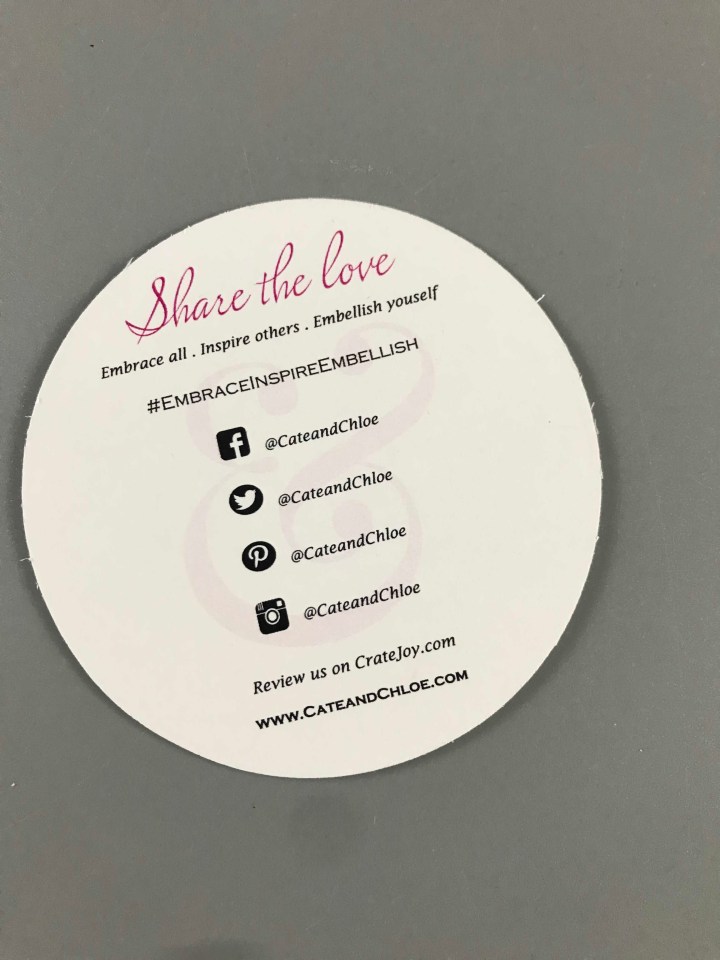 Share the love by staying in touch via social media!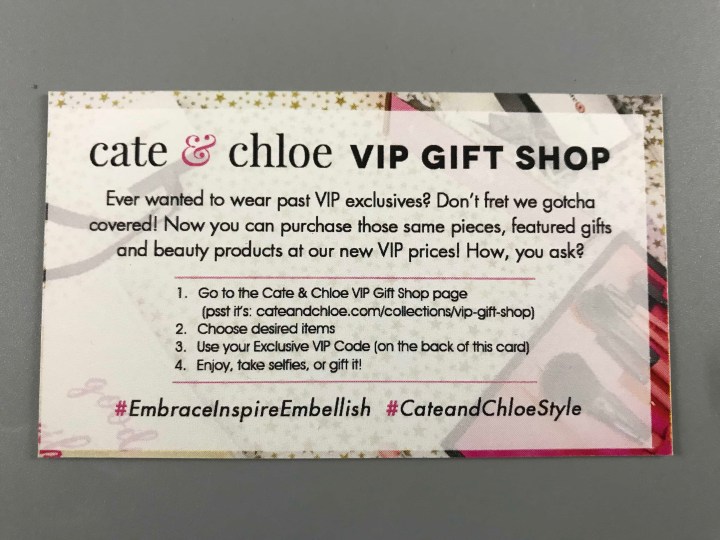 Added bonus: you can now shop previous VIP gifts with a special code (it's on the back and this one is all mine).
Cate & Chloe have brought another month of amazing products to my door. I love that the pieces are so different from each other, forcing me to try different combinations to find my perfect summer look. I love the jewelry I get both looks and price point but the VIP perks are what really set it apart. In my opinion, any girl who is the lucky recipient of this subscription is bound to feel like a princess, so spoil yourself, or a friend or even better let someone spoil you right. Enjoy this beautiful jewelry and never worry about being boring again. I plan on shopping the VIP gifts until my fingers hurt!
Have you tried out Cate & Chloe VIP box? Let me know your thoughts!