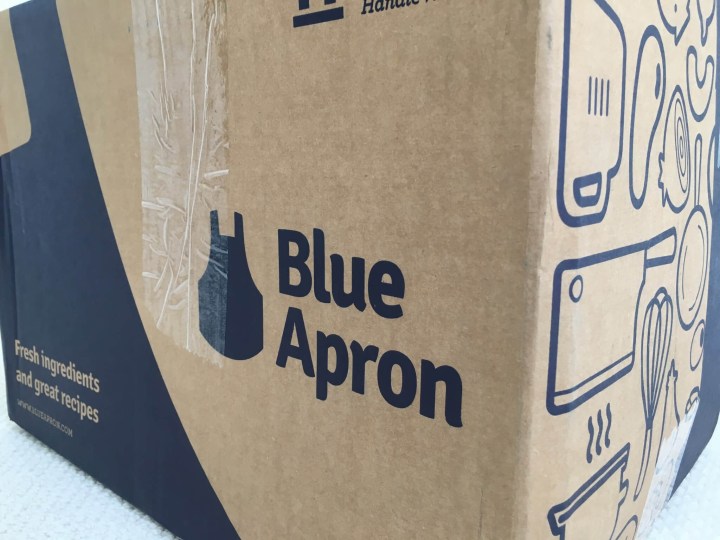 Blue Apron is a subscription box for making great meals at home. If you're like me, you periodically find yourself in a serious cooking rut. You make the same things every week, but the thought of researching a recipe and acquiring all of the ingredients is just too much work. Blue Apron is the solution! Each week, Blue Apron sends you a refrigerated box with all the fresh ingredients you need to make the included recipes. You can select the 2-person plan – 3 meals a week of 2 portions each – or the family plan – 2 to 4 meals a week of 4 portions each. The menus are set, but you can ask Blue Apron to avoid ingredients you don't eat – shellfish and lamb, in my case.
We got the Family Plan for 2 meals. I set the delivery date and it arrived right on time, securely packaged in a heavy-duty box. All of the ingredients are wrapped in an adorable insulated blanket and cooled with ice packs. Mine took a day to arrive and sat on my porch for 3 hours, and everything was perfectly cool inside.
Pricing: 2-Person Plan – $59.94 for 3 recipes. Family Plan (serves 4) – $69.92 for 2 recipes, $139.84 for 4 recipes.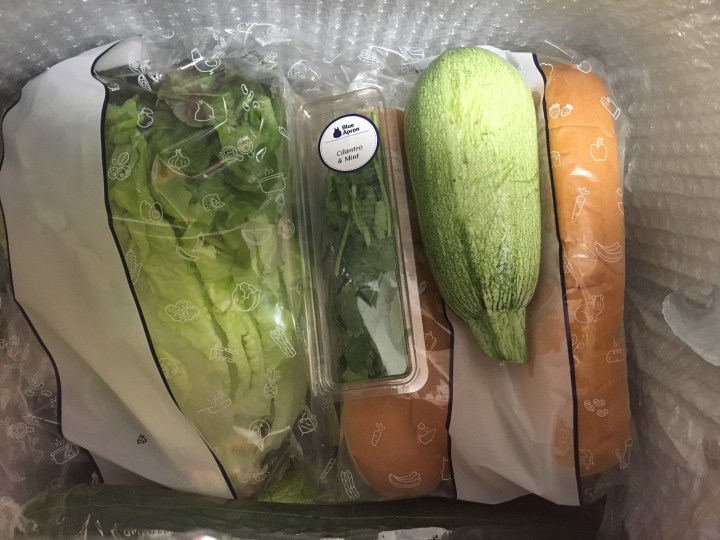 DEAL: Save $30 on your first order! Use this link – no coupon code required!
Through May 29 save $32 on your first box of Blue Apron! No coupon code is required for this deal, just use this link to sign up!
The meat is at the bottom, surrounded by still-frozen gel ice packs. The beef was double-bagged in extra ziptop bags, so no concerns about leakage. The produce was all in good shape this month, but my egg was cracked and two of my buns were stale.  🙁  If I had paid $70 for my box, I wouldn't have been happy.  Since I received this for review, though, I just subbed out my own ingredients and moved on.
Summertime is here in the South, and it's time for some popular meals, plus a little something to stretch the skills.  Meatballs and curry fish should suit that criteria! Let's go.
Our first meal was the Italian Meatball Sandwiches.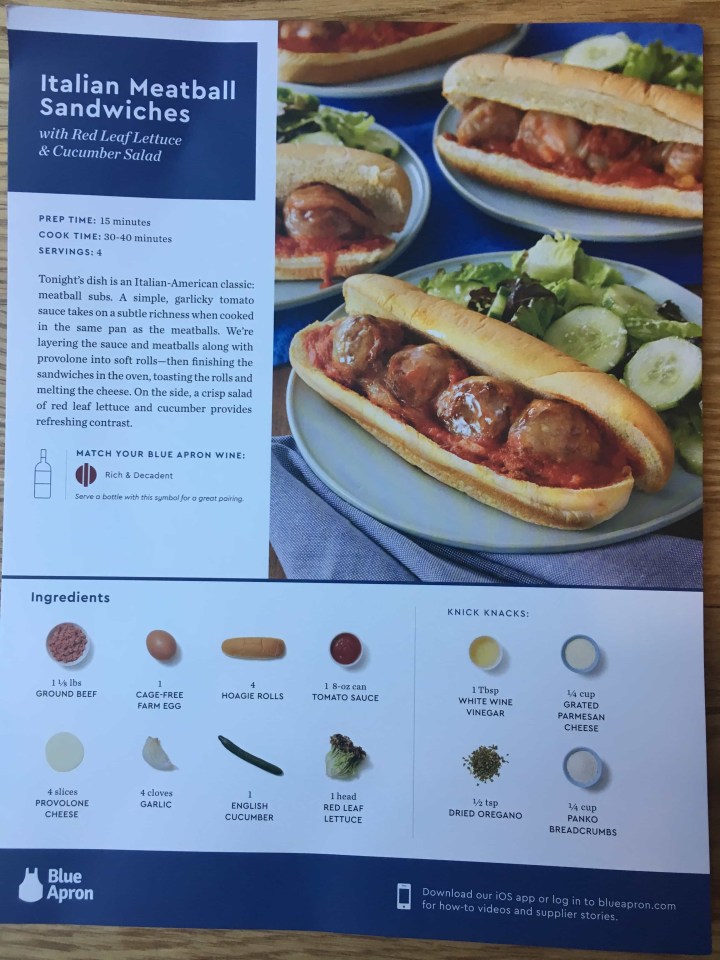 Beef of any kind is popular (and somewhat rare) around here, and beef in sauce and cheese is even better.
As usual, all of the ingredients were included.  Blue Apron does a great job of sending you just the amount you need for the recipe, so you don't waste anything; nor do you have to think about how much to add to the recipe.
Each recipe comes with these easy-to-follow instructions. Even if you are new to knife skills, you will be able to do everything on this list. The prep time on this one was about right, but always make sure to check your meatballs' internal temperature with a thermometer instead of just relying on the cooking time.  (Because, obviously, ball size varies).  They're done at 160 degrees.
Included in the box is the meal's nutrition facts. I think it's nice to have a ballpark idea of how this meal fits into my daily nutrition.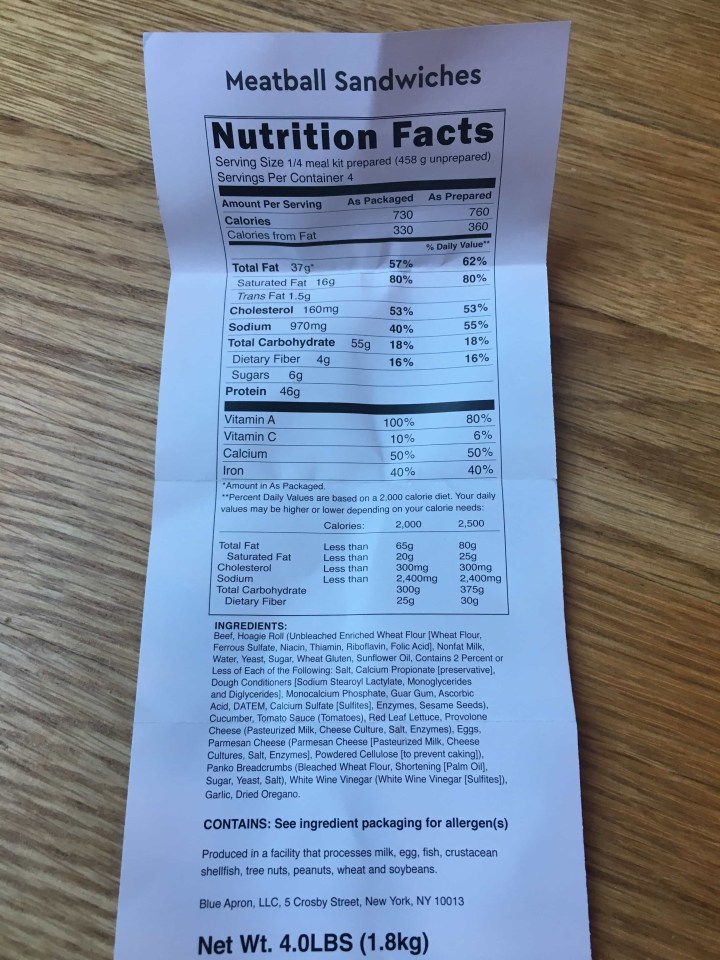 This meal was straightforward to make. 475 is a ridiculous temp for toasting bread and melting cheese.  I went with 400, but you could also use the broiler here instead if you'd like your buns to stay soft.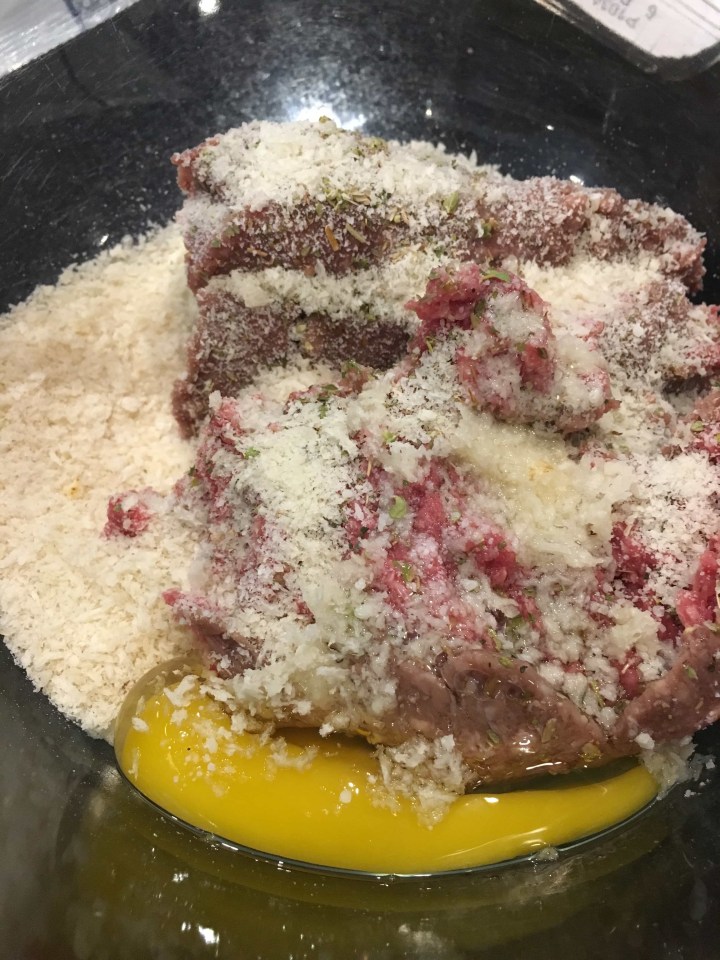 This is the dump-it-all-in-a-bowl method of cooking preferred by my kids.
Balls of meat!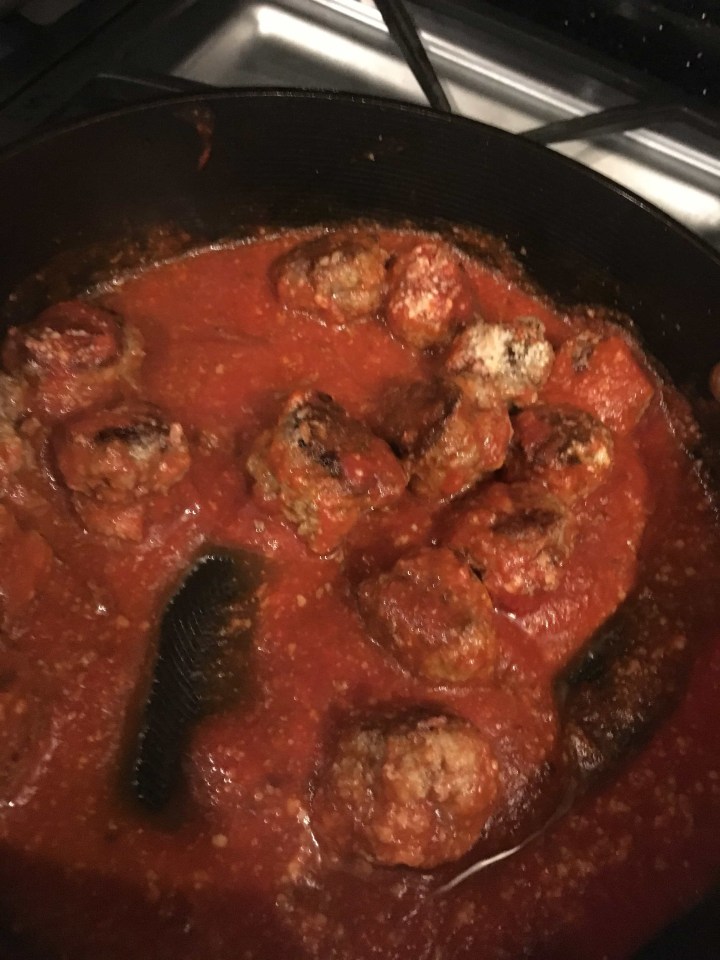 The sauce is just canned tomato sauce with a bit of garlic thrown in for fun, and it's fine. Make sure you salt this well or it will come up bland. I added the leftover Parmesan to the sauce to bulk it up a little.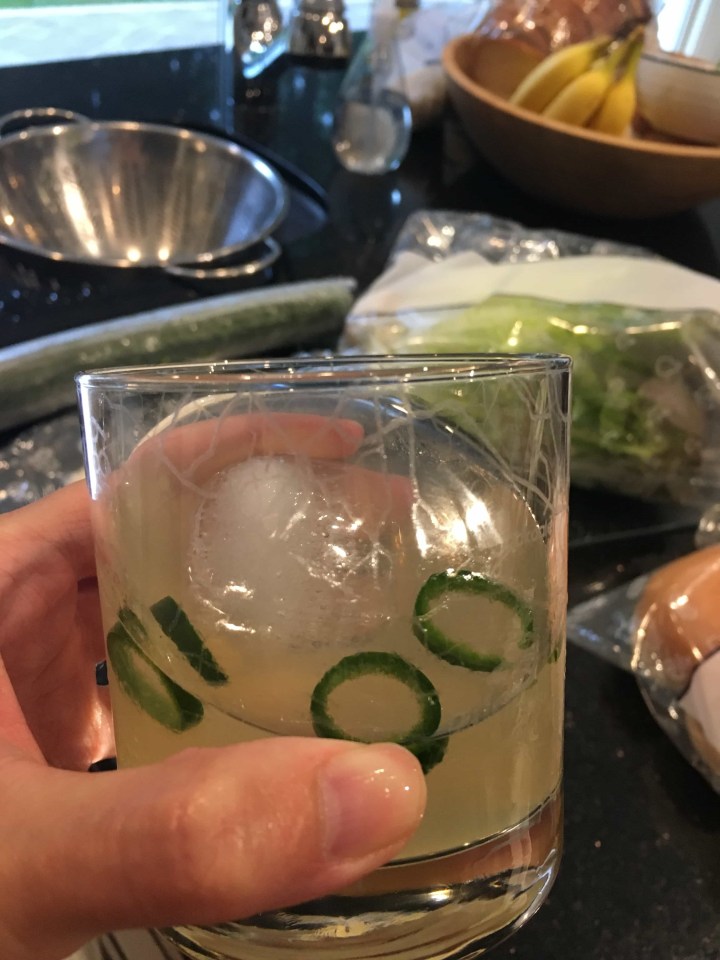 And to drink, a jalapeno margarita, because the garden has produced a surplus of jalapenos and I'm running out of ideas.
This was a snap. The salad — lettuce tossed with a cucumber and a simple vinaigrette — didn't interest anyone, so we skipped it and sauteed up some squash. The best thing about this recipe is that it shows you how utterly simple homemade meatballs are to cook. This is weeknight-level cooking — fast and tasty. Thumbs up.
Next up was the Curry-Spiced Cod and Summer Squash. Many more moving parts here than with the meatballs.
This was out of our normal wheelhouse — my husband is not a huge fish fan, and the kids hadn't tried curry, so it was an adventure. The 7-year-old also decided to help cook, which added chaos but was fun.
The recipe card has straightforward instructions that are easy to follow. We got cousa squash in our box — your squash may vary — but I think all summer squash tastes about the same, so it didn't matter. Unfortunately, the greek yogurt was room temperature in the box — loyal readers will know that I am squeamish about the Wheel of Pathogens, so I tossed it. It was probably fine, but warm dairy is not my thing. I subbed out some sour cream and it was fine. The ginger was straight-up moldy, though. Disappointing. Ground ginger from the pantry for the raisins, which was fine, too, but come on!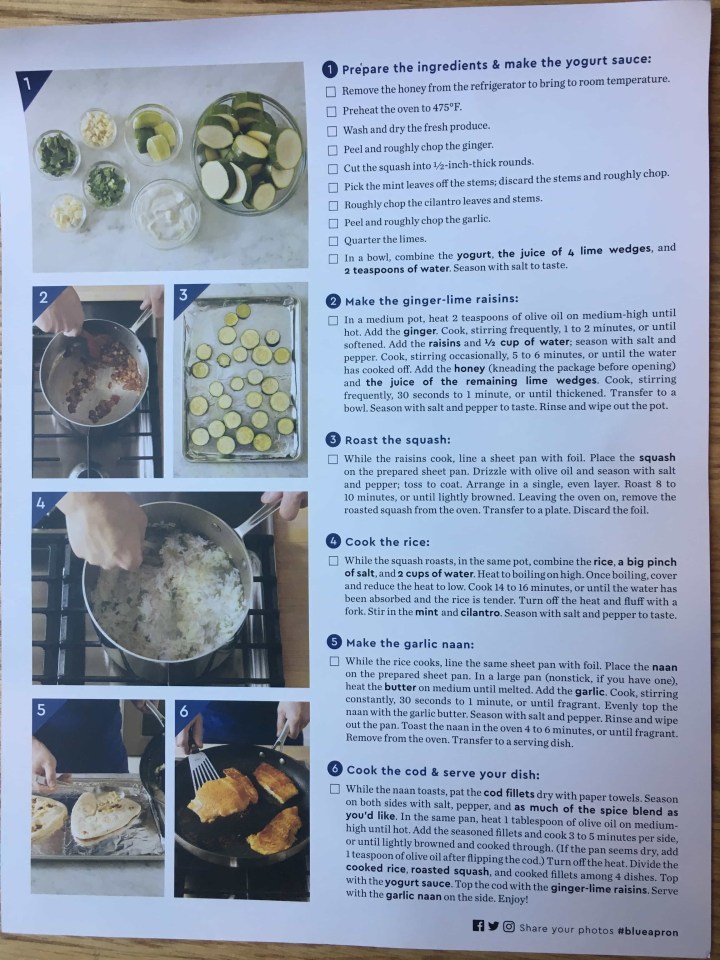 This recipe left out the usual nutrition facts, so curry fish is a black hole of food data.
Even though this had lots of elements with the raisins, the rice, the squash, the yogurt sauce, the naan, and (oh yeah) the fish, nothing was very hard about this recipe. The kids were able to help without an enormous amount of oversight, and everything was very straightforward to make. Unlike some recent boxes, the two squash(es?) was a proper amount of veg for this dish.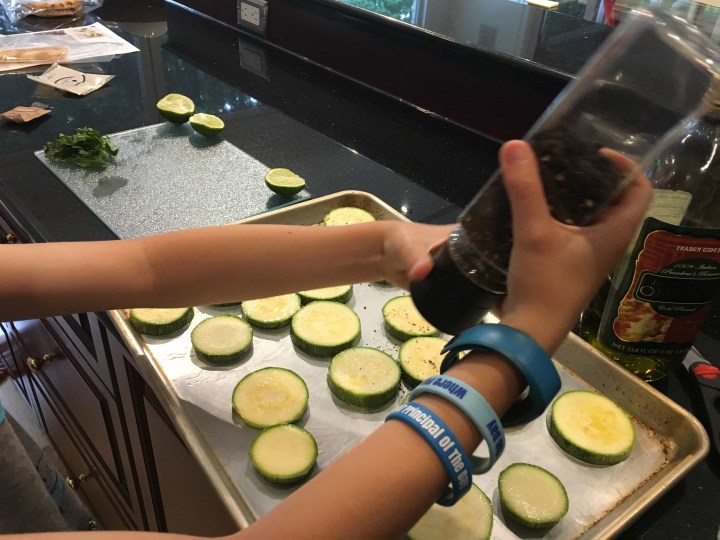 Roasting squash is a 7-year-old-friendly task.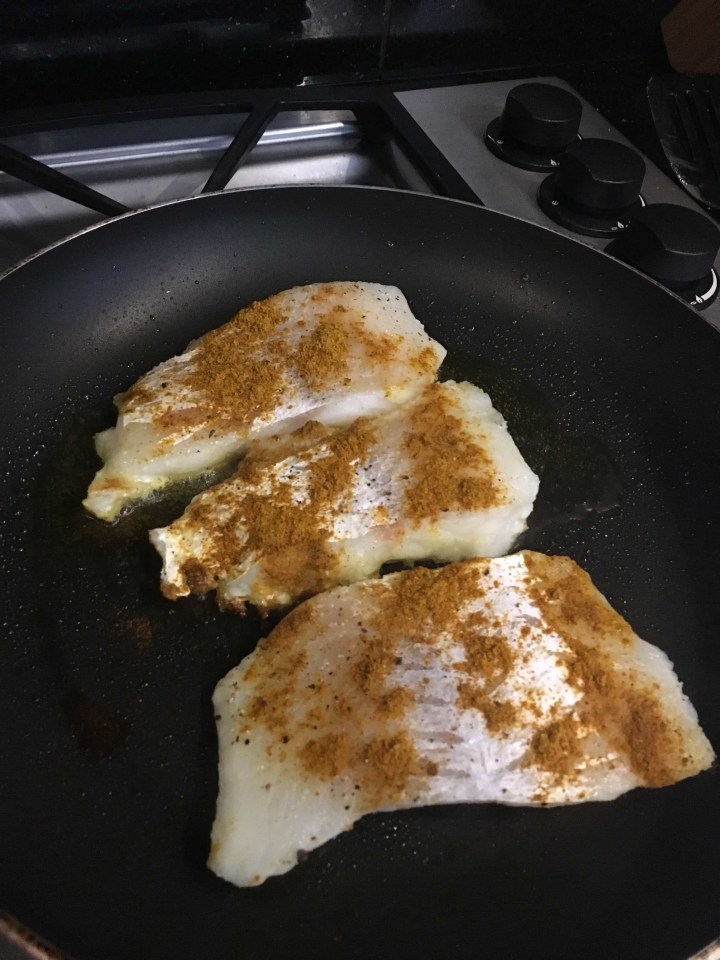 The spice mix was tasty on the cod. We used a bunch of it.
The flavors for this dish were definitely Indian-inspired, but nothing was particularly strong or spicy. It was all really delicious together, and everyone enjoyed it, even the dubious-on-fish husband. I can promise that, had this not come in my box, I never would have cooked curry fish in my house. That's the great thing about a cooking box — it gets you OUT of your rut. Two thumbs up for sure.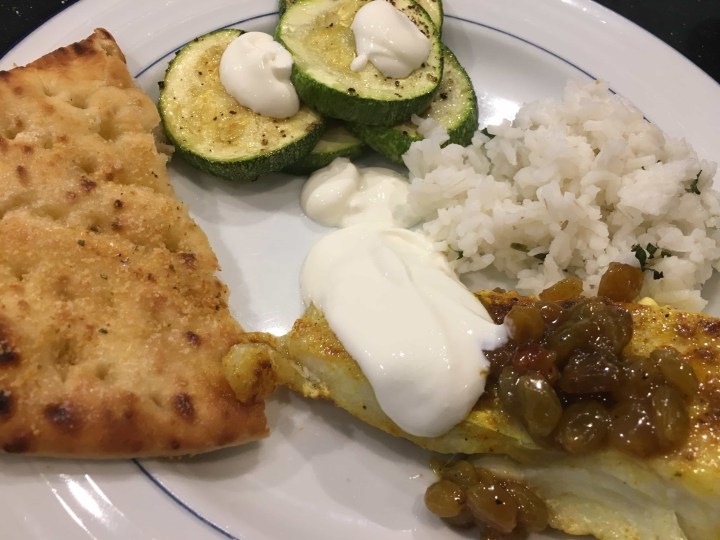 Hey, did you know that Blue Apron has a wine program now? The Field Recordings Fiction Red Blend that I had with this was delicious. (And after cooking with two kids, well-deserved!)
It's nice to not have to decide "what's for dinner" all the time. Overall, Blue Apron has been enjoyable and gets us out of our boring dinner routine. Honestly, you can forget how fun cooking can be. Interesting ingredients, easy recipes, and delicious food. We can't wait to see what we get next time!