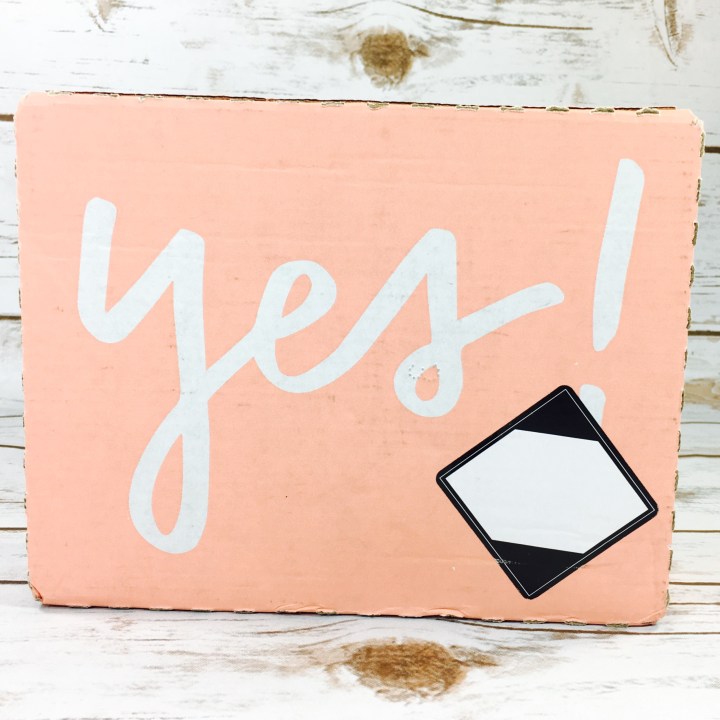 Birchbox is a beauty sampling subscription service that sends 5 new items each month so you can try before you buy. Birchbox is $10 a month and you can choose a monthly sample during selection time, let Birchbox decide, or pick a pre-curated box. This is a review of a regular, non-curated box with a sample choice this month but the rest was a surprise. How well did it match the profile that I created when I signed up? Read on to find out!
NOTE: Birchbox is currently testing out additional subscription options – check that info out here.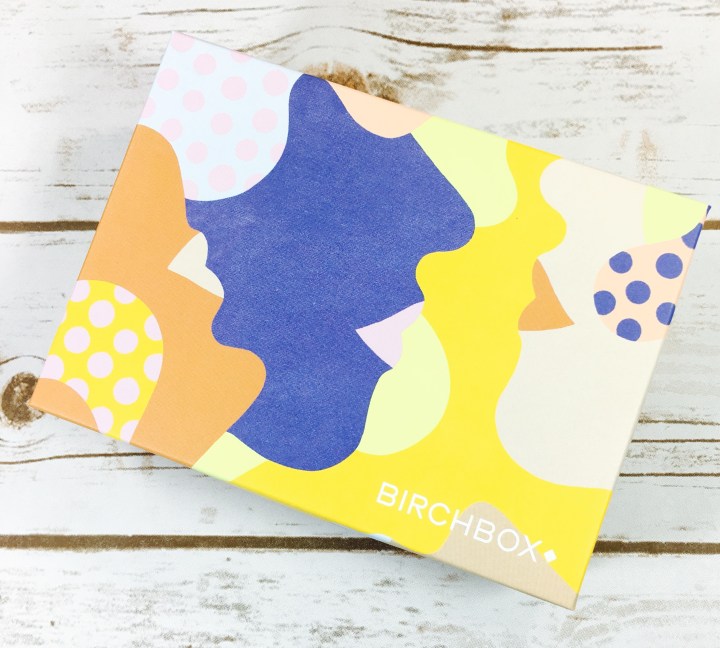 DEAL:  Birchbox is offering a FREE Oribe Supershine Cream with any women's Birchbox subscription, while supplies last! Just use code ORIBESHINE  at checkout – OR get a free Pixi by Petra Palette! with any women's Birchbox subscription, while supplies last, with coupon code MESMERIZE at checkout!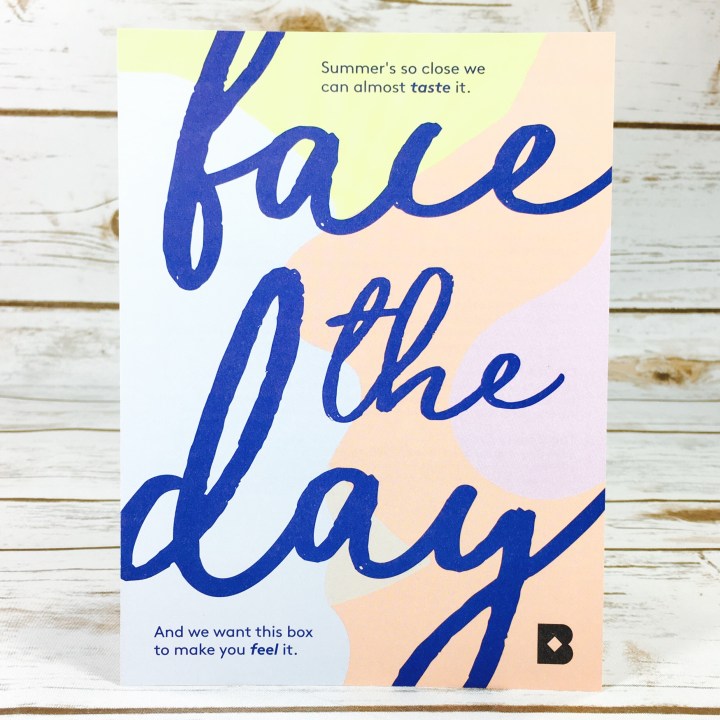 This month's theme is Face the Day and true to the theme, 4 out of 5 of my samples this month were for my face! 
The information card gives brief details on each item as well as the price if you were to buy the full size.
You can visit Birchbox.com/MyBox to easily see the details of your box, which I recommend because sometimes they have videos on the item product pages which I find useful.
Everything in my June box!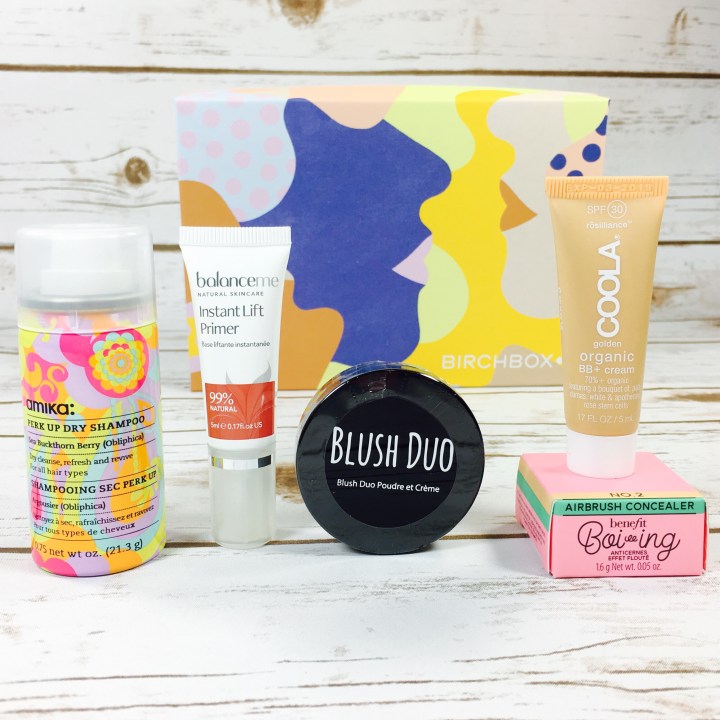 I was surprised to see 3 makeup products this month, although one of them was my sample choice.
Amika Perk Up Dry Shampoo ($3.11) I am not a fan of dry shampoo – my hair is so flat that I must shampoo every day. However, as far as dry shampoos go this one smells fantastic and I LOVE the psychedelic paisley pattern on the can! I actually have a perfume that smells like this dry shampoo and my daughter absolutely loves this one so it will go straight to her!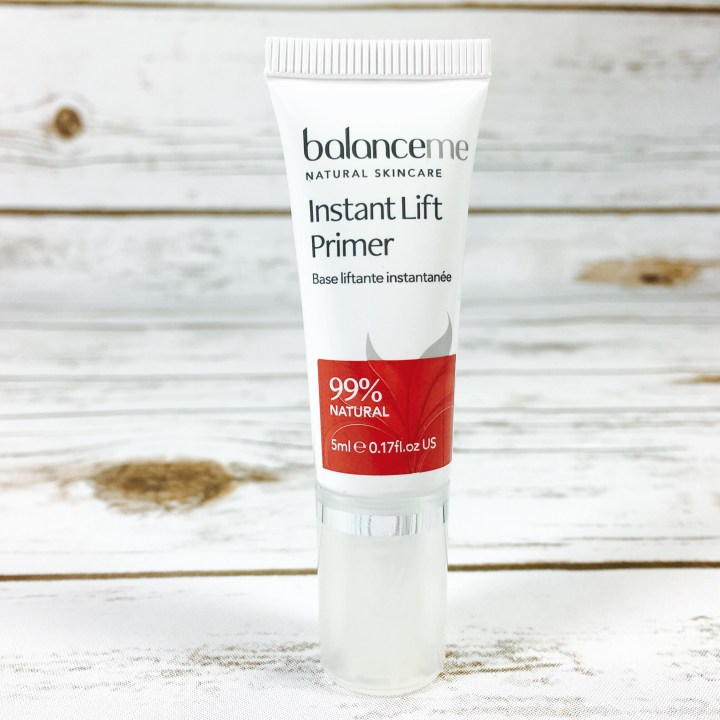 I started my makeup application by using BalanceMe Instant Lift Primer ($10.50). I want to tell you – this container is supposed to be 1/3 the size of the one they offer in the shop. If that's true, then you might get enough use of the full sized for, say, 1 week. Really, 5ml is the amount of one teaspoon, so 15ml is one tablespoon. Geesh, awfully pricey for just a few drops. It absorbed quickly and after the initial strong chemical scent it faded to a pleasant floral but the price for the amount is ridiculous.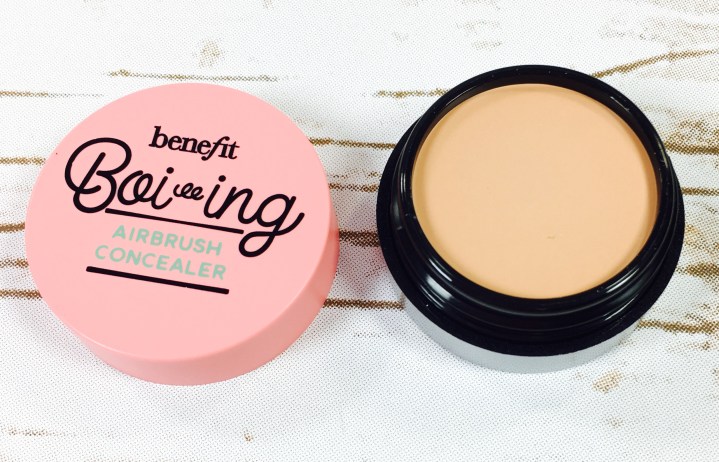 Next I used Benefit Cosmetics Boi-ing Airbrush Concealer in No. 2 ($5.88) to cover up any red spots and bumps on my face along with the dark circles under my eyes. It was incredibly smooth and quickly glided over my skin and did a pretty good job of covering everything up without being too heavy for summer. It's also supposed to be waterproof so it's perfect for this time of the year!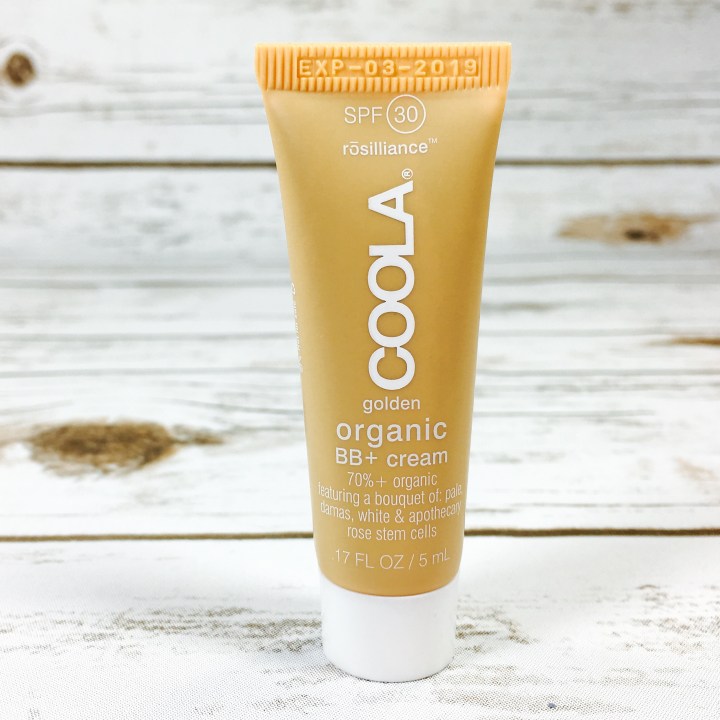 Here is another teeny tiny sample. Coola SPF 30 Rosillance Organic BB+ Cream in Golden ($5.91) spread easily over my face but had a rose scent that I didn't care for. I am happy to have glowing skin but it's a fine line between dewy and greasy and I think this one made my skin too slick and I ended up using a translucent powder over top.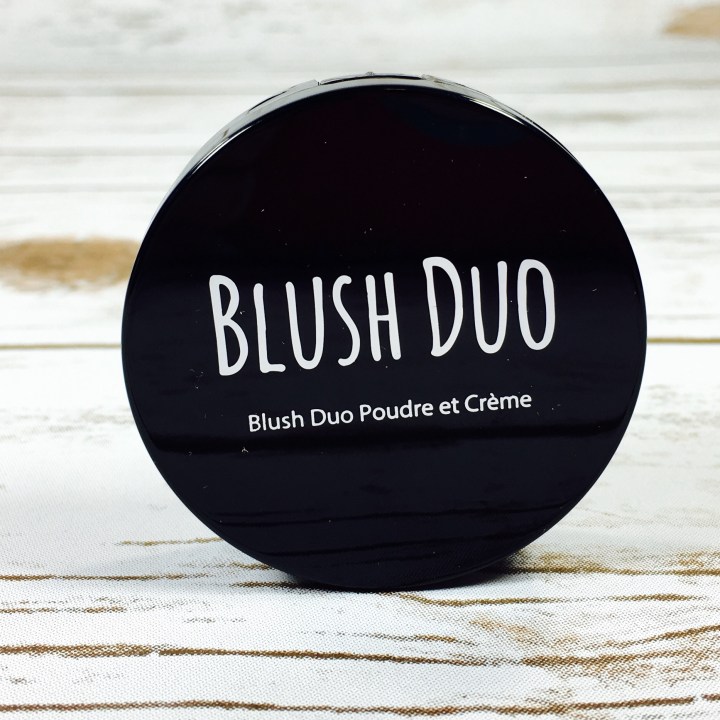 My sample choice this month was The Beauty Crop Blush Due in Papaya Don't Preach ($10). The other two choices were a primer and texturizing spray and since I have already tried those products before I went for this colorful duo.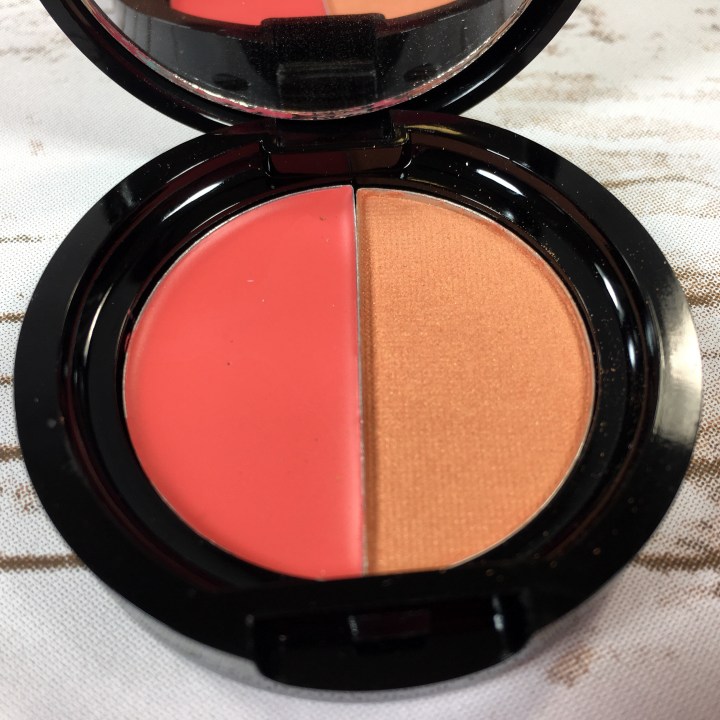 One side is a pinky coral cream blush and the other side is a peachy powder shade. For the cream a little goes a long way. Start out with a smaller amount than you think you need – you can always add more but once you have that clown look going it's hard to recover. The powder is the opposite – I had to use a couple of swipes with my brush to get the amount that I needed but was happy with the look in the end. Both of these shades are perfect for summer, I think the cream would be too bright for my skin in the winter.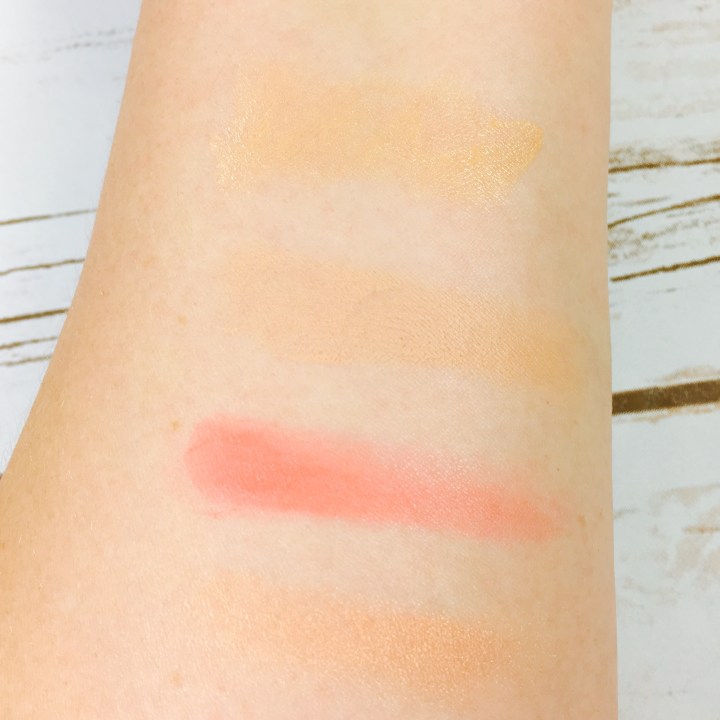 Here are all of the products swatched on my arm. From top to bottom: COOLA BB cream, Benefit concealer, The Beauty Crop cream blush, and then powder blush.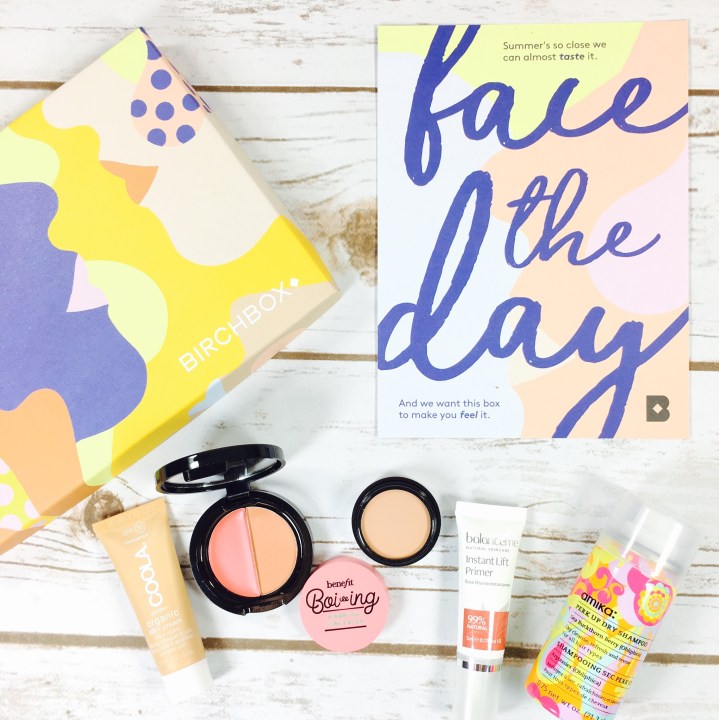 I love finding this beauty box in my mail each month! I enjoy the fact that it's not overwhelming and I have found some amazing products through this sampling service. I was surprised by the amount of makeup and although the sizes of two of the products were teeny and not quite hits with me I have to say they were spot on for summer and I enjoyed trying them. Birchbox sends out many box variations each month and the value of my box was about $35.40. I rated my products on the Birchbox website to see if that helps me get selections that work for me in future boxes.
What do you think of the June Birchbox? What was your favorite item from your box?