Bargain Bead Box is a monthly bead subscription service. Each month, you'll receive over $40 worth of top-quality jewelry supplies. It can be a mix of loose beads, bead strings, findings, and pendants. You can share your creation on their social media for a chance to win a $25 gift certificate for their sister store Bead Box Bargain. Boxes are $15.95 per month. Shipping is free in the US and $7.50 to Canada. Even if it's technically a subscription box, it comes in a teal bubble mailer, which is less expensive than a box so they can send more beads! And more beads is more fun!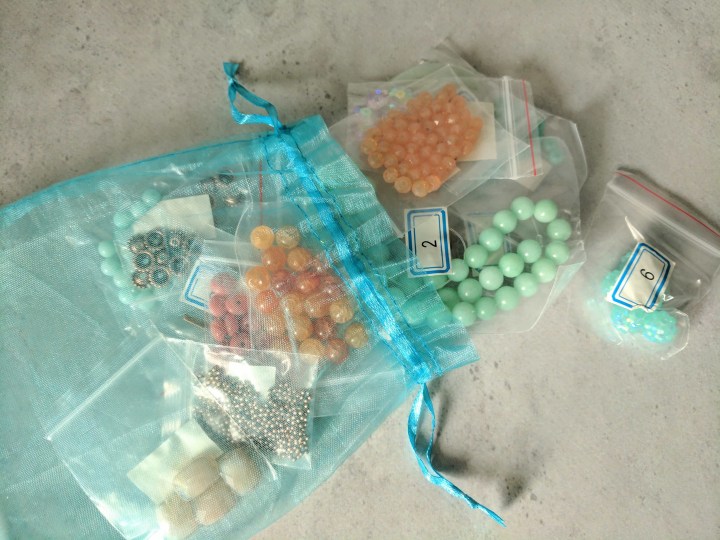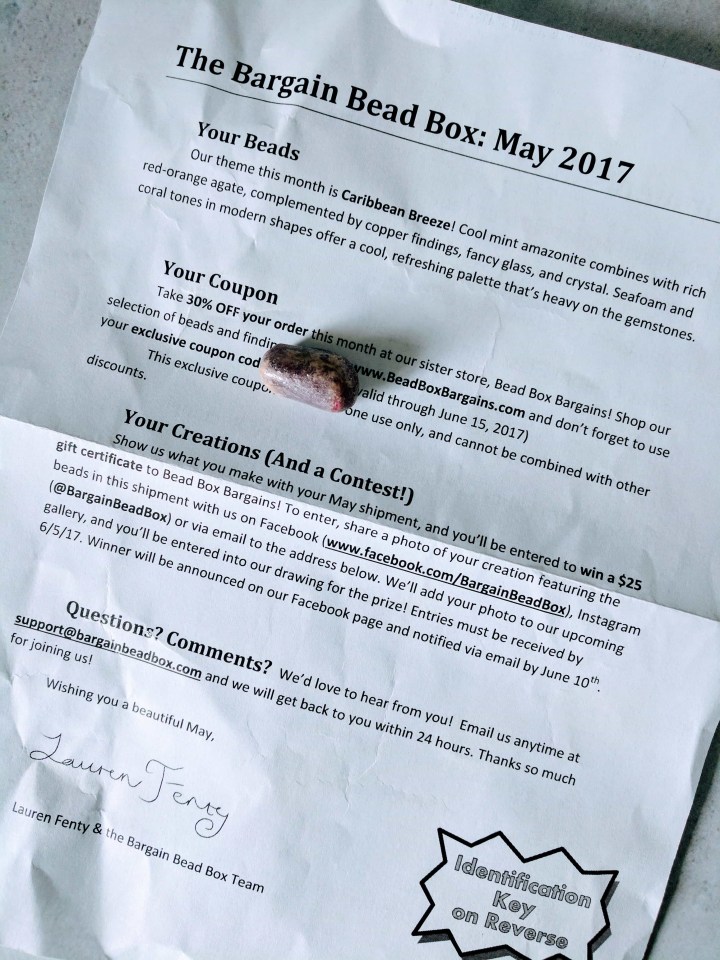 Each month is curated around a different theme and all the beads and findings are coordinated. This month's theme is "Caribbean Breeze" with antique copper as the metal of the month! We are promise a refreshing palette heavy on gemstones. Bring on the gemstones!!! You also get a discount code for their sister store. I've used it a couple of times and it's totally worth it!
On the reverse of the letter there's a list of all the beads and findings you've received. The bags are labelled with a number to make identification easier.
OH!!! Look at this gorgeous gemstone pendant!!!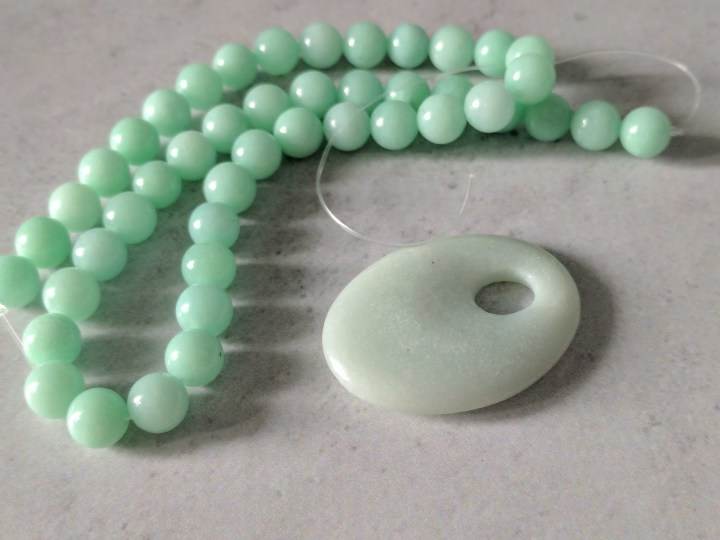 Amazonite (40x30mm Pendant and 8mm round beads). Look at those pretties! I'm in love. (I'm always in love with gemstones.) I love the pendant shape, it would be perfect to knot a leather cord on it, and to have other beads or charms hanging in front of it to add some oomph. Not that it needs more oomph, I would totally wear this as is! The round beads are just an added bonus!
MORE GEMSTONES!
8mm Crackled Agate Round beads. I love cracked glass beads, but I never use them for some reason. I sometime feels that they are too much going on, that they overwhelm everything else, but these, being gemstones, are not as much, and I feel they have just the right amount of details.
6mm Dyed Quartz Round beads. They would go great with the amazonite beads, they are almost the same colour. They would be nice as just accent beads.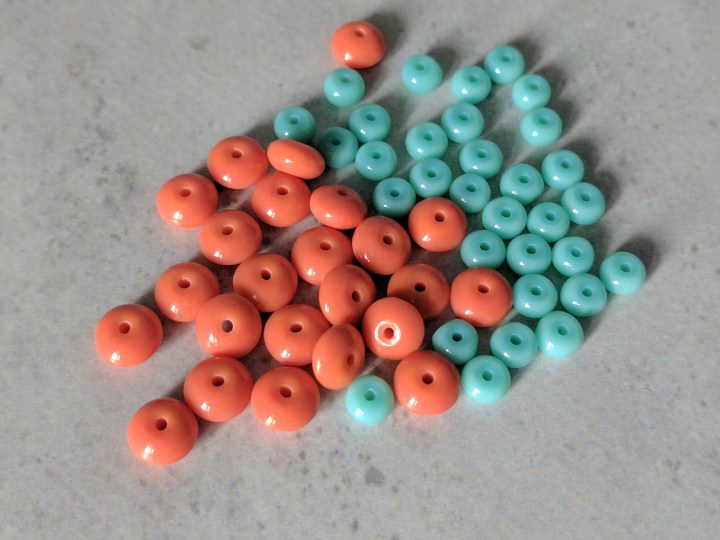 Rondelle glass beads (6x4mm turquoise, 8x4mm coral). I'm used to have faceted rondelles, so these one were quite a surprise this month, but I like them! What's fun with this month's box is that the colours are right in season with the fashion trends I've seen in stores (at least, in my little corner). There's a lot of coral in turquoise, and I just love the mix of the two together. Earrings would be nice in both colours for a little bit of punch!
12mm Resin Rhinestone Beads, Aqua. My camera had some problems picking up all the sparks from these guys! I love the colour, but I never know what to do with the Rhinestone Beads as it is a bit too much for what I like. They would be nice on bracelet or even on earrings.
19mm Chinese Crystal Marguerite AB. I love marguerite beads. I like to add different size of beads on to of it, making a kind of cone for earrings. I see them more in earrings than anything else to showcase them.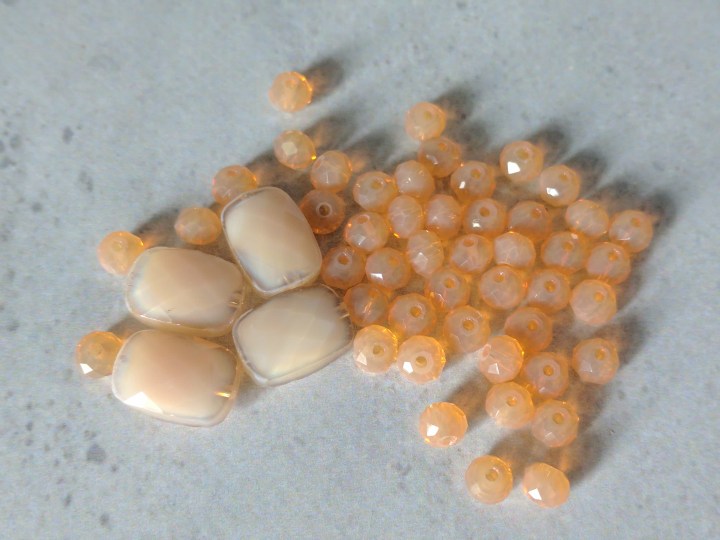 14mm Fancy Cut Glass Crystal Faceted Rectangles. I like that they are not too big, but they are still interesting. The colour is a lovely pale peach.
6x4mm Chinese Crystal Rondelle. We get a lot of chinese crystal rondelle in these box, but I'm not complaining as they are versatile and look great with bead caps.
18x25mm Toggle Clasps. Every month, we get some sort of clasps to help us finish our piece without having to run to the store to get some more. These are quite simple looking, nothing fancy.
22mm Double-Sided Heart Cutout Charms. We also get some charms in the month's metal. I like the graffiti look of one side of the charms. They could be layered on top of a flat bead for some great look!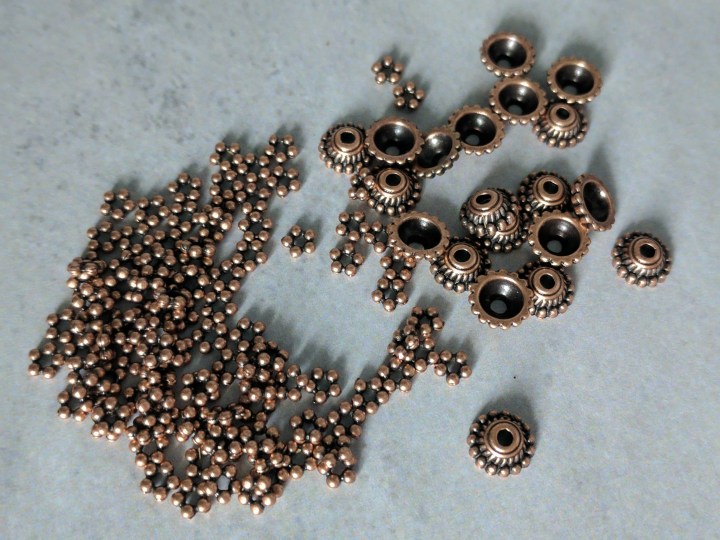 8mm Bead Caps, 4.5mm Spacer Beads. Every month, we also receive some kind of bead caps and spacer beads to help us add some interesting details to our design. I like the simplicity of the daisy spacer beads, they look great with rondelles. The bead caps fit 8 and 10mm beads, but I feel they are too big for smaller beads, hiding them more than showcasing them.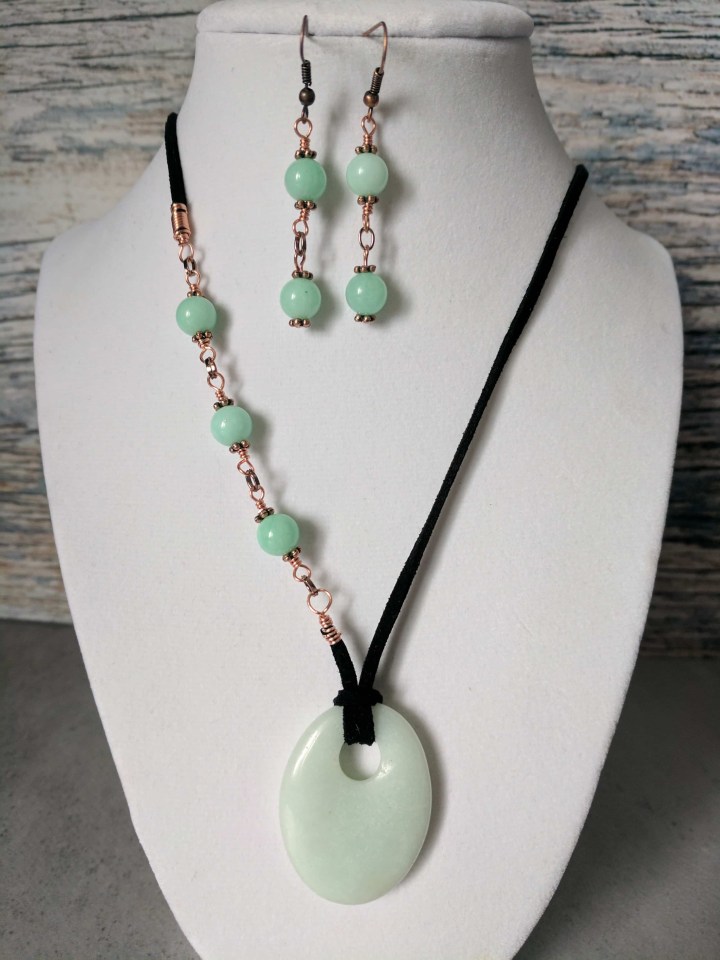 This month, I wanted to do something different, but simple looking. I love asymmetrical looks and I couldn't not use the lovely amazonite pendant!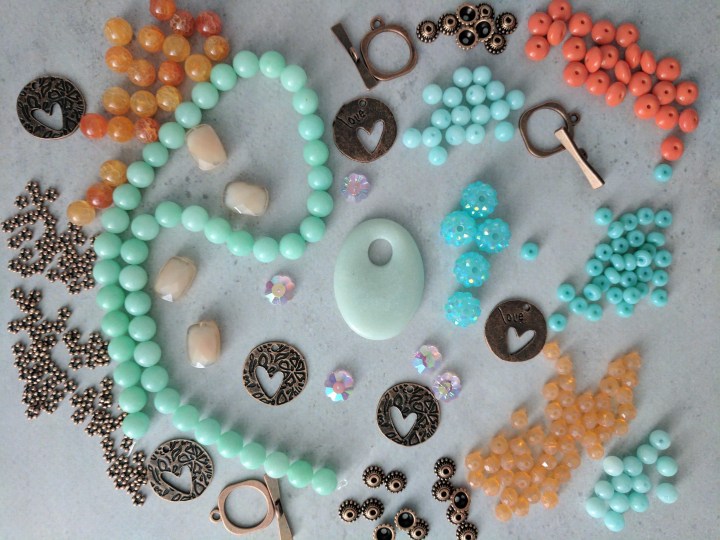 This was a nice follow-up to the turquoise/antique gold from last month. Left-over beads from last month can easily be mix with this month's colour palette. I love the mix of coral/orange and turquoise, it looks vibrant and summery. I love love love the pendant! It's big, but not overwhelming!
What did you think of this month's Bargain Bead Box?