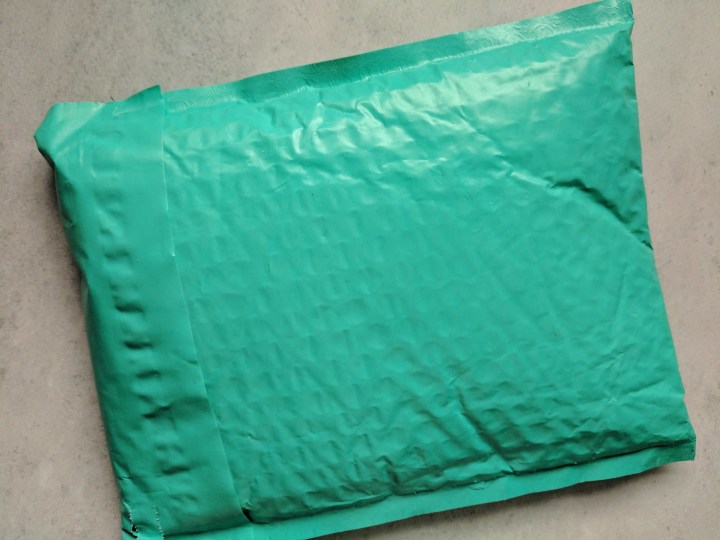 Bargain Bead Box is a monthly bead subscription service. Each month, you'll receive over $40 worth of top-quality jewelry supplies. It can be a mix of loose beads, bead strings, findings, and pendants. You can share your creation on their social media for a chance to win a $25 gift certificate for their sister store Bead Box Bargain. Boxes are $15.95 per month. Shipping is free in the US and $7.50 to Canada. Even if it's technically a subscription box, it comes in a teal bubble mailer, which is less expensive than a box so they can send more beads! And more beads is more fun!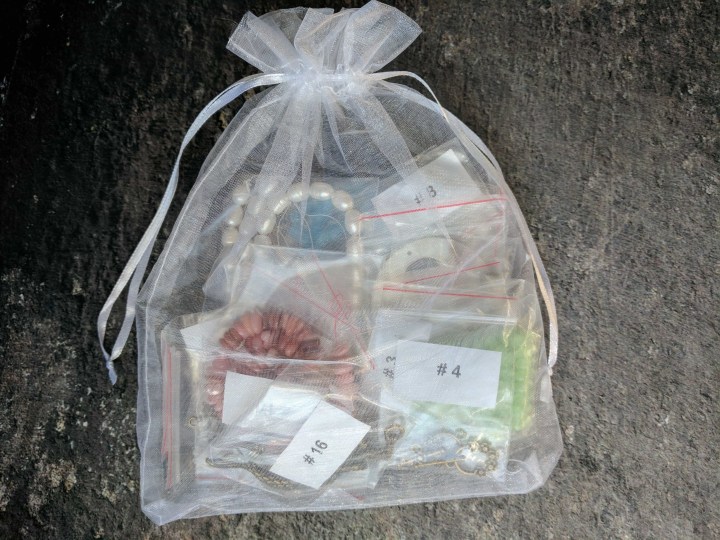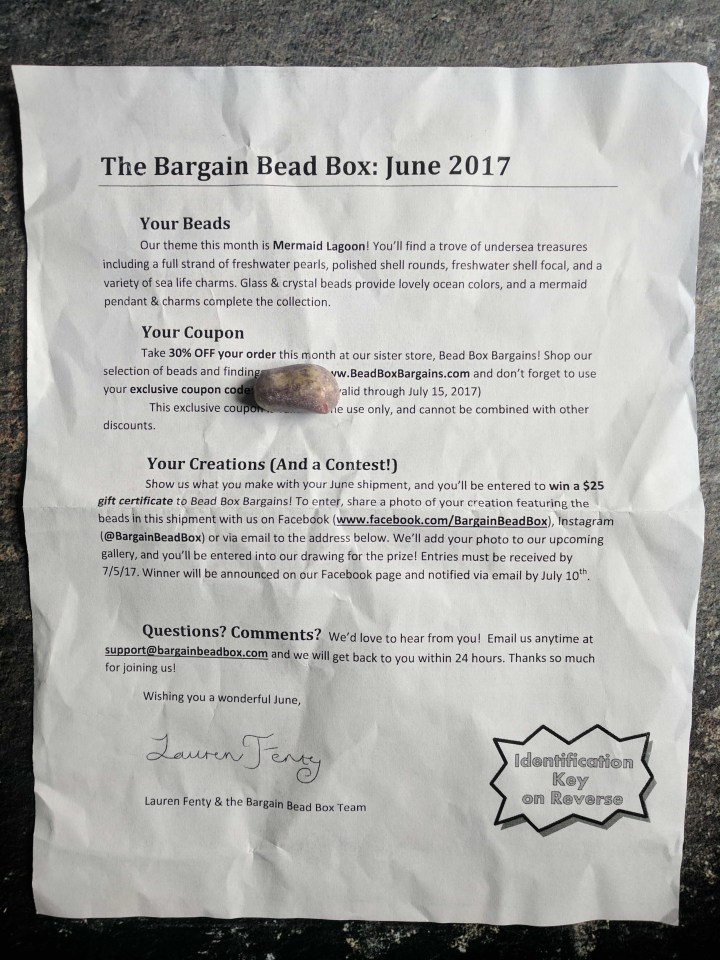 Each month is curated around a different theme and all the beads and findings are coordinated. This month's theme is "Mermaid Lagoon" with antique or weathered bronze as the metal of the month! We are promise a trove of undersea treasures with freshwater pearls and shell! Sounds like a date with beads at the beach! You also get a discount code for their sister store. I've used it a couple of times and it's totally worth it!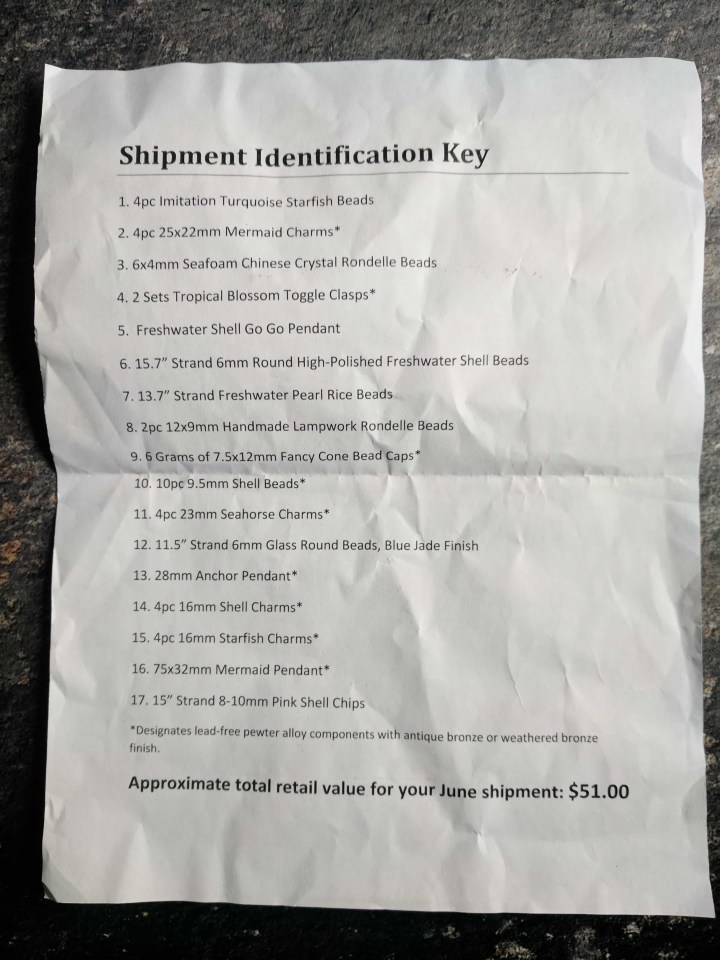 On the reverse of the letter there's a list of all the beads and findings you've received. The bags are labelled with a number to make identification easier.
I love what I see! Fresh, summery and oceany colours!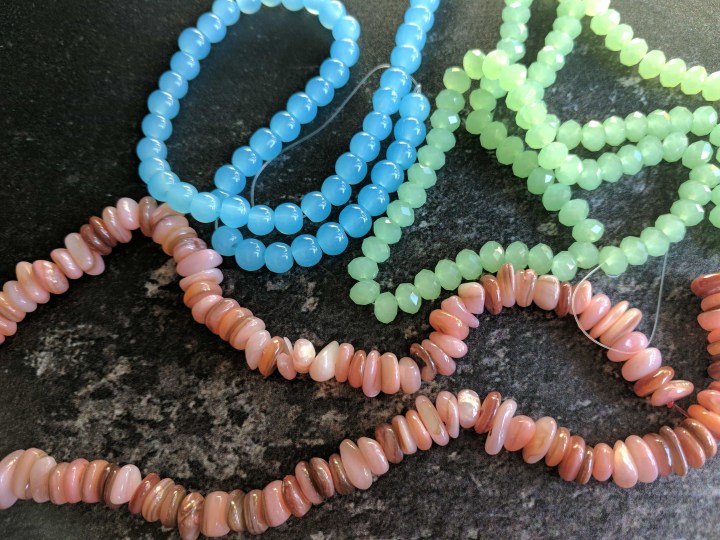 6mm Glass Round Beads, Blue Jade Finish. That colour is so pretty! This is the perfect bead for anything breezy.
6x4mm Seafoam Chinese Crystal Rondelle Beads. Once again, the colour is perfect for this box. Every month, we get some kind of chinese crystals, and I love getting rondelles. They are so easy to pair with bead caps, and they look great by themselves with only spacer beads.
8-10mm Pink Shell Chips. I'm usually not a big fan of chips, but these ones have such a lovely colour! They would be nice on an elastic bracelet, or you could stack a couple on a head pin for cute earrings.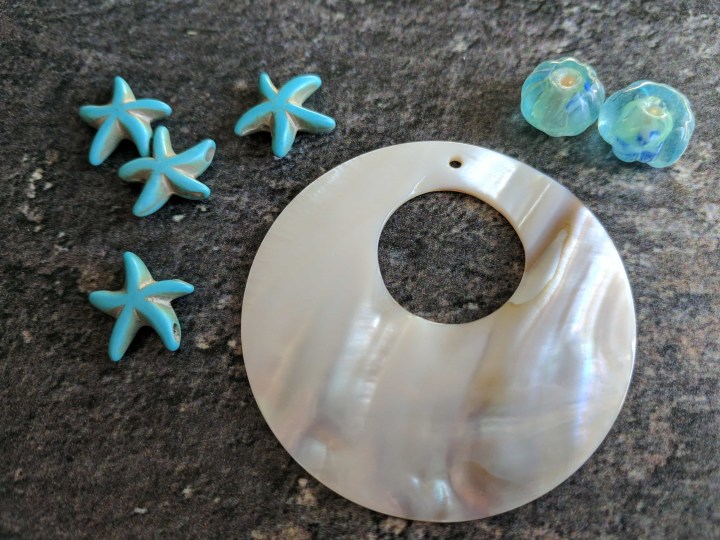 Imitation Turquoise Starfish Beads. They would look great on simple earrings (or hanging from a stack of the pink shell chips), on a crocheted bracelet or necklace, or one could be hung in the centre of the gorgeous Shell Pendant!
Freshwater Shell Go Go Pendant. What a gorgeous pendant! I haven't done anything with it for this month's project, but I will definitely pair it with some of the blue starfish for a cute boho necklace! Even if there's a hole for a link, or small cord, I think that a thicker cords could be knotted inside the bigger hole.
12x9mm Handmade Lampwork Rondelle Beads. I don't buy lampwork beads myself, but I'm happy to get some in a bead box. These are great as they can be paired with both the blue glass beads and the seafoam chinese crystals.
6mm Round High-Polished Freshwater Shell Beads. I love how they seem to shimmer.
Freshwater Pearl Rice Beads. They would be lovely on a simple crocheted or knotted pearl necklace with some of the coloured beads! Summery and ideal for a beach wedding (or any other fancy summer party!)
25x22mm Mermaid Charms. We are in the mermaid lagoon with these cute mermaid charms! Turn it into a pendant with a single blue beads hanging from the bail, or make it a part of a charmed bracelet!
75x32mm Mermaid Pendant. This could be the perfect pendant to a braided necklace using the beads from this box.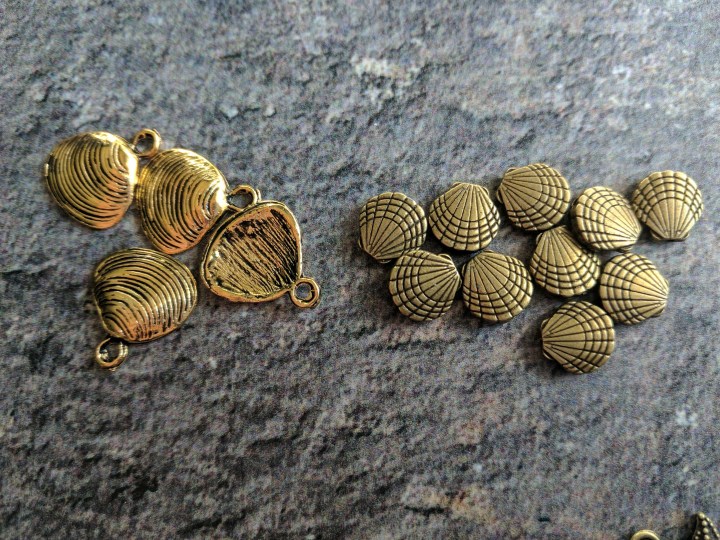 9.5mm Shell Beads. I really like them. You can thread them on a head pin (the hole goes from the base of the shell to the top) to turn them into charms, or on a cord with blue beads for a cute bracelet.
16mm Shell Charms. Like for the mermaid charms, these would be perfect on a charmed bracelet!
23mm Seahorse Charms. This month, we were spoiled with a lot of sea inspired charms! Together, they would make a very nice charmed bracelet!
16mm Starfish Charms. Or together, they could be made into a tassel with a big floral beads for a Pacific Island Treasure inspired boho necklace!
28mm Anchor Pendant.
7.5x12mm Fancy Cone Bead Caps. With Bargain Bead Box, we always get some spacer beads or bead caps. They are great to add some oomph to a simple bead. These ones would be great to top a tassel.
Tropical Blossom Toggle Clasps. Every month, we get a kind of clasps, and I'm always looking forward to see what kind of design we'll receive. I like that most of them, like the ones we received this month, don't need to be hidden and can be part of the design. You can use them to make a front closure (with charms and chains hanging from them), or you can use the round part as a simple link in a necklace and then use the "bar" side to create a statement pendant that you can remove easily from the necklace!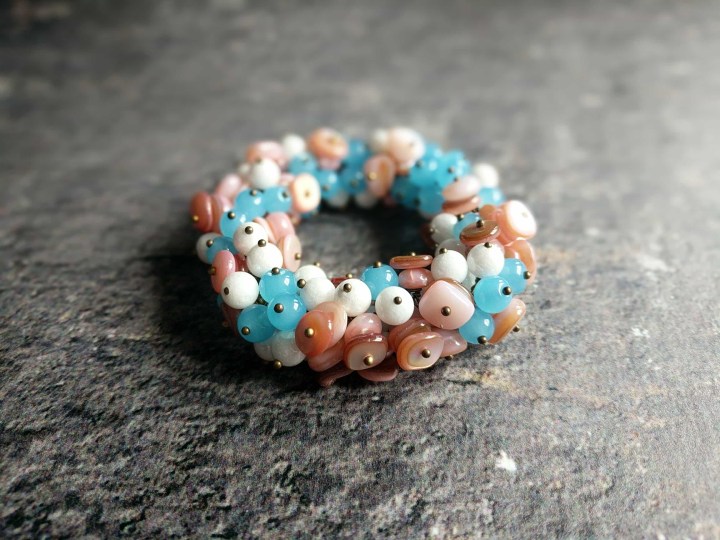 This month, I wanted to do something simple to showcase the colours from this box and the pink coral chips. I also wanted to make something I could wear to a BBQ, or any other casual summer event. Yes, this is a bracelet. An elastic bracelet with a lot of beads.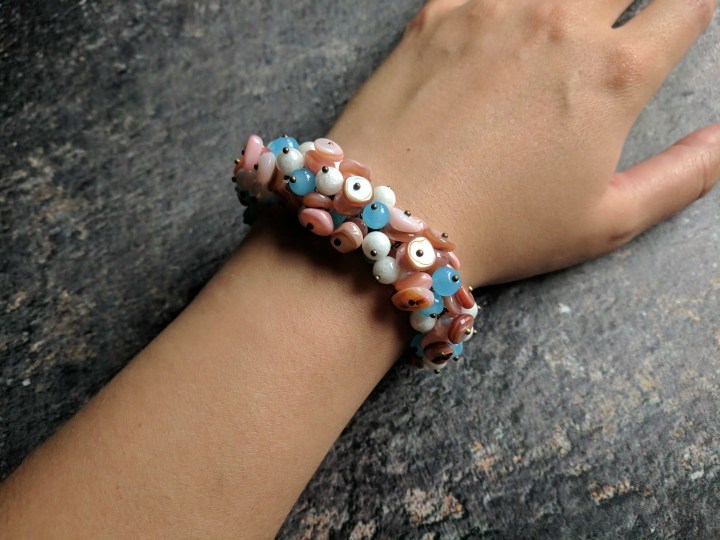 I just need a big colourful tropical flower to put in my hair (I should make hair accessories with the beads) and I'll be Beach Ready!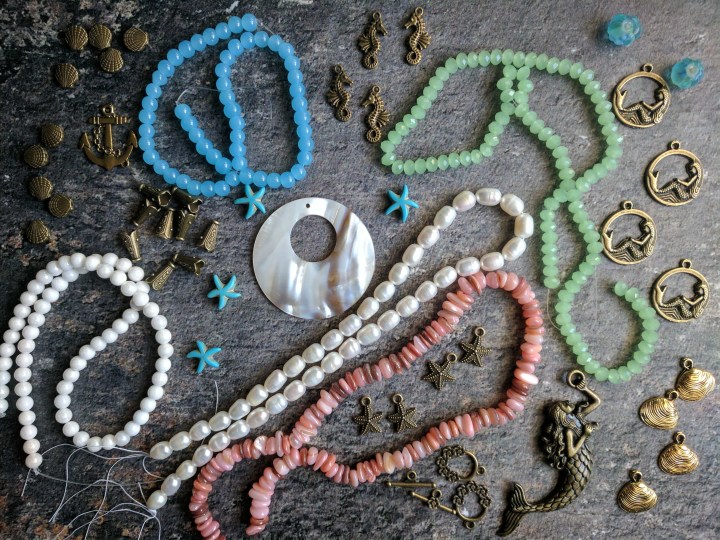 I love how the beads from this month's box could be mixed with the mints, blues, and coral colour from last month. This is such a "summer ready" box, but with a theme like "Mermaid Lagoon", I was expecting a bit more shimmers, like the scales on a mermaid tail. But I'm not complaining with the mix we've got, as it was lovely, everything worked with everything else, and even with a bead heavy design like the bracelet I did, I still have plenty of beads for more Mermaid Lagoon fun!
What did you think of this month's Bargain Bead Box?