So Bakeable is a monthly subscription box that sends baking lessons to your door. I like to think of it as a combination baking meal kit and craft box. Each month, you'll receive attractive, easy-to-follow directions along with all of the baking supplies you'll need (minus eggs, butter and milk). The results are gorgeous and absolutely delicious! Although So Bakeable's boxes are certainly suitable for experienced bakers, they're so well done that even beginners can make Pinterest-worthy desserts on their very first tries! Boxes cost $29.95 each plus shipping, and discounts are available with longer-term prepaid subscriptions.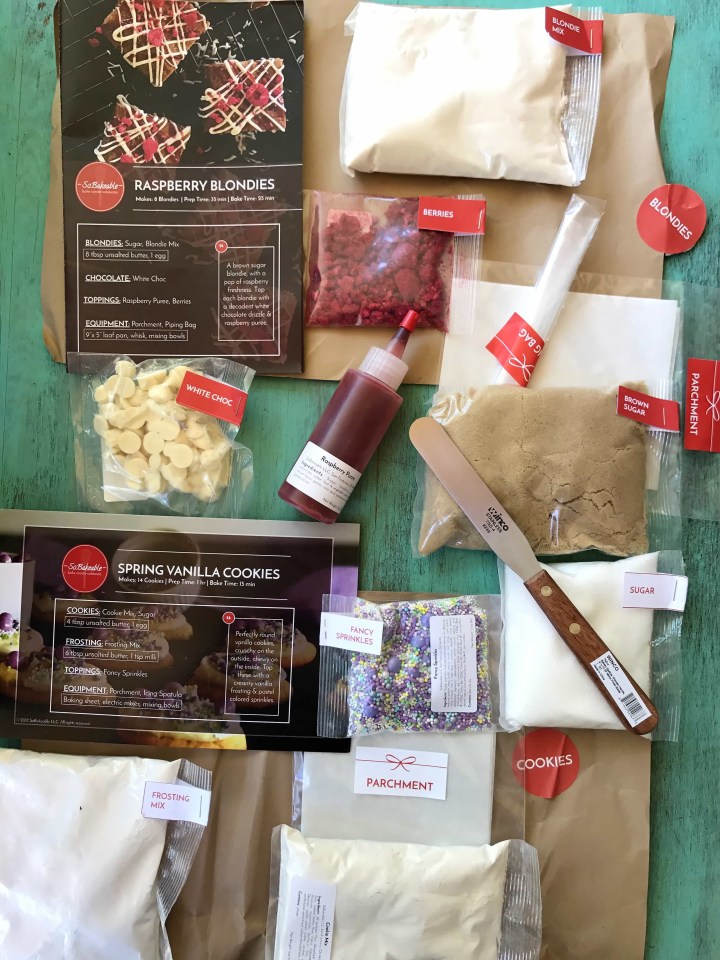 DEAL:
  Save $5 on your first box! Use coupon code 
BAKINGTIME
.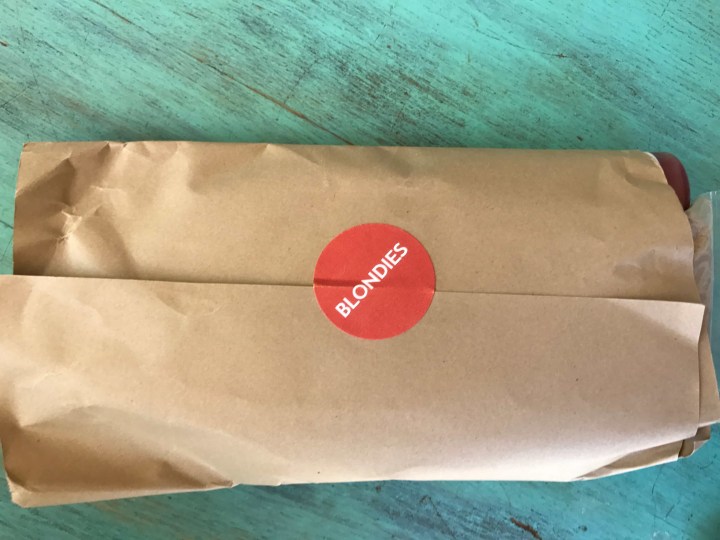 This month's box featured Raspberry Blondies and Spring Vanilla Cookies. Each individual recipe and ingredients came neatly wrapped in brown paper and sealed with an identifying sticker.
All of the ingredients are individually packaged and pre-measured to make the baking process a piece of cake!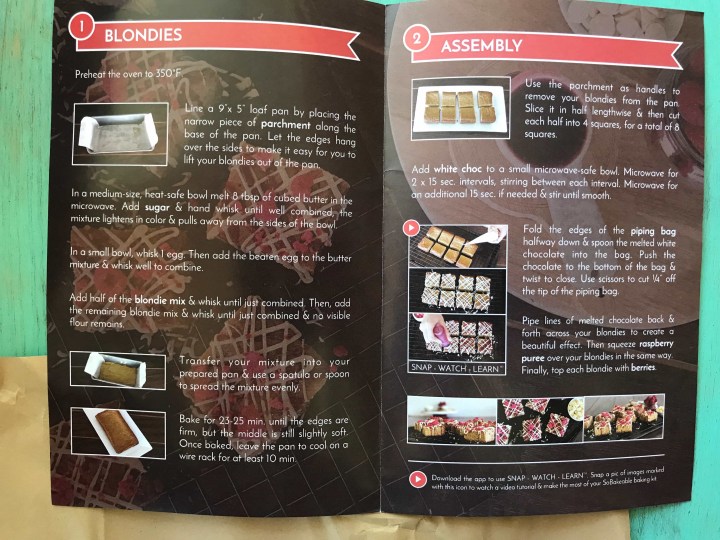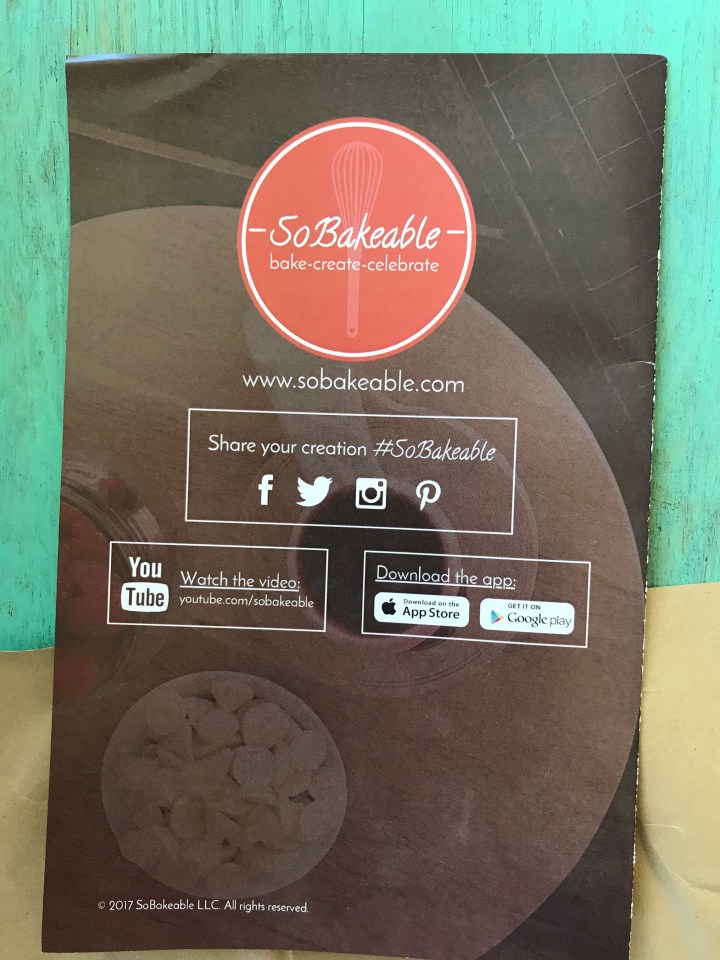 The directions for mixing up the blondies were in an easy to read booklet with clear illustrations and instructions. If you need further assistance in your baking endeavor, they have YouTube videos and a SoBakeable app.
You do have to provide the butter and eggs for the recipe. Those are a little hard to ship!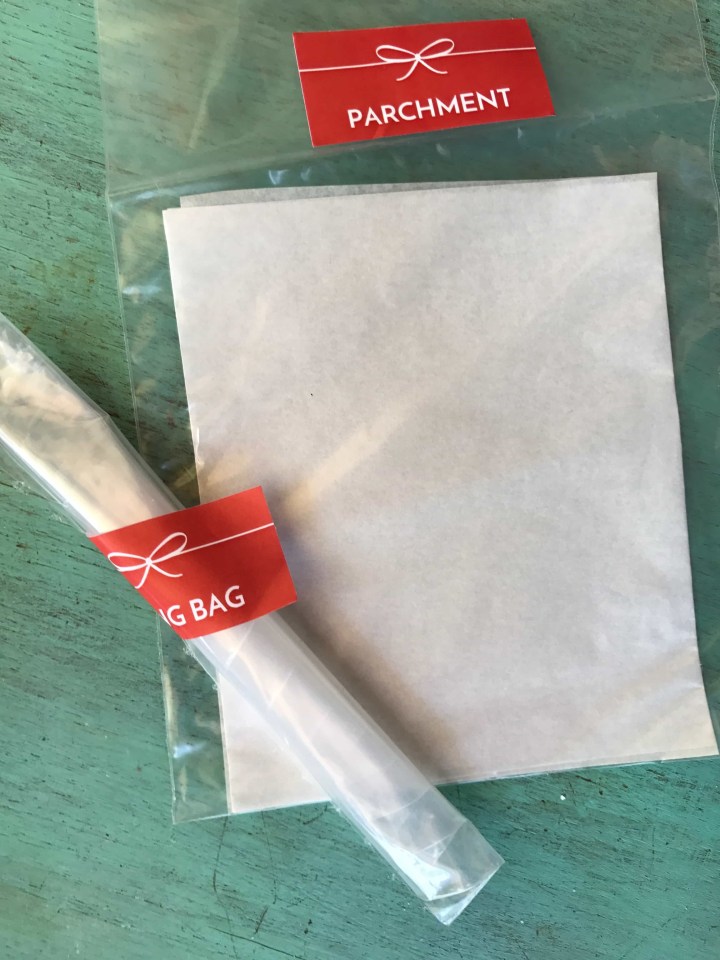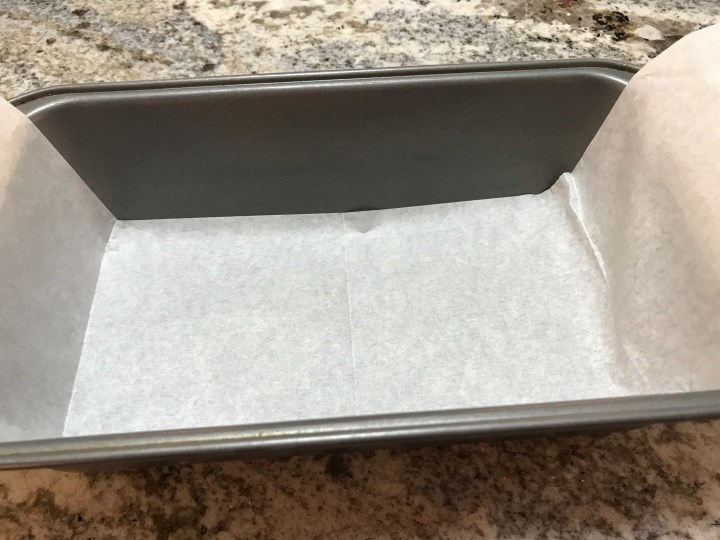 You get started by preheating the oven and lining your baking pan with the provided sheet of parchment. It is the perfect size to line the bottom and come up over the sides of a 9×5 loaf pan.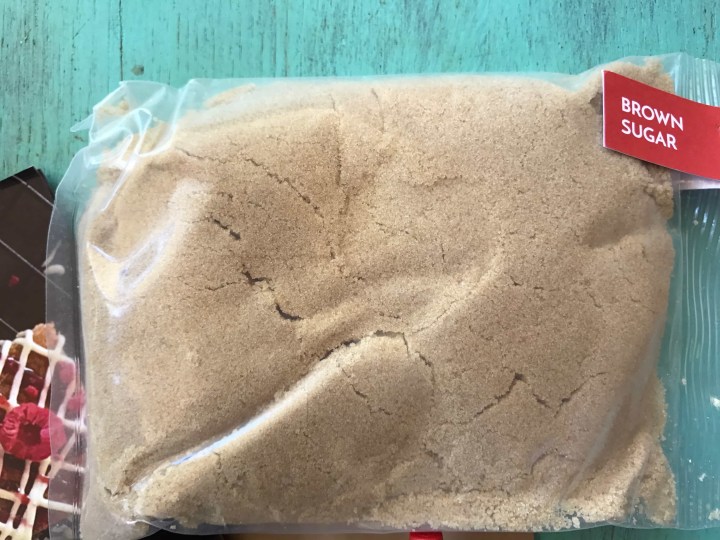 Next, you melt the aforementioned butter in the microwave and add the brown sugar.
Then, you whisk an egg, add it to the sugar and butter mixture and then add that to the blondie mix.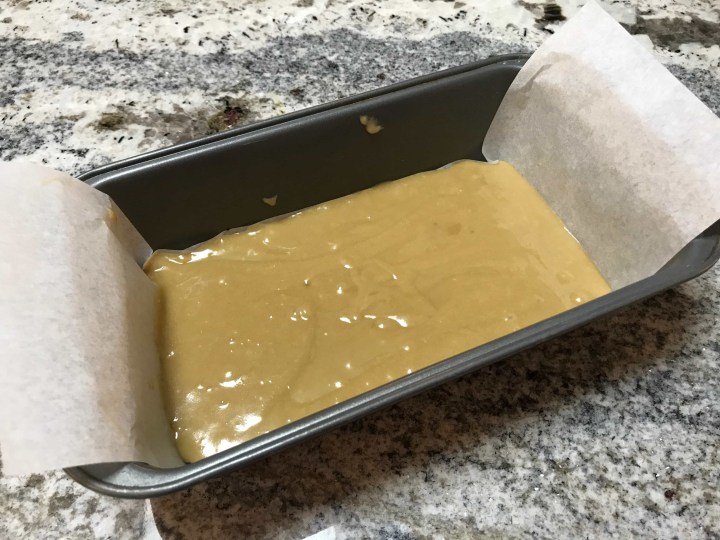 Once everything is just combined, you pour your batter into the lined baking pan and pop it into the preheated oven.
While you are waiting on your blondies to bake, you can go ahead and melt the white chocolate chips in the microwave. Ours were already a little melty because it is hotter than a two dollar pistol in Georgia this time of year. But, they ain't hurt none. (Ain't is a word here. And double negatives are permissible.)
Once your chocolate is melted, you scoop it into the provided piping bag, snip the tip off and pipe the chocolate onto your cooled blondies in a diagonal pattern.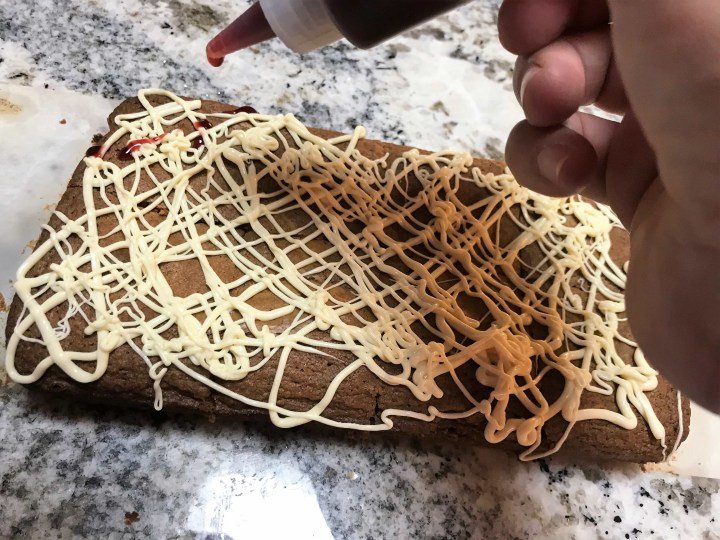 I had a little help with the chocolate from a six year old.  I swear.
This little bottle of raspberry puree was in the box and ready to squeeze onto your blondies.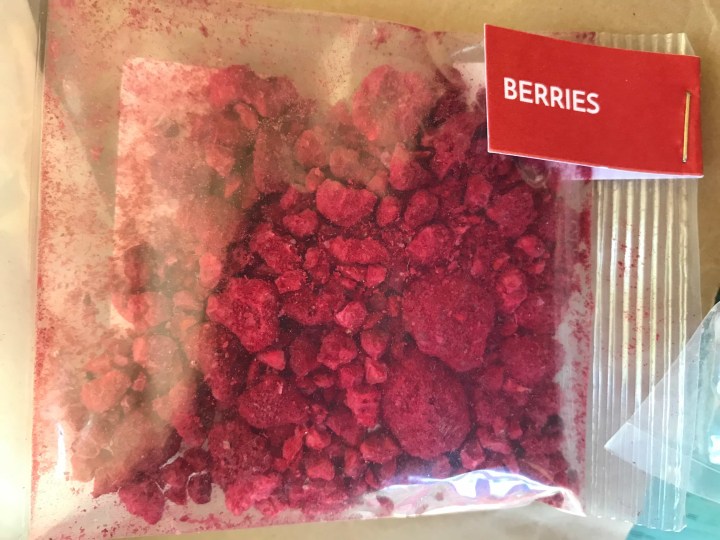 The final step is to decorate with the provided dried raspberries.
  Well,
Nearly final – you do have to cut them and eat them!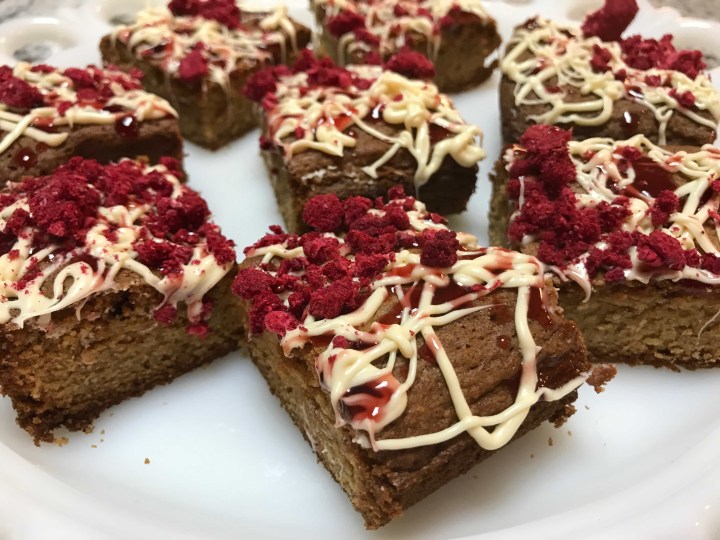 I think I baked them a bump too long. Who needs timers? (Apparently, I do…..)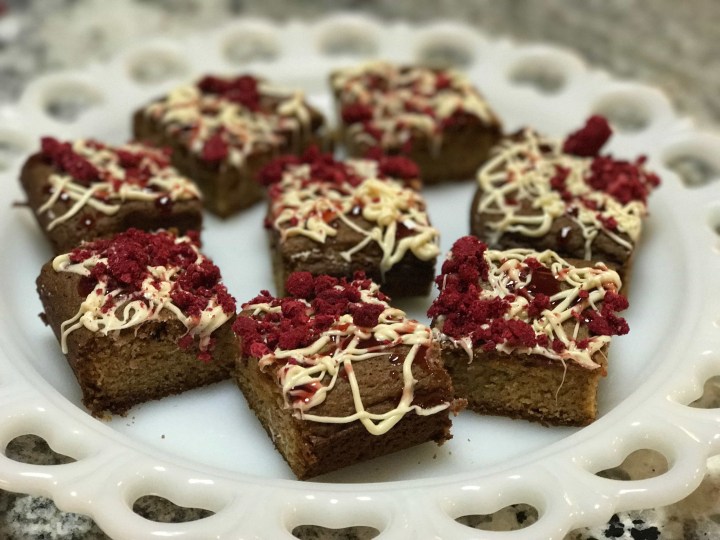 But, they were still delicious.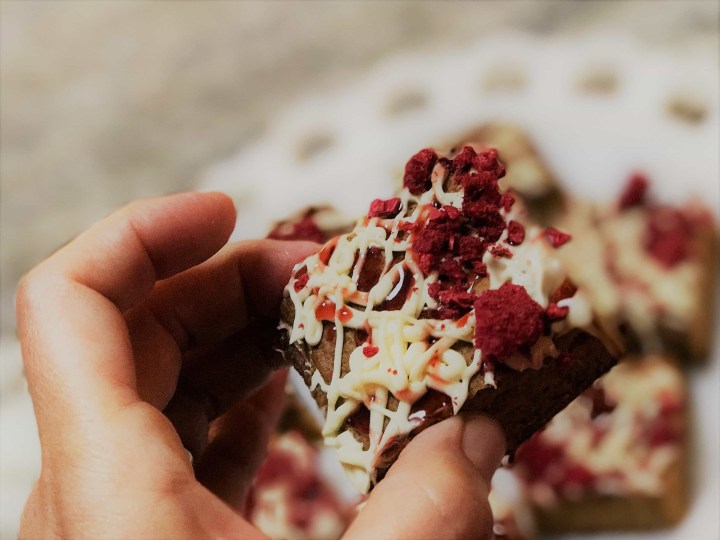 And beautiful!
The second recipe was Spring Vanilla Cookies.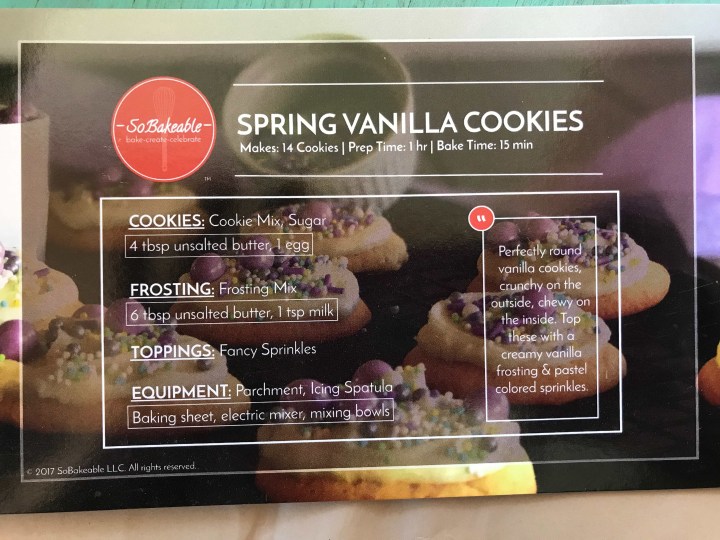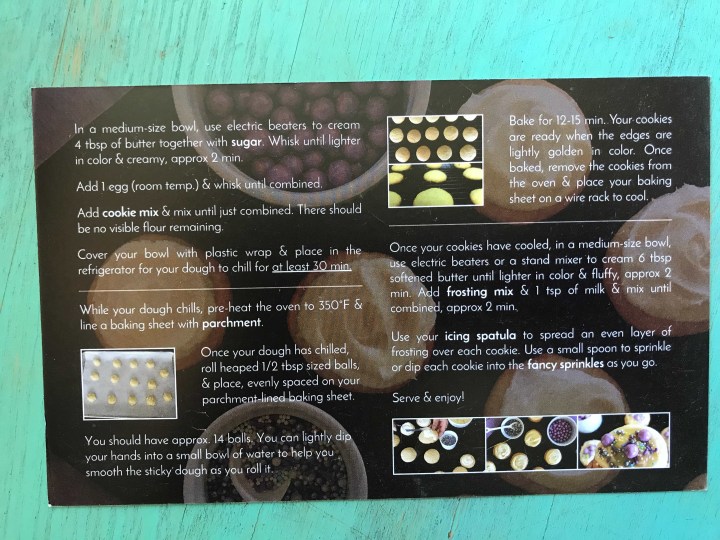 This recipe was printed on a card stock card.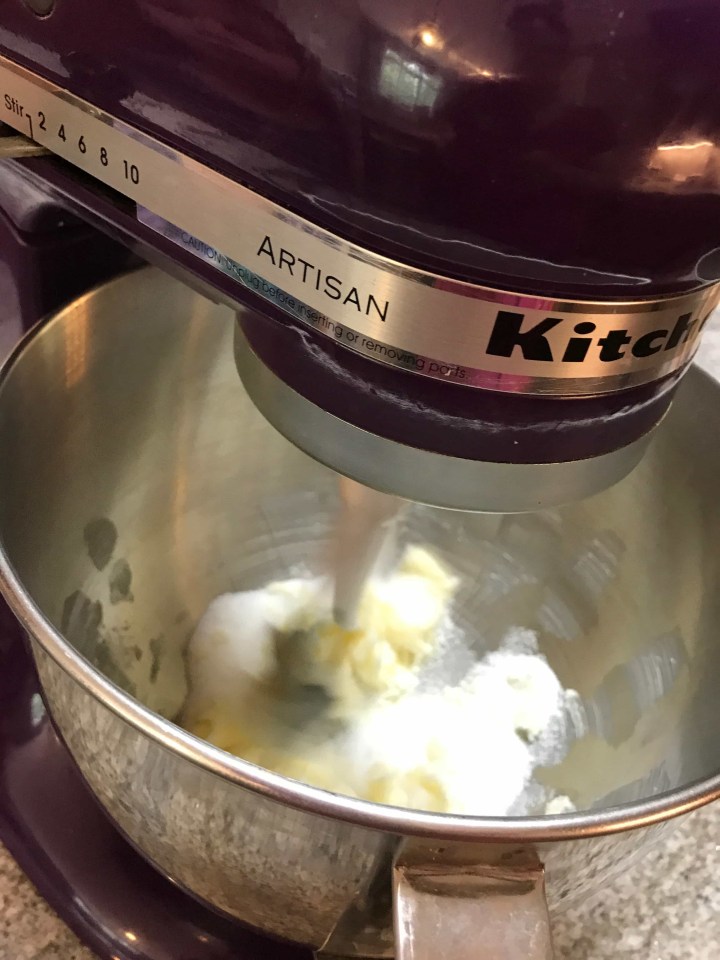 Like most cookie recipes, you start by mixing the sugar and butter.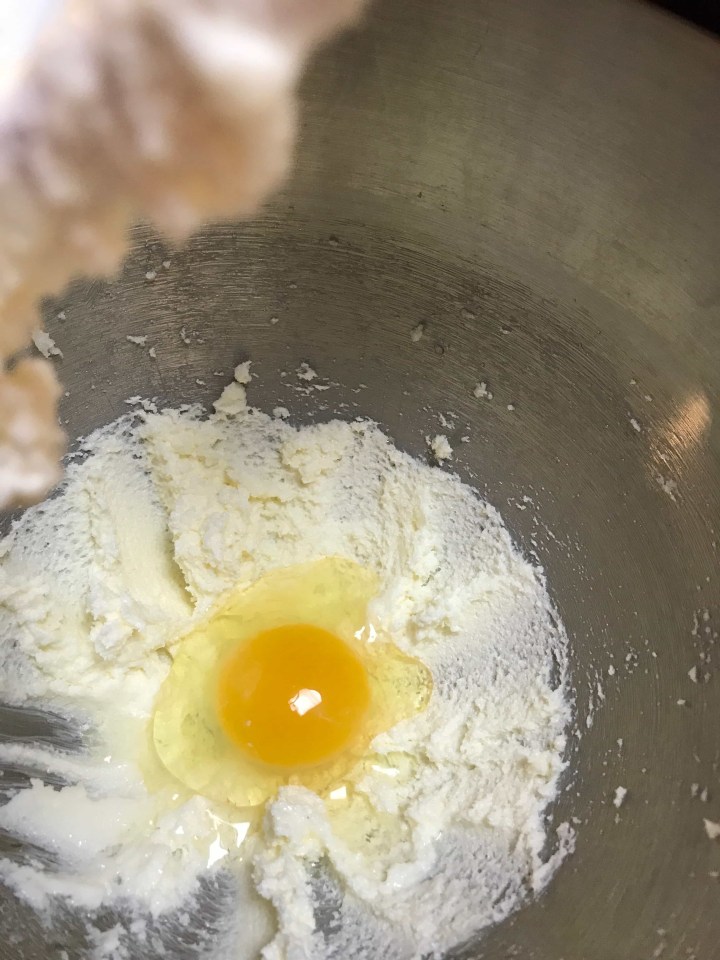 Then you add an egg and whisk until combined.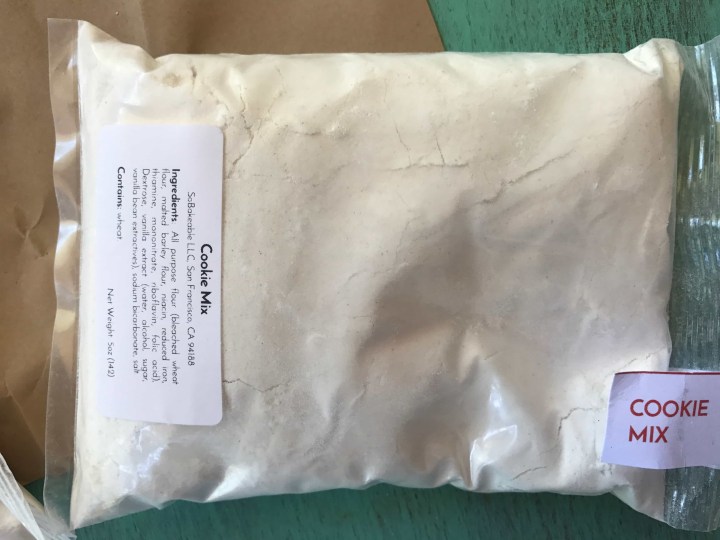 Then, you add the cookie mix and stir just until combined.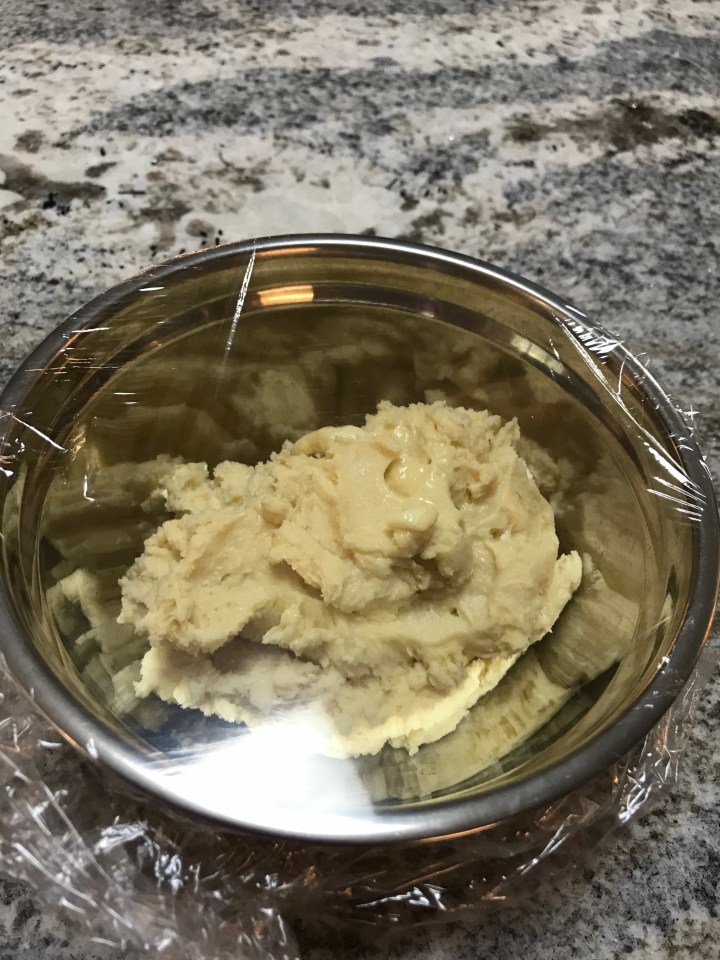 Cover your bowl with plastic wrap and refrigerate the dough for at least 30 minutes.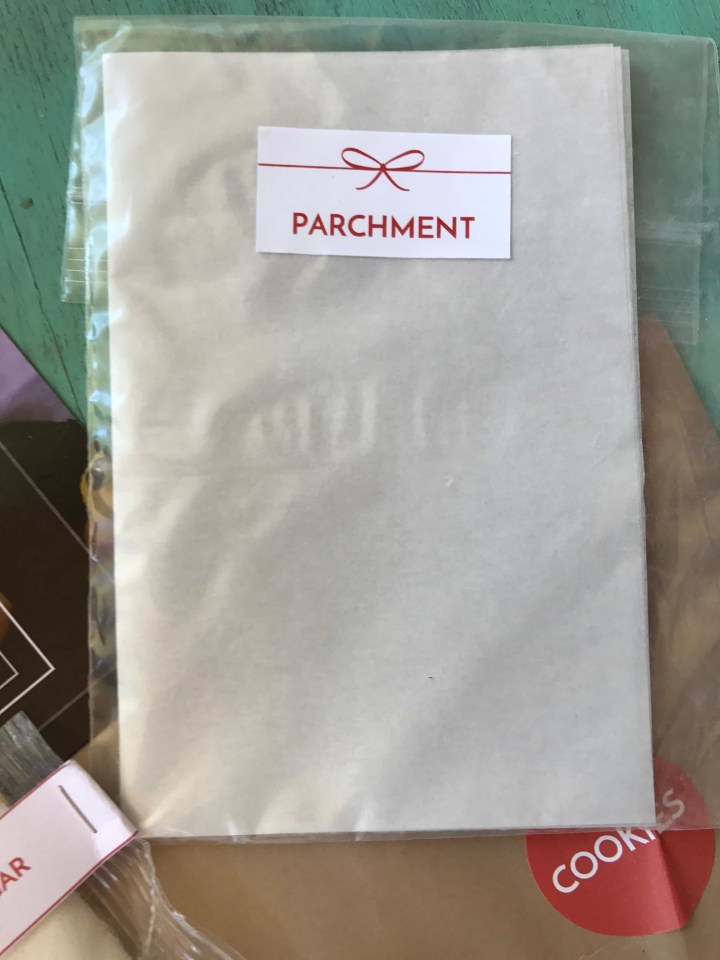 They provided parchment paper to line your cookie sheet with (they come up so much nicer when you do this!).
Your dough should make about 14 balls of about 1/2 tbsp. Bake at 350 degrees and then allow to cool.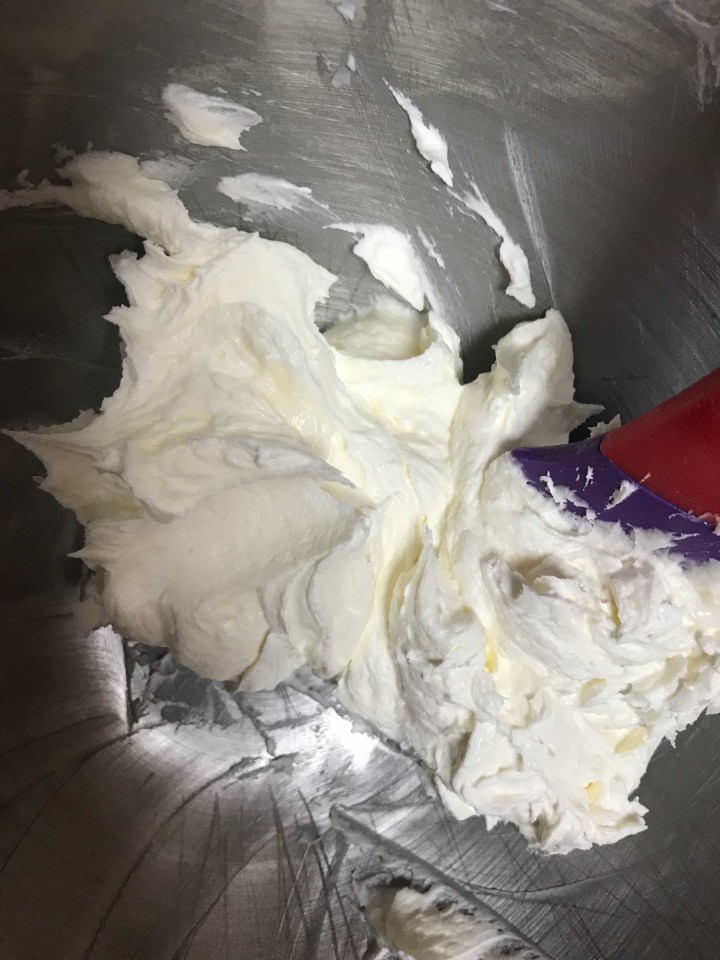 While you wait on the cookies to cool, you can be mixing up the frosting. Mix the frosting mix, butter and a little milk until the frosting is fluffy.
They even provided a icing spatula to frost your cookies with.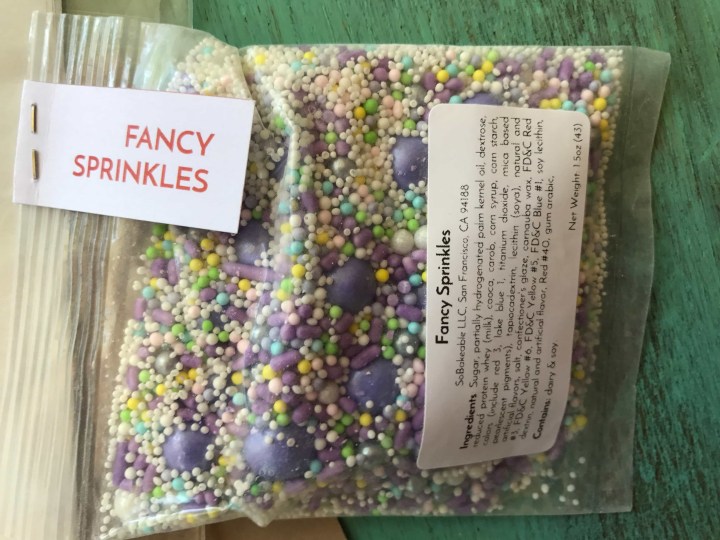 Once you ice the cookies, you dunk them in these gorgeous sprinkles!
Aren't they the purtiest thing you ever seen?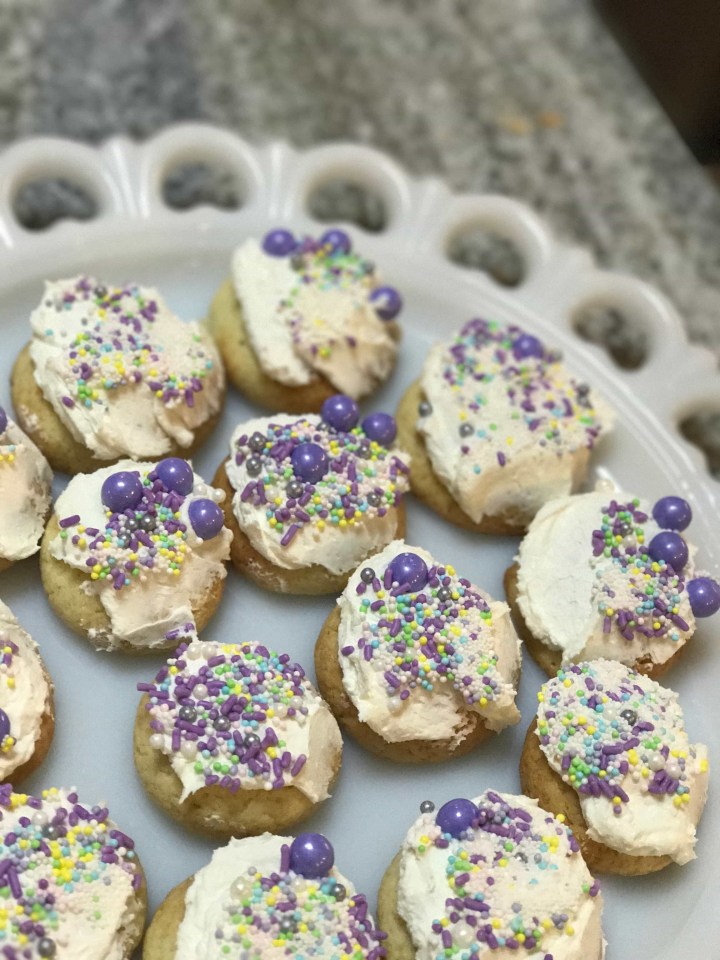 And, they are the best sugar cookies you have ever put in your mouth.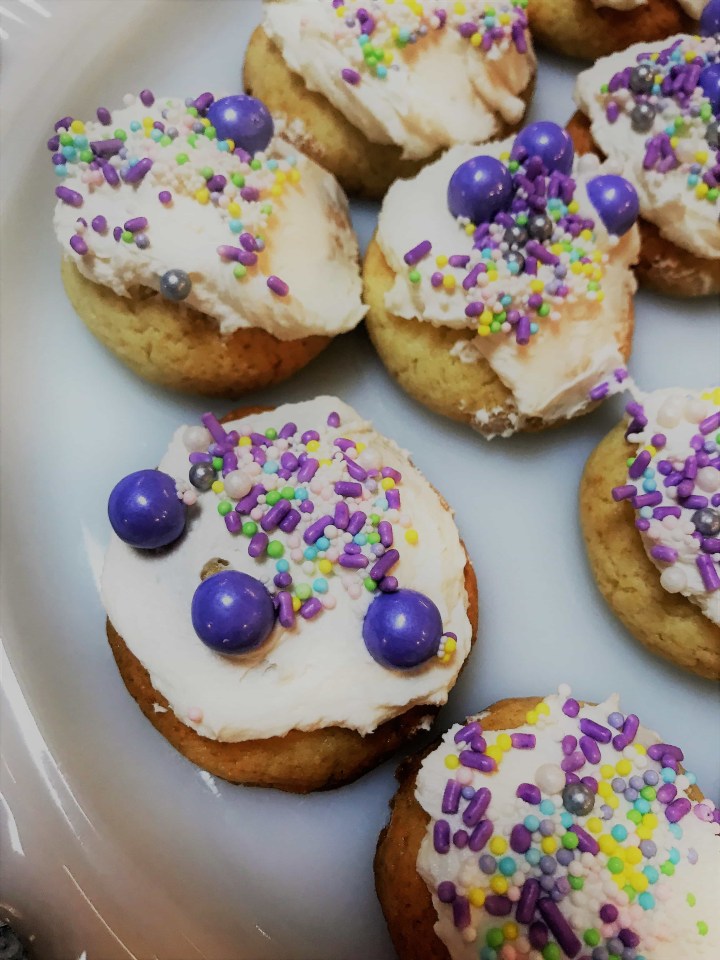 Light, buttery, delicious!!
The So Bakeable box makes gourmet baking easy. If you can follow directions, you can do this. And everything turns out beautiful! The results are great for sharing. Take a plate of cookies to the neighbors and say hello!  Mine eyeballed me like I was crazy, but they'll come around. They're just not used to people being nice yet.