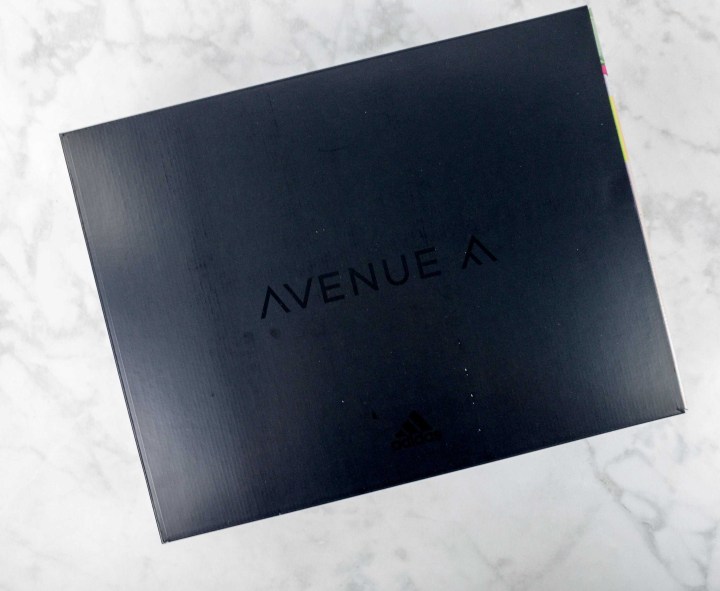 Adidas Avenue A is a quarterly subscription box designed for women who are active and always on-the-go. The box contains premium running and training items – both apparel and footwear – that are handpicked by well-known fitness experts and fashion trend-setters. Avenue A by Adidas box promises to bring items that meet style and performance at the same time.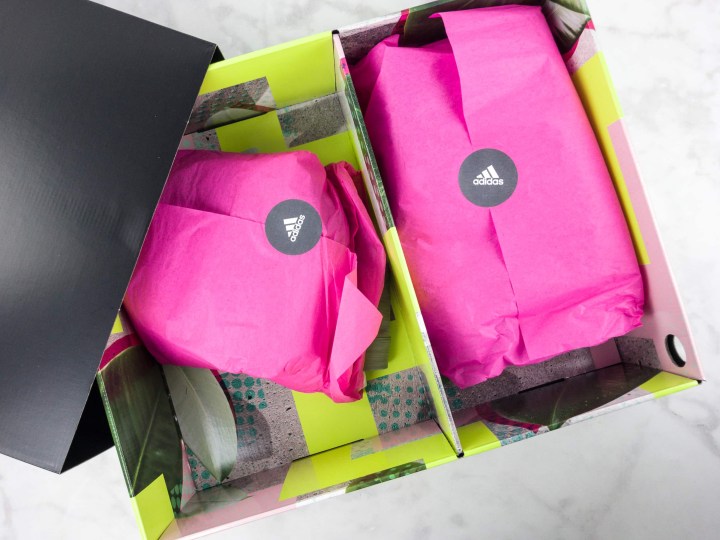 This giant box arrived in an outer cardboard box. The box itself is perfect to reuse underneath a bed! I recycle most boxes but keep these.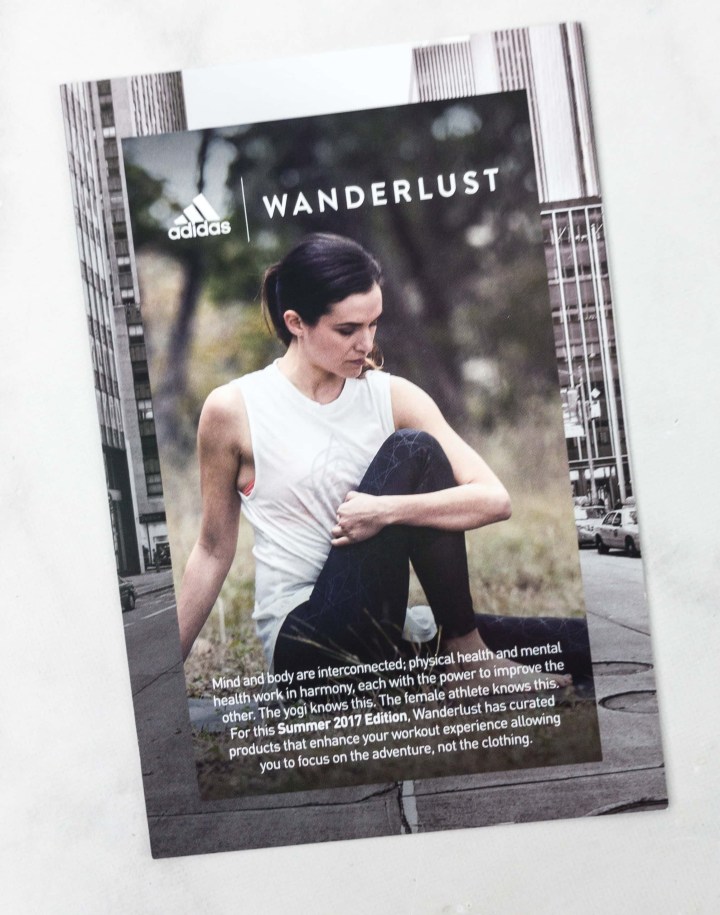 A tri-fold booklet contains the curator's letter and info about all the goodies! The Summer Box was curated by Wanderlust.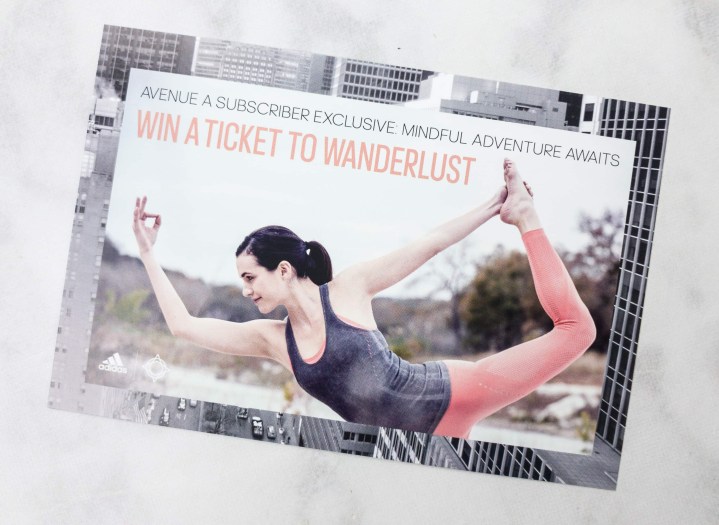 There's a contest you can enter to win a ticket to a Wanderlust Festival.
This month included some recipe cards.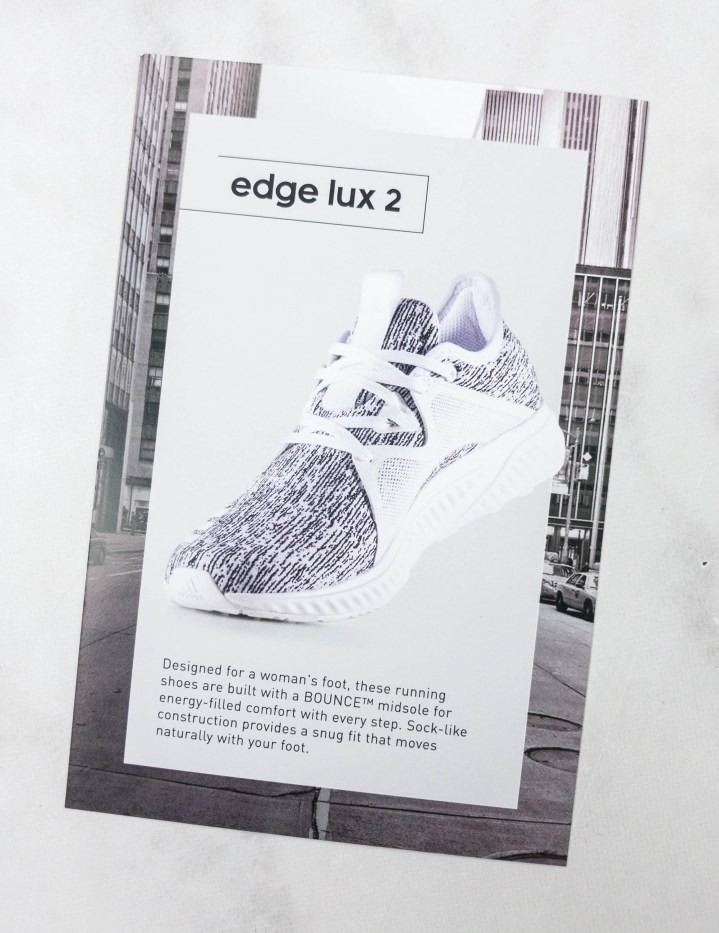 There was no card for the items besides the shoe.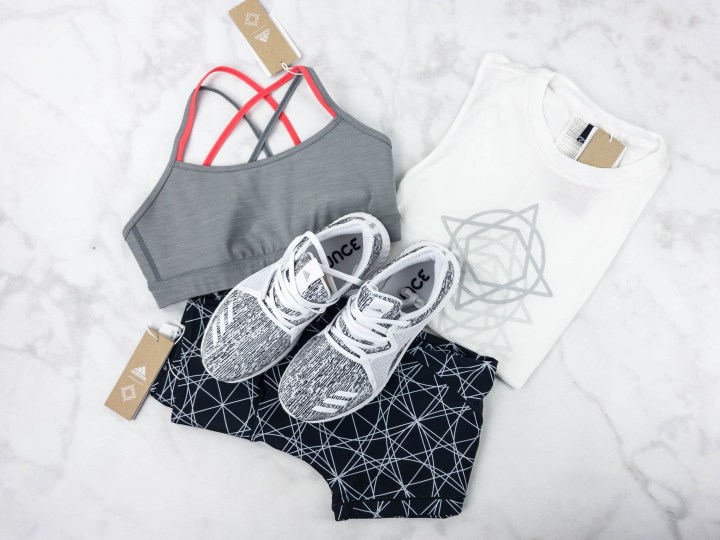 Everything in the Summer 2017 box!
When you sign up you have the opportunity to specify each size for every item. Shoes go up to size 12, apparel goes up to XL.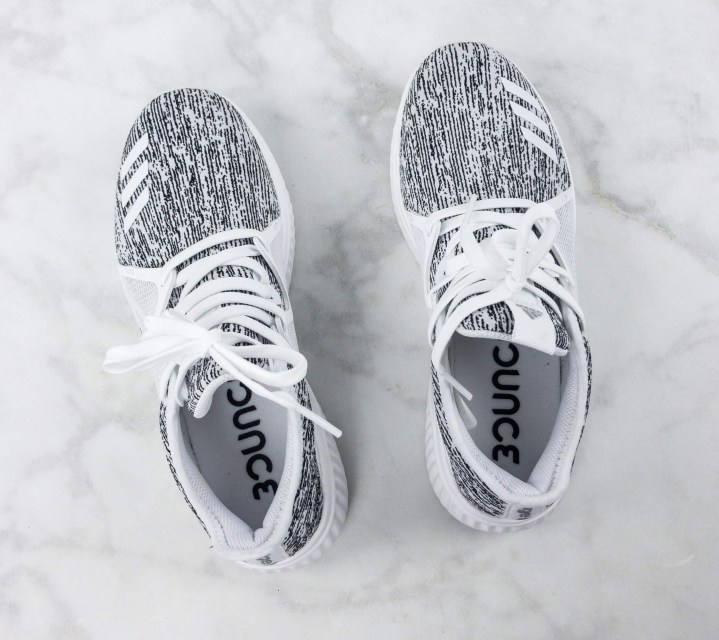 Adidas Edge Lux 2 Shoes ($85?)
These brand new shoes are pretty similar to other Adidas shoes. They have a fun sort of faux woodgrain pattern.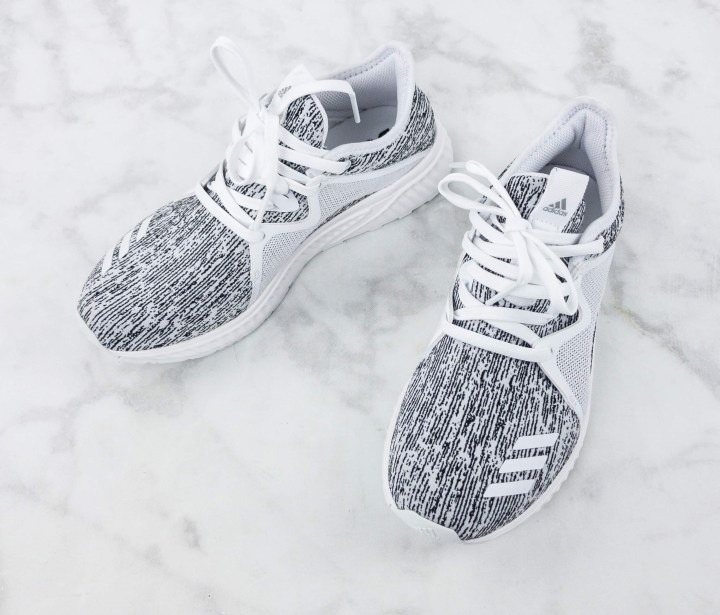 I like them, but they follow another gray pair of shoes, which followed a black shoe and a white shoe with black accents. I need some color, especially for summer! They are comfy, and don't stink (unlike the current pair I've been wearing!).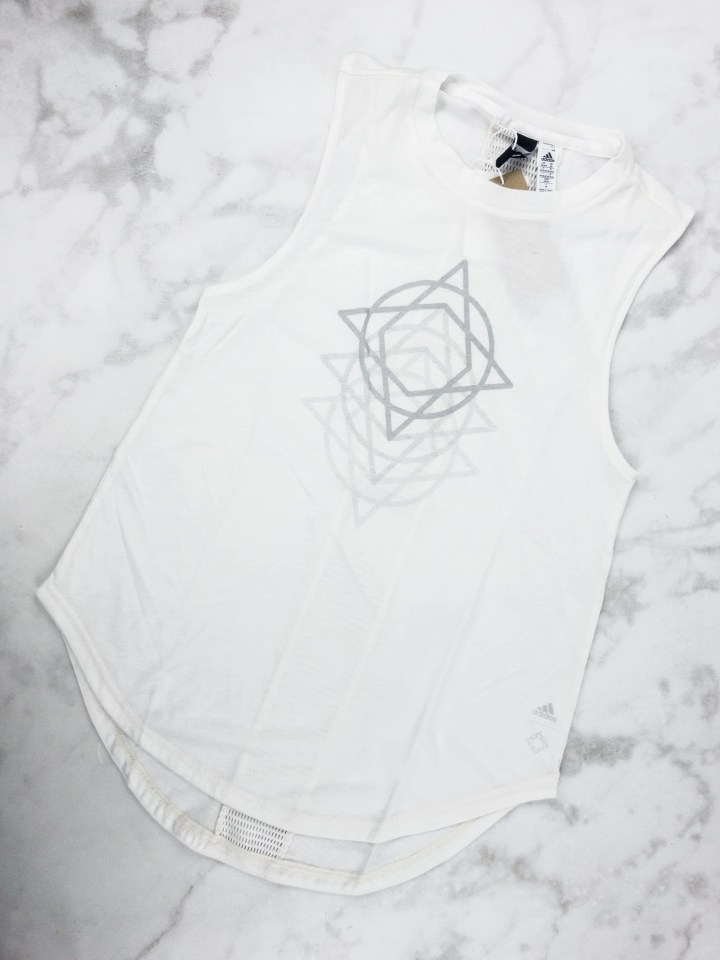 Wanderflo Tank Top In White ($35)  This is a very flowy, somewhat sheer tanktop, with giant oversized armholes, and the Wanderlust logo on the front.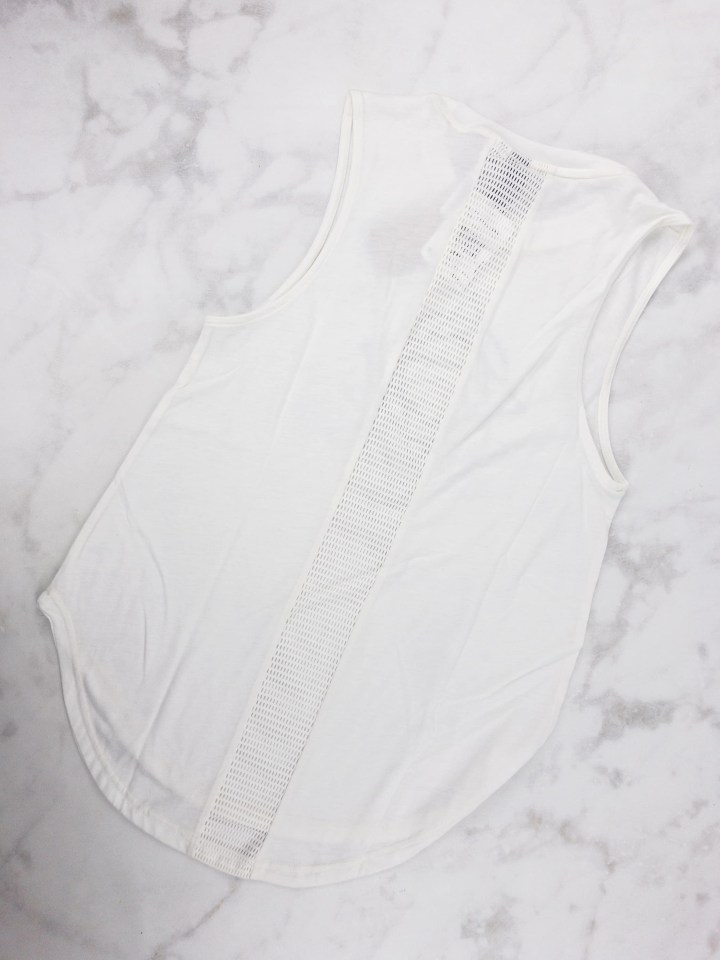 No hiding anything with this tank top on!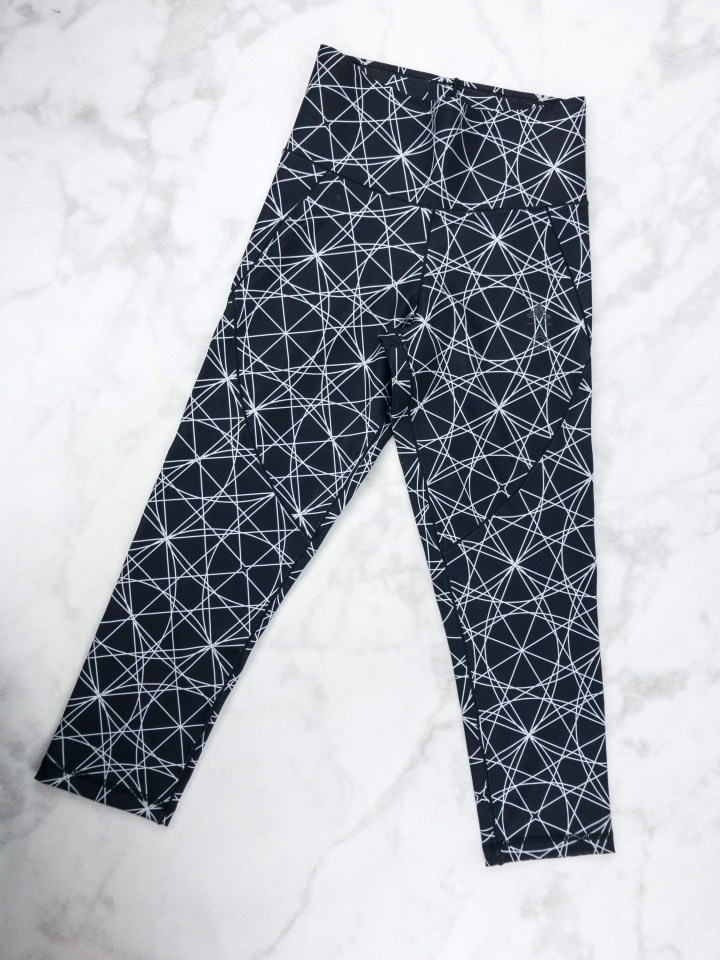 Wanderflex Iconic Three-Quarter Tights In Black ($55) There were variations in this box, and I got the black & white 3/4 tights. The extra long waistband is nice, but honestly sort of weird for summer! However, it keeps everything tucked in neatly. The orange tights are already on clearance for $41!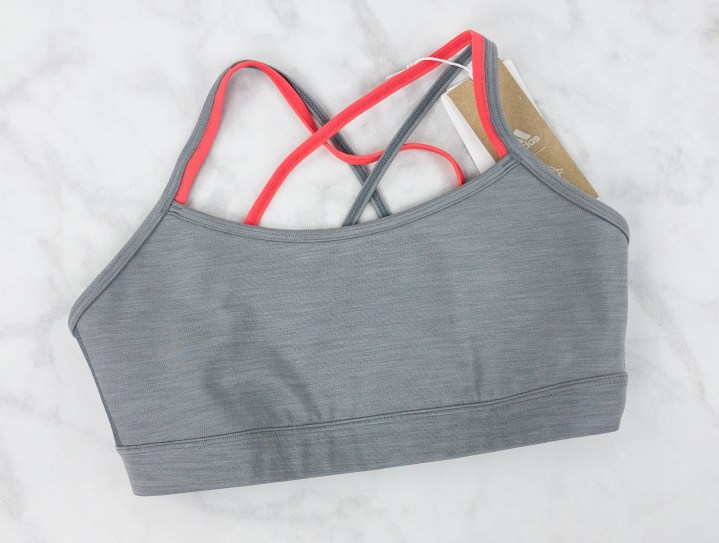 Wanderflex Cross Back Bra In Grey ($35) Both this bra and the tights are made from 79% recycled polyester and 21% elastane interlock. That's a neat feature that fits with the Wanderlust brand very well.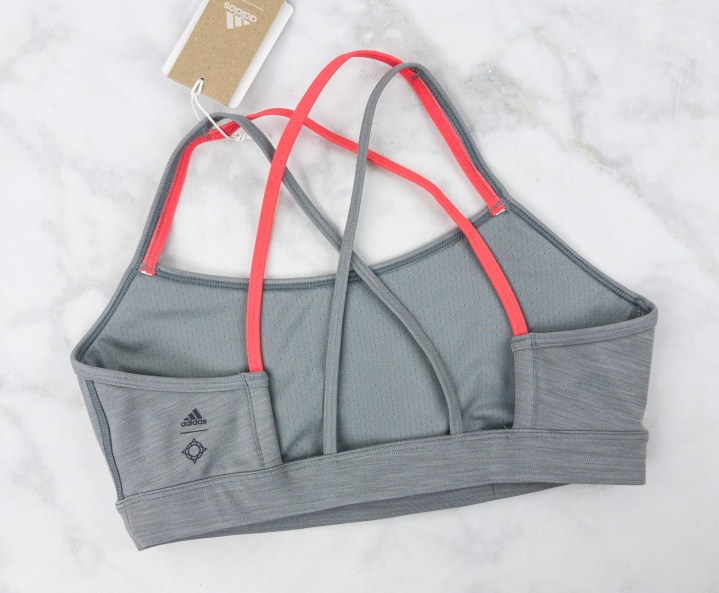 This bra is not for those with back fat! It doesn't have a lot of support and if you have a large chest, the straps would really dig in.
Really nothing about this box said summer to me – and it just felt really light and uninspired. Adidas doesn't promise more than 3 items, but 4 wasn't enough (hello, shorts?!) but even the info card called it in and the box itself didn't have a new design like previous quarters. It almost seems like a fall box – and when I went to check out the Wanderlust pieces on the Adidas site, the one piece they didn't include was a warm hoodie. With all the pieces starting to have their prices slashed, it's starting to look like only a break even box, and I'm not sure how many subscribers are OK with that – it's certainly not the formula for a winning subscription box.
What did you think of the Summer 2017 Avenue A Box from Adidas?