Yogi Surprise is a yoga-inspired monthly subscription box designed to complement your way of living. Each monthly box contains 6-8 products picked by experienced yogis to complement your yoga practice and your life! It's like getting a care package every month!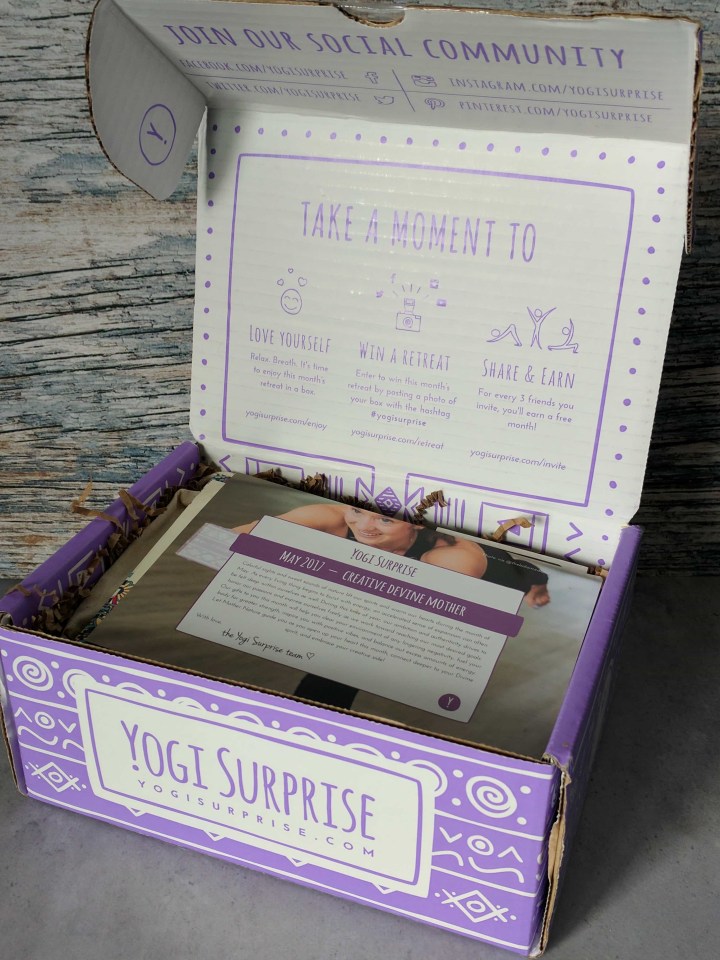 DEAL: Take 15% off your membership for life! Use coupon code HELLOYOGI.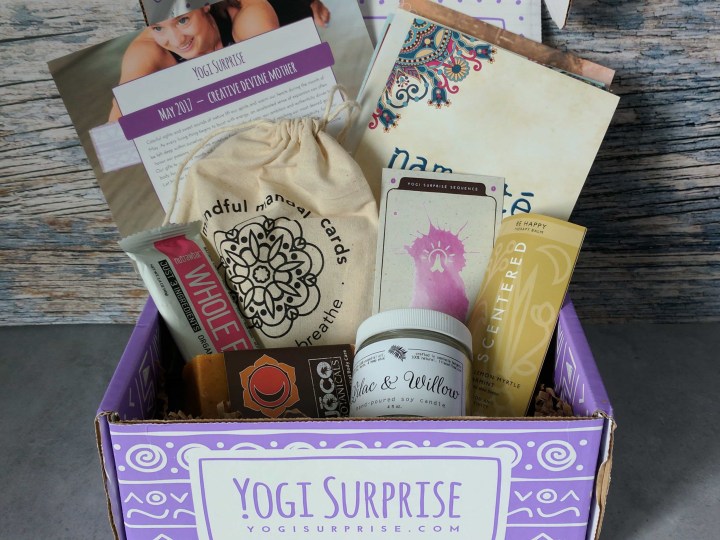 Everything in the box. There's not a lot of colour this month, but everything looks so zen.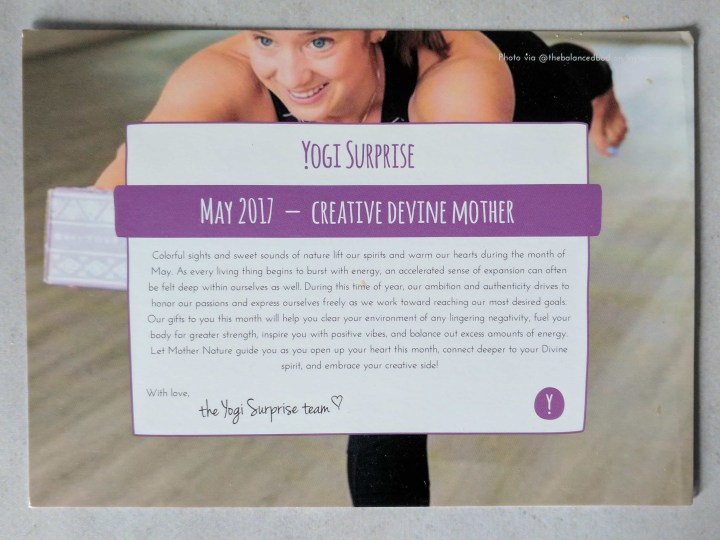 May's theme is Creative Devine Mother. It's all about clearing up our environment of any lingering negativity, and embrace our creative side!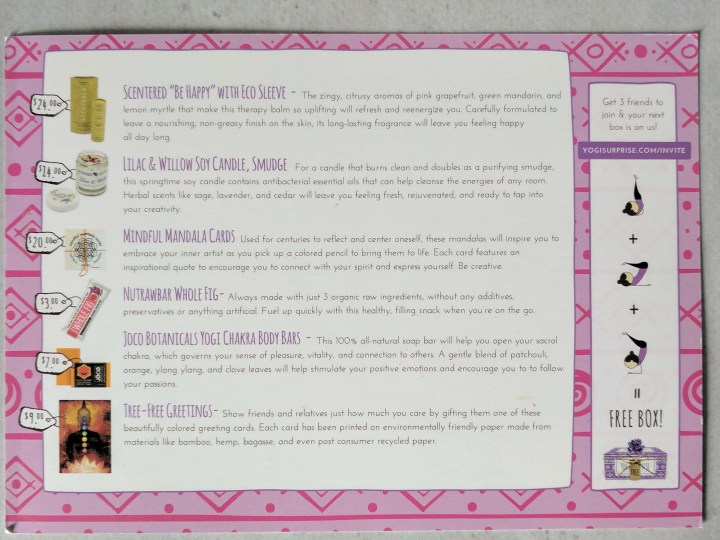 All the items are well described on the info card.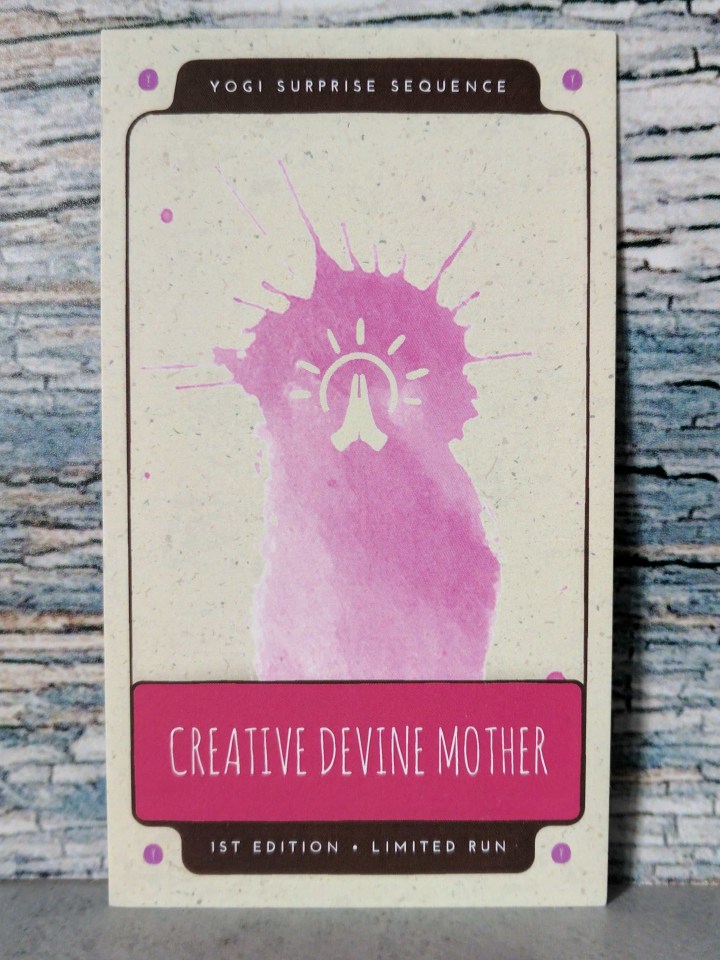 Yogi Surprise Yoga Sequence Series Card. Every month, you receive a little card with a sequence of poses to celebrate the month's theme.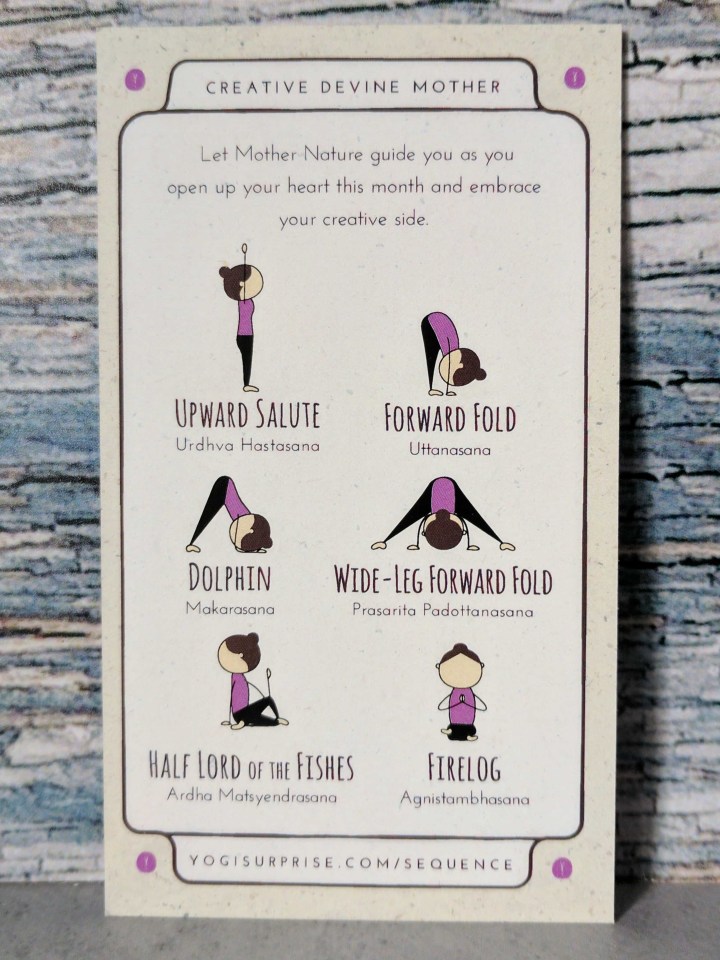 I love getting these sequences! This month is about opening our heart. I carry my sequence cards in my yoga bag for when inspiration is a problem! Fun fact: you can download all the previous sequence cards on the yogi surprise website so you can have your own little inspiration book!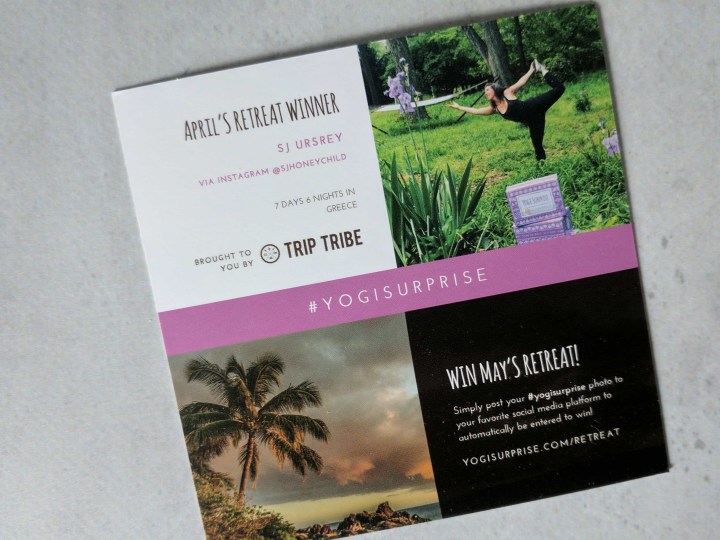 If you share your Yogi Surprise photo on social media, you are automatically entered to win a Yoga Retreat, in collaboration with Trip Tribe.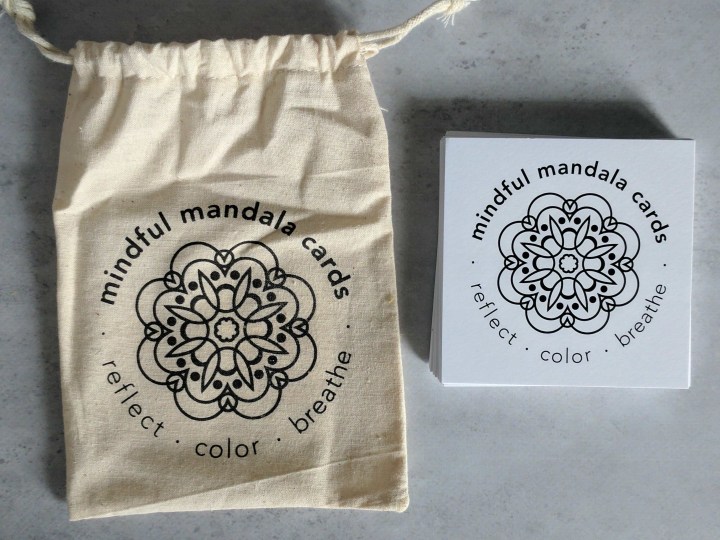 Mindful Mandala Cards ($20, $12 on amazon). This set of 24 mandalas will inspire you to embrace your inner artist as you pick up a colored pencil to bring them to life. They come in a nice pouch so you can carry them around for that five minutes break in the day.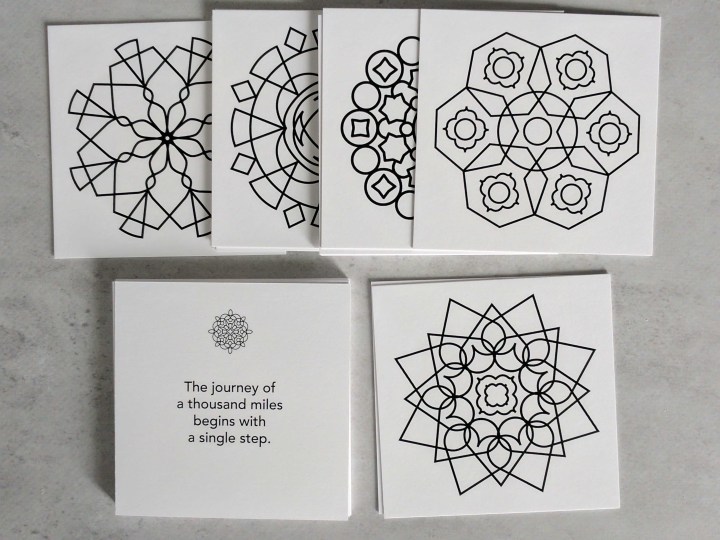 Each card also has an inspirational quote on which you can reflect while coloring the card. There's 24 cute design that are quite fun to work on.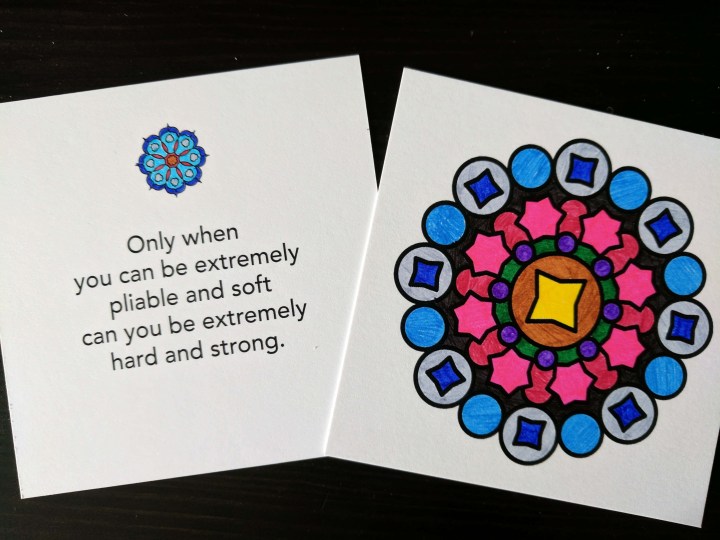 And you can add a little bit of colour on the quote side as the mandala is repeated there.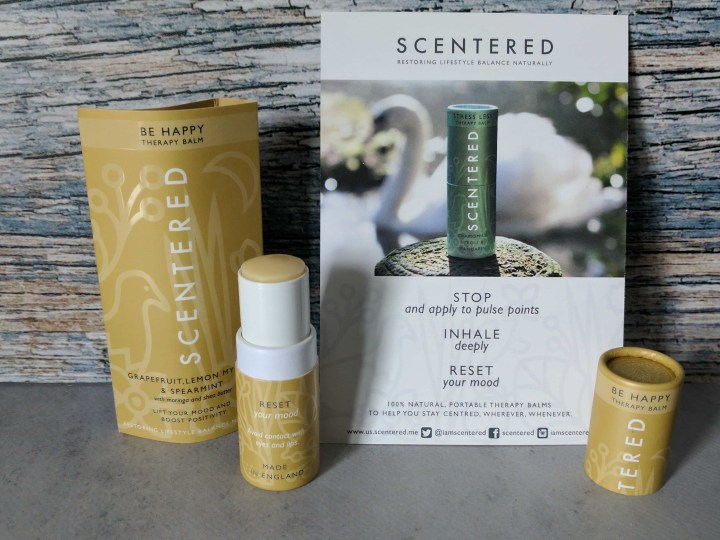 Scentered "Be Happy" with Eco Sleeve ($24). This therapy balm smells so good, almost like a citrusy candy. It's uplifting, energizing, and it's easy to carry around for a quick pick me up. On my skin, the scent is quite subtle once applied, perfect for me. It's made with beeswax, so not vegan. I love the cardboard-type sleeve!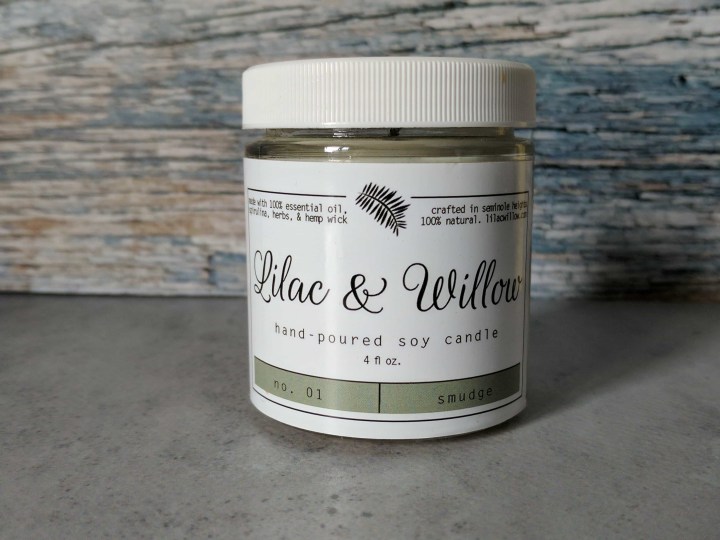 Lilac & Willow soy candle, smudge ($14, but on the company website it says $18). At first, I thought the name "Lilac & Willow" was the scent of this soy candle and I was so excited to get something lilac scented (I loooooooove lilac). The scent is not Lilac, it is "smudge" with lavender, sage and cedar scents. It is nice, and can be used instead of a smudge stick to purify the air, but it's not Lilac Scented.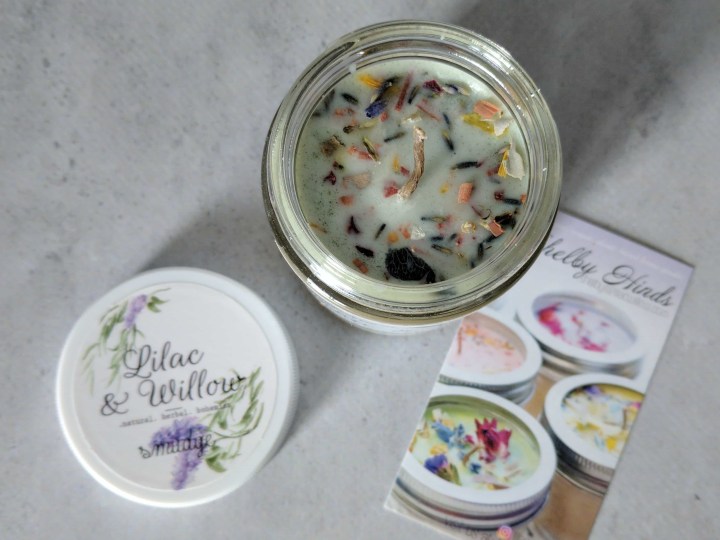 Made with a hemp wick, it will slowly and evenly burn. On their website, it says you can use the hot soy wax as a skin moisturizer as well. This candle is so pretty, and has a very pleasant scent (even though it's not lilac!)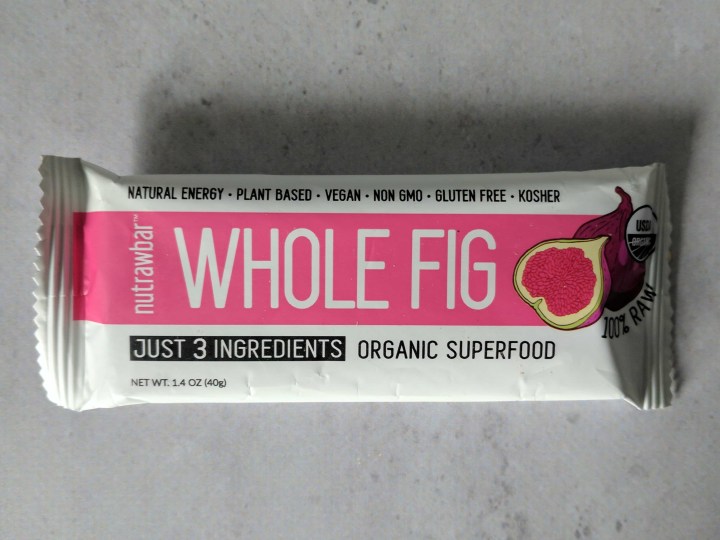 Nutrawbar Whole Fig ($3). Made with only three ingredients (fig, almonds and extra virgin coconut oil), these bar are the perfect on-the-go snack! I loved the texture of the roughly chopped almonds and the popping coming from the tiny fig seeds! I really enjoyed it!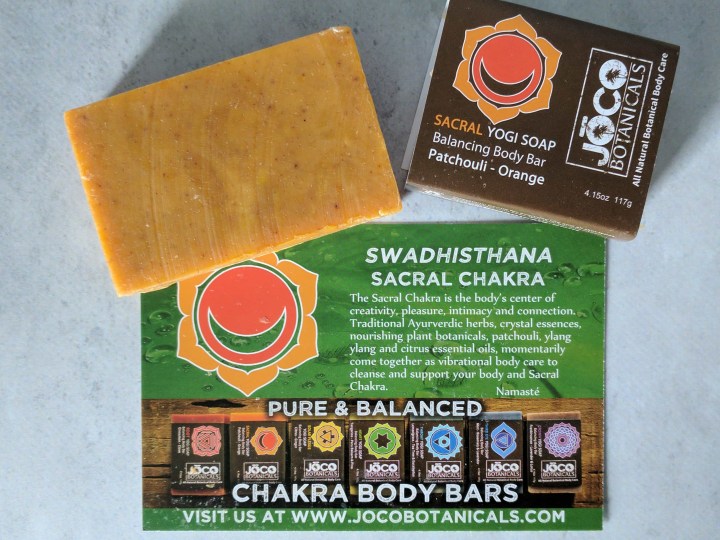 Joco Botanicals Yogi Chakra Body Bars – Sacral ($7). This 100% all-natural soap bar was created to help us open our sacral chakra, the chakra governing the sense of pleasure, creativity, intimacy and connection. It will help stimulate positive emotions and encourage you to follow your passions. They are made with Kukui and Buruti Nut oil, two newish oil to me. Both have awesome skin care properties. It is a patchouli heavily scented soap, to the point my husband thought I had a new batch of patchouli incense sticks in the house! I'm looking forward to use it to get my creativity flow moving again!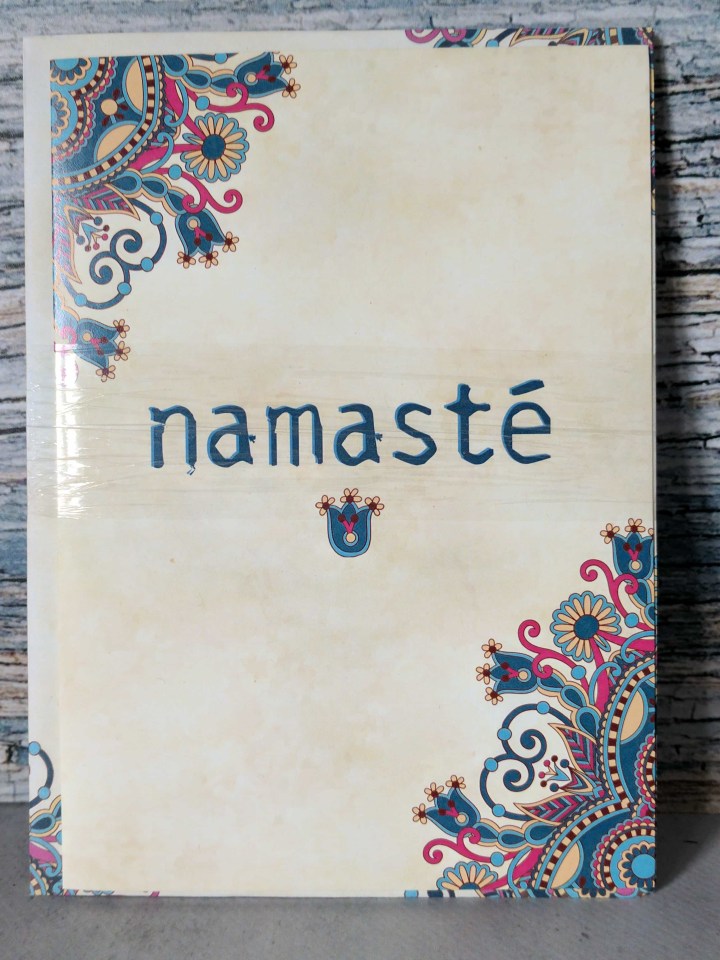 Tree-Free Greetings, set of 3 cards ($9). These lovely cards with matching envelop are made with environmentally friend paper made from bamboo, hemp, bagasse and post consumer recycled paper.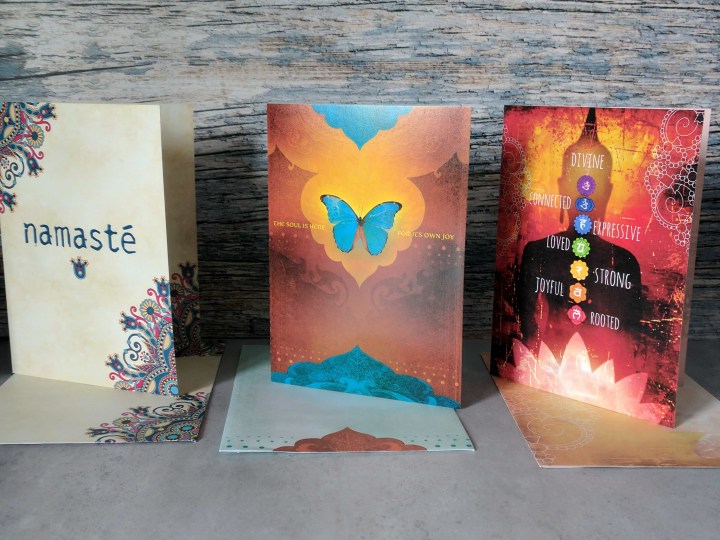 I love getting stationery in a box, and these don't disappoint! The Namasté card says "My soul honors your soul" (perfect for the yogi in your life), the Butterfly is a Birthday card ("I wish you a birthday that fills your soul and makes your spirit sings") and the last card with all the chakras is a blank card. This is a great way to take our time to celebrate someone important in our life by sending them a handwritten card.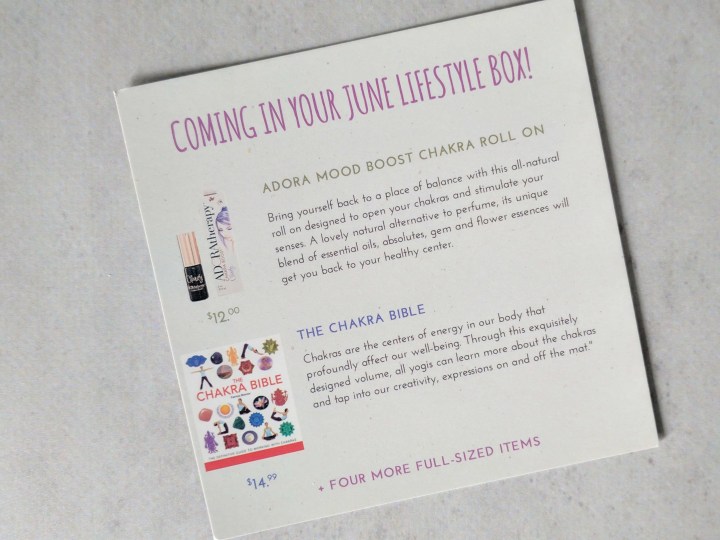 Included in the box, a spoiler for May's Yogi Surprise box : an Mood Boost Chakra Roll on and the Chakra Bible.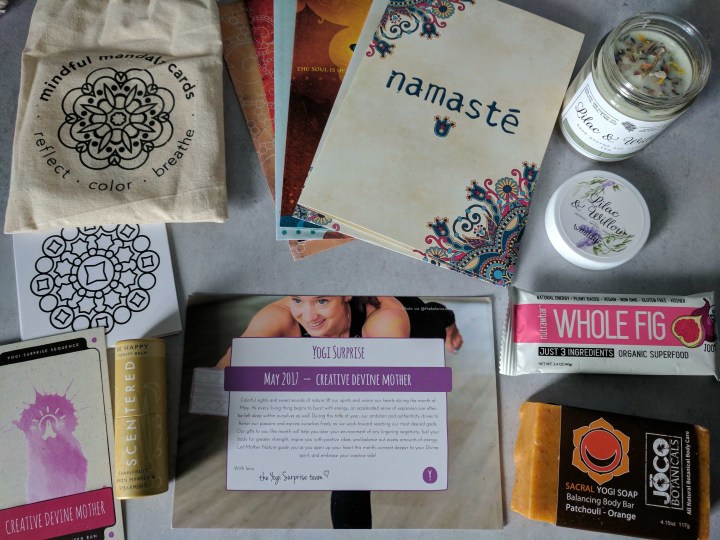 Although I really enjoy everything in this month's box, I feel like we stepped away from the yoga-inspired box to a mindful-inspired box. And I know that Yoga is not only about the asanas (the poses), but also about mindfulness and spirituality. I welcome this change once in a while, as we all need balance in our life.
Don't get me wrong, I liked this box, and it's up there in my favourites from Yogi Surprise. Everything in this box was lovely, well-curated around the monthly theme and certainly a crowd-pleaser. But honestly, nothing in it really screams "Yoga" to me (except the sequence card, I love the sequence card!). Maybe I was spoiled by last month's offering!
Are you a Yogi Surprise subscriber? What did you think of the box?