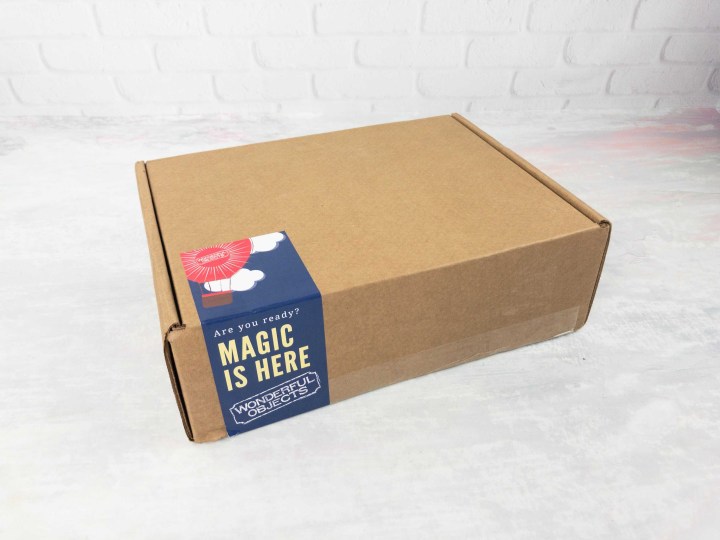 Wonderful Objects by Wonder and Company is a quarterly subscription box that focuses on storytelling and invites immersion in a fantastical world through hand-picked objects plus custom-designed story-making ephemera. For only $72.00 per quarter, you'll get a mystery box that includes wonderful objects like limited edition art, wearable treasures, scents, baubles, and a lot more!
There's a hot air balloon printed on the box tape, reminiscent of the iconic balloon that brought the "Wonderful" Wizard to Oz.  Similarly, Wonderful Objects endeavors to transport you to an equally enchanting world of fantasy.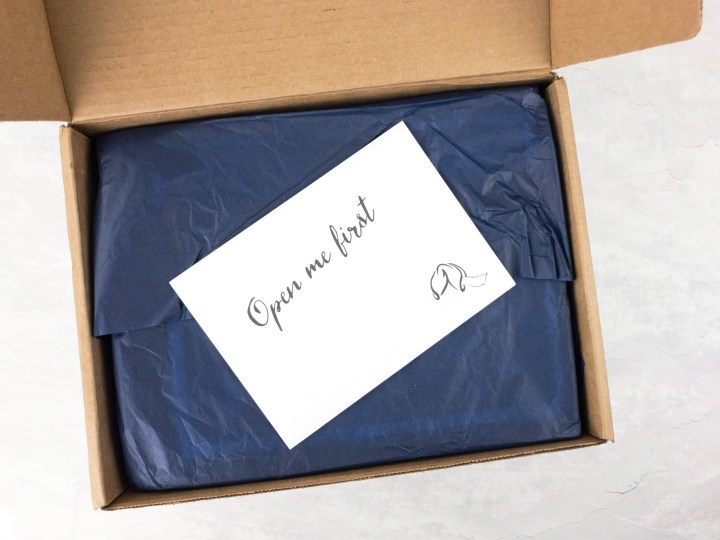 The items are wrapped by a blue tissue paper.
DEAL: Save $10 on any plan with code HELLOWONDER10! Note: This box SELLS OUT!
A few weeks before this big box arrived, we received the teaser in the mail!
The enclosed card has some cryptic prose – I think the words "fable," "fortune," and "wish" are most likely to indicate the general theme of the quarterly box.
The reverse of the card is similarly mysterious – it shows a pair of 2's in circles, but it also has a 6 of diamonds. The bottom half of the card shows some red clover. I'm tempted to think the numbers 2, 3, and 6 are significant in some way, but I'm not sure how.
There's also a pressed penny with the image of a unicorn.
You can still see the tell-tale Lincoln and "In God We Trust" on the reverse.The teasers often make sense when viewed in retrospect.It's always a good idea to hang onto them until you open the quarterly box — they sometimes come in handy for solving riddles!
Now on to the main event!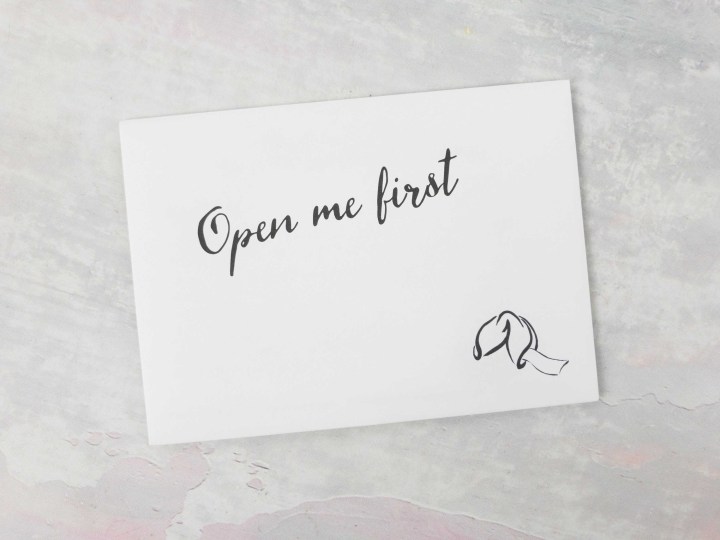 The mysterious envelope entreats you to read the place-setting introductory letter prior to revealing the objects within.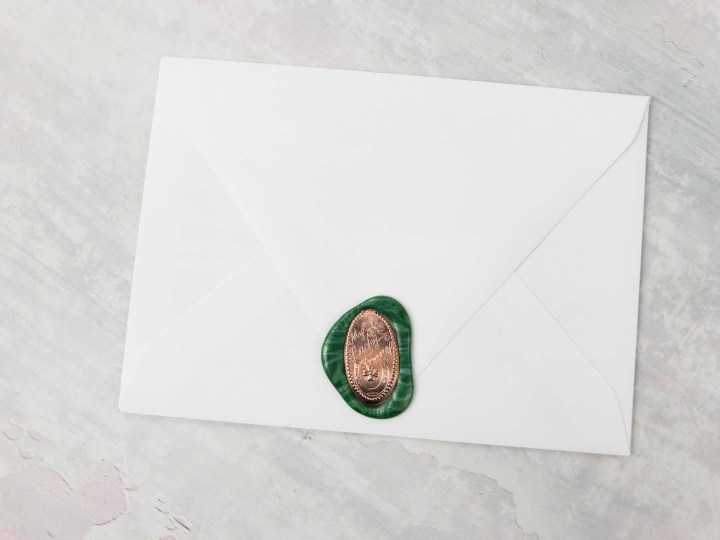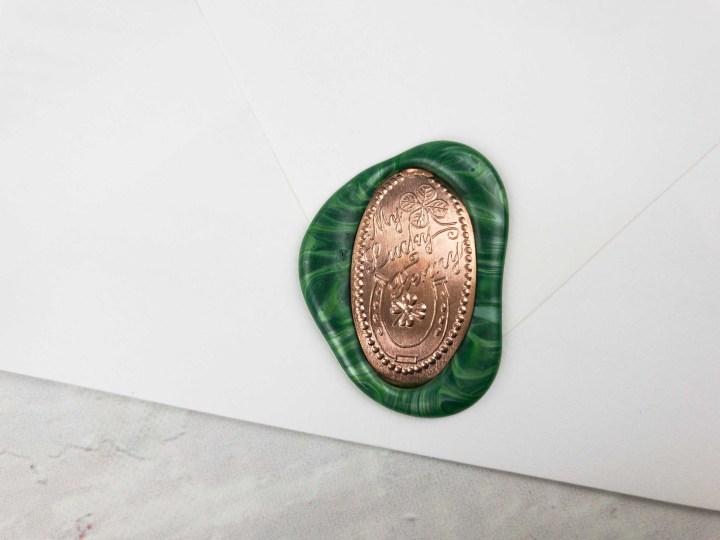 The "Open Me First" envelope is sealed with a "W" emblem.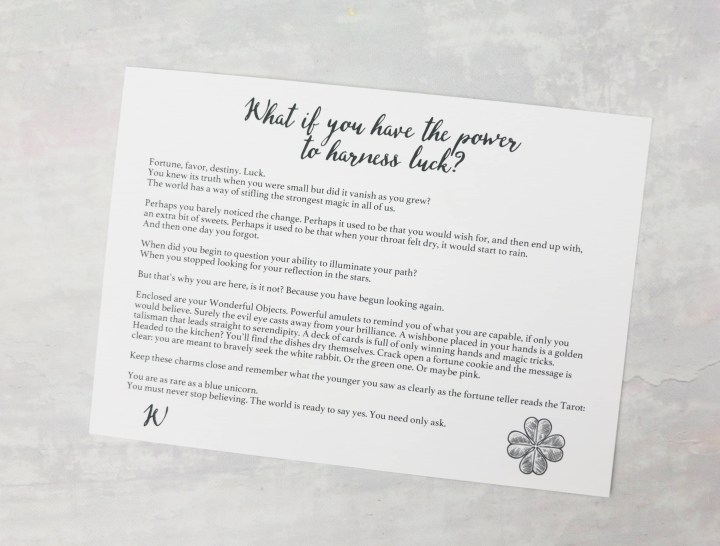 What if you have the power to harness luck? A letter from this "W" character sets the scene. Looks like we'll become a fortune teller/luck bringer this quarter.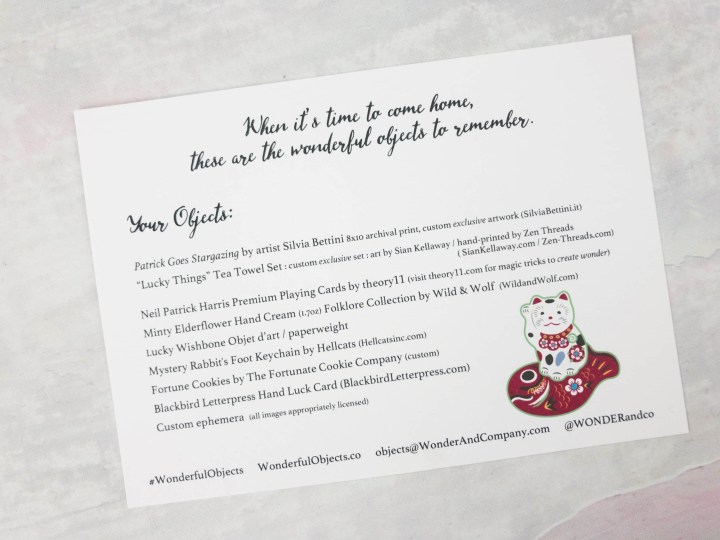 The information card gives you a list of all the items inside the box!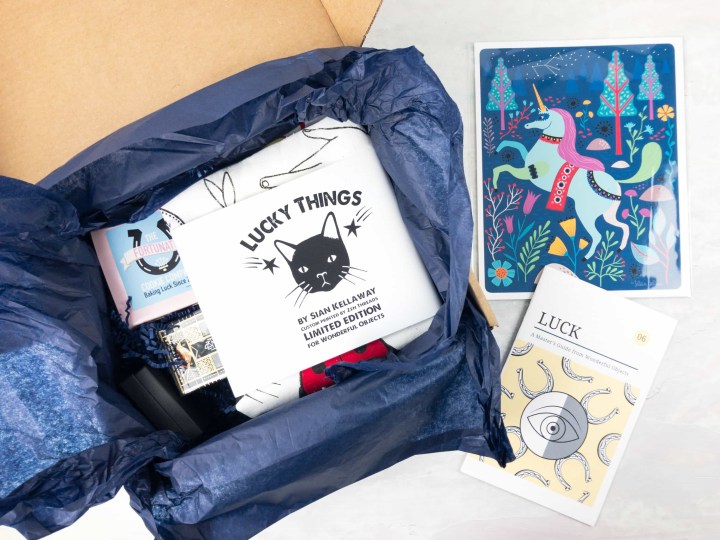 Looks pretty peculiar from here!
Everything in the box!
"Good Luck" Post Card
Sometimes, luck comes in the form of an encouragement. This post card is something that we could definitely use to send good vibes to a friend or a family member!
Fortune Teller Fish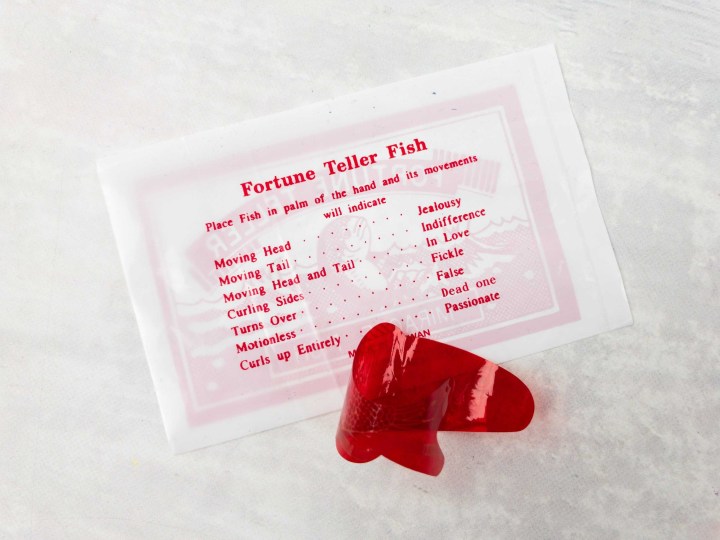 We also received this fish in our teaser box for the Wonderful Objects Kids Box. According to the pamphlet, the fortune teller fish can tell your move based on how it moves against your palm.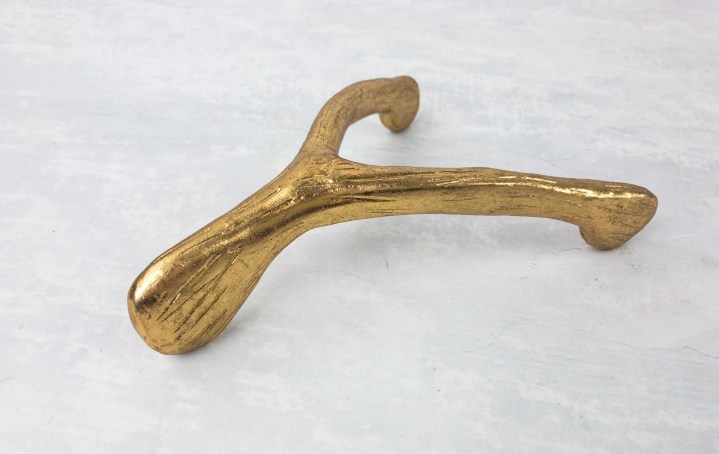 Lucky Wishbone Paperweight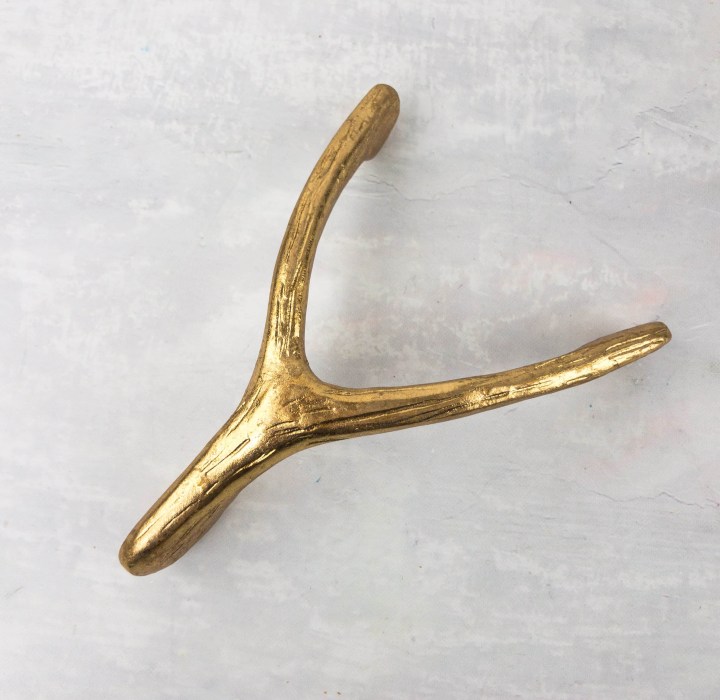 Wishbones are supposed to be snapped apart while making a wish. But the one we received is something unique – it's a paperweight we can use to keep important papers (and good luck) from flying away.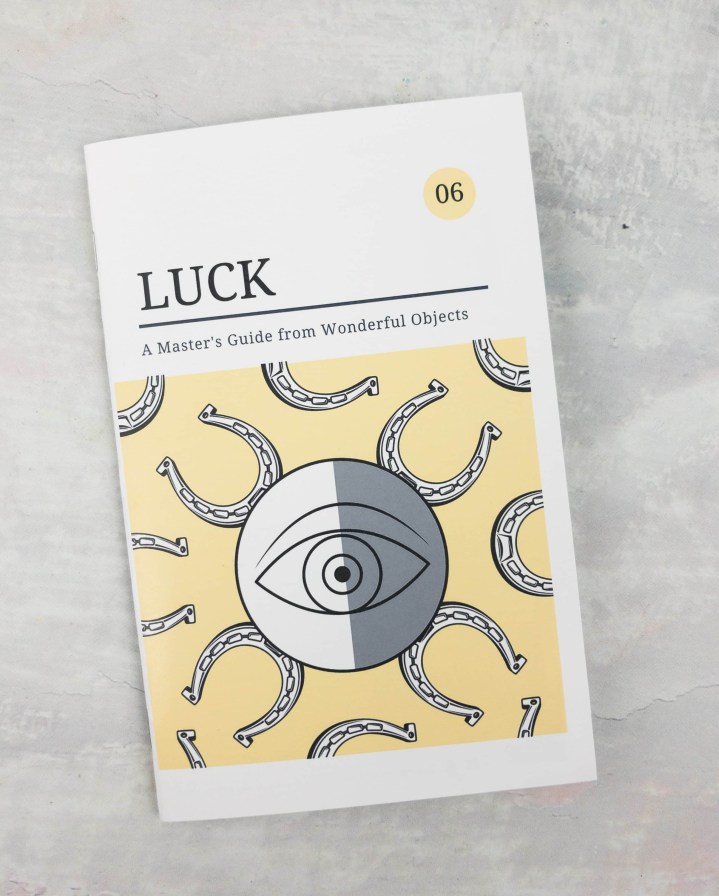 Also enclosed in the box is a guide booklet.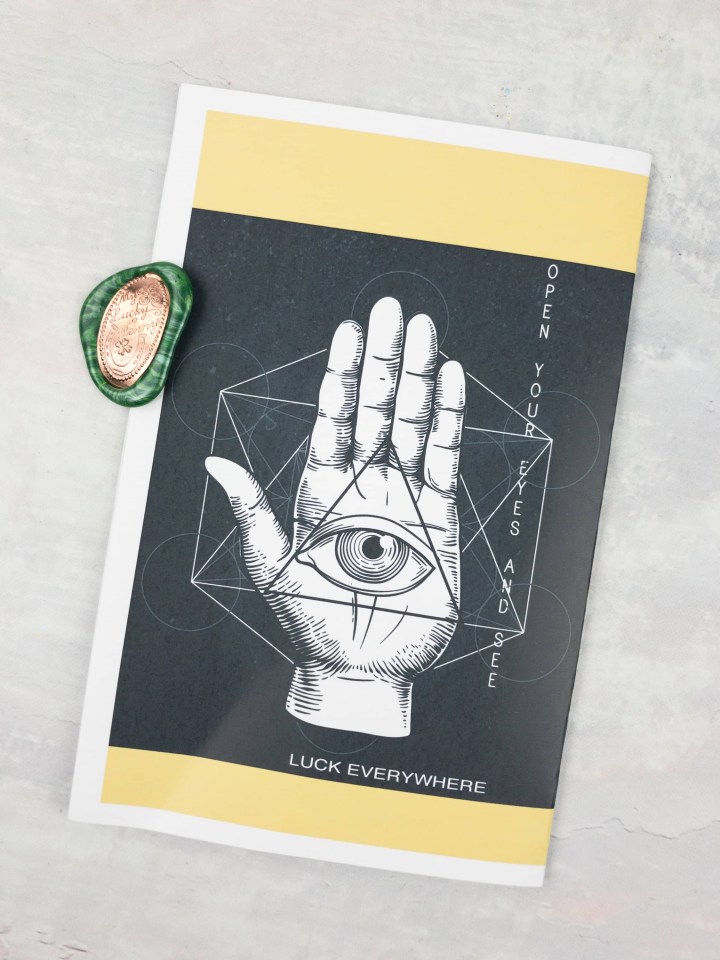 "Open your eyes and see luck everywhere."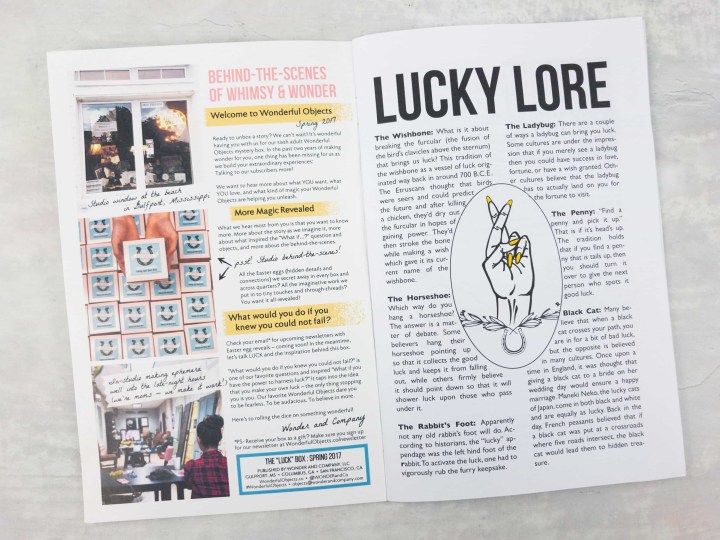 Inside are trivia about different luck-related traditions from around the world.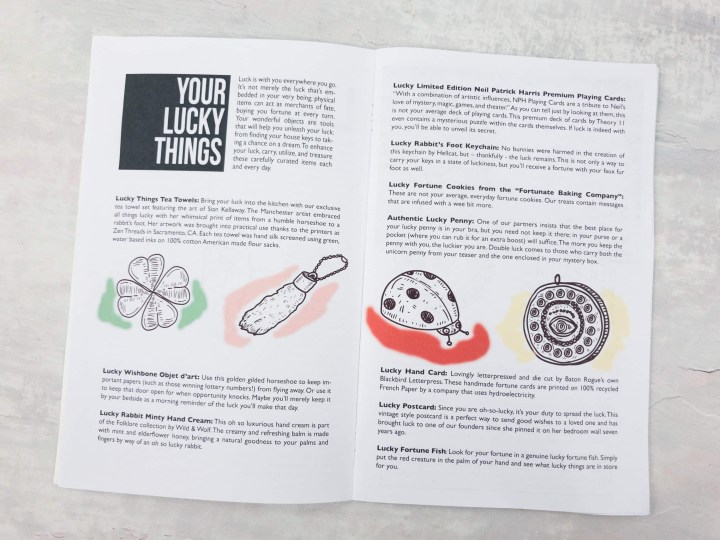 It also provided more detailed information about the items we received this month.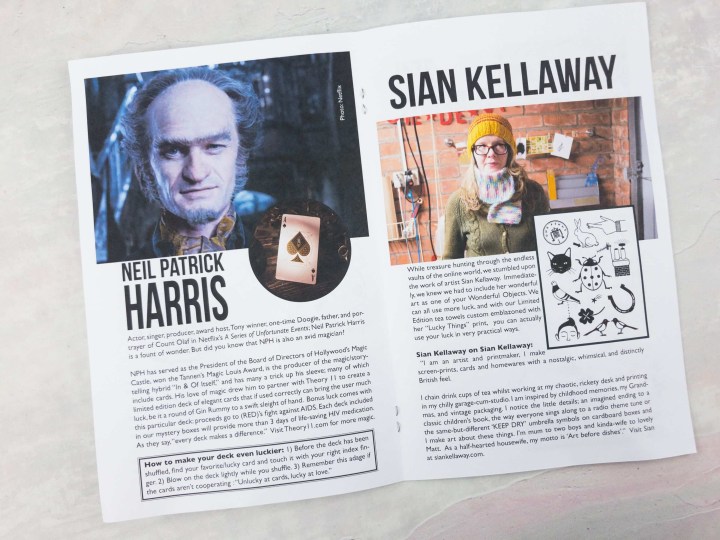 More trivia and tips on how to make things even luckier for you!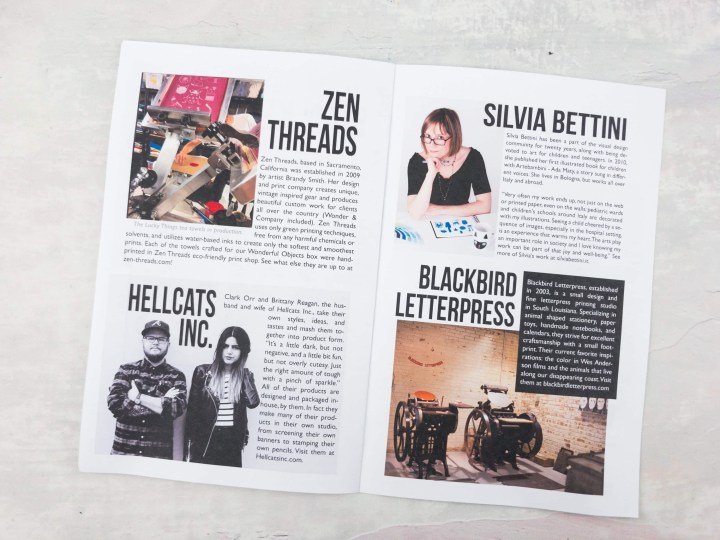 Last but not the least are short features about the companies Wonderful Objects worked with to complete this month's lucky box!
Blackbird Letterpress Hand Luck Card ($5)
Wishes of luck, protection, and good fortune are enclosed in this hand-shaped card letter pressed on French paper.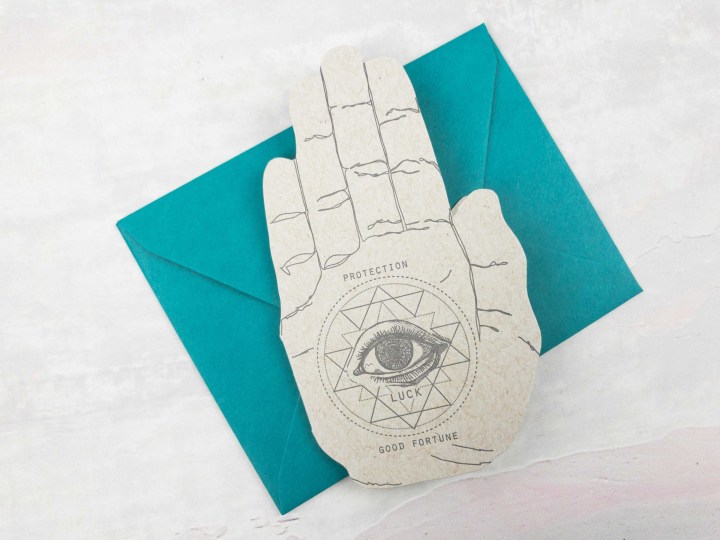 It's like a contemporary version of hamsa, a palm-shaped amulet used widely in Middle East and North Africa.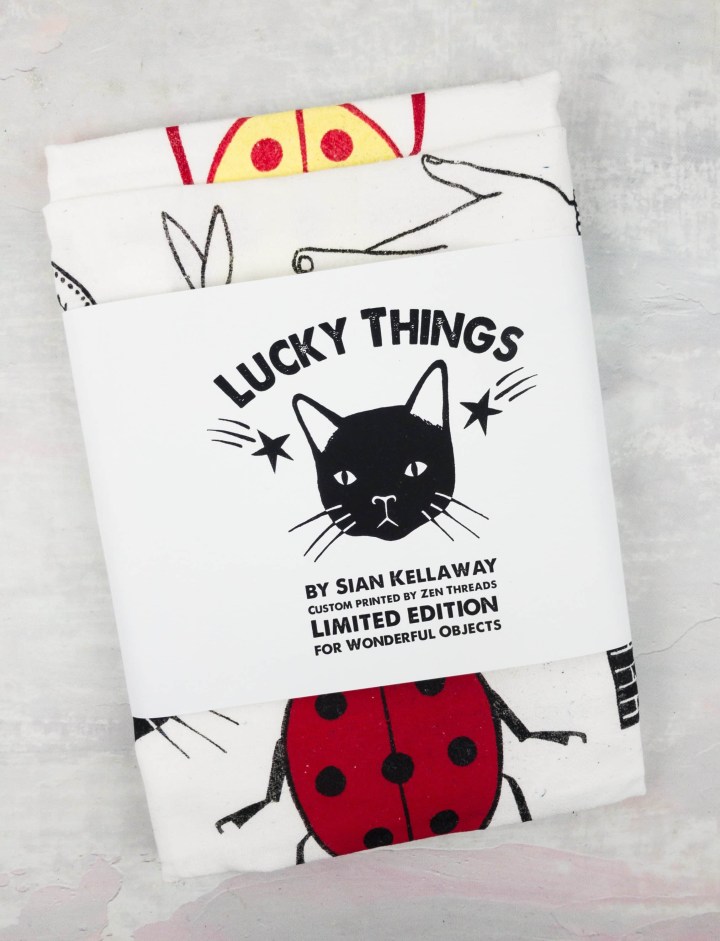 "Lucky Things" Tea Towel Set by Sian Kellaway for Zen Threads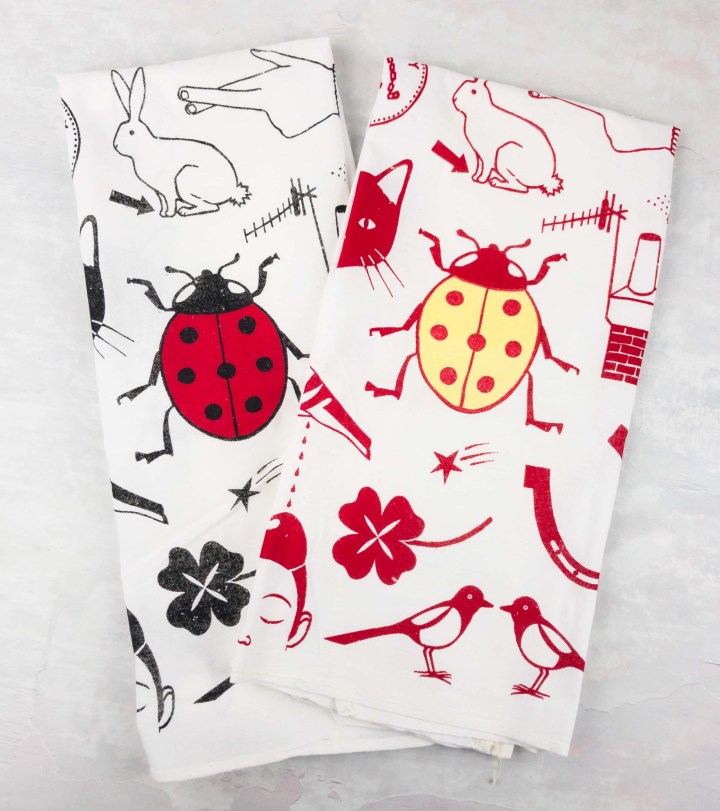 Tea towels to take luck to the kitchen!
The whimsical print includes a penny, rabbit's foot, fingers crossed, a black cat, seven spotted ladybird, chimney sweep's brush, bird poo on the head, a shooting star, horse shoe, a four leaf clover and a pair of magpies!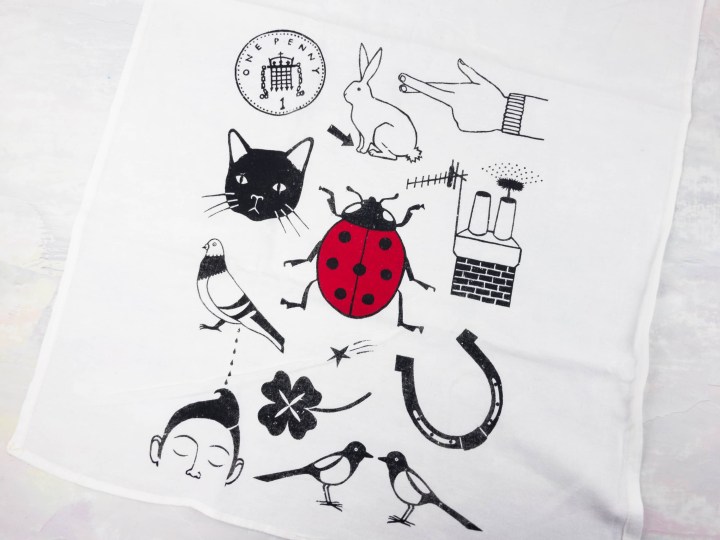 We received two towels with the same print but different colors. These were printed using water-based inks on 100% cotton American made flour sacks!
Silvia Bettini "Patrick Goes Stargazing"Art Print – A vibrant stargazing unicorn illustration! They say stars determine our fate, thus the term "written in the stars." Aside from acting upon something you want, it doesn't hurt to believe that something is meant for you, right?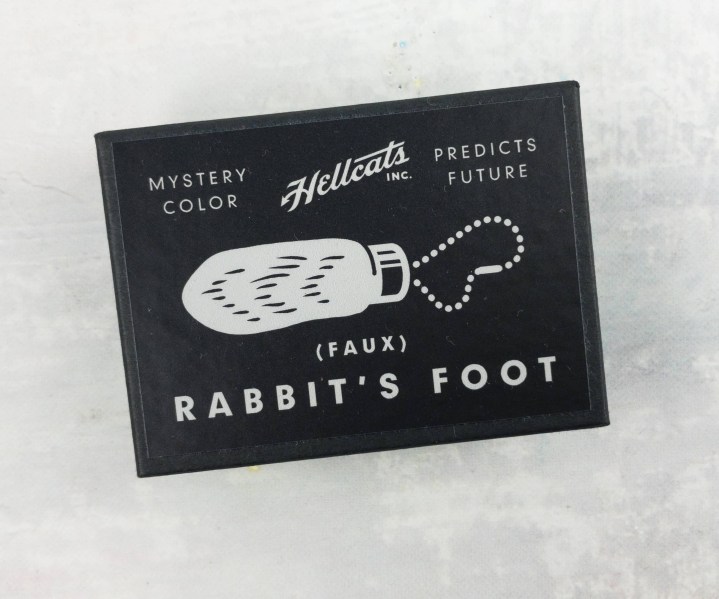 Hellcats Mystery Rabbit Foot Keychain ($7)
PSA, no bunnies were harmed in making this keychain! But you can definitely carry it with your keys or on your bag for an added charm. We got a pink one, which means "a joyous occasion is near."
The Fortune Cookie Company Custom Fortune Cookies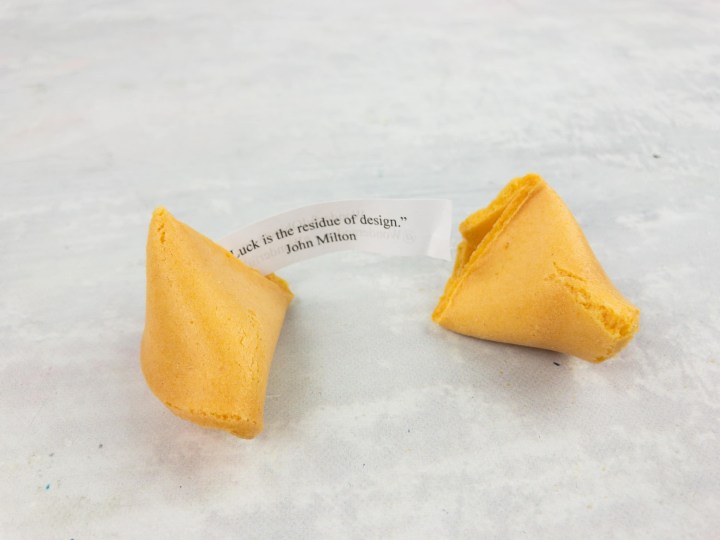 A lucky box like this won't be complete without fortune cookies! We received five and the first one we cracked says that "luck is the residue of design." Well, it's true. Worthwhile things don't just happen in an instant, it's also a result of hard work and determination.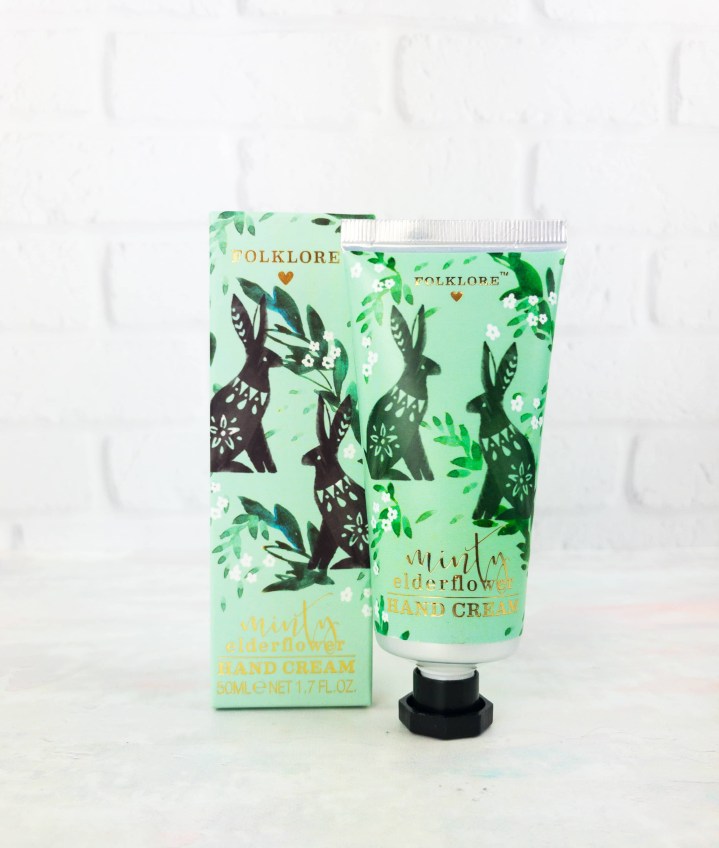 Wild & Wolf Minty Elderflower Hand Cream Folklore Collection – Such a luxurious hand cream made of mint and elderflower honey! It's a part of Wild & Wolf's Folklore Collection that features products with wonderfully illustrated mythical creatures.
theory 11 Neil Patrick Harris Premium Playing Cards ($9.95) One of our favorite items in the box!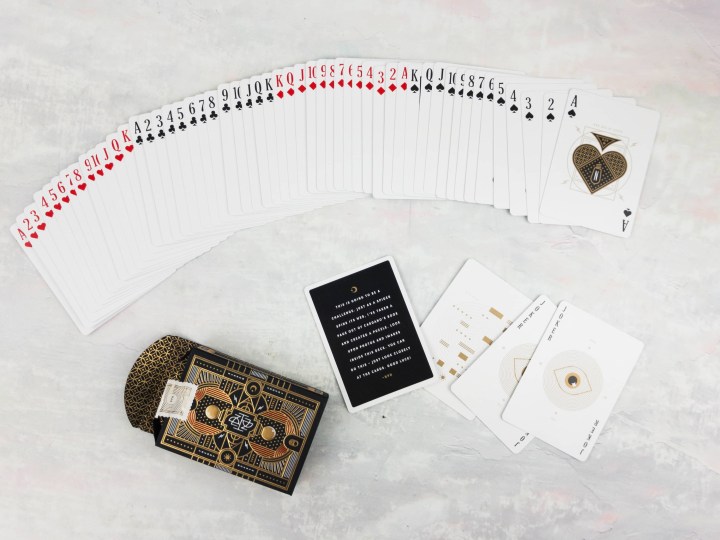 A deck of premium playing cards which art direction was courtesy of Neil Patrick Harris himself. This is legen… wait for it… dary! The design is elegant and sophisticated, and there is also a bonus mystery puzzle within the cards. I'm sorry, we're not going to give you any clues, you'll have to look closely at your cards to figure it out. We haven't finished all the puzzles yet, there are multiple layers to this one. Best of Luck!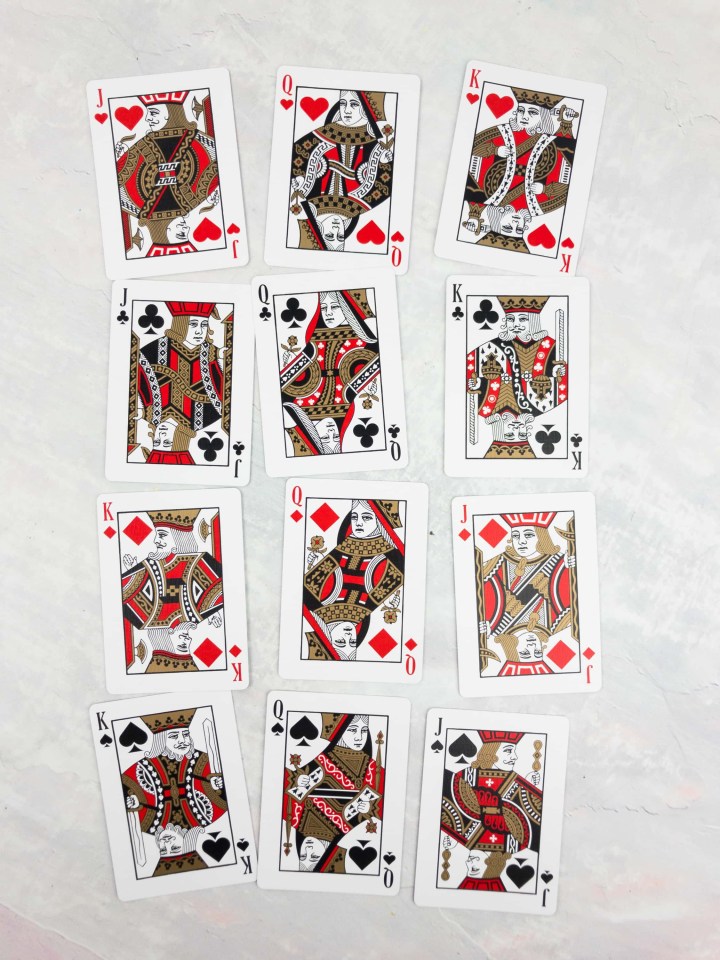 This quarter's Wonderful Objects box was different than previous, we thought. It seemed a bit more like a themed lifestyle box (although an odd one for a lifestyle subscription!) than a box that tells a story, especially with the full-on booklet that told us more about the artisans that contributed to the box. I did like that there was much more information about the makers in the box this quarter, as the box wouldn't be good without the high quality items Wonderful Objects collects for it, but I'm also excited to see the upcoming newsletters with the Easter Eggs for the box. Sometimes you can go over and over it and just not get it (hello, puzzle 2 on those playing cards!).
As for the items this quarter, they are totally amazing and I refuse to pick a favorite. I'm enamored with the playing cards – they're gorgeous and the puzzle is entrancing. We love the unicorn art print and will frame it. The tea towels add a touch of lucky whimsy to our kitchen, and the wishbone display piece is too much fun (and matches my decor!). And that's only half the items!
Wonderful Objects has a children's box that shares similar themes with the grown-up version and is designed to pair well with it should you unbox as a family activity.
Are you a Wonderful Objects objects subscriber? We'd love to hear more about your journeys with this box!
Visit Wonderful Objects by Wonder and Company to subscribe or find out more!