Wigglebutt Box is a subscription box of "yummy and fun surprises for you and your dog that are delivered right to your door every month." Each box contains a seasonal kerchief, a roll of poop bags, and a combination of 3-5 toys/treats/accessories. Boxes are tailored to your pet's size and toy treatment. Pet parents are not forgotten either; there's a gift included for you too! Plans start at $35/month, but you can increase your savings by choosing a longer subscription option (3-month, 6-month, and annual plans available). Plus, a portion of the proceeds from every box sold will go towards an animal charity.
I got the small dog/average play Wigglebutt box for my fur babies, Lily and Lexi.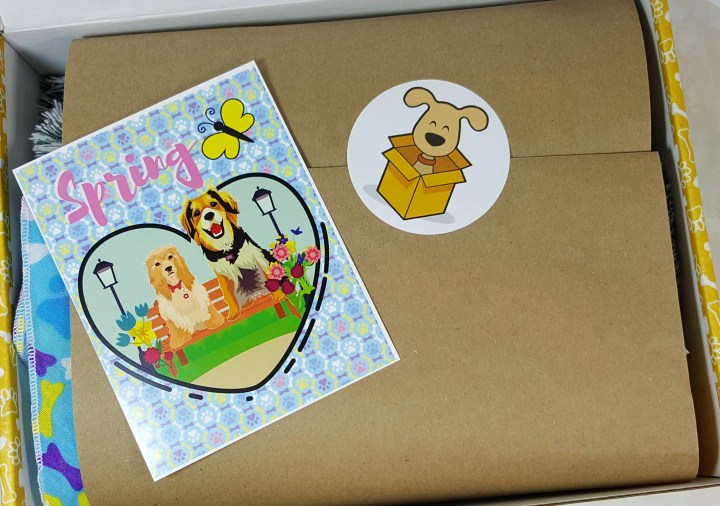 Spring has sprung! Check out the original Wigglebutts in their blooming setting.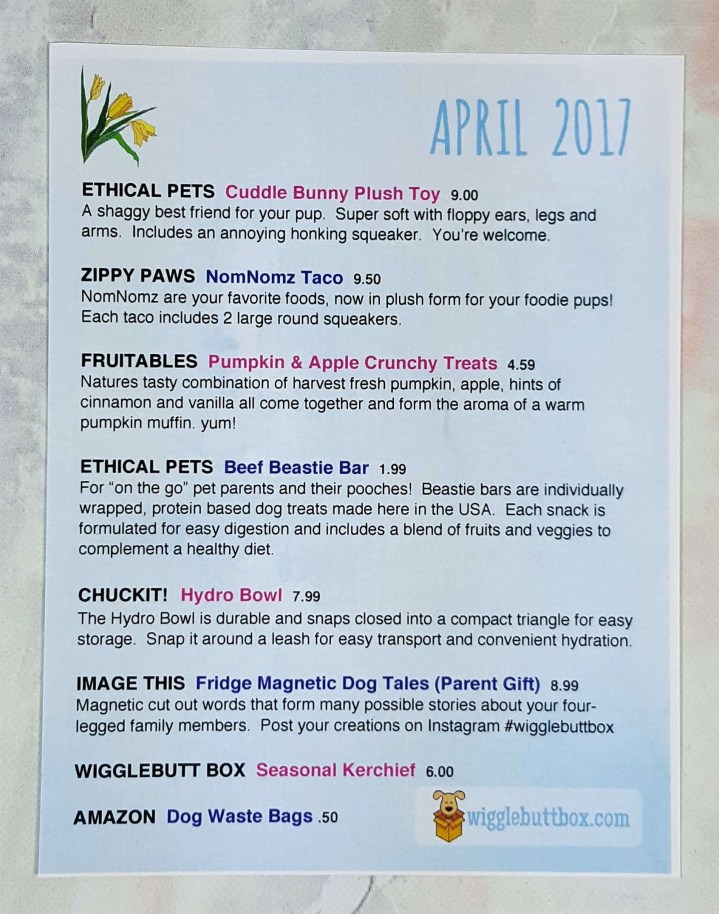 The information card has a list of box contents along with a brief description. Wigglebutt Box is now including pricing for box items. Unless noted otherwise, these are also the prices used below.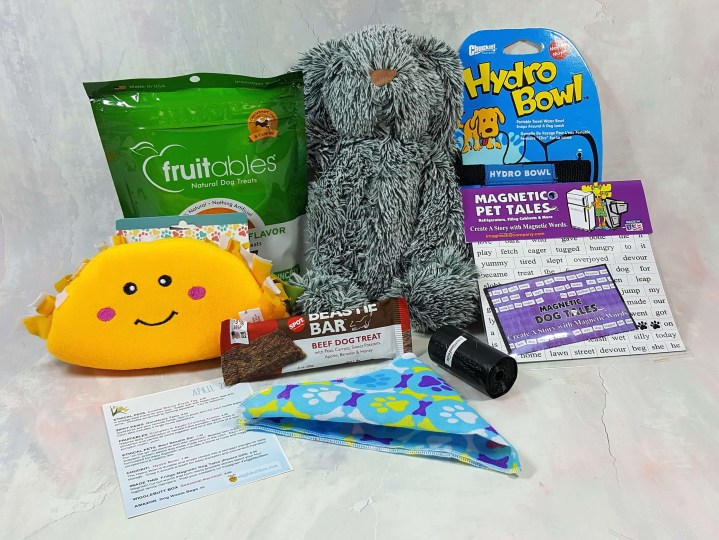 Here's our April Wigglebutt Box. I am in love with the taco!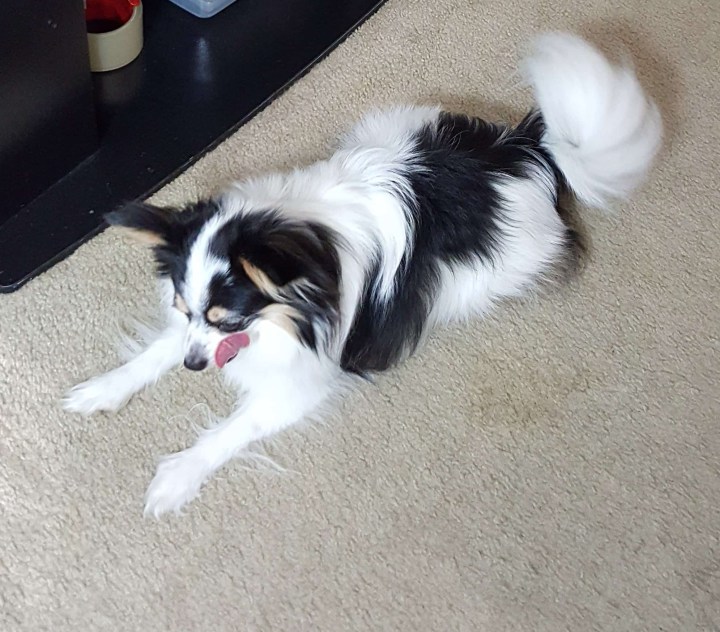 Before we get started on the review, I snuck a peek at Lily who was intent to see what arrived. I think she knows there's treats in the box.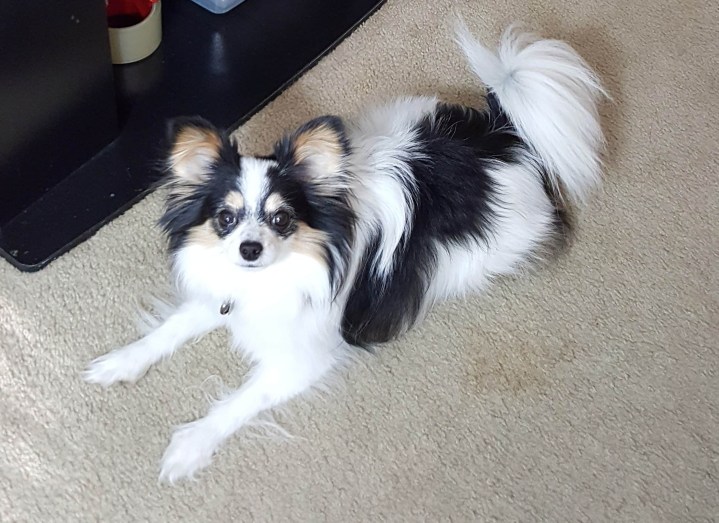 This is her innocent face. I got this when she realized I was watching her. LOL.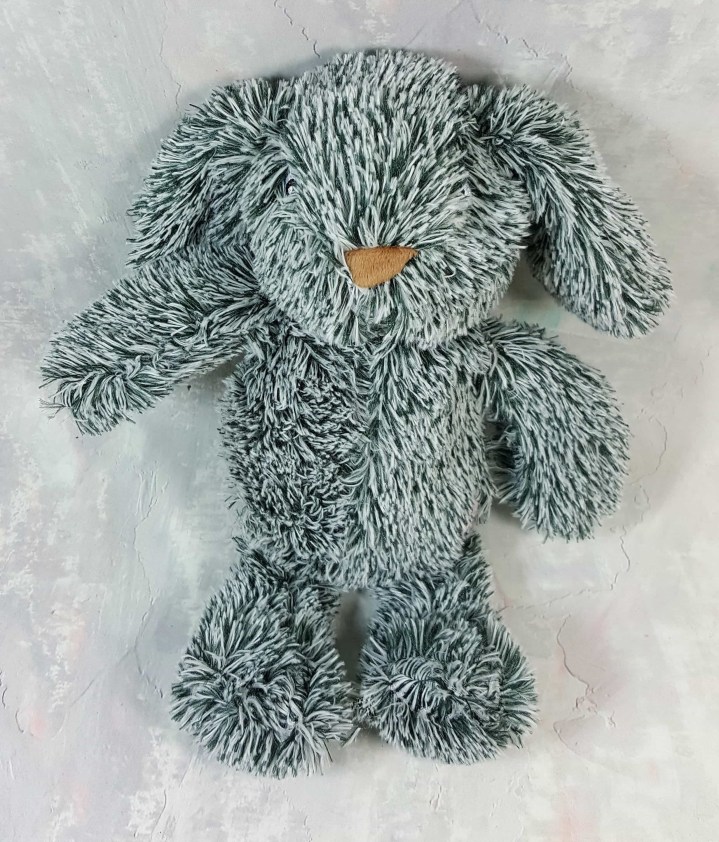 Ethical Pets Cuddle Bunny Plush Toy ($9.00): This is an incredibly soft and shaggy bunny to get your pups in the mood for Easter. I love the description on the info card – "Includes an annoying honking squeaker. You're welcome." Pretty apt if you ask me. My sister's dog stole this from the new toy bin, so it went home with her. She can enjoy the fun squeaker. LOL.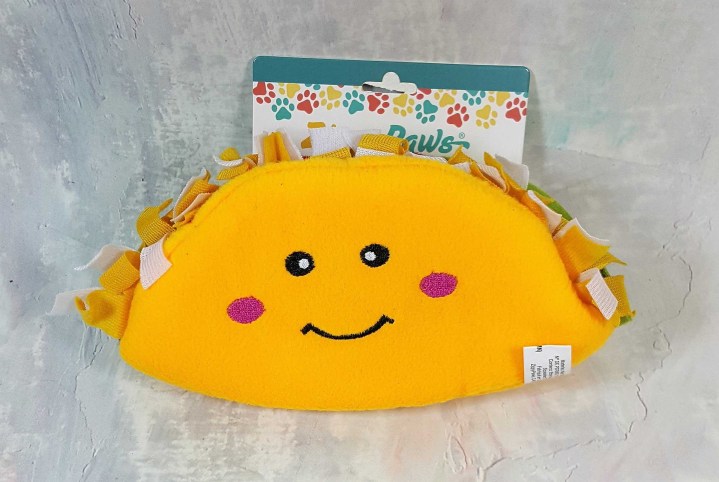 Zippy Paws NomNomz Taco ($9.50): This is listed at $6.99 on the Zippy Paws site. I don't think the difference in price can be attributed to shipping charges… Just in time for the girls to play with on Cinco de Mayo! I thought the taco was completely adorable. This plush features two normal squeakers and was a fast fave for the girls.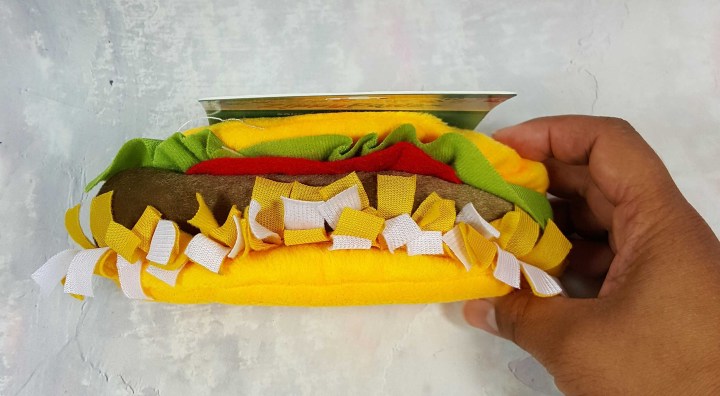 These details are hard to see when looking straight on at the taco. All of your favorite toppings are stitched into the design – lettuce, tomato, cheese, onions, and meat (or re-fried beans for my vegetarian friends).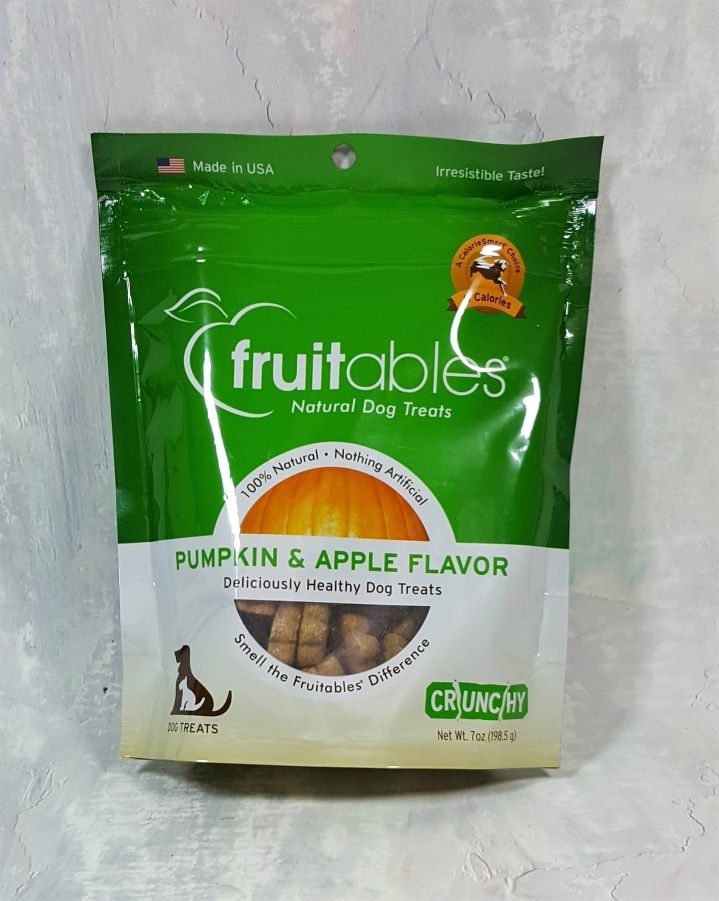 Fruitables Pumpkin & Apple Crunchy Treats ($4.59):  These crunchy treats contain real pumpkin and apples to provide your dog with a tasty treat rich in antioxidants and vitamins. They are also made with a calorie-smart recipe to help maintain your pet's weight; each treat is only 8 calories. From previous experience, I can tell you that these smell amazing too. I've mentioned frequently that my girls are not fans of crunchy treats (we're still working through another bag of Fruitables from a previous box), so these will be gifted.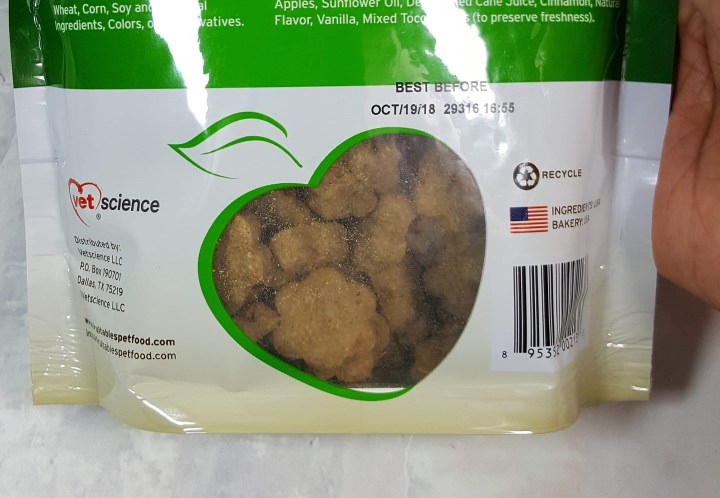 Here's a closer look at the treats. Not that I need it, but I appreciate that these have a fairly long shelf life.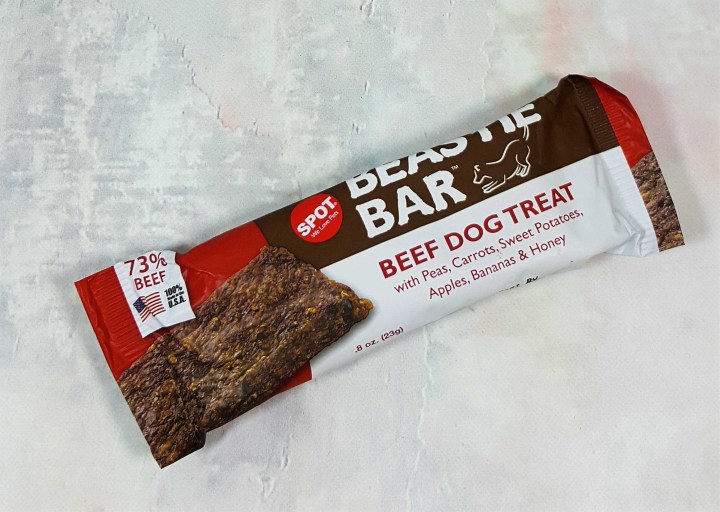 Ethical Pets Beef Beastie Bar ($1.99): Beastie bars are protein based dog treats formulated for easy digestion. The individually wrapped bars are designed to provide healthy snacking for on-the-go lifestyles. Each treat contains a blend of real meat and strategic fruits and veggies to complement a balanced diet.
This looks like a bigger, thicker piece of jerky or meat strip. It has a very beefy aroma, and my girls devoured it quickly.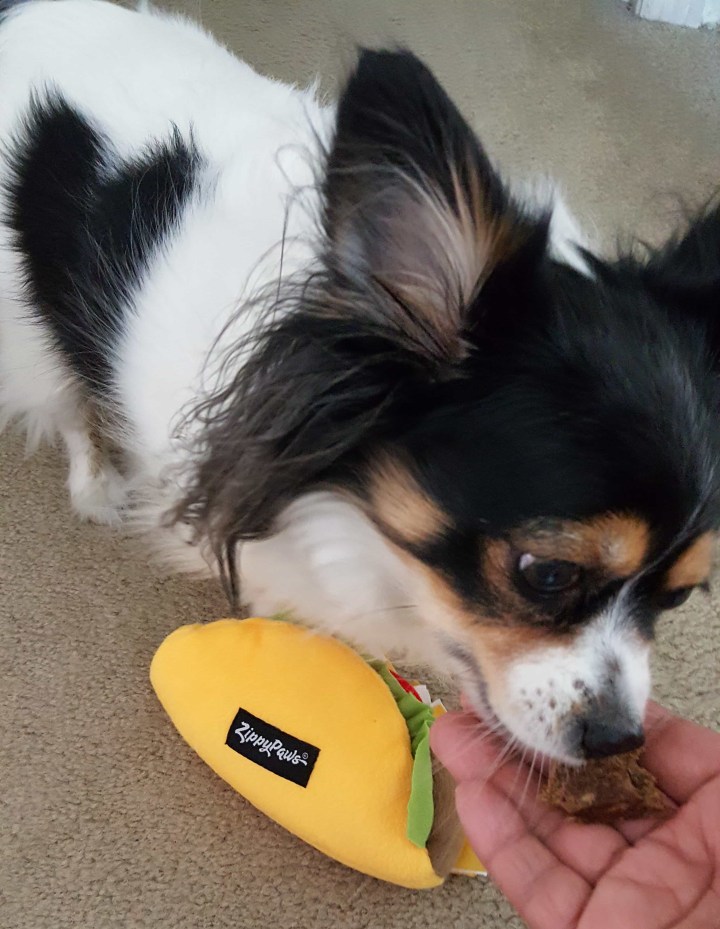 Here's Lexi going for a piece of the Beastie Bar. She took a time out from play to get her snack. She never misses an opportunity for a treat.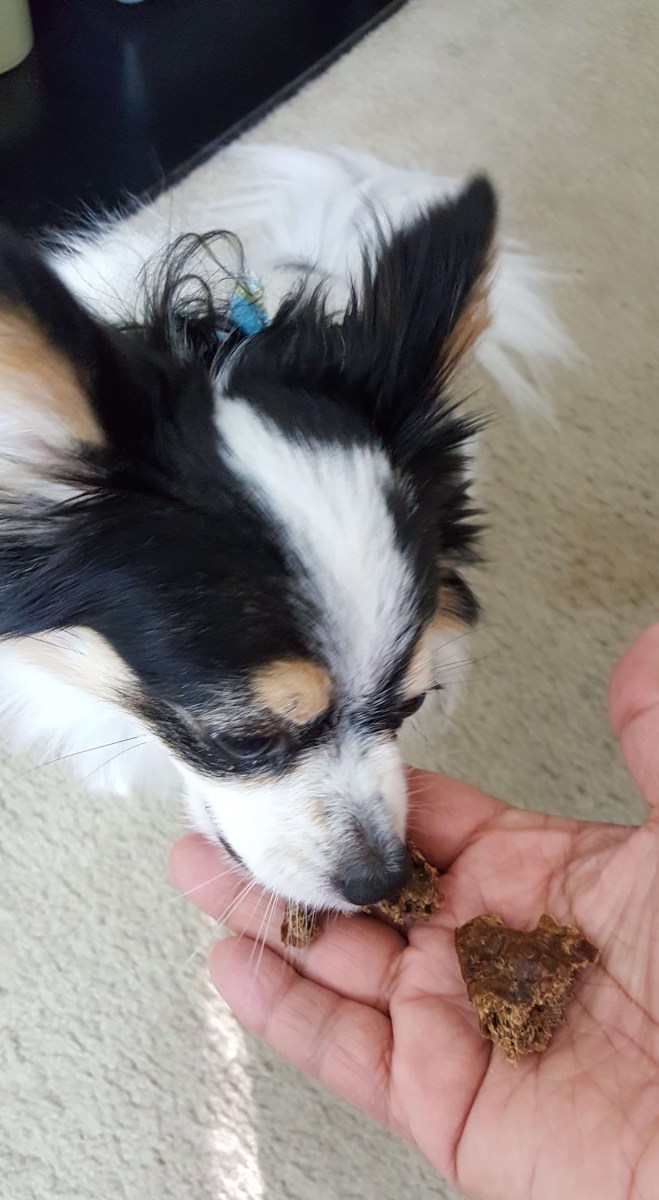 And here's Lily finally realizing her treat goal.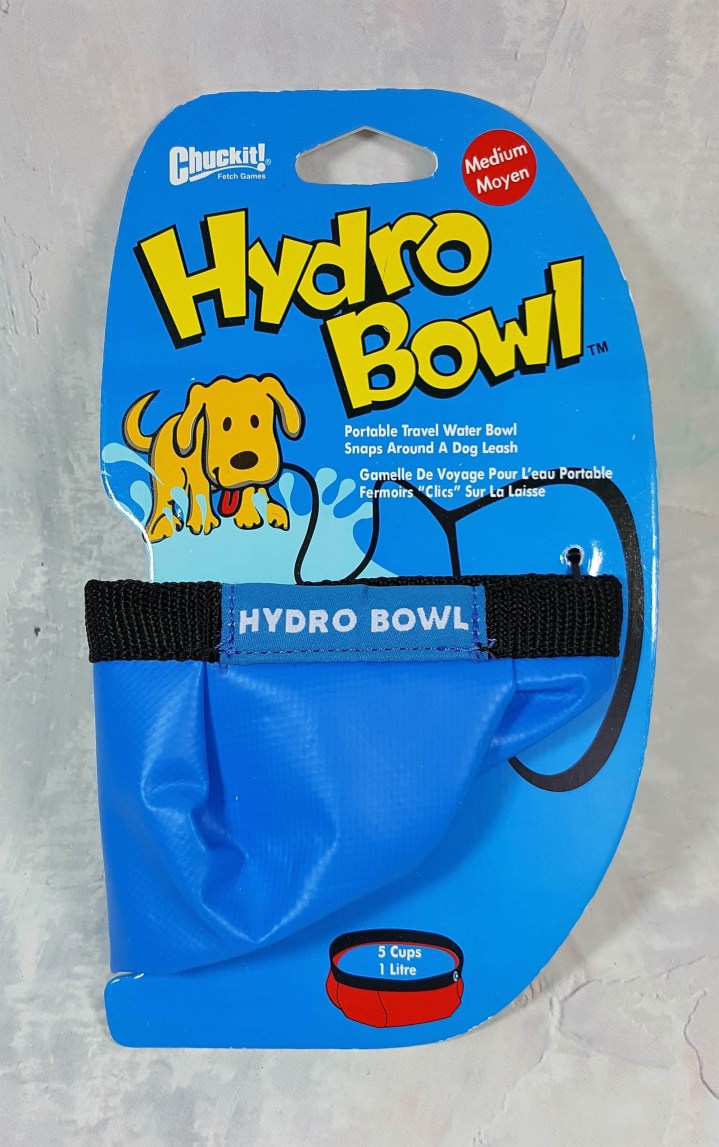 Chuckit! Hydro Bowl ($7.99): This is a portable water bowl that snaps onto your pet's leash. The bowl has a large capacity, holding 5 cups of water. I was so happy to see this item. Whenever I take the girls on trips, I usually pack a plastic container to serve water from. Although it's not a large container, it still takes up space in their bag and sometimes gets lost. By being on a leash, this bowl will be ready and with the girls as needed.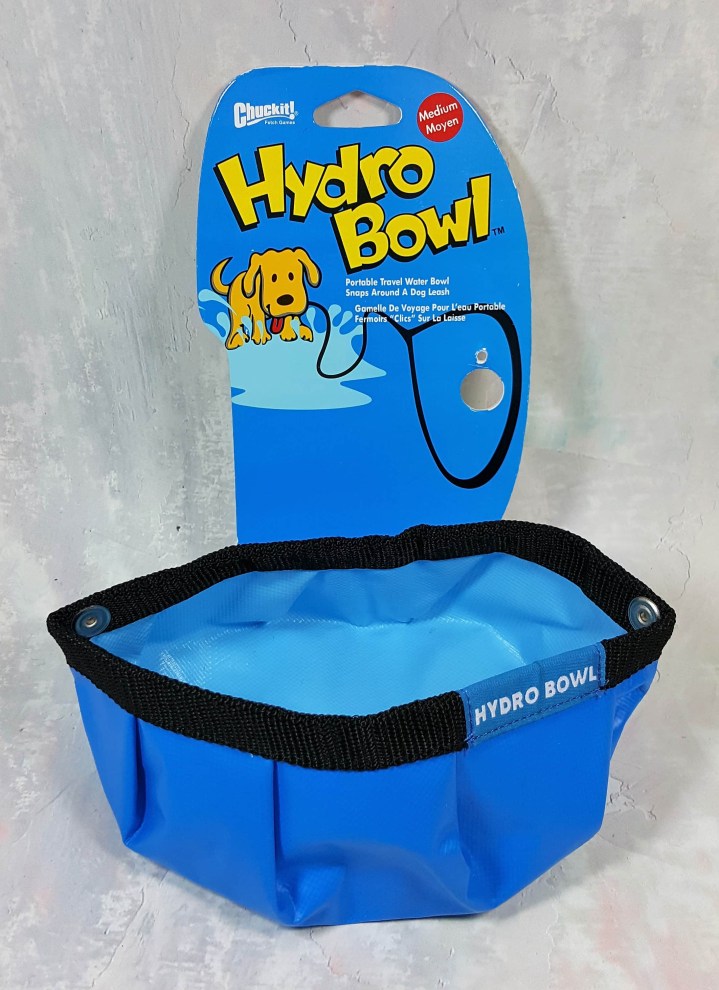 This is the medium sized bowl. Although, I wasn't able to find a small or large bowl online to use as a comparison. Maybe this is the only size out there???
**Parent Gift ** Imagine This Fridge Magnetic Dog Tales ($8.99): This set comes with 72 words for you to create a story about your fur baby.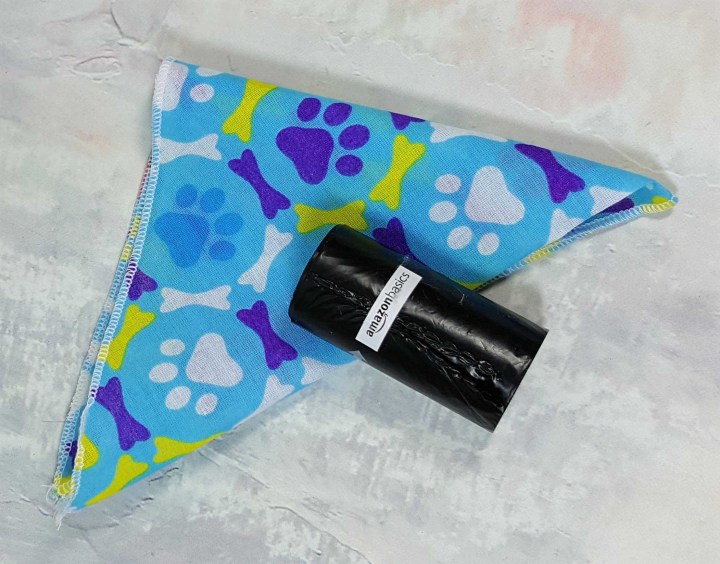 Seasonal Kerchief | Wigglebutt Box ($6.00): I am a fan of blue, so the different shades on this bright scarf make me happy.
** Bonus ** Dog Waste Bags | Amazon ($0.50): These come in every box and are always welcome in my house.
Lily came out of hiding just to put on her scarf. She loves to show off her clothing.
The April Wigglebutt Box  comes in around $48, not factoring in the slight difference in price for the Zippy Paws taco. Apart from the Fruitables, the box was a huge hit in our home. The girls had a lot of fun with the toys and definitely enjoyed the Beastie Bar. We're looking forward to next month's box.
What did you think of April's Wigglebutt Box? Leave a comment below and let me know.