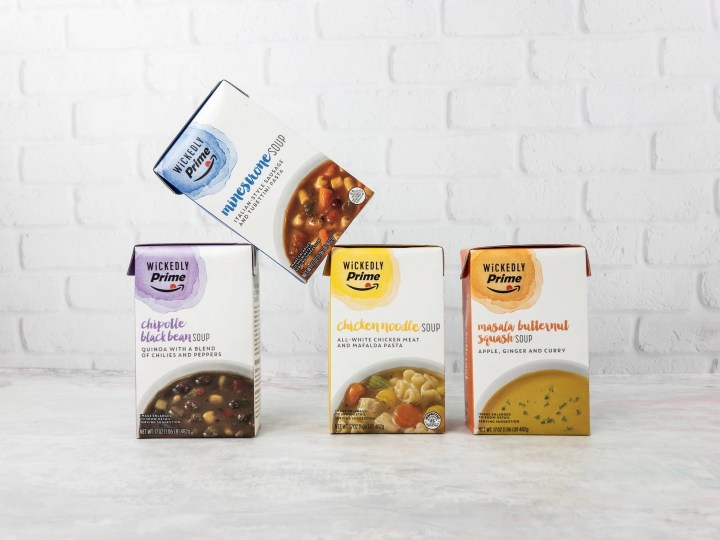 Wickedly Prime is a new food and beverage line offered exclusively for Amazon Prime members.  Amazon promises "the best flavors" on earth, and they promise to give you your money back, if you're not completely satisfied.
Currently, most of the Wickedly Prime items are available singly through Prime Pantry, and some multi-packs are available via Prime & Dash buttons. They have finally started rolling out goodies to Subscribe & Save! Like the Happy Belly snacks I reviewed I've also noticed some of the goodies at a deep discount with Alexa (to order with your Echo).
TIP: You may find that some Wickedly Prime items qualify a Prime Pantry order for free shipping when you buy 5!
If you're not a Prime member you can get a free trial here, and then check out more of the Amazon Prime exclusive goodies, like the Amazon Prime Sample Boxes!
Wickedly Prime Minestrone Soup With Italian Sausage And Tubettini Pasta ($3.59): A fresh take on the classic Minestrone soup, with a flavorful tomato broth and chunky veggies, pasta, and meat.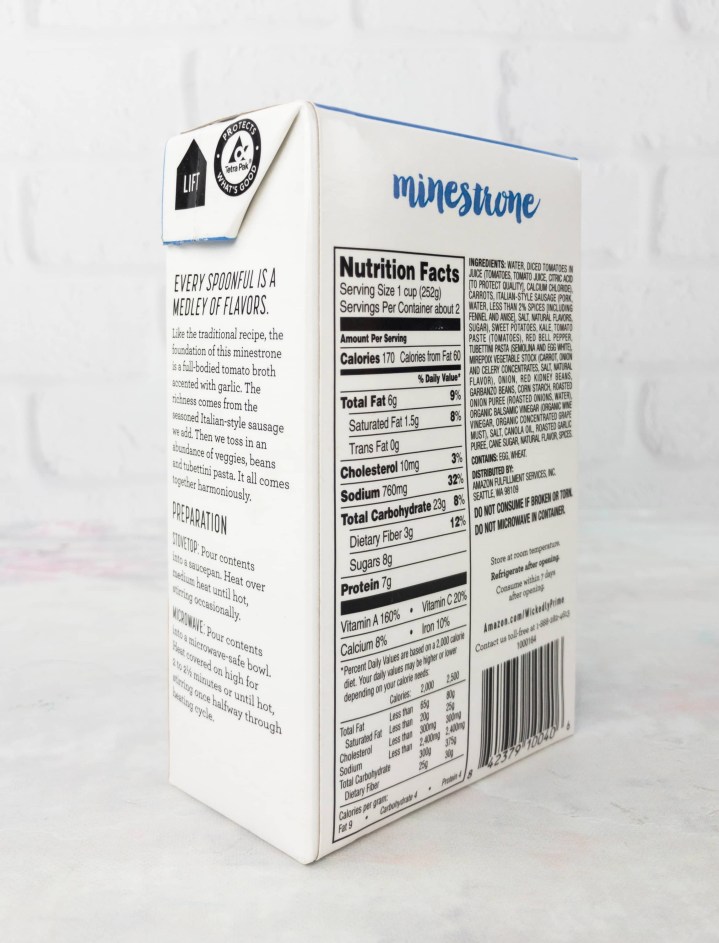 The soup comes in 2-serving tear open Tetra Pak containers – it is ready to heat and serve and doesn't need any dilution. The list of ingredients appears lengthy, but it is a comforting list. There is no corn syrup, gum thickeners, or other odd items. Apart from some salts and cane sugar, the list is mostly just veggies. The Italian sausage is made with pork.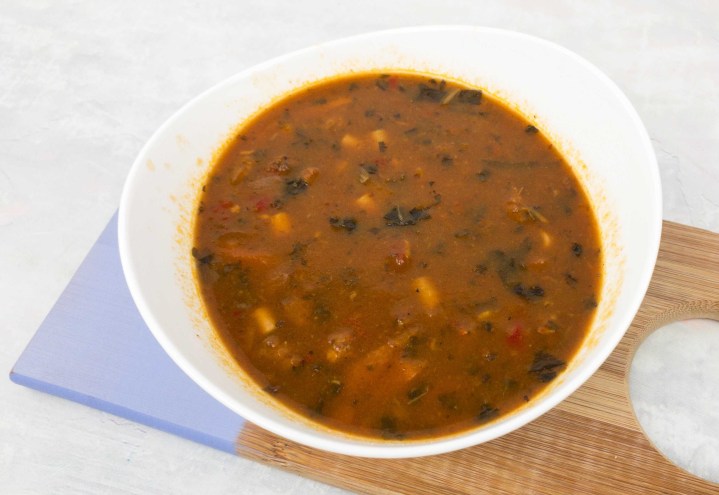 The soup was well-seasoned and very flavorful. The pasta didn't get too soft, and the soup had a surprisingly velvety texture. The pork sausage was flavored with fennel and was amply distributed in large pebbles. Lots of big veggie pieces.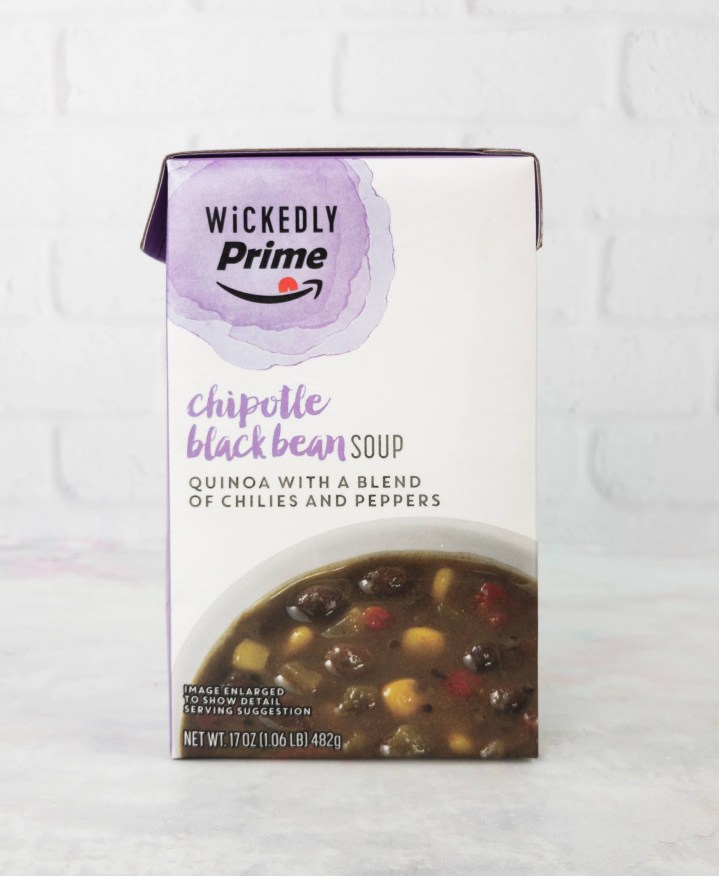 Wickedly Prime Chipotle Black Bean Soup ($3.29): Our favorite soup of the collection, this slightly spicy Southwestern style soup really hit the spot.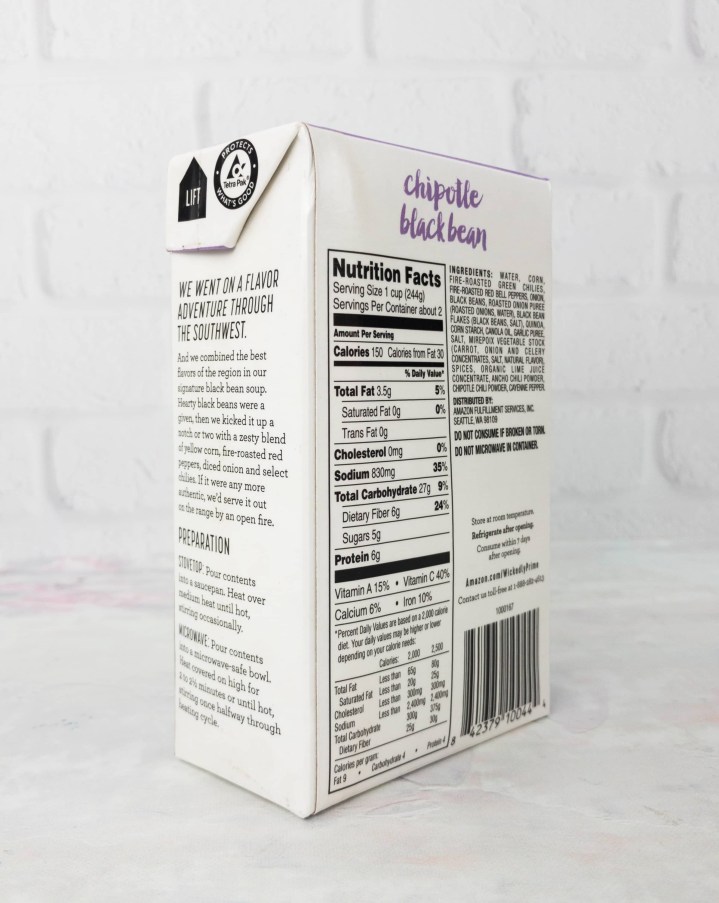 The ingredients list for this soup is shorter than for the minestrone, and it is vegetarian.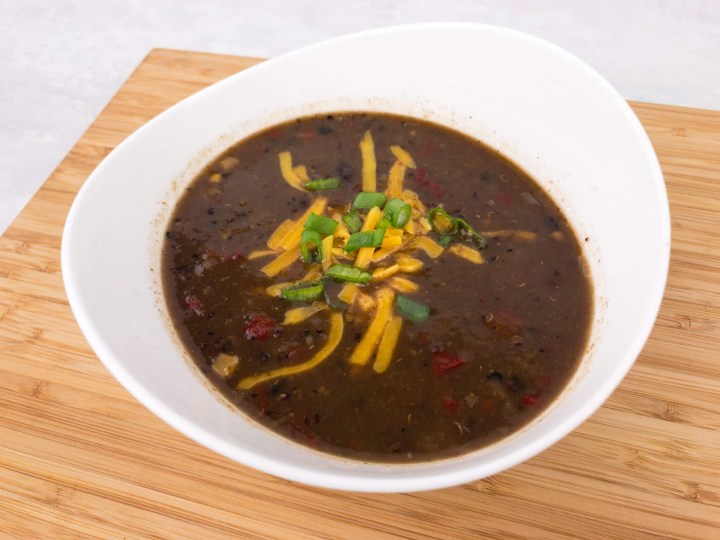 The soup had a lighter texture than I had anticipated, avoiding the gumminess of some bean-based soups. The flavor was fantastic, with enough spice to excite the taste buds but not enough to scare anyone off – it was tamed enough to complement the natural creamy flavor of the beans without overwhelming it. We would definitely stock our pantry with a case of this soup.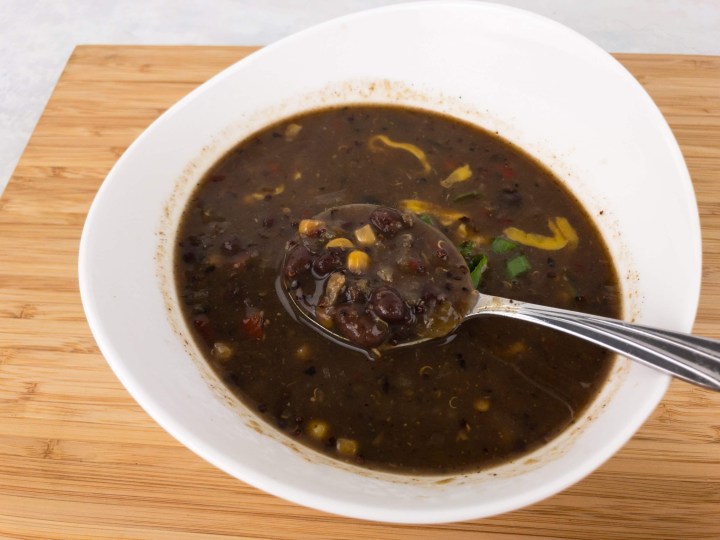 We had anticipated a fairly liquified soup, but we were pleased to find tons of intact beans and whole kernels of corn. This soup was superb – we  loved the spices and texture.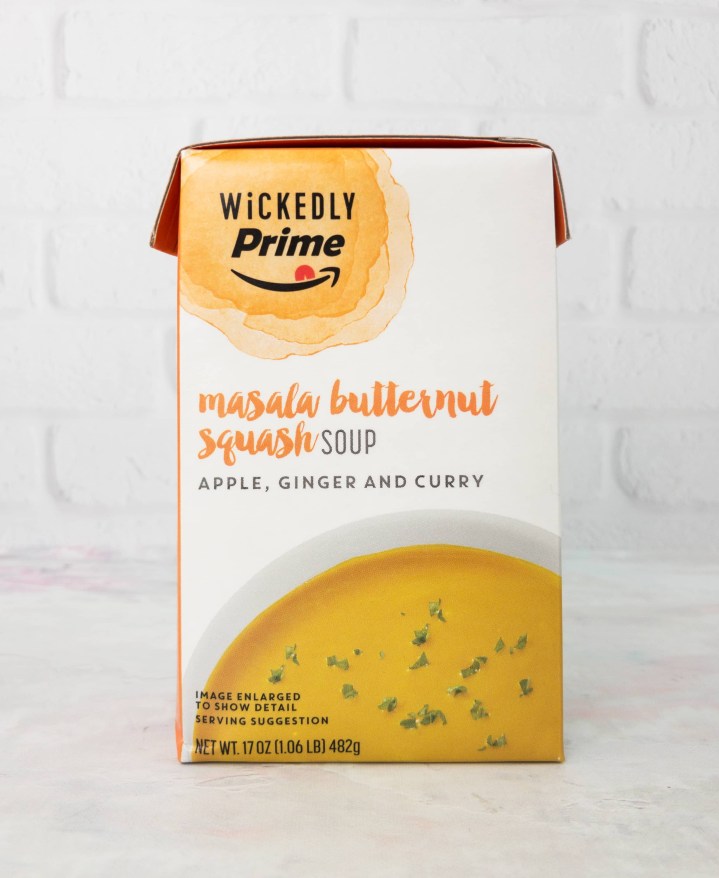 Wickedly Prime Masala Butternut Squash Soup ($3.29): This soup didn't wow us. It was elegant and very smooth, but the sweetness was a little too high to eat it as a main course.
This was the simplest soup, yet it had the most in the way of added starches and sugars.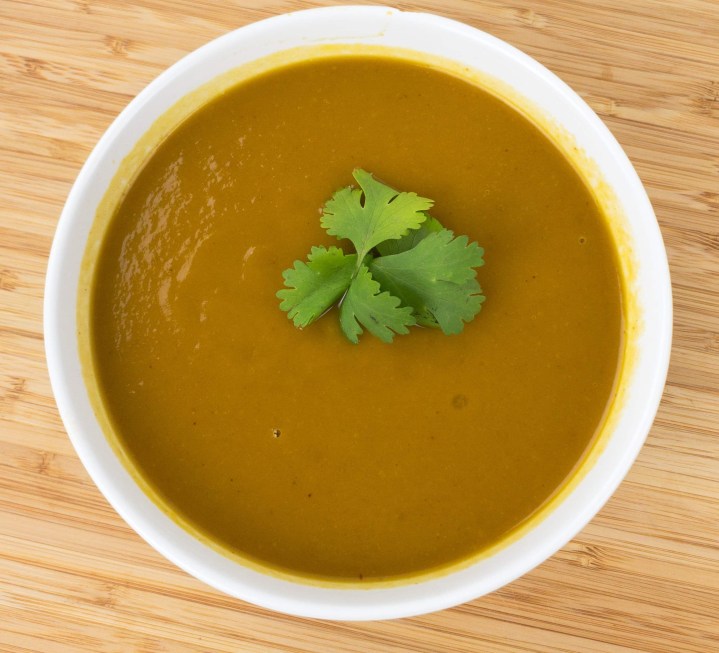 The texture of the soup was very smooth and silky, no doubt a result of the large proportion of coconut milk used. I clung to the sides of the bowl and had a pleasant viscosity, but the lack of chunks meant it became monotonous after the first quarter bowl. It was seasoned nicely, with the flavor or the squash really shining through. Bright and fun, this soup is enjoyable to try, but it is not a case buy for us.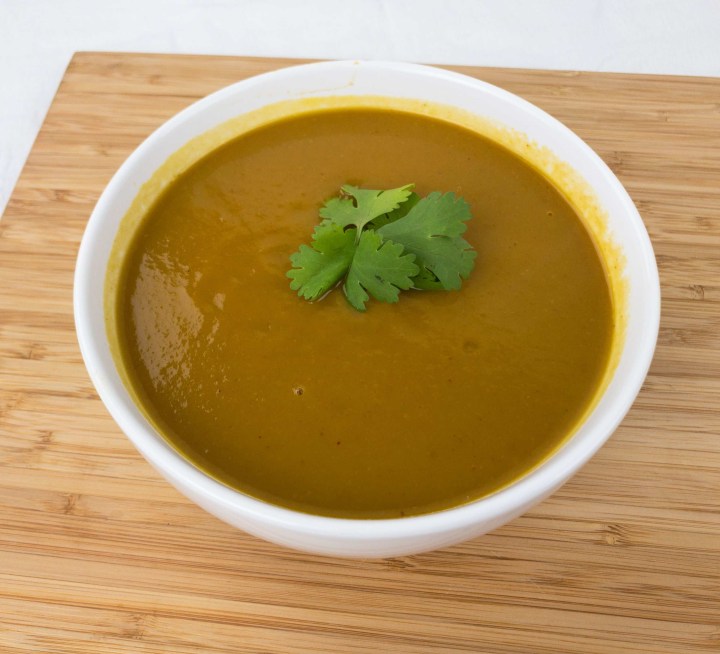 Though the flavor was very intense, there was a bit too much sweetness to enjoy this as a stand alone meal. The masala had really great flavor and was relatively mild – but it still felt more like eating a spiced pumpkin pie filling than a pleasantly sweet soup. We thought it might make a fun braising sauce for pork or chicken. The squash has some natural sweetness, as does the coconut – to that base they added apple juice and cane sugar. It was just a little too much.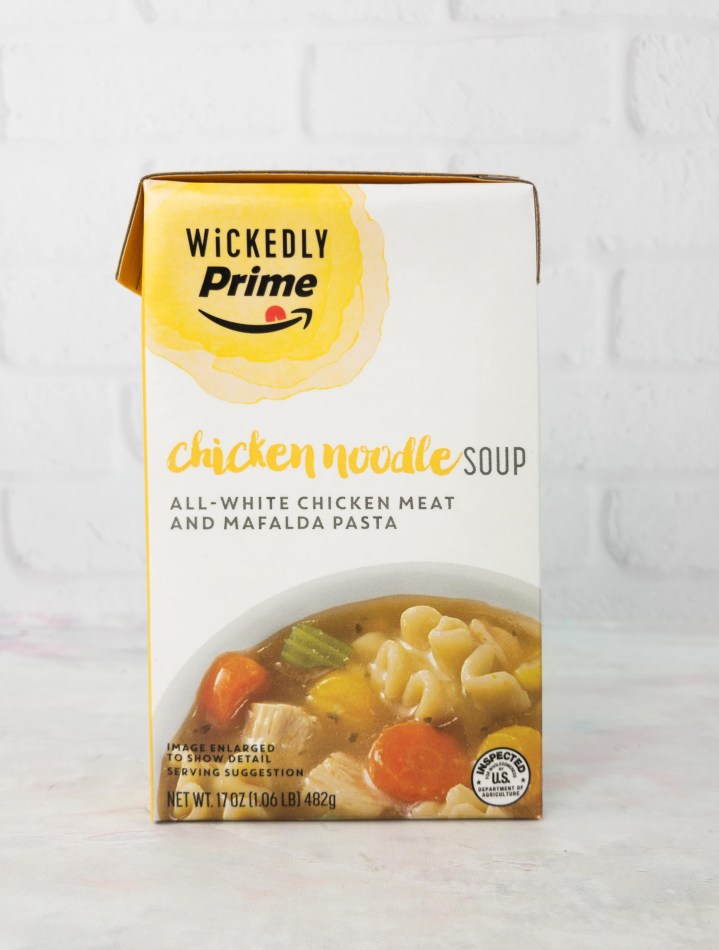 Wickedly Prime Chicken Noodle Soup ($3.59): This was a fairly classic chicken noodle soup, but with more substantial pasta.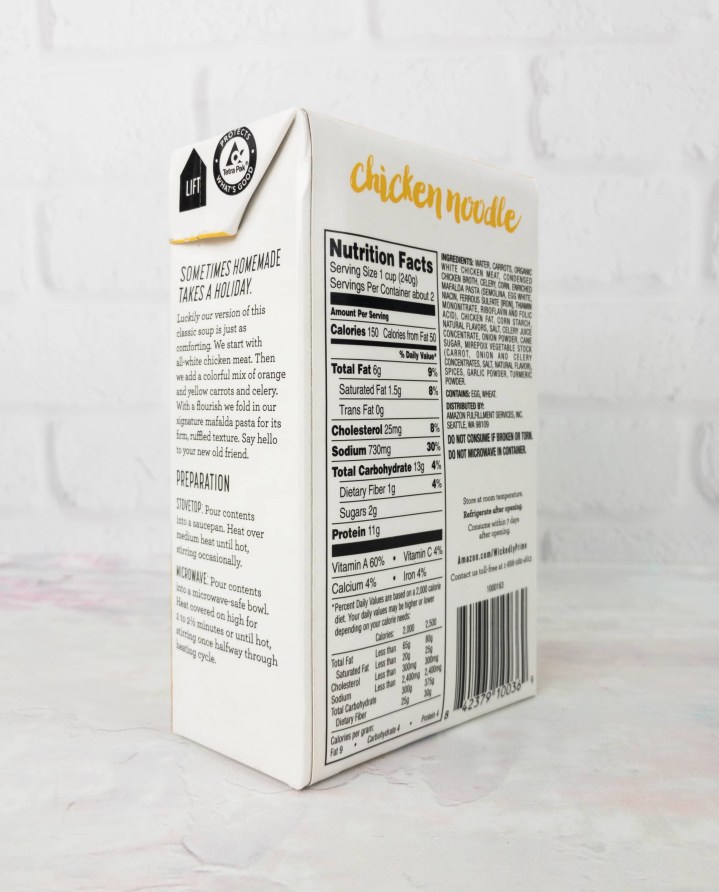 Another set of good ingredients, with the only big words belonging to the B vitamins used to enrich the semolina flour used in the pasta.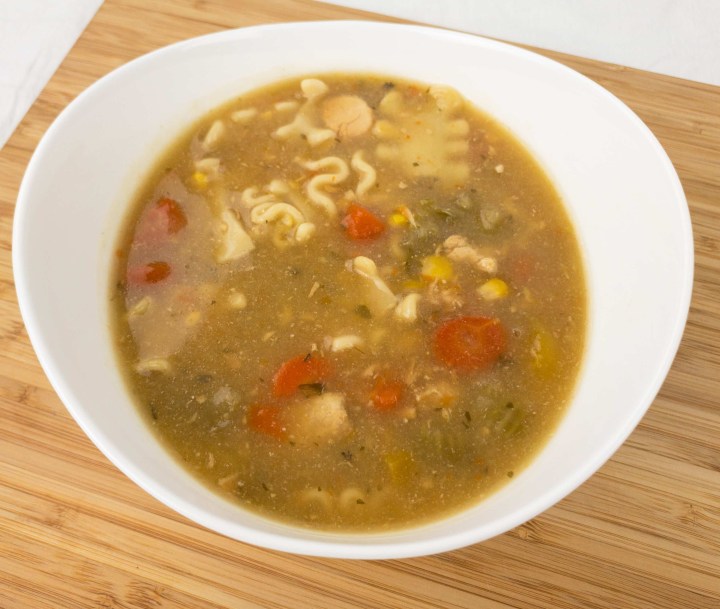 The texture was very viscous, and it was closer to a stew gravy texture than your typical, watery chicken noodle. The chicken pieces were very nice white meat slices, cut cross-grain. The carrots were tender, with golden carrot coins joining the standard orange ones. The noodles were wide and ruffled – there was a good amount, but they didn't overload the soup with noodles.
The broth is really great. It looks almost like egg-drip soup, thick enough to suspend all the tiny bits of flavor.
We thought the soups were really well made. They had a pleasing list of ingredients, with preservatives and other undesirables notably absent. Each had great texture and lots of flavor. The soups were perfectly seasoned (sodium runs at 30-35% dv/serving), getting as much flavor out of the ingredients as possible, yet staying short of being salty. The quality of the soup rivals any you'll find at a store.
What do you think of Wickedly Prime?