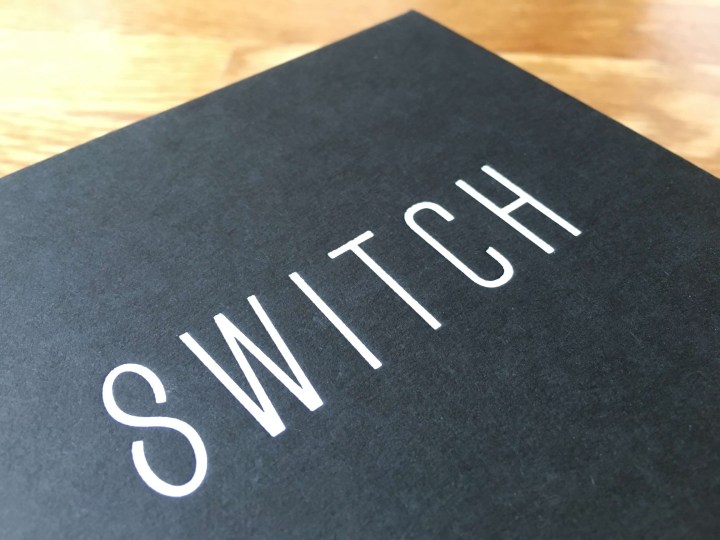 Switch is a jewelry subscription that lets you rent designer jewelry starting at $29 a month. You can wear the pieces for as long as you like, or switch them out for new piece(s) whenever you want. Shipping is always free. The jewelry, which includes pieces by Hermes, Alexander McQueen, and Celine, among others, averages $500 and includes necklaces, bracelets, and earrings. Jewelry is cleaned between wearers.
I have always admired fun statement jewelry on other women, but I can never bring myself to commit to a piece.  Who wants to spend $500 on a piece of jewelry that you may wear only a few times before it goes out of fashion? But who wouldn't like having an amazing new piece whenever you go out? Not being an heiress or a tech entrepreneur, and having a firm frugality-is-golden Midwestern upbringing, I figured this kind of jewelry was out of reach for me.  Enter Switch, which lets you have fun without the commitment. It's like internet dating for jewelry!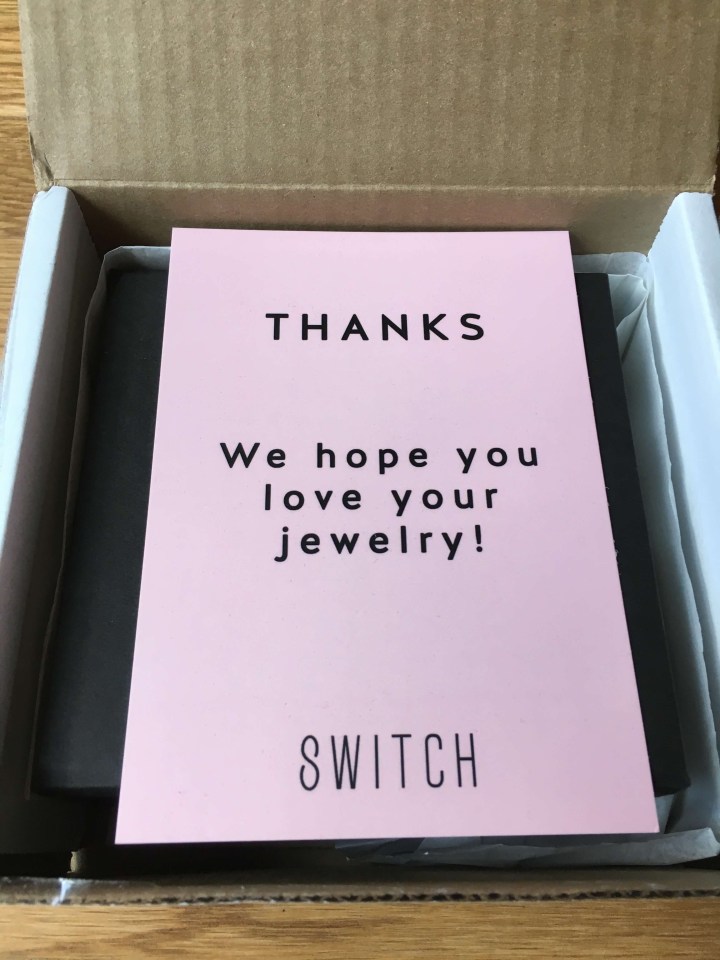 DEAL: Get half off your first month on any plan. Use coupon code HELLOHALF.
Sign-up is simple. You look through the collection and pick the pieces you like. A redesign of the website makes it easy to know which pieces are available. So, just like you're shopping, you pick what you want, put them in your bag, and check out. Shipping is free both ways. Wear it as long as you like, and send it back when you're ready for something new. I recently moved up to the Black plan, which allows me to have three (!!) pieces at any one time for $69 a month.
My jewelry came in the mail in just a couple of days. Everything is all snugged up in secure packaging. Can I just tell you how exciting it is to open tiny velvet pouches containing gorgeous jewelry that costs less than my monthly lunch budget?
Switch is always changing up their inventory, so there's usually something new and fun to select. This month, I got the Hermes Leather Wrap Bracelet in Black ($525 retail value), the Chloe Delfine Chain Necklace ($590 retail value, though we found it for $325 online), and the Marc Jacobs Statement Earrings ($300 retail value, though we found them for $95 online).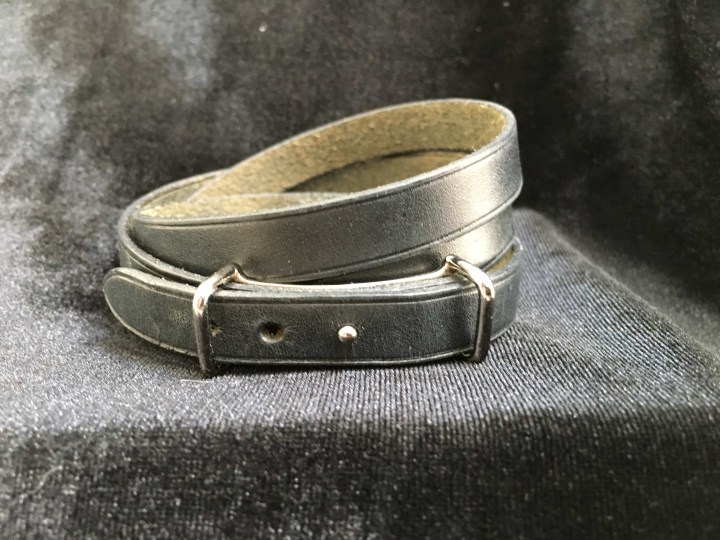 The Hermes leather wrap bracelet is a really fun and actually very versatile piece. It's a 27″ strap of black leather, .45″ wide, that wraps around your wrist three times and secures with sterling-plated hardware. It's classic, but just a little bit edgy.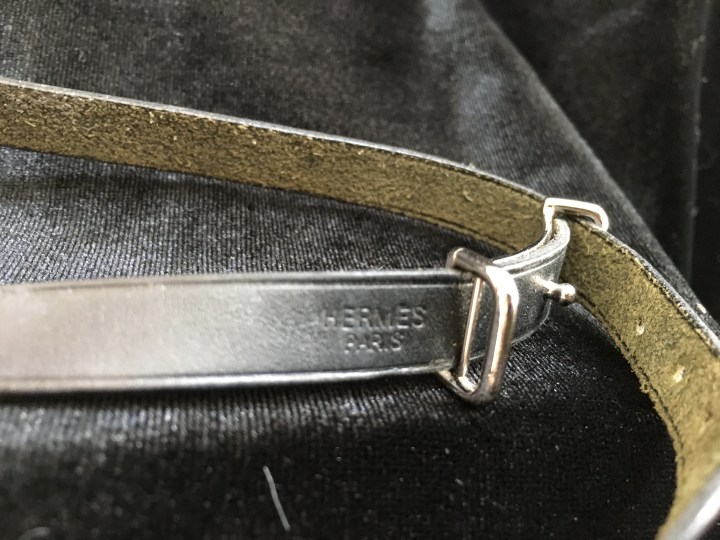 The bracelet is a little oddly sized, which the Switch team gave me the heads-up about before they sent it. Three loops was too big for my smallish wrists, but four loops didn't close. But the nice thing about Switch is if the jewelry doesn't work for you, you can send it back right then! You don't have to send all the pieces back at once. You can see the Hermes logo on the side.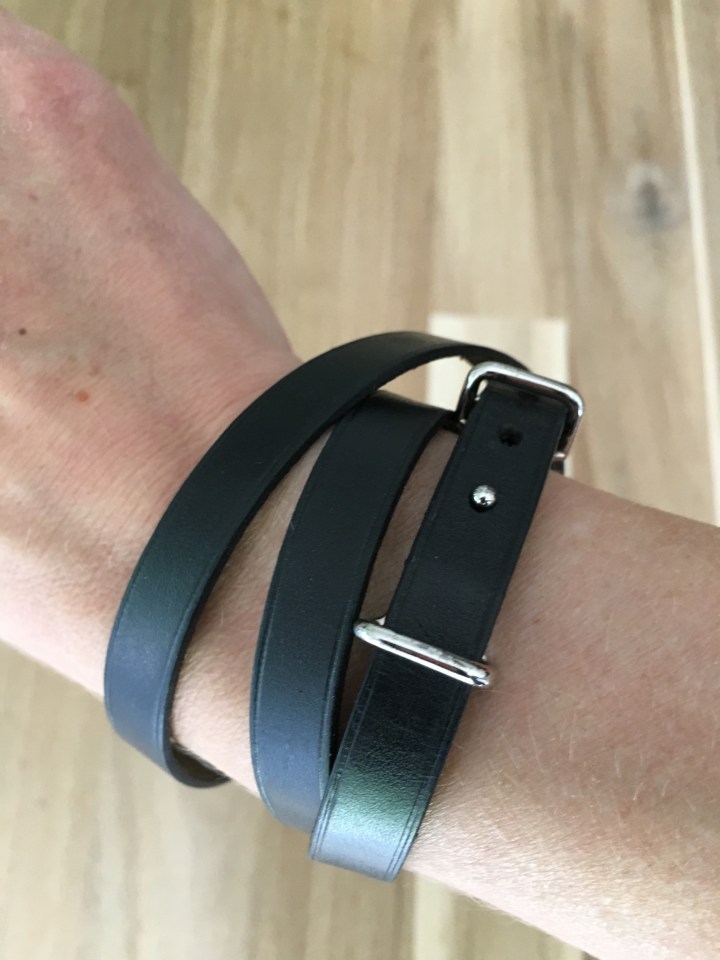 I really like the idea of this bracelet. Its simplicity means that you can wear it with jeans and flats, tucked under a blazer at work, or (my favorite idea) with a cocktail dress. Who doesn't want to look classy and tough at the same time?! If you have wider wrists, this might work great for you.
The next piece is the Chloe Delfine Chain Necklace.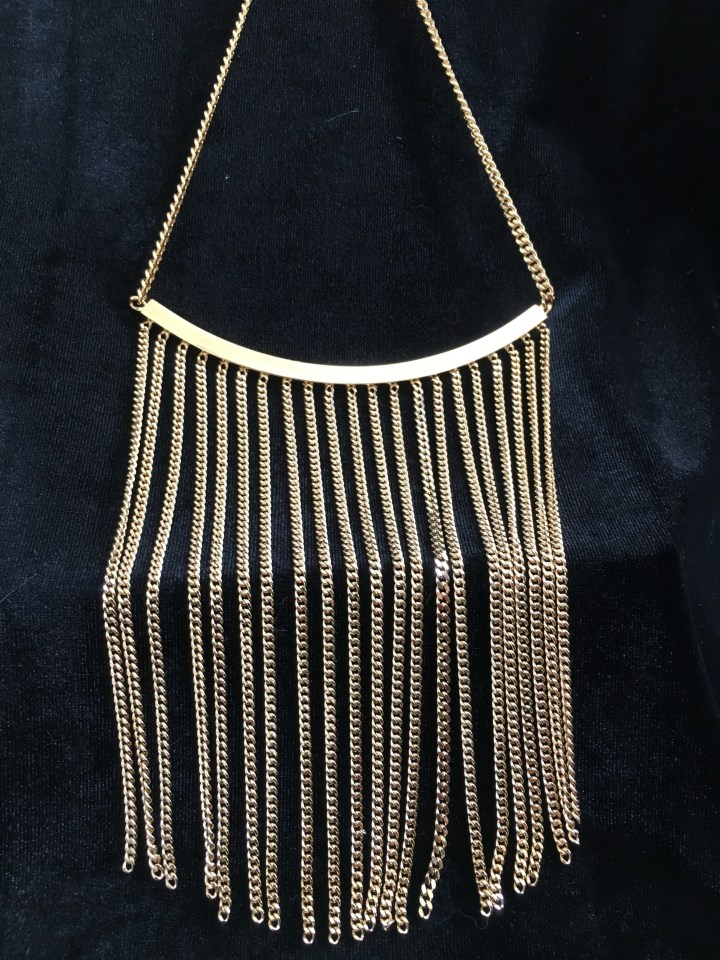 The necklace is gold-toned brass with cascading chains off of a curved bar. The lobster clasp is large and easy to do behind your head. You can see the Chloe logo on the clasp.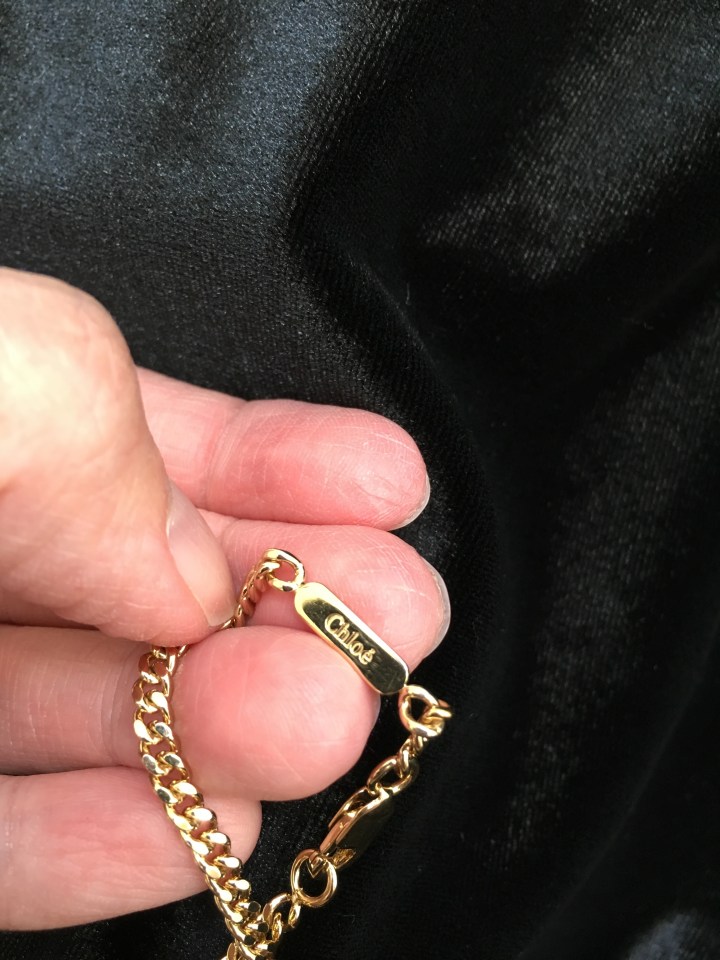 These showy fringe necklaces are very on-trend right now. Of course, they are a statement piece, but they actually can go pretty well with a white t shirt and ripped jeans, or even with a plain shell blouse with a pencil skirt. If you're in a creative field, a low-cut cami under a blazer with this necklace on top would be amazing.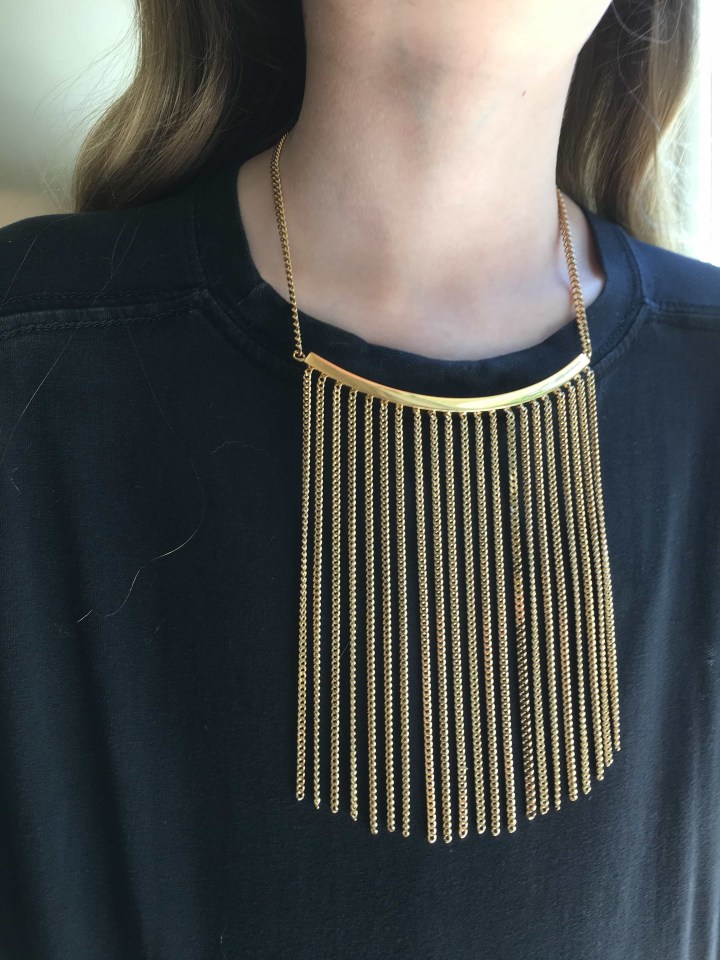 The chains make a fun swishing sound on, and they're quite light, so you can wear it without feeling weighed down. I wouldn't wear something like this every day, but I could see it definitely filling a need for power on a big meeting day.
Last up were the Marc Jacob statement earrings.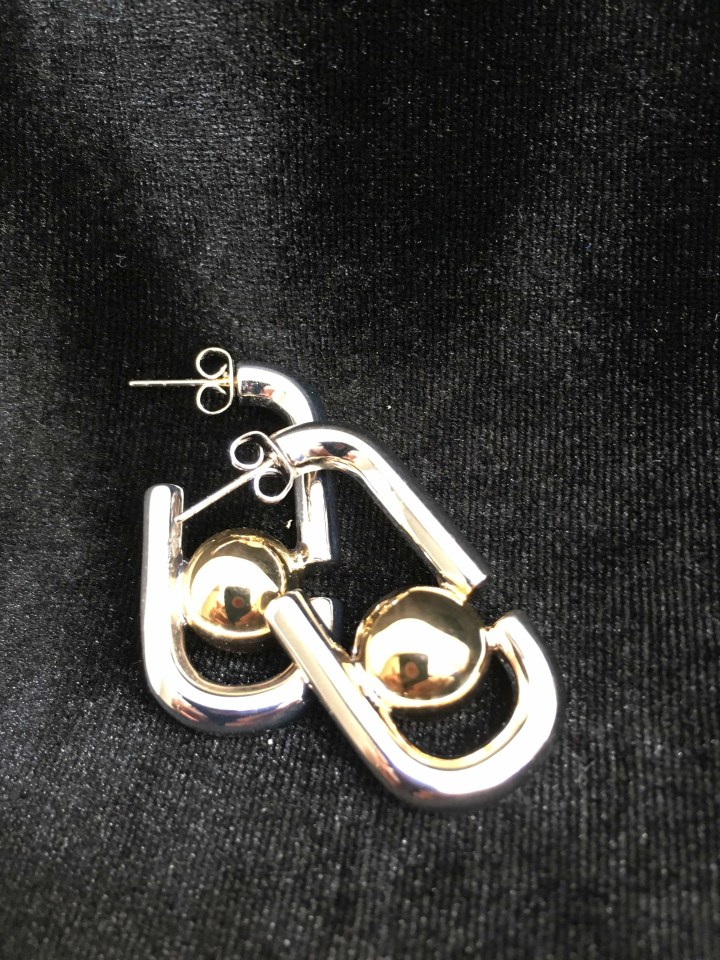 I love a piece of designer jewelry, but I'm not super into wearing the designer's actual logo, if you know what I mean.  These Marc Jacob earrings are perfect, in that you and your in-the-know frenemies will know what you're wearing, but you don't look like a billboard.  The earrings are gold and silver tone brass, about 1″ long and 1/4″ wide at the widest point.  The backs are butterfly clasps.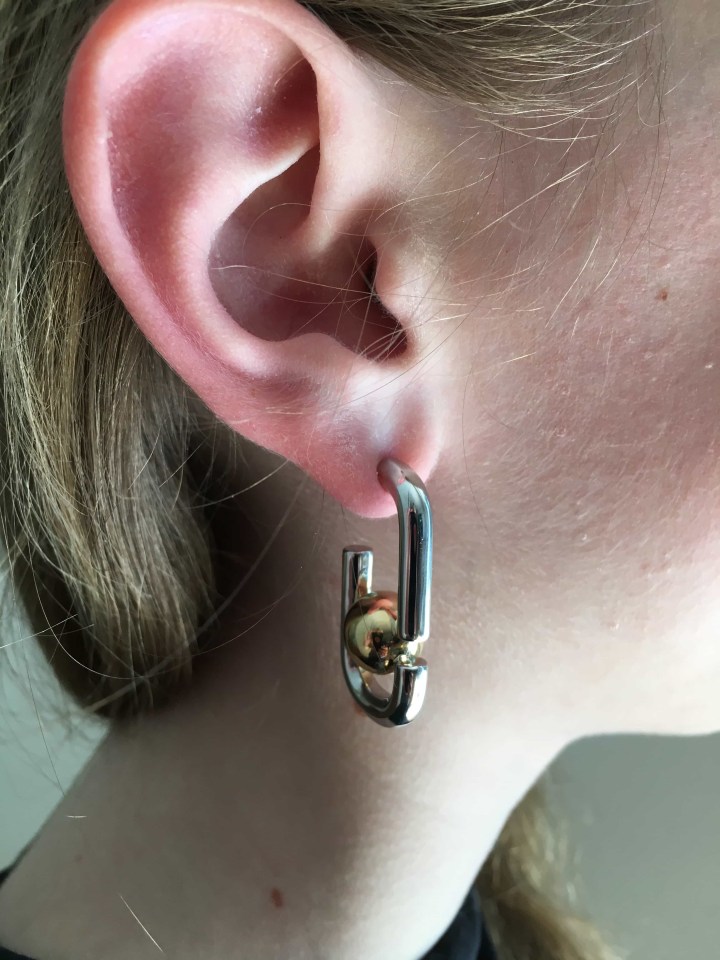 These earrings are fairly heavy; I wore these on a date where I walked about a mile to the restaurant, and I could feel them hanging off my lobes as I walked.  They are terrific looking on, though — they have an almost industrial look to them that really freshens up your outfit. I wore them with jeans and moto boots, so I was definitely pushing the toughness factor, but they are simple enough to wear to work as a focal point.
This was a great shipment!  I really enjoyed wearing these pieces all month, and I was happy to send them back for a new batch.  Overall, Switch is a really fun experience. I really like the variety of pieces available. I love the idea that I can go "shopping" for new jewelry anytime I want. Given the retail prices of the pieces (over $1000 total in this shipment), the $29-69/month is very reasonable value. With that money, I can either buy a new piece of jewelry every 1-2 years, or I can have a new piece whenever I want. For this kind of statement jewelry that may have a shelf life of your interest or that of the fashion world's, the economics really do weigh in favor of renting. I can't wait to get my next Switch!
Have you tried Switch? Which piece is next in your queue? Let us know in the comments below!