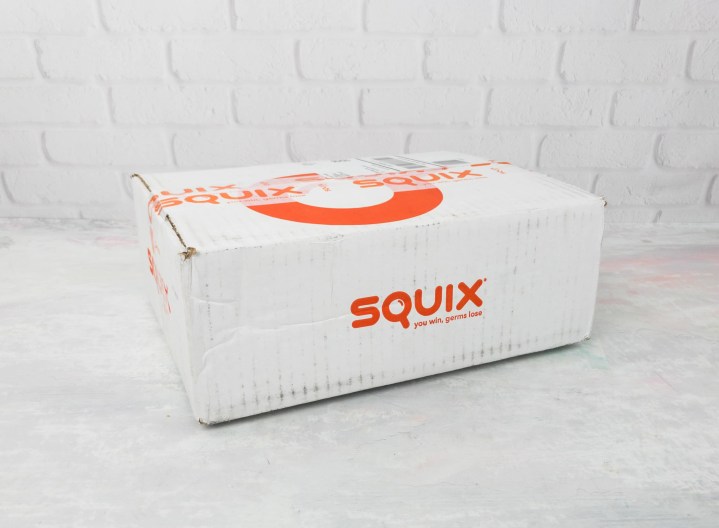 Squix QBox is a monthly subscription box designed to offer only the best in cleaning! While Squix has always offered innovative and germ-fighting brands they are increasing their selection of all natural cleaning brands like Mrs. Meyers, Mrs. Jones, Fresh Wave, The Good Home Company and more! This subscription has 3 FULL-SIZE products in every box plus a $10+ value gift in every box!
This review is for the new Squix Free Trial offer!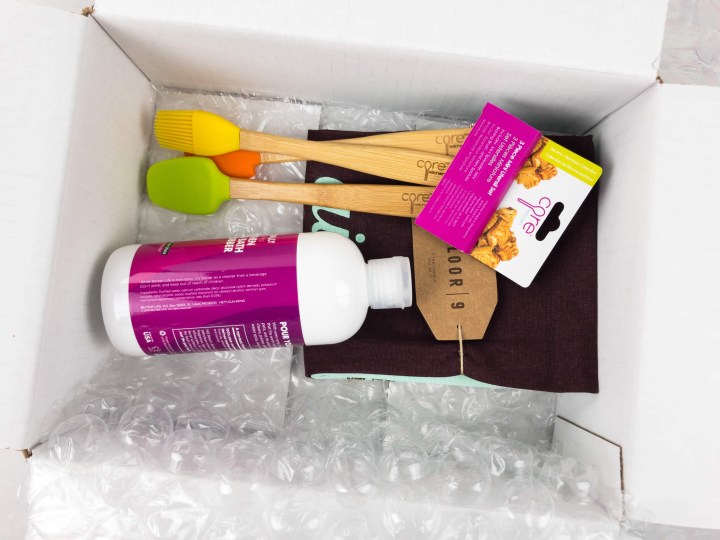 DEAL: You can get a free trial too – just use this link and pay $3.95 shipping with code HELLOFREEYAY!
The sign-up process will ask you to take a super-short quiz to help match you with products best suited to your needs. Create an account, then review the items you will receive in your first box. You can also choose to receive your QBox monthly or every other month.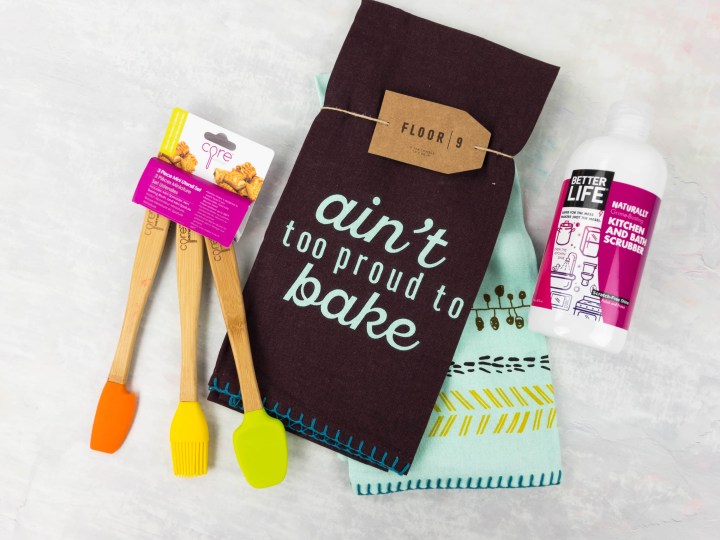 Approximately 7 days after receiving your QBox trial your first month full-size QBox will ship! There are different featured items that will ship with the trials – this review shows the most recent featured items. The same is true of the regular box – there's usually a featured item (not swappable) and other items you can swap out!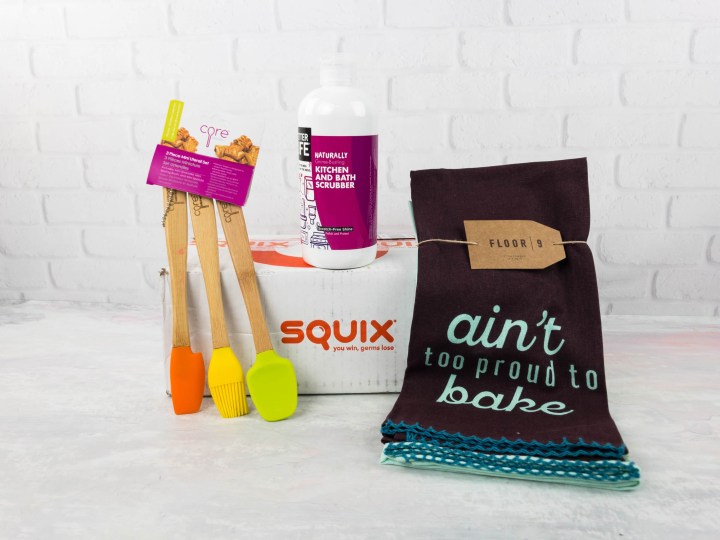 Here's everything in the trial!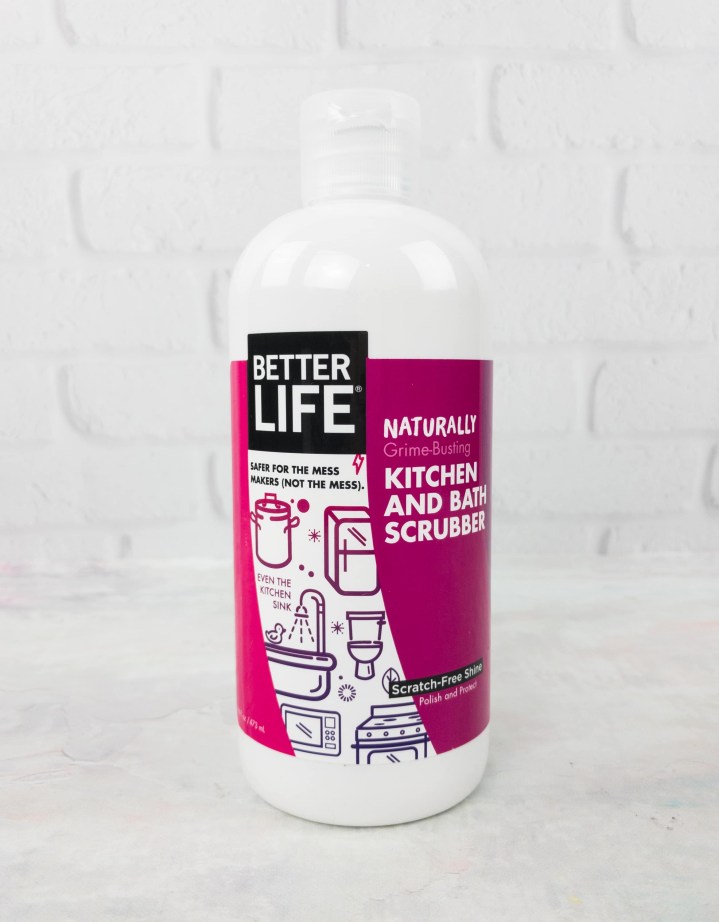 Better Life Grime-Busting Kitchen and Bath Scrubber ($6.99)  This is such a great cleanser – it cleans without scratching (and I have so many things to clean!). It's 100% plant and mineral derived and really cleans up hard surfaces.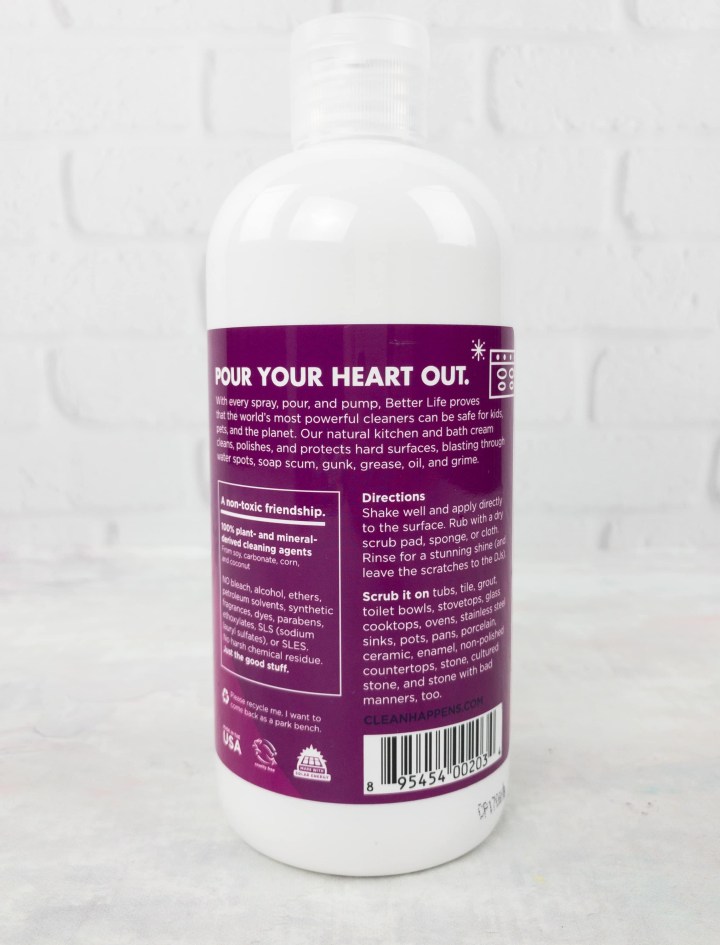 It's a great introduction to one of the brands Squix carries for the regular monthly (or bimonthly) box.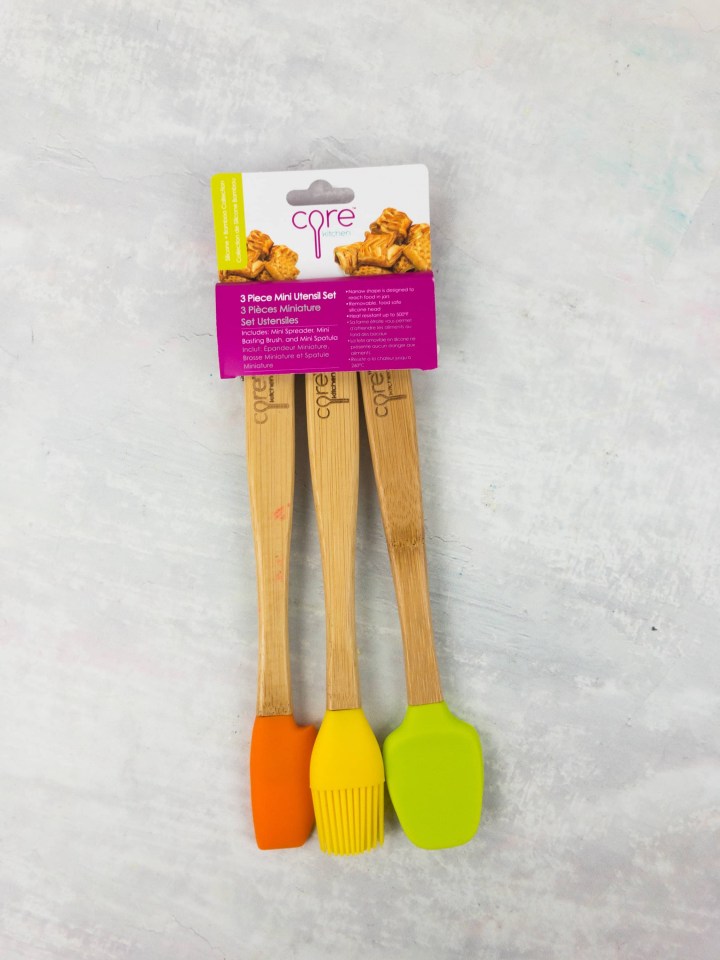 Core Bamboo Eco-friendly 3-Piece Utensil Set ($13.00)  Brush, spread and scrape with these mini bamboo and silicone utensils! I absolutely love these.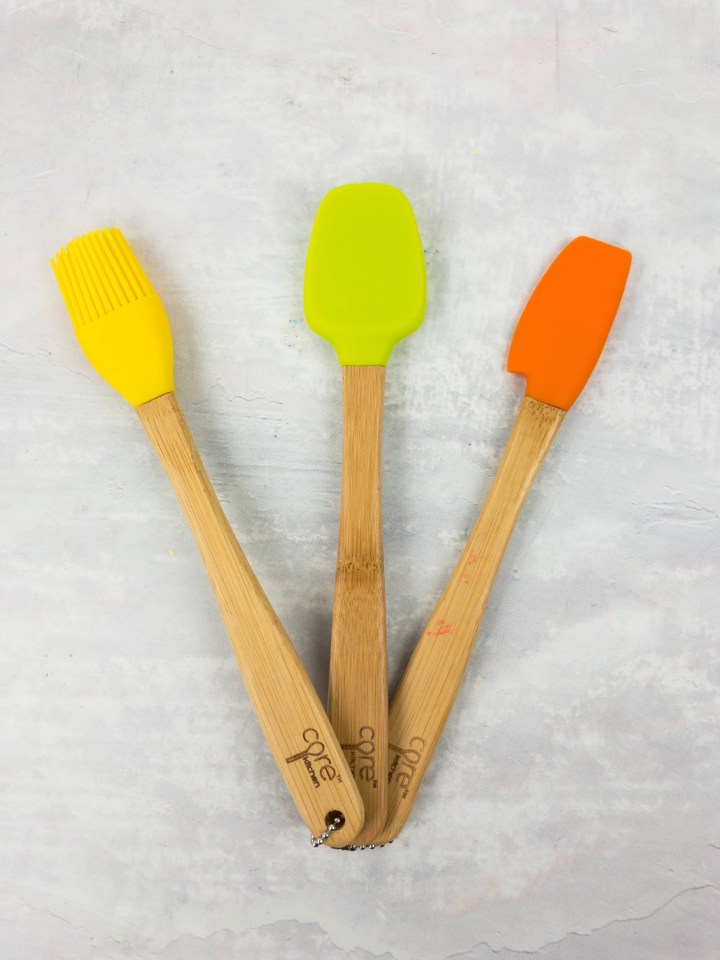 These mini Core Bamboo cooking utensils are made of eco-friendly materials and they've already been put to work in my kitchen.  I despise wooden cooking tools but love bamboo.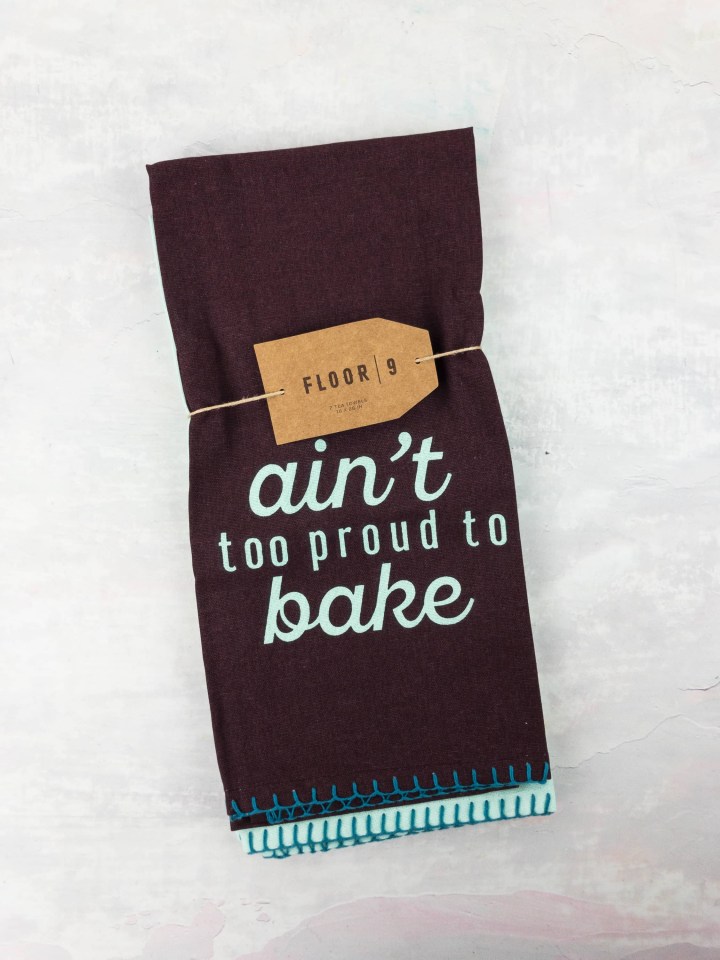 Ain't Too Proud to Bake Tea Towels ($20.00) I love colored tea towels and I admit, every time my husband leaves a nasty terry shop towel that he's used in my kitchen, I sneak it into the trash. I've been slowly but surely replacing his towel stash with pretty ones like these!
This set is 100% cotton with a nice blanket stitch edge detail.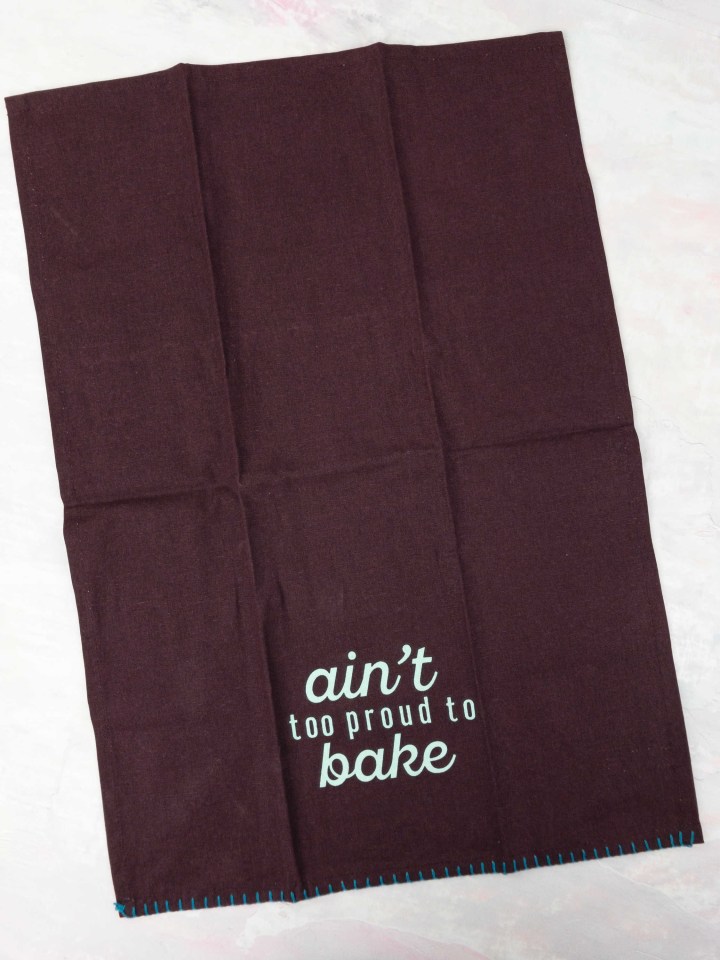 Ain't too proud to bake!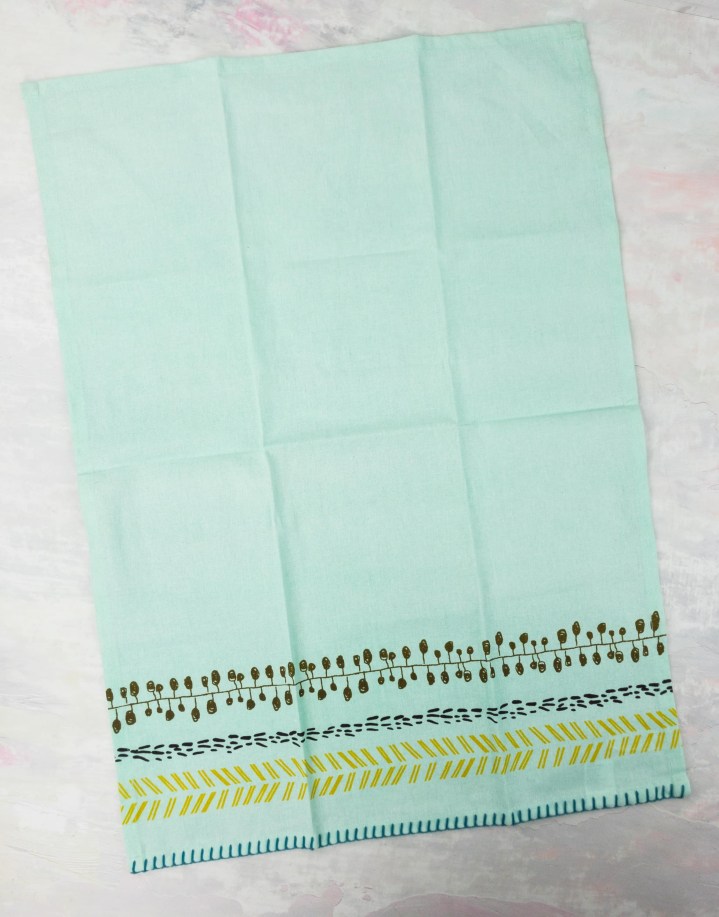 The towels are 18″ x 26″ – a nice generous size for just being pretty in the kitchen or doing hard work, like drying dishes!
This is a great trial for the Squix cleaning box – and I just love how they start you off with some super sweet items for your kitchen and a cleaning product to test out for such a low price. If you want to check out the items that might be in the subscription, see all the QBox items here!
You can get a free trial too – just use this link and pay $3.95 shipping with code HELLOFREEYAY!