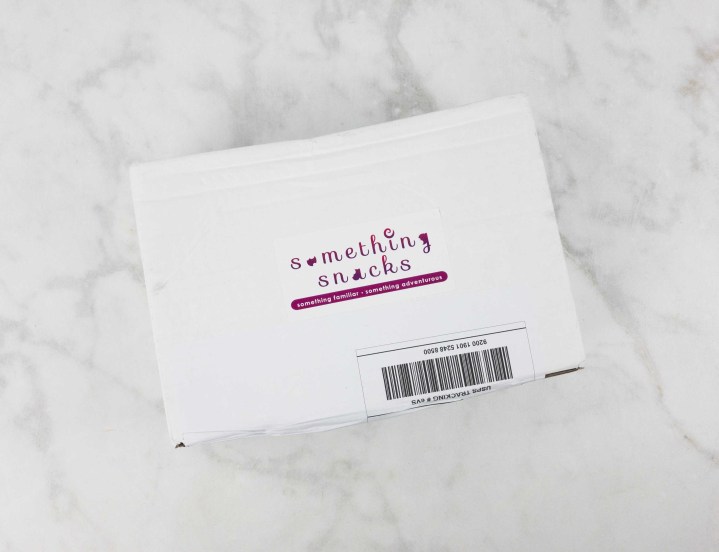 Something Snacks is a monthly subscription box that brings you snacks that are something new, adventurous and something familiar – for only $13 per month. There's always at least 1 salty, sweet, international, and healthy conscious snack in every box of Something Snacks.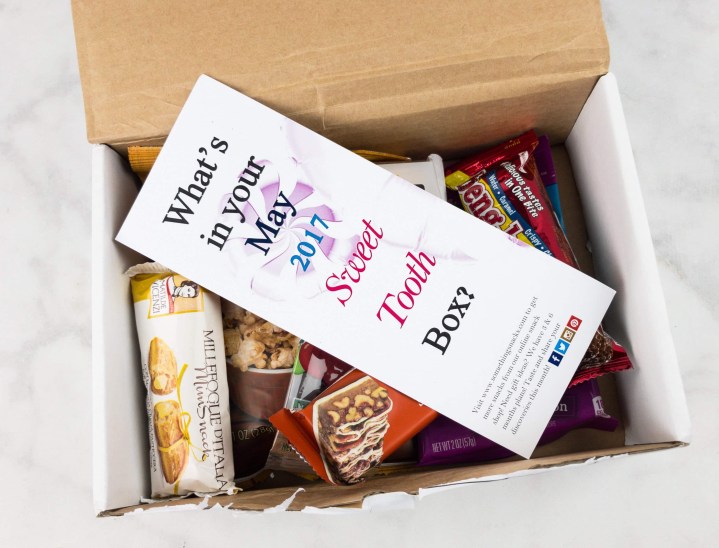 Every month has a fun theme — this month was the Sweet Tooth Box!
DEAL: Get $3 off your first box! Use coupon code TRY3NOW.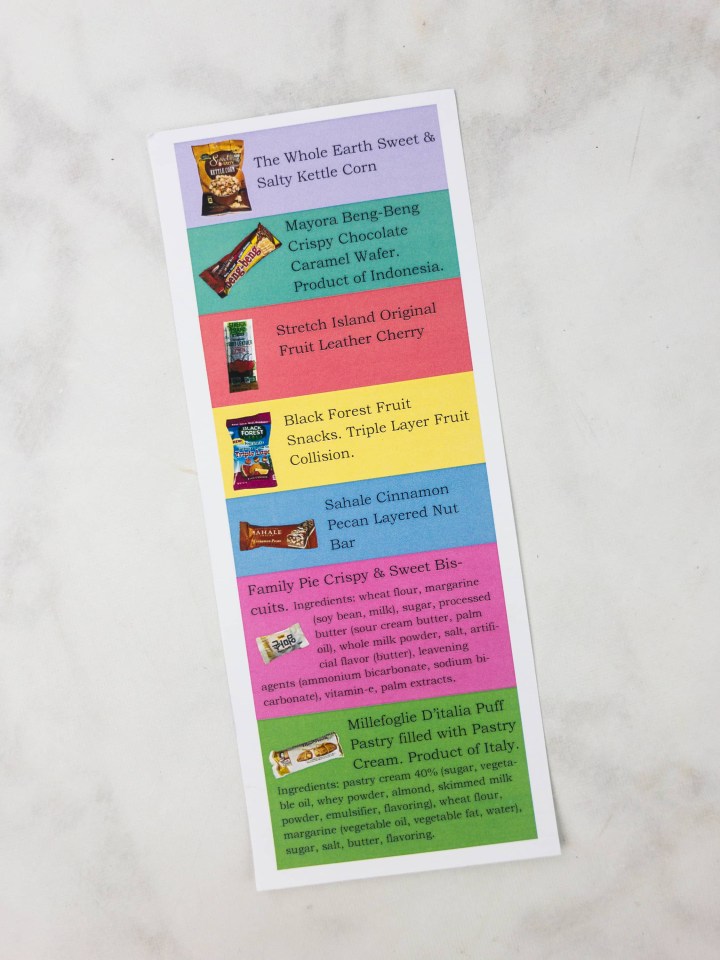 The information lists of all the goodies. The card simply names most of the snacks, but they added a helpful feature – a description and translation of ingredients for the items with foreign language packaging.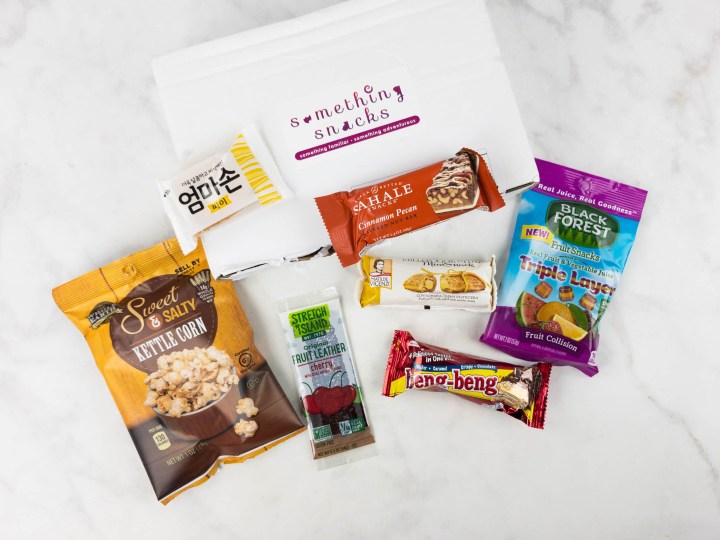 Everything in my Something Snacks May box!
Stretch Island Original Fruit Leather in Cherry ($0.43): This aptly named snack takes some real chewing to get through. It has a potent fruit flavor and is pretty sweet – but the sweetness is all from real fruit, as the strip has no added sugar!
This cherry flavored leather has a deep brownish red color. I think this is great, because it is a product of leaving out all of the preservatives and artificial colorants you find in the big brands.
The Whole Earth Sweet & Salty Kettle Corn ($0.62): Kettle style popcorn – popped kernels dusted with both salt and sugar. This style is supposed to satisfy both cravings at once.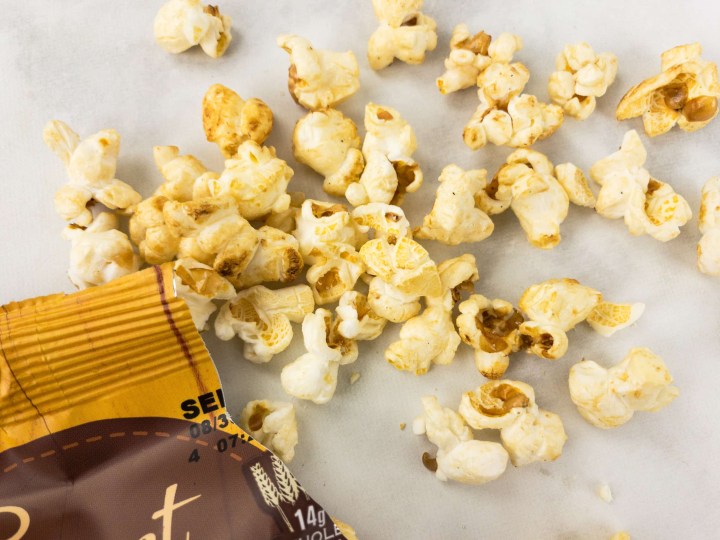 This brand of popcorn wasn't very good – or at least didn't live up to my expectations of what good kettle corn should be. The kernels were dry and dense, like they were not overcooked (but not scorched). The seasoning was just OK.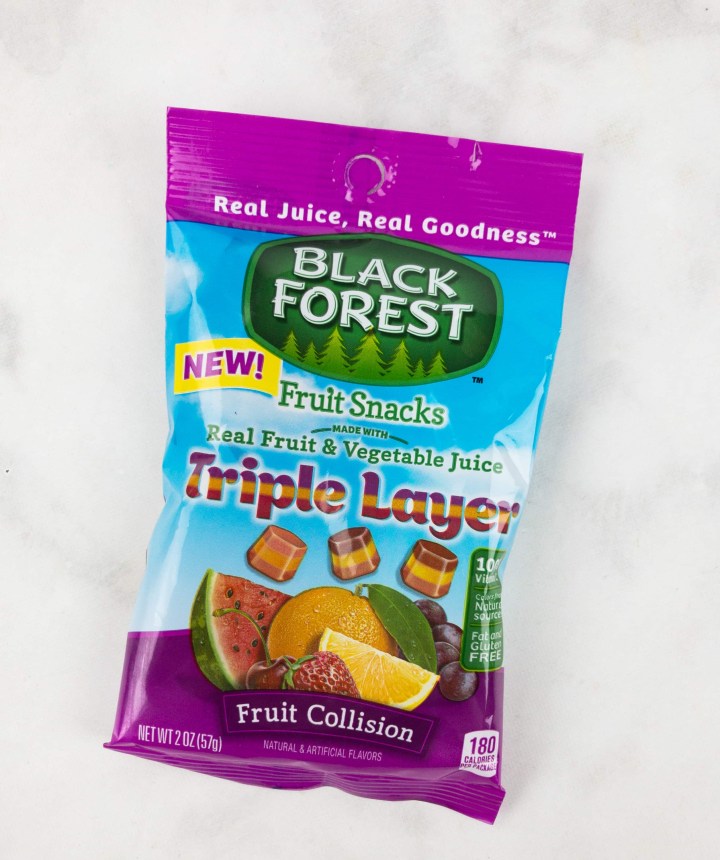 Black Forest Fruit Snacks Triple Layer Fruit Collision ($0.86): I recognized the Black Forest brand, because these guys make really great gummy worms. These fruit snacks are similarly fantastic!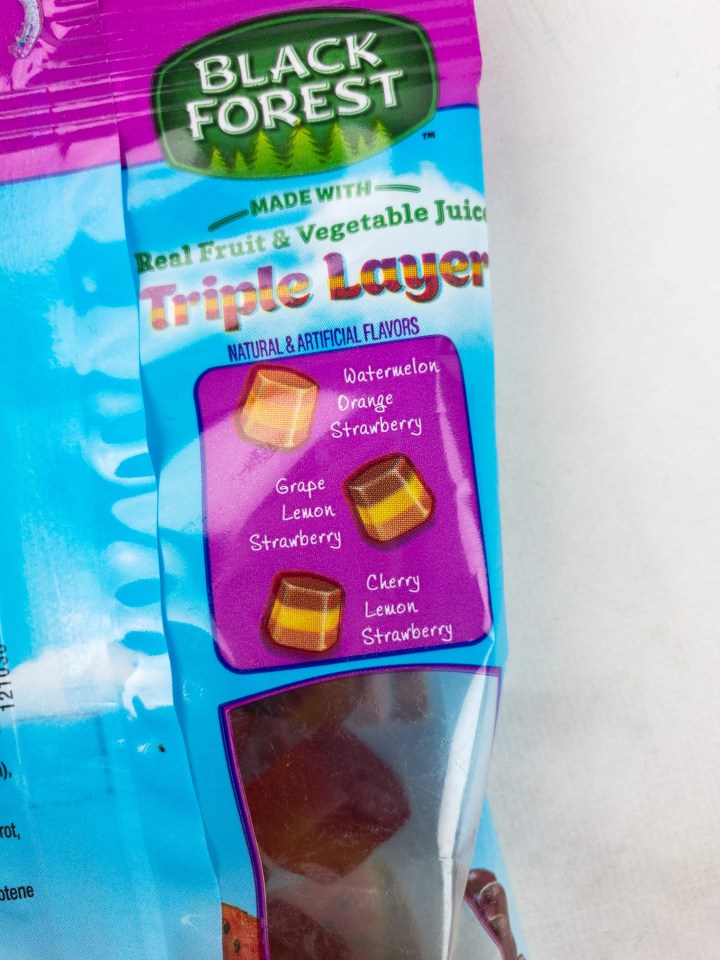 These little pentagons are made with real fruit and vegetable juice, layered into stacked trios of fruity goodness.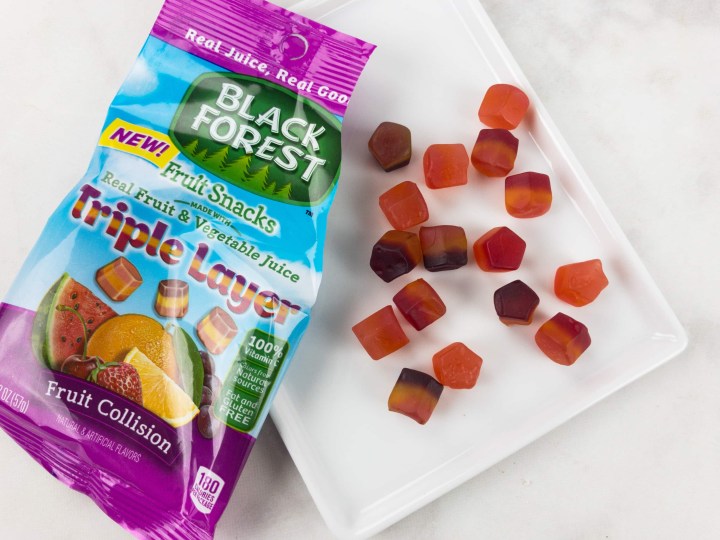 The texture is amazingly soft and tender.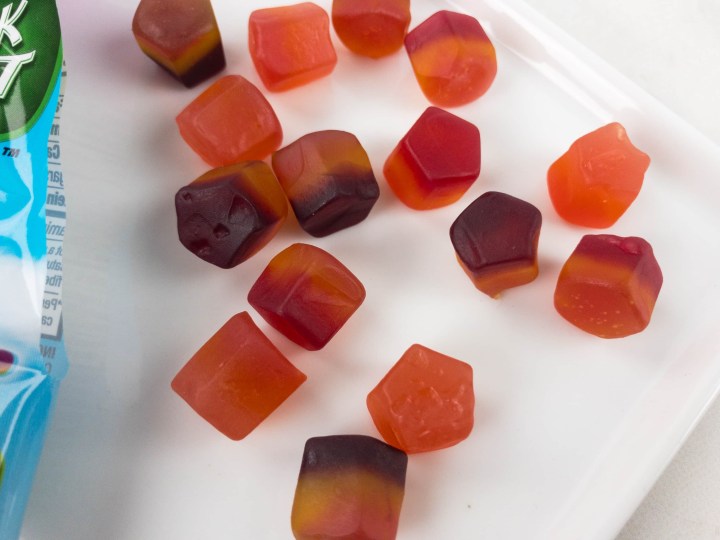 You can identify the flavor of the individual snacks by the color pattern.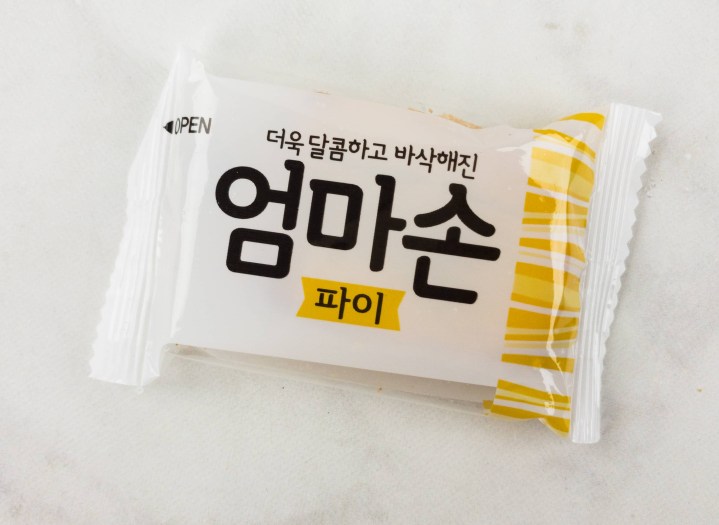 Family Pie Crispy & Sweet Biscuits: Korean butter biscuits with a flaky texture.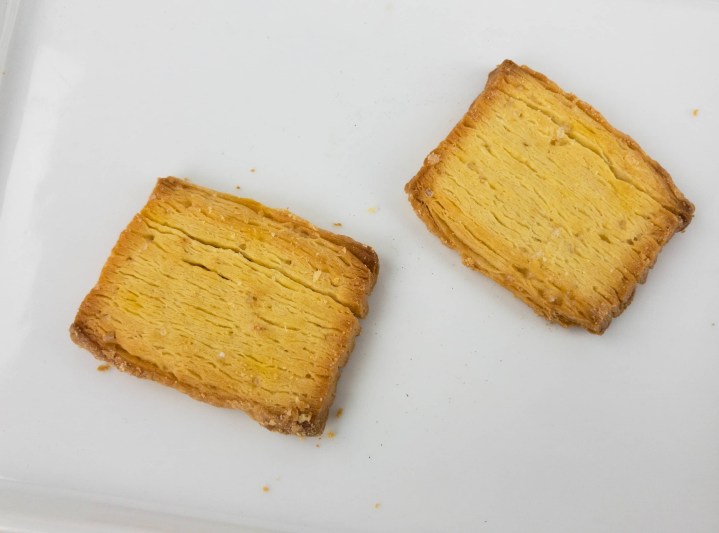 These are made with margarine and butter, but they don't have a particularly buttery flavor. They struck me as closer to an egg flavored cookie, though I think they are actually egg free. The texture is very crispy, like a dense palmier.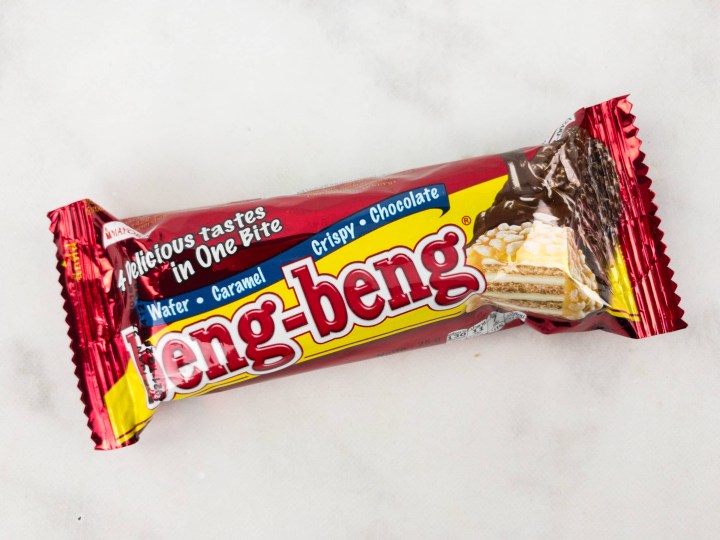 Mayora Beng-Beng Crispy Chocolate Caramel Wafer ($1.28): A sweet, chocolate-coated wafer bar.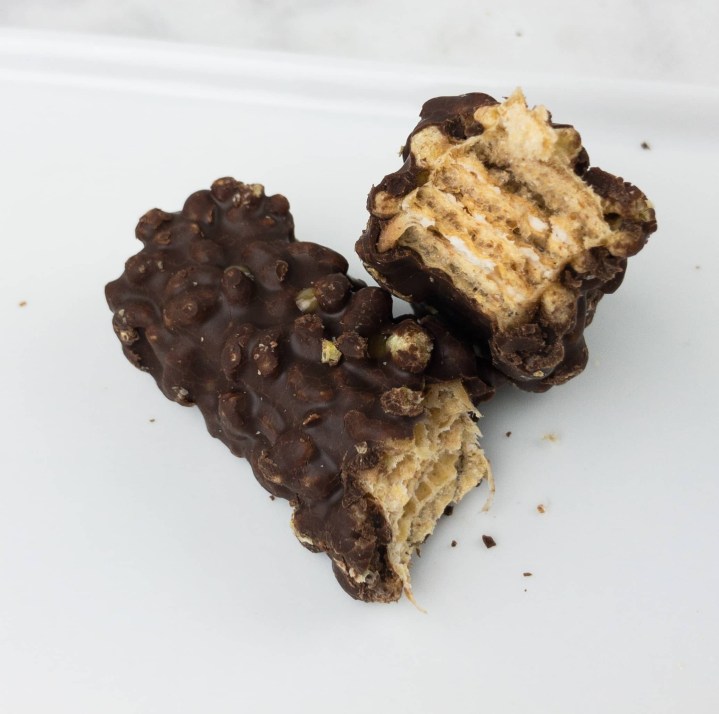 The center is a vanilla wafer stick, with rice crisps and a chocolate flavored coating surrounding it. It was sweet and a bit messy. The crisps and wafer weren't very crisp, so the overall bar was just alright.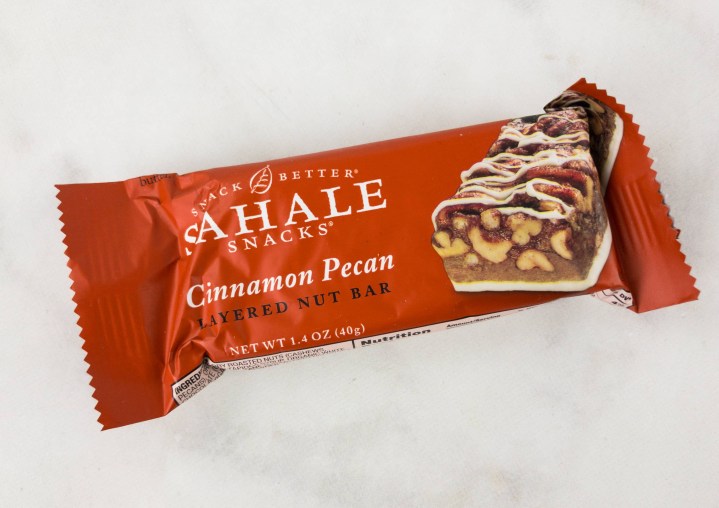 Sahale Cinnamon Pecan Layered Nut Bar ($2.33): A sweet treat of a bar, layering cinnamon pecans on top of a cashew butter base. The bottom and top have a nice white chocolate coating and drizzle, respectively. The bar is soft and relatively sweet, with a very intense cinnamon flavor. This is a good compromise between snack bar and protein bar, as it has 5 grams of protein.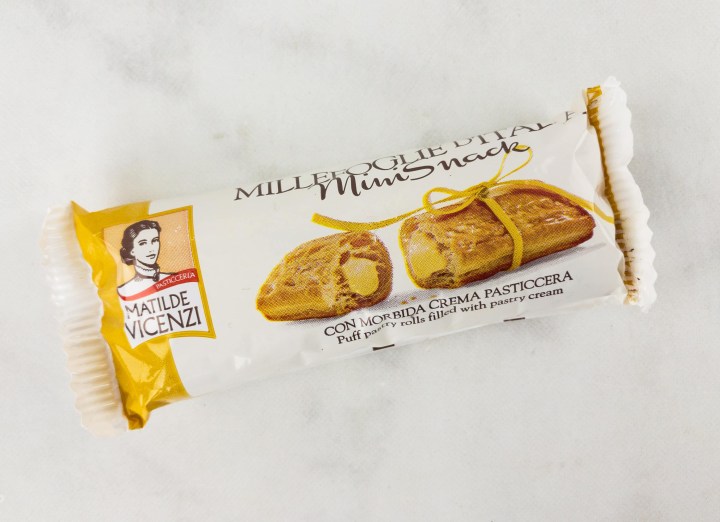 Millefoglie D'italia Puff Pastry With Pastry Cream: A light and flaky pastry with a sweet filling.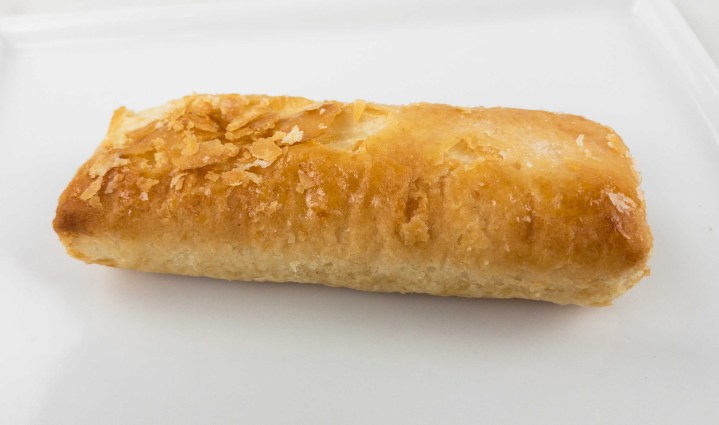 The pastry is super-flaky puff pastry. Incredibly light.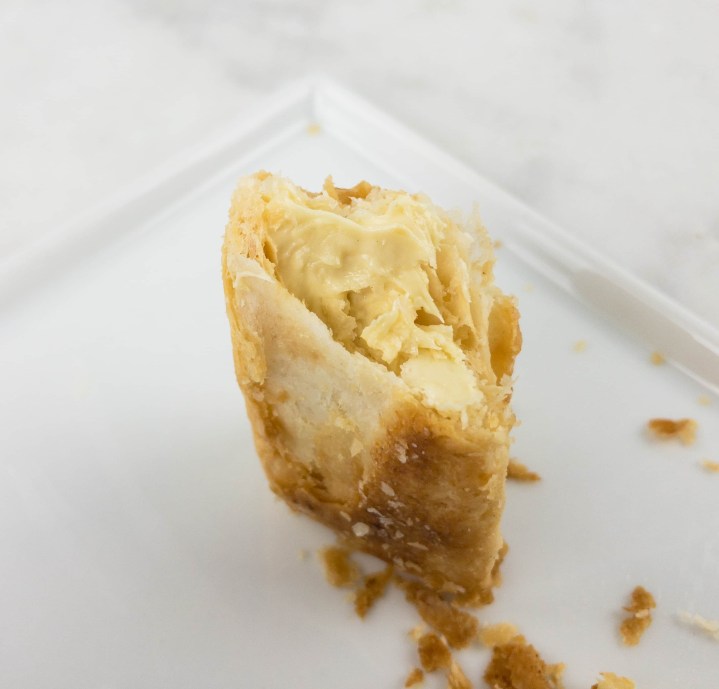 Also incredibly messy to break in half! Very yummy. The creme in the center is custardy in texture and incredibly sweet.
Something Snacks delivers on their curation promise, and we thought the box as a whole was tasty and fun. I loved that the Sweet Tooth theme didn't involve a box of just candy – they still were able to work in lots of variety. I really liked the bit of adventure here too – keep it coming!
What did you think of Something Snacks?