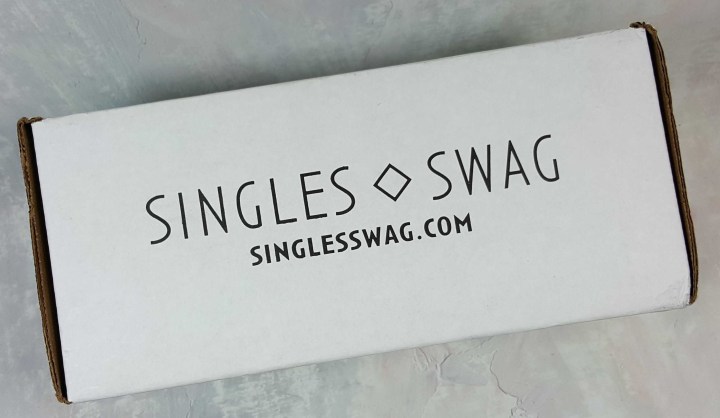 SinglesSwag is a fun, stylish monthly surprise designed exclusively for single women. Each month, receive full-sized products hand-selected for fabulous single women. These include organic bath and beauty products, trending fashion accessories, delicious artisan-crafted foods, best-selling books, and exciting surprises just for you. Choose between the regular (5-7 products) and petite (3-4 products) sized boxes. Month-to-month subscriptions start at $39.99 and $24.99, respectively, but rates are reduced for 3 and 6-month subscriptions (longer term = more savings). This is a review of the regular SinglesSwag box.
We Love Single Women

At SinglesSwag, we do not subscribe to any societal or cultural expectations on women. We believe a woman's happiness is determined by her outlook and attitude, not by her relationship status. We love to make single women look and feel beautiful, while empowering and inspiring them. We hope that our monthly package, created with love and delivered right to your doorstep will contribute to your happiness and well being. Never settle.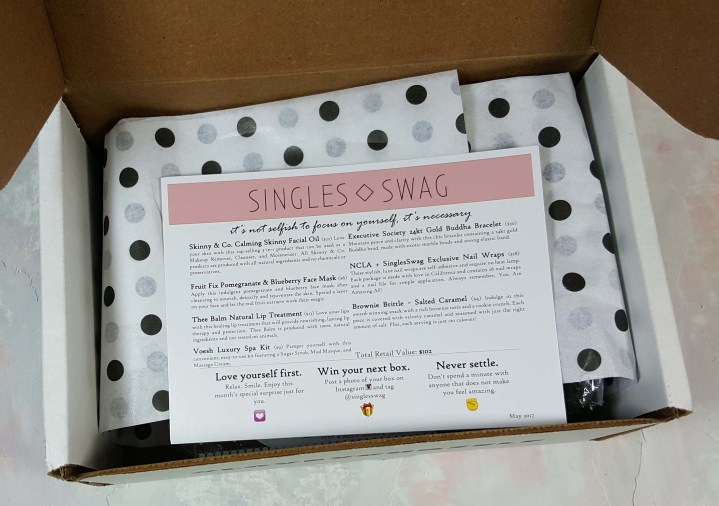 DEAL: Use coupon code SINGLEANDHAPPY to receive 10% off your subscription for life!
My May SinglesSwag box! You had me at Brownie Brittle.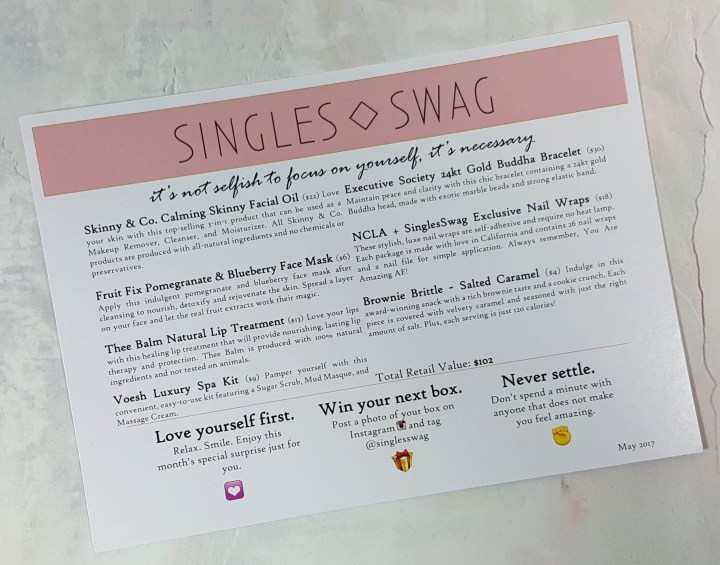 The information card contains a brief description of each item and its value. This month's quote is, "It's not selfish to focus on yourself, it's necessary." While we all want to be super women and take care of everything for everyone, remember to stop and take care of you.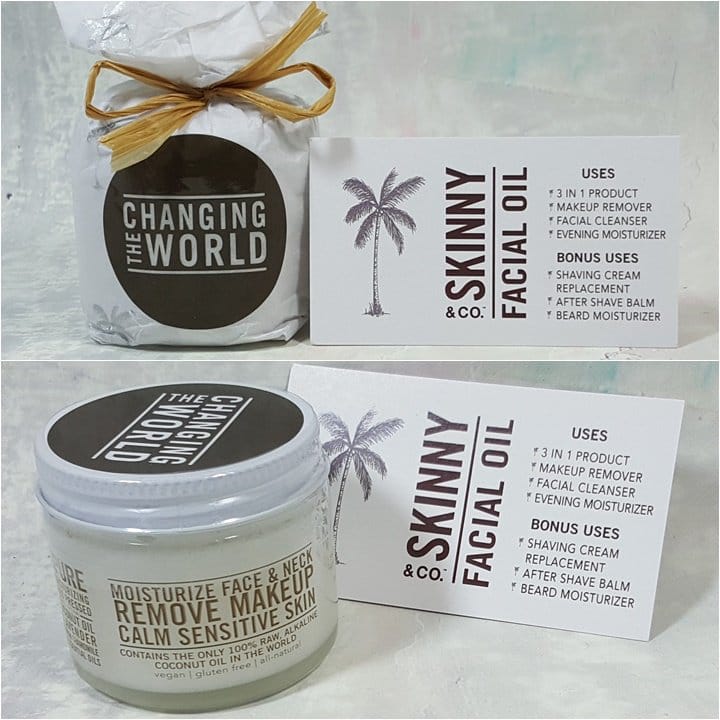 Skinny & Co. Calming Facial Oil for Sensitive Skin ($22.00): I love how prettily this came packaged; it made a plain jar of facial oil seem so much more special. Skinny's coconut oil is wild harvested, hand pressed, never heated, and made without chemicals or preservatives. In addition to coconut oil, this product contains a blend of lavender, Roman chamomile, and Holy basil essential oils. Together, these oils help reduce irritation, lighten scars, and improve skin tone. I am a fan of multitasking products so this made me happy. Use it as a makeup remover, first/oil cleanser, or evening moisturizer (lavender aromatherapy!!!).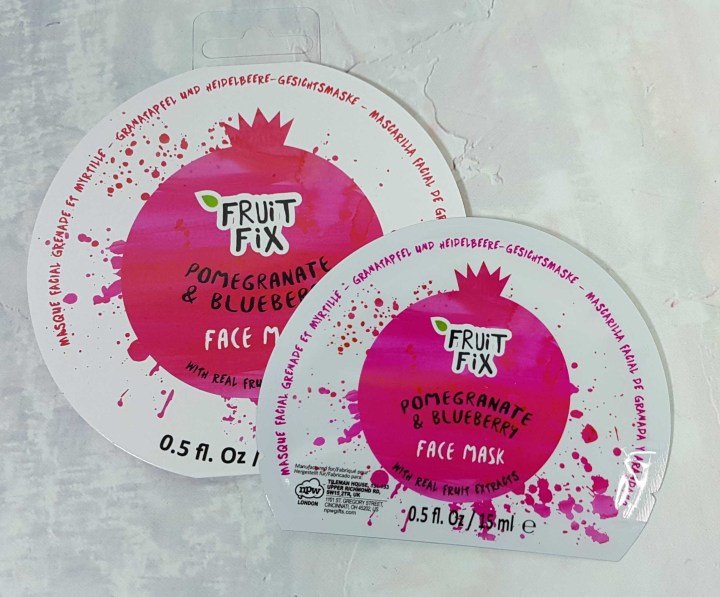 NPW Fruit Fix Pomegranate & Blueberry Face Mask ($6.00): This sheet mask uses real fruit extracts to nourish, detoxify, and rejuvenate skin. Not only do sheet masks provide you with a mini facial, I find them to be a great way for me to get 20 minutes of "me" time.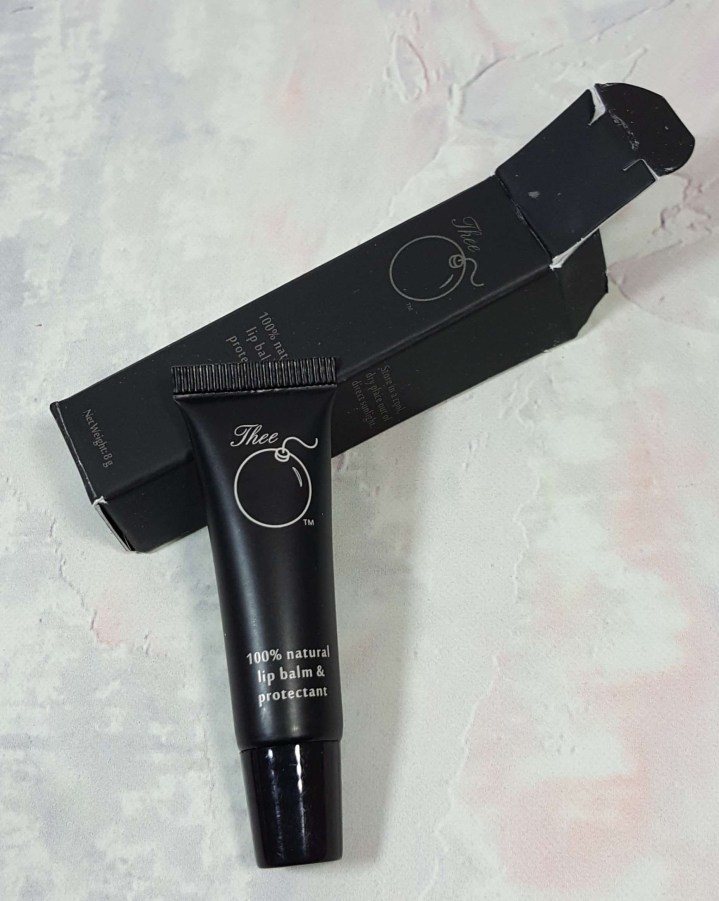 Thee Balm Natural Lip Treatment ($13.00): Not only is this lip treatment free of chemicals, but 10% of each purchase goes to charity! This has a base of lanolin and vegetable glycerin to moisturize dry, cracked lips. Honey and aloe work to treat and soothe skin, while hyaluronic acid helps hydrate and plump lips.

Inside the lid is a reference to Psalm 37:4 – "Take delight in the Lord, and he will give you the desires of your heart. (NIV)" Also on the box is the full list of ingredients.
Voesh Mani in a Box Waterless 3 Step – Vitamin Recharge ($9.00): This kit contains 3 sachets – sugar scrub, mud masque, and massage cream. Each sachet has enough product to use on both hands/arms of one person. The pink grapefruit kit contains antioxidants to fight aging in hands and an energizing citrus scent. Voesh products are free of parabens, phthalates, mineral oil, synthetic sulfates, triethanolamine, and gluten. I received the Voesh pedicure kit in my January SinglesSwag, and I hope this gives similar results to my hands.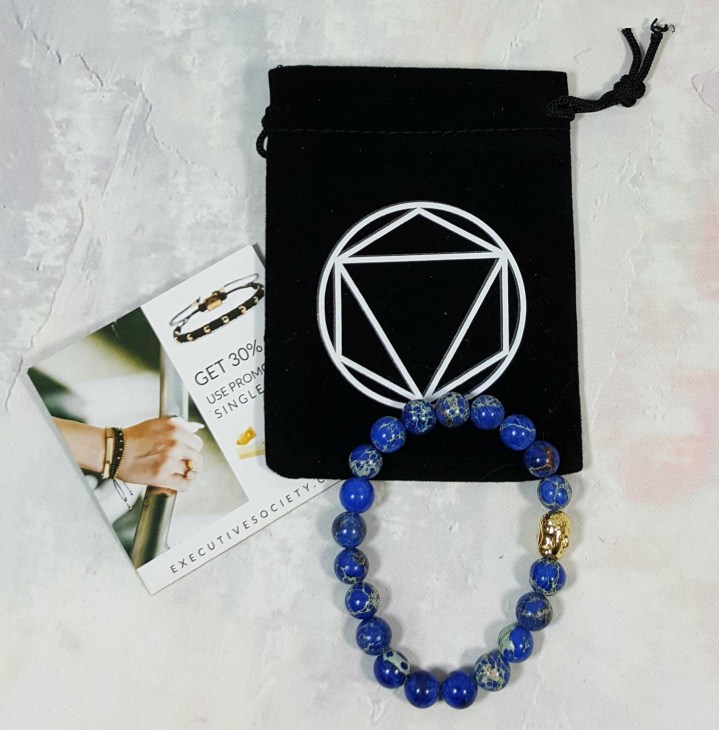 Executive Society 24kt Gold Buddha Bracelet ($30.00): Maintain peace and clarity with this gorgeous bracelet. It features blue and gold marble beads with a 24kt gold plated Buddha head on a break resistant band. SinglesSwag subscribers also received a 30% off promo code to use at ExecutiveSociety.com.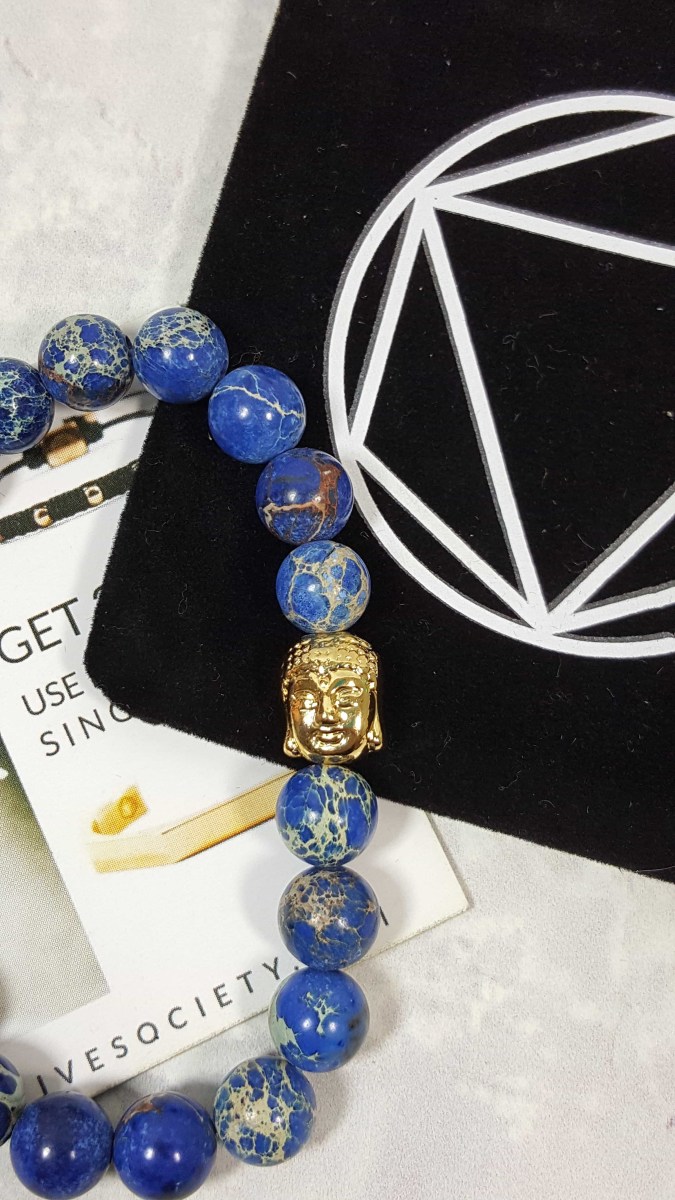 Here's a closer look at the marble beads and Buddha head – my wrist was too large for this. ? This also came with a velvet storage bag.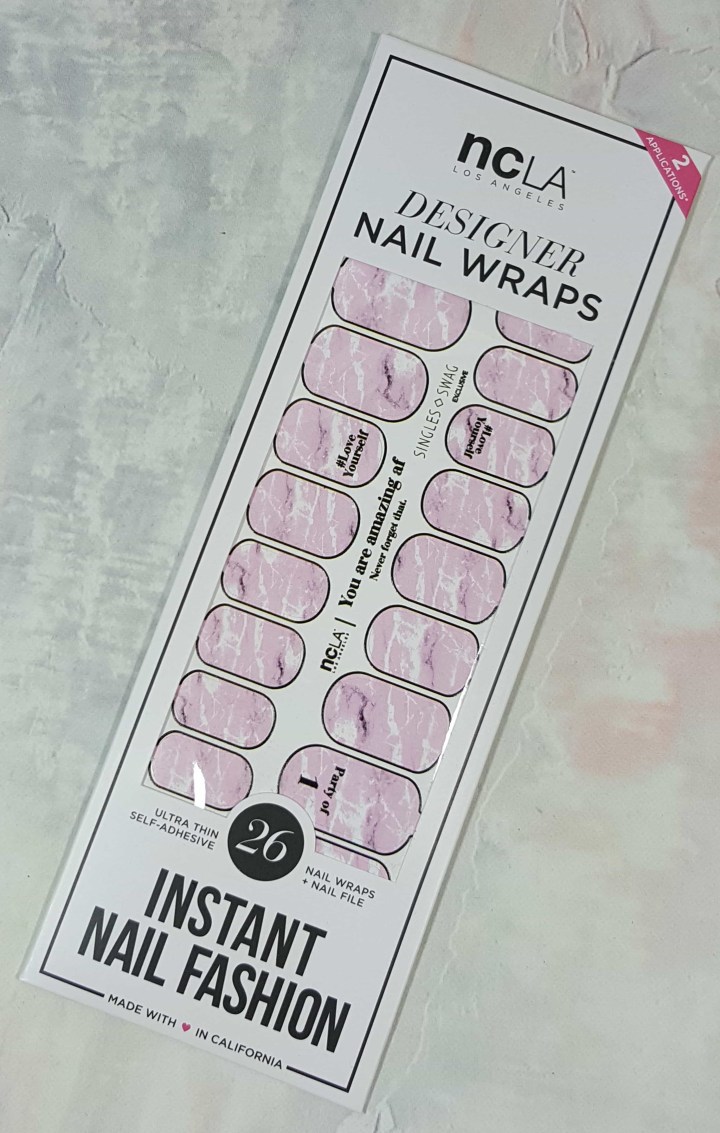 NCLA + SinglesSwag Exclusive Nail Wraps – Rose Rock ($18.00): The first time I received NCLA nail wraps was in my May 2016 SinglesSwag box. I still like this design, and the custom SinglesSwag touch on a few wraps is great (You are amazing af…Never forget that. / #LoveYourself / Party of 1). Application is super easy – select a size, stick on nail, file excess, and topcoat to seal. When I first tried these, I found them to be thicker than I expected. I'm going to try these again to see if it was just a bad batch the first time.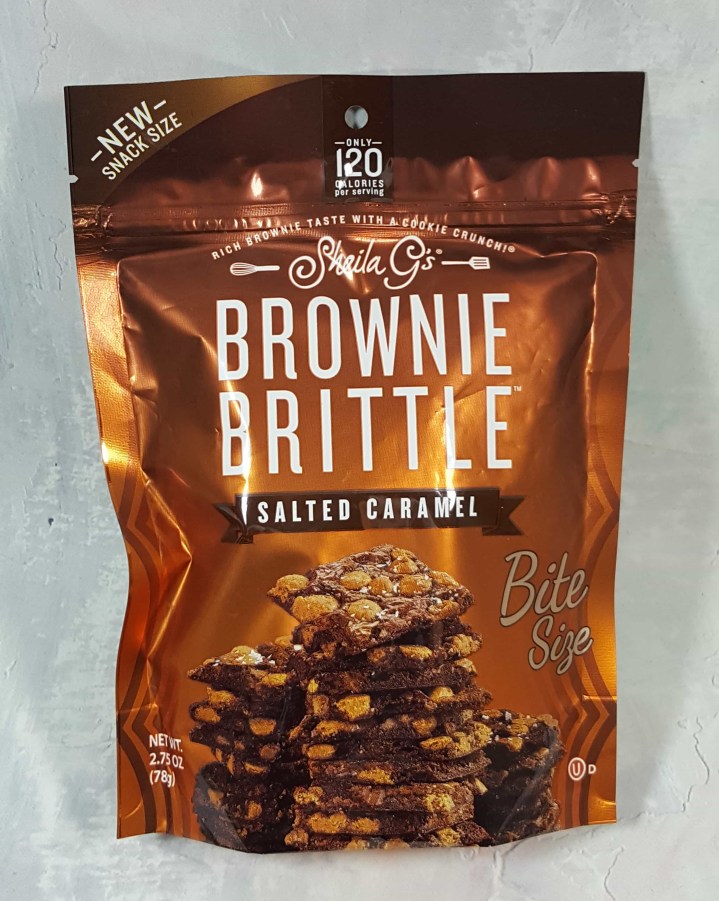 Sheila G's Brownie Brittle – Salted Caramel ($4.00): Um, so I had just bought a bag of the chocolate chip variety before my SinglesSwag arrived… the more the merrier, I guess. I love the crunchy corners in a pan of brownies, and every bite of these gives me that same satisfaction with the bonus of salty and sweet caramel.
May's SinglesSwag box is valued at $102. I was very happy with this month's box. The Executive Society bracelet will be gifted since it was too tight for me (darn my big wrists), but everything else will get used. I'm in the middle of a move and some pampering will be just what I need once I get settled.
What about you? Did you have a favorite in this month's box? Let me know with a comment below. Click here to see spoilers for June's box.