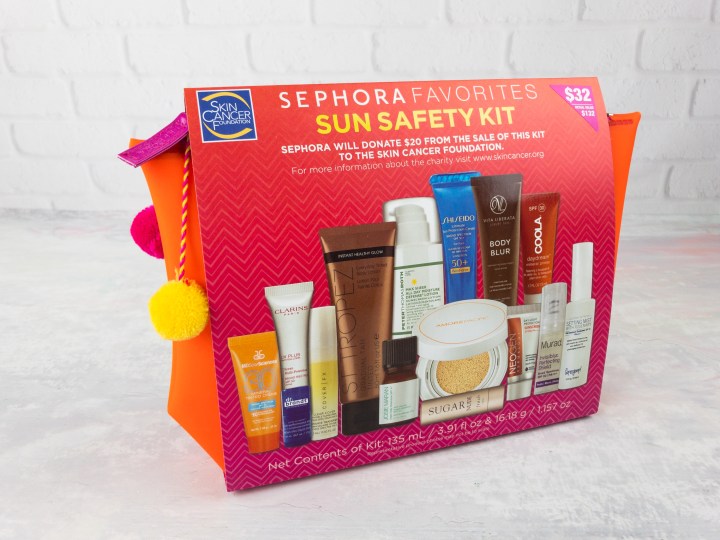 The Sephora Sun Safety Kit is a yearly sunscreen kit offered by Sephora. It's now sold out for the year. Be sure to check out other Sephora Favorites Kits and subscribe to Hello Subscription notifications for the Sun Safety Kit so you don't miss the 2018 Sun Safety Kit (or the giveaway for this sold-out set!).
Note: You may still be able to find this kit in your store, or a similar kit at JCP at Sephora. You can check here to see if it's available at your local Sephora.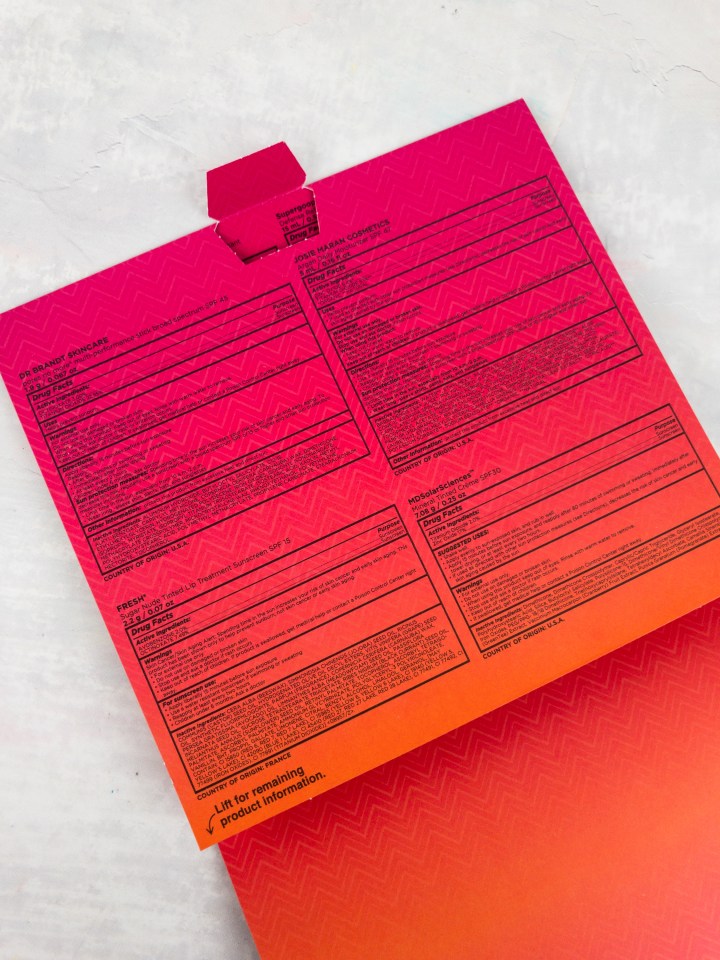 This is clearly the best bag ever! It's so much nicer than previous Sun Safety Kits and the poms are fantastic.
Look how cute & fun! This bag is going in my regular rotation!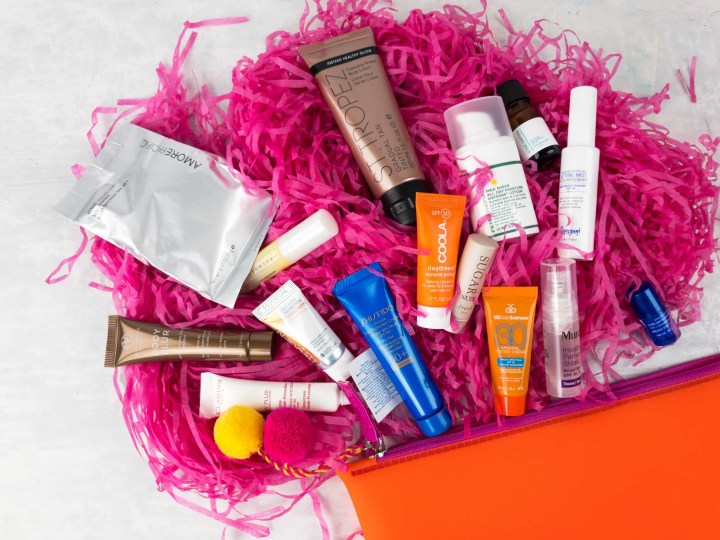 Sephora works with The Skin Cancer Foundation for the Sun Safety kit and even donates $20 from each sale to the Foundation.
This massive amount of squigglies was in the bag.
Sephora donates $20 from the sale of each kit to The Skin Cancer Foundation, the only global organization solely devoted to the prevention, early detection, and treatment of skin cancer. While skin cancer is the world's most common cancer, it is also one of the most preventable, and is highly treatable when detected early. The mission of the Foundation is to decrease the incidence of skin cancer through public and professional education and research. Proceeds from the Sun Safety Kit support a variety of Skin Cancer Foundation initiatives, including the Sun Smart U youth education program, and the Go With Your Own Glow™ PSA campaign.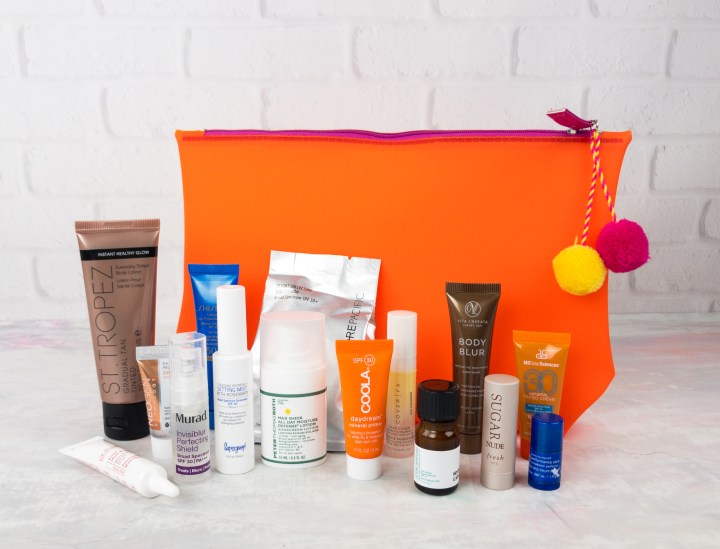 All the items in the kit!
Thanks to Valerie for assisting with the review! So many sunscreens to try!
Whoops! We forgot a pic for the CoverFX!
COVER FX Clear Cover Invisible Sunscreen Broad Spectrum SPF 30: Paraben-free invisible gel sunscreen. Very similar to Julep's new sunscreen.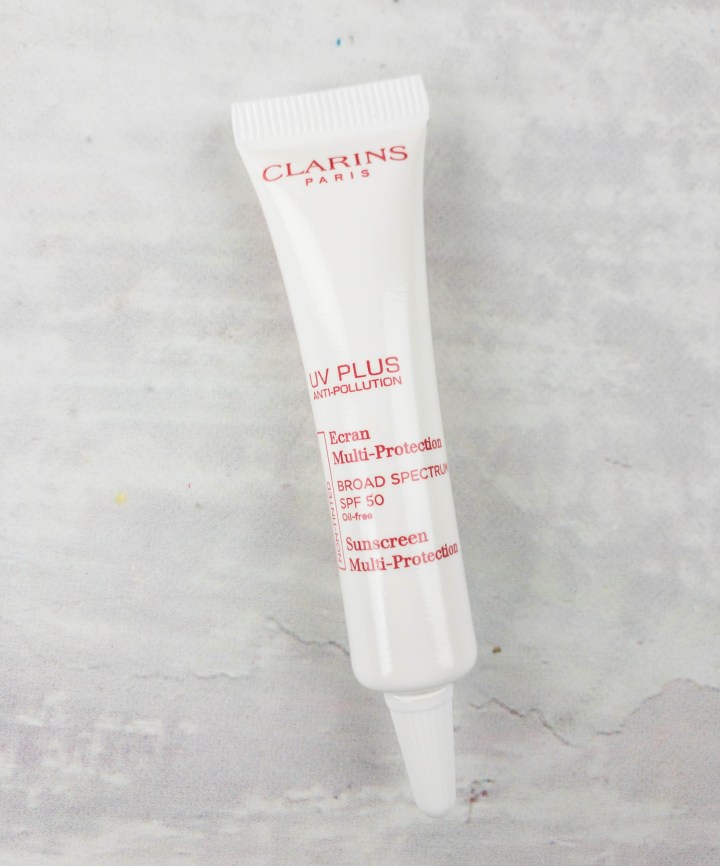 Clarins UV PLUS Anti-Pollution Sunscreen Multi-Protection Broad Spectrum SPF 50 ($45 fullsize) This is very much a physical sunscreen versus a chemical makeup-friendly sunscreen. Though it's oil-free, it was thick and gave me a shine I couldn't seem to tame on my face. I ended up using this for my arms and shoulders and it felt much more like a body sunscreen, or if you were planning on going makeupless at the beach or on the water. 2/5.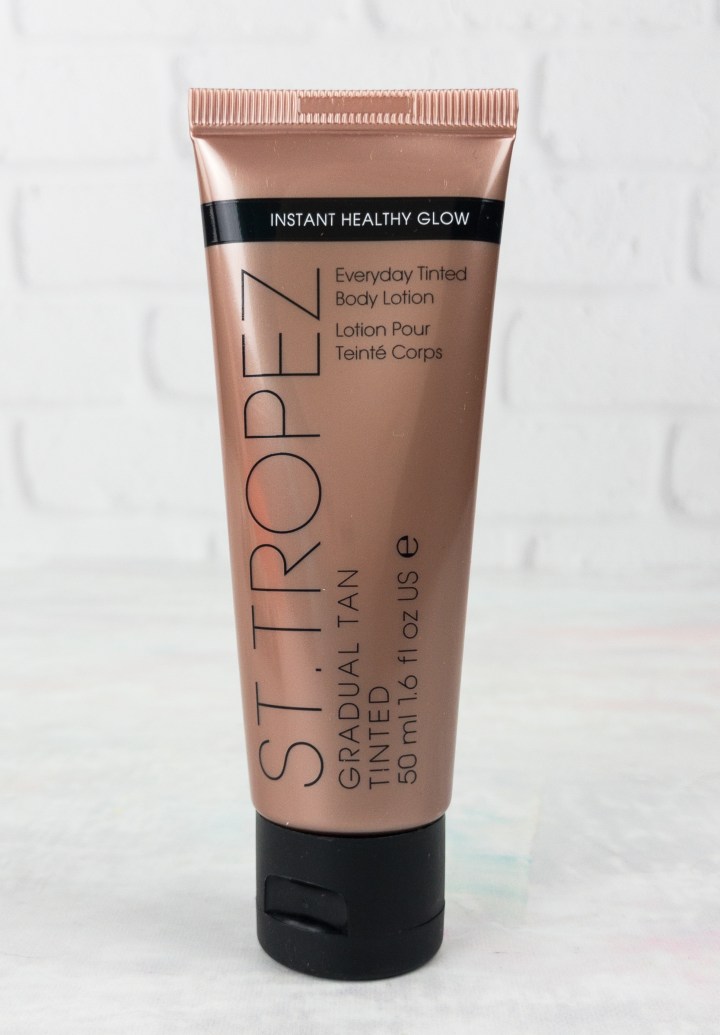 St. Tropez Gradual Tan Everyday Tinted Lotion ($7.16) This product takes a suuuuper long time to dry, but it does give you a nice faux tan! I love self-tanners and this one has a nice subtle glow!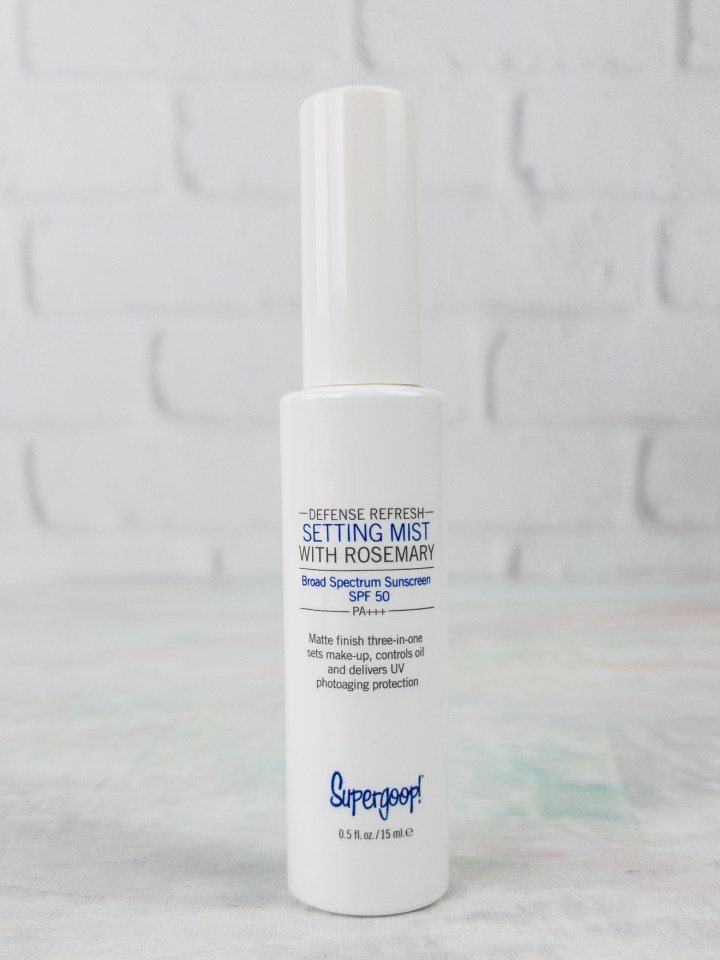 Supergoop! Defense Refresh Setting Mist SPF 50 ($6) I was really excited to try this! You can use it to set makeup and also provide protection. In theory, it sounded perfect. In reality, it was a big fail for me. The spray applicator isn't a nice, fine mist but rather a blast of product. The first ingredient on the list is alcohol, which equates this to those spray on sunscreens that leave your skin stiff, tight, dry, and uncomfortable. So imagine that feeling all over your face. 0/5.
Brandy: Try this one at the store from the full-size bottle to see if it works for you.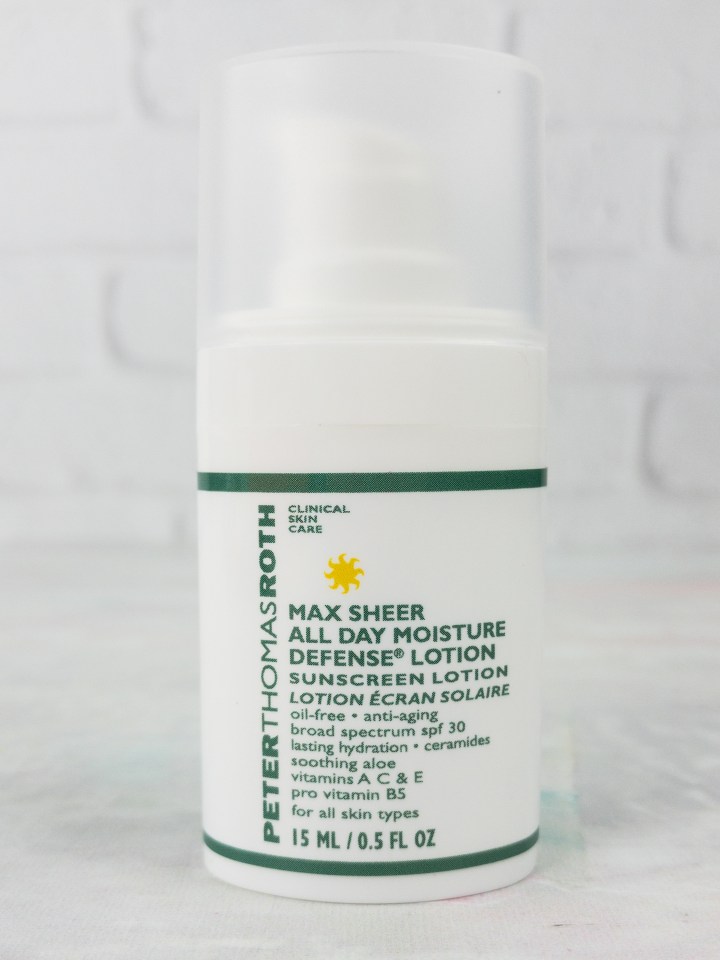 Peter Thomas Roth Max Sheer All Day Moisture Defense Lotion SPF 30 Sunscreen Lotion ($12.35) This lotion is somewhat thinner than the Clarins, but again I don't think I would use this on my face unless I was planning on not wearing makeup. It contains lots of fantastic ingredients though, including ceramides! So it could definitely do double duty as a moisturizer as well as sun protection. 3/5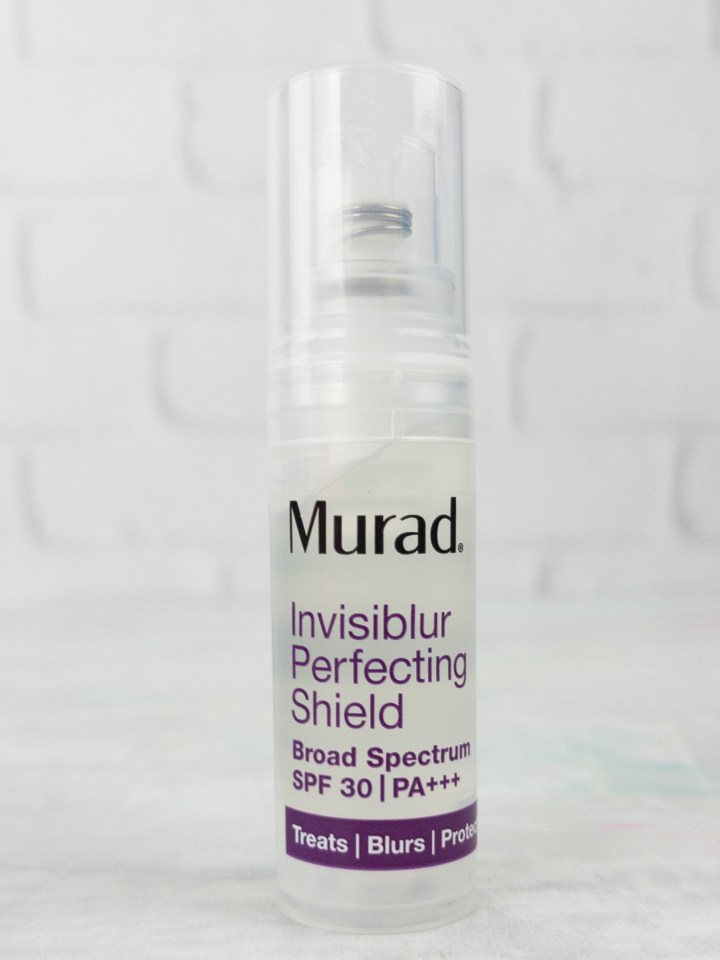 Murad Invisiblur Perfecting Shield Broad Spectrum SPF 30 PA+++ ($65 fullsize) I love this product. It's a primer with a pretty strong sun protection profile. (PA++++ is the maximum, so this is close). The texture reminds me of the Smashbox primer, and it applies smoothly and evenly — it does contain demithicone, so if you avoid silicones I would avoid this. 5/5.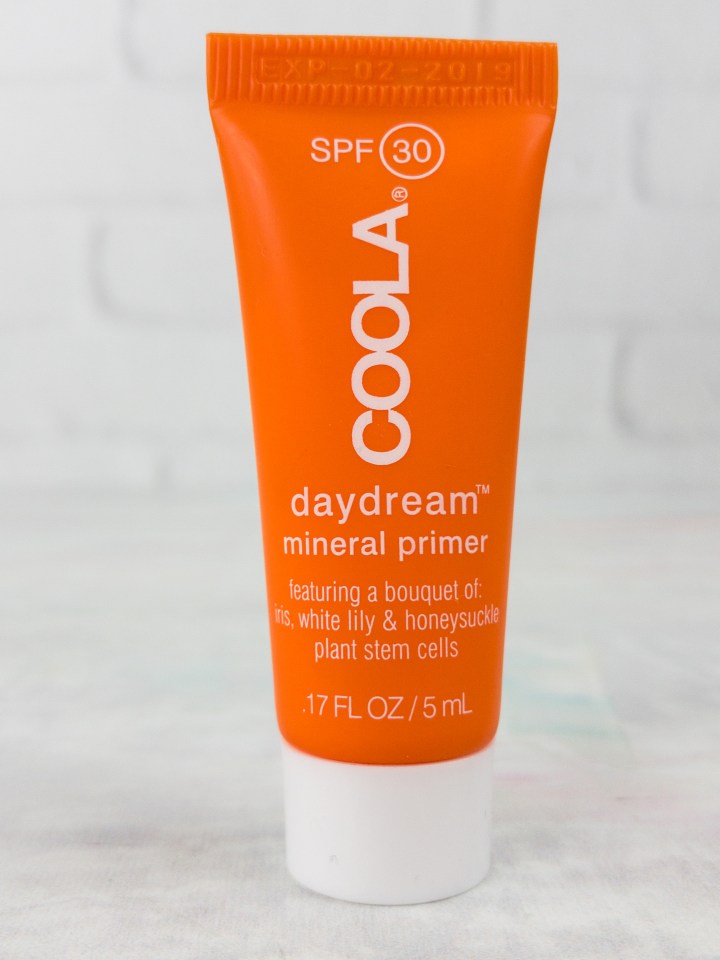 COOLA Suncare Daydream SPF 30 Mineral Primer ($7.14, $42 fullsize) This is another primer similar to the Murad. This one applies just as smoothly and leaves my skin feeling so soft and smooth. The only drawback to this version versus the Murad is that it has a slight white cast, typical of physical sunscreens. The protection is similar to the Murad, but the price point is much lower. It also contains silicone and dimethicone. 4/5.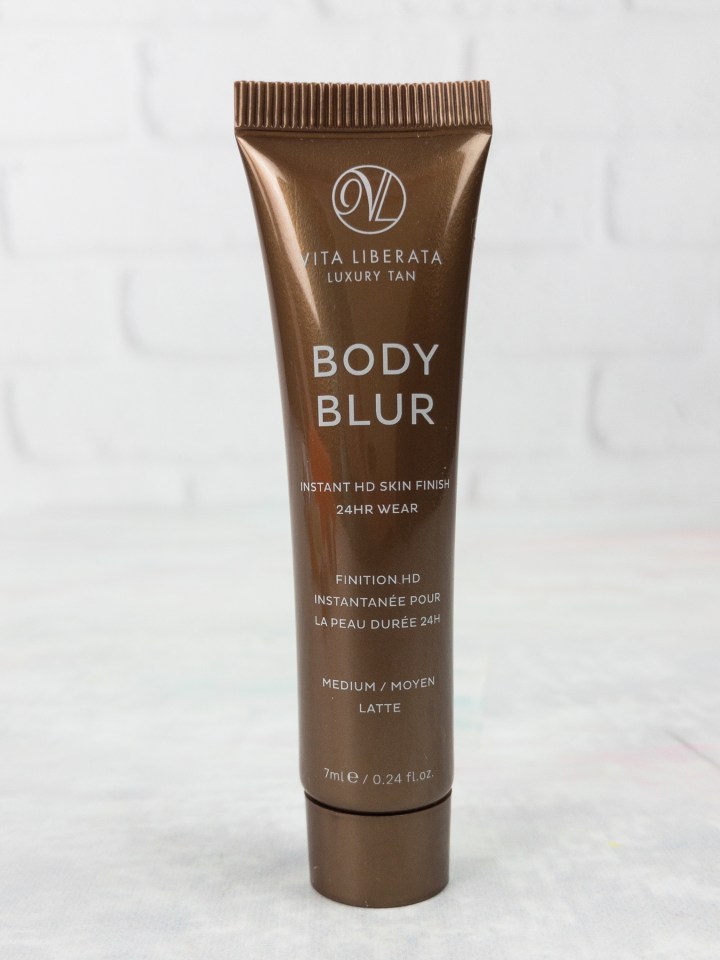 Vita Liberata Body Blur Instant HD Skin Finish in Medium ($3.20) A tinted moisturizer you can use all over the face and body. I embrace my pale, so this was gifted.
Brandy: I still long for the days when I was tan all the time (I've always worn a lot of sunblock but living in Florida you tend to tan no matter what!).  For me this is a good no-makeup makeup for the peak of summer when my self-tanning efforts are at their fullest – otherwise, too dark. I like the idea of having the skin perfection blurring effects along with a tanned finish.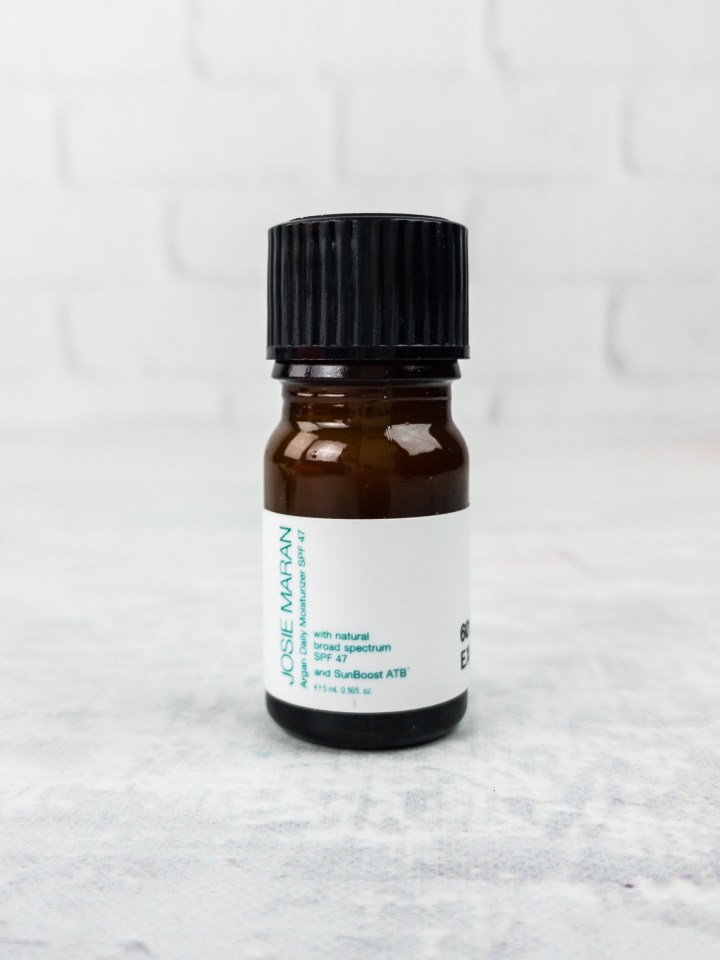 Josie Maran Argan Daily Moisturizer SPF 47 ($2.56) I have found a weird use for this sunscreen — I use a sparing amount along the part of my hair where my scalp is most exposed. Because it's argan oil, it's not that greasy. This is a natural sunscreen without any chemicals, and contains ingredients like aloe and tea tree oil. On the face it applies well and isn't too oily, but I did notice it took a lot longer for it to sink in. I worry this will be too greasy in the warmer weather. 3/5.
Brandy: I love this one and just used up my last bit! I tend to use it on areas near clothing that I don't want whitened.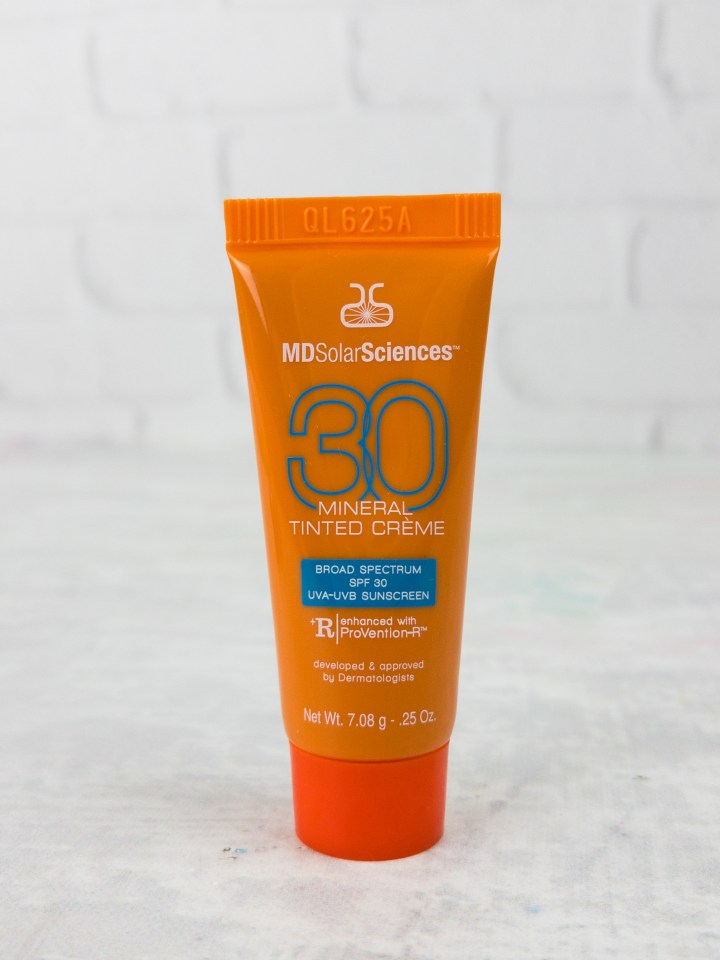 MD SOLAR SCIENCES Mineral Tinted Crème Broad Spectrum SPF 30 ($4.71) A tinted sunscreen with an SPF of 30. I didn't try this as I don't want to tint my natural complexion.
Brandy: Love this one for its great matte finish and the fact that it's mineral!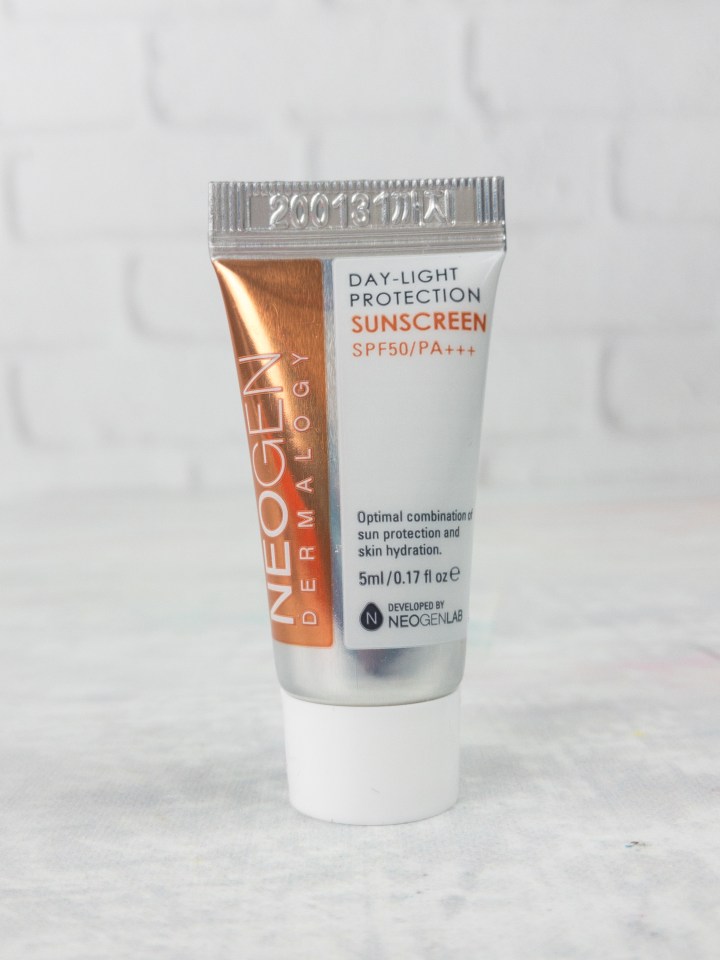 Neogen Dermalogy Day-Light Protection Sun Screen SPF 50 PA+++ ($3.09) The protection rating on this sunscreen is also great. I found it applied well to my face and wasn't too thick — but it has a very medicinal smell that dissipates after a while but is kind of unpleasant at first. It has a white cast that disappears eventually. 3/5.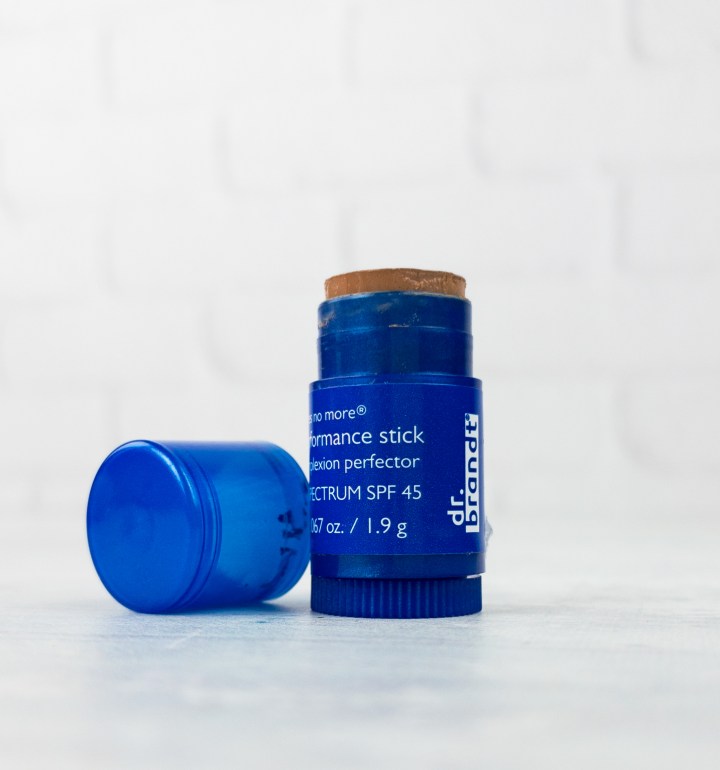 Dr. BRANDT Pores No More Multi-Performance 5-in-1 Complexion Perfector Stick with SPF 45 ($4.69) Another complexion corrector! This one gives the skin a bronzed look, but was much too dark for me.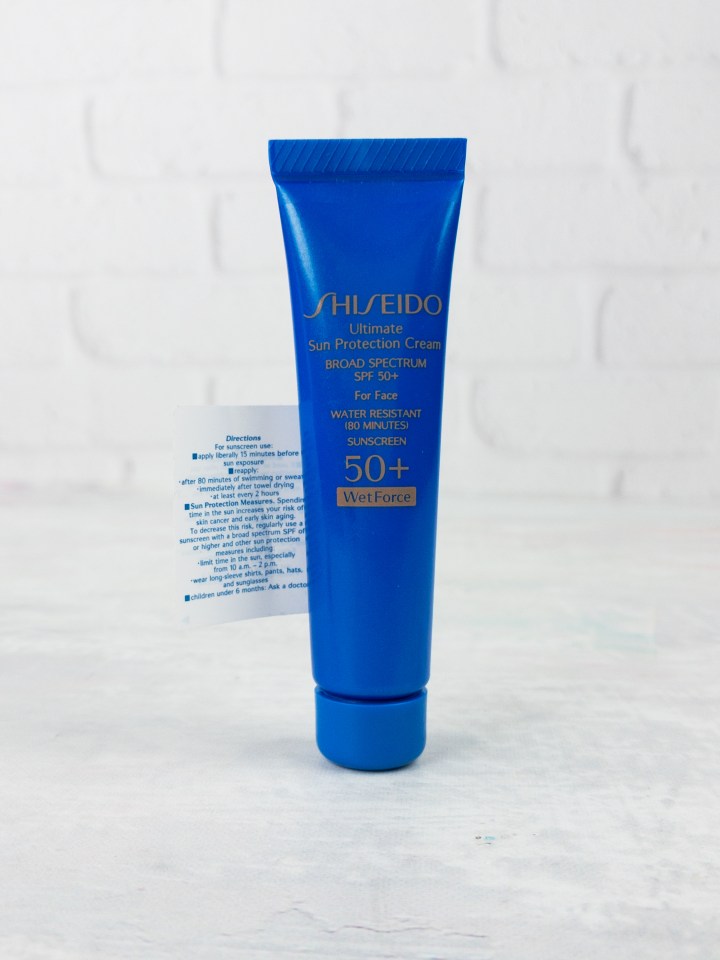 Shiseido Ultimate Sun Protection Cream Broad Spectrum SPF 50+ ($36 for 2oz) Shiseido is probably one of the most famous sunscreens, even if you're not part of the asian beauty scene. I love this sunscreen but it's definitely not a makeup sunscreen, unless you wait a good 10 minutes for it to soak in… and who has time for that?! But I love it — the formula, the scent, the feel. And this version is water resistant for 80 minutes and will be great to stash in my bag for when we are out on our boat and I'm without makeup. 5/5.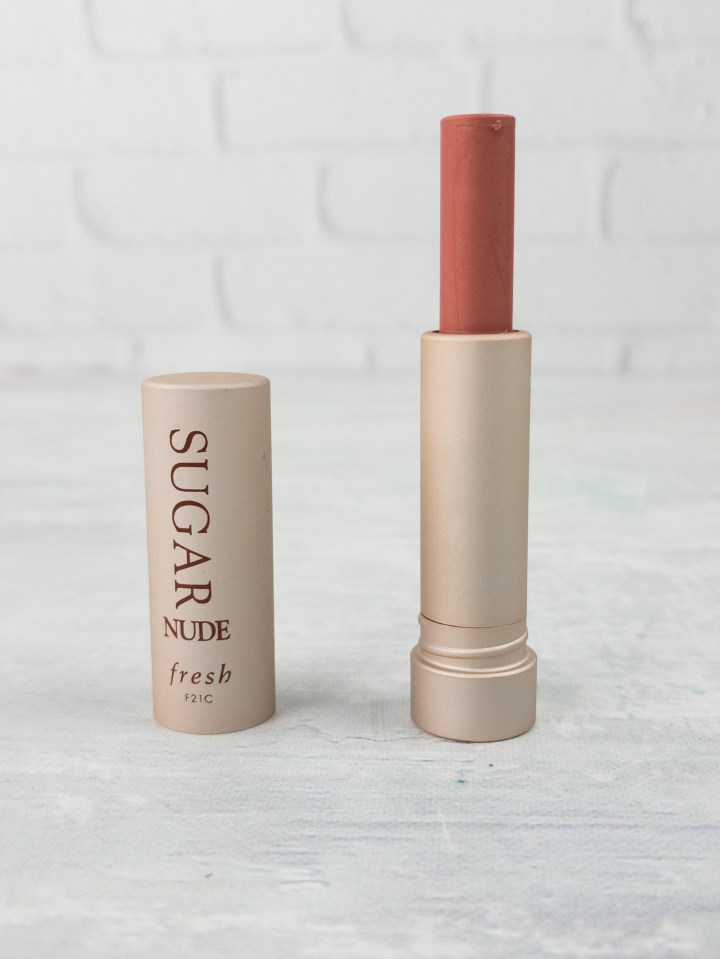 Fresh Sugar Lip Treatment Sunscreen Spf 15 In Sugar Nude Tinted ($24 fullsize) Back in my day, there was only one kind of Fresh sugar lip treatment. Now we have every colour on the spectrum and I still prefer the original. But the nude colour is subtle, adds a nice shine, and a bit of sun protection too. 4/5.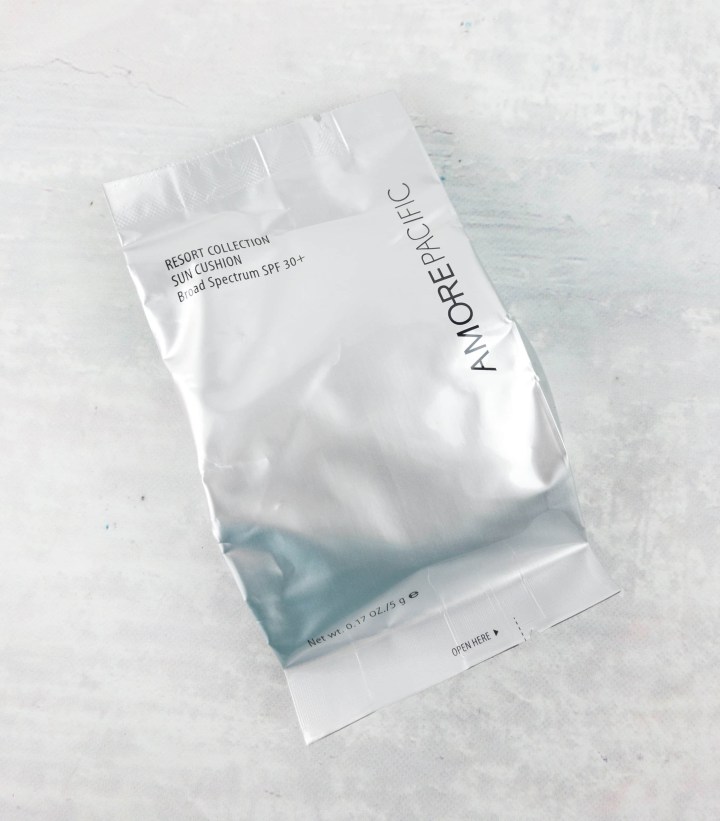 Amorepacific Resort Collection Sun Protection Cushion Broad Spectrum SPF 30+ ($13.07) Cue excited bouncing from me, as I love all things beauty from Korea and have recently gotten back into their skincare. A cushion is a type of compact that features a bouncy mesh sponge that disperses the perfect amount of product. This applies like a dream — light, glowy coverage with a boost of SPF. 5/5.
Amore Pacific is the parent company of Laneige and Etude House.
The pad applicator keeps your fingers clean.
The cushion is a nice light shade that worked well for me even though I don't wear foundation.
Freebies!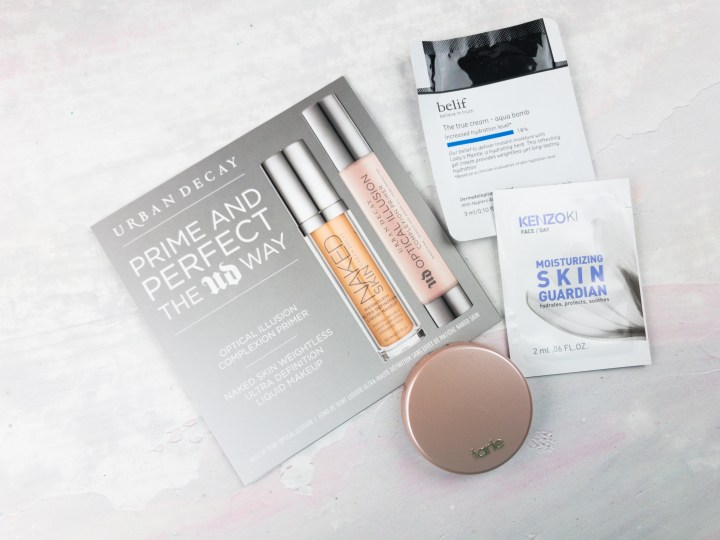 Before checking out, I made sure to grab my 3 freebies:
Plus I used a coupon code to grab this deluxe sample of  tarte Amazonian Clay Highlighter!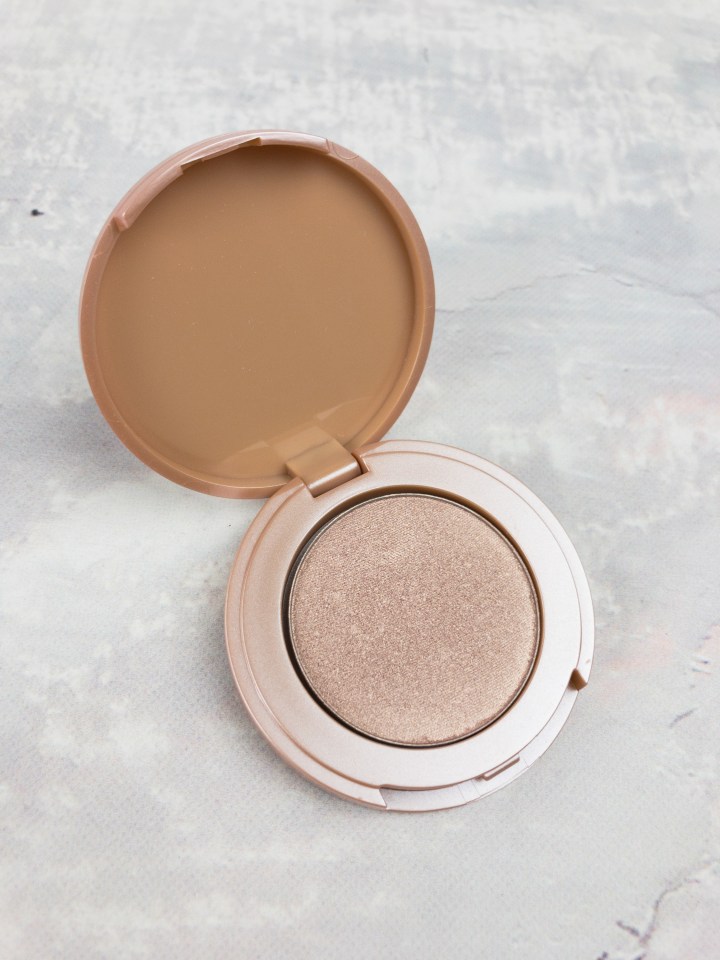 Be sure to get your freebies when you check out at Sephora! And thanks again to Valerie for helping review the sooooo many sunscreens in this kit! I didn't pick this kit up last year, but over the past year I've noticed fewer full-size sunblocks in our subscriptions, so I made sure to get it again this year, and I was super glad I did. As you can tell from our reactions to the products, you might not love everything – I prefer not to have chemical sunscreens on my face (because they sting my eyes and they won't stop watering for 24 hours). Valerie prefers her natural beautiful complexion, whereas I'm always wanting to look more tan while I keep my skin protected. Either I or my family will use everything in the bag, and I think Valerie swapped the goodies she wasn't interested in for other products she was. It's inexpensive, benefits cancer charities, what's not to love?
What did you think of the 2017 Sephora Sun Safety Kit? Remember, this kit is sold out, but Sephora does have a kit with some of our favorites in it available now for $22: Sephora Favorites Safe Sun on the Fly! It even has a (slightly less adorable) bag!