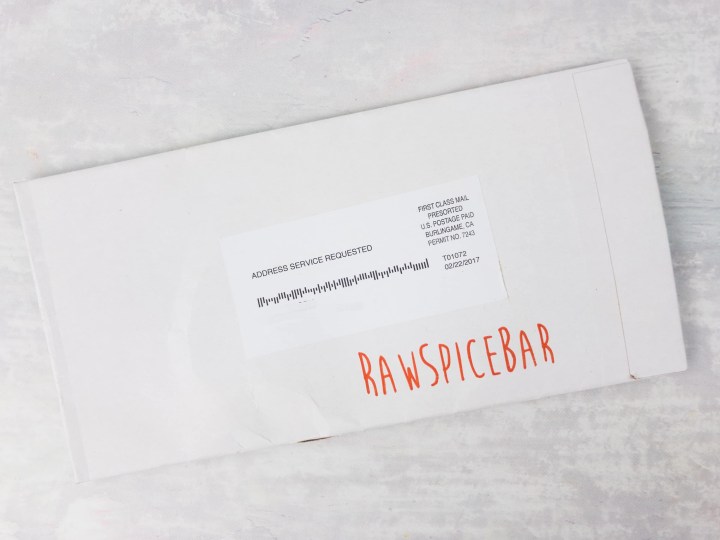 RawSpiceBar is a monthly spice blend subscription. Every month for $8 you'll receive small batch, freshly ground spice blends by top chefs for home cooks, plus recipes to create authentic cuisine with the spices.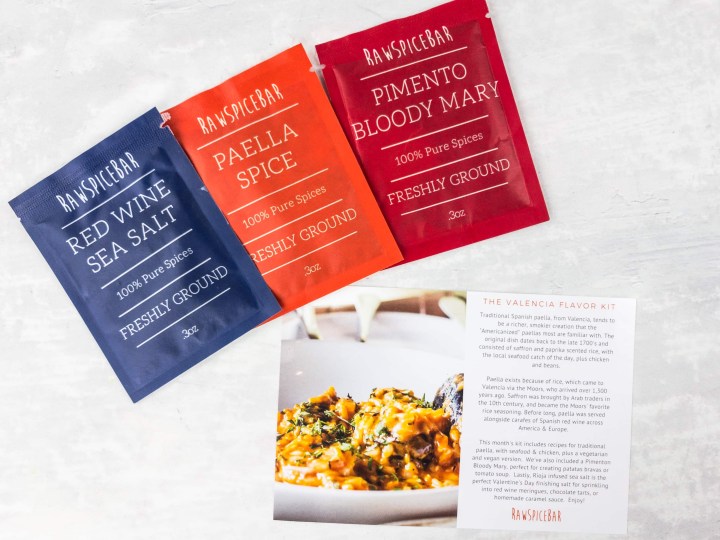 Each themed monthly installment comes with three spice selections, a recipe featuring each spice, and welcome card introducing the featured cuisine. Each spice pack describes the component spices, as well as giving some typical applications should you want to experiment with your own recipes.
DEAL: Take $5 off your first subscription or any gift subscription order! Use coupon code HELLOSPICE.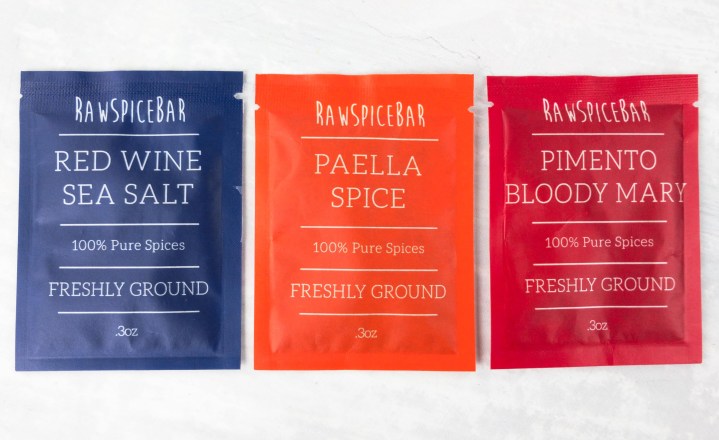 This month features the Valencia Flavor Kit! The spices included this month were Red Wine Sea Salt, Paella Spice, and Pimento Bloody Mary.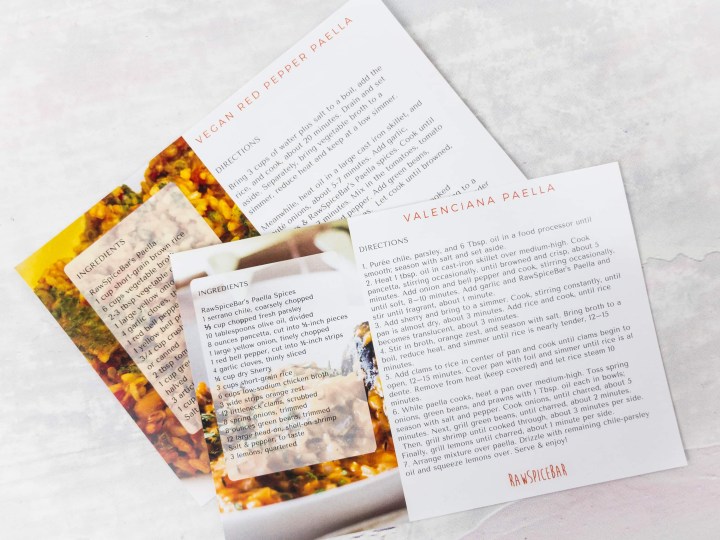 The spices always come with two double-sided cards which provide background on the featured food culture, and a [usually traditional] recipe incorporating each spice blend. This time around we were provided recipes for both a traditional paella and a vegan version!
Often the recipes present an entire three course meal, complete with a starter or beverage and something sweet, too (depending on the selection of spices, of course).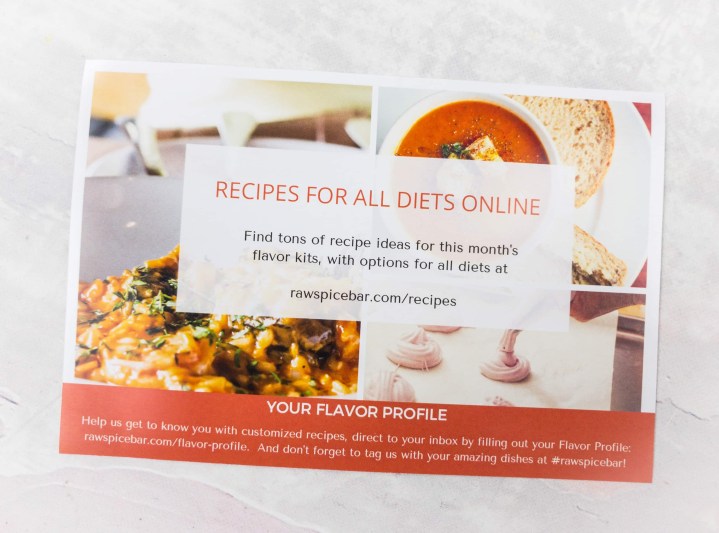 If the recipe cards don't strike your fancy, or if you are on a restricted diet, Raw Spice Bar has an online catalog of recipes to fit nearly any diet or nutritional plan.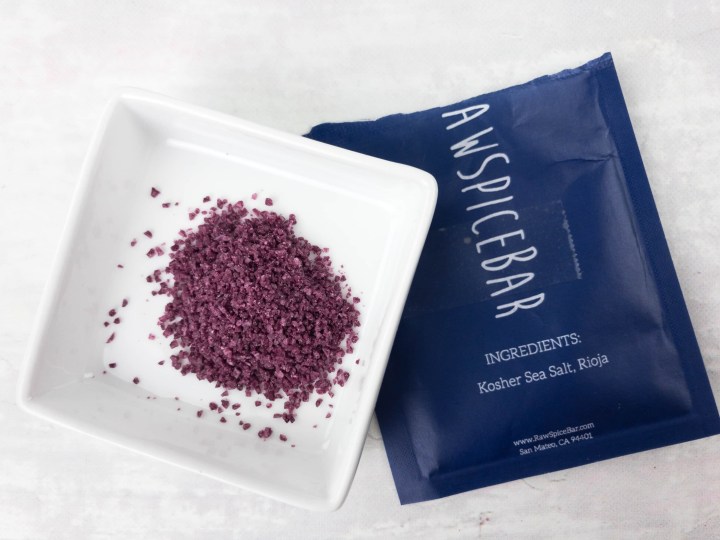 Red Wine Sea Salt: This deeply colored and intensely flavored salt is the simple marriage of kosher sea salt and red wine from the Rioja region of Spain. An elegant addition to any dish, especially sweets.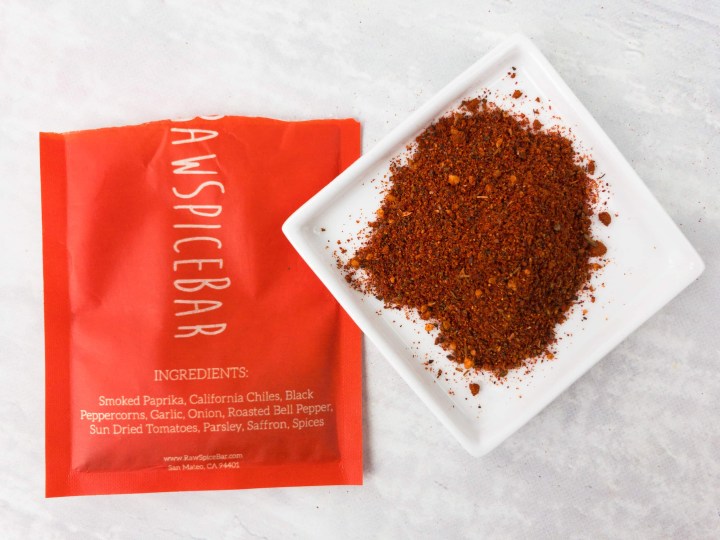 Paella Spice: This smoky combination has the essentials for a paella – lots of smoked paprika and a dose of saffron for color – plus aromatics and some sun dried tomato. I think this stuff would also be killer as a base spice blend for homemade sausage!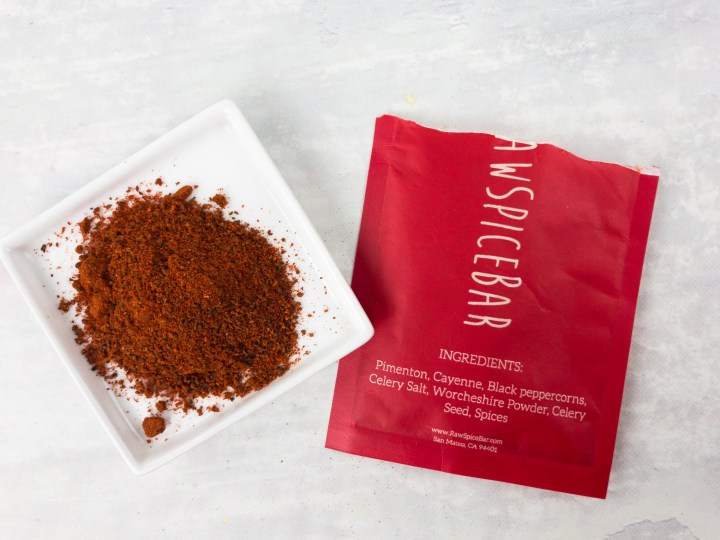 Pimento Bloody Mary: A spicy blend of peppers with celery and Worcestershire powder, perfect for creating a flavorful bloody Mary from plain tomato juice and vodka. One on of the recipe cards suggests using this in a wicked Gruyere and tomato soup.
Raw Spice Bar is a great, affordable way to liven up your menu, complete with soup to nuts recipe suggestions for the imagination challenged. Even if you aren't up for making the provided recipes, the spices are perfect for sprinkling on your everyday dishes, transforming simple roast veggies, grilled meats, and other straightforward items into exotic delights.
You couldn't beat Raw Spice Bar for freshness and potency of spices without grinding your own.  I love receiving the packs of spices and breathing in the aroma — they are always vibrant and blend into beautifully balanced medleys.  The recipes are great suggestions for using unfamiliar combinations of spices, but the spices will inspire you to experiment.