The Purple Carrot is a healthy meal subscription box that delivers raw, pre-measured ingredients and recipes to cook healthy, delicious vegan meals.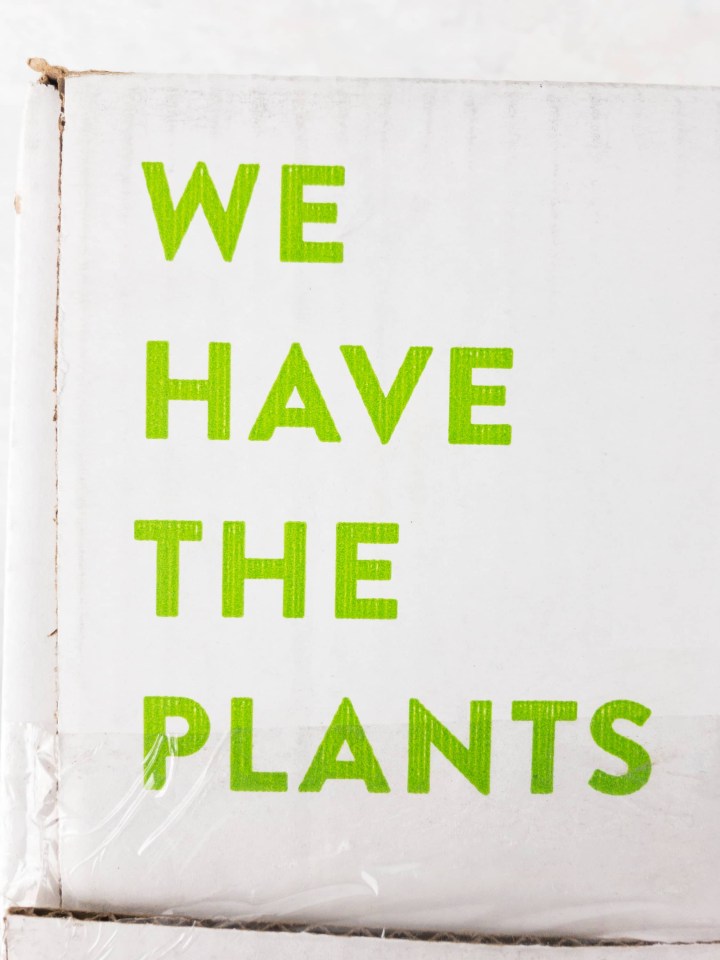 DEAL: Get $25 off your first order! Use this link to get the deal.
Though this subscription is designed with vegan dietary guidelines in mind, it is ideal for anyone looking to improve their diet by lowering their intake of cholesterol, eliminating animal fats, or boosting their veggie intake!
The Purple Carrot insulates the food with ecologically-sound padding.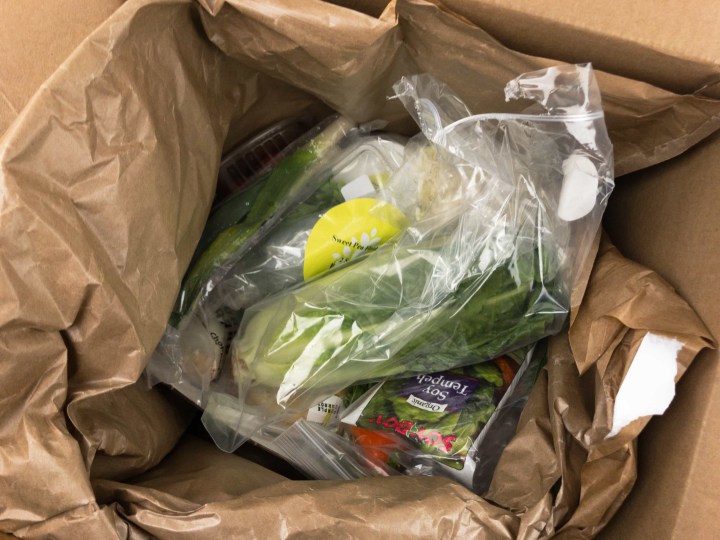 A few huge icepacks sit below the food, separated from it by cardboard. The veggies are generally in fantastic condition. The only recurring issue I've had with the packaging is the tendency of the self-sealing tab on the large insulated bag to stick to the recipe cards.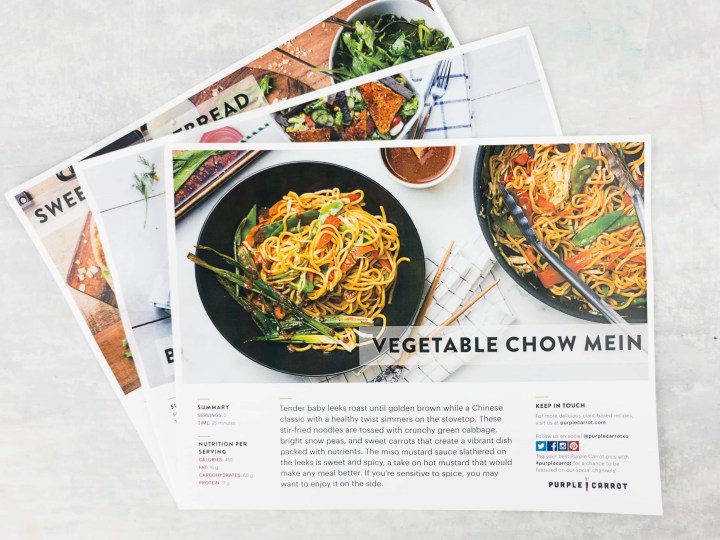 Our three recipes this week. On-card information includes an estimated prep-time, number of servings, and a breakdown of the essential nutrition info (calories, fat, carbs, protein). The carb and protein ratio varied greatly from dish. The pics of prepared food below show one serving, unless otherwise noted.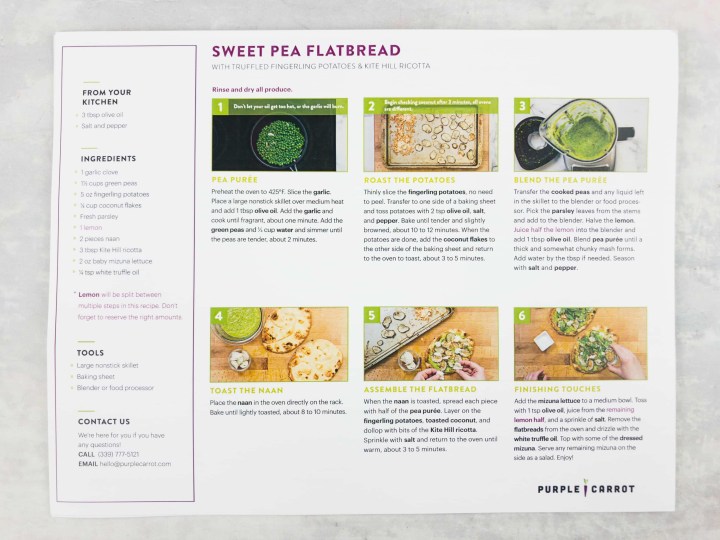 The recipes are really well designed, with most prep done ahead in a mise en place approach. Any items needed from your kitchen, whether food or cooking vessels, are set out separately. As far as ingredients, only olive oil and salt and pepper are needed. Ingredients are bolded for ease of recognition, and they even put ingredients in red font if they are divided and used in more than one spot in the recipe. Handy tips were worked into the text, like how to tell when a phase of cooking is done by smell or sound. They even have a hotline for phone or email help if you need it!
All our food! The meals are bagged separately, with some large or delicate items labeled in individual packages. Because of the amount of vegetable ingredients used, many items are packed in separate bags. The labels don't indicate which recipe the items go with, so you have to check the cards carefully when corralling your ingredients (maybe this is only an issue for people that obsessively photograph their ingredients, though).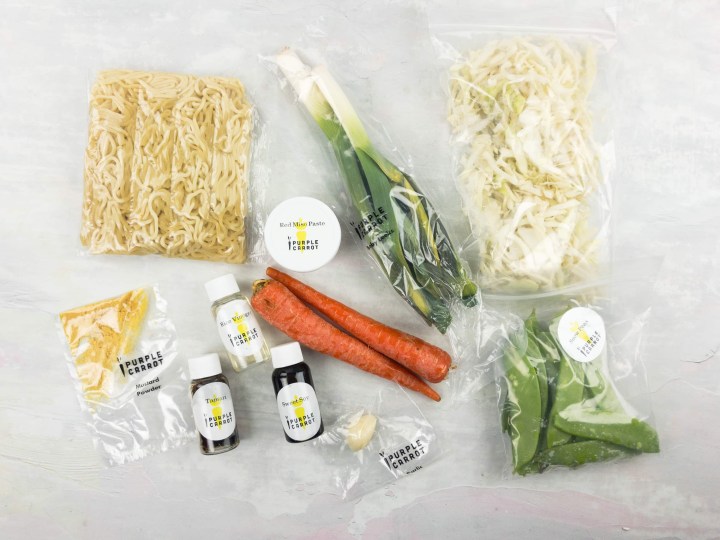 Vegetable Chow Mein With Baby Leeks & Miso Mustard Sauce. 25 minutes, 450 calories per serving.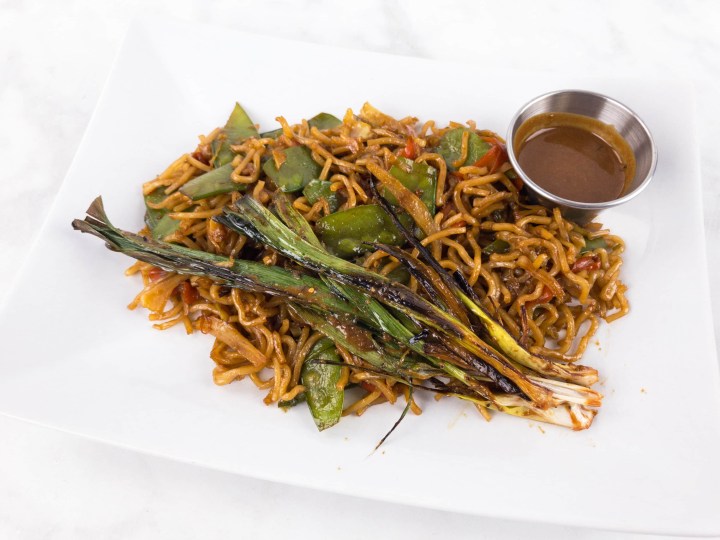 The leeks coated with spicy mustard miso sauce were just OK – the vinegar in the sauce seemed out of place. It was, however, a superb complement to the sweet sauce used for the noodles, and we mixed some in as we ate. The noodles were delicious, and the seasoning was very nice, though sweet. I think this dish could have used a little more bulk (Asian noodle dishes in the U.S. are customarily served in huge portions), maybe a handful more veggies, as we ate it all and were nowhere near being stuffed. The prep was simple, but it did take a little time to peel carrot noodles and trim beans.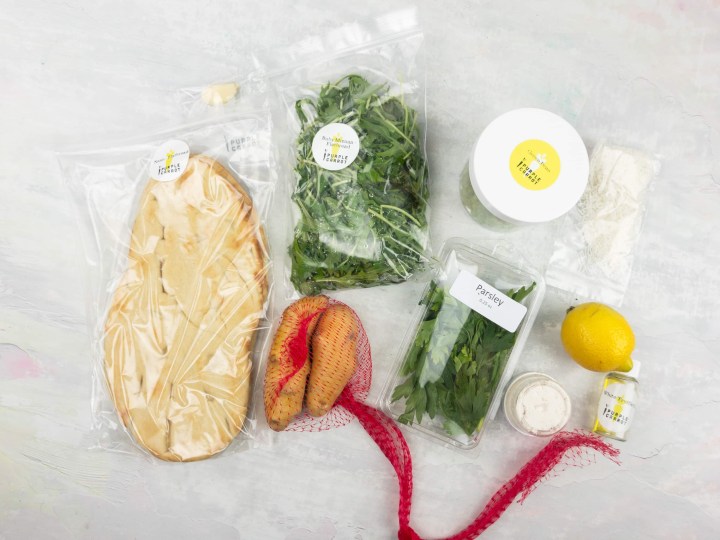 Sweet Pea Flatbread With Truffled Fingerling Potatoes & Kite Hill Ricotta. 35 minutes, 700 calories per serving.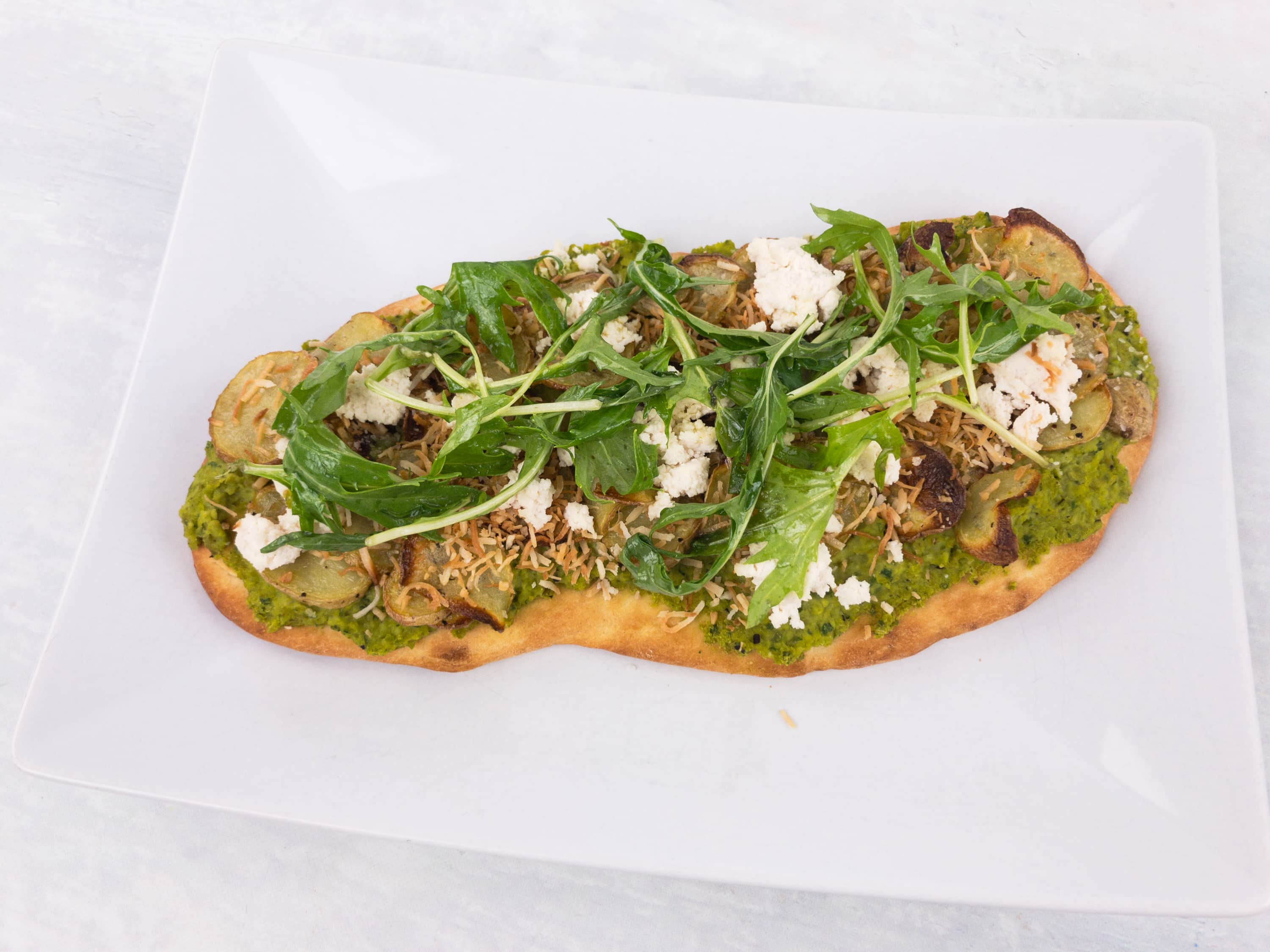 This dish used a smashed pea spread as the main topping for a naan-style pizza, piling on crispy potato slices, "ricotta", and a drizzle of truffle oil. The peas reminded me of a Brazilian side dish, heavily seasoned with parsley, garlic, and lemon. Some toasted coconut added a little extra crispness and depth of flavor. It was an enjoyable pile of food, but definitely closer to the Chicago style end of the pizza spectrum (if there is such a thing with flatbread veggie pies). Prep was modestly complex, as a food processor was suggested for the sauce.
The ricotta was made with almond milk, and honestly, we only just figured that out when asking ourselves, wait, was there ricotta in this dish?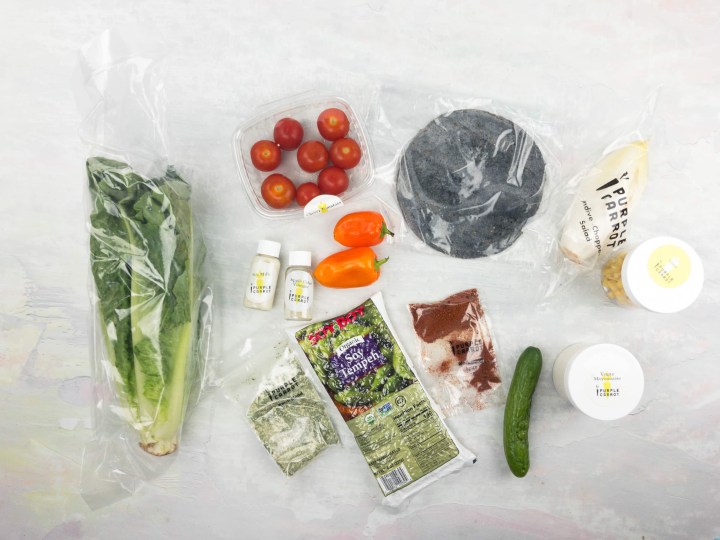 Blackened Tempeh Chopped Salad With Creamy Ranch & Crispy Tortillas. 35 minutes, 660 calories per serving.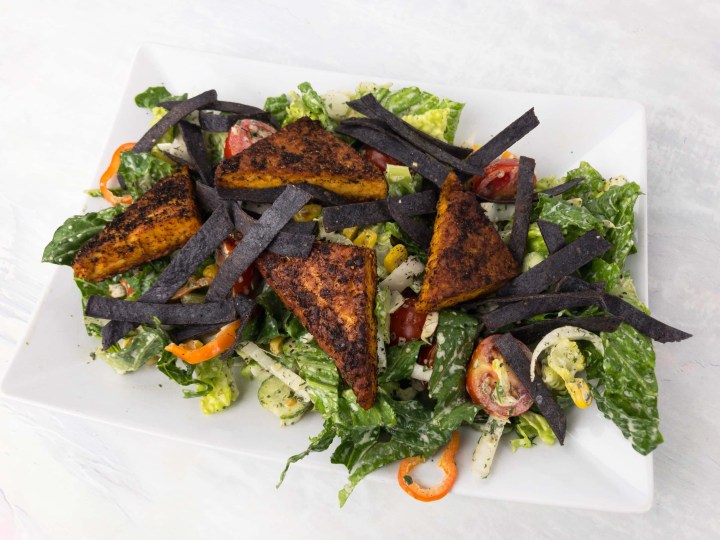 We loved the addition of tempeh to this dish, as we always appreciate vegetarian that has an eye toward protein. The tortilla strips added a nice crunch, but it was difficult to tell if they were fried properly, due to the dark color. This was a very hearty salad – I liked the flavor and chomping the veggies, but to some it might feel too much like downing a platter of crudité.
Purple Carrot served up some nice flavors and lots of textural delight. I like the effort that has been put into creating creative and coherent vegetarian dishes, not just collections of veggies. The ingredients were very high quality, and the recipes were easy to prepare. We still prefer the TB12 Performance Meals (see our TB12 food box reviews), but these were pretty solid. We also found a little to be desired in the way of protein content in a couple of the meals, and we would have welcomed some extra food in the noodle dish!