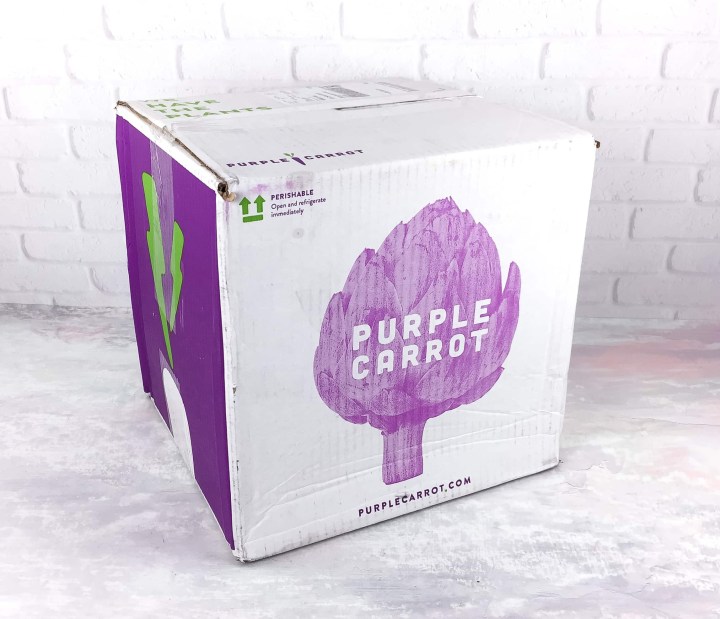 The Purple Carrot is a healthy meal subscription box that delivers raw, pre-measured ingredients and recipes to cook healthy, delicious vegan meals.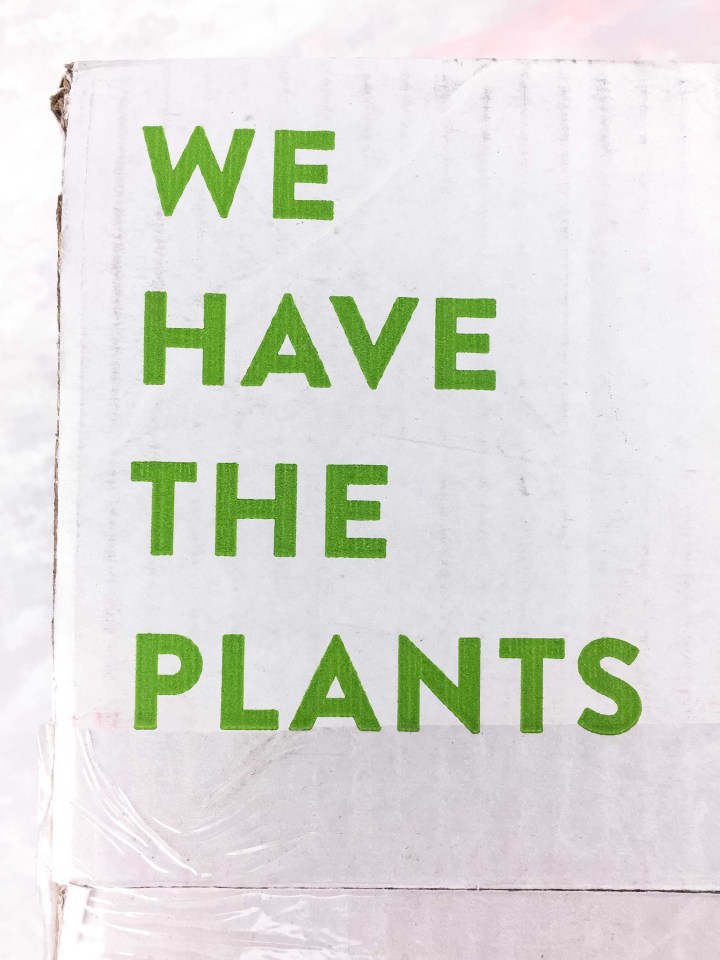 DEAL: Get $25 off your first order! Use this link to get the deal.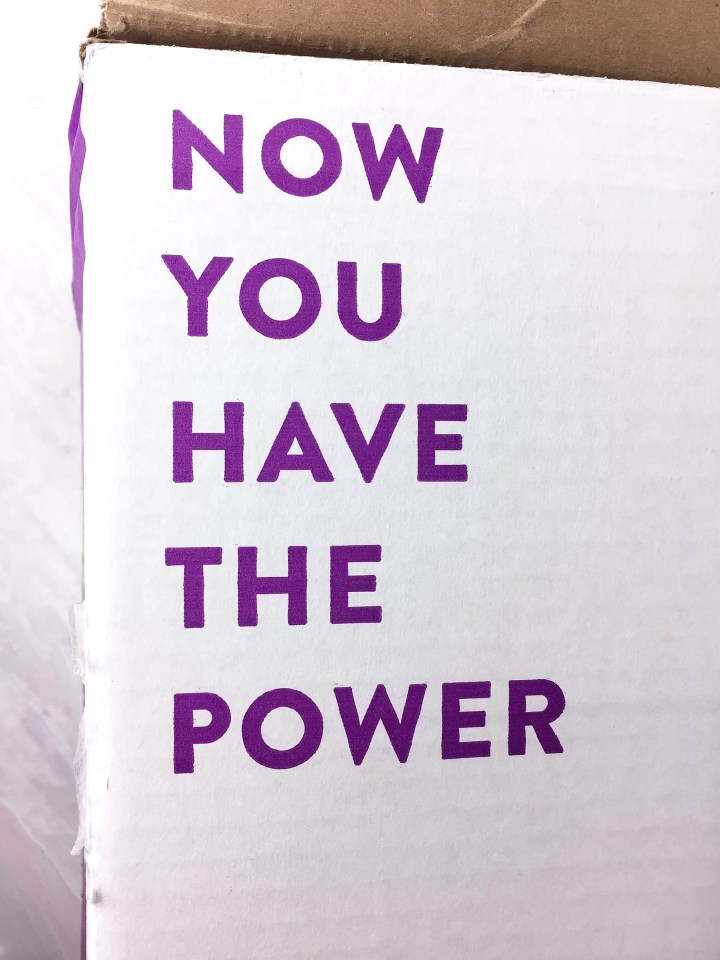 Though this subscription is designed with vegan dietary guidelines in mind, it is ideal for anyone looking to improve their diet by lowering their intake of cholesterol, eliminating animal fats, or boosting their veggie intake!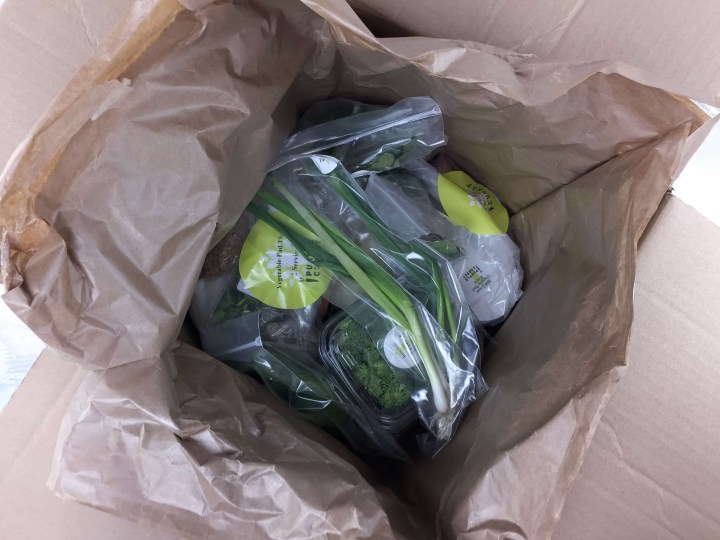 The Purple Carrot insulates the food with ecologically-sound padding. A few huge icepacks sit below the food, separated from it by cardboard. The veggies are generally in fantastic condition. The couple exceptions are noted below.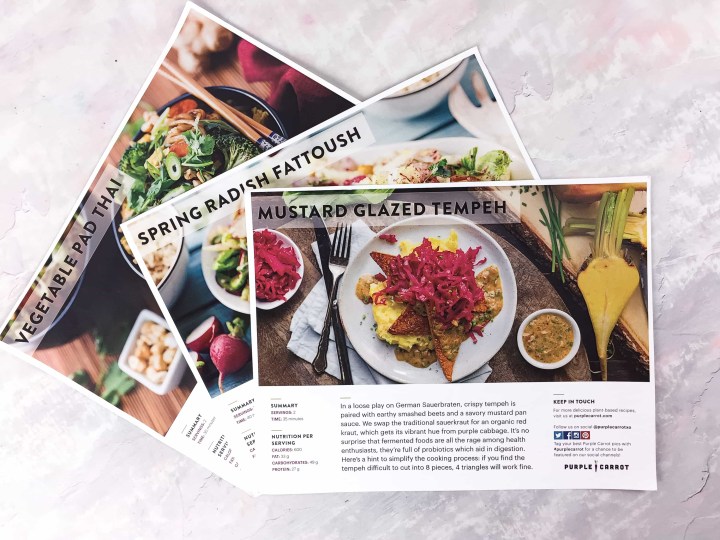 Our three recipes this week.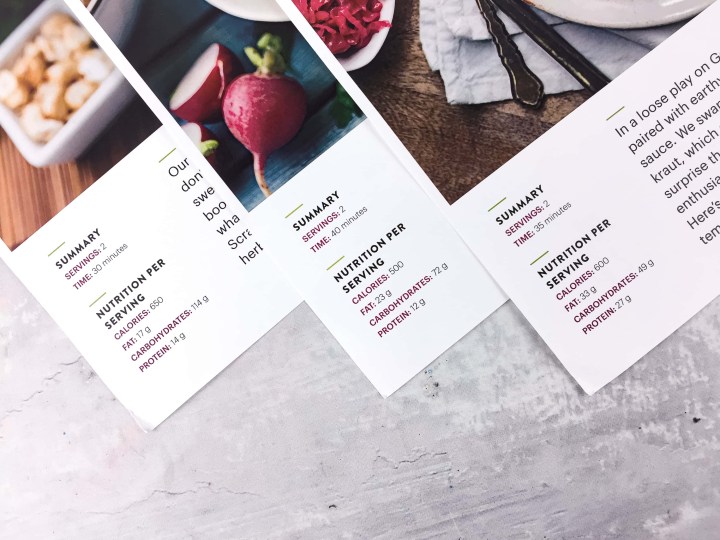 On-card information includes an estimated prep-time, number of servings, and a breakdown of the essential nutrition info (calories, fat, carbs, protein). The carb and protein ratio varied greatly from dish. The pics of prepared food below show one serving, unless otherwise noted.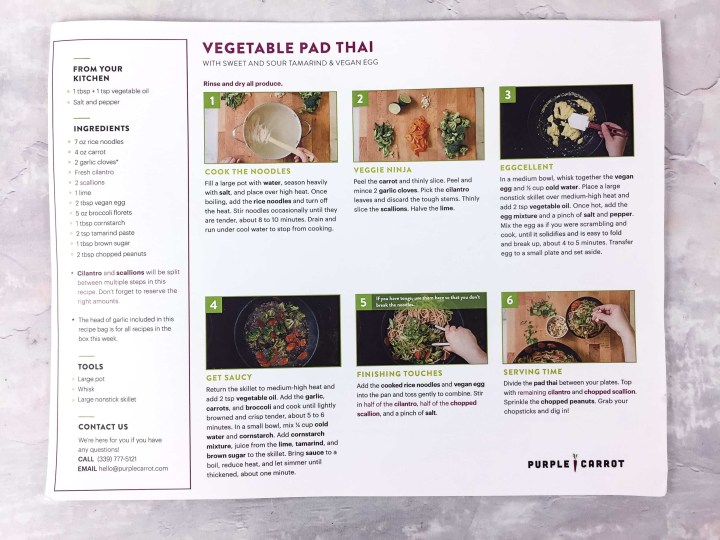 The recipes are really well designed, with most prep done ahead in a mise en place approach. Any items needed from your kitchen, whether food or cooking vessels, are set out separately. As far as ingredients, only olive oil and salt and pepper are needed. Ingredients are bolded for ease of recognition, and they even put ingredients in red font if they are divided and used in more than one spot in the recipe. Handy tips were worked into the text, like how to tell when a phase of cooking is done by smell or sound. They even have a hotline for phone or email help if you need it!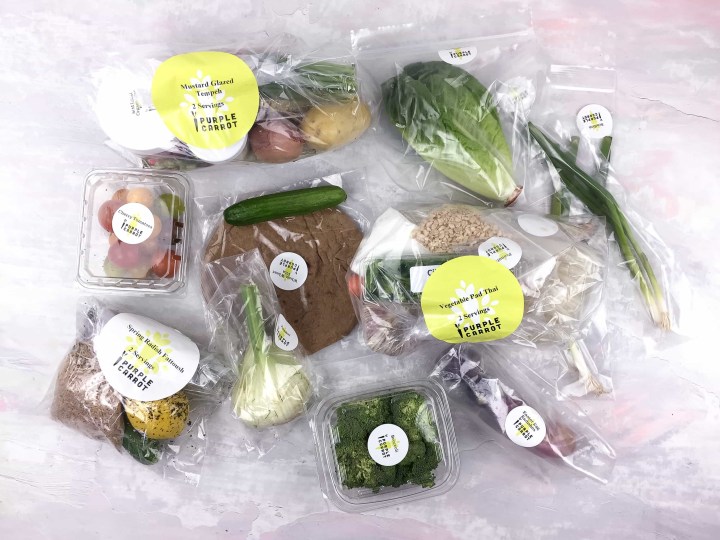 All our food! The meals are bagged separately, with some large or delicate items labeled in individual packages. Because of the amount of vegetable ingredients used, many items are packed in separate bags. The labels don't indicate which recipe the items go with, so you have to check the cards carefully when corralling your ingredients (maybe this is only an issue for people that obsessively photograph their ingredients, though).
Spring Radish Fattoush. 40 minutes, 500 calories per serving.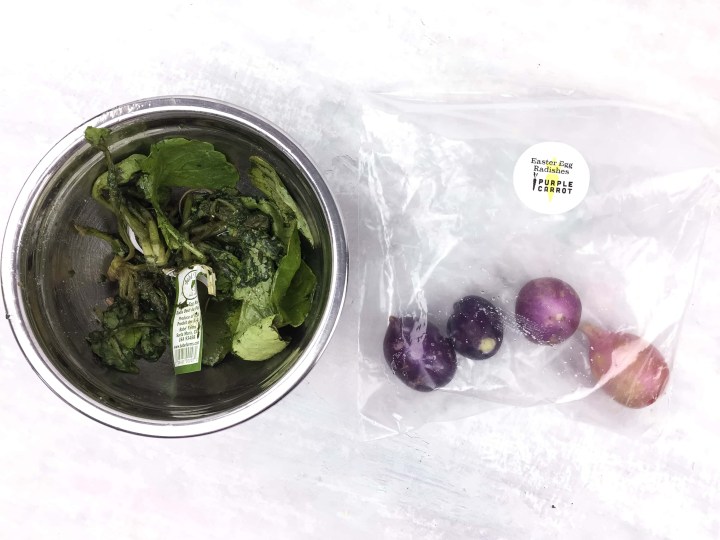 The green tops of our radishes had gone mushy, and they didn't look appealing in the bag. The greens aren't used in the recipe, though, so it had no impact on our meals. The main part of the radishes where in excellent condition and only needed a quick rinse. Purple Carrot credited us $15 for this.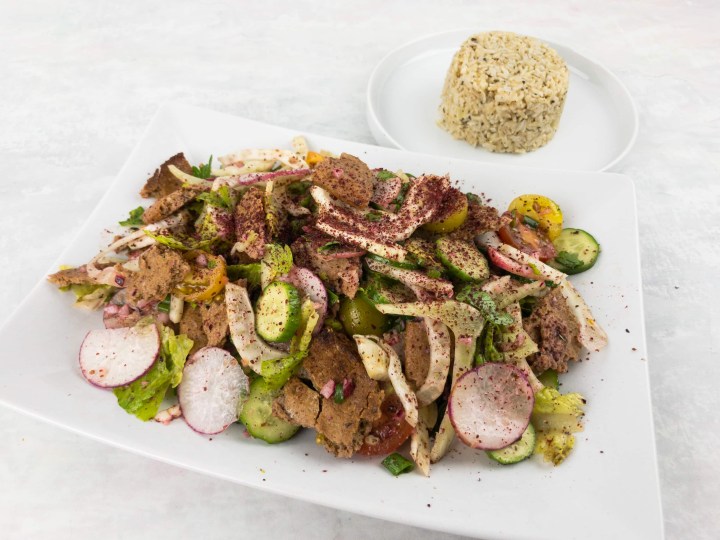 This dish is not for the carbohydrate phobic. The fattoush is primarily a melange of veggies and bread, so it is carby by nature – but the dish also had a side of minted brown rice to eat with it. Both were whole grain, though, so it didn't feel like a carb binge. I would have loved to see some garbanzos, etc, thrown in for added protein. The flavors and textures of the dish were wonderful, with the lemon and sumac creating a very bright, citrus dressing. The brown rice paired well with the mint, and it was great mixed into the fattoush, as well. This was simple to make, made simpler by tearing some ingredients in place of slicing.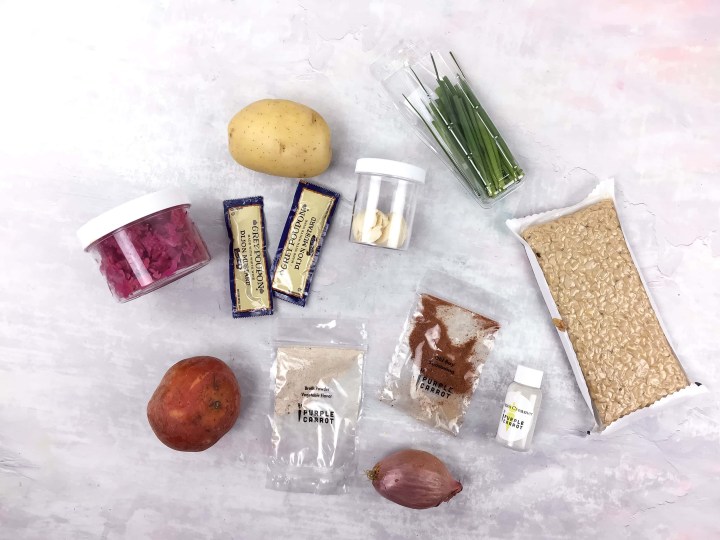 Mustard Glazed Tempeh. 35 minutes, 600 calories per serving.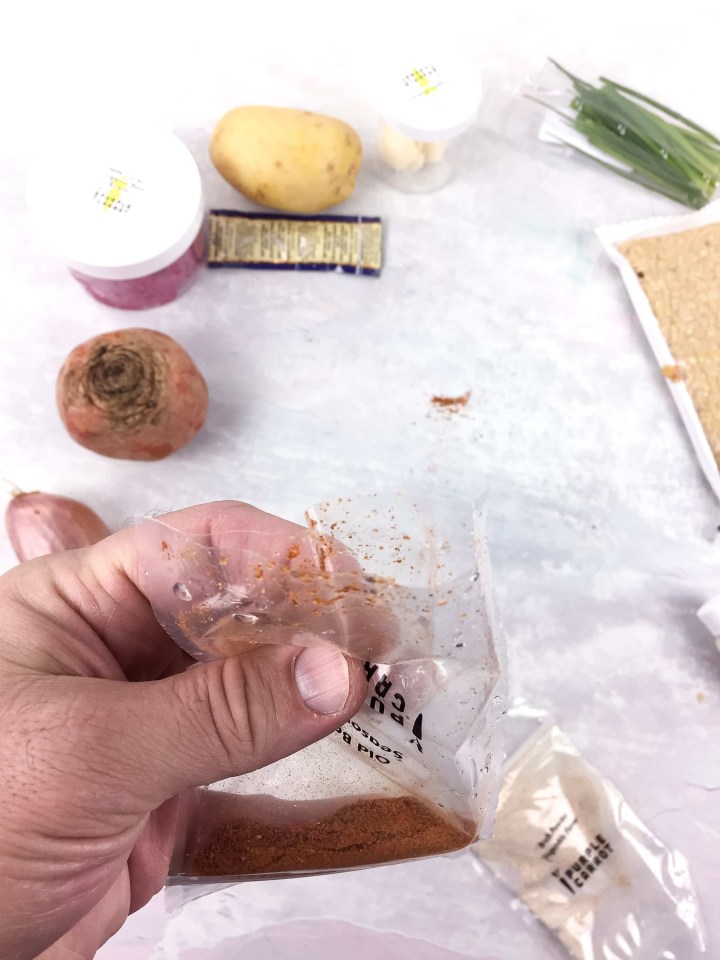 A couple of our seasoning packs had faulty seals on the bottoms (the Old Bay, plus the oregano from the fattoush).  Luckily, very little had escaped, and it was caught in the larger outer bags.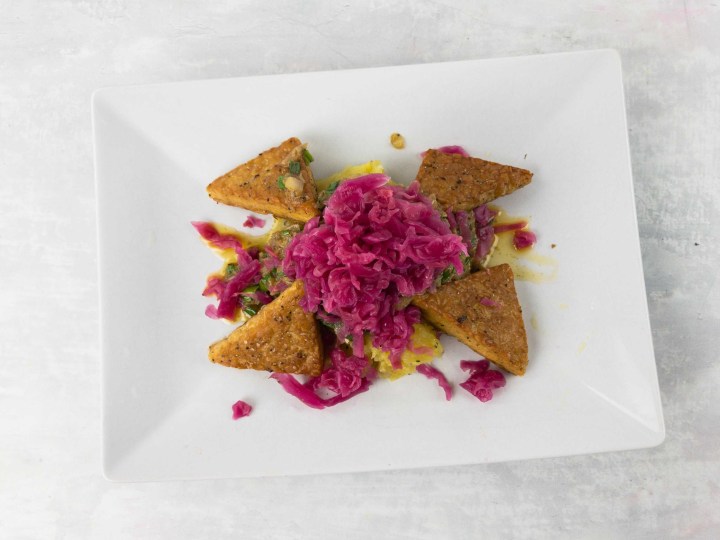 This dish had a fun look to it, with the red cabbage contrasting against the golden potato and beet combo. The tempeh added a nice dose of protein, and it was really easy to work with.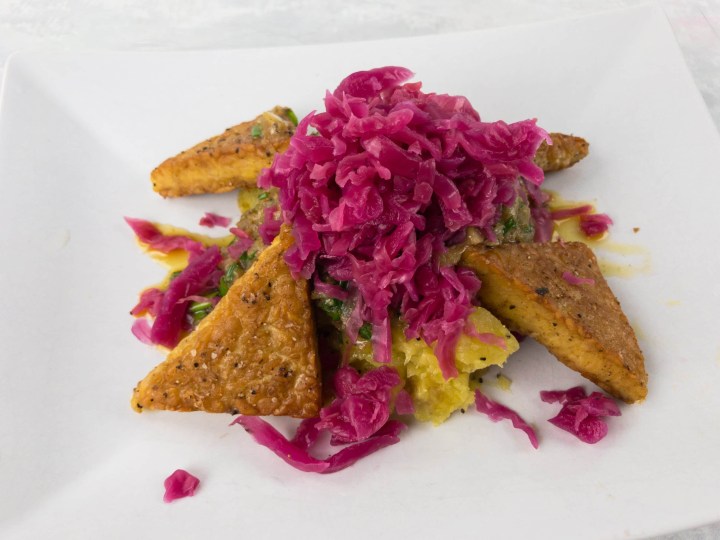 The dish was a slightly odd combination of ingredients, but it came together into an enjoyable jumble.
Vegetable Pad Thai. 30minutes, 650 calories per serving.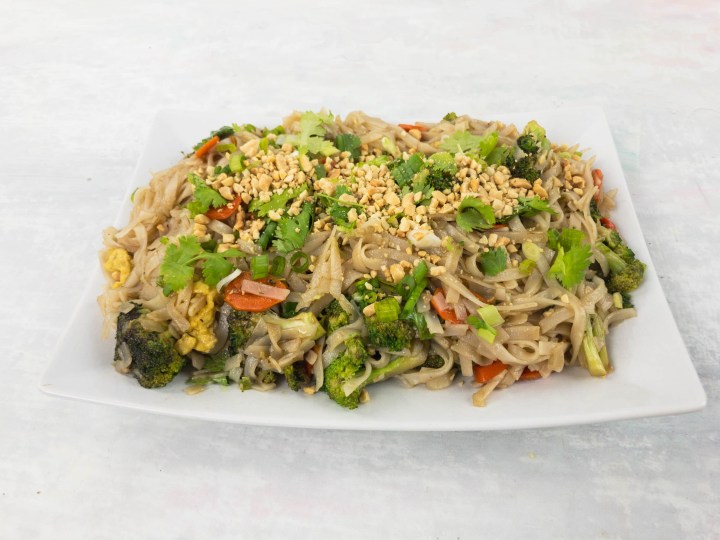 There are about as many ways to put together pad Thai as there are people to eat it. This version had the obligatory peanut, lime, cilantro, and green onion, but it mixed it up a bit by making tamarind a major part of the sauce. Vegan eggs added some protein and color, with lots of broccoli and carrots stretching the dish. We enjoyed this version, but we would've have loved some spice, too. It made a ton of food – the above pic shows about 2/3 of the recipe!
We enjoyed our Purple Carrot meals. The ingredients were very high quality, and the recipes were easy to prepare. The dishes didn't wow us in the way the TB12 Performance Meals did (see our TB12 food box reviews), but they were solid. We also found a little to be desired in the way of protein content in a couple of the meals, and we would have welcomed some tofu, beans, or high-protein grains.