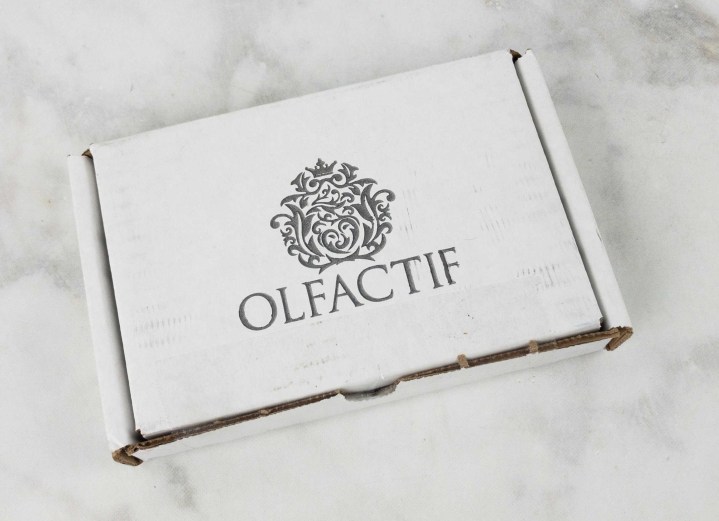 Olfactif for Men is a monthly fragrance discovery subscription box featuring more distinctly masculine scents than their unisex flagship subscription. You'll get 3 samples in your box, each containing 15-20 "wears" of an independently designed cologne or eau de perfume. With every box, your account will be credited with an $18 voucher to use on fragrances from the store. Olfactif for Men prides itself in selecting niche offerings incorporating higher quality and hard-to-find ingredients.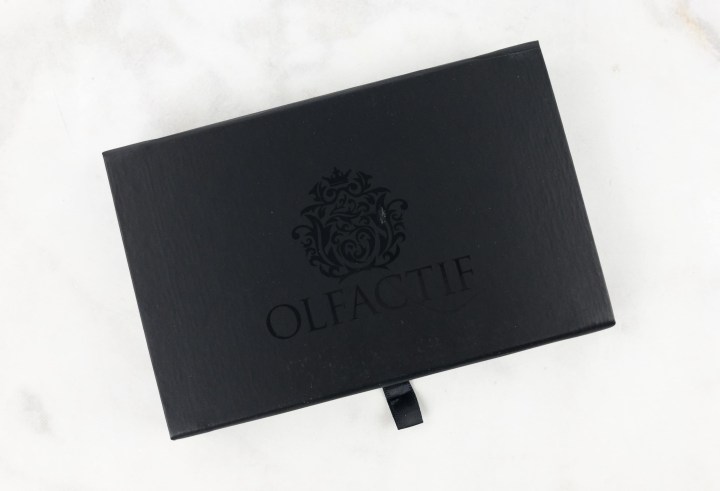 The regular Olfactif box is unisex and meant to be worn by women and men who enjoy niche fragrances. Because it features fragrances intended to be wearable by both sexes, it only occasionally indulges in the heartier scents typically associated with Men's fragrance. The Men's box is centered around traditionally masculine fragrances, all from the niche world. You will still see the same creative spirit and defiance of convention, but the focus will be on the yang. The flap top box bears the intricate Olfactif logo in shiny relief. Olfactif Men's comes in the same cool packaging as their flagship subscription.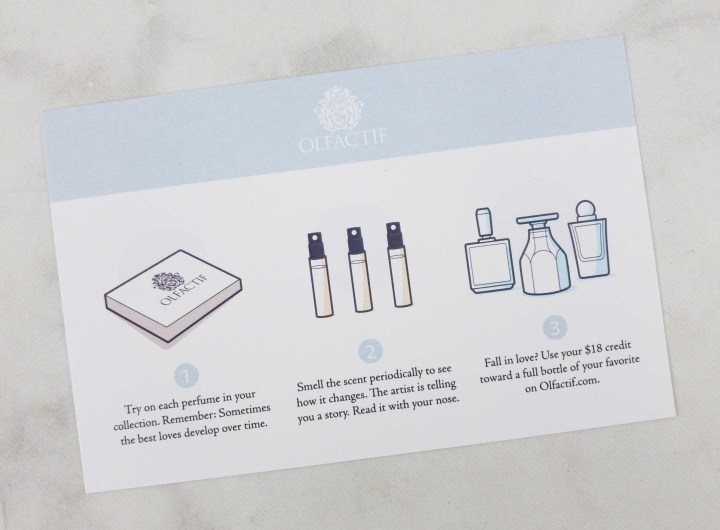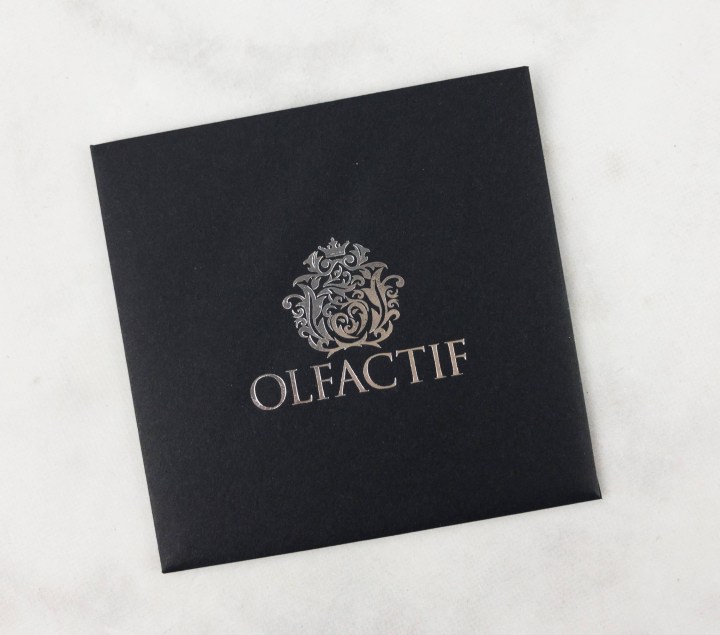 The instructions, theme, and individual fragrance information cards are tucked inside a decorative envelope.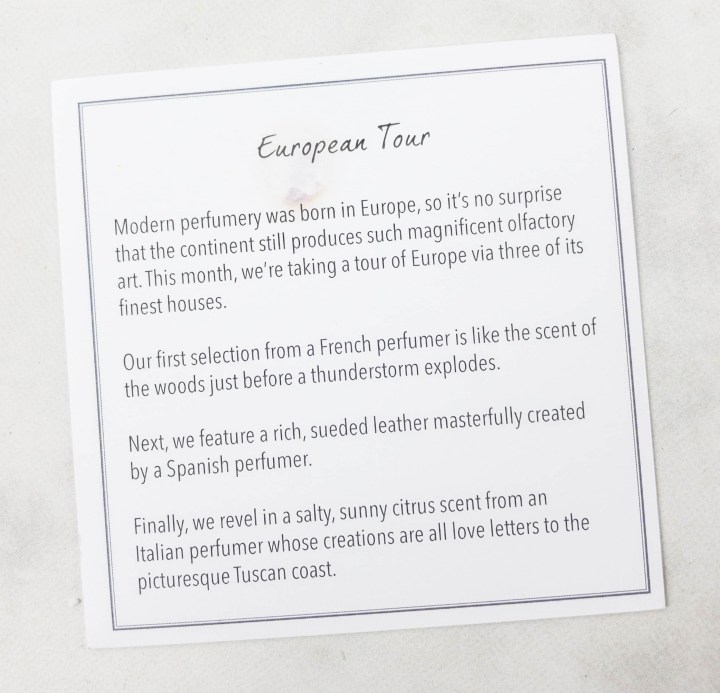 The theme for this ensemble of men's fragrances is "European Tour." There is an overview card introducing the current fragrances and the reason for their inclusion, plus a card for each individual fragrance, identifying the maker, listing the primary scent notes, and providing a glimpse into the inspiration and essential qualities of the fragrance.
The three fragrances come tucked neatly within the very cool case. The bottles are testers, but with up to 20 wears each, they are perfect for keeping around for a change of pace well into the future (but make sure to take advantage of the subscription credit towards purchase and pick up a full size of your favorites!). The box now comes with a trio of test strips so you can get a sense of the fragrances before choosing one to wear first. I go ahead and spray them on my skin – I think that's the best way to see how it wears.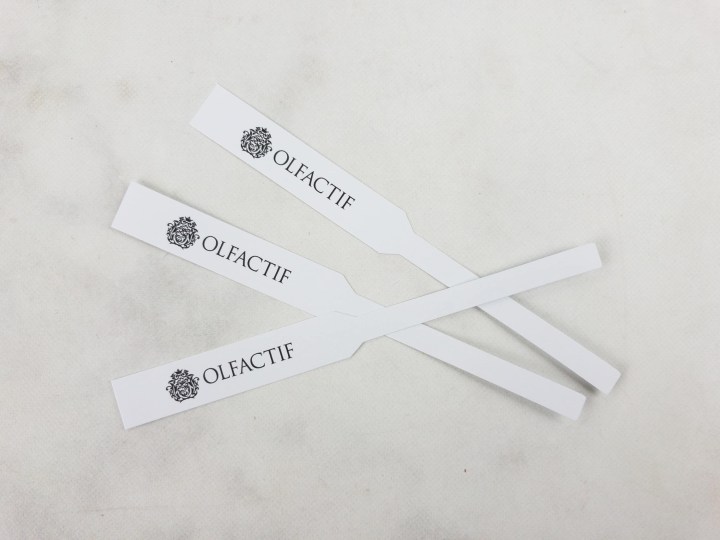 The strips have the Olfactif logo, a fancy touch.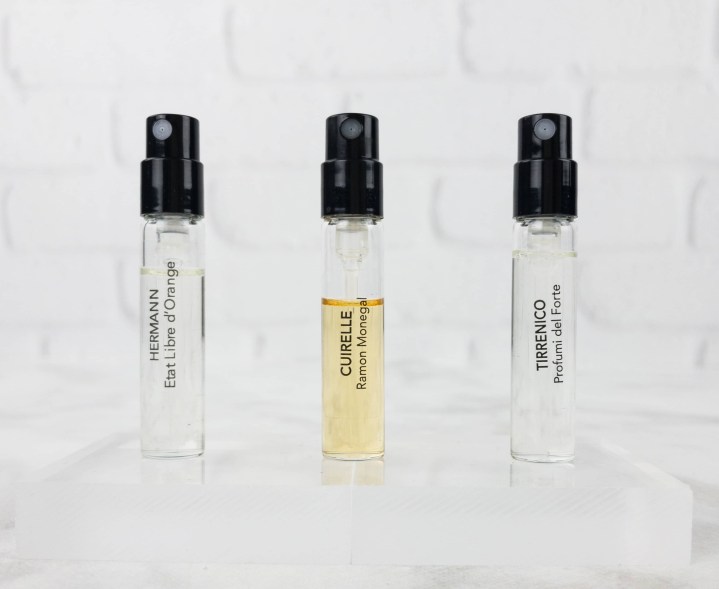 May 2017 Olfactif Men: Our three stop European tour includes a selection from France, Spain, and Italy.
Etat Libre d'Orange Hermann: Spicy and floral, this fragrance has a sweet edge with earthy undertones. Peppery warm and cloying, ozonic notes are the most engaging, with tones of rose and incense filling in. After time, the ambroxin (component of ambergris) creates a maritime, musky base. The scent combination is outside the experience of most individuals, creating a captivating presence that evades precise description.
Ramon Monegal Cuirelle: Sweet and warm, this Spanish fragrance reminds me of the caramel sweetness of a Cuba libré made with Vanilla Coke. I pick up a strong vanilla-like quality, possibly from the Somali incense or Bourbon vetiver, that lingers and dominates the sillage. Honey and cinnamon provide a warmth and sweetness, the combined scent reminding me of the scent of Clove gum.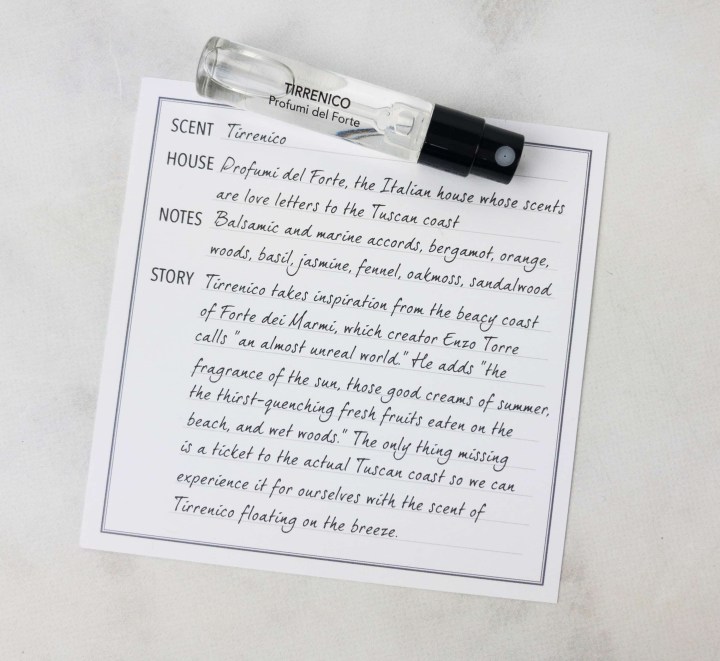 Profumi del Forte Tirrenico: The bergamot and marine accord are early leading notes in this Italian fragrance, with the latter outlasting the citrus notes. Fennel and herbs emerge in the drydown, with a distinct licorice character soming to the fore. Just as any French countryside fragrance would incorporate lavender, this Italian seaside medley showcases wind-driven basil and fennel riding on a salty breeze.
I like this collection. I don't think any one is my new signature scent, but each has an alluring, warm sillage that makes it intriguing without being overly powdery or smoky, and they have a pleasant herbaceous and floral quality without being overtly flowery.
Have you tried niche fragrances yet? What did you think of this month's Olfactif Men's collection?
Visit Olfactif to subscribe to the Men's box or find out more!