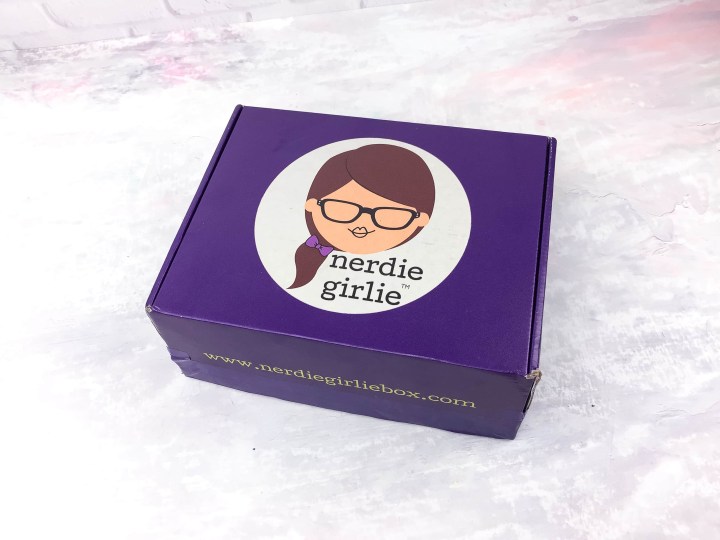 Nerdie Girlie will elevate your Nerdie Girlie status to the next level with their monthly subscription boxes. For $39.99 per month, you'll get a box full of products of the bookish, fandom, pop culture, music, femininity, and intellectual variety.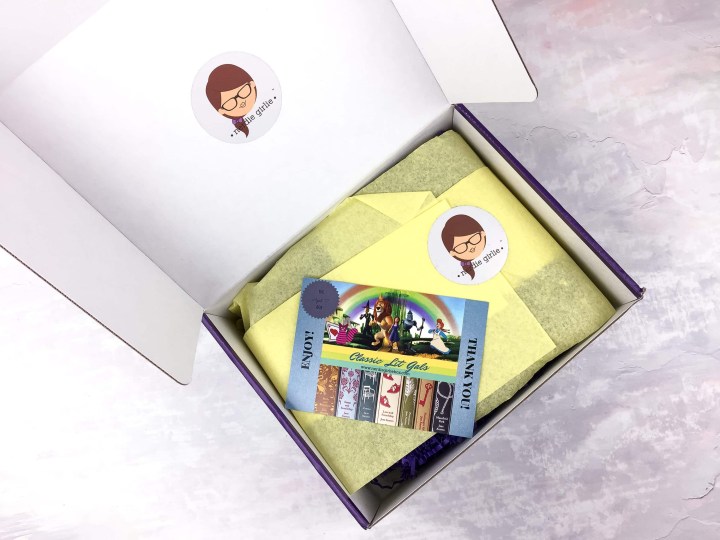 The theme for April is "Classic Lit Gals."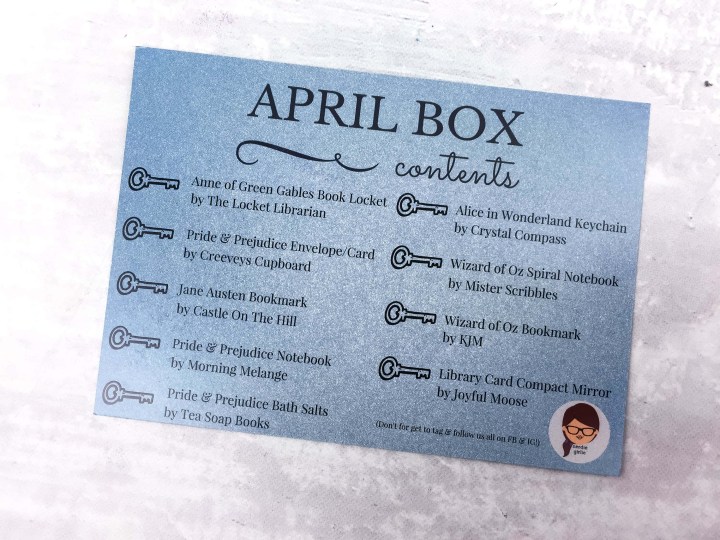 The back of the card gives you a list of all the items in the box.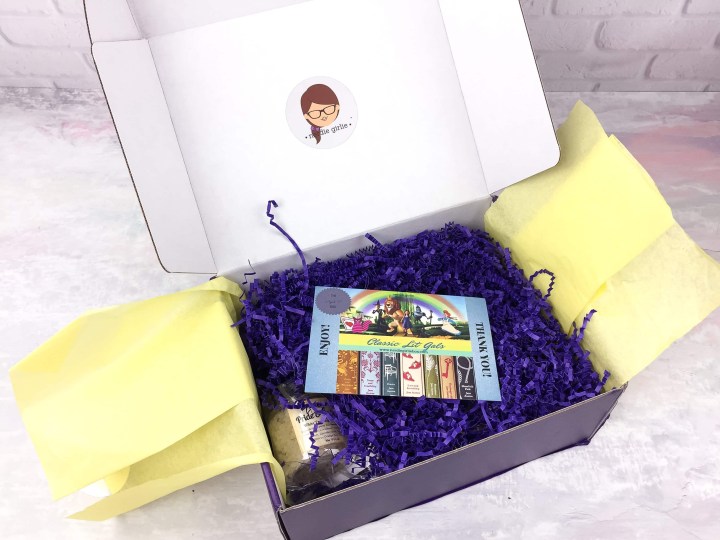 Blue squiggles welcome us upon opening the package.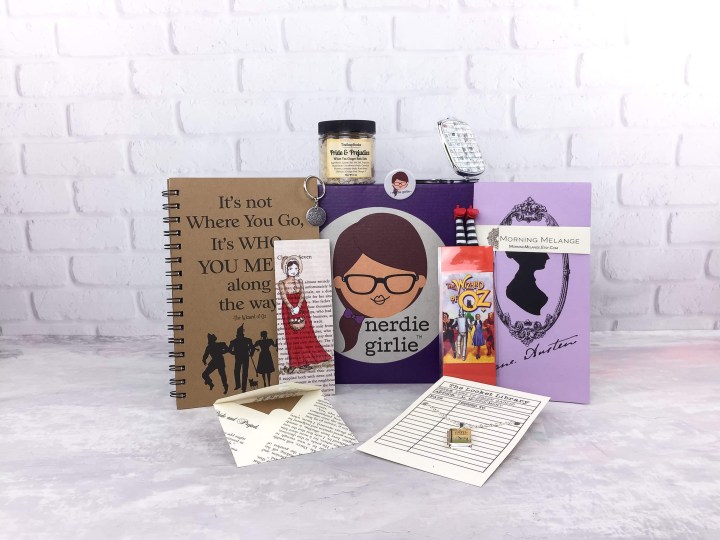 Everything in my April 2017 Nerdie Girlie box!
The Locket Librarian Anne of Green Gables Book Locket ($11.38) Ooh, a book locket! What a lovely way to show off your nerdlove for classics like Anne of Green Gables!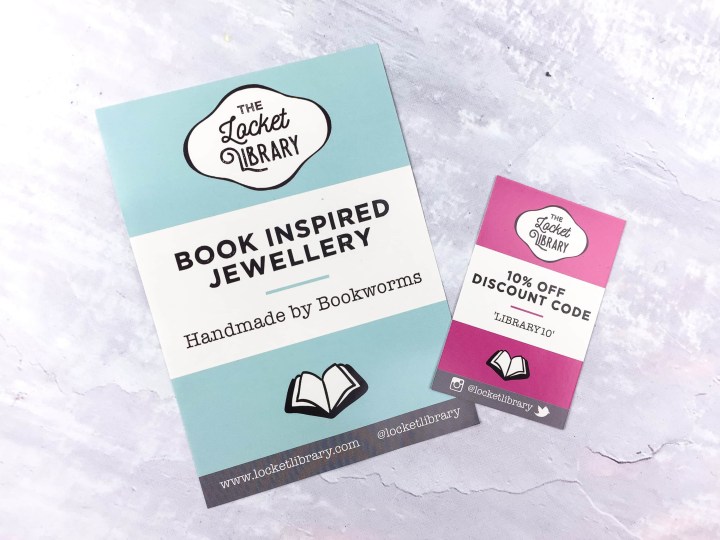 The Locket Library offers other book inspired jewelry. They even sent us a 10% off coupon code that we can use directly on their site!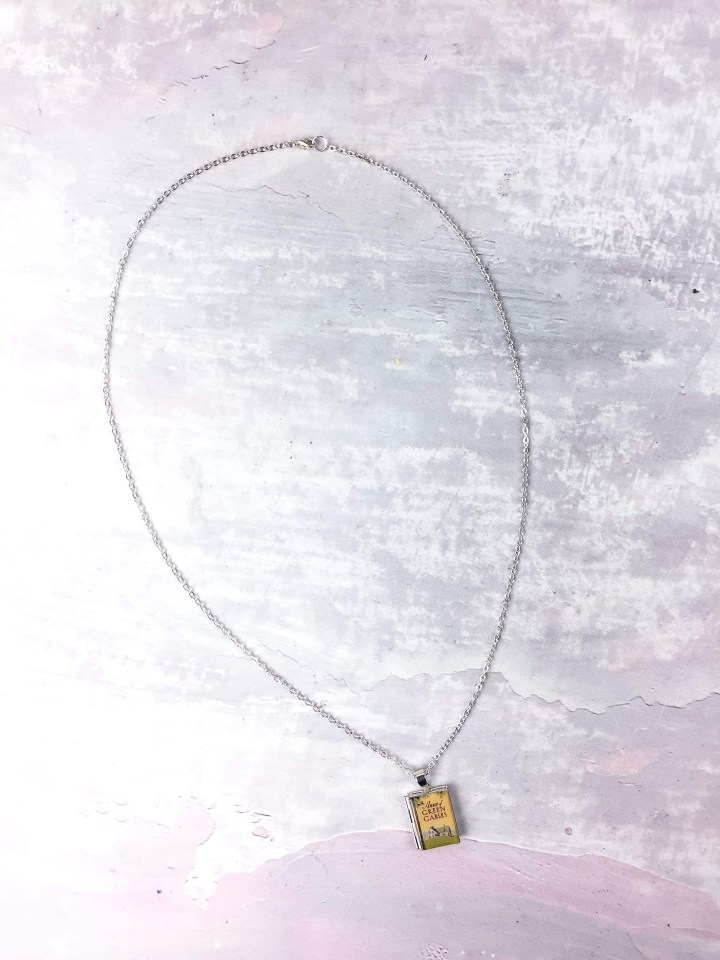 I love it even more because it's lead and nickel free! (Seriously, that's fantastic!).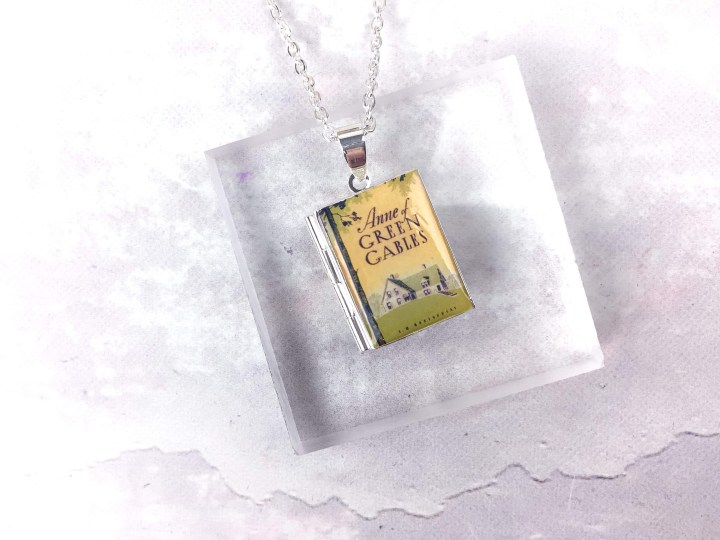 The locket was covered in resin, giving it a nice glossy finish on the classic cover.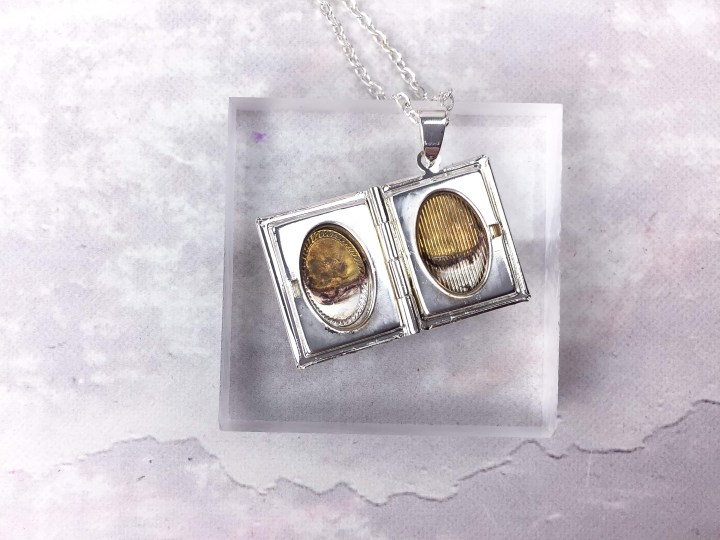 Here's a look at what's inside!
Nerdy but definitely stylish!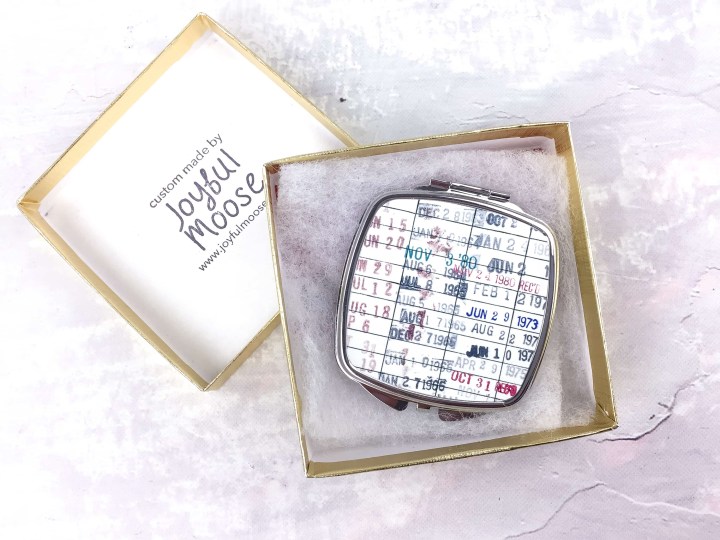 Joyful Moose Library Card Compact Mirror ($12) The library checkout due date card design makes this compact mirror fun to use and carry around! It's seriously squeal worthy for major book geeks.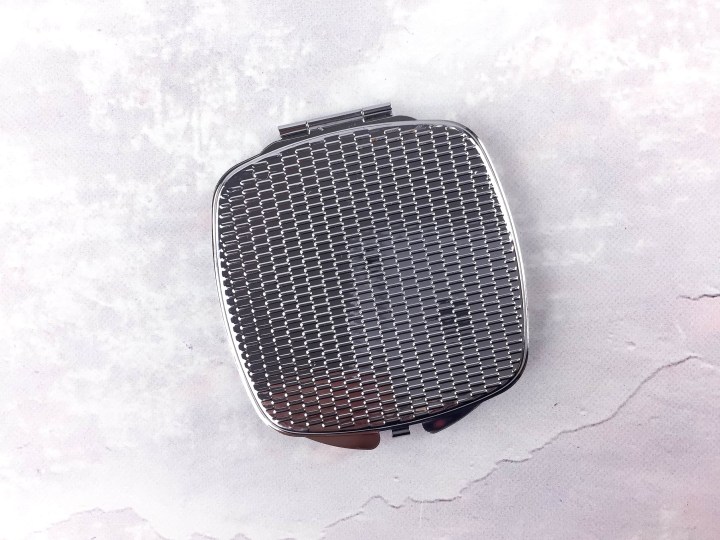 It's easy to stash in a purse or pouch.
Tadah! There are two inside mirrors on both sides!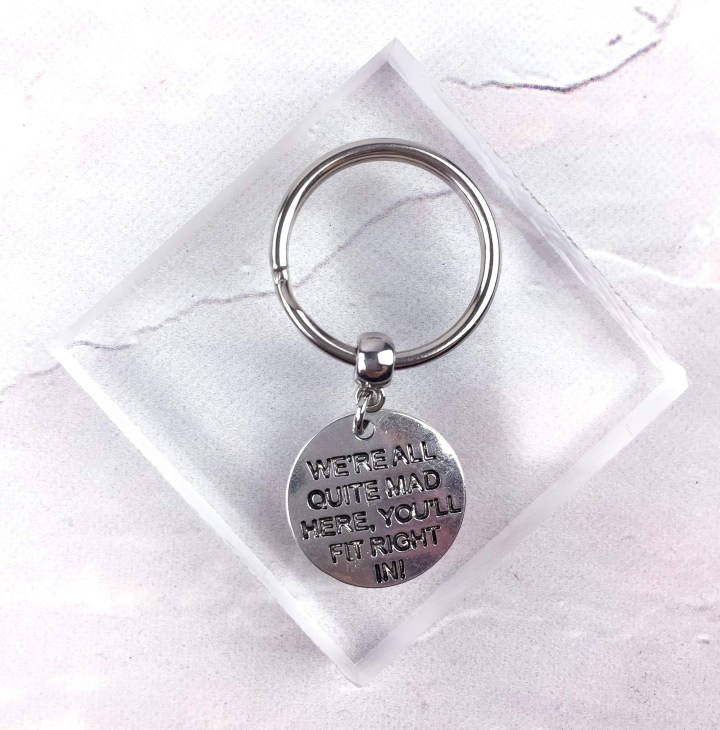 Crystal Compass Alice in Wonderland Keychain ($7?) A silver plated zinc alloy keychain with an Alice in Wonderland quote. I think this particular version is from the movie, actually. Anyways, this is how I feel 100% of the time.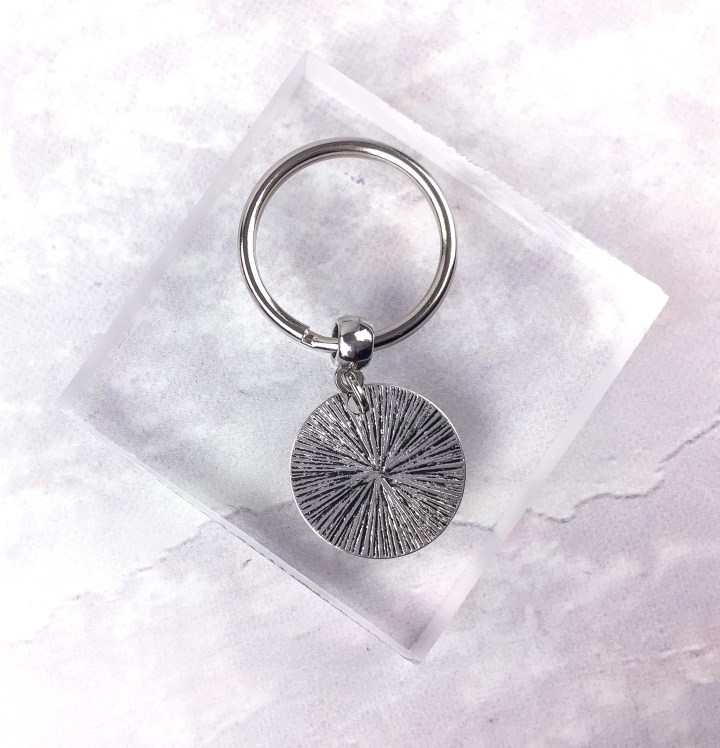 The key ring is quite thick and durable. I am going to use it as a bag or pouch or planner charm.
Nerdie Girlie Button Pin: A cute pin that bears the Nerdie Girlie logo. Here's to all the nerdy girls out there! You rock! Unlike some box swag, this is one I'd actually use as a button.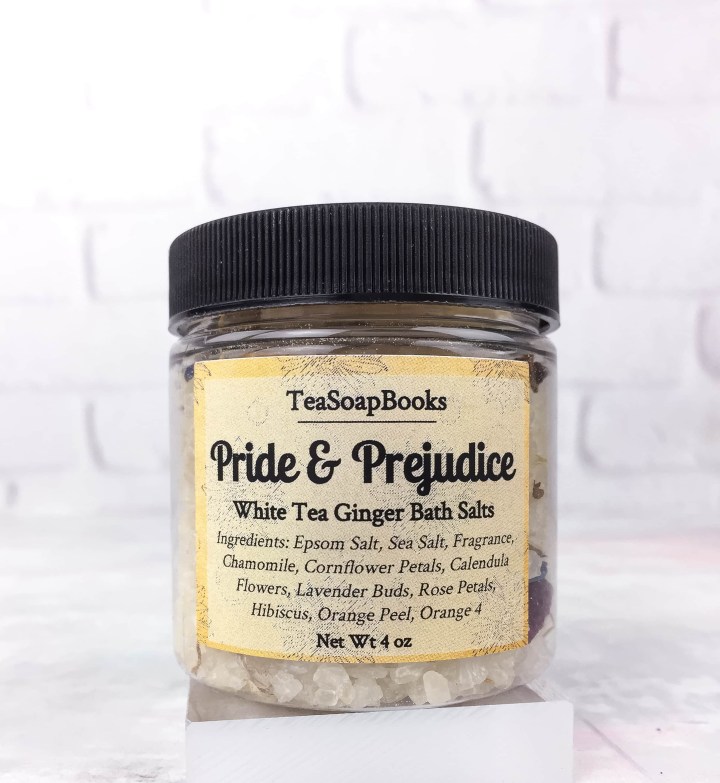 Tea Soap Books Pride & Prejudice Bath Salts ($10) Last month, we got a Belle bath bomb and now we get a Pride and Prejudice Bath Salt!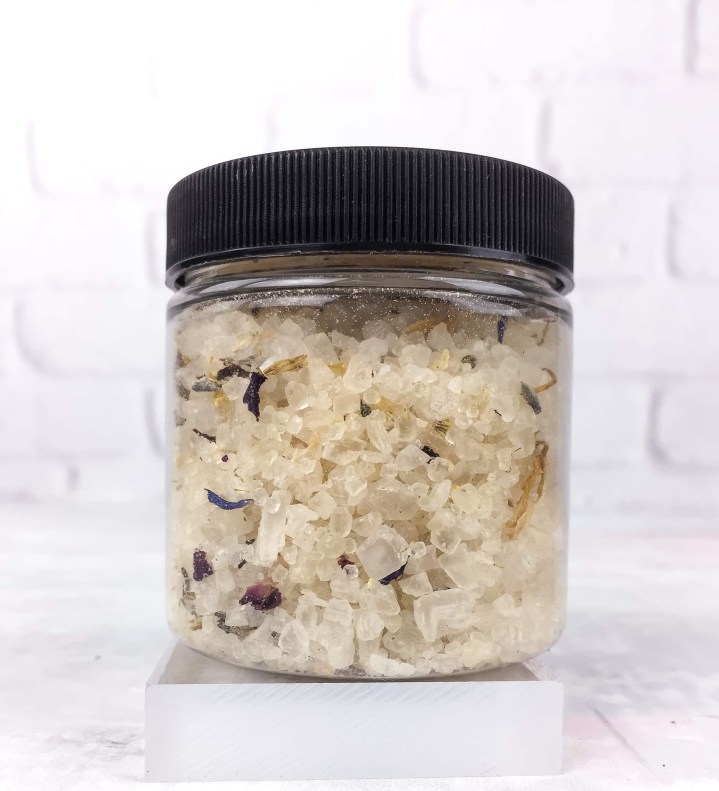 It contains white tea ginger fragrance, sea salt, Epsom salt, and flower petals. Smell so good and refreshing for the skin too.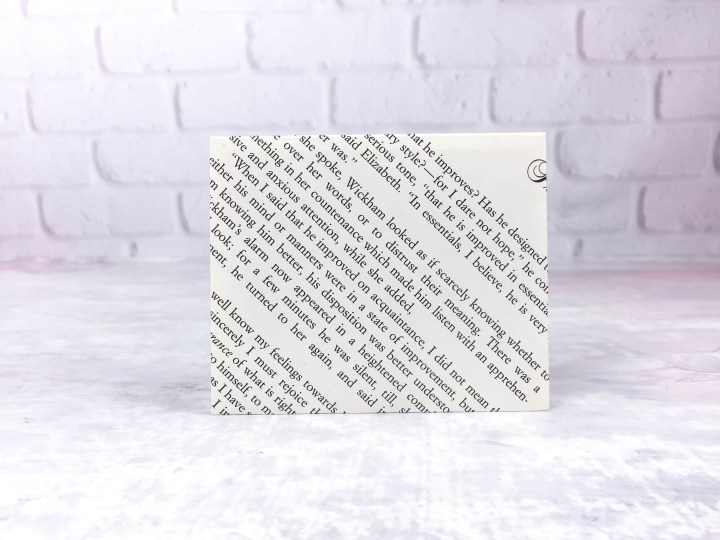 Creeveys Cupboard Pride & Prejudice Envelope/Card
So vintagey! Can't wait to send out a letter to a friend who will appreciate this envelope as much as I do.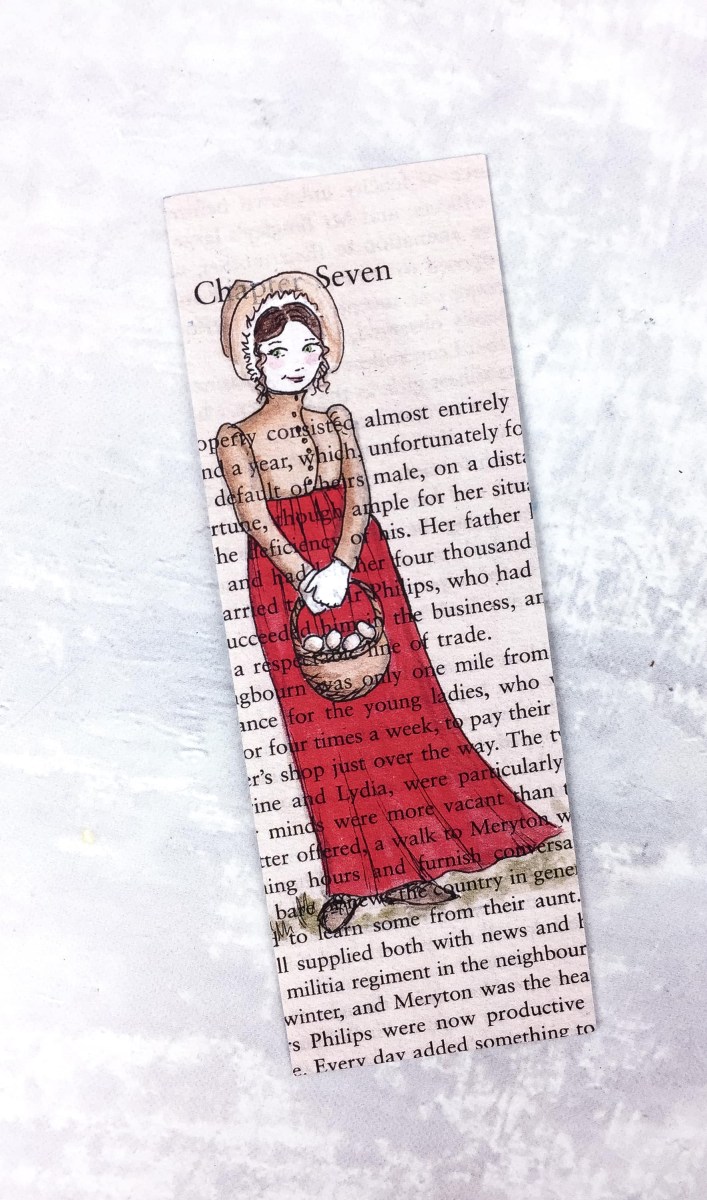 Castle on the Hill Jane Austen Bookmark: Because of Nerdie Girlie, I'll never run out of bookmarks ever again. This one also used a vintage book page for the design. The painting of one of the characters from Jane Austen's Castle on the Hill made it even more special. Her long red skirt looks pretty!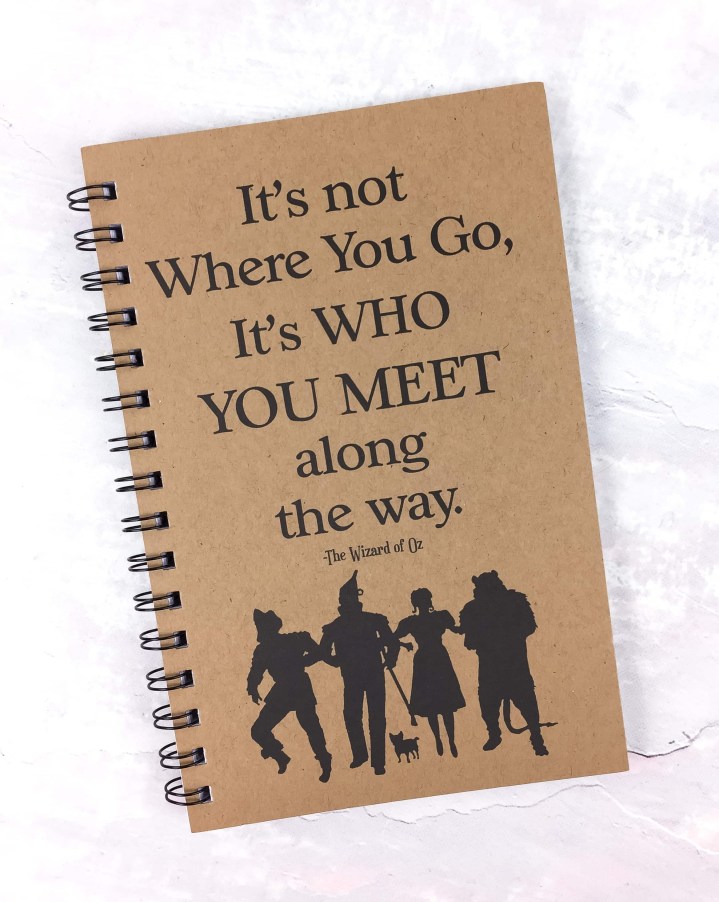 Mister Scribbles Wizard of Oz Spiral Notebook ($8)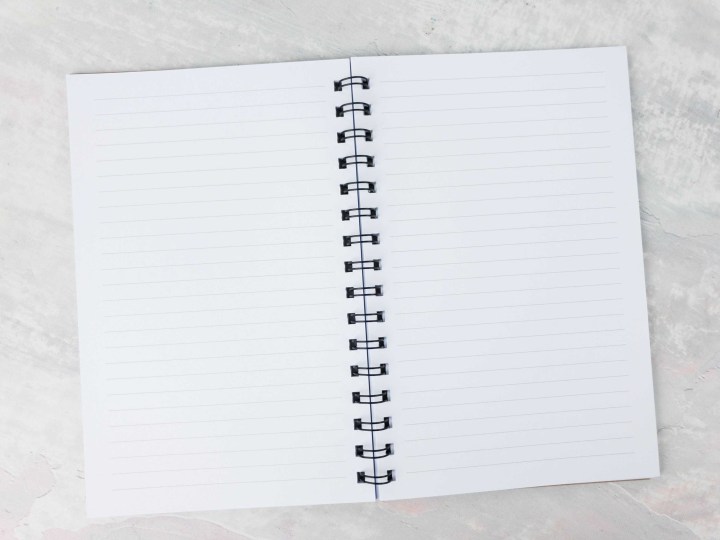 A simple notebook with a timely quote from Wizard of Oz.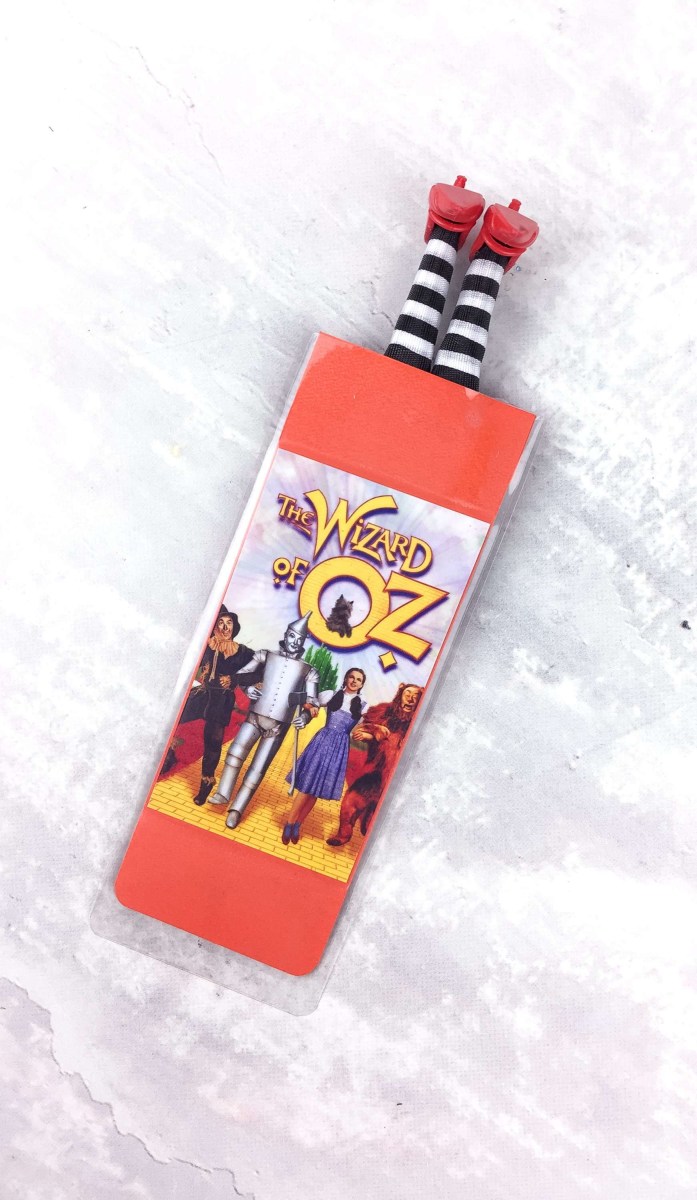 KJM Wizard of Oz Bookmark ($25): This is probably the best bookmark I've ever received in a subscription box (which is a lot).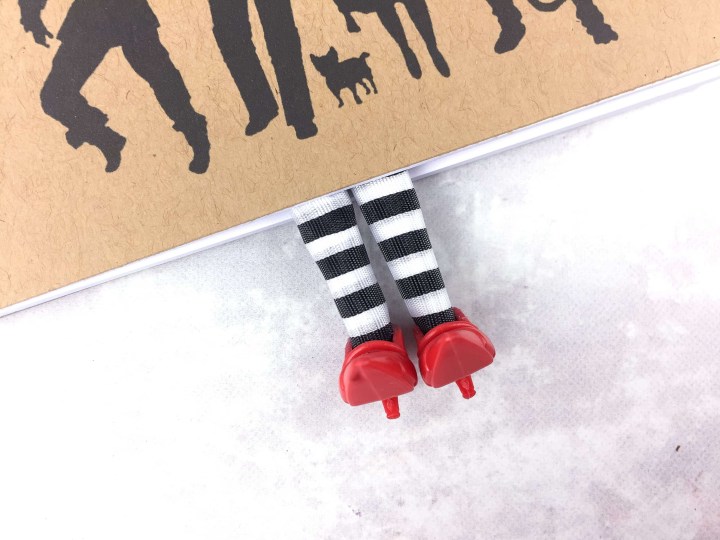 Along with the notebook, this quirky bookmark will make any Wizard of Oz fan happy.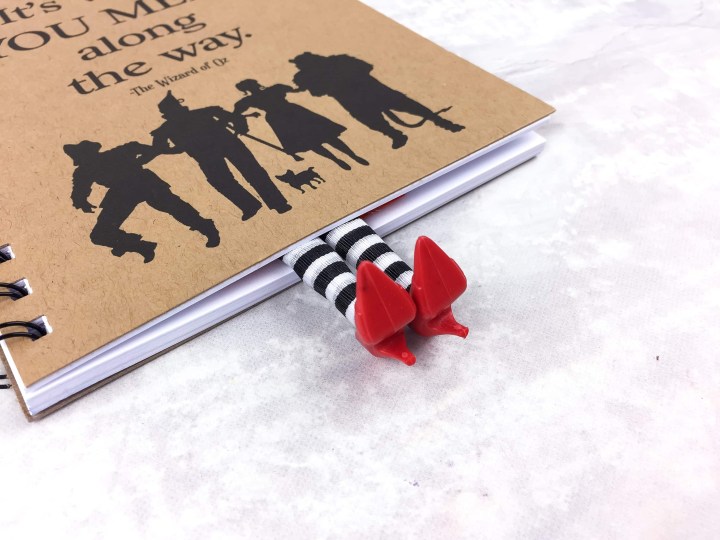 Yes, that's Dorothy Gale's classic ruby slippers.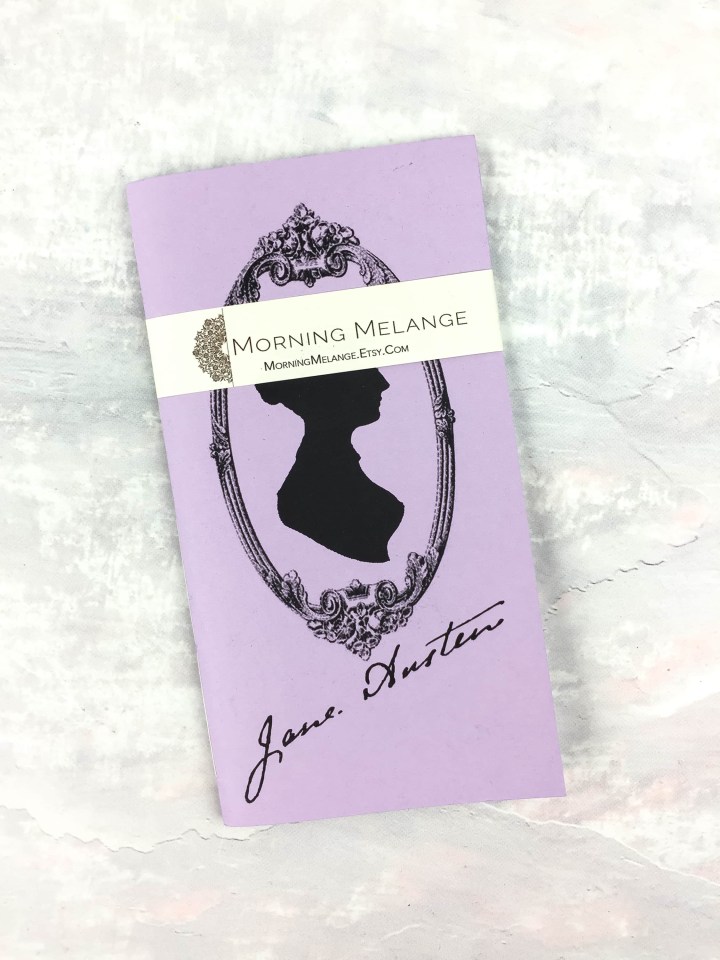 Morning Melange Pride & Prejudice Notebook ($4)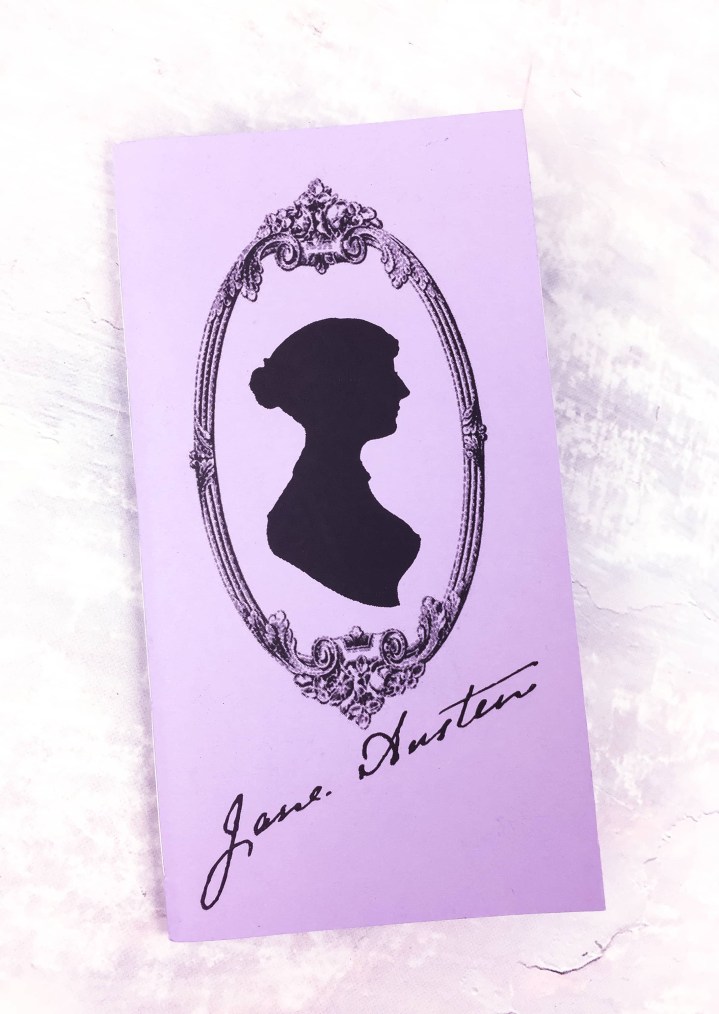 There's no such thing as too many notebooks for nerdy girls!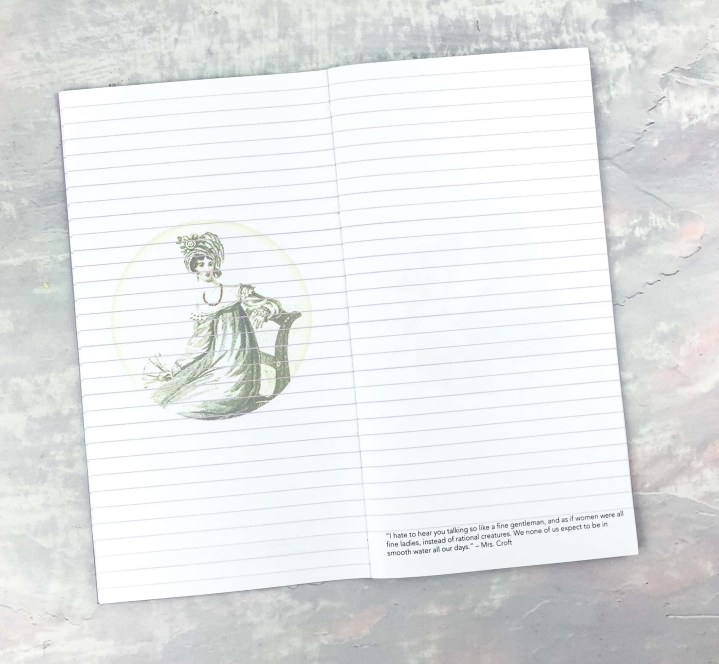 There are quotes on the bottom of the lined pages, as well as Jane Austen illustrations.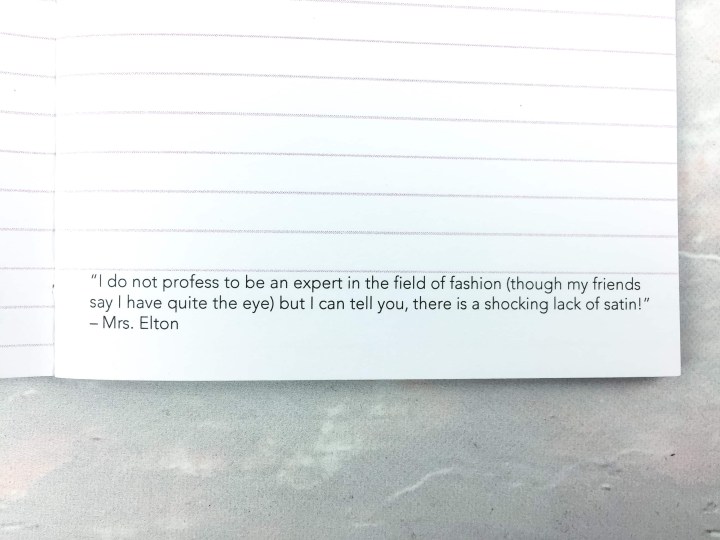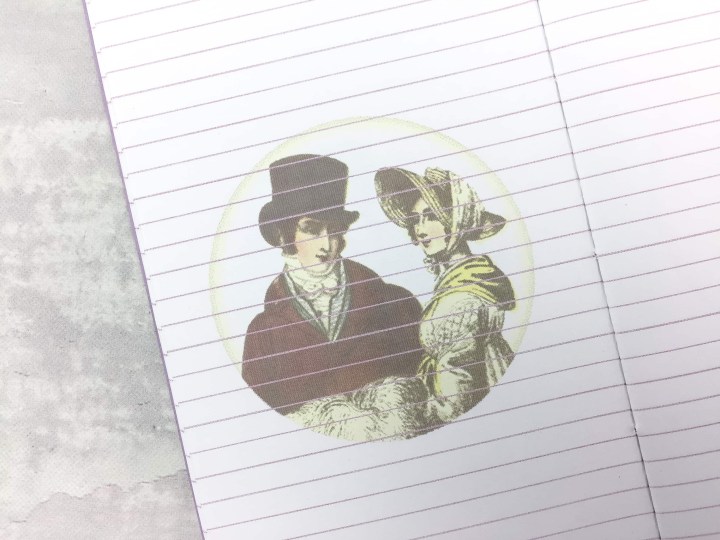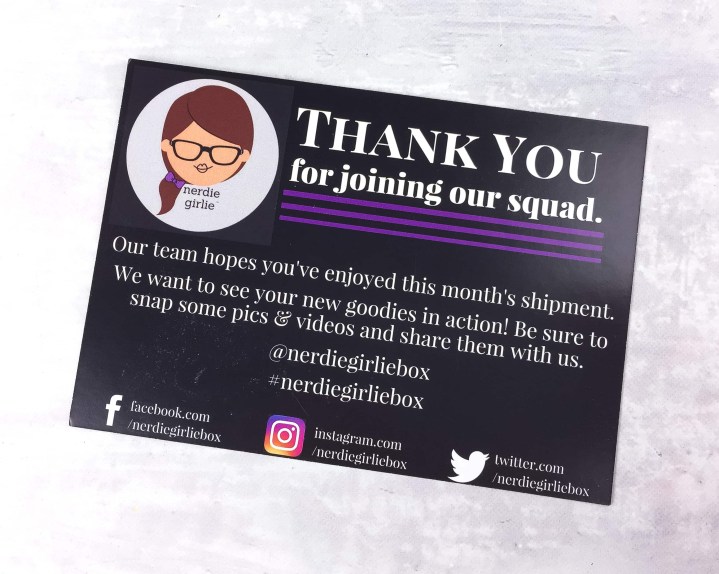 Also included is a thank you card and a reminder from Nerdie Girlie to share our goodies on social media.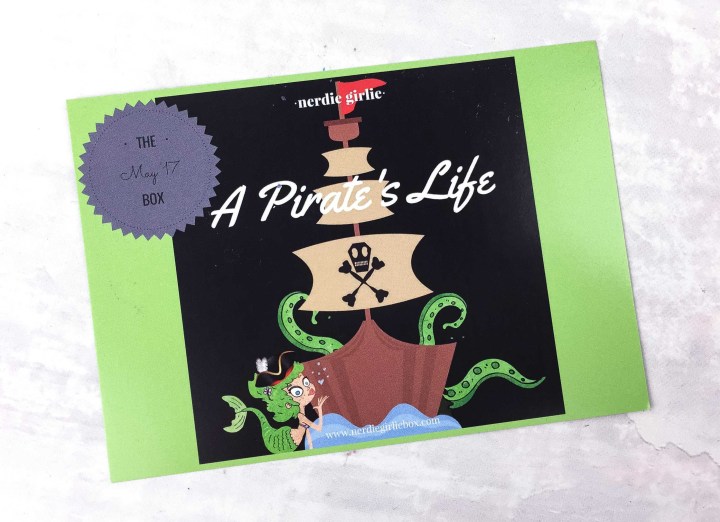 Next month's theme is A Pirate's Life!
Nerdie Girlie is such a fun box and I loved the Literary Classics theme and that most of the items they include are handcrafted and sourced from independent artists.  I felt that there were a couple big/hero items and a good mix of products and fandoms, including 20th century classics, which was hinted at in the previous month's theme (and that I really liked!). With a checkout card compact, a book locket, a big item like the bath salts, the most amazing bookmark ever, and other great papery items that were really top notch, I think they nailed this one!