SnackFever is a monthly subscription box that delivers all your favorite Korean snacks, as well as other hard-to-find Korean treats. Each month, subscribers will get 5 to 12 Korean snacks and treats, depending on their subscription. Snack Fever is available in three boxes, the mini box, the original box, and the deluxe box, and subscriptions are $12, $20, and $40, respectively, every month.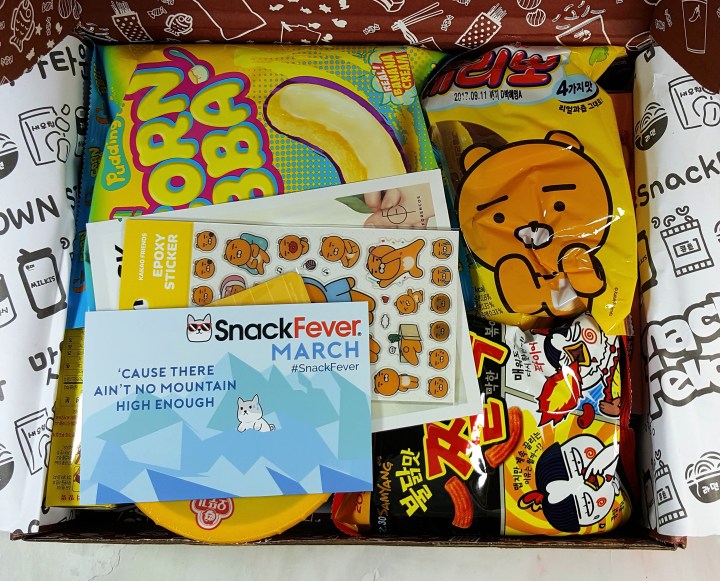 DEAL: Save $3 off your first box (Mini, Original, Deluxe). Use coupon code HELLOSUB3.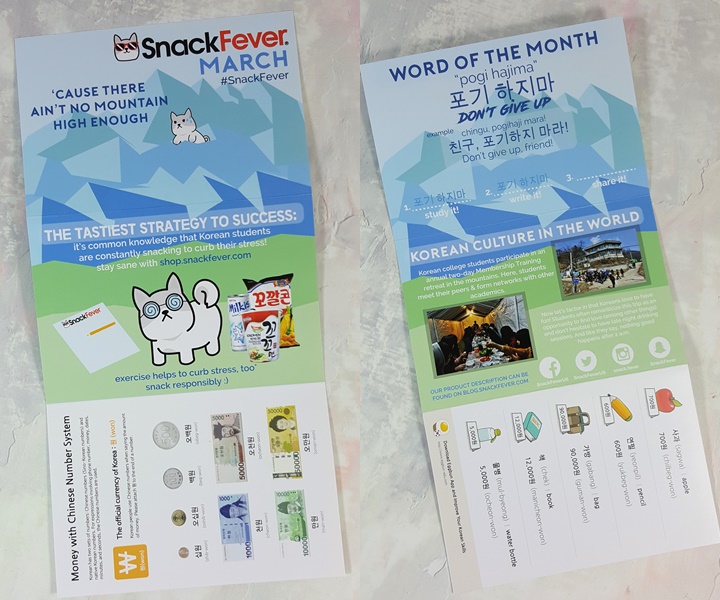 SnackFever's theme for March is success. This month's phrase is 포기 하지마 (poh-gee hah-ji-ma) or "don't give up". You can't be successful if you give up! We are also adding to last month's lesson on the Sino-Korean number system with a tutorial on money.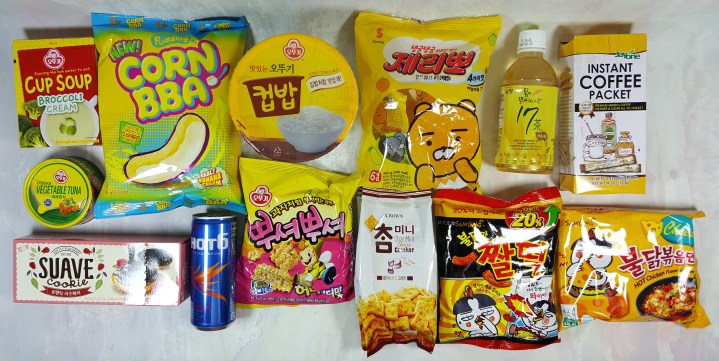 All of the foodie goodness in the March SnackFever box!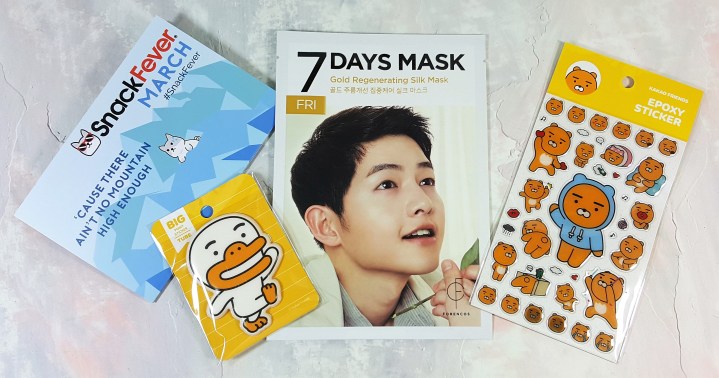 Plus, my bonus gifts!!! How adorable are these?!? For a full list of contents in each size box, click here. To see all of our SnackFever reviews (Brandy covers the Original box review), click here.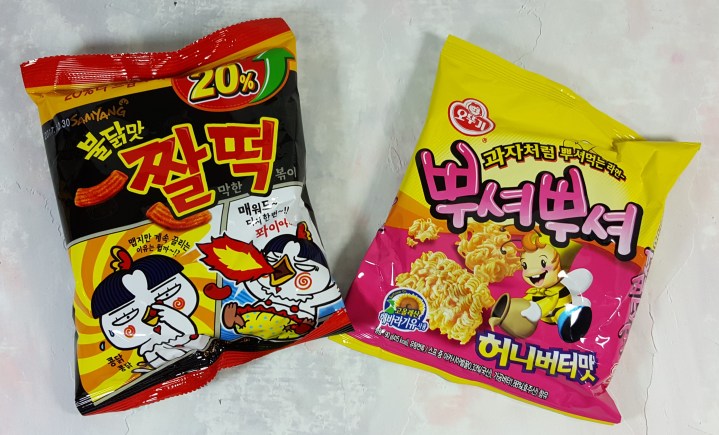 Samyang | Buldak Tteokbokki Chip: So, buldak literally translates to "fire chicken." These chips combine the flavors of spicy buldak ramyun and spicy-sweet tteokbokki into one yummy snack. If you are sensitive to heat, have a glass of milk on standby.
Ottogi | Ppushu Ppushu  – Honey Butter: I love uncooked ramyun as a snack, which is exactly what Ppushu Ppushu is. To eat, break up the noodles and sprinkle with as much flavor as you'd like. The honey butter flavor makes this more of a dessert snack. I would advise to start with a little of the flavor powder and build up. Remember, you can add more, but you can't take it away.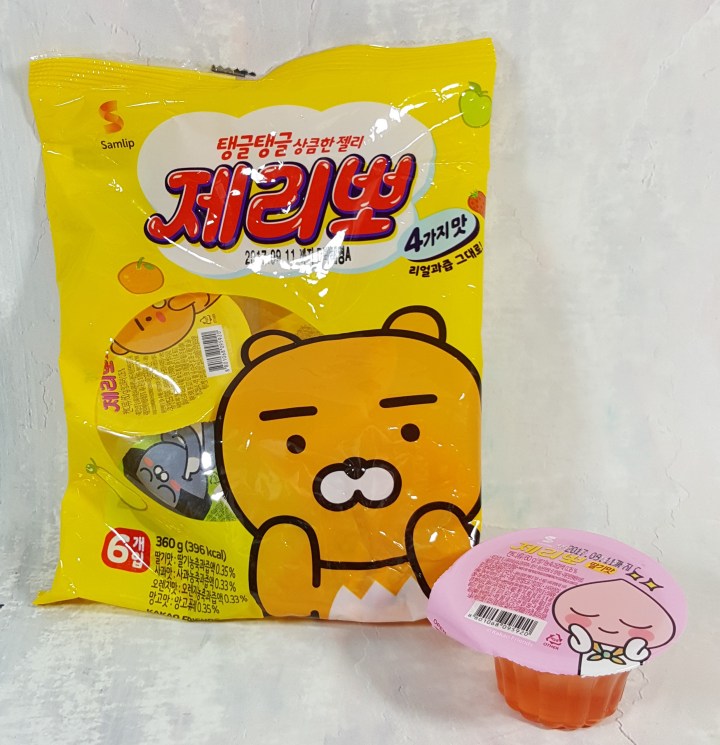 Samlip | Kakao Friends Jellyppo: First of all, let me say how adorable the Kakao friends are on these. These are individual fruit flavored jelly cups. The texture is firmer than a water jelly and looser than a traditional gelatin snack. The pack contains 4 flavors – apple, mango, orange, and strawberry.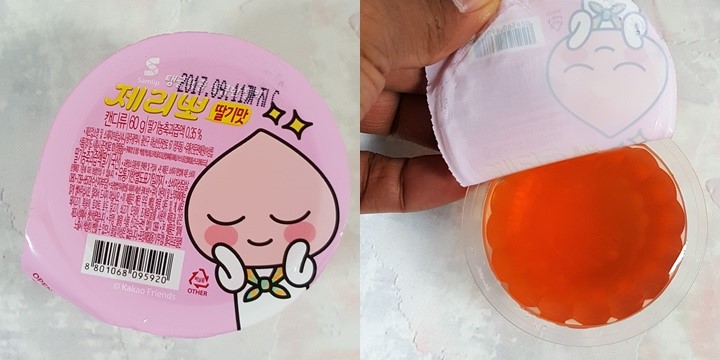 This is the strawberry cup, which makes me laugh. The little character on the front is Apeach (yes, he's a genetically modified peach). It would have made more sense to have either another character on the front or make this peach flavored.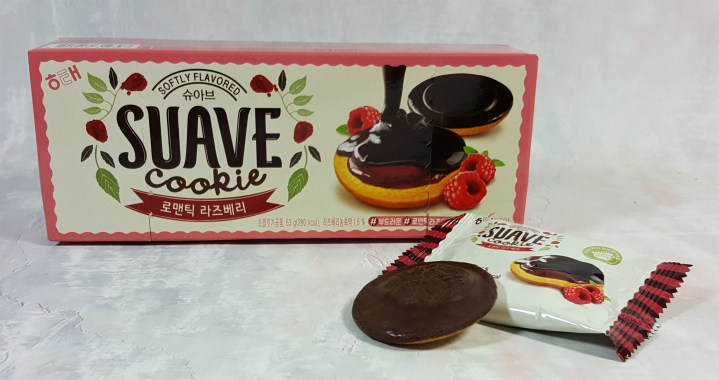 Haitai | Suave Romantic Raspberry: This is a soft cookie-cake that is topped with raspberry gel and covered in dark chocolate. I'm not a fan of raspberry flavored foods, so my sister ate this. She said it was really good, and the raspberry was surprisingly subtle.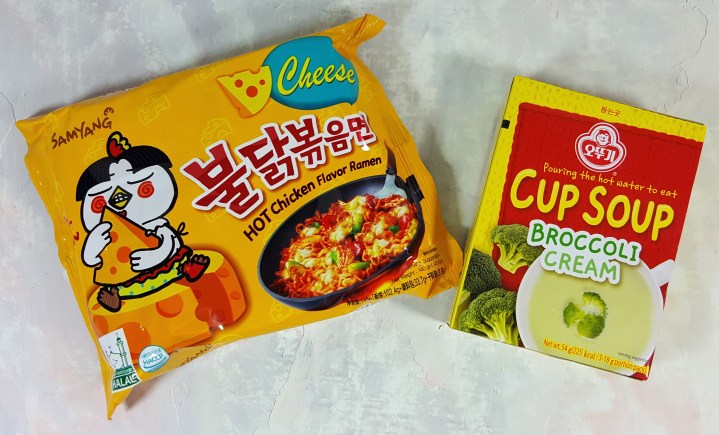 Samyang | Cheese Buldak Ramyun: Brandy says that this is very yummy. I haven't been brave enough to try it. I was good with hot (read spicy) chicken flavor, but the cheese threw me off.
Ottogi | Broccoli Soup: I've gotten these soup packets before. They are a great quick meal. It helps that I love broccoli cheese soup, so a little cheddar (and some water) is all this needs.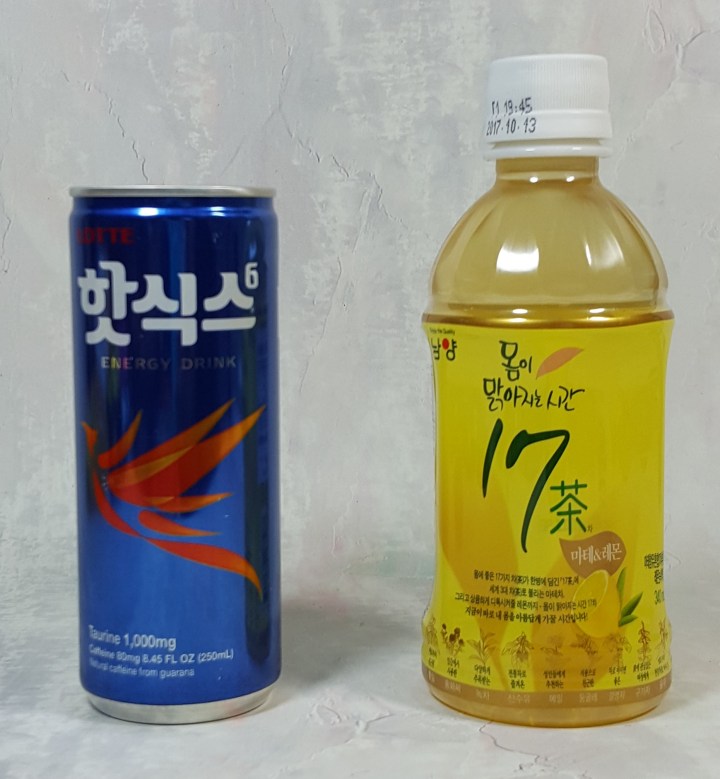 Lotte | Hot 6 Energy Drink: It's an energy drink. Tastes like one that gives you wings, but with a little more sharpness. I didn't feel a sudden burst of energy; it was more steady.
Namyang| 17mate & Lemon Tea: This reminded me of barley tea with a hint of lemon. It was refreshing.
Crown | ChamMini Cheese Cracker: This is a sharp cheese flavored butter cracker. They are light and crispy, and my fur babies enjoyed them too. LOL.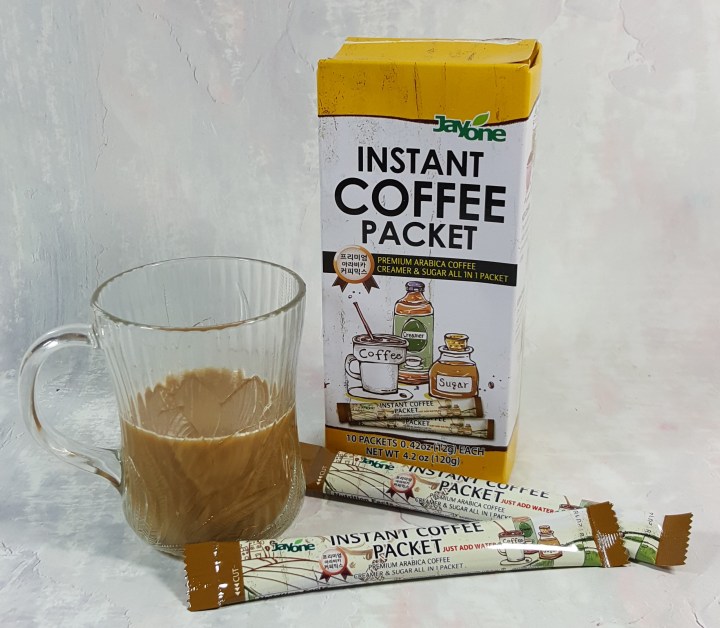 Jayone | Instant Coffee Packet: Coffee is HUGE in Korea. These instant packs have enough sugar, creamer, and freeze dried coffee for a 4 oz cup. For me, this flavor and aroma were good, but I hate that I have to use 2 packets for one regular cuppa.
Here's what one packet looks like. Everything is just waiting for some hot water.
Ottogi | Instant Rice Cup (Kimchi & Tuna): I love Ottogi's instant rice cups because they're ready to eat in just 3 minutes. This one is flavored with kimchi and tuna, reminiscent of winter kimchi.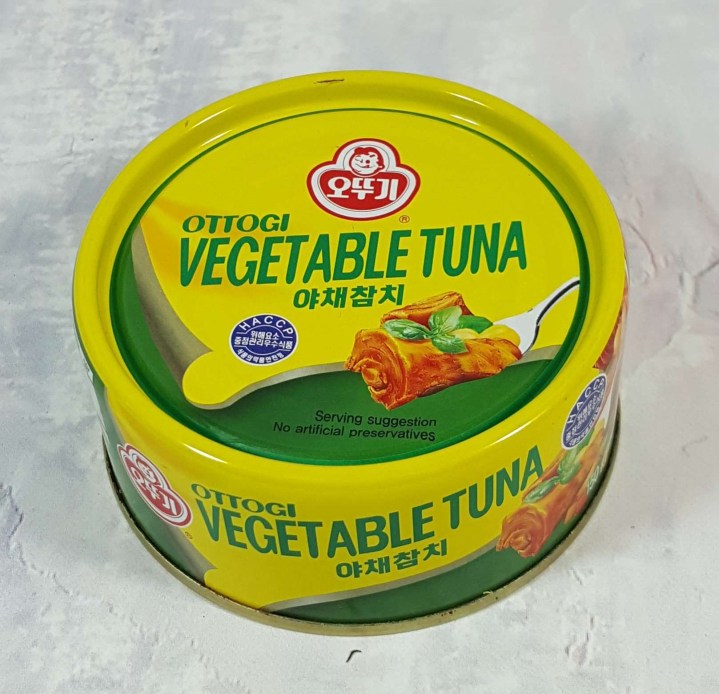 Ottogi | Vegetable Tuna: So, if you want kimchi and tuna rice, you can make your own using this can of vegetable tuna. It's tuna mixed with vegetables and sauce. Eat with a bowl of steamed rice for a quick meal.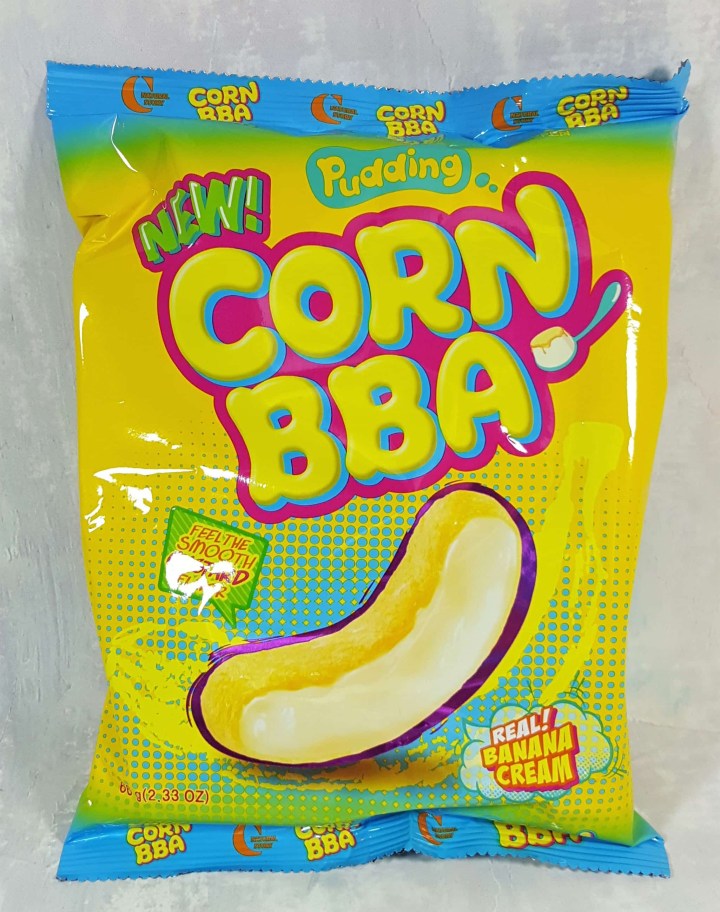 Crown | Corn Bba Pudding: Corn Bba is one of my all time favorite snacks. I've loved the banana flavored corn puffs since I was a kid. These have a twist to the classic – there's banana cream frosting on each puff!!! OMG, mind blown.
**Deluxe BONUS** Song Joong-Ki 7 Days Mask: These masks were bonus gifts in the February Original boxes. This gold regenerating mask is marked for Friday – boost your skin before heading out for the weekend.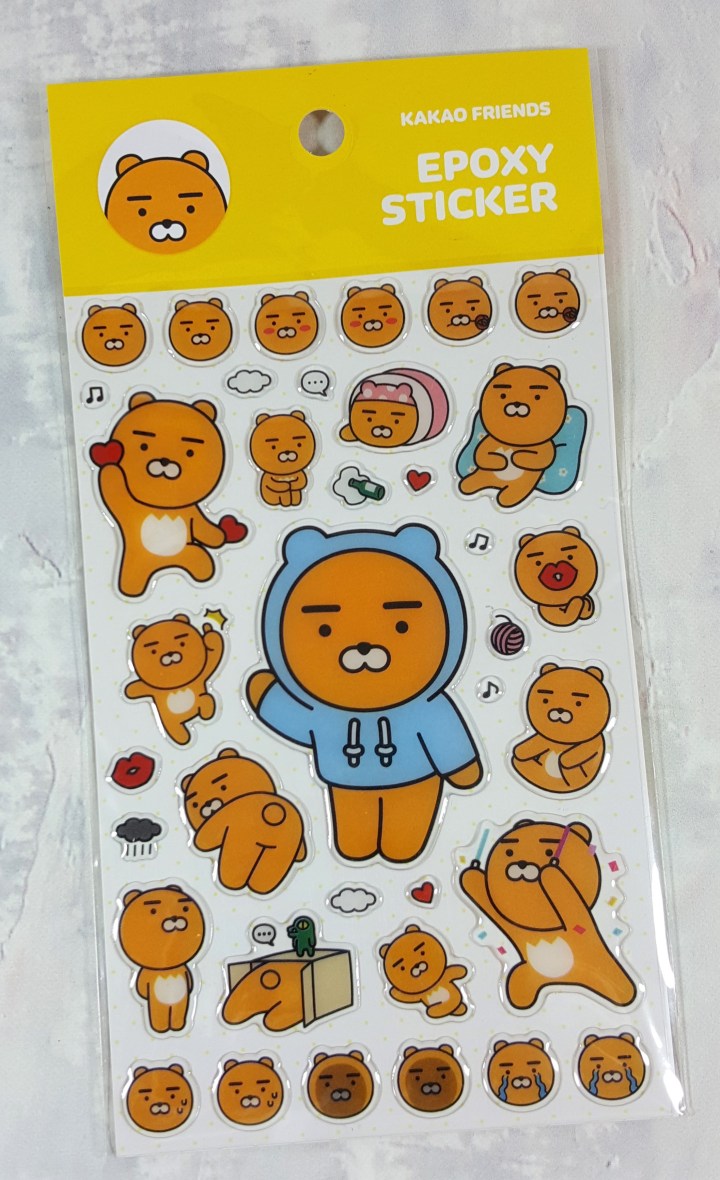 **Deluxe BONUS** Kakao Friends Puff Stickers: Kakao Talk is a popular messaging app overseas. The Kakao friends are the faces of the app, literally the emoticons. These stickers feature the super popular Ryan, a lion born without a mane. He's the leader of the Kakao friends.
While Ryan is popular, I also got a large Tube sticker. Glad that he's happy. Just don't mention his feet, though, or you'll get fire breathing green Tube.
The March Snack Fever box made me very happy, especially the corn bba. Now to veg out with my 7 Days mask, a snack, and a K-drama. Can't wait to see what April brings in.
Have you tried Snack Fever?