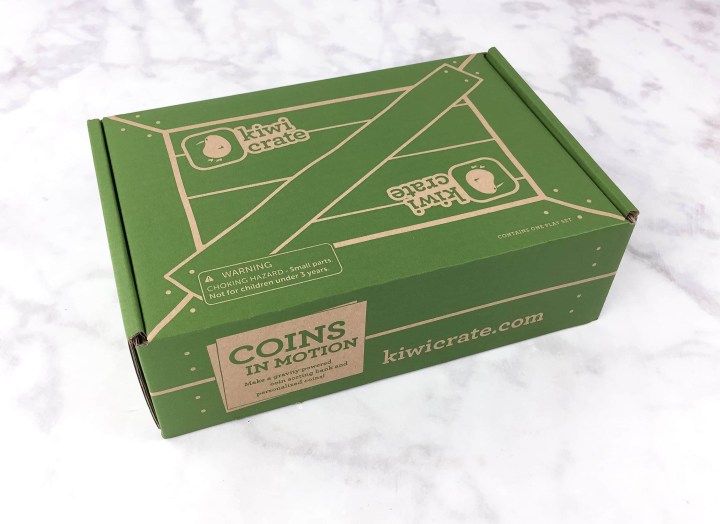 Kiwi Crate is a kids' craft and activity subscription that comes with everything you need to complete a great project or two, usually a pair of crafts that can be used as toys or playtime props. The box is geared for ages 5-8, and the projects are always age-appropriate, though some require more parental assistance than others.
Kiwi Crate is the most popular craft and activity subscription box for kids!
This month's theme is Coins in Motion! Kiwi Crate includes all necessary supplies for the featured activities, plus explore! magazine.
DEAL: Use this link to save 30% on your first box of Kiwi Crate!(or KiwiCo family subscriptions Tinker Crate, Koala Crate, and Doodle Crate).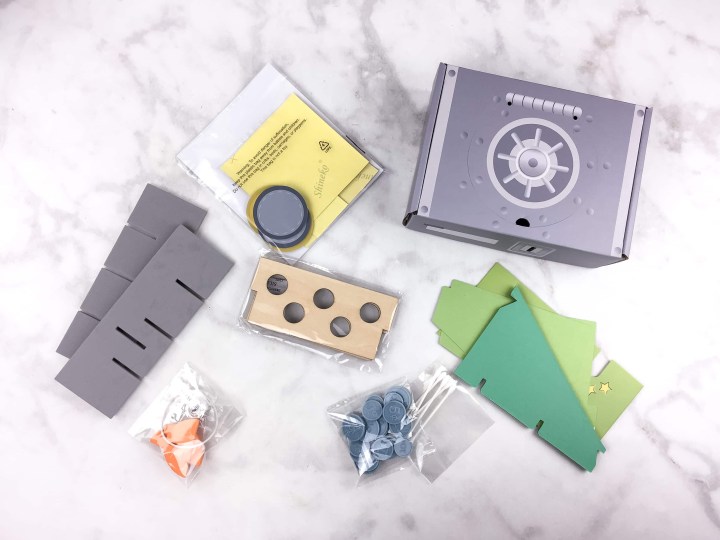 You really need very little from home to do the crafts. Usually, you only need a pair of scissors (they sent us a Kiwi Crate branded pair in our first box!), but often the pieces are pre-cut, scored, or otherwise prepared for you already. The crate includes self-adhesive items or glue/glue dots if needed for the crafts.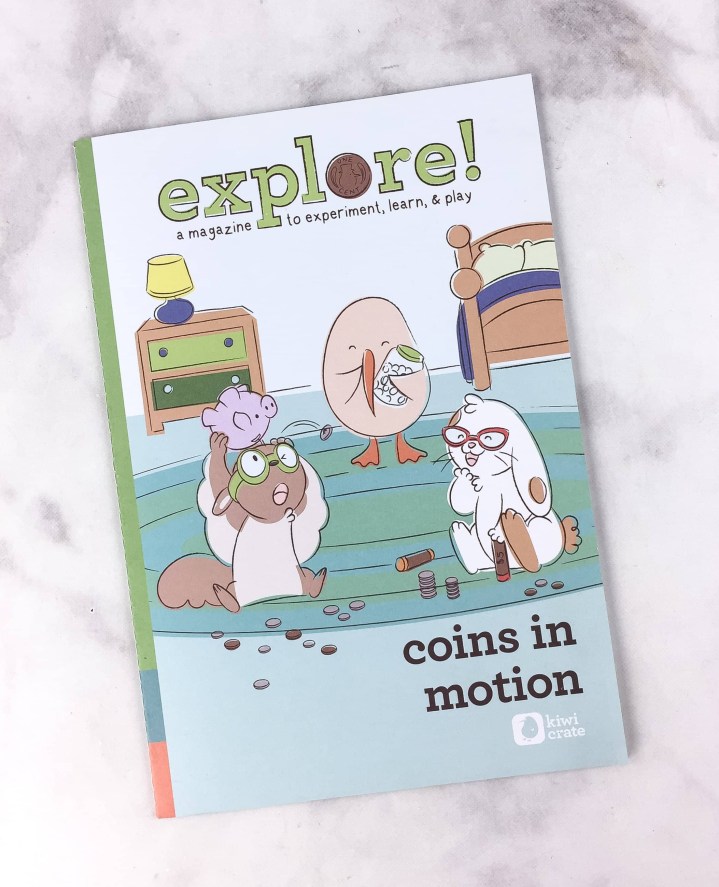 An issue of explore! magazine is included in every Crate. It is full of fun content that brings the project to life.
There is always a comic featuring Steve the Kiwi and his pals, plus lots of historical and scientific information relating to the current theme.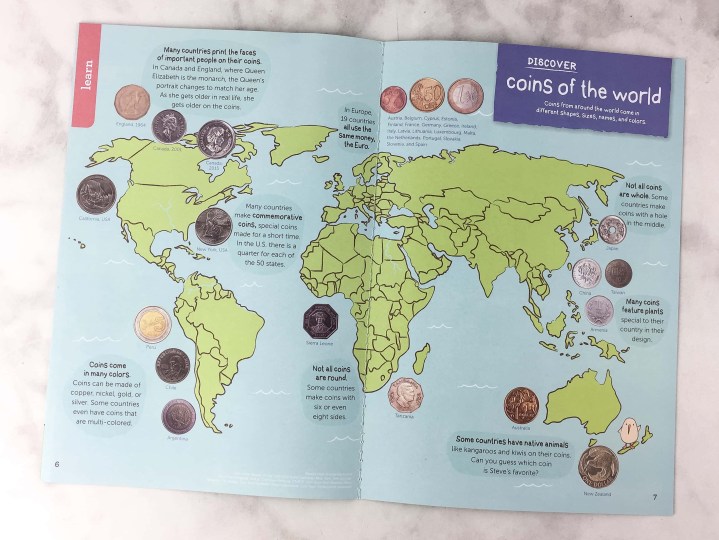 explore! teaches kids some of the science at work behind the project.
It usually includes extension activities and some simple observational experiments to learn more about the principles underlying the project.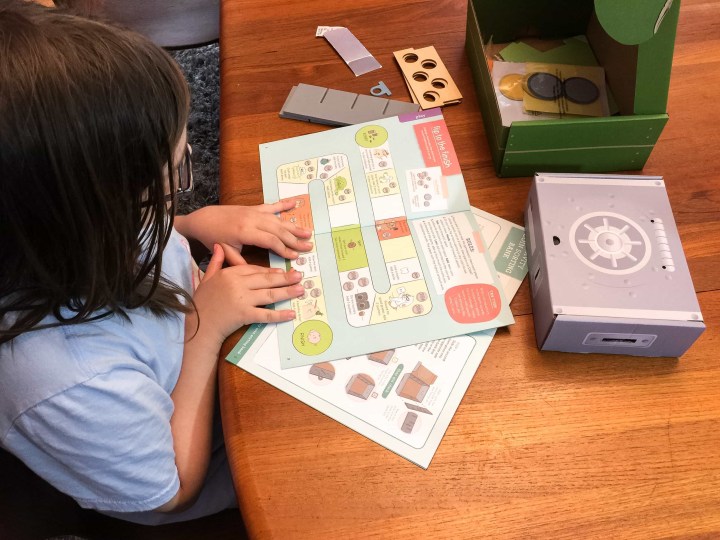 Our kids love to go through everything in the booklet first before starting the main project. explore! has read, draw, learn, explore, eat, and make designated activities. There is really a lot to look at and read – a comic, puzzles, and games – and it really extends your young one's engagement with the Crate. Each expands on the theme of the box, whether through factoids, drawing activities, or recipes, but the variation is helpful for engaging different learning styles and interests.
Every Kiwi Crate comes with a unique Steve sticker (like your merit badge for completing the box). The first box of an annual subscription includes a poster for displaying your earned stickers.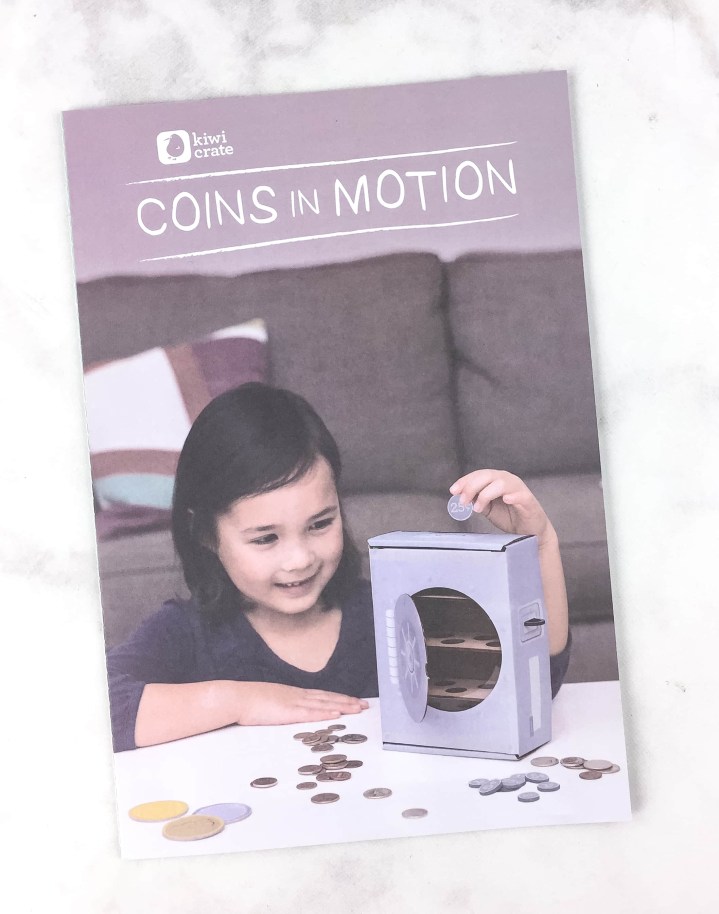 The second booklet that comes in every crate is the actual instruction booklet for the crafts, and often it includes additional activities beyond the extension projects included in explore!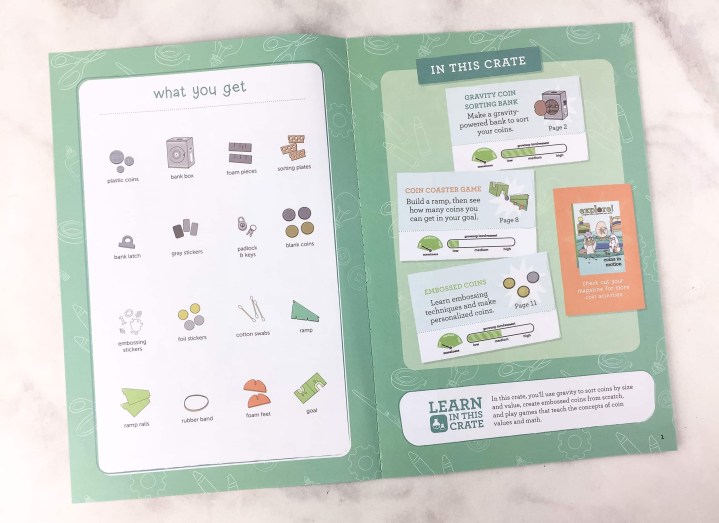 Each Crate usually has three activities – either separate projects or phases of a single, large project. The booklet includes an inventory of all the supplies included in the Crate, plus a messiness and parental involvement rating for each project.
Step-by-step instructions guide you through the project.They are clearly written and very easy to follow, pointing out potential pitfalls so you don't go astray.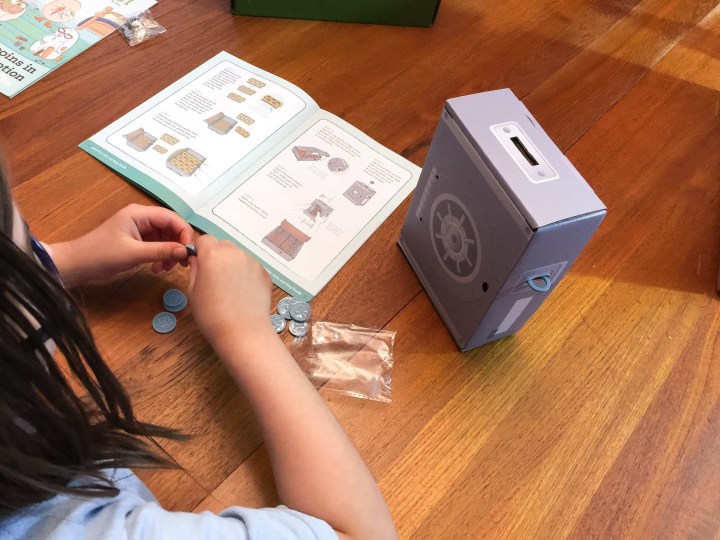 Our first task was constructing a coin vault that sorts coins by size.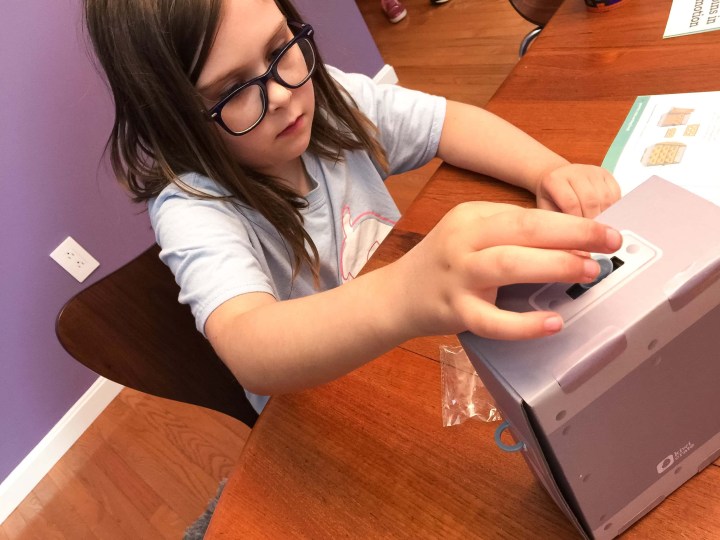 As the coins fall through a series of boards with coin-sized wholes, larger coins get caught by progressively smaller holes.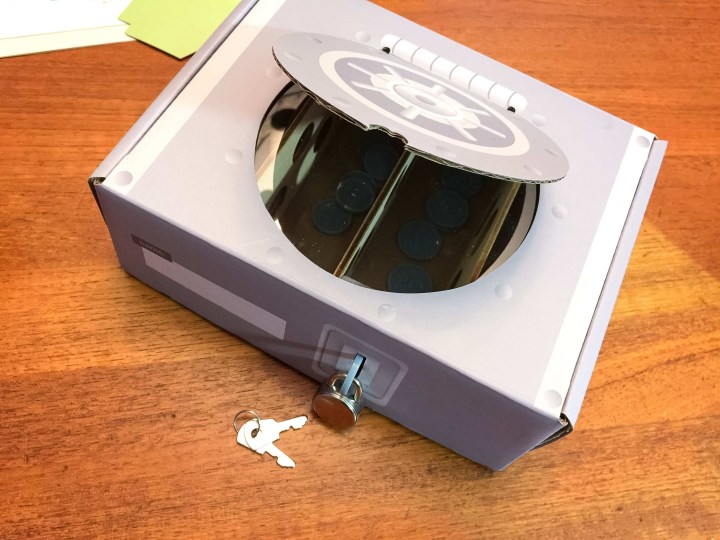 After sorting, we turn the vault on its side and open the door to view our sorted coins through the clear window. The case also has a small working lock to safeguard your coins (though I wouldn't rely on this setup for security, only to avoid toddler tampering).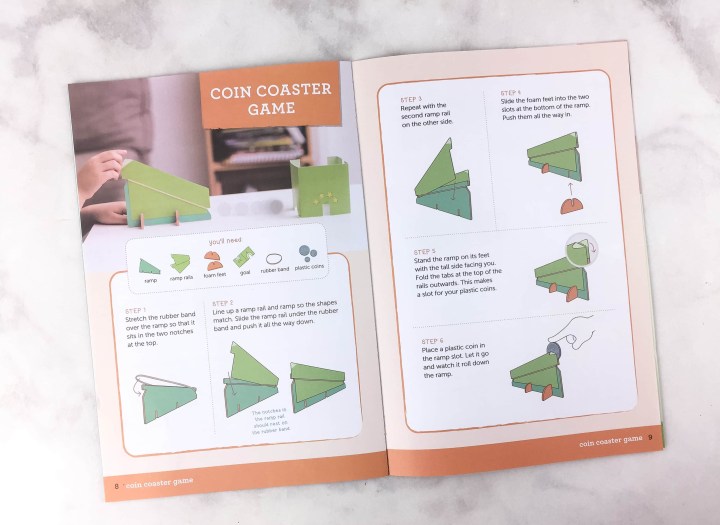 The second project was a coin coaster.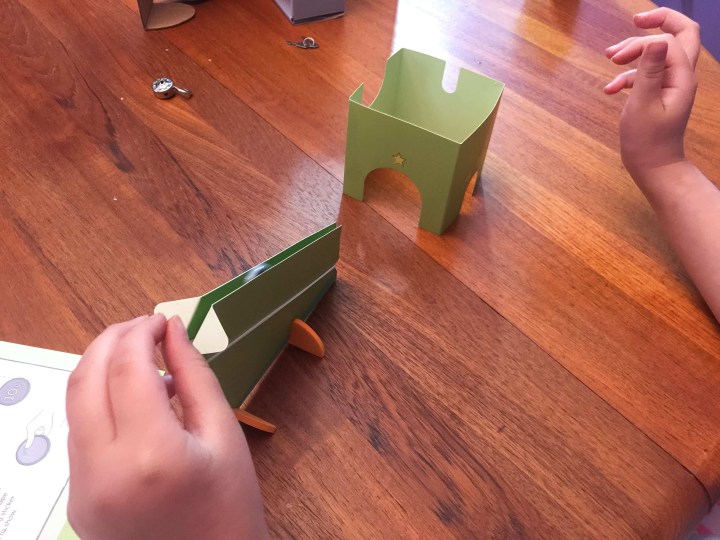 We built a coin launching ramp that let us send a coin rolling across the table.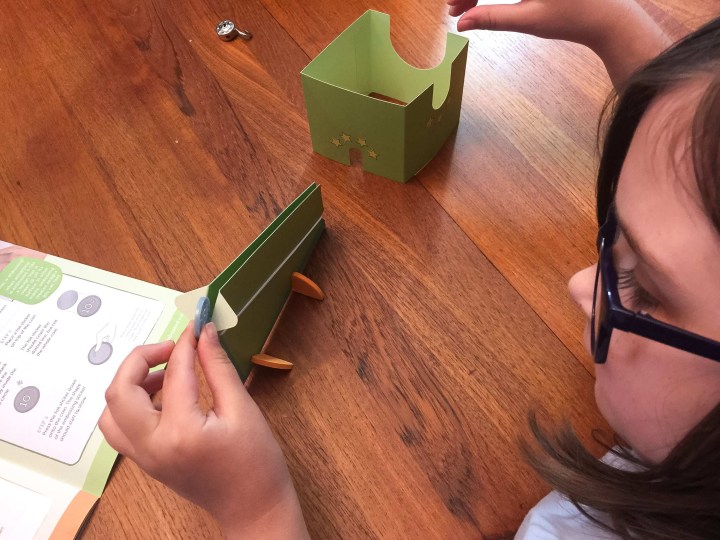 We also made a four-sided target box with openings in varying sizes. Getting through the smallest slot was quite a challenge!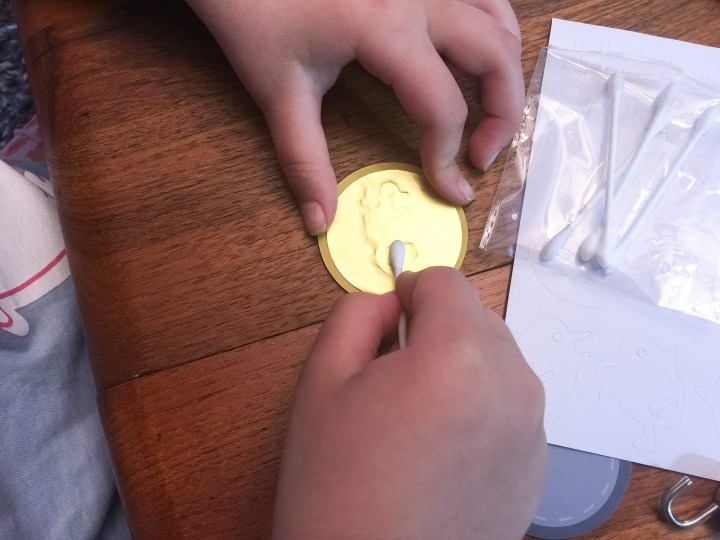 The final project was making embossed coins. The kit included the molds, foil, and cotton swabs to create our shiny coins using a rubbing technique.
Kiwi Crate is reliably awesome! This box was fun reminder to acquaint your children with coins and money, something most people handle with increasing rarity. We love that the Crate is suitable for a wide age range (years 5-8 actually covers a lot of ground, educationally and developmentally) – there is enough information and complexity to immerse older kids, while the light-hearted and approachable nature of the box makes it easy to use for Kindergartners, too. Kiwi Crate is great at gently introducing some science, history, and other lessons into the projects, offering both entertainment and educational value.
Visit Kiwi Crate to subscribe or to find out more about this fantastic kids' craft subscription box!