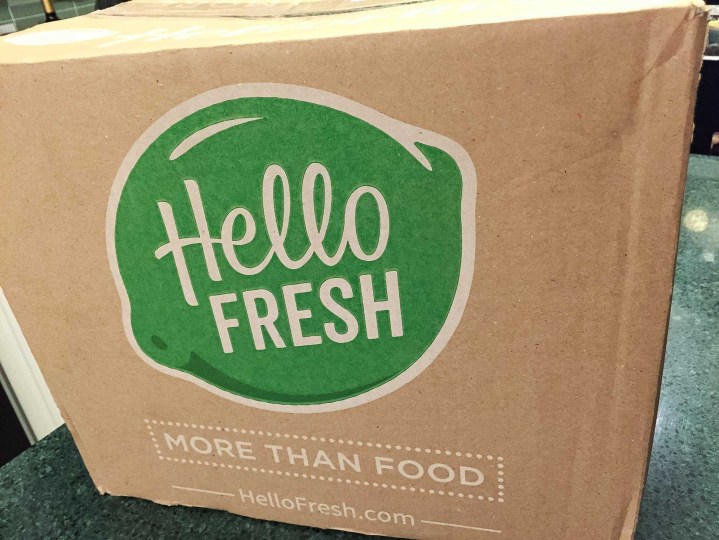 Hello Fresh is a meal kit subscription box with complete recipes and ingredients to make 3 meals every week, with each meal feeding either two or four people, depending on the plan you choose.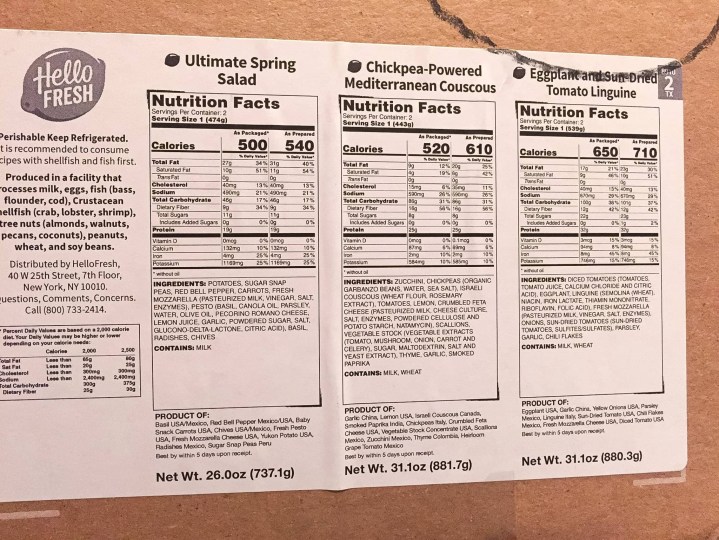 Though it is a subscription, you can pause your deliveries when needed – whether you are out of town, have other dinner plans, or just aren't in love with that week's selections. The standard subscription provides high-quality meats (free-range chicken, antibiotic meats, etc.) to use in the recipes.  
DEAL: Currently, you can save $40 off your first box with coupon code 7UT7K8.
Hello Fresh has great instructions, and they are easy to follow even if you are an inexperienced cook. There are even some kitchen tips included in the information card.
Though we do eat meat, we cook vegetarian three times a week. Thankfully, Hello Fresh has a vegetarian subscription for both casual and dedicated vegetarians.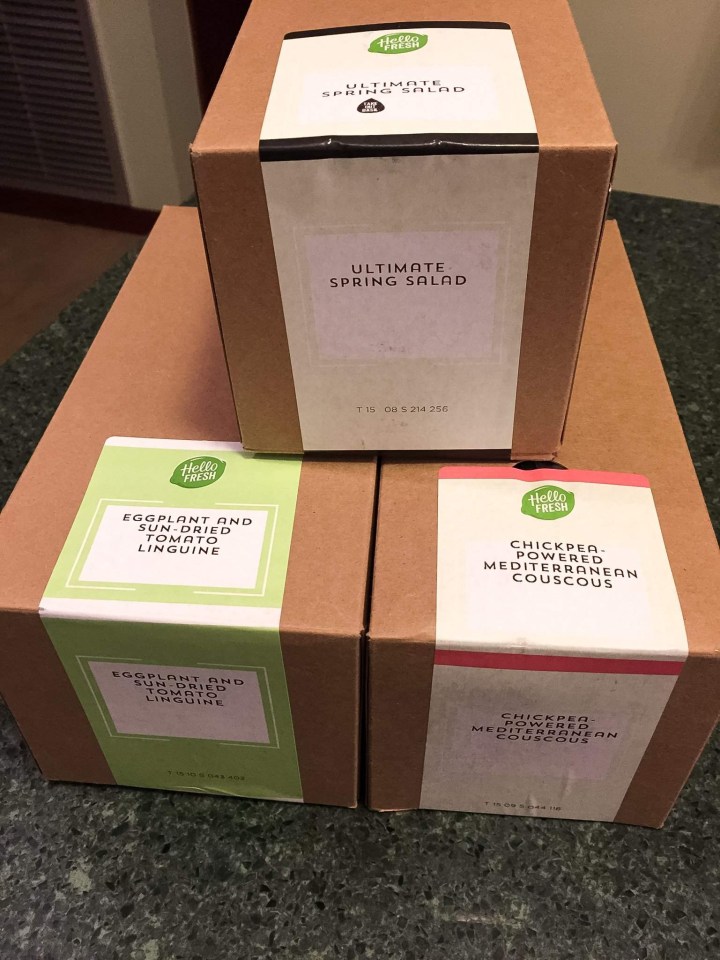 The boxes used by Hello Fresh keep all the ingredients for the recipes in order, and they stack nicely in the fridge. Within each box, everything but the largest vegetables is separately packaged and is packed at the bottom. Condiments and canned goods are provided in high-end, commercial packaging. Hello Fresh usually provides spices in their own, pre-measured branded packaging.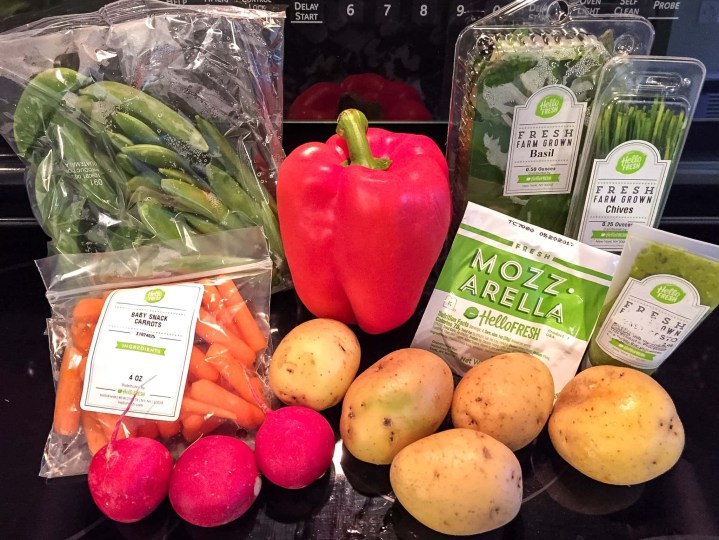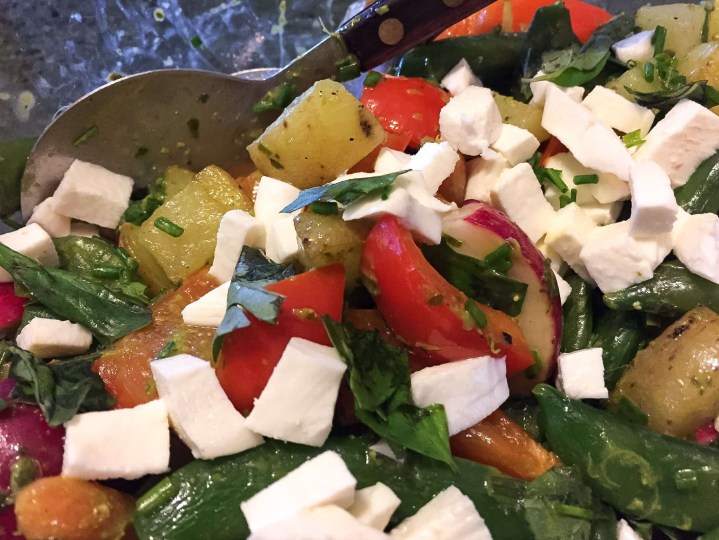 Ultimate Spring Salad With Radishes, Snap Peas, Pesto, And Mozzarella. 35 minutes, level 1, 540 calories per serving.
Loved, loved, loved. If I used emojis here, there would be a long string of hearts, butterflies and all things pretty. I'm a vegetable lover so to start right off with all the wonderfully delicious vegetables loaded in the box… wowzers. And then there was the #1 sauce: pesto sauce. Add that with the chives, basil, and mozzarella and you have one glorious salad. This would be a perfect salad to take on a picnic. You really don't need much else maybe a fine wine and you could really impress the person you're with.

The looks of the salad is also very appealing, lots of bright colors: reds, greens, orange, yellow, and a little bit of white from the cheese and radishes. Perfectly pleasing to the pupils!
Ultimate Spring Salad, is ultimately one of my favorites.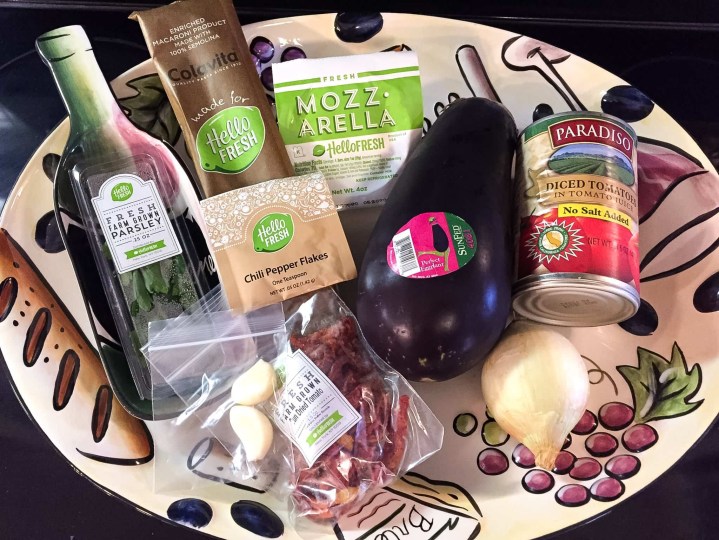 Eggplant and Sun-Dried Tomato Linguine. 35 minutes, level 1, 710 calories per serving.
Threw this together very quickly while mom's were picking up grandkids and a dad was picking up granddaughter's boyfriend, husband taking 1 granddaughter to dance and so on. My point…in spite of a very hectic schedule you can make a fabulous,nutritious, and delicious meal.

So I'm taking my pictures of the food and my oldest daughter walks in and says how good it smells in the house. This is the daughter that went to culinary school, so that's a real compliment. Then she starts picking out tomatoes off my plate! Then it was the chickpeas, then she looks at the couscous and she's never seen Israeli Couscous so she gets a fork. Geez, Louise, get your own plate! Finally, she does get a small bowl full and her comment, "this is weirdly delicious." My husband and I thought that was a funny description. We think it was the smoked paprika, thyme and lemon juice tastes that she was referring to. She also went on and on about the Israeli Couscous and she's going to have to go find some in stores.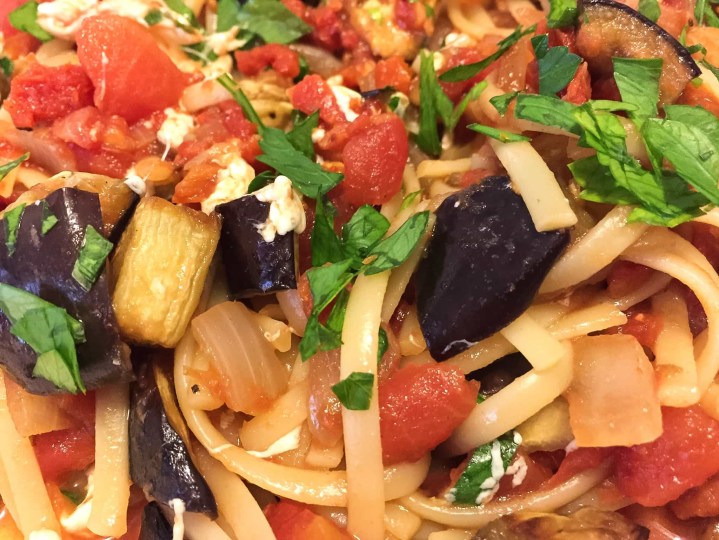 So let's sum this up, you've got a meal that's simple to make and weirdly delicious! What more could a person want?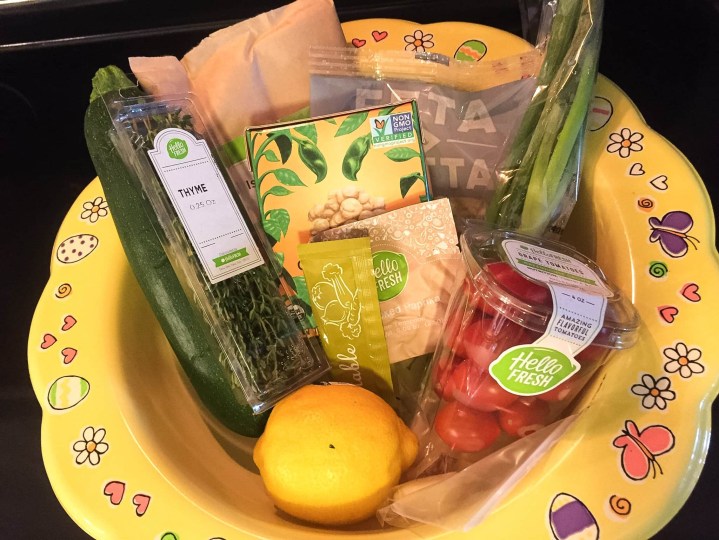 Chickpea-Powered Mediterranean Couscous With Roasted Veggies And Feta. 30 minutes, level 1, 610 calories per serving.
Spaghetti is always a crowdpleaser no matter what you do to it. It's usually cheap, easy and not many people won't eat it. I had my folks over tonight to share this wonderful dish and my dad even ate every bite! It's amazing because he doesn't like eggplant but he ate it all and liked it. Even an old dog can learn new tricks (dad's 82). Now don't think I tricked him or anything, as soon as my Hello Fresh box was delivered (I love food delivery) I ran over to my folks' house and let him choose which recipe he wanted. I guess it looked good even to him. And if you look at the pictures it does look good. Just a touch of green parsley mixed in with white mozzarella, luscious red tomatoes (dried and canned), and the eggplant mingled in with the noodles.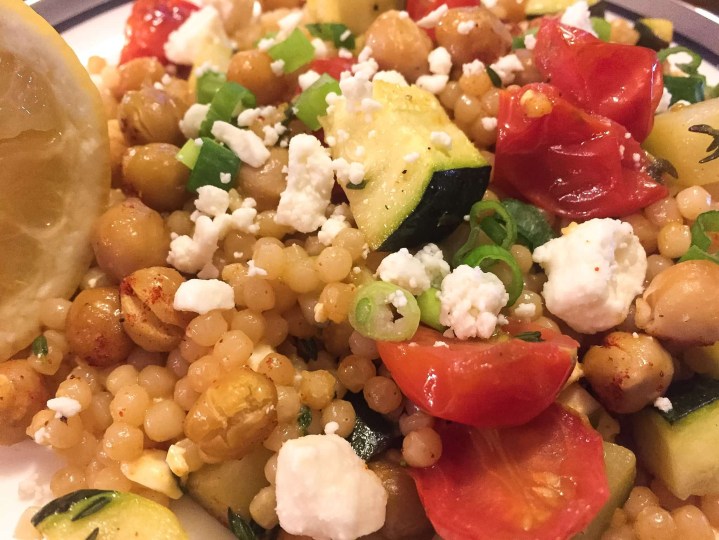 We enjoyed the tangy flavor of the sun-dried tomatoes. I particularly like the eggplant, not just the taste but knowing how nutritious it is, is always a plus. My mom liked the garlicky smell when she walked into my home and my husband, well he just likes the taste of  food in general! The hint of heat from the chili flakes was just enough for us to know it was there but not enough to break out in a sweat with.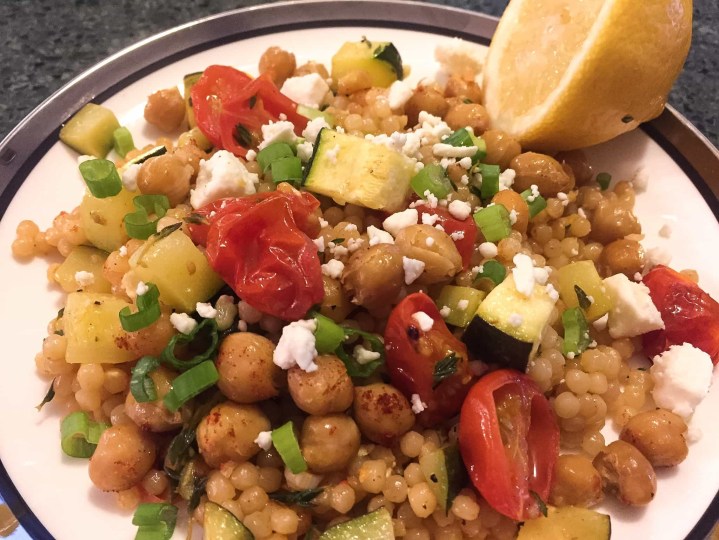 I think the only thing that could have made this so much better… a glass of Chianti. Oh well, next time. (Hello Fresh Wine is coming soon!)
 Visit Hello Fresh to subscribe or find out more!