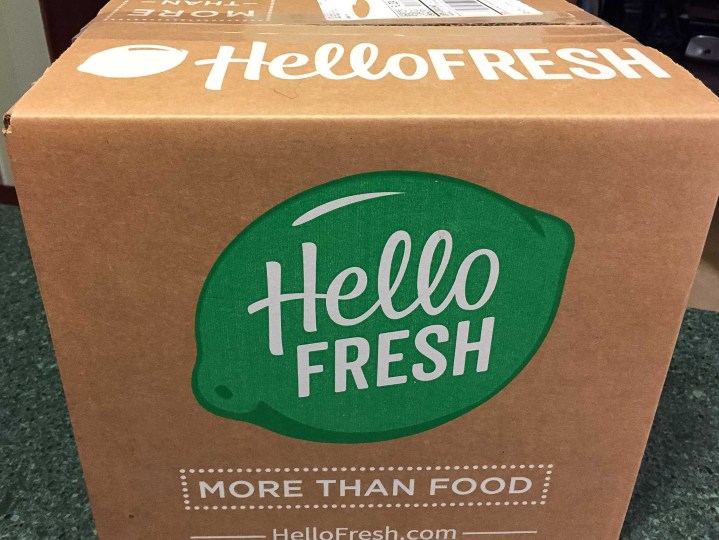 Hello Fresh is a weekly meal kit subscription box with complete recipes and high-quality ingredients to make your own fresh, healthy, gourmet meals at home. 
They offer three different subscription options — Classic (choose 3, 4, or 5 meals for 2 people or 3 meals for 4 people from 6 weekly options), Vegetarian (receive 3 HF-selected meals for 2 or 4 people), and Family (receive 3 HF-selected meals for 2 kids and 2 adults). You can always pause the subscription to skip a week if you need to – this is super handy for vacations!
This review covers the Vegetarian subscription!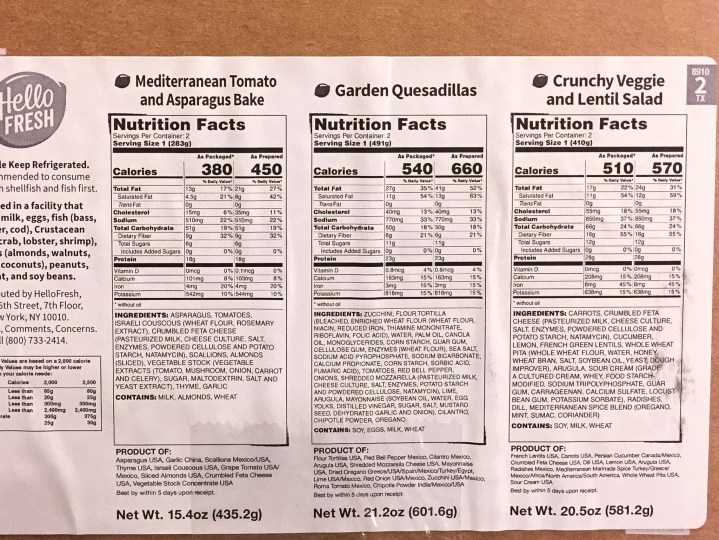 A big sticker on the outside of the shipping box has complete nutrition information for each recipe, including a list of all ingredients and their country of origin.
DEAL: Currently, you can save $40 off your first box with coupon code 7UT7K8.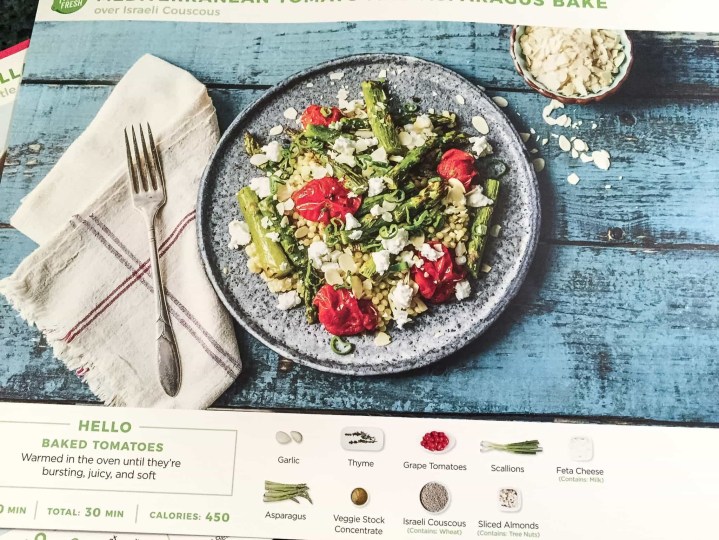 Each Hello Fresh recipe has its own lovely card with a picture of the plated dish, prep time and total time to table, calorie count, and a visual inventory of the included ingredients.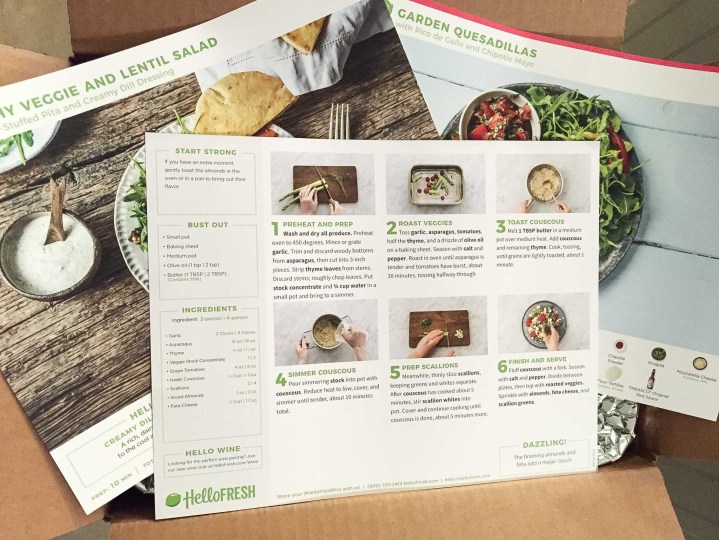 The instructions are easy to follow, regardless of your skill level. Usually you start by washing and prepping all the ingredients before cooking. Within the detailed, step-by-step instructions, ingredients are set in bold type for ease of recognition. Info panes in the sidebar list anything you'll need from home (pans, cooking oil, etc), as well as the quantity of each provided ingredient needed for 2 and 4 person versions of the recipe.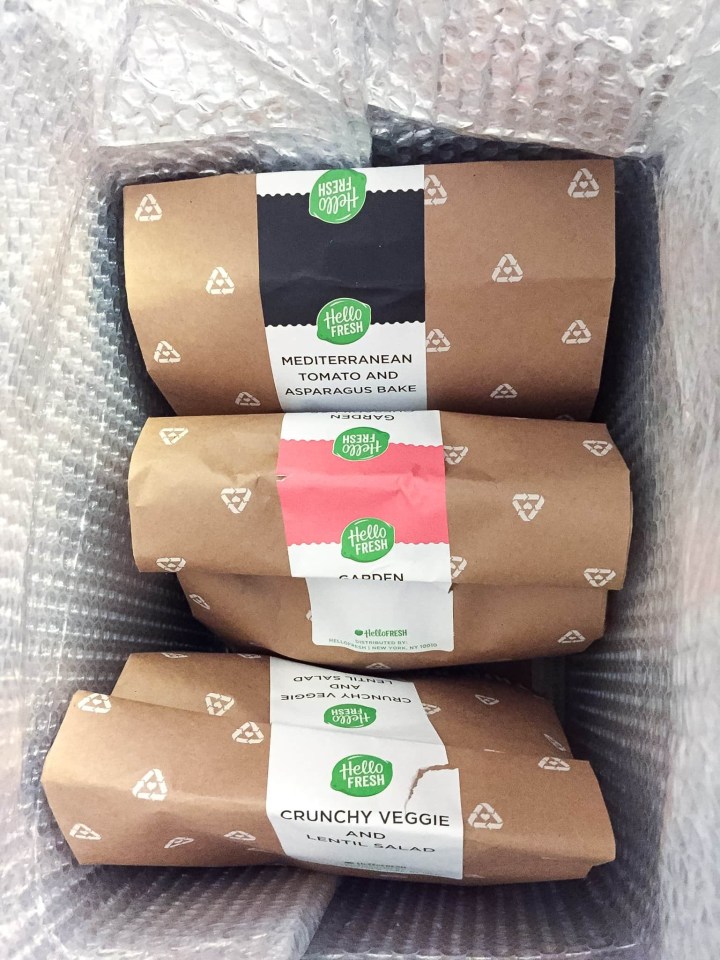 The ingredients for each meal are packed in separate bags within a padded, insulated cooler bag. Several ice packs keep everything cold, with the individual paper bags protecting the ingredients from touching the ice directly.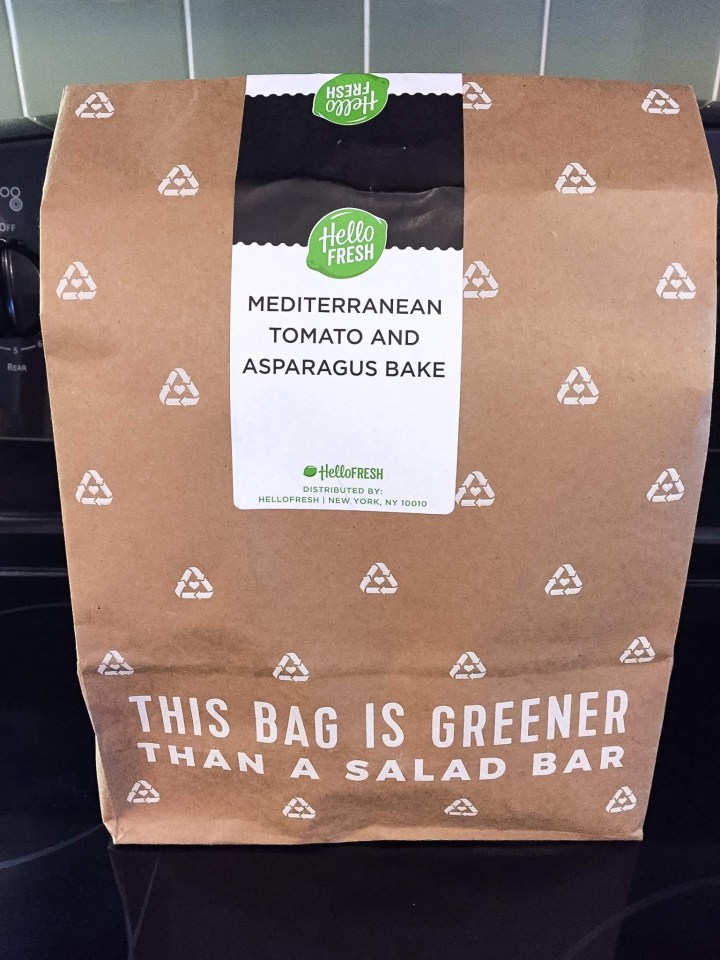 The brown bags used by Hello Fresh keep all the ingredients for the recipes in order. Everything but the largest vegetables is separately packaged within the bags. Condiments and canned goods are provided in high-end, commercial packaging. Hello Fresh usually provides pre-measured spices in their own branded packaging. Big props to Hello Fresh for cutting down the box size and using green bags. Thanks for being environmentally conscious. Don't forget to recycle the big boxes along with the freezer bag inside. I've found a place in my town that will use both to deliver meals to others. Recycling is the way to go!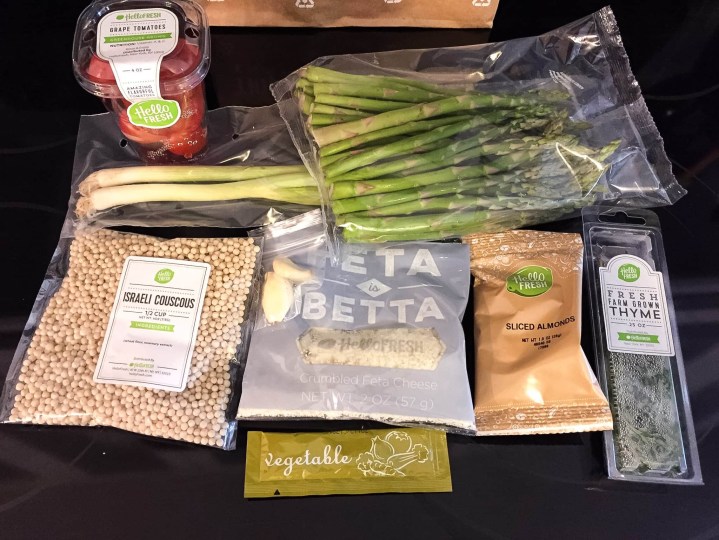 Mediterranean Tomato And Asparagus Bake Over Israeli Couscous. 30 minutes, level 1, 450 calories per serving.
This seemed like another great dinner from Hello Fresh, all fresh vegetables, Israeli Couscous, cheese and almonds.  Yum, until I ate my first bite. WOW! For me this was sensational! Just something about this blend of ingredients really knocked my taste buds for a loop. My husband, Mr. Butter Lover, noticed the buttery flavor. You don't use too much butter in Hello Fresh meals so he was delighted with that bit of butter used to cook the couscous.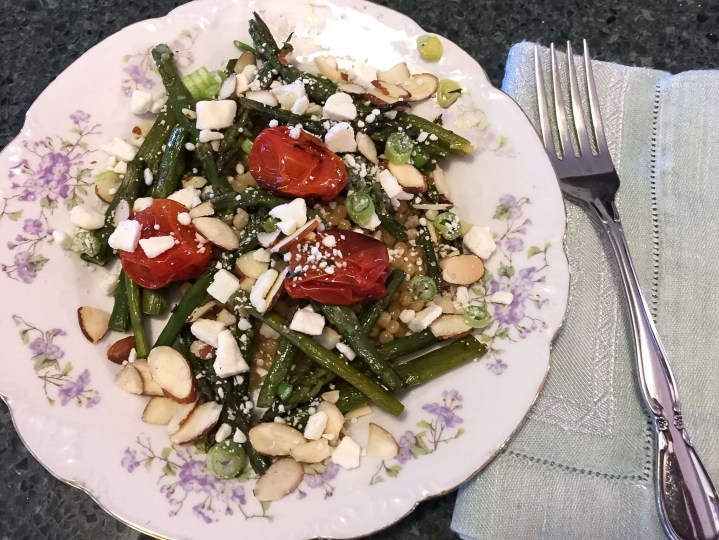 Except for having to strip the stems of leaves, my husband and I have fallen in love with the taste of thyme. I am also now a big fan of Hello Fresh's veggie stock concentrate and wish they would sell that separately! Hint, hint, Hello Fresh, are you listening? Definitely something about the ingredients in this meal. I do believe the butter, thyme, stock concentrate and the rest was the perfect mix.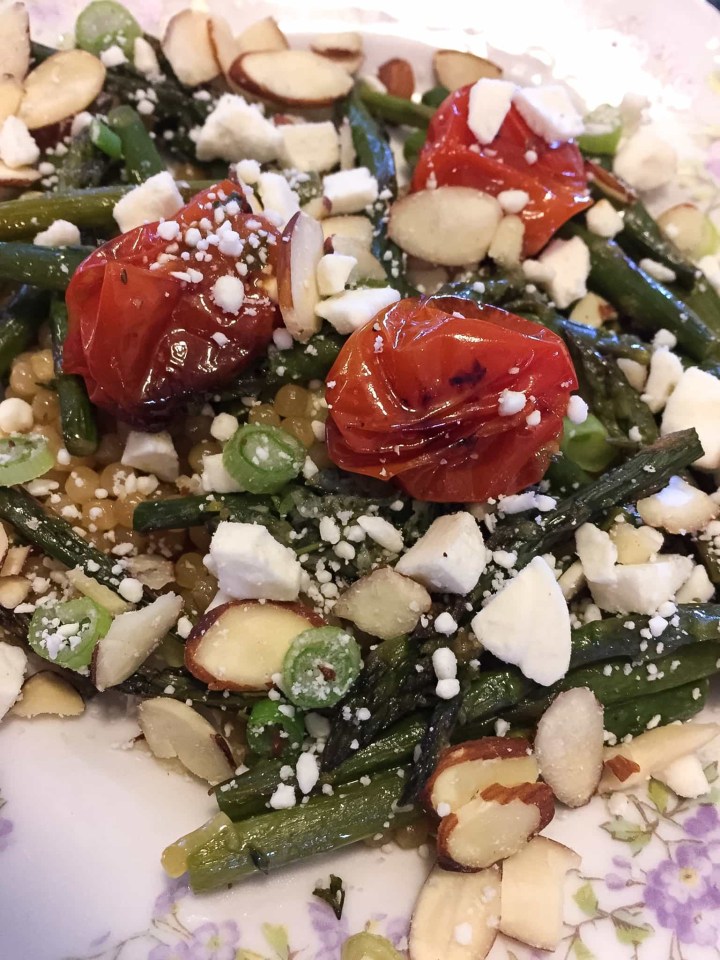 I hope you enjoy this meal as much as I did. We usually cook Hello Fresh's meals for dinner but today we cooked it for lunch. Our leftovers will be dinner for us, I can hardly wait!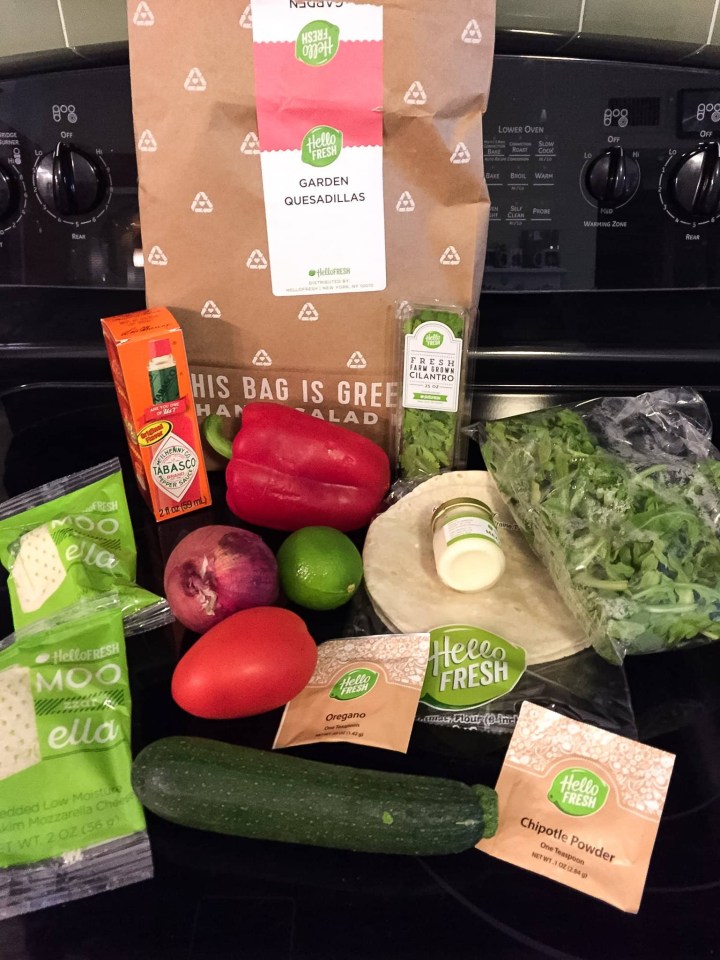 Garden Quesadillas With Pico De Gallo And Chipotle Mayo. 35 minutes, level 1, 660 calories per serving.
Garden Quesadillas with Pico de Gallo and Chipotle Mayo is a perfect dish for Cinco de Mayo. Ha! Funny, mayo for Mayo! Just noticed that. Funny or not this is a great meal to celebrating.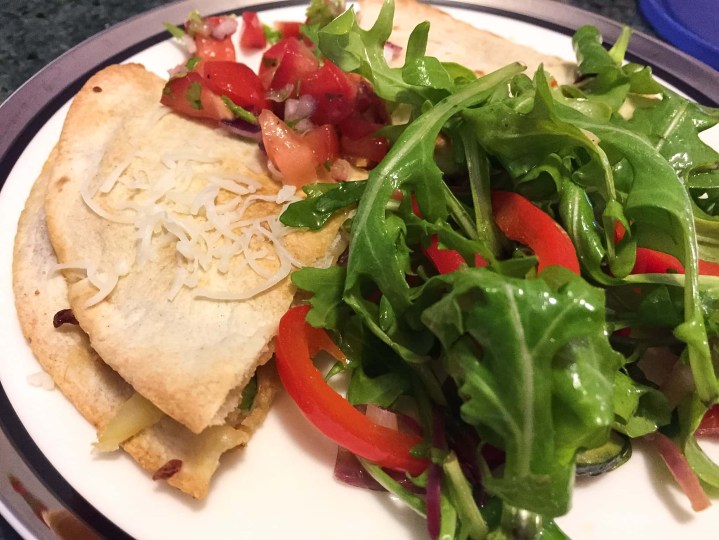 The quesadillas would make a great party food as long as you didn't stuff them too full of the roasted veggies. The mayo and melted cheese would hold the veggies in place and it could be easily eaten by hand.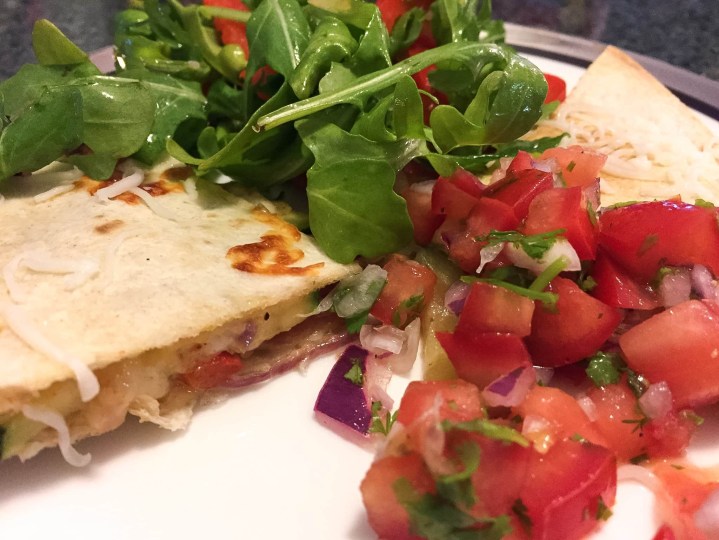 The recipes says that Hello Fresh sent extra flour tortillas. I used all six and it was just perfect for the 4 of us. Not any crumb or morsel left over here. I used everything up except the Chipotle Powder, we're a mild bunch.

This was fresh and very "sabroso." Feliz Cinco de Mayo!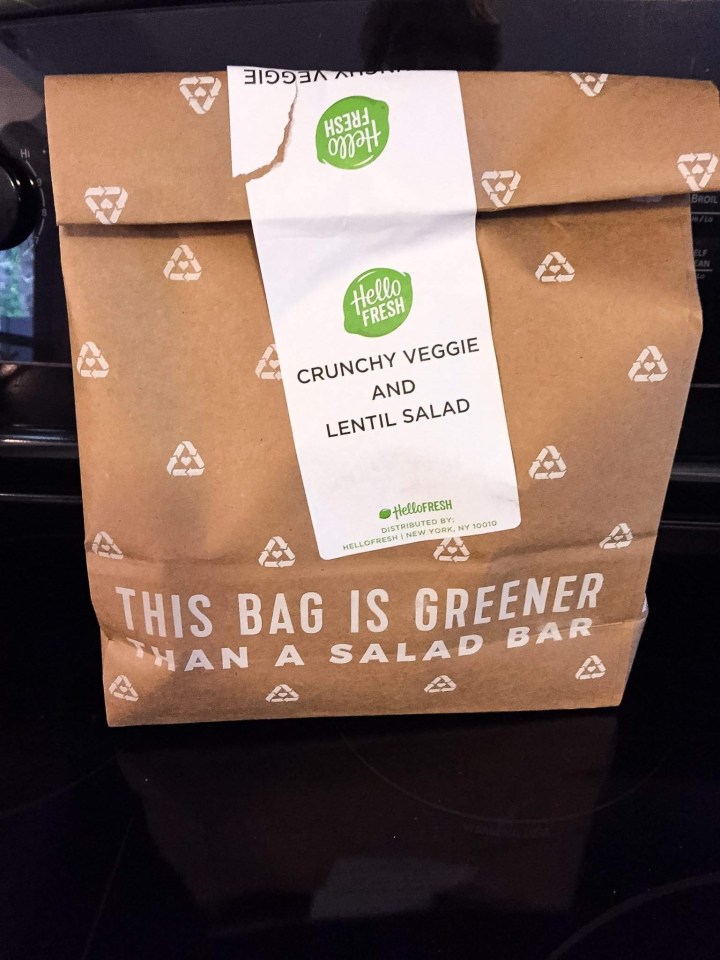 Crunchy Veggie And Lentil Salad With A Feta-Stuffed Pita And Creamy Dill Dressing. 35 minutes, level 1, 580 calories per serving.
We made this for lunch today as I will be busy with church lady stuff tonight and it made for the perfect lunch.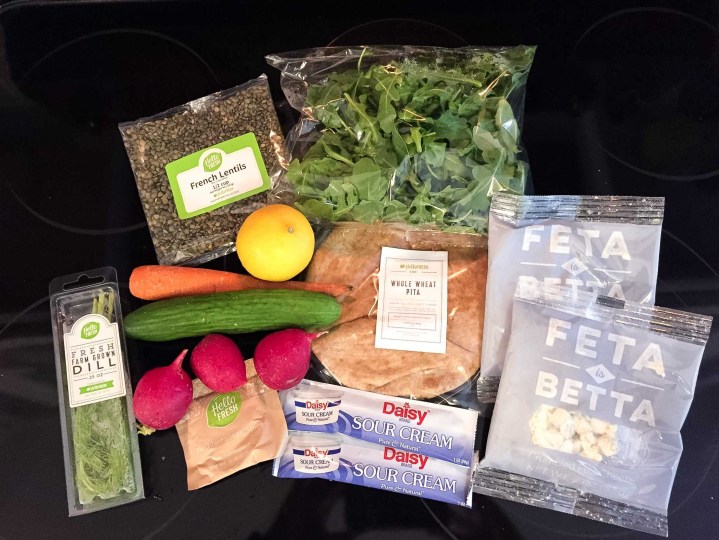 Lite and delicious salad but filling because of the lentils. To me what brought this all together was the dressing of Mediterranean spice blend, sour cream, dill and lemon juice. I accidentally put in all the spice blend, even read the directions twice! And still managed to mess up. Oh well, it was still very good. I do like my dressings.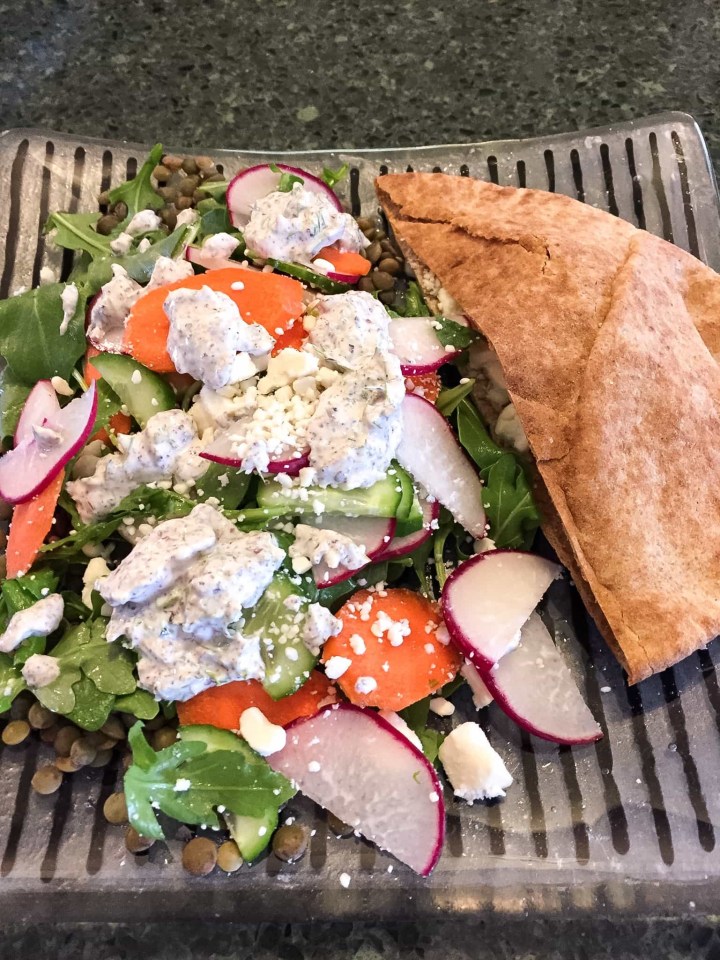 Something new in this recipe, just doctoring up the pita just a tad with dill and feta cheese and then toasting it in the oven. Good grief was that a great bread to eat with the salad.
As for the salad, who would have thought to put radishes with cucumbers and carrots. I thought perhaps the radishes would overpower the other veggies but no. It was all good.
Yes, this was a very good lunch and my husband's eating the leftovers for dinner. Lucky him!