Gobble is a weekly dinner kit subscription box. Each prepped and portioned meal is $11.95 per person at regular price. Gobble currently ships to California, Nevada, Washington, Oregon, Arizona, Idaho, and Utah.
What's cool about Gobble is that they do the prep work for you! Each recipe comes with a high-quality recipe card, side one includes the household items that you'll need to prepare your meal, the contents of each dinner kit and a little bit of trivia. Side two has simple to follow directions that are as easy as one, two three. Gobble promises that dinner prep is only 10 minutes with their kits. That's a really small amount of time to prepare dinner in. All the ingredients neatly packaged with labels and individualized so there is no cross-contamination.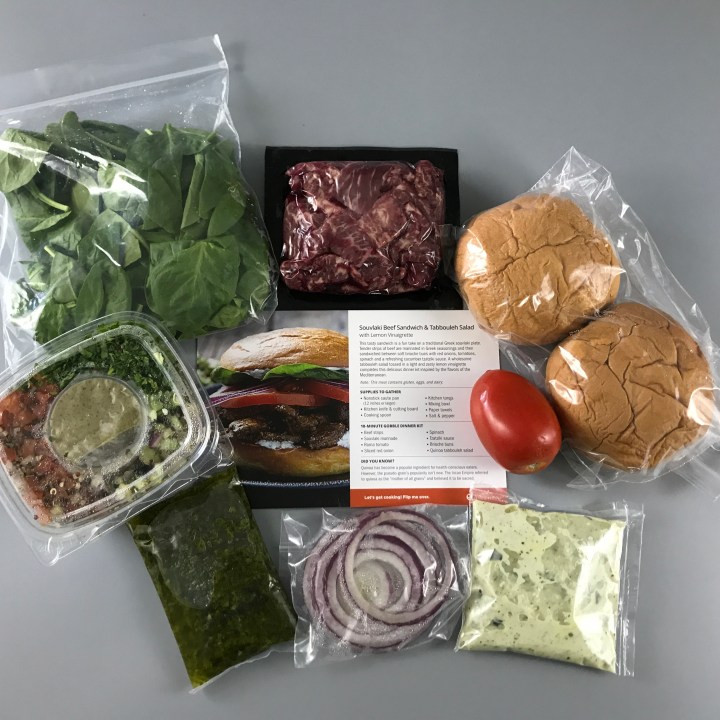 Souvlaki Beef Sandwich & Tabbouleh Salad With Lemon Vinaigrette.
Holy Cow was this tasty! My tomato, onion and spinach were so fresh they made my husband's throat itch (he has terrible allergies to fresh veggies and fruits). The Tabbouleh Salad was different as I've never tried it before but I loved the tangy lemon flavor.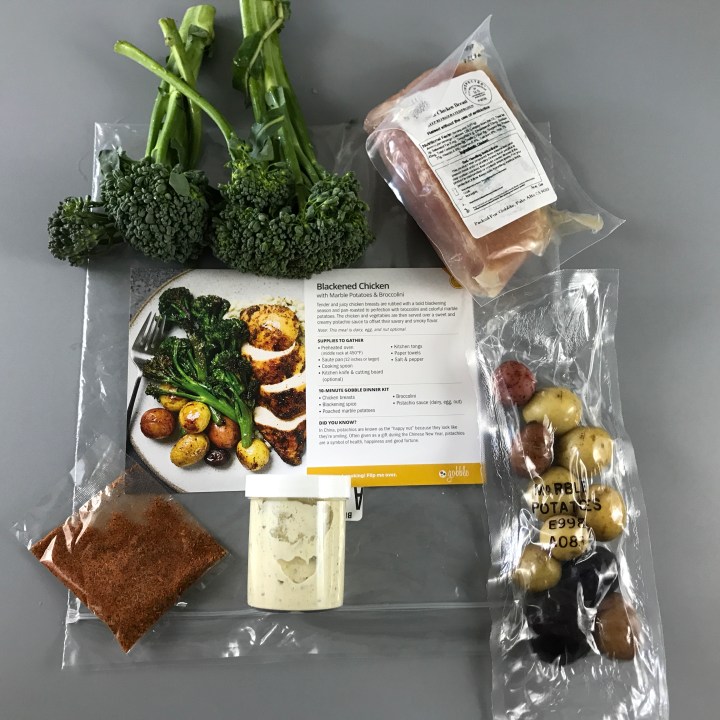 Blackened Chicken With Marble Potatoes And Broccolini.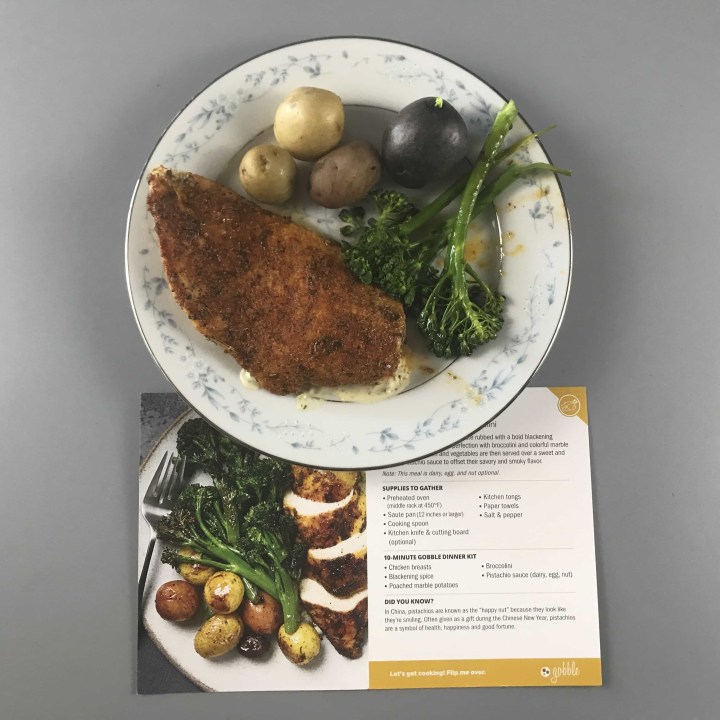 This was super spicy and delicious. It says these are one pan dishes but I had to use two for this one because I don't own an oven proof saute pan. I never though about baking broccolini, I'm now a firm believer that this is the best way to get the most flavor from my veggies. I didn't try the potatoes but I loved that they came par boiled so it only too 10 minutes to make a complete healthy meal.
Teriyaki Scarlet Snapper With Grilled Pineapple And Brown Rice.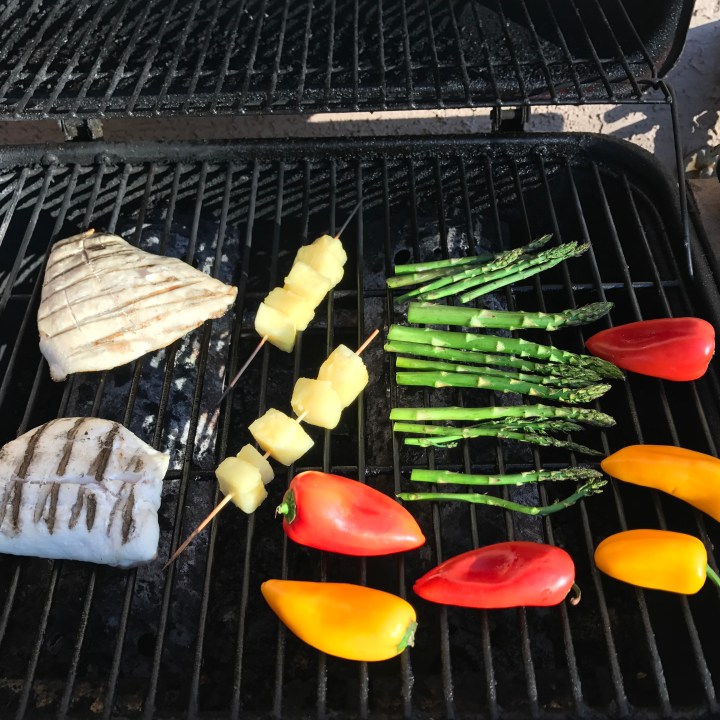 With the exception of the rice everything was prepared on the grill. Only one bowl was dirtied in the making of this meal, I call that a dinner miracle.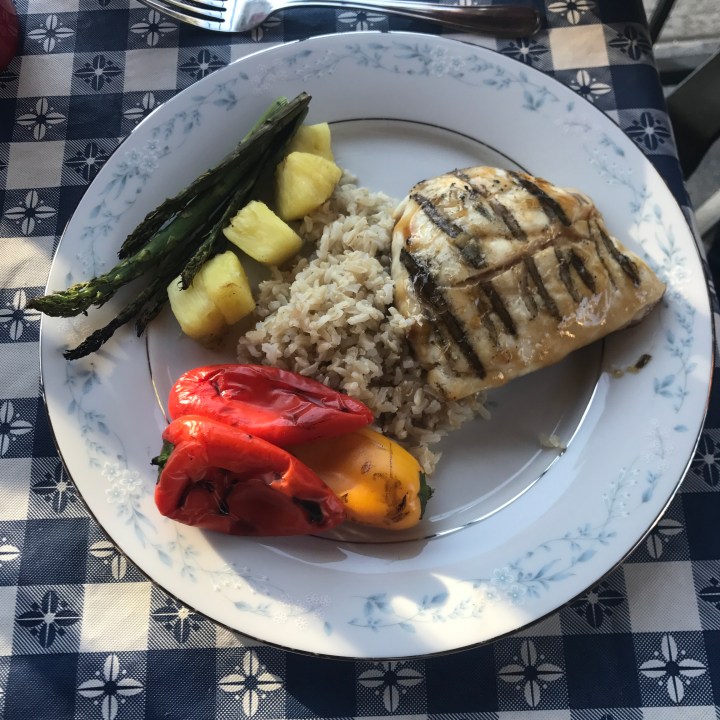 My finished product! It was healthy, nutritious and so colorful. I'm not a huge fan of the sweet yellow peppers they were too sweet with this meal in my opinion but the red peppers were a hit.
 The box arrived on my doorstep still cold despite the low 90's temperatures we have been having. Every ingredient was picture perfect! Three steps to a healthy beautiful meal was amazing, 10 minute prep time for each meal because all the measuring and most of the prepping is done for me. I love that the directions are so easy to follow, it makes anyone who can read look like an amazing cook. I think the portion sizes are a little on the large side, I can feed my family of three on each meal and everyone is filled up but not stuffed to uncomfortable. I loved being able to prepare an entire meal on the grill, that really made my air conditioner happy too. Gobble also made sure my delicate greens came unharmed… this was a hugely successful week brought to my door and to the dinner table in little time.