FaceTory is a monthly sheet mask subscription service. For only $5.95 per month plus shipping, you'll get 4 of Korean sheet masks (FOUR-ever Fresh) – OR pay $15.95 + shipping to get 7 masks each month (SEVEN LUX). It's a fun, easy and affordable way to discover the newest sheet masks in the market.
This is a review of the seven mask box.
DEAL: Get 10% off your first order. Use coupon code EMAILSIGNUP10. Limited to one-time use per customer.
This is a review of the SEVEN LUX subscription.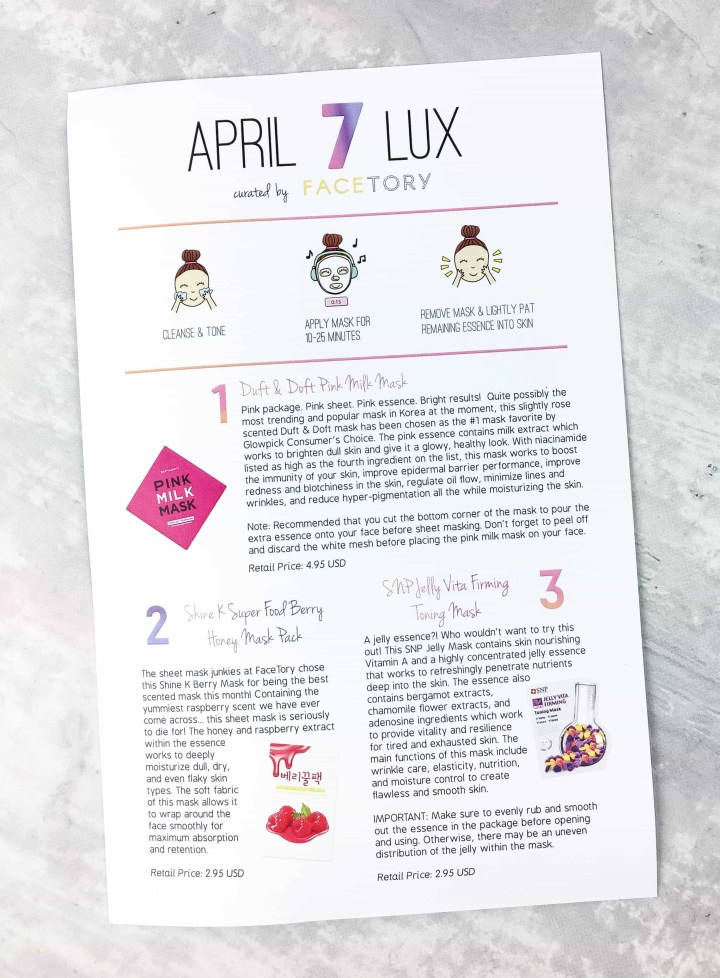 The information card gives you a list of the items, its description and retail value.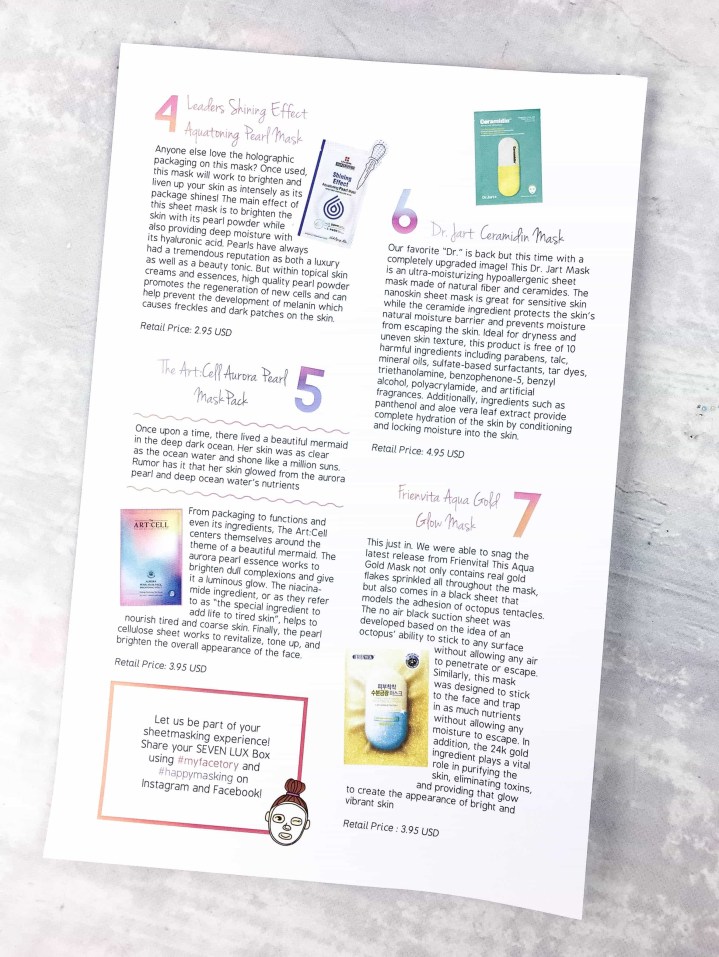 There's also instructions on how to apply your masks properly.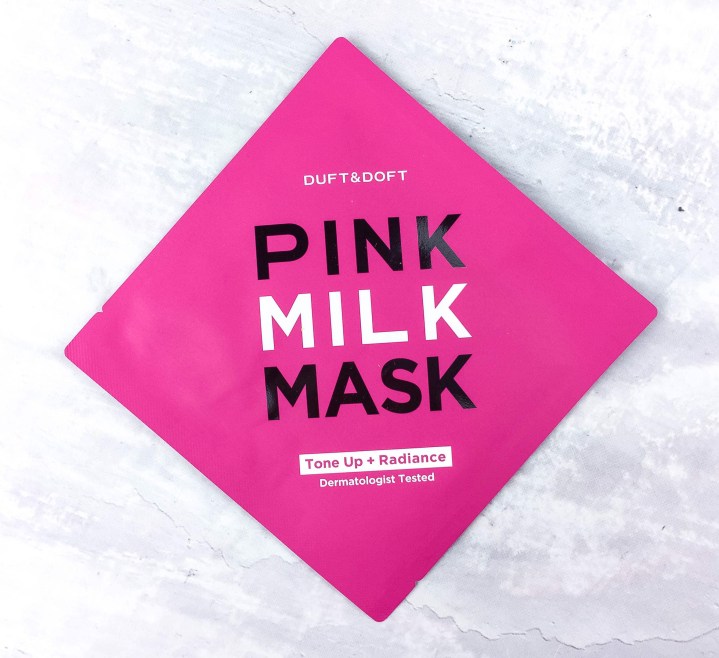 Duft & Doft Pink Milk Mask ($4.95 on card, $3.86 online) This mask screamed at me: try me first!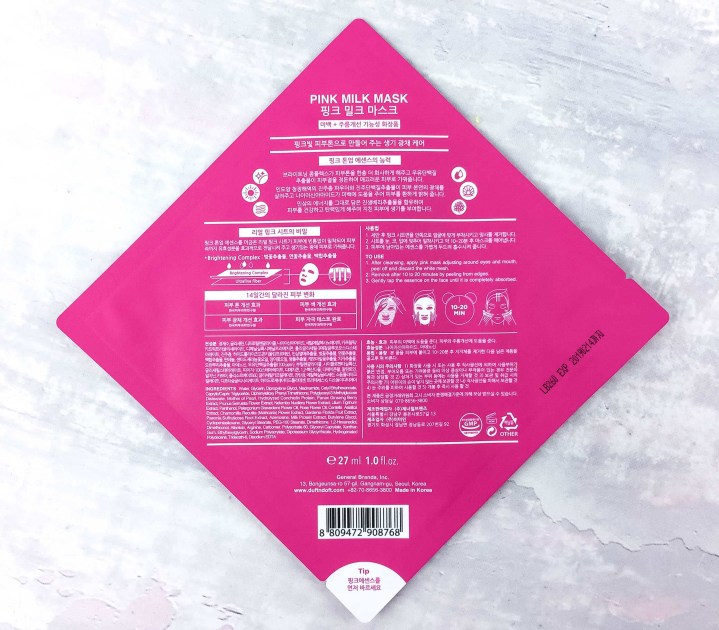 The mask itself is pink, and rose scented, and has an essence that has the consistency of a runny lotion. The pink essence contains milk extract to brighten and glow up your skin. B12 is also in the mask to assist with reducing age-related deterioration and reducing hyperpigmentation. A pretty standard mask, but there was a weird white mesh over the mask to peel off. A bit of an odd duck, but it was voted #1 mask by Glowpick Consumer's Choice. I guess we all love pink!
Shine K Super Food Berry Honey Mask Pack ($2.95 on card, $2.40 online)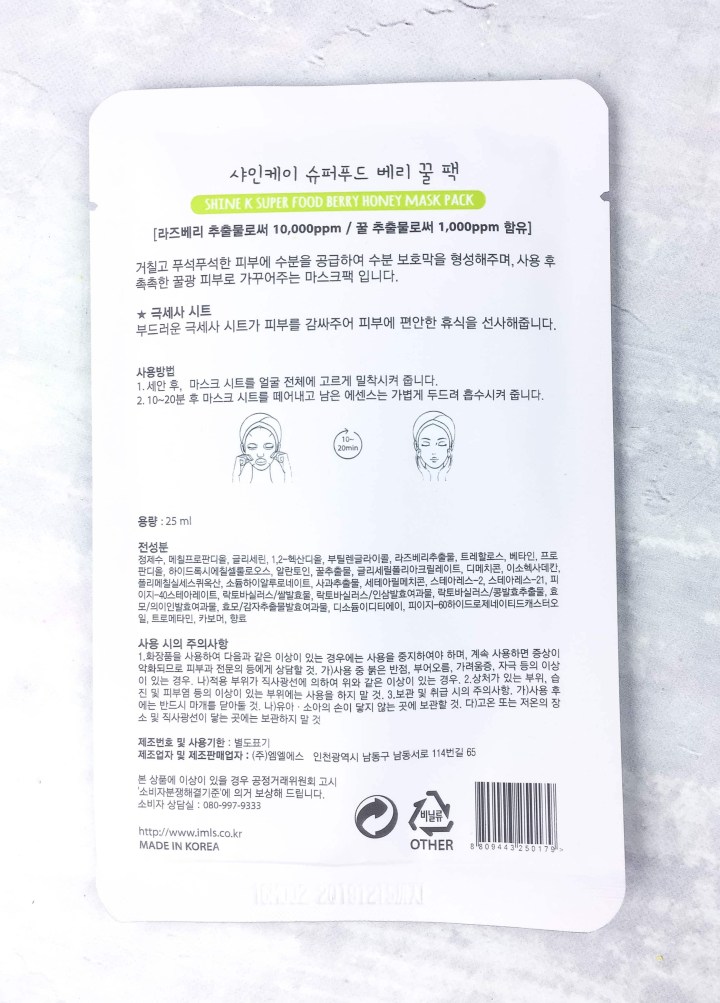 This mask has a fun raspberry scent, and is highly moisturizing. The mask itself is a soft fabric, and was a little tricky to unfold and get on, but it really stuck on well.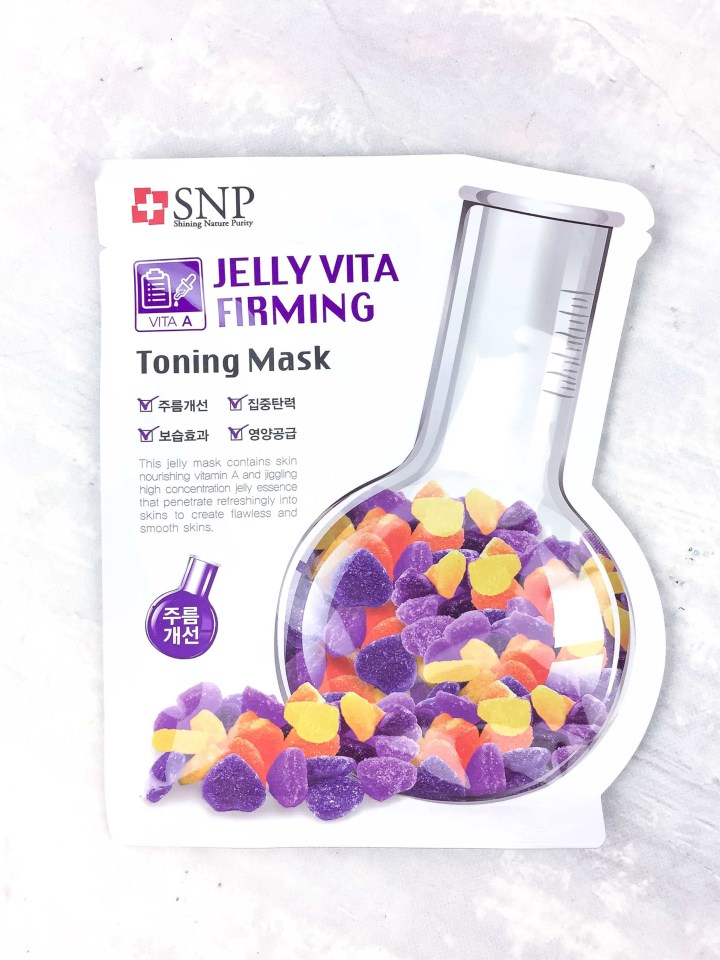 SNP Jelly Vita Firming Toning Mask ($2.95 on card, $12 on Amazon)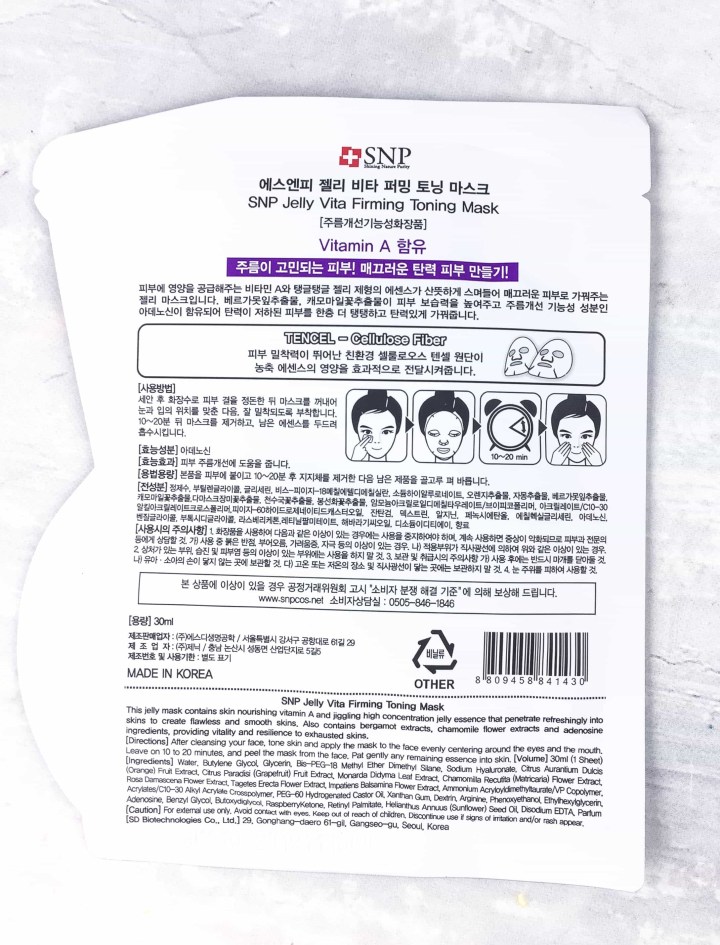 Well, this mask was a fail! All of the essence – a very thick jelly – was left in the pouch when I removed the mask, despite massaging the package first (which the card did note, but that massaging did not help!). The entire mask was dry except for one cheek! I squeezed out all the jelly and slathered it on my face and dutifully stuck the mask on top. I think the jelly essence is cool, but probably works better on its own. The jelly contains bergamot, chamomile, and adenosine to help firm and tone skin.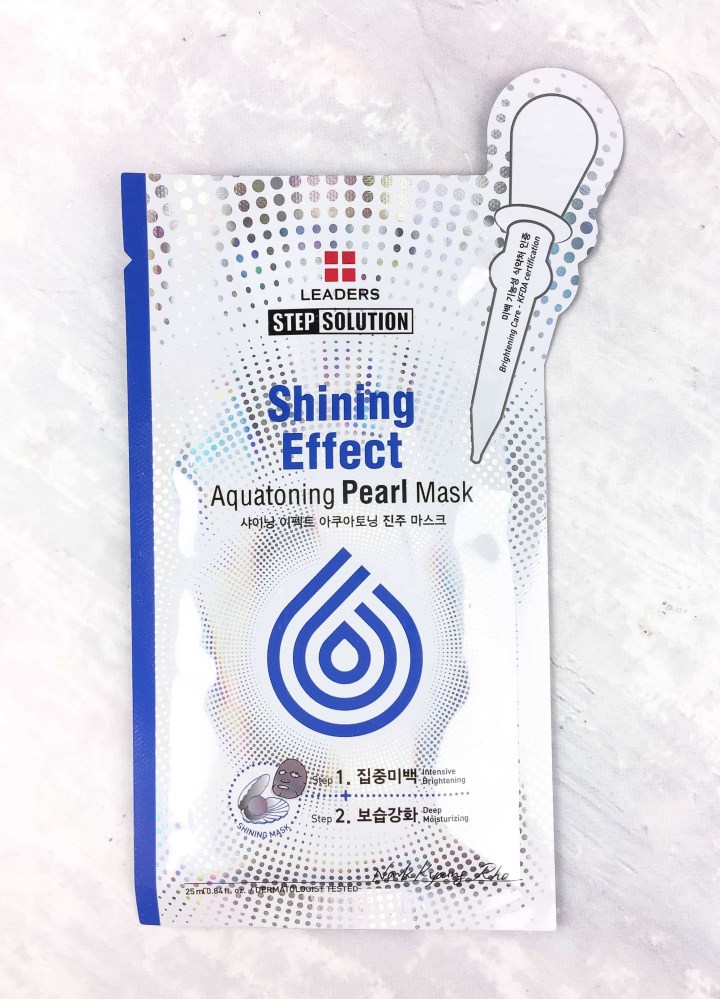 Leaders Shining Effect Aquatoning Pearl Mask ($2.95 on card, $3.50 online) Hello holo decorations!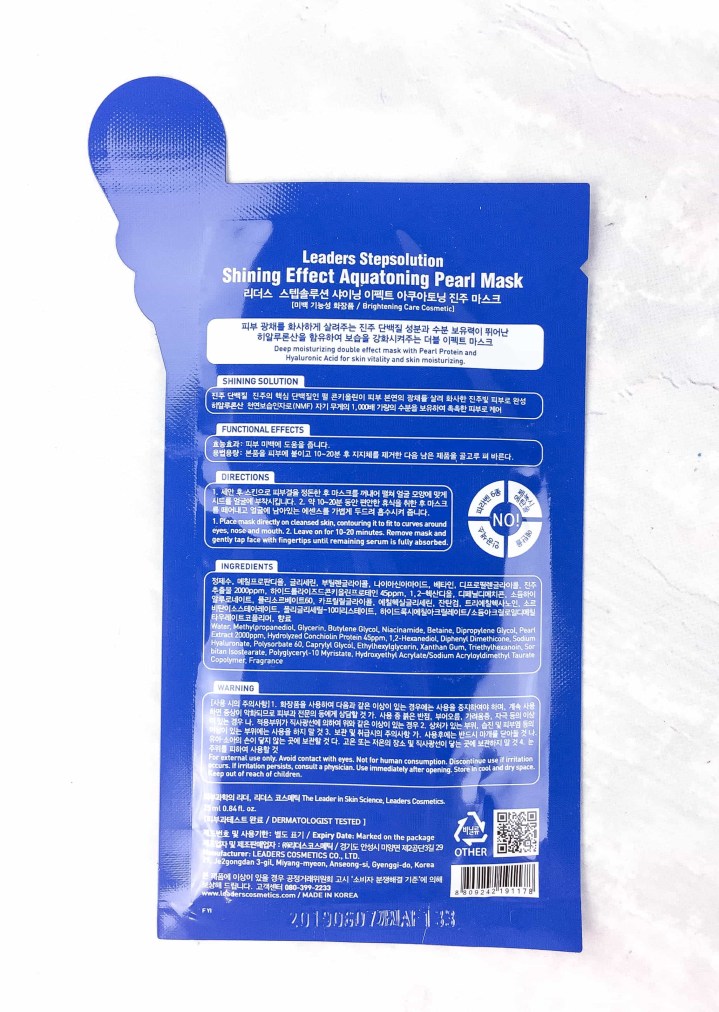 This mask is intended to brighten with pearl powder and moisturize skin with hyaluronic acid. This mask is thicker, but not luxuriantly thick. It's also scented, but seemed to dissipate instantly.
The Art:Cell Aurora Pearl Mask Pack ($3.95 on card, $2.31 online) The packaging for this mask! I shall call it my mermaid mask (look there's even a little mermaid on the back!).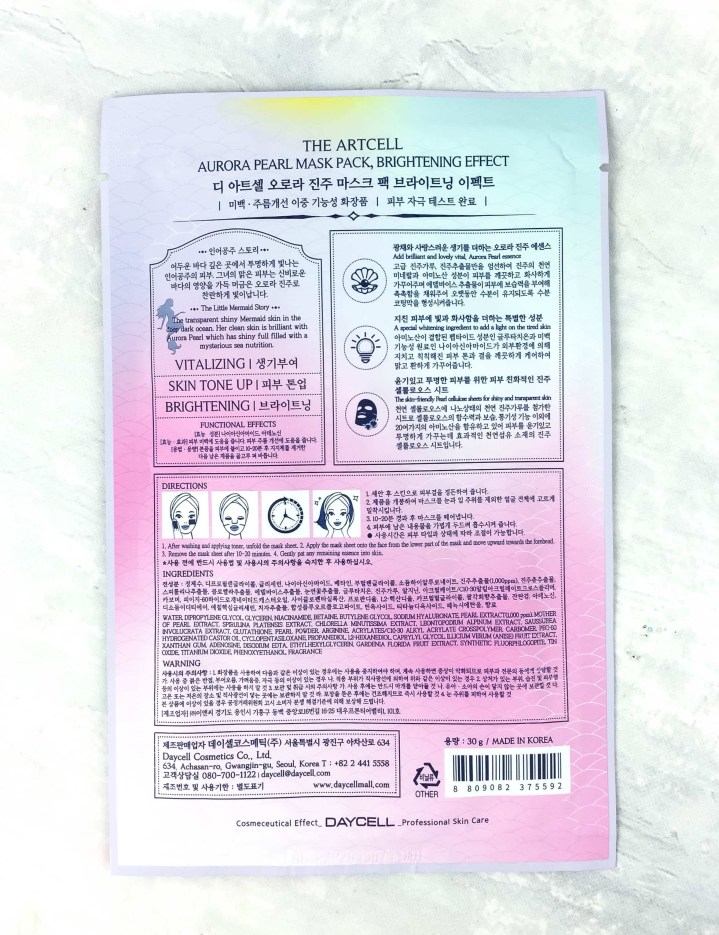 This mask was really thin (it came with a plastic) and really really wet. Essence went everywhere! It is fragranced but it didn't bug me, except for the initial "oh it has a smell." The mask's pearl essence works to brighten and glow. For me this mask was just too wet (30g of essence!) – it would have been great on a thicker sheet. Also, the holes in the face were kind of just funny, because the forehead on the mask was abnormally large – covered my brows all the way up to my hairline!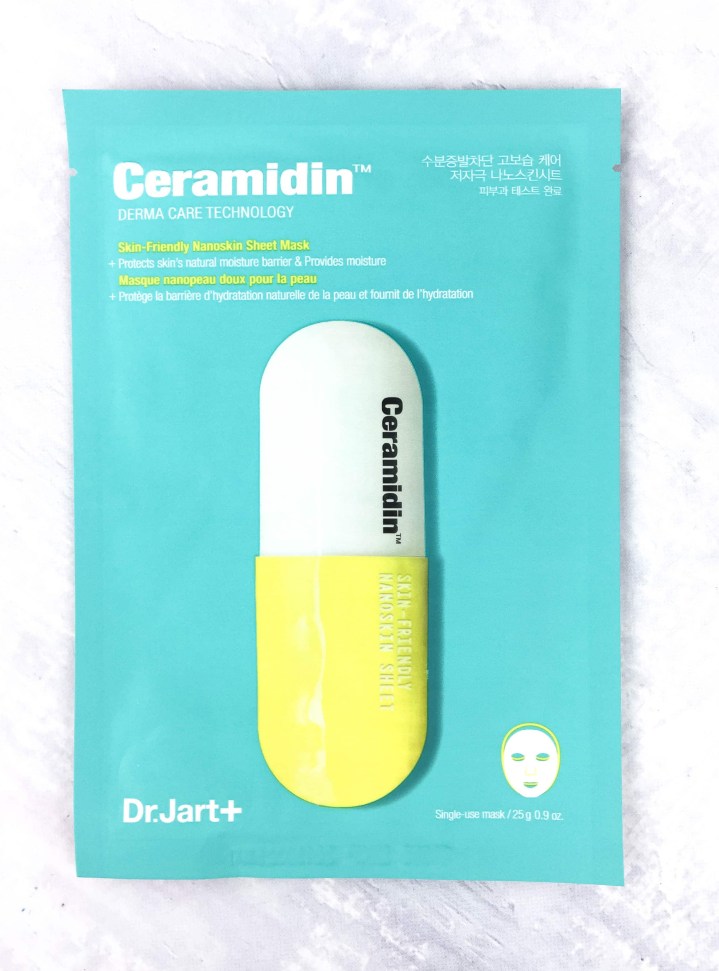 Dr. Jart Ceramidin Mask ($4.95 on card, $6 online)
Ok, Dr. Jart+ Ceramidin anything is my grail, and I can't believe I haven't tried this mask yet! After testing it out it's going to become a regular part of my beauty routine! The essence was like a thin lotion, and there was a lot of it, so I spent the time to squeeze every bit from the package out and patted it on my face and neck. The sheet mask is a "nanoskin" mask and I agree with the package claim that it's a low irritation sheet. It's really thick and comfortable and although the mask has the typical rose scent of the Ceramidin products, it dissipates quickly. I still want to use other masks for other benefits – this mask really is for super-hydrating and healing dry skin like mine – but I can see a long term addiction to this puppy!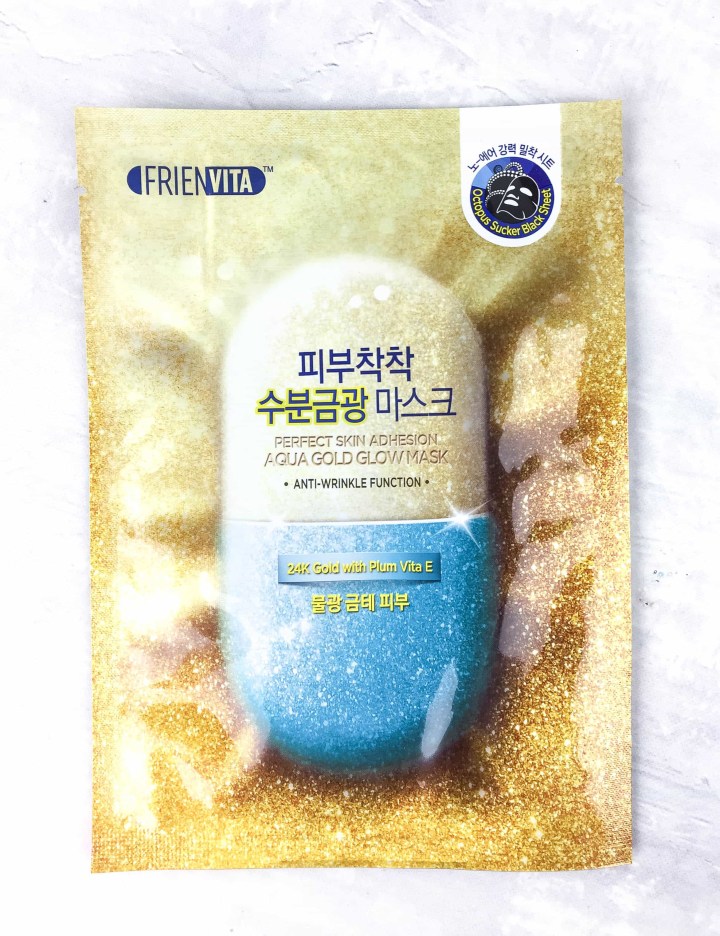 Frienvita Aqua Gold Glow Mask ($3.95 on card, $2.79 online)
This mask is black and sprinkled with real gold! The idea with the black mask is that it models the adhesion of octopus tentacles with no air. I really do find the thicker, less porous masks like this one and the Dr. Jart mask to be a lot more comfortable than the thinner kinds. The information card says gold helps purify skin, eliminate toxins, and provide the glow that creates the appearance of bright and vibrant skin!
One of the things I've found by testing out so many masks is that fragrance, while totally unnecessary in a sheet mask, seems to disappear rather quickly in them. A good to know property, at least for me. I mostly enjoyed this box, it was targeted mostly at brightening and moisturizing, which are primary concerns for me. There was only one major fail, but besides that I really liked the box this month!