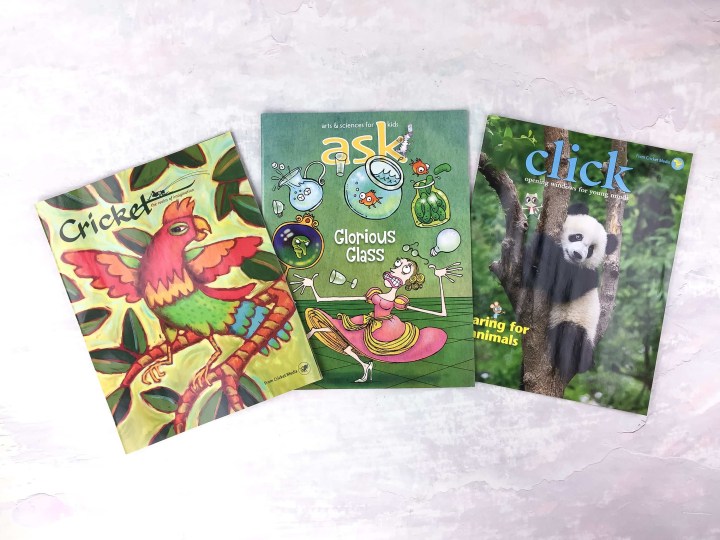 CRICKET Magazine delivers magazines to kids who love contemporary stories and classic literature from the best writers all around the globe. Nine times a year, you'll get a magazine filled with illustrations, puzzles, and entertaining feature stories for $33.95 per year. You'll also get to meet CRICKET's signature cast who'll offer humorous side comments, teach vocabulary, and introduce advance concepts – plus it's 100% ad free!
FYI – the summer issues for these magazines are combined, so there are 10 issues per year.
CRICKET is ideal for kids age 9 to 14, but they have other titles perfect for ages all the way down to newborn to more advanced magazines for kids 15+. We thought it would be great to show a few of the different subscriptions they have available too. We're currently also getting:
CLICK Magazine for kids ages 3-6: introduces your children to science, art, nature, and environmental issues
ASK Magazine for kids ages 6-9: fun facts, informative scientific articles, and hands-on activities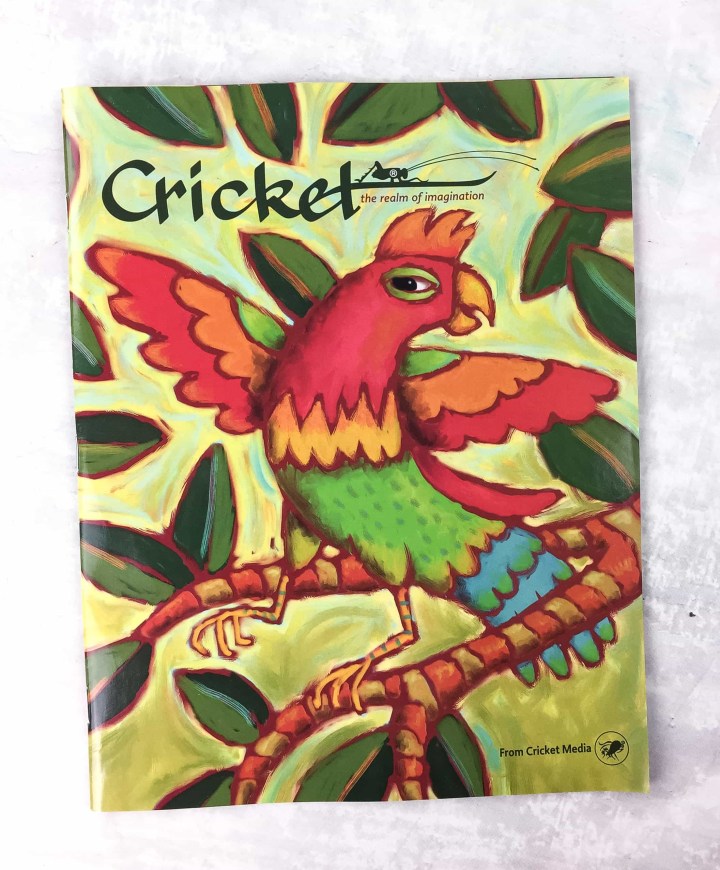 Cricket Magazine is a literary magazine that pairs stories with illustrations in a variety of styles to help fire up the imagination! We get Cricket Magazine for our daughter – it's one of the very few resources that we have found that has an appropriate lexile reading level for older school age readers without controversial themes (like gore, overt romance, etc.). It's perfect for readers really stretching their vocabularies. 
The magazine also has interactive pages like this crossword puzzle.For arts and crafts, the magazine also provides creative prompts that you can try with the kids. Basically, Cricket reminds kids (and kids at heart) that learning doesn't have to be boring.
Above was also the start on a post-apocalyptic serial!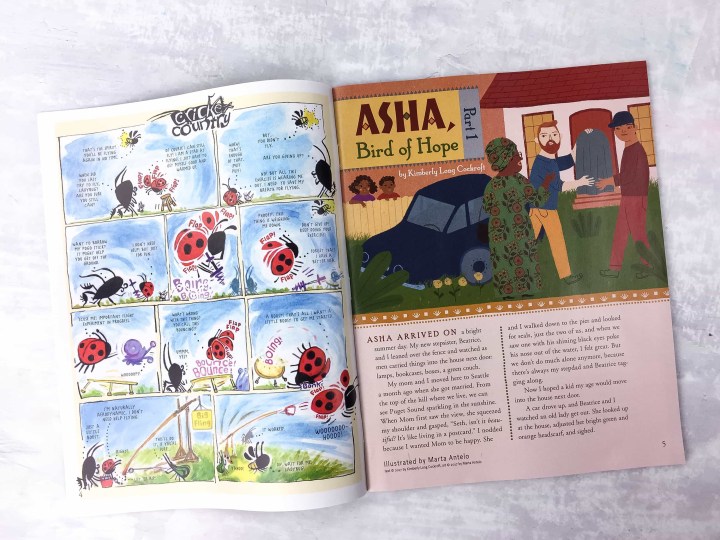 Note that the magazine does include serial stories – ones that bridge one issue to the next. This issue started two of them. I often read these along with my kids and they totally leave us all hanging! This story about a woman from Kenya moving into the neighborhood with an African grey parrot had a total cliffhanger.
This month included an article on Horace King, born into slavery and the South's master bridge builder and some discussion of the Civil War. There was a lot of glossing over – a good way to start a conversation with my daughter on some of the topics. I really recommend reading these with your kids or skimming through to spark discussions. So much better than how was school today? (The inevitable answer is I don't remember)
There was also a retelling of a Persian legend and of an Indian story from the Mahabharata (with appropriate awesome illustrations), a feature of favorite first sentences (fun!), some poems, an article on how Mother's Day began, and more.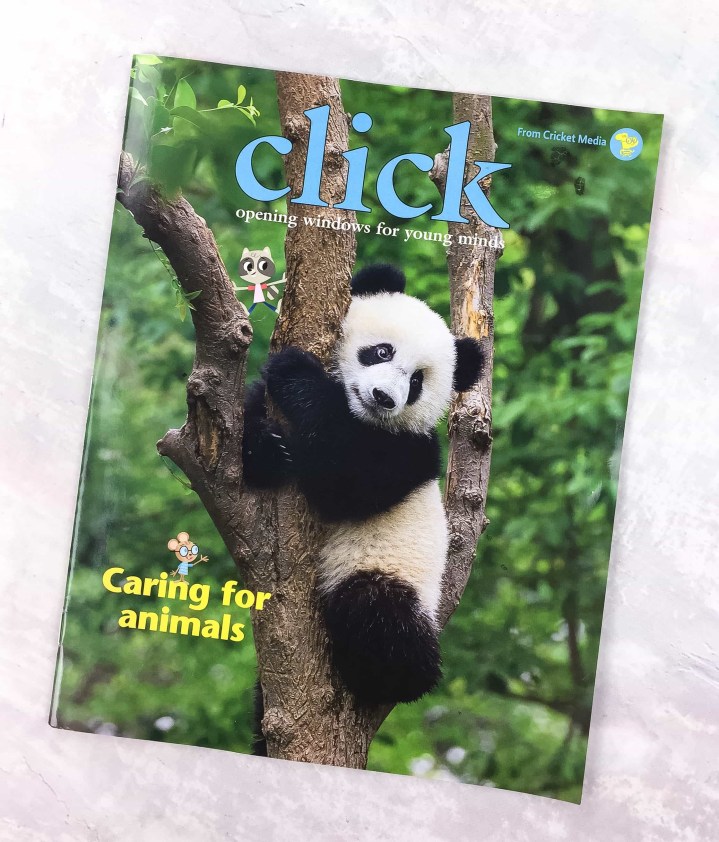 Cricket Media has 2 magazines for the 3-6 year old group: Ladybug & Click. Be sure to check out more about Ladybug here! While Ladybug is focused on poems and stories, Click is focused on a fun intro to science!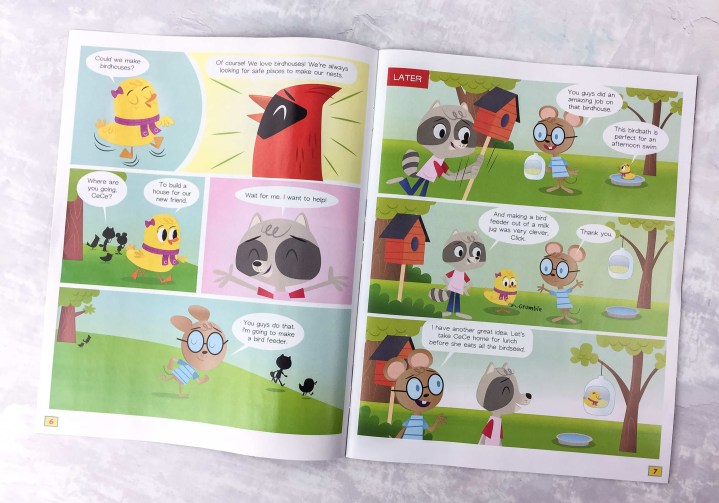 This is a perfect read-together magazine – it comes with a comic style intro, moves into a story, and has nonfiction, poems, and info to follow.
My 6-year-old reads this magazine cover to cover with a parent every time it comes in.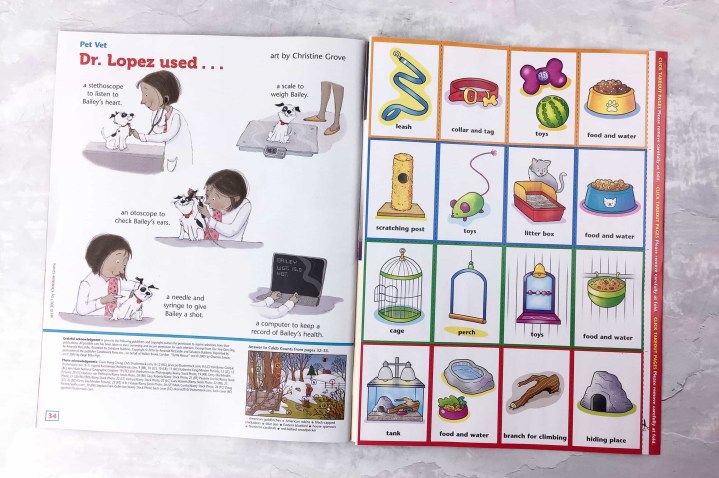 The theme this month is caring for animals.  There was a heavily illustrated story about getting a new dog, a pictorial about baby elephants, a longer fictional story with the topic of sea turtle birth, a bird count, and a matching game (shown above) – you match the accessory with the pet!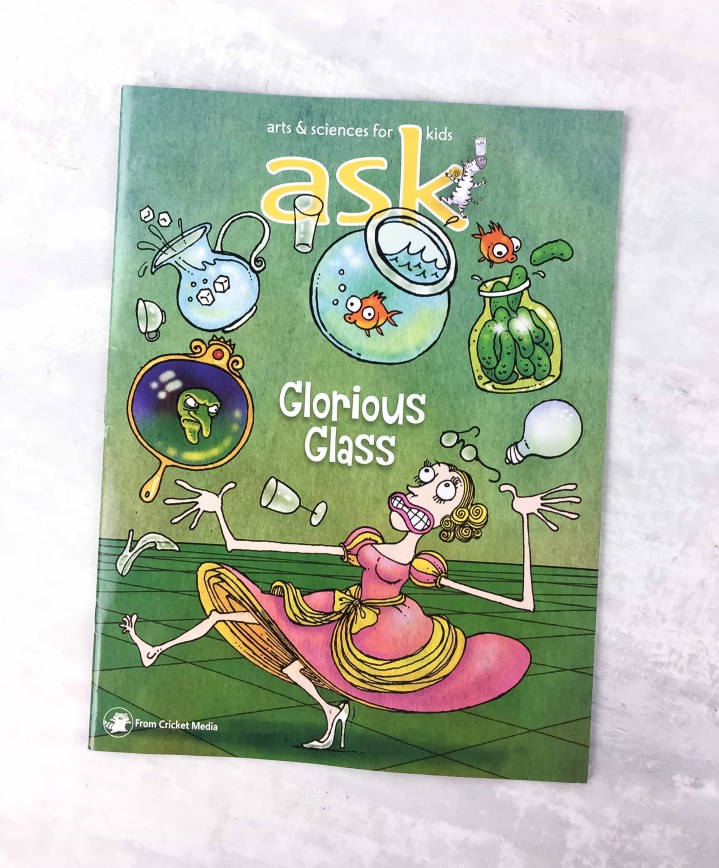 Cricket Media has 2 magazines for the 6-9 year old group: ASK and SPIDER. We selected Cricket over Spider for our 8 year old, because her reading level is quite advanced. However, we chose to stick with Ask over Muse, which is their science-oriented magazine for 9-14 year olds for two reasons: 1 – we have a 6 year old and she often reads aloud to him and 2 – Muse seemed more like a textbook. She'll totally be into it when she's older but for now we preferred the fun, more casual Ask for her age.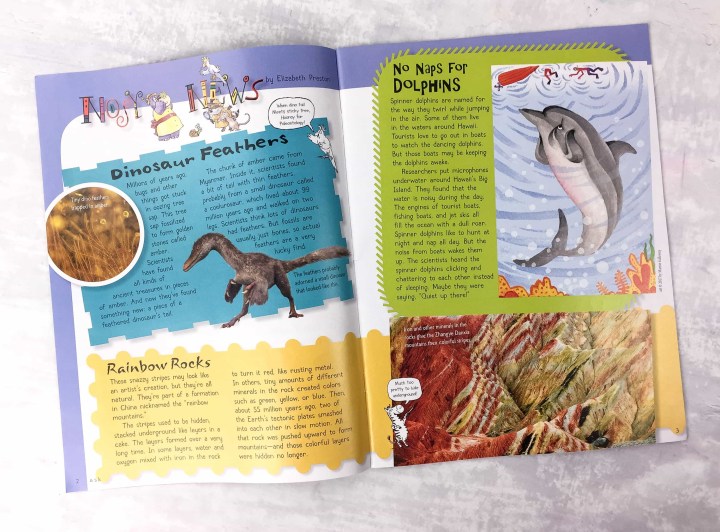 All the material is well organized, with intriguing text features and sidebars.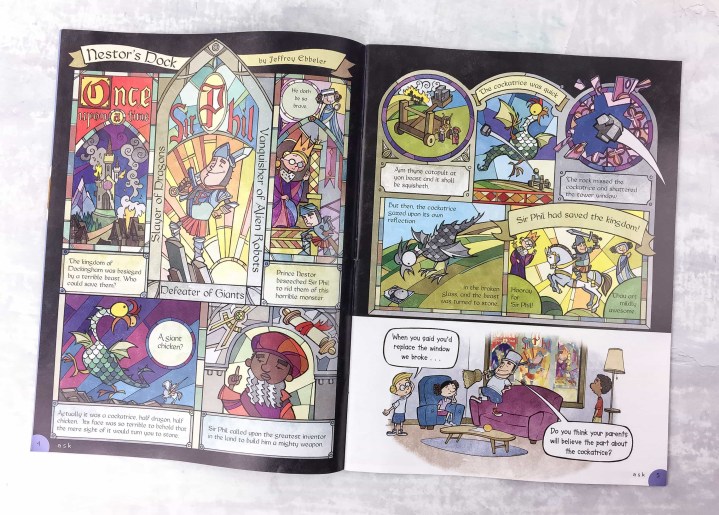 The magazine opens with a fun-facts spread and moves into a comic in a stained glass style, although it wasn't about glass.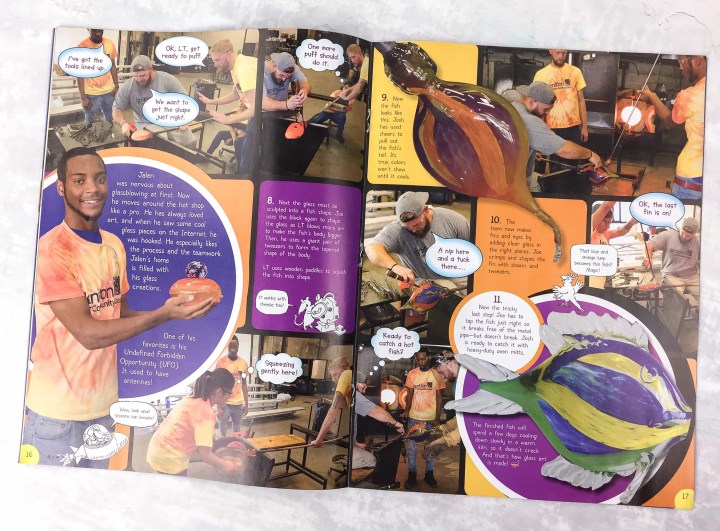 This magazine is topically organized. We learned what exactly glass is, followed by a funny "breaking news" in glassmaking (starting at 20,000 BCE). A multi-page spread covered the art of glassblowing.
Gosh this is interesting – I had to read it! There was an article on safety glass and on Ben Franklin's armonica, an experiment, and a couple more 1-page comics.
We love Cricket! They do offer the regular magazine, digital only, and digital+print packages. We prefer the print version for kids and keep them at the dining room table for those breakfast and dinner reading moments that might otherwise be wasted on reading a cereal box. My daughter takes her magazines to school to read on the bus and during free-reading time in class. As our son improves his reading skills we are really loving Click because he can read it himself!
Have you subscribed to one of the CRICKET magazines for your kids? What did you think?