Crate Chef is a bi-monthly subscription box that brings your favorite chefs' top picks to you. Each month costs $45, and you'll get a specially curated box filled with a well-known chef favorite kitchen items, food products, as well as selected recipes.
DEAL: Save 10% off your first order with coupon code HELLO10.
The featured chef for this box was Alabama's Executive Chef Jim Smith.  "Jim Smith is the Executive Chef of the State of Alabama and Chairman of the Alabama Seafood Marketing Commission.  As the state chef, he has placed an emphasis on using the best local ingredients and has made strides to encourage support of local farmers and Alabama fishers. He uses his position as ambassador of food, to promote farmer's markets and events that support Alabama food products. Smith is not only responsible for the daily preparation of food for the First Family, but he is also responsible for planning and preparing menus for events sponsored by the state."
The back of the letter that introduced us to Chef Smith listed all of the items in our box with a product description.
Earthborn Pottery Teacup and Saucer – "Each piece a labor of love, Earthborn Pottery of Leads, Alabama, is colored from the deep reds of the state's soil.  Fired with an abrasive-resistant glaze, the pottery is extremely durable.  Colors will vary slightly."
"I've served food off Earthborn Pottery for probably 15 years.  It's exquisite" — Chef Smith.
This delightful little cup and saucer is perfect for an afternoon spot of tea!  I would have liked to keep it for myself, but my mother swooped on it and declared it to be her own.  She is still in charge even though I am nearly 40 years old, so she is sitting in her recliner drinking tea out of it now.
The pottery work is balanced, utilitarian and natural.  The cup looks as if it could have been made hundreds of years ago, or yesterday.  I love that it is colored with native Alabama soil.  The red clay runs deep in the South.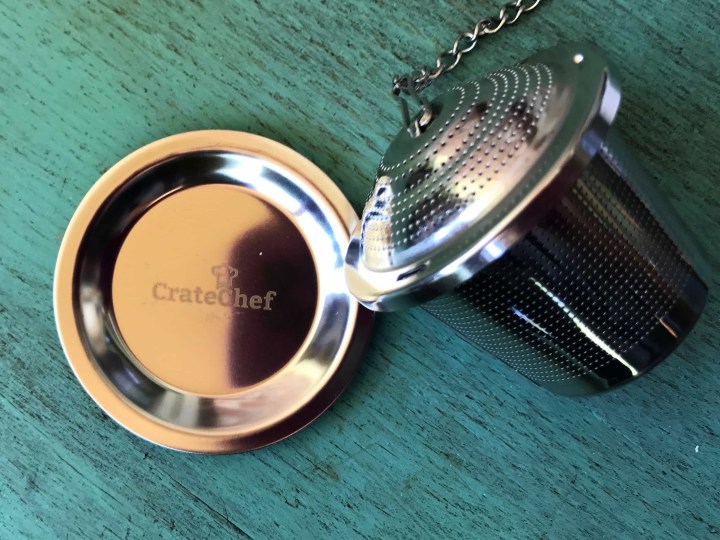 Stainless Steel Tea Strainer – "A stainless steel tea strainer allows ease of use and no waste from tea bags.  Its size is perfect for allowing the tea to fully expand and breath.  It also makes cleanup easy – just twist off the top and rinse with warm water.  This practical and simple design allows you to easily steep fresh and flavorful teas again and again."
I love tea strainers.  They are so visually appealing.  This one is lovely with it's little matching saucer to sit it on when you are done.
Piper & Leaf Artisan Tea Co. – Front Porch Special – "This is Southern tea reinvented.  A mixture of jasmine, home-grown spearmint, bergamot, Assam black tea, Ceylon black tea and cornflower, creates the family-run company's signature tea.  Delicious brewed hot and served iced.  Front Porch Special ingredients are hand-processed for a special oomph of flavor."
This minty floral tea will transport you to a Southern front porch where the neighbors stop by to ask how your mama's doing.  It is a perfect sweet tea sipping tea.  (Cause cold tea is served sweet in the South unless you specify otherwise.  As it should be.)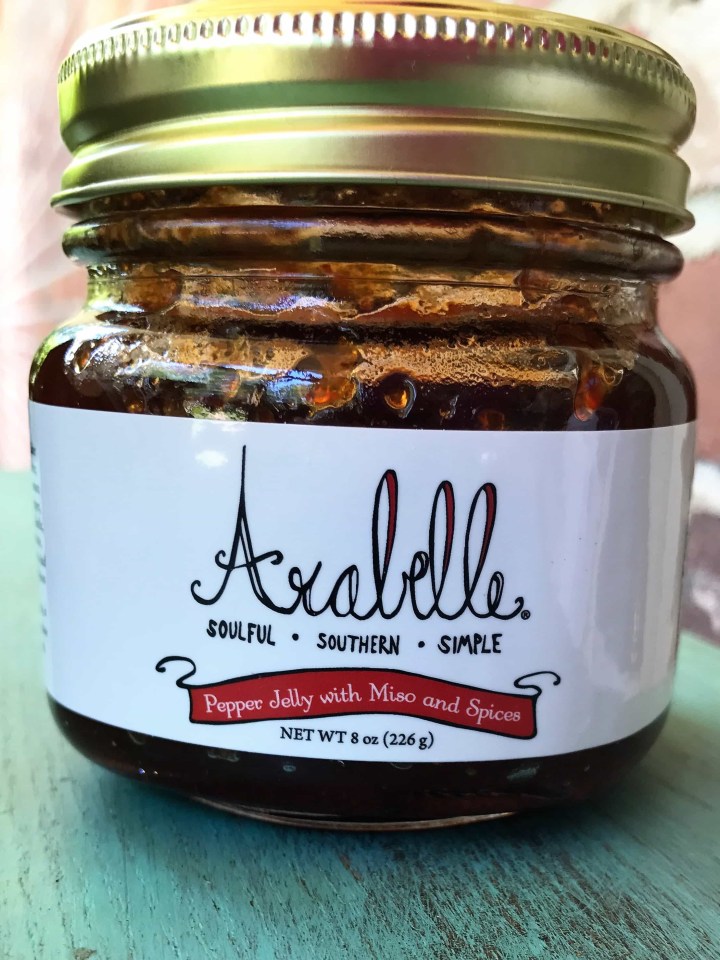 Arabelle Pepper Jelly with Miso and Spices $6.99 – "An exotic twist on a Southern classic, this pepper jelly with miso and spices adds just the right amount of heat.  Serve this jelly over cream cheese for a play on the quintessential Southern appetizer."
Yummy.  I'm really not much on pepper jelly.  (Don't tell the little old ladies at church!)  But, this variation has me rethinking my stance.  The slight spiciness works perfectly with the brown sugar sweetness.  It is really very good stuff.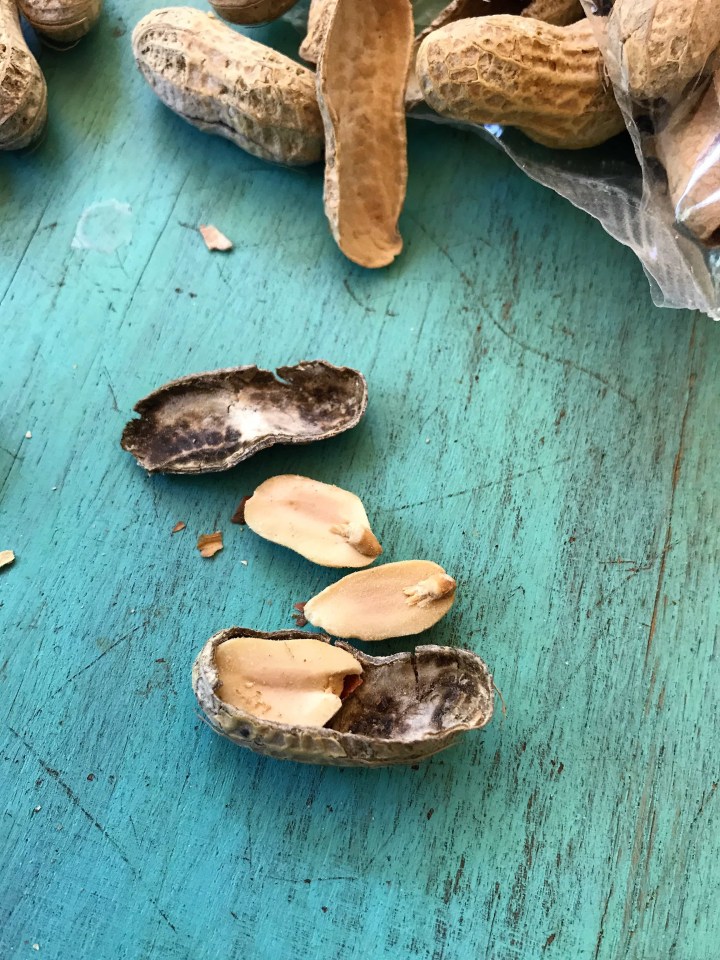 Peanut Depot 8oz Bag Salted Peanuts – "Peanuts are a Southern tradition, whether they're roasted, boiled or pressed into butter.  Birmingham-based Peanut Depot, has been using the same roasting equipment for more than a hundred years.  Toasted to perfection, salted, and no oils or preservatives added, the peanuts are prepared as they have been for a century."
I really prefer my peanuts boiled (if you are not from the South and haven't had boiled peanuts, get down here right now, stop at the first road side stand you see, and partake in the scrumptiousness that is a boiled peanut), but these roasted ones will do in a pinch.  It's awesome that they have used the same roasting equipment for 100 years!!
Big Bob Gibson's BBQ Original White Sauce $4.75 – "Friends and family were first treated to this secret recipe sauce at weekend backyard grilling parties in Decatur, Alabama, back in the 1920's.  Casual with tables made from planks nailed to sycamore trees, the parties may have been downhome, but the vinegar and mayonnaise-based sauce was decidedly special.  Over the decades, Big Bob Gibson's has become a Southern delicacy.  Best on chicken or port, the white sauce keeps meat moist while adding flavor."
I haven't tried this yet, but I have heard rumors that it is fabulous.  Looking forward to adding it to some grilled chicken very soon.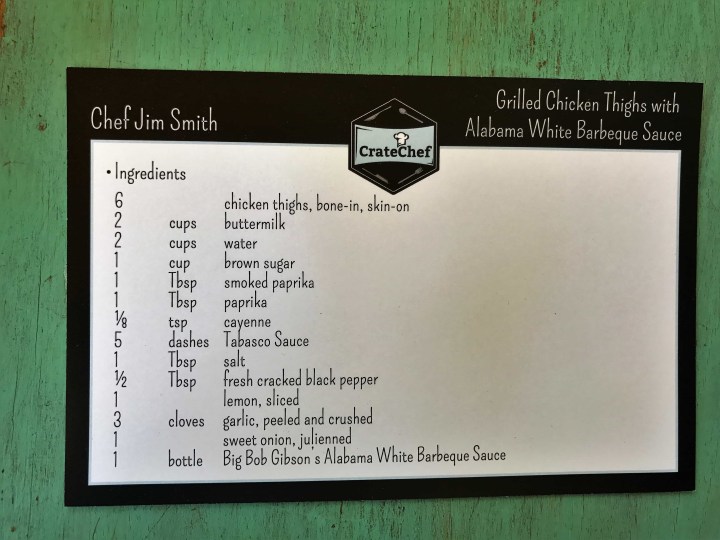 These three recipes from Chef Smith (they were continued on the backs of the cards) were also in the box.  The grilled chicken looks fabulous.
The Crate Chef bimonthly subscription is a great way to add some excitement to your kitchen routine.  I really enjoy the chef curation.  All the items seem to flow together when you wouldn't normally see a correlation.  I think the Arabelle pepper jelly was my favorite item out of the box.  And, like I mentioned before, I normally don't even care for pepper jelly.
What did you think about this box from CrateChef?