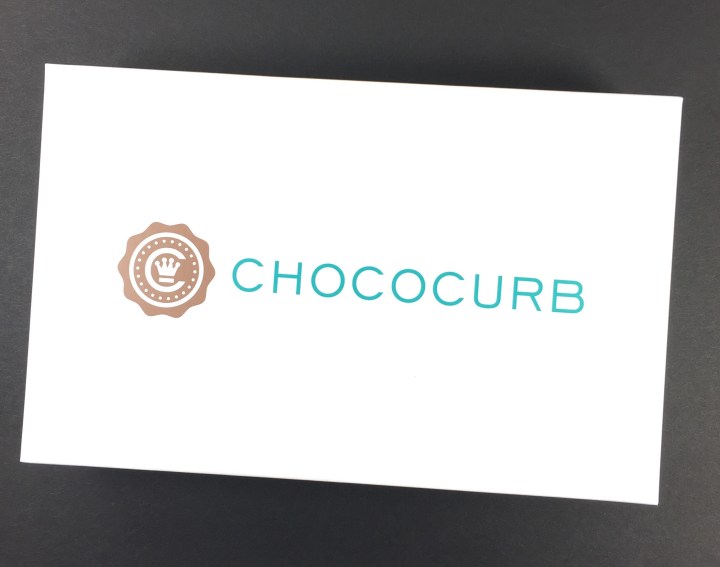 Chococurb is a monthly subscription containing extraordinary, premium, gourmet chocolates – this isn't your convenience store candy! These items can come from small, local chocolatiers or more established national brands. Every box will have something new, exciting, and absolutely delicious. You can choose from the Classic Box ($35), which contains 5-7 items, or choose the Mini ($20), which has 3 items for smaller appetites. Shipping is free during the cooler months but expect to pay for FedEx shipping in the warmer months. I am reviewing the Classic Box today!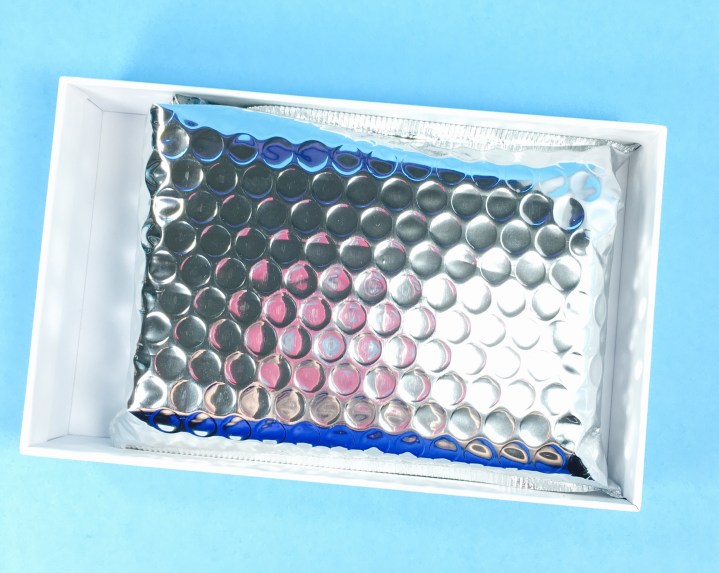 Chococurb wants to help you discover chocolate that you will love so they have a short questionnaire that you fill out to let them know your preferences. The chocolate was wrapped in insulated bubble wrap and placed inside of a box that was then placed inside of a styrofoam cooler with an ice pack (no longer cold) underneath. My box was delivered by FedEx and was in perfect shape, no signs of melting!
I received 5 different items this month and they all look absolutely delicious. Even the packaging of each bar looks pretty!
Theo Lemon 45% Milk Chocolate Bar "This bright, sweetly tart lemon milk chocolate is the perfect way to celebrate spring."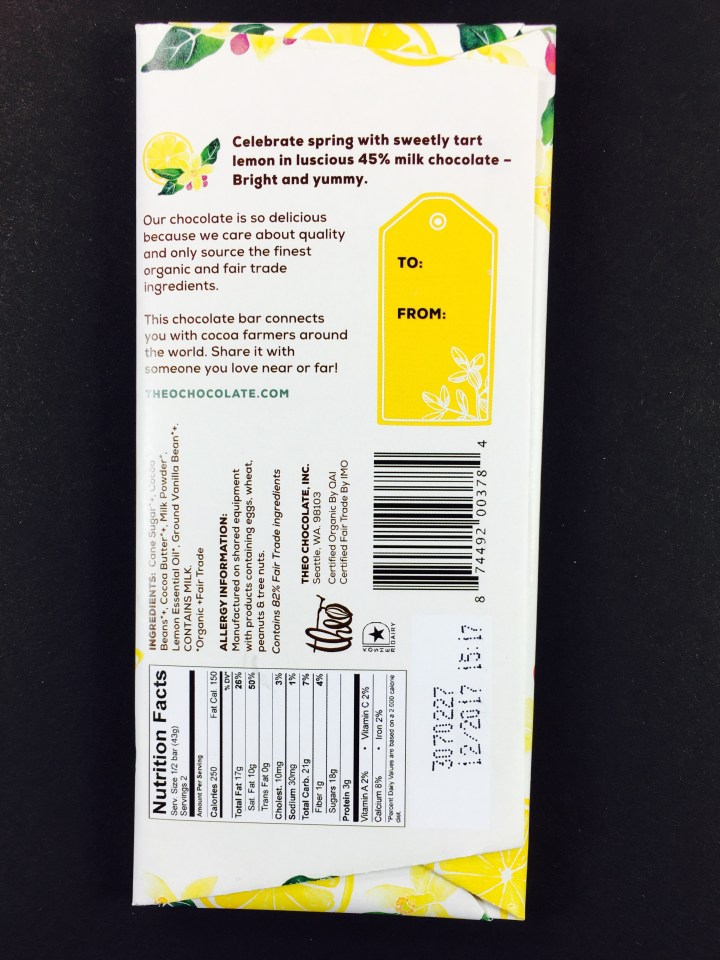 Theo uses organic, fair trade chocolate that is sustainably grown. But still, lemon and milk chocolate? I've had lemon and white chocolate before but this sounded weird.
Turns out it was delicious! Maybe not the same as peanut butter and chocolate but somebody probably thought that was weird too at one point. The chocolate is sweet and mellow while the lemon adds a sunny touch to this silky smooth bar.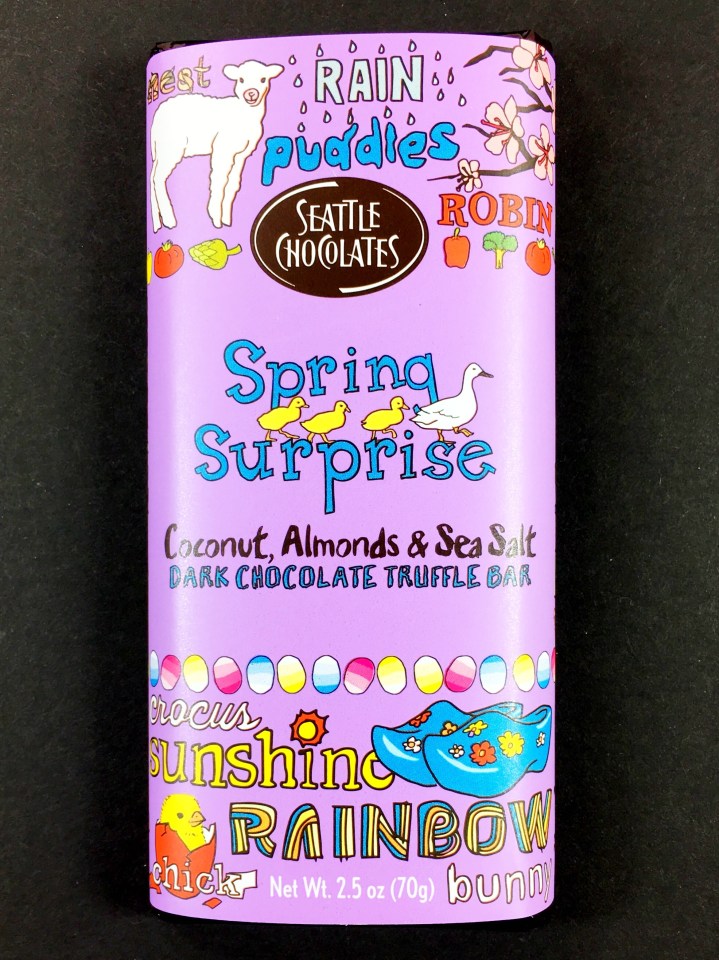 Seattle Chocolates Spring Surprise Truffle Bar "Dark chocolate adorned with roasted almonds, coconut, and a dash of sea salt."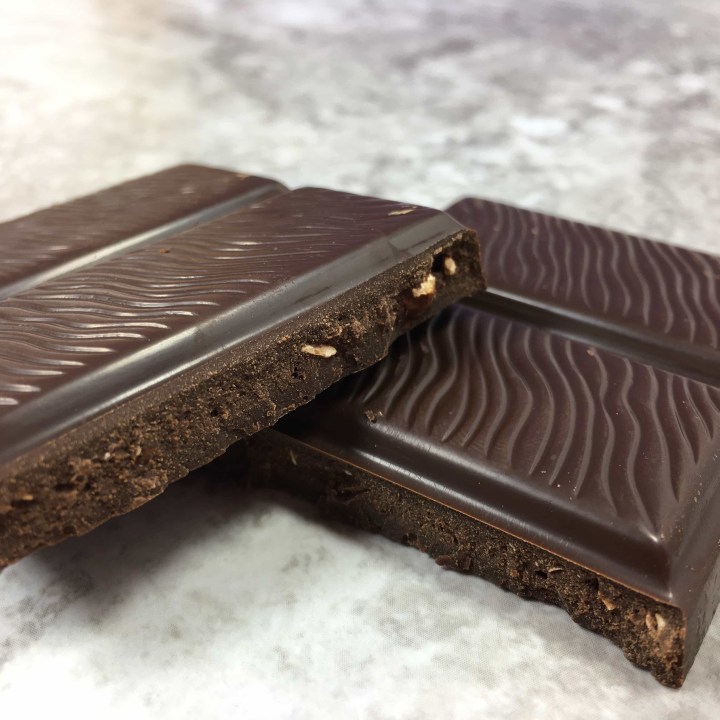 This bar is rain forest alliance certified and tastes yummy! The center wasn't very soft compared to other types of truffles but it had a slight crunch due to the almonds and coconuts. The salt wasn't overpowering either.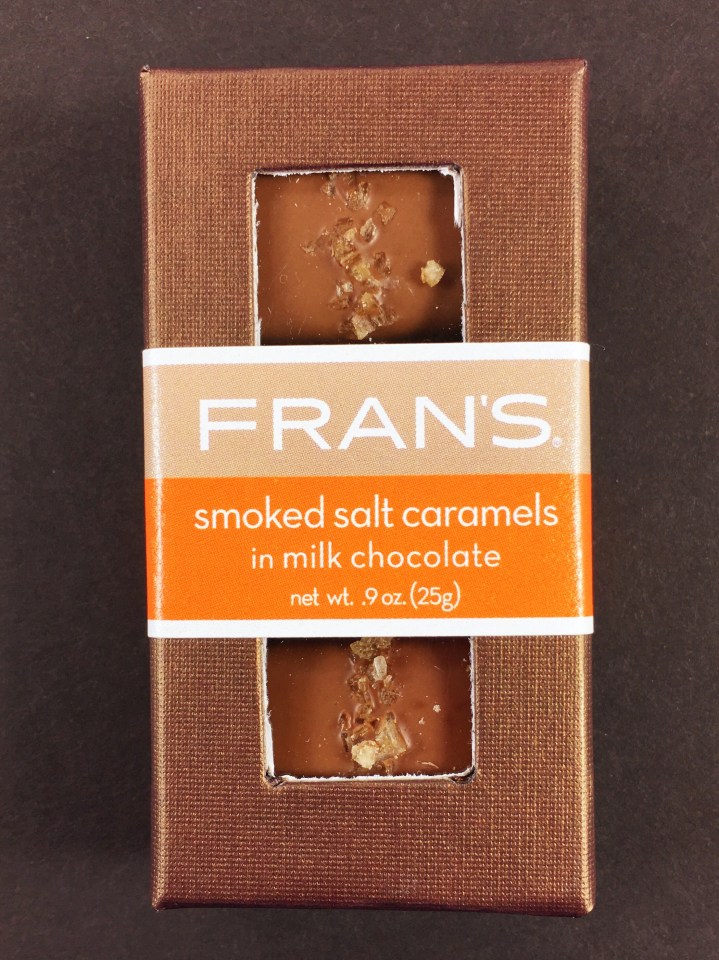 Fran's Smoked Salt Caramels in Milk Chocolate "Fran's signature soft butter caramels dipped in 38% milk chocolate and finished with gray salt."
Wow, that Fran really knows her caramels! Smooth milk chocolate covers luscious caramel that is just the right consistency, not too hard or soft. A finishing sprinkle of smoked sea salt tops it all to add a crunch and lingering saltiness after the last bite.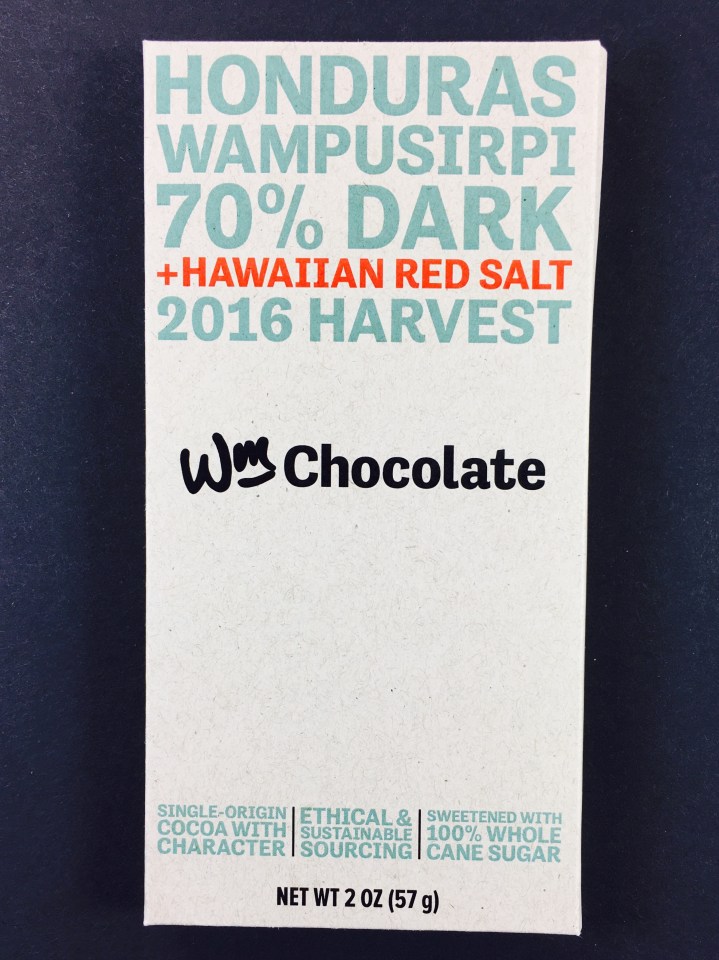 Wm. Chocolate Honduras Wampusirpi 70% Dark + Hawaiian Red Salt 2016 Harvest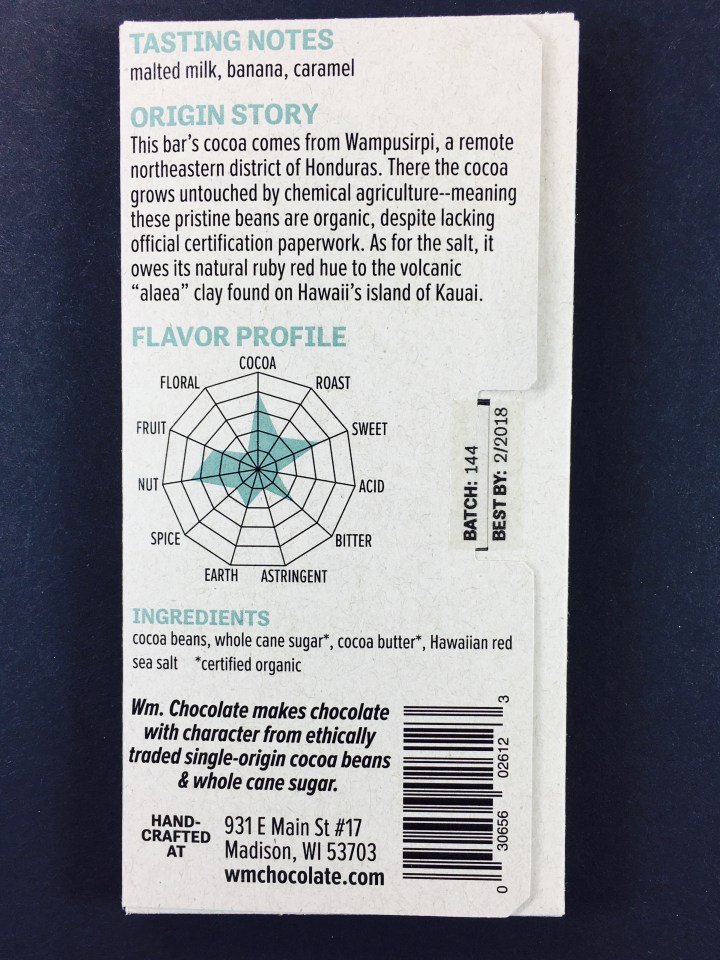 This bar features beans that are "untouched by chemical agriculture" although they are not certified organic. The salt comes from Hawaii and is red due to volcanic clay!
Although the tasting notes mention banana and caramel, I thought it tasted like molasses! My family found it too salty.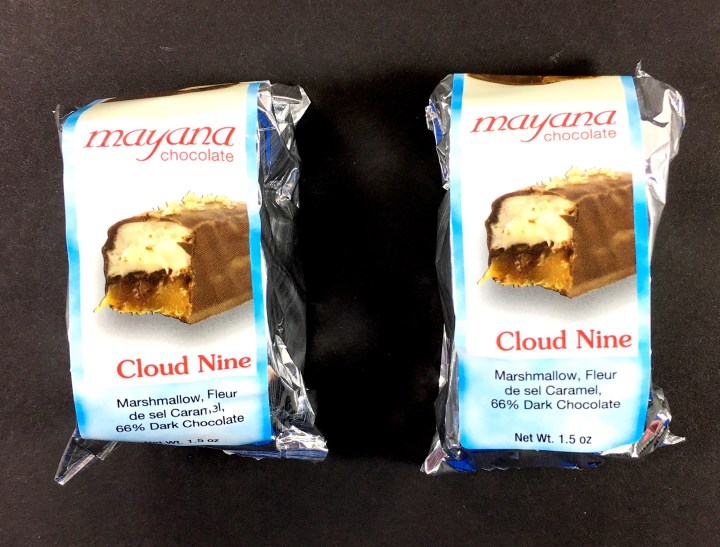 Mayana Cloud Nine Bar Marshmallow, caramel, and dark chocolate in a tidy little package.
I am not a big fan of marshmallow (which reminded me of meringue) but the caramel was perfect, not too hard to chew. This had sea salt on top but it wasn't overpowering. I shared half of one with my daughter and just a little goes a looong way.
I truly love getting this box since these bars are extraordinary and maybe not something I would pick out for myself – like a special present each month from me to me! I love chocolate and these bars are so satisfying that just a bit is needed to fulfill your cravings/sweet tooth/PMS needs. Dark chocolate contains antioxidants and polyphenols so I'm going to think of this as a healthy snack box to justify my eating it all. Check out the Chococurb website for some more excellent choices for all of your chocolate needs!
Y'all, I died and went to heaven with this box! Did you feel the same way too? Let me know in the comments!