The Cate & Chloe VIP program is a jewelry subscription box delivered to your front door once a month. Each box contains on point and on trend Cate & Chloe pieces! Boxes are customizable and always come with extra goodies to keep VIPs extra happy. To ensure that you get pieces tailored to your style, Cate & Chloe has a VIP Style Quiz to gauge your tastes. Choose between 3 subscription options starting at $19.99 – The Starter Package (1 item), Double the Fun (2 items), and Full VIP Status (3 items). The cost per box drops with extended subscription terms, so the longer the subscription, the more you can save!
Quick look at the VIP Style Quiz. You choose your favorite metals, colors, and looks to help stylists choose pieces that suit your personal style.
DEAL: 35% OFF All One Month Subscriptions (The Starter Package, Double the Fun, Full VIP Status)! Use Exclusive Code: HSSUMMERVIP35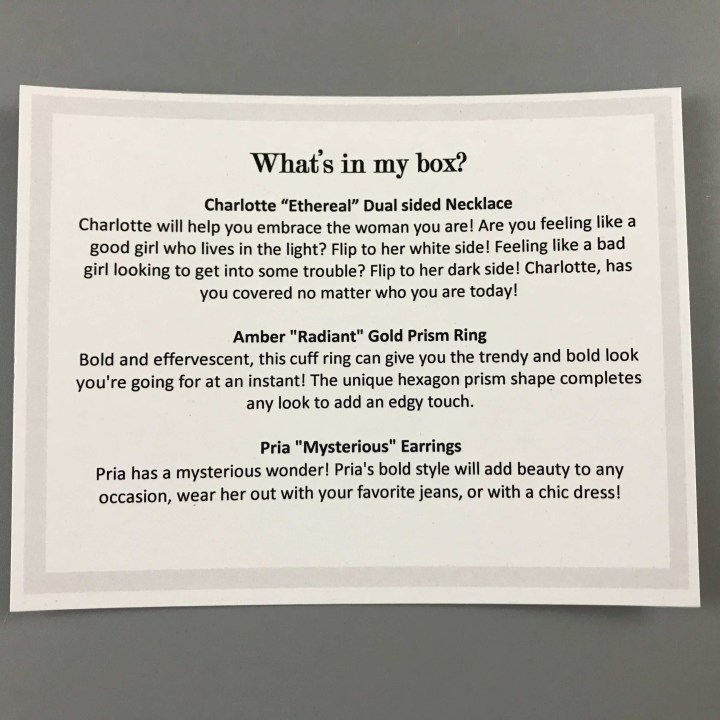 What's in my box? Well, this contents card not only tells you what to expect but also gives a brief description of each item. The only thing missing is a price tag.
Everything revealed…
Pria "Mysterious" Earrings ($48). Pria has a mysterious wonder! Pria's bold style will add beauty to any occasion, wear her out with your favorite jeans, or with a chic dress!
These earring are so much prettier on then in pictures. My only issue is they tickle my neck and I couldn't stop giggling to take a picture. I might trim the tassel so that I can rock them all summer long. I think they'd look great with a big floppy hat.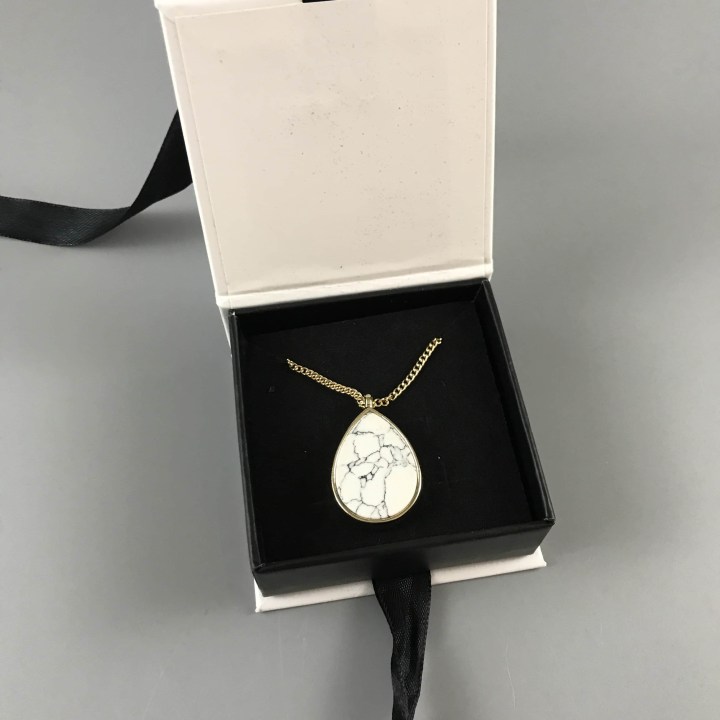 Charlotte "Ethereal" Dual Sided Necklace. Charlotte will help you embrace the woman you are! Are you feeling like a good girl who lives in the light?  Flip to her white side! Feeling like a bad girl looking to get into some trouble? Flip to her dark side! Charlotte, has you covered no matter who you are today.
I am in love with this dual sided necklace and the simplicity that comes with it. I have a pair of earrings to reflect either side, however, the white side is my preferred side. I can't wait to don this with a cool summer dress and comfortable flats for a complete good girl look.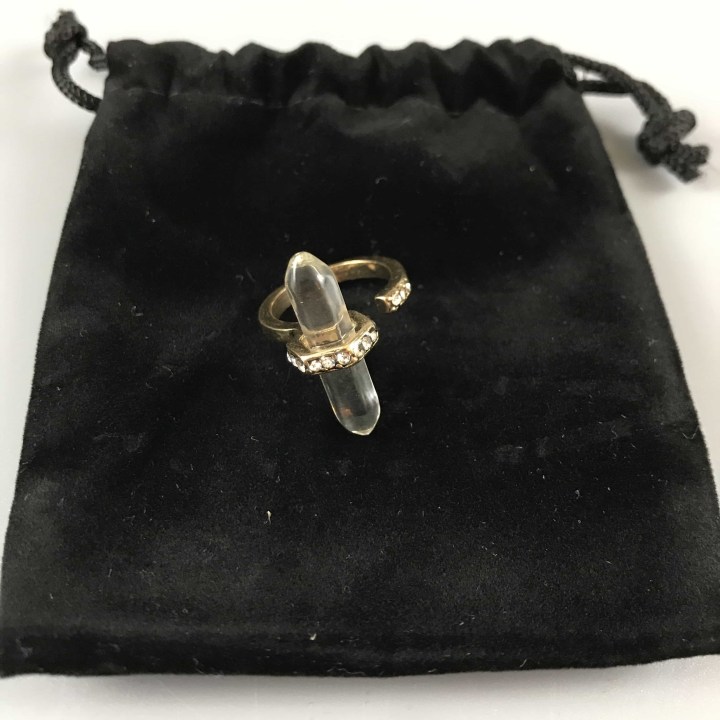 Amber "Radiant" Gold Prism Ring ($49). Bold and effervescent, this cuff ring can give you the trendy and bold look you're going for at an instant! The unique hexagon prism shape completes any look to add an edgy touch.
Now I feel I'm too told for this ring but my daughter is madly in love! She finds it so much fun and has been planning her outfits around the statement piece. I will tell you it goes with everything…school uniforms to jeans and flowy top right down to a dress and cowboy boots.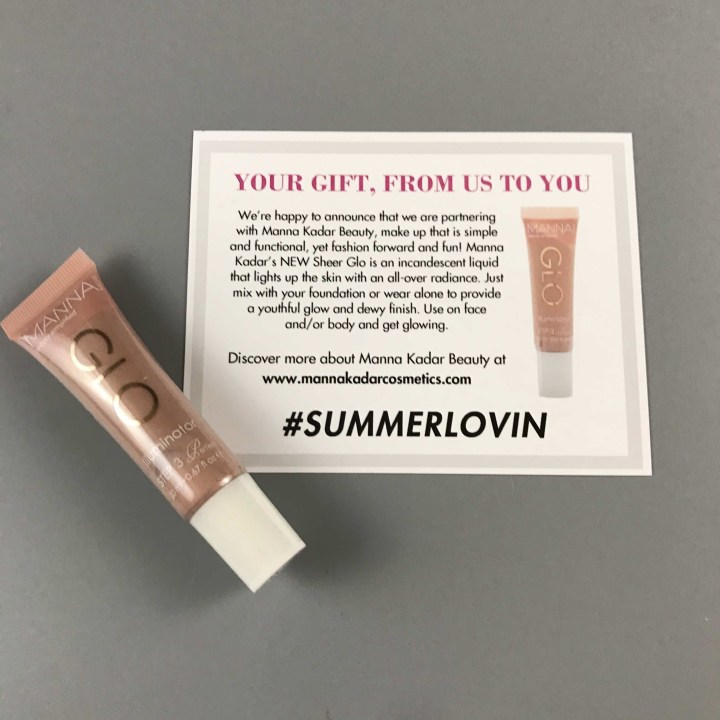 VIP Gift: Manna Kadar Glo Illuminator ($29). Formerly known as "Sheer Glo". The newly re-formulated, Glo Illuminator is an incandescent liquid that lights up skin with all over radiance. Mix with foundation or wear alone to provide a luminous glow for all skin types. An especially amazing product for mature or dry skin. Glo Illuminator provides a youthful glow and dewy finish. Use on face and/or body and get glowing.
This product is just amazing! I haven't used it with my foundation because that requires more time and energy than I  have in the wee hours of the morning when I'm getting ready for the day. It works so well to bring that sun kissed glow to my cheeks that I am pleased as punch with it and will be investing in auto renewal through the Manna Kadar website.
Cate & Chloe have brought another month of amazing products to my door. I love that the pieces are so different from each other, forcing me to try different combinations to find the perfect style for me. I love the jewelry I get both looks and price point but the VIP perks are what really set it apart. In my opinion, any girl who is the lucky recipient of this subscription is bound to feel like a princess, so spoil yourself, or a friend or even better let someone spoil you right. Enjoy this beautiful jewelry and never worry about being boring again.
Have you tried out Cate & Chloe VIP box? Let me know your thoughts!