Blueberry Cove Beads is a monthly bead subscription box. Each month, you'll receive between 9 and 13 different items. It can be a mix of loose beads, bead strings, findings, and pendants. You can share your creation on their social media for the chance to win a free box. Boxes are $22 per month plus $5 shipping in the US & Canada and their website features projects you can create with your beads.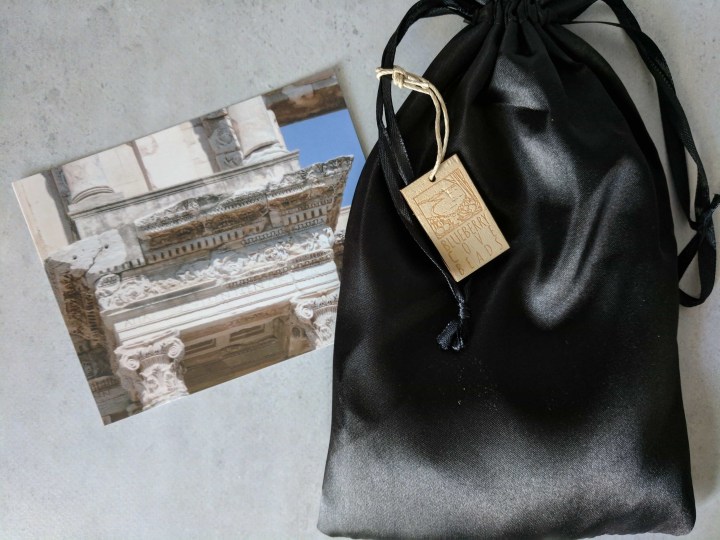 Inside the box, there's always a nice black satin pouch with a postcard showing the theme of the month. Inside the bag, everything is packed in self-sealing plastic bags, except the bead strands and some unique pieces.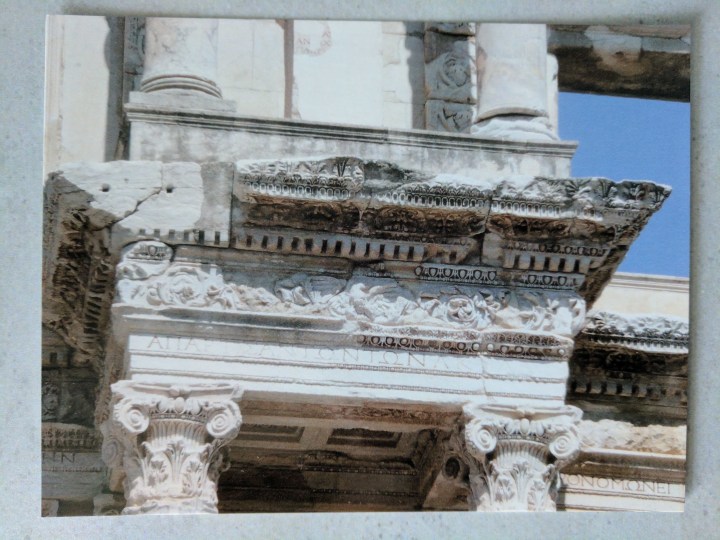 There's a different theme every month and it's always fun to try to guess it with the postcard we get. I'm thinking: Greek?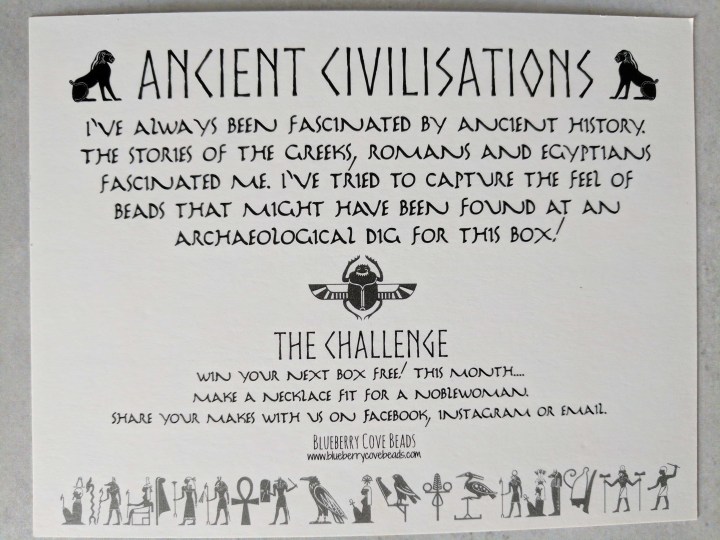 Ancient Civilisations! Fine by me! I'm looking forward to see the beads!
There is no info about the content of the box. Instead, we get a card explaining the challenge (optional) for the month. We can share our creation on their social media to enter a draw for a free box. Also, it's really neat to see what everyone else creates with the same set of beads! This month's challenge is to make a necklace fit for a noblewoman!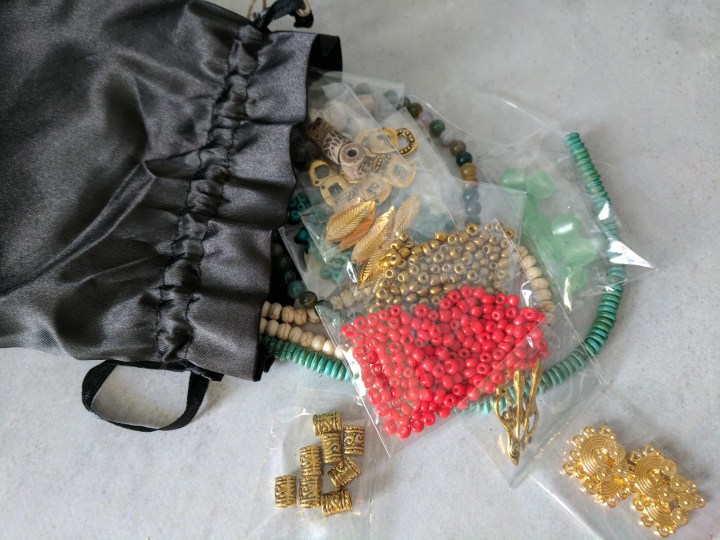 Lot's of gold this month! And the bag is packed with goodies!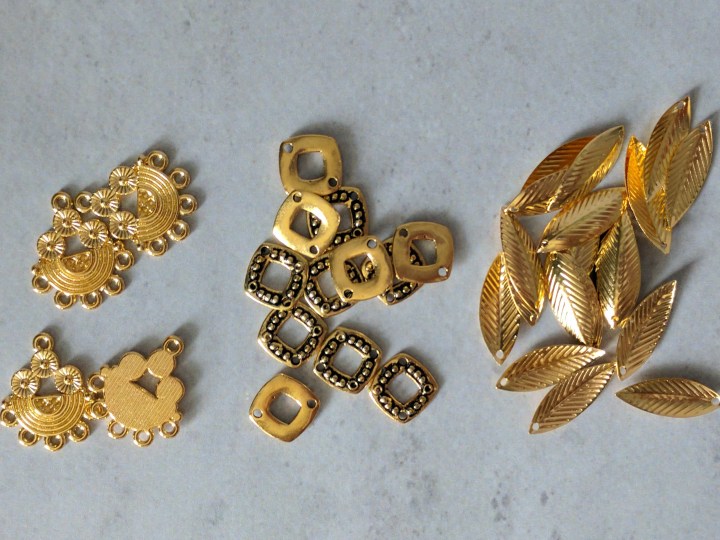 1 to 5 links. I love these, they are perfect to make chandelier earrings, or a nice tassel-type of pendant for a necklace. I ended up using them, they were just to fun!
Rectangular links. Attached to each other with other golden beads, they would make quite the statement necklace! Or on earrings with a simple beads hanging from one link. So many things to do!
Feather charms. They are thin and so light! Perfect for a tassel, even on earrings.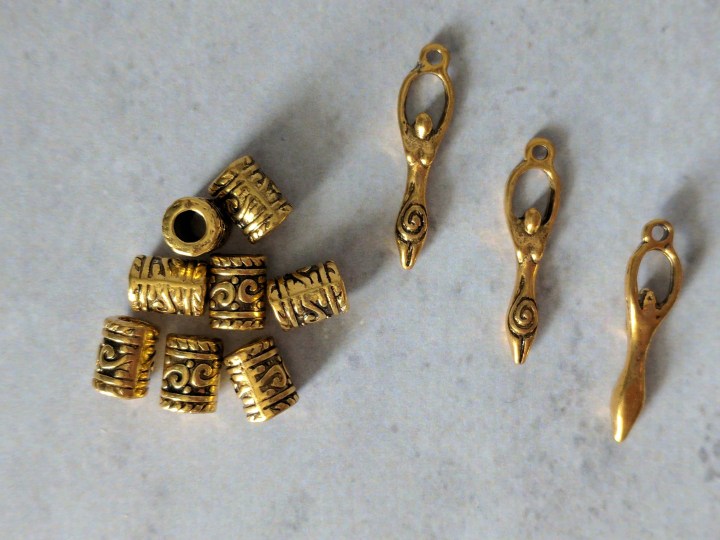 Barrel Beads. These mixed with the links would be so nice! Or with gemstones beads in turquoise or red. The hole is big enough that a chain can go through.
Goddess Pendant. They are so nice and lovely! I would see them on a chocker.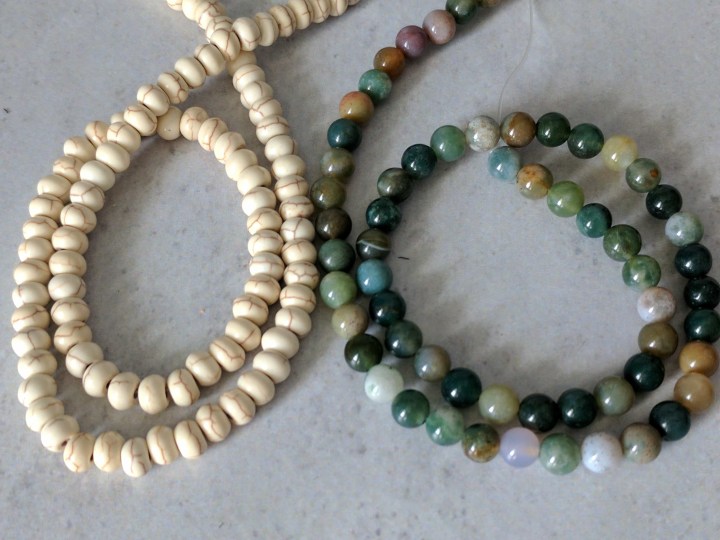 White Magnesite rondelles. They are the first thing I saw when I dropped everything on my mat. I really wanted to use them, it has that natural, old look to them.
Indian Agate rounds. I really like getting gemstones in my bead boxes, and these are great!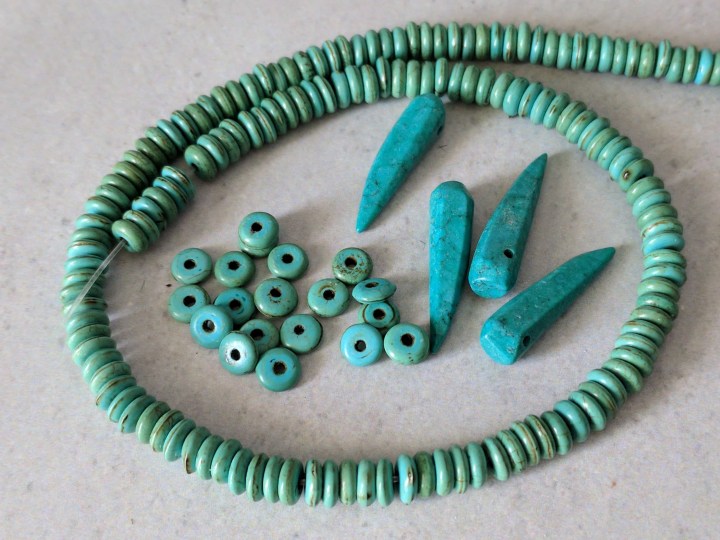 Turquoise rondelles (dyed magnesite?). More rondelles, I love the green-turquoise colours of these beads, with enough details that it looks like they are old! They are lovely with the white magnesite, they seemed to have been made to be together!
Turquoise point. Perfect for individual pendant, or all together for a fierce looking necklace!
Soft Green round beads. They have a lovely chatoyant effect, making them look soft and velvety!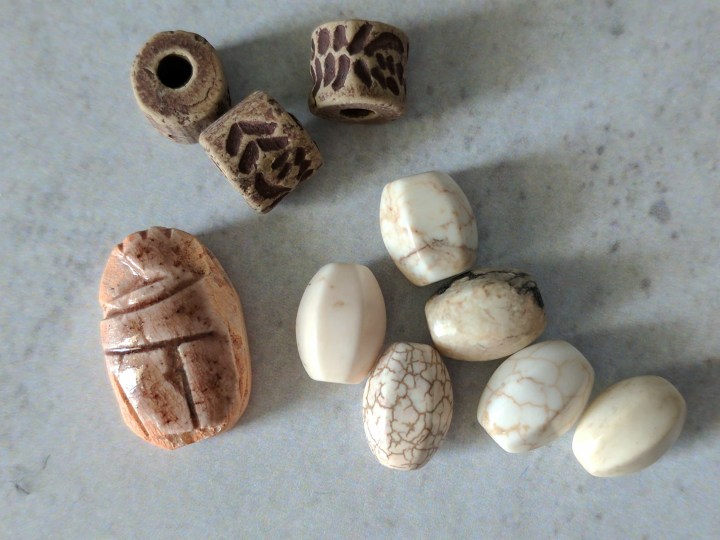 Scarab (Ceramic?). My favorite bead in this box! I didn't know if I wanted to make a bracelet with it or a pendant, and the pendant won!
Barrels (ceramic? clay?). The hole is big enough to thread cord, such as leather.
Faceted barrels (white magnesite?). They seem to be of the same material as the rondelles.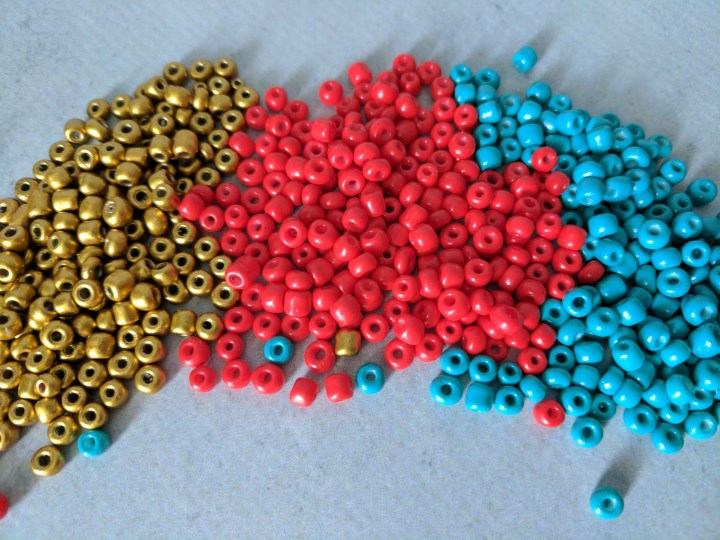 "Seed Beads" in gold, red and turquoise. When I saw them, I though "Native American" and then "Egyptian". With the feather charms, it just adds to my confusion of where to go with it! But seed beads, irregular and beautiful, are a staples of ancient jewelry.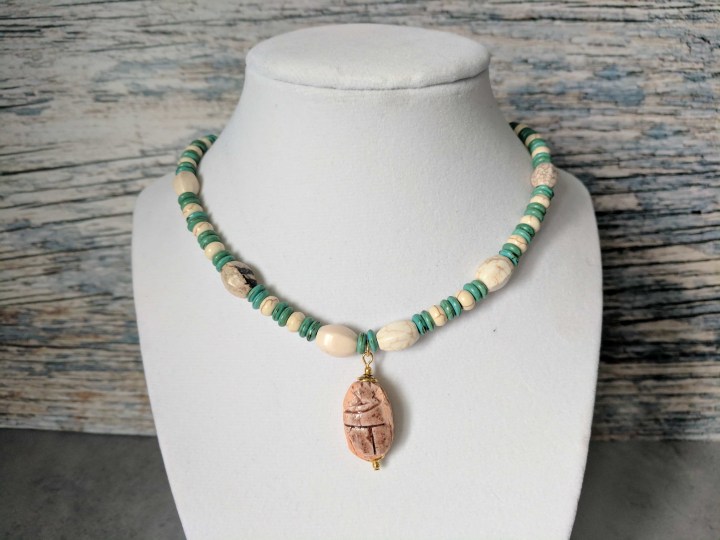 I did two necklaces this month. The first one was to use the scarab. Something simple.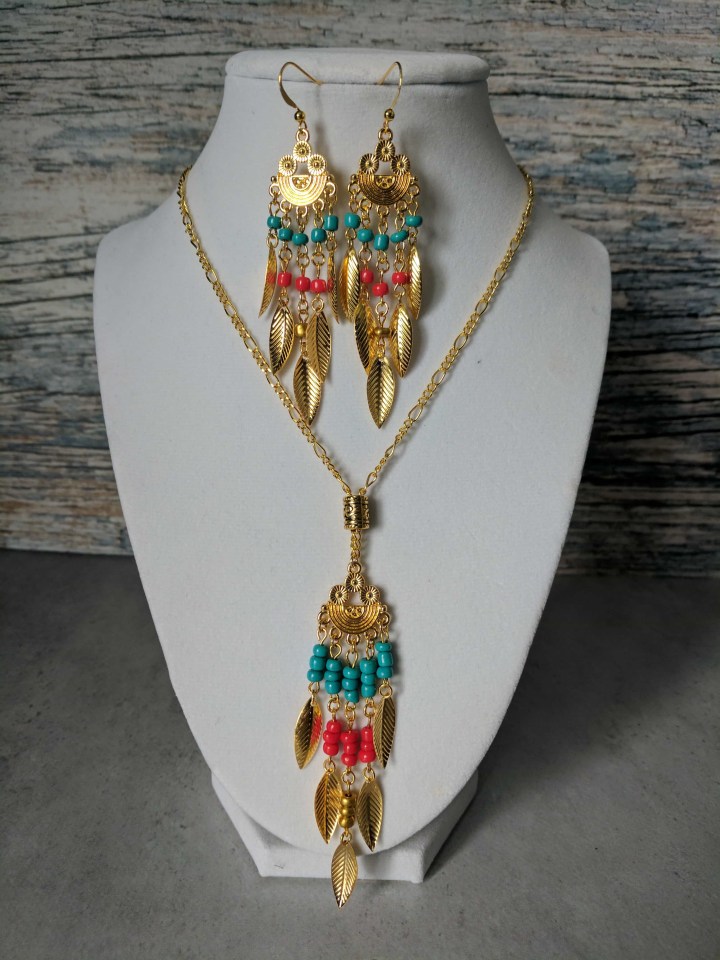 For the second one, I went a bit crazy! The seed beads wanted to be used and I couldn't overlook the feathers. So that happened!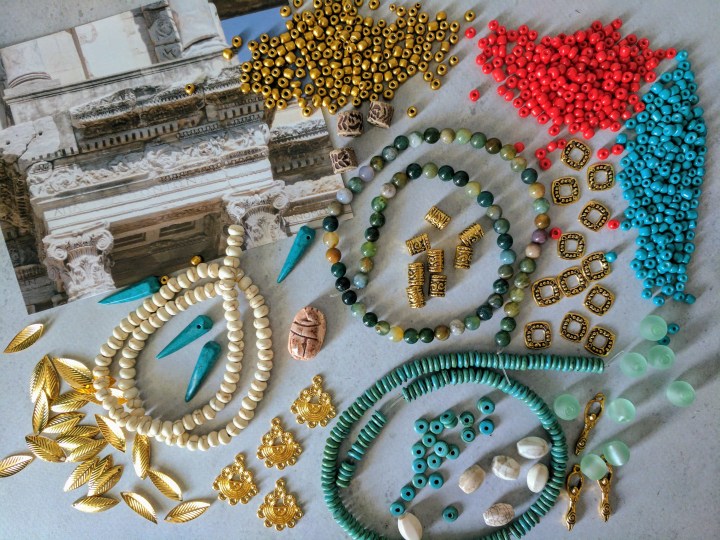 Once again, this month's Blueberry Cove Beads doesn't disappoint! I loved everything, and it was easy to go one way or another with the inspiration! I love all the bright colours for spring and soon summer season!
What did you think of this month's Blueberry Cove Beads?