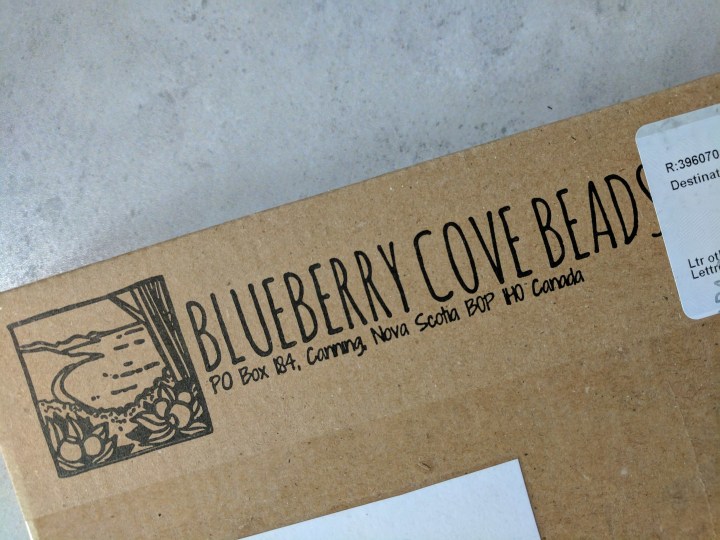 Blueberry Cove Beads is a monthly bead subscription box. Each month, you'll receive between 9 and 13 different items. It can be a mix of loose beads, bead strings, findings, and pendants. You can share your creation on their social media for the chance to win a free box. Boxes are $22 per month plus $5 shipping in the US & Canada and their website features projects you can create with your beads.
Inside the box, there's always a nice black satin pouch with a postcard showing the theme of the month. Inside the bag, everything is packed in self-sealing plastic bags, except the bead strands and some unique pieces. This month's box was delayed quite a bit, but it should get back on track with May's box.
Each month has a different theme. This month's theme was confusing to me at first. I thought it was the Nativity Scene! Nope, this month is about The Wizard of Oz!
I will admit something here : I've never seen the Wizard of Oz. Yeah, you can start throwing beads at me!
There is no info about the content of the box. Instead, we get a card explaining the challenge (optional) for the month. We can share our creation on their social media to enter a draw for a free box. Also, it's really neat to see what everyone else creates with the same set of beads! This month's challenge is to make something using the yellow brick road beads!
Lot's of colours!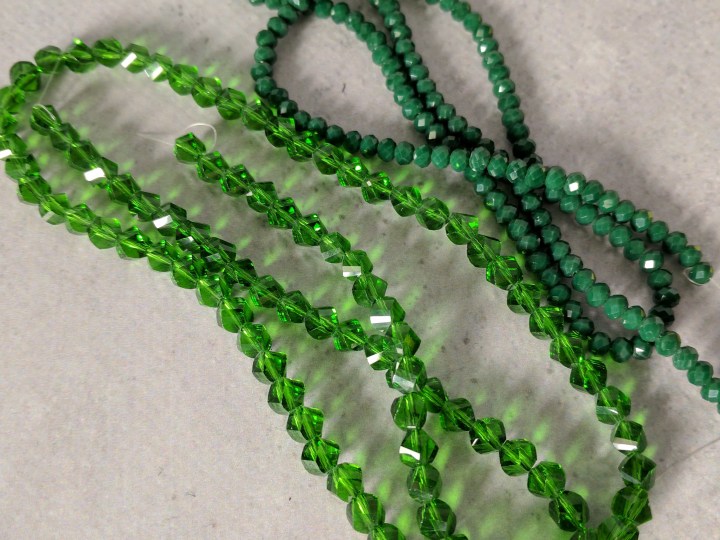 6mm Green Glass beads, Helix cut. They are super cute beads! I like the cut as it brings some variety to otherwise rounds, bicones or rondelles!
4mm Matte Forest Green rondelles. I love rondelles, they are so versatile and can add the right amount of colour or sparks to a design. They are also easy to mix with bead caps or spacer beads to make unique links!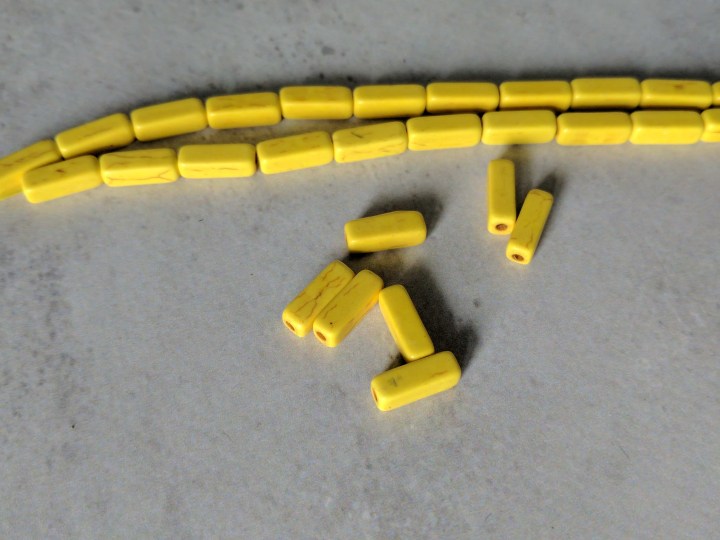 12mm yellow rectangle beads, acrylic? The challenge this month is to include these beads in a design. I like the redish details on them. They do look like the yellow road from the picture.
Rainbow coloured round acrylic beads. I love the colour, but it is a type of beads I have a hard time including them in a design. I might make a bracelet with a white cord for one of my nieces.
Flower beads, multicolour. I love flower beads, they are perfect to make different kind of earrings and the colours are great for a spring vibe! Just thread a shiny bead, a flower bead, a bead cap and a small seed bead and you get yourself a cute little flower!
Shamballa beads, green. I've made so many shamballa bracelets with these beads when I was younger! It was everywhere. Well, I want to do it again!
Teardrop (18mm). I love love love these beads! At first, I thought they had a marine theme to them (don't they look like they would belong to a mermaid box, or a beach one, with the deep translucent blue and colourful fishes, I mean flowers?) The hole goes side to side at the top of the beads, so they could be thread directly on thread for a beachy look. No one will make me change my mind on the fish tank look of them!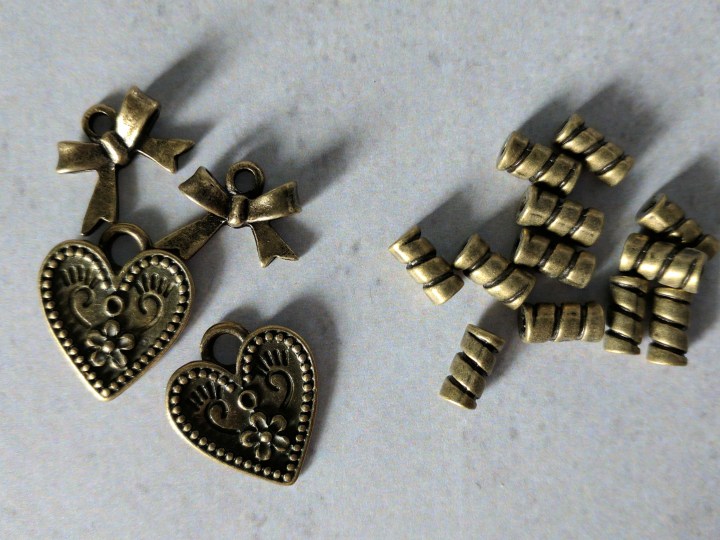 Barrel spacer beads, antique brass. They are longer than other spacer beads, so I hesitated to labelled them as such. Anyway, small or big spacer beads are quite versatile to showcase other beads or to add some interesting details to a threaded design.
Ribbon charms, antique brass. The ribbons are so cute! They would make lovely earrings, dangling from a flower bead, or on a bracelet.
Heart and flower charms, antique brass. I'm not a big fan of heart charms, but they are quite cute. A small crystal could be glued in the circle in the centre, or they could be painted with bright enamel paint.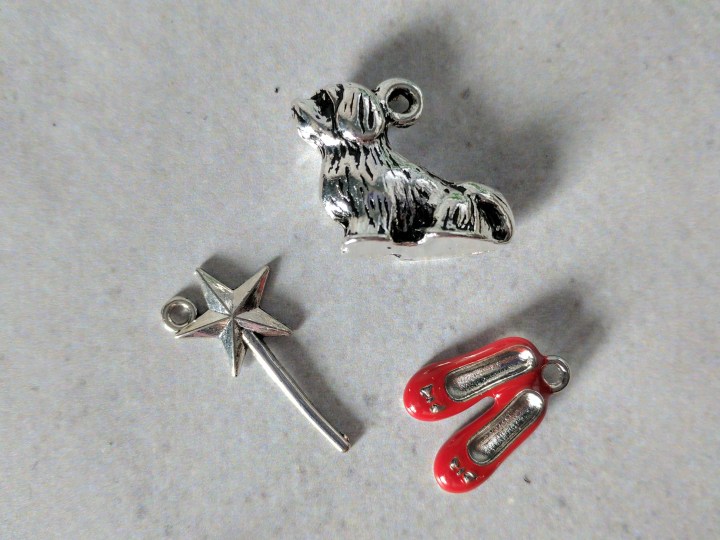 Charms. I had to look it up to understand these charms. So we have the magical ruby shoes, the magic wand of the Good Witch and Toto, Dorothy's dog. Fitting with the theme, they would be lovely spaced on a themed bracelet, or together to form a pendant for a necklace.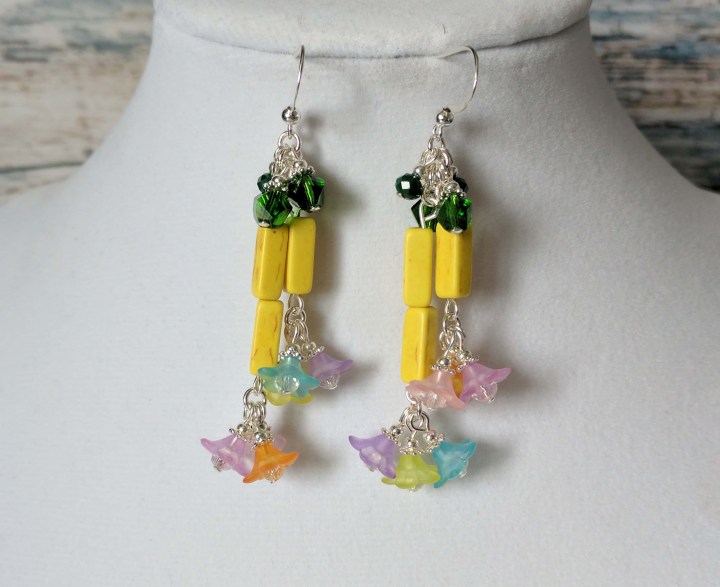 When I don't know what to do with a monthly bead box, I got for the easy way out : earrings! I don't know why, but earrings are inspiring for me and the flowers were the first beads I wanted to work with! I took my inspiration from the postcard, with the brick road leading to pretty flowers and the Emerald City, so I tried to recreate this feeling. I probably failed, but I like the cute earrings I came up with!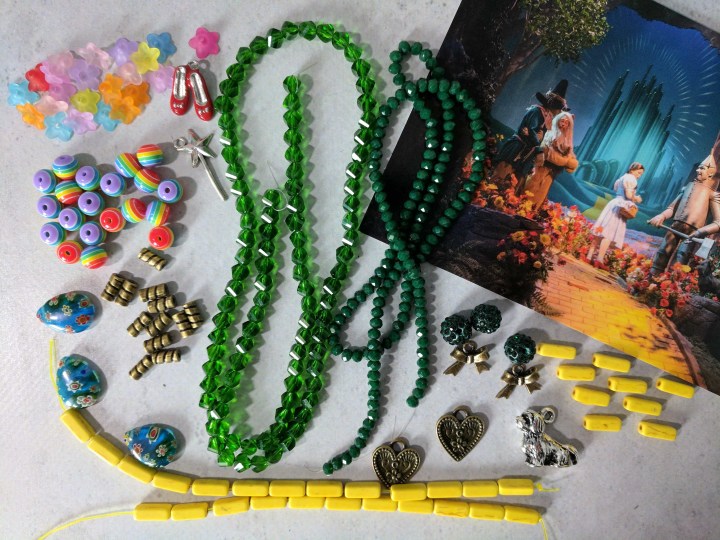 Once again, this month's box was well curated with a variety of beads to please everyone, but I had a hard time coming up with something based on the theme. Sometimes, with beads you don't get to choose, you get stumped, and this month was one of the hardest to work with. But I'm sure that for a Wizard of Oz fan, this box is delightful!
What did you think of this month's Blueberry Cove Beads?