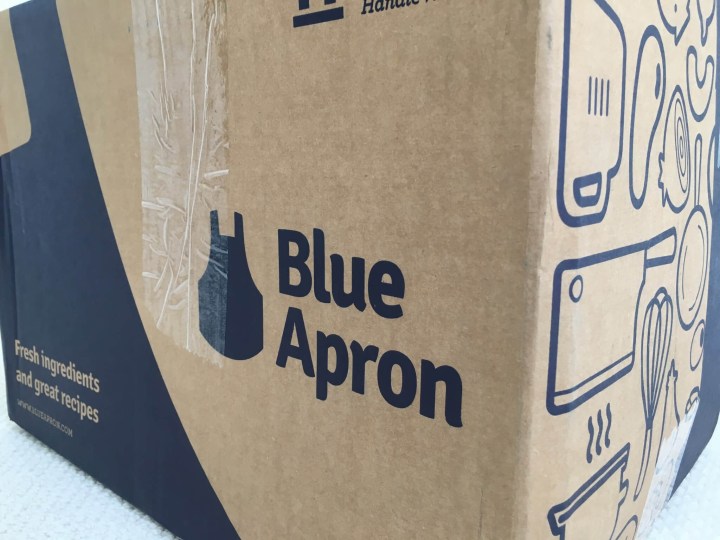 Blue Apron is a subscription box for making great meals at home. If you're like me, you periodically find yourself in a serious cooking rut. You make the same things every week, but the thought of researching a recipe and acquiring all of the ingredients is just too much work. Blue Apron is the solution! Each week, Blue Apron sends you a refrigerated box with all the fresh ingredients you need to make the included recipes. You can select the 2-person plan – 3 meals a week of 2 portions each – or the family plan – 2 to 4 meals a week of 4 portions each. The menus are set, but you can ask Blue Apron to avoid ingredients you don't eat – shellfish and lamb, in my case.
We got the Family Plan for 2 meals. I set the delivery date and it arrived right on time, securely packaged in a heavy-duty box. All of the ingredients are wrapped in an adorable insulated blanket and cooled with ice packs. Mine took a day to arrive and sat on my porch for 3 hours, and everything was perfectly cool inside.
Pricing: 2-Person Plan – $59.94 for 3 recipes. Family Plan (serves 4) – $69.92 for 2 recipes, $139.84 for 4 recipes.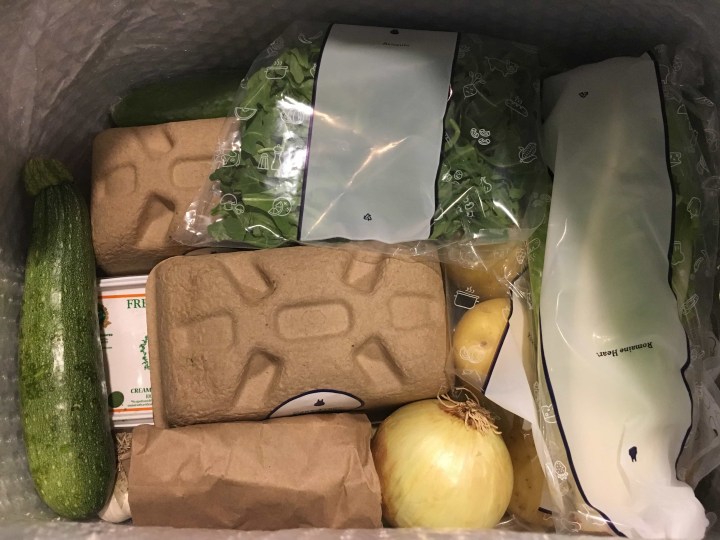 DEAL: Save $30 on your first order! Use this link – no coupon code required!
Through May 29 save $32 on your first box of Blue Apron! No coupon code is required for this deal, just use this link to sign up!
The meat is at the bottom, surrounded by still-frozen gel ice packs. The chicken was double-bagged in extra ziptop bags, so no concerns about leakage. The produce was all in good shape this month, though I got a head of romaine lettuce instead of the little gem for the quiche recipe.
May is a crazy month for anyone whose kids are finishing school. At least, that's when we finish here in the South. I hear other, less-civilized parts of the country go to school until June. Yes, I'm kidding about one of those things.  Regardless, I was stoked to have some fun recipes to try that didn't require a trip to the grocery. BA for the win. Let's do this.
Our first meal was the Fingerling Potato and Ricotta Quiche.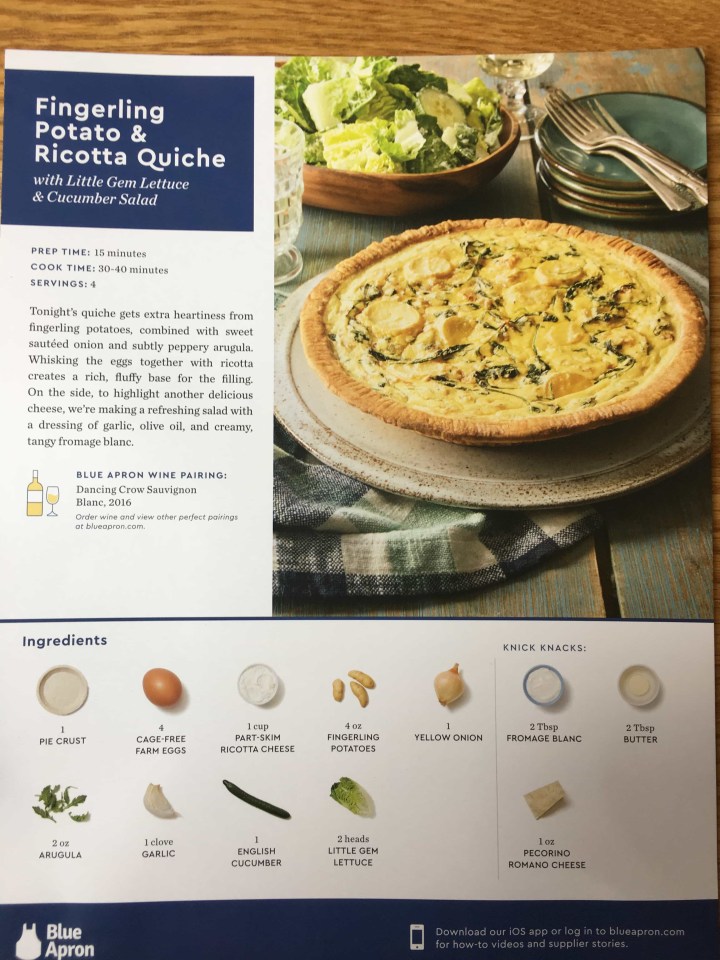 Who doesn't like a delicious egg pie? And, after making this super-easy recipe, I wondered why I don't make it all the time.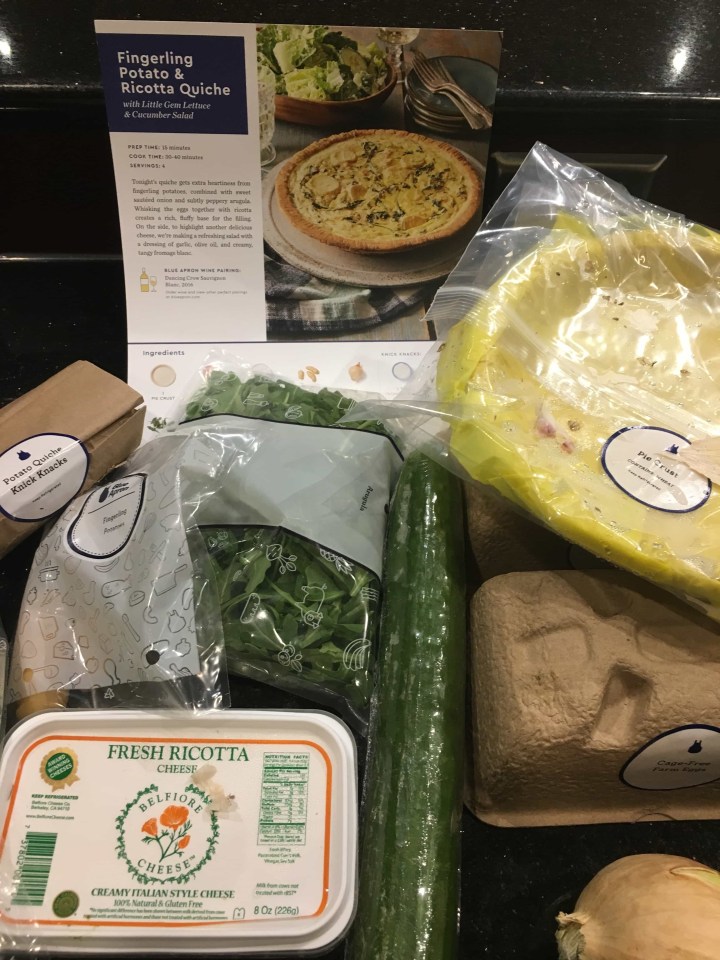 As usual, all of the ingredients were included, even a wee pat of butter. (I really like this butter – I have been known to use my regular butter in the recipe and save this little pat for serving on bread, where it'll be appreciated). Blue Apron does a great job of sending you just the amount you need for the recipe, so you don't waste anything; nor do you have to think about how much to add to the recipe.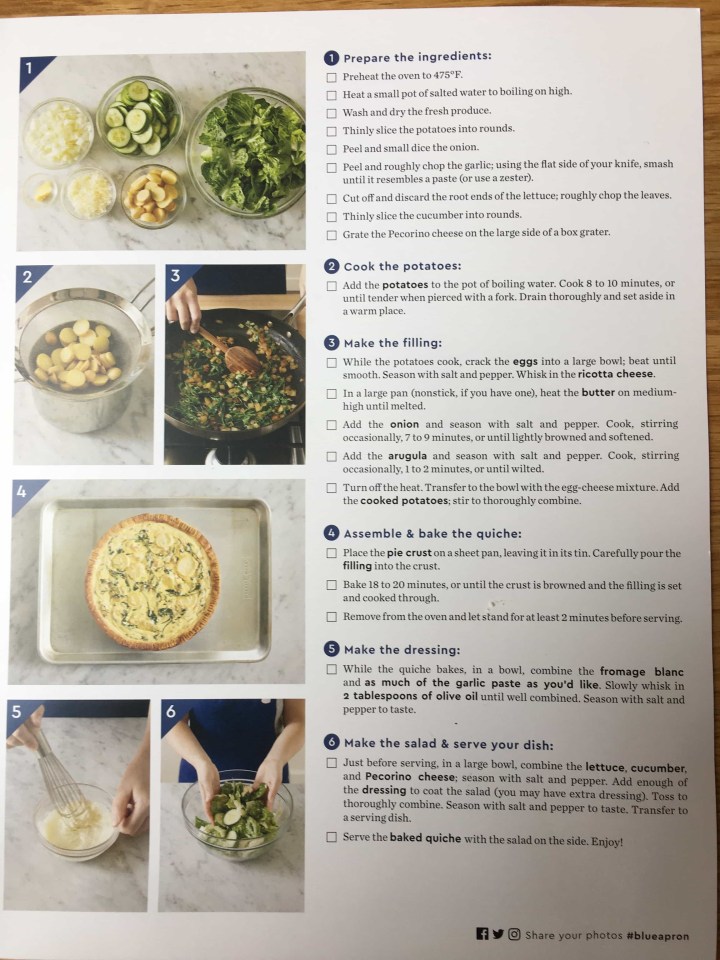 Each recipe comes with these easy-to-follow instructions. Even if you are new to knife skills, you will be able to do everything on this list. The prep time on this one was about right – just make sure you start that water boiling right at the start (which I remembered to do, hooray!)
Included in the box is the meal's nutrition facts. I think it's nice to have a ballpark idea of how this meal fits into my daily nutrition.
This meal was straightforward to make. 475 is crazy hot for my oven, so I did 400 for the full 20 minutes and it was great.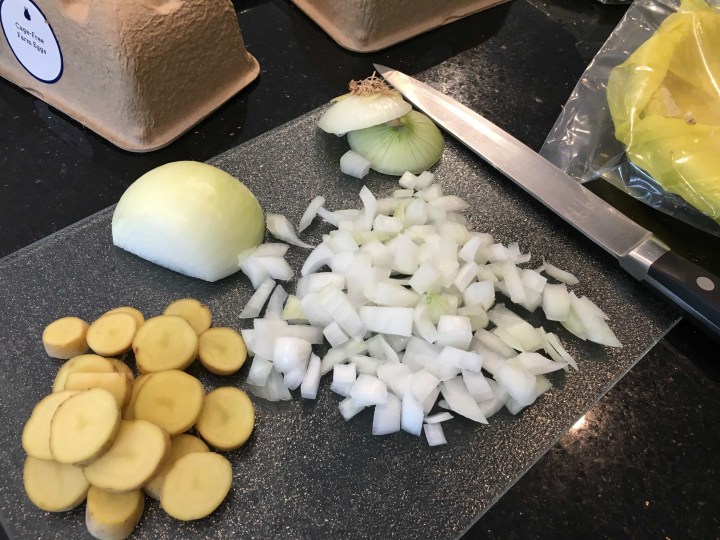 Easy mis en place.
Adorable cozy beds for the eggs.  Recycle those, of course.
Arugula takes no time to wilt.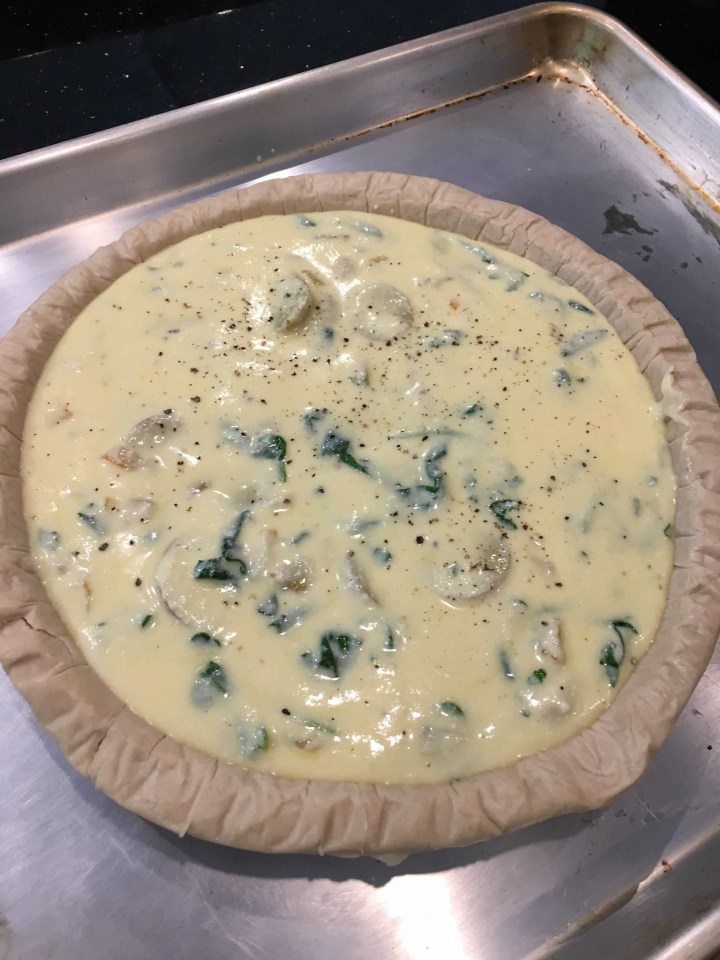 Before. . .
And after! This was a snap. One recommendation would be to REALLY salt the egg mixture before you put it in the shell. I salted each part, but it was still not quite enough. This was tasty, though we didn't think the argula added any flavor. Plenty for all of us as a light dinner, with leftovers for weekend lunch. Thumbs up.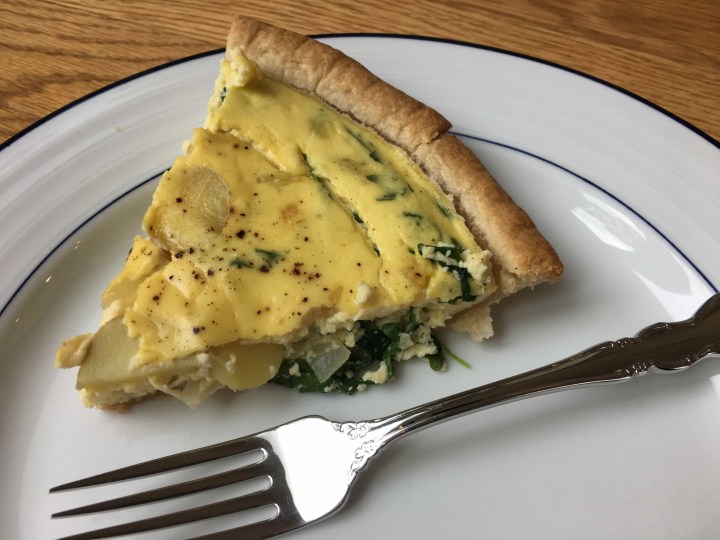 Next up was the Seared Chicken with Mustard Pan Sauce.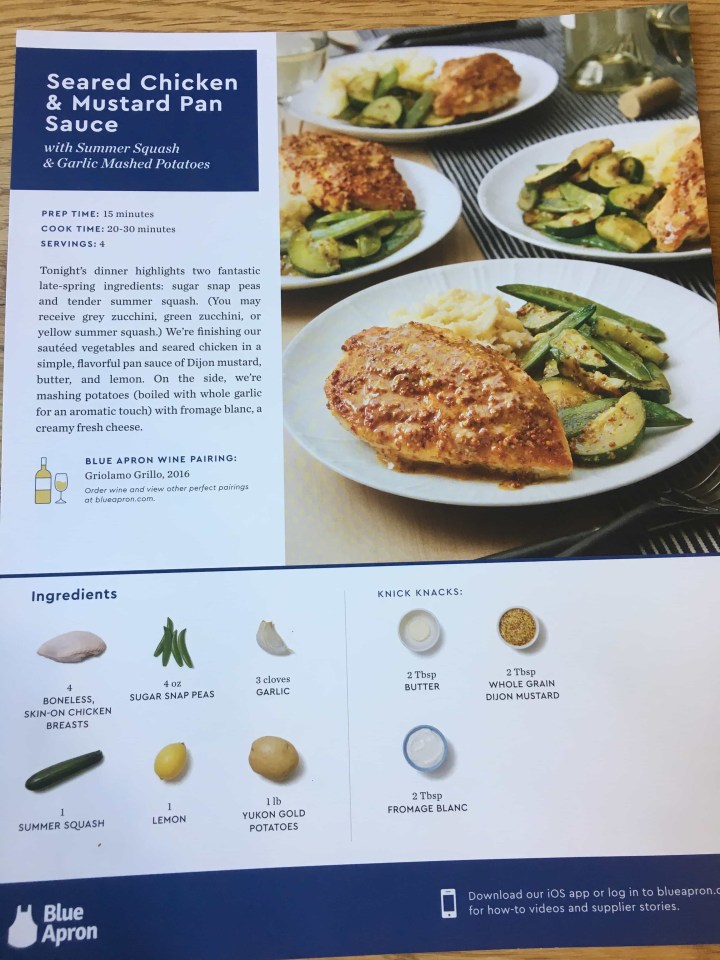 Chicken plus a veg side is pretty straightforward, but we rarely have mashed potatoes, so that was exciting.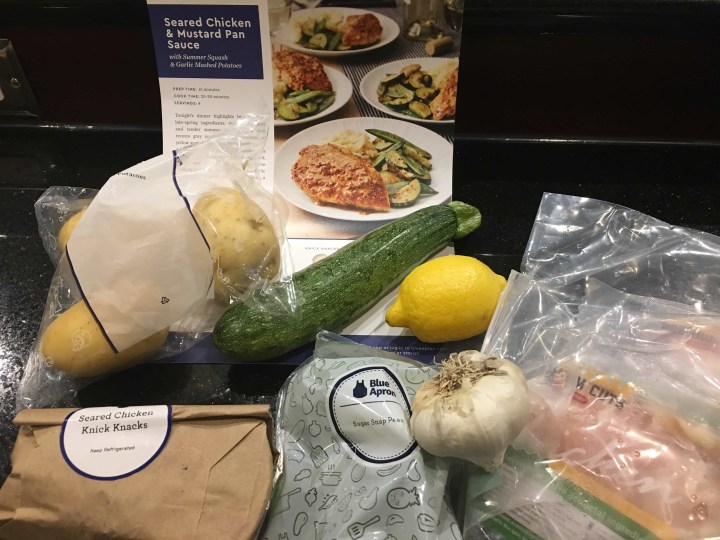 The recipe card has straightforward instructions that were easy to follow. After reading the (not very positive) reviews online for this recipe, though, I made some modifications:  after searing the chicken, I put it in the oven to finish cooking. They were pretty thick breasts, and it would have taken far longer than the 5-6 minutes per side that the recipe suggested. That meant that the veggies got sauteed quickly in olive oil instead of the chicken fond, but that was fine. After pulling those out, it was easy to quickly whisk the pan sauce together. I spooned the sauce over the finished chicken and veg instead of trying to do it all in one pan and risk soggy squash.
This recipe also included the nutrition facts.
The amount of veggies that came with the meat was a touch light (one squash, three potatoes, and maybe 18 peapods) for four people.
With the modifications (which, I admit, isn't optimal to need in something billed as all-inclusive cooking), this came up fine. The mustard sauce was very tasty and something you could easily do on your own to brighten up any meat.  Overall, it was a satisfying meal.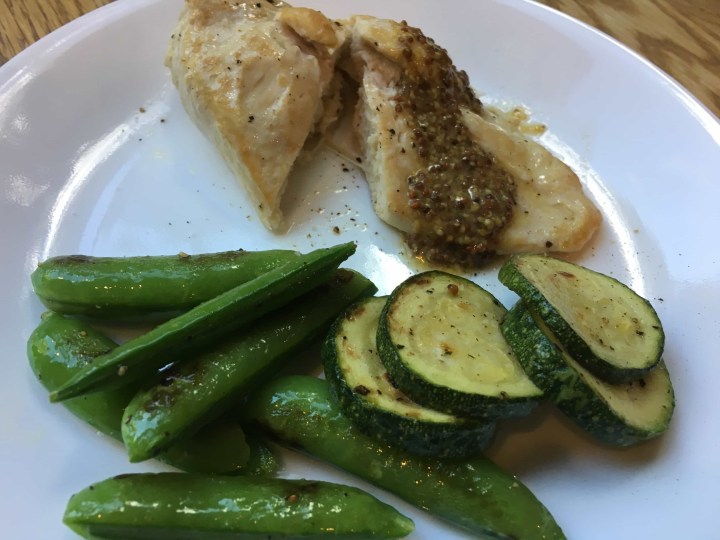 Hey, did you know that Blue Apron has a wine program now? The Le P'tit Paysan Chardonnay that was paired with this recipe is the perfect choice for this meal.
It's nice to not have to decide "what's for dinner" all the time. Overall, Blue Apron has been enjoyable and gets us out of our boring dinner routine. Honestly, you can forget how fun cooking can be. Interesting ingredients, easy recipes, and delicious food. We can't wait to see what we get next time!