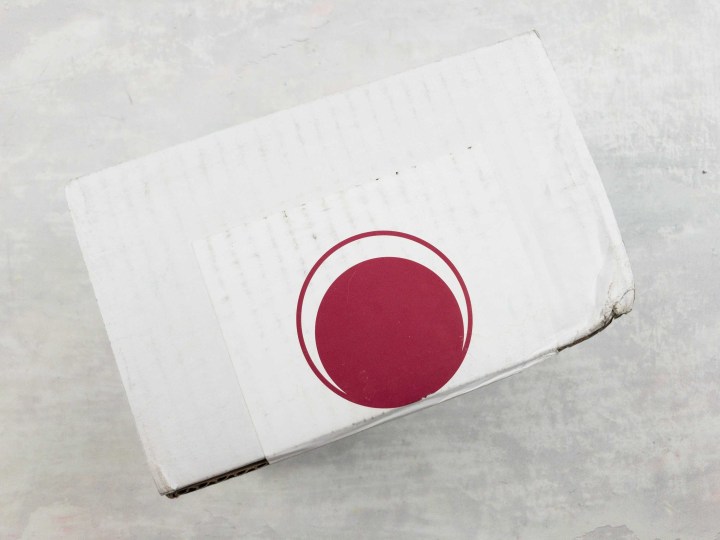 Beauty Heroes is a monthly healthy beauty discovery subscription. Each box features one full-size product + sample items. The subscription costs $115 per per quarter, and ships monthly. Beauty Heroes members with an active subscription receive an exclusive 15% discount on all the products in the Beauty Store.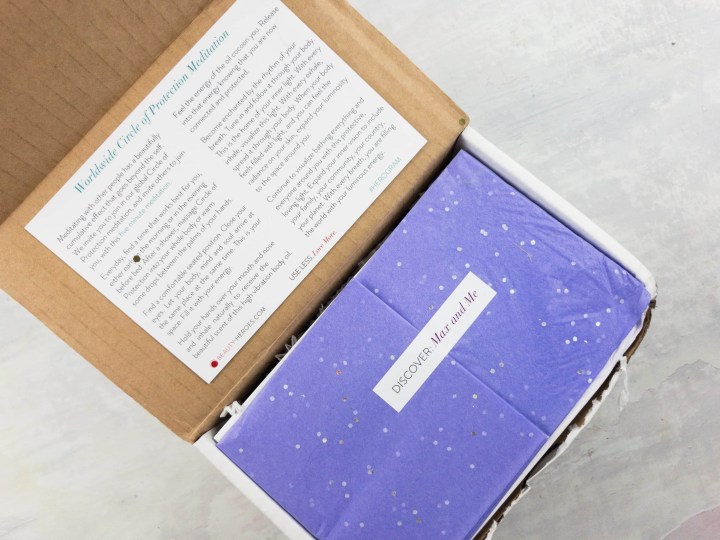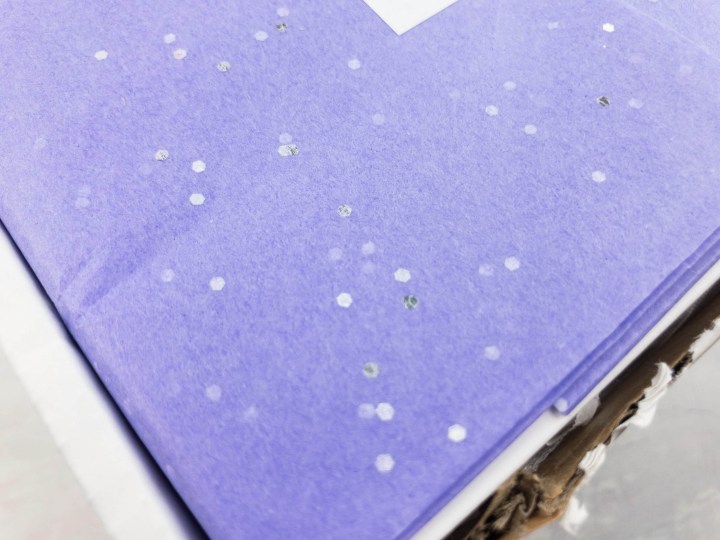 So pretty!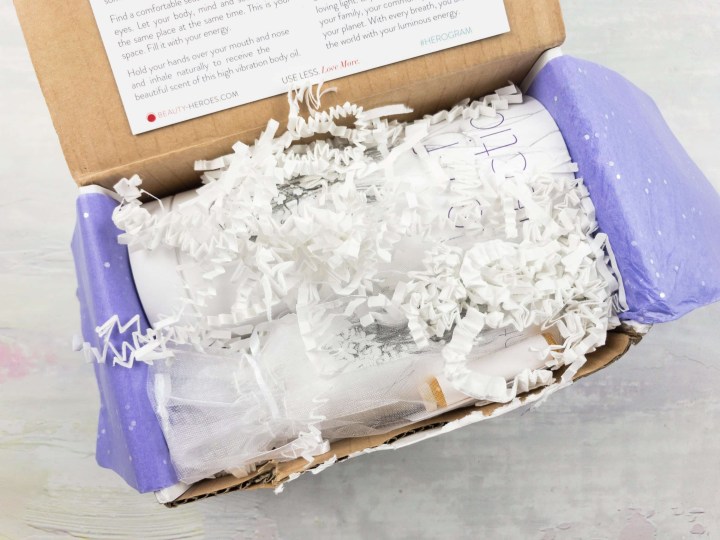 White squiggles protect the items inside.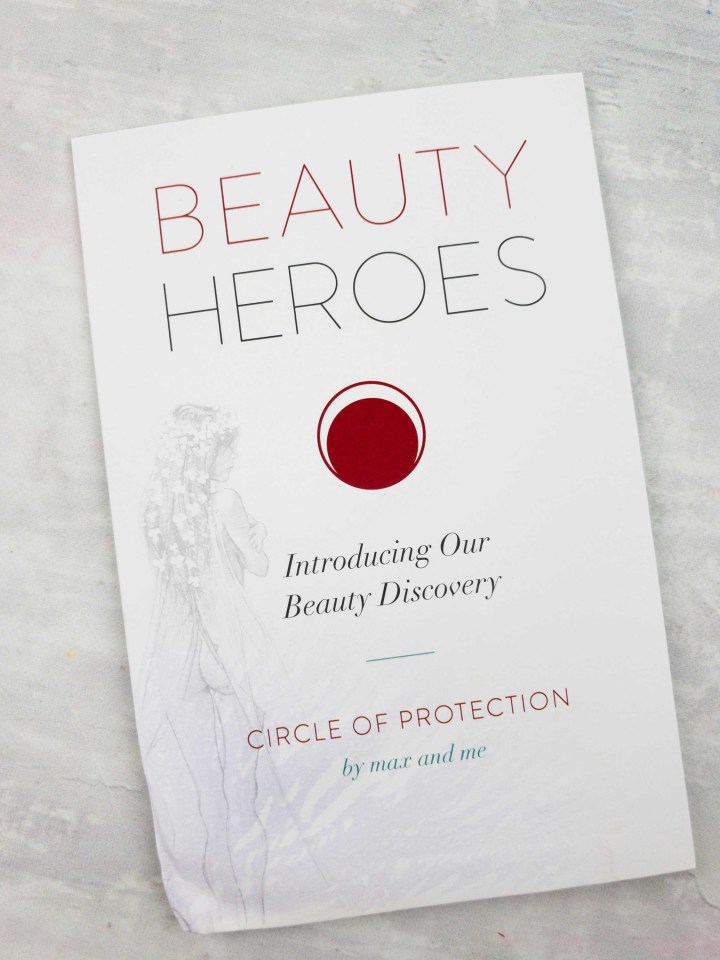 May's Beauty Discovery is the Circle of Protection.
A guardian of skin and spirit, Circle of Protection is an exquisite body oil that works on a physical and energetic level to support radiance and luminosity, inside and out. Blended with highly vibrant plant materials and essences, every application is a baptism of light energy, shielding and strengthening the subtle body.

Delicately fragrant vetiver, bourbon geranium, brightening magnolia, uplifting jasmine and  shielding manuka envelope the aura while high vibrations of litsea and silver fir, attract cosmic protection and white light. Skin looks more radiant and supple while mind and soul rediscover serenity. With a regular ritual, Circle of Protection helps harmonize our inner and outer worlds, bringing a sense of balance and peace.
May's Beauty Discovery is valued at $95.
I don't know about y'all, but the first thing I noticed was the naked lady on the info card.
The information card is loaded with info on this month's brand and featured items! Every month includes instructions on how to use the included products, plus an extended expert beauty ritual.
Every Beauty Hero box comes with its own sidekick item, and this month, they are a sample size of Enchanted Face Oil and a travel-sized Circle of Protection body oil.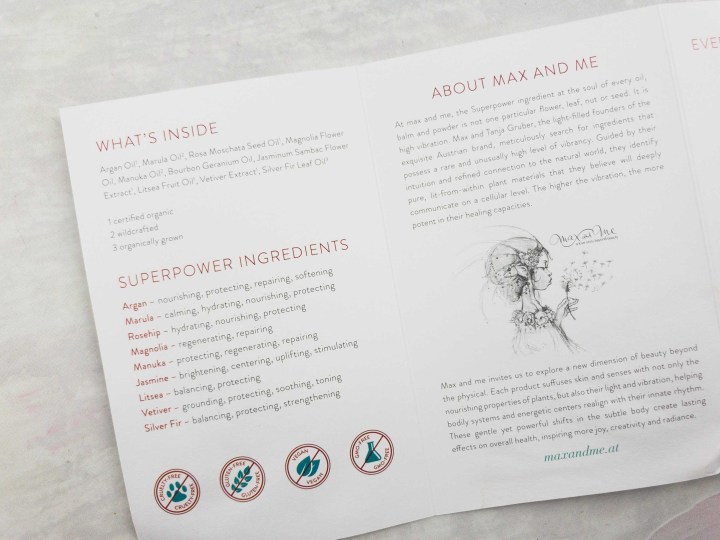 The booklet comes with useful information like the product ingredients and a short history of this month's featured company. The brand's owners are described as "light-filled founders [that] meticulously search for ingredients that possess a rare and unusually high level of vibrancy."
If that's your thing, that's great, but I want to know more about what it does for my skin rather than its place in a meditation ritual, because it's a beauty box. We may disagree on this!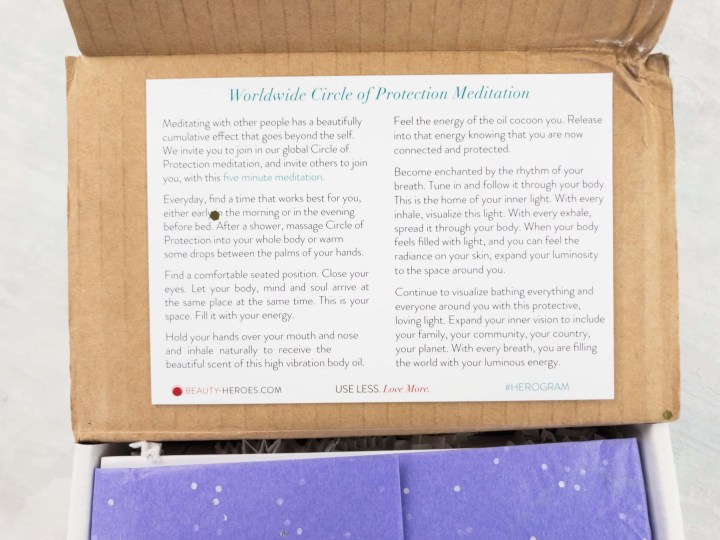 Beauty Heroes invites everyone to join in their global meditation program with their "high vibration body oil." Meditation can have positive health benefits which will certainly benefit your skin and beauty, adding global simultaneous meditation doesn't seem like it would have significant, measurable, scientifically observable beauty benefits.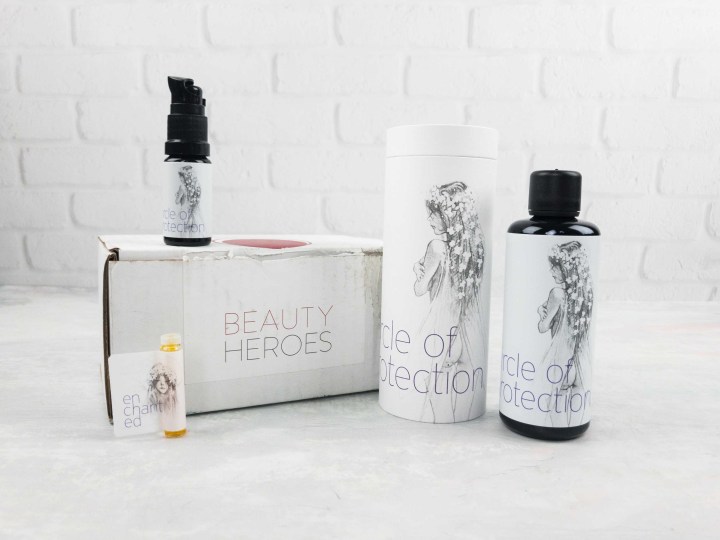 Everything in my May 2017 Beauty Heroes box! Lots more naked ladies.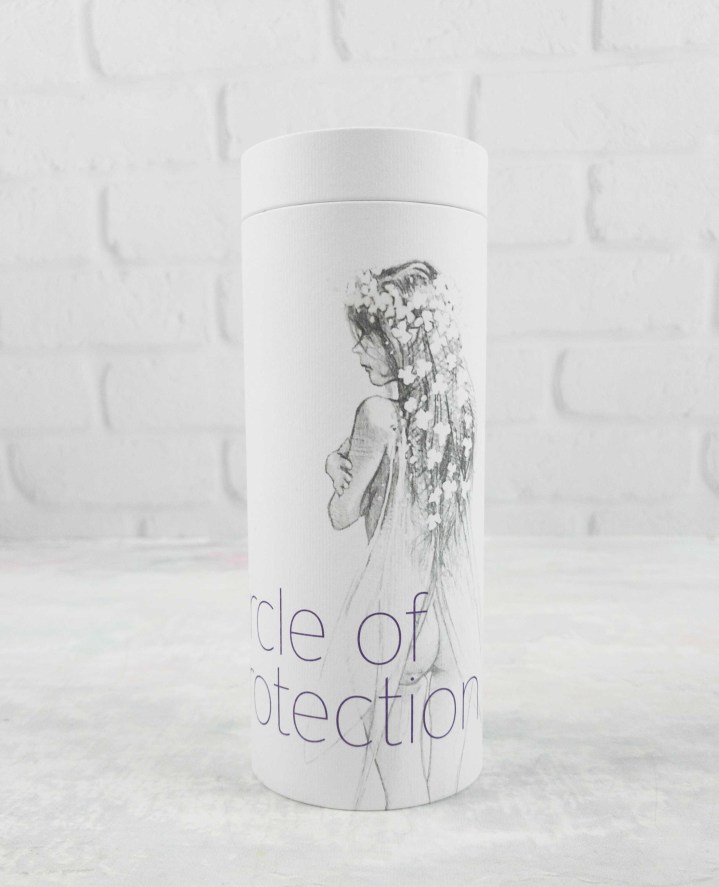 Max and Me Circle of Protection Body Oil ($75)
Circle of Protection is a beauty oil comprised of argan oil, marula oil, rosehip oil, magnolia flower oil, manuka oil, bourbon geranium oil, jasmine extract, litsea, vetiver, and silver fir. Nearly all the ingredients are certified organic, wildcrafted, or organically grown.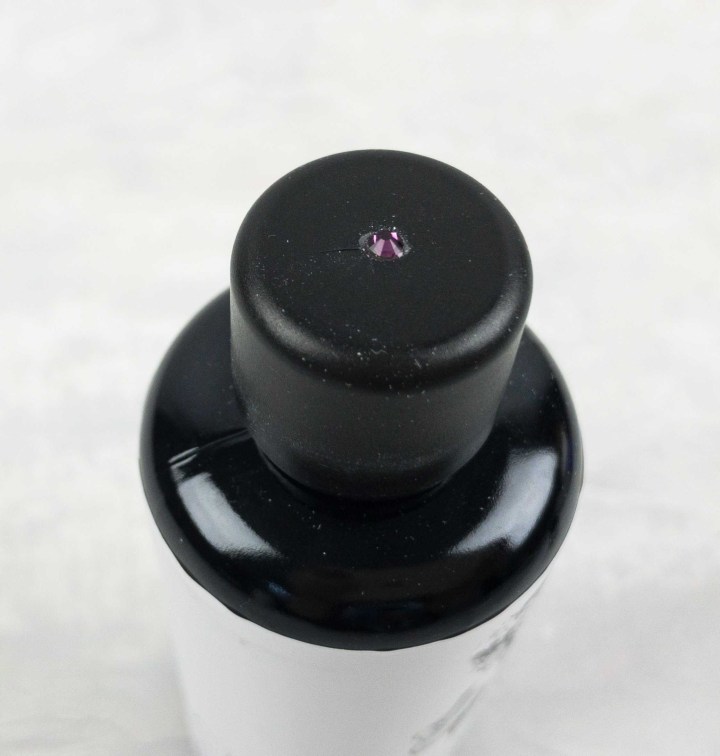 The top bears a cute little gem.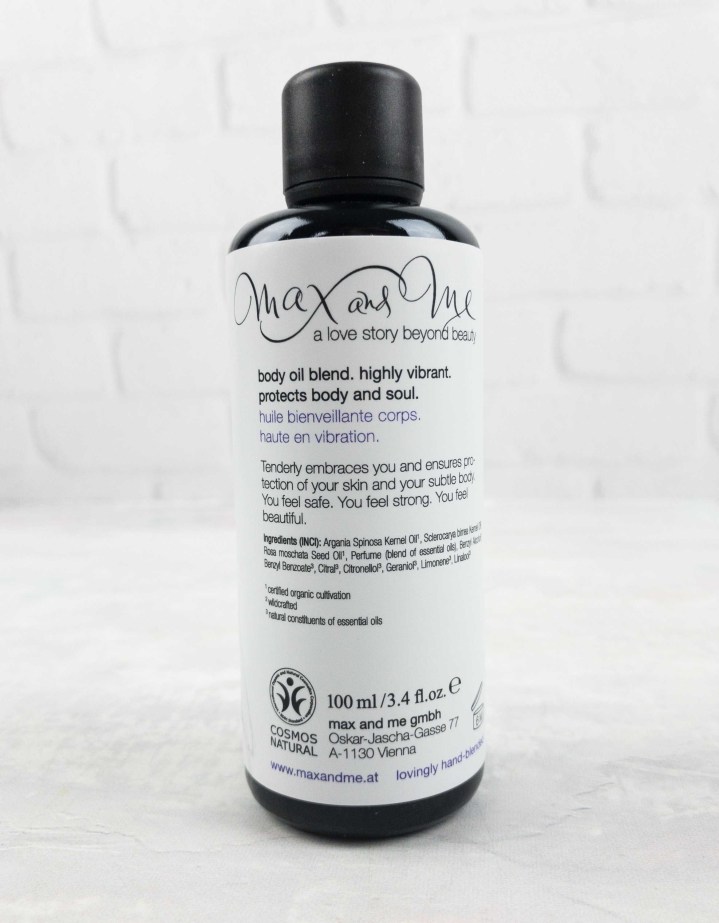 Despite being billed as a vibrating meditation oil, the product itself smells wonderful, is deeply hydrating, and nearly all the ingredients have actual value in moisturizing and protecting your skin. Plus, a little grounding and centering never hurt. I like scents that improve my mood, and this is definitely a mood enhancing body oil.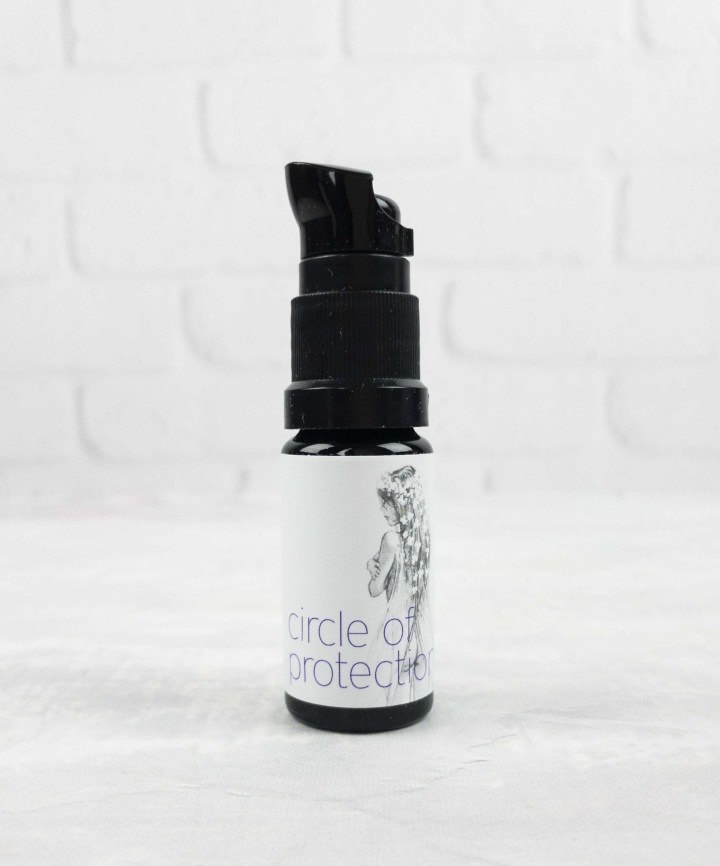 Max and Me Circle of Protection Body Oil ($10 sample-size) This travel size companion was also included as an "on-the-go guardian" so you can share the meditation. Unfortunately, the pump on mine didn't work (and yes I sure did remove that cap covering the pump!).
Update: I emailed Beauty Heroes for a replacement *pump* and they replaced the entire product. Unexpected, but very nice of them!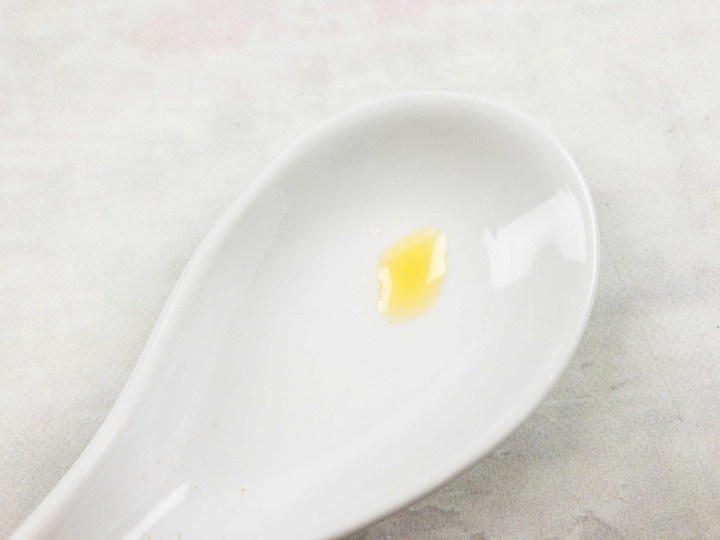 The oil itself is tinged orange.
I actually found the product literature that came with the items themselves to be a bit more even toned than the Beauty Heroes information card. While it definitely mentioned vibrations and cosmic protection it seemed more specific about the skin benefits of the product. It also mentioned that the brand has asked the elves to enhance the effects of this blend!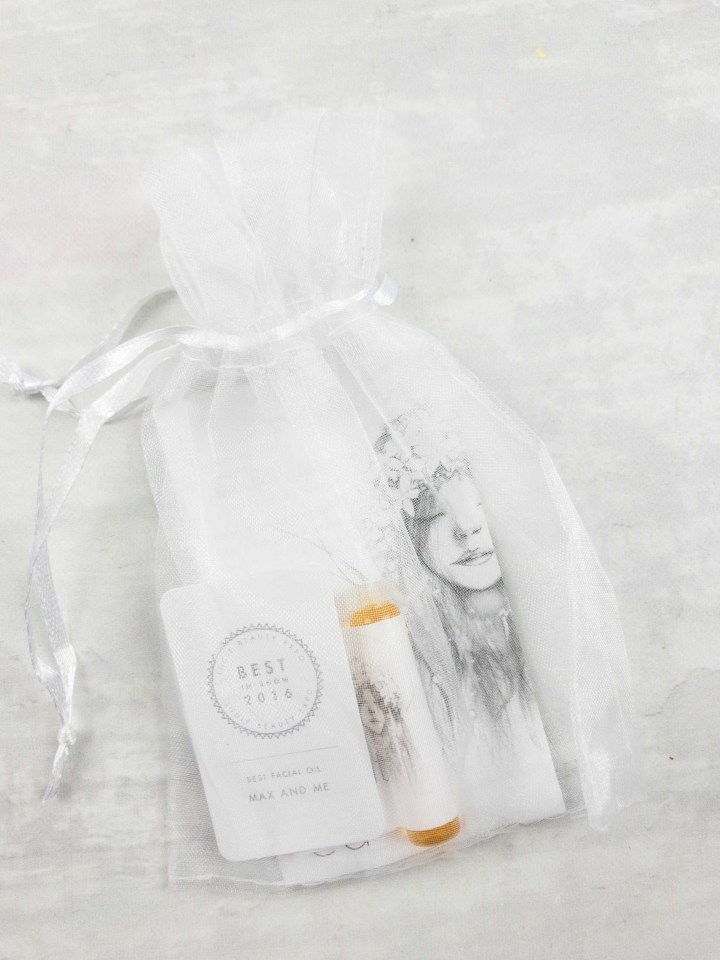 Max and Me Enchanted Face Oil ($5) There was also an extra bonus item!
This face oil won Indie Beauty Expo's 2016 Best in Show for Facial Oil. It includes jasmine, frangipani, champaca, rose, sandalwood and lavender in a base of apricot and other oils. It's probably a bit too floral for my tastes – a better neck or hand oil for me.
The products are nice in this box, but it was somewhat of a miss for me because of the focus on the global meditation and vibrations. Because that's what this brand is all about, I think that info could have been included without being the primary reason it was being sent out as this month's brand. It was just too much (and I wouldn't complain one bit if it were a new age box that was intended to focus on meditation). I would have preferred to see a larger size sample of the face oil (or even as the main hero!) instead of an extra of the body oil. I know that many people were super excited about this brand, a feeling I do not share, and in fact know of at least one reader that found the literature offensive. I personally would have skipped the month if it were possible! I think Beauty Heroes could have shared these products with subscribers without being so heavy handed.
That being said, if this floats your boat or you just want a lovely and luxurious body oil, this box is available through May 19th!