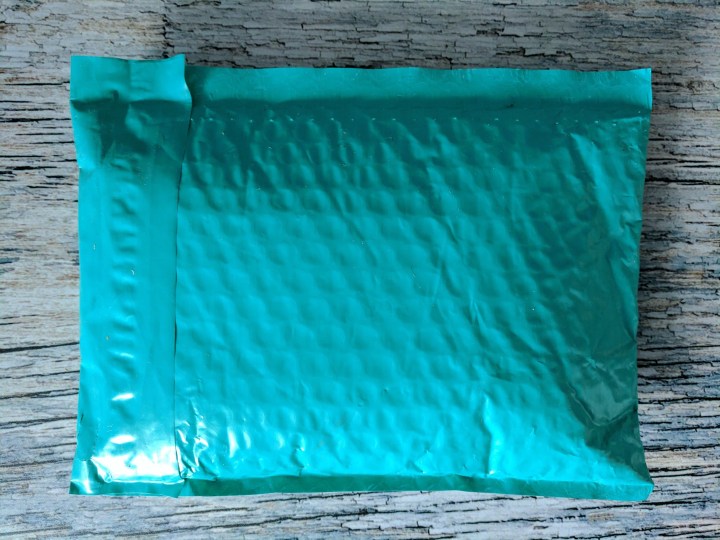 Bargain Bead Box is a monthly bead subscription service. Each month, you'll receive over $40 worth of top-quality jewelry supplies. It can be a mix of loose beads, bead strings, findings, and pendants. You can share your creation on their social media for a chance to win a $25 gift certificate for their sister store Bead Box Bargain. Boxes are $15.95 per month. Shipping is free in the US and $7.50 to Canada. Even if it's technically a subscription box, it comes in a teal bubble mailer, which is less expensive than a box so they can send more beads! And more beads is more fun!
Starting this month, the packaging will be different. Instead of the beads being separated in three paper bags, they are now in a single organza bags.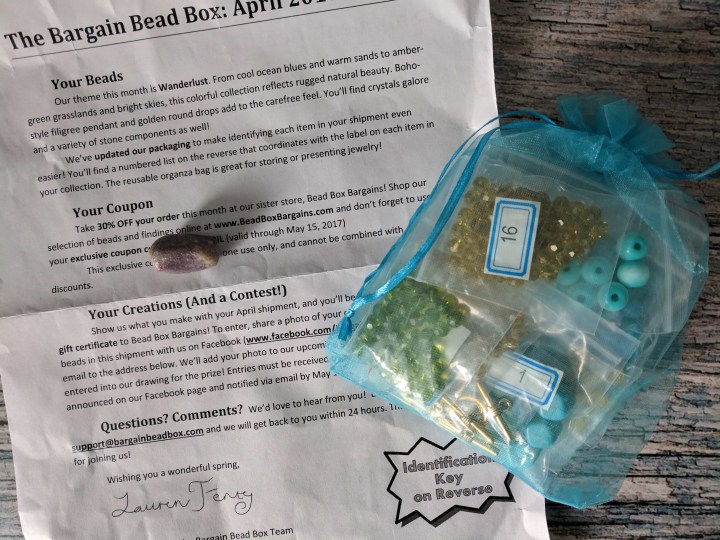 Each month is curated around a different theme and all the beads and findings are coordinated. This month's theme is "Wanderlust." Antique Gold is the metal this month. You also get a discount code for their sister store. I've used it a couple of times and it's totally worth it!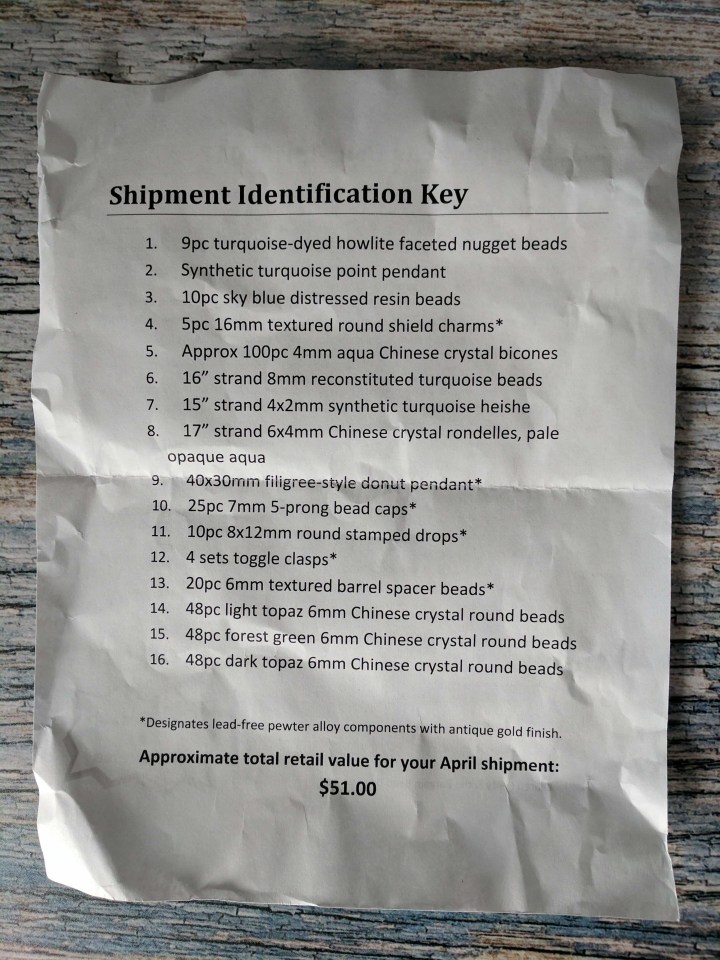 On the reverse of the letter there's a list of all the beads and findings you've received. Starting this month, all the bags will be labelled with a number to make identification easier.
So much turquoise, it feels more "beachy" than anything else. I'm so happy to see some summery colours, now that the weather is getting a bit warmer.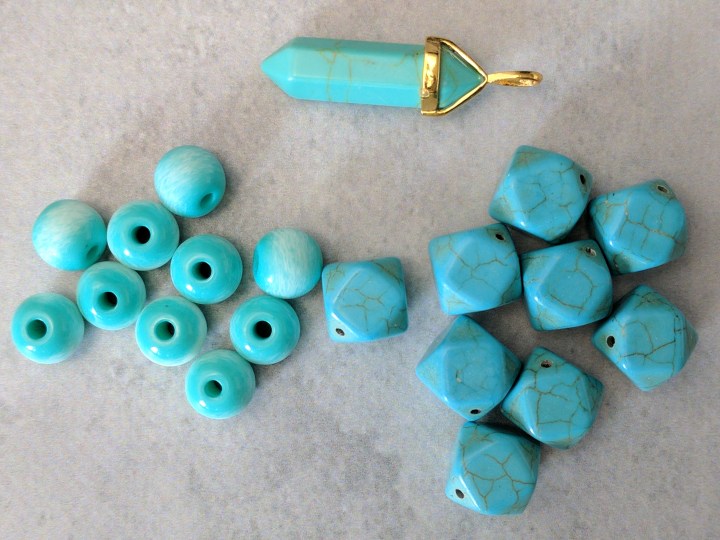 9pcs Turquoise-dyed Howlite Faceted Nuggets Beads. Out of the three on this picture, they are my favorites! They have a nice weight, the cut is fun and I could see them on a boho long necklace, with a suede or leather tassel, layered with some lighter necklace. They could also be used as a focal on a dainty chain or on a leather wrapped bracelet.
10pcs Sky-blue Distressed Resin Beads. I'm not a big fan of resin beads, and these are no exception. Last month, we received the same ones, but in purple and I still have no idea how to use them. The hole is quite large, perfect for bigger thread like cord.
Synthetic Turquoise Point Pendant. We received a couple of gemstones point with this subscription, so the fact that this one is synthetic is a let down for me. It's a lovely shade of turquoise with some light brown veins, perfect to go with the golden bezel. I'm just not liking it.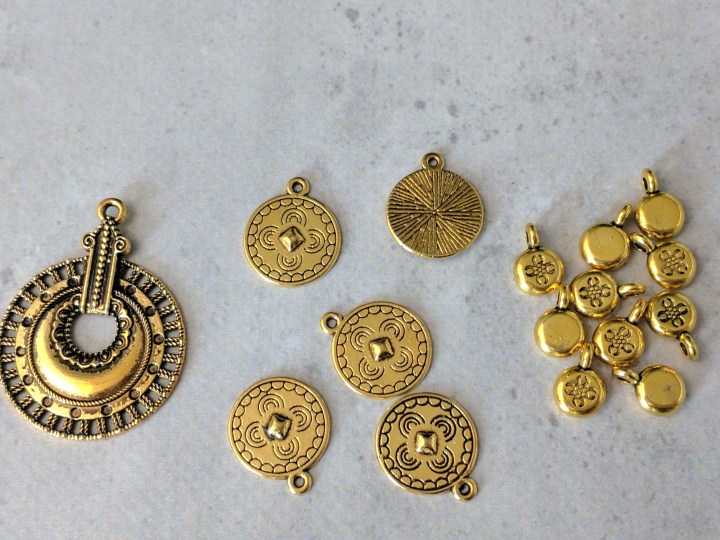 5pc 16mm Textured Round Shield Charms. Fun little charms, they would make nice earrings.
40x30mm Filigree-style Donut Pendant. This reminds me so much of The Mysterious Cities of Gold, a French anime I watch way too often when I was a kid! For some reason, it has an Aztec feel too it, I might be tempted to create something out of that TV show.
10pc 8x12mm Round Stamped Drops. They are stamped on one side and I was thinking at first that they would be nice evenly spaced on a chain, but I think they would be awesome on an anklet for the summer-boho piece of jewelry!
100pcs 4mm Aqua Chinese Crystal Bicones. We do get quite a lot of these bicones in this subscription, but I'm ok with that! They are always nice to add a little touch of sparkle, and the colour goes so well with the turquoise and the antique gold.
8x6mm Chinese Crystal Rondelles, pale opaque aqua. I love the colour! Once again, you get quite a collection of rondelles through this box, but they are so fun to play with!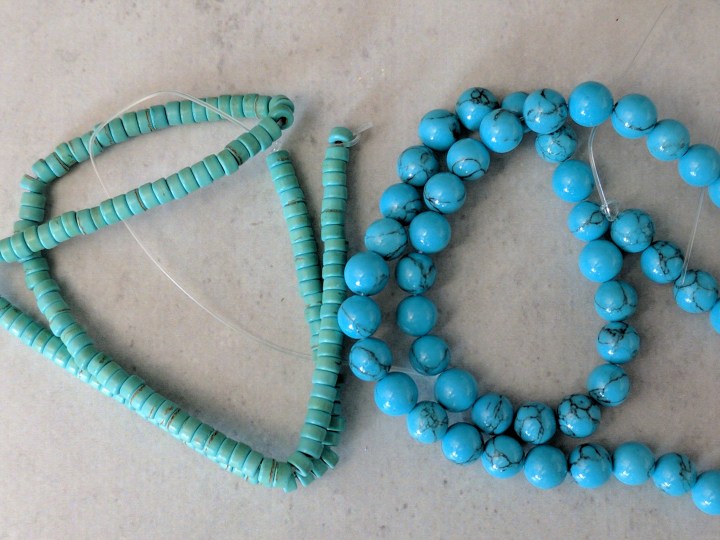 8mmRound Reconstituted Turquoise Beads. These are not real turquoises. Turquoise is a very soft stones, not good for jewelry. Reconstituted turquoise are actually real turquoise stones that have been ground up into a powder and then made into beads with a bunch of glue and stuff. The colour is very pretty, I really like the black matrix in them!
4x2mm Synthetic Turquoise Heishe. They remind me of coconut heishe beads, so I might mix them together. I really want to do something with them this month.
7mm 5 Prongs Bead Caps. Every month, we received some findings to add a finishing touch to our projects, or to add some fun accent. I love bead caps, it gives some oomph to an otherwise plain beads.
Toggle Clasps. Every month, we'll receive some for of clasps. I like the simplicity of these ones.
6mm Textured Barrel Spacer Beads. These will do great in an Aztec inspired piece with the donut pendant! Spacer beads are always nice as an accent or as beads in their own rights!
6mm Chinese crystal round beads in light and dark topaz and forest green. These are another staple in this subscription, and they are always useful! Both topaz beads look nice with the turquoise and the antique gold. I wouldn't mix the forest green with the turquoise, but they also look great with the antique gold findings.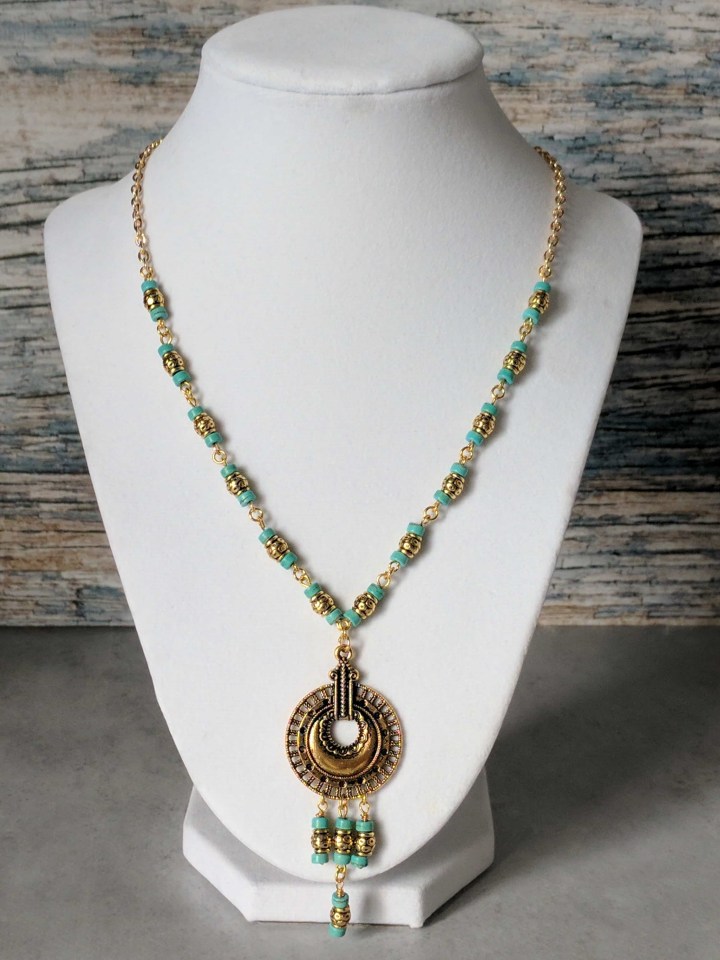 I wanted to do something a bit more "Aztec", as per my nostalgia for that TV show, but I ended up doing something a bit more boho/tribal.
This is a piece of jewelry I could wear with some of my dance costume, or just to go out for a bite on a lovely terrasse this summer!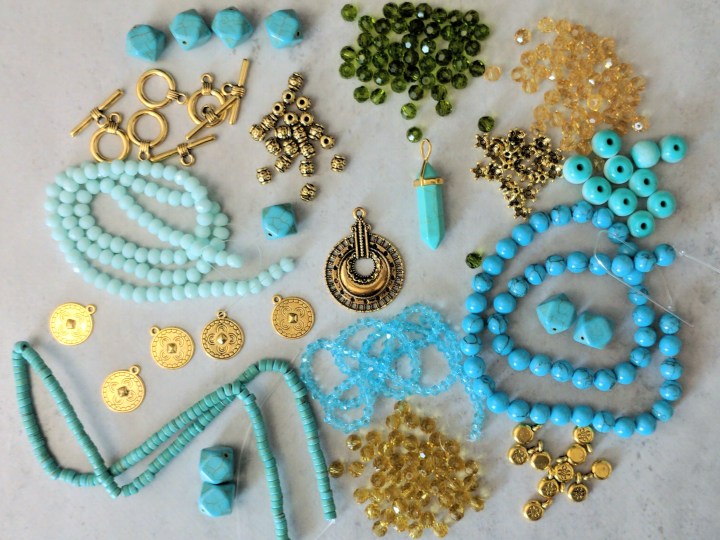 This was the perfect box to get into the summer groove! The mix of turquoise and gold is such a lovely combination and gave a summer-boho vibe! I wasn't a fan of the synthetic turquoise point, but that's only because we are spoiled by this subscription every month!
What did you think of this month's Bargain Bead Box?