Art Snacks gives any artist a reason to stock up their supply every month, for only $20 per month. Every box contains 4 to 5 unique, high-quality art supplies curated by professional artists. You'll also get tips and tricks from experts each month. Shipping is free to the US, $10 for other countries.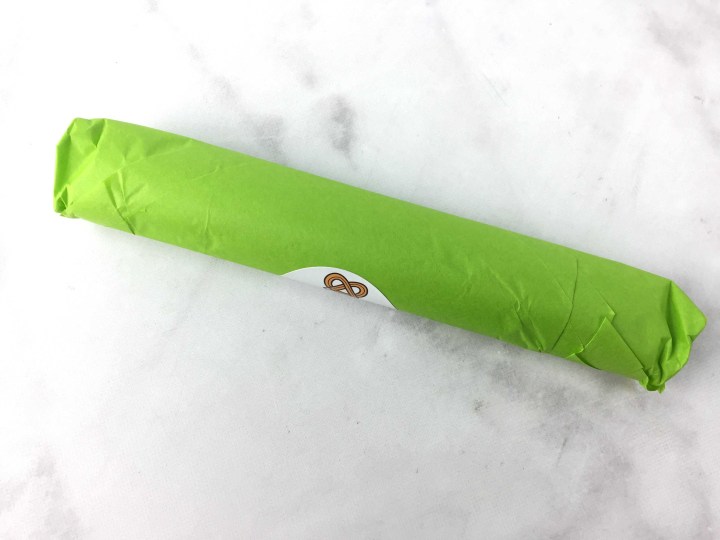 Everything is packed tight! The Art Snacks box is a fun assemblage of thoughtfully selected art supplies as well as a few snacks to nourish you along on your creative endeavors. This box gets a huge 'thumbs up' from me and I'll explain why below!
All the goodies this month!
The information card, which can also be a bookmark, gives you a list of all the items included in the box, plus a brief description. I have to give a shout out to the ArtSnacks info card. It is probably one of the most concise and yet informative info cards I've run across. From their monthly art related joke to indicating which item is a  staff favorite, and news about the company, this little thing packs it all in with a very readable and clean layout. Little things make the difference!
There's also a challenge to make an original artwork using all the products in this box.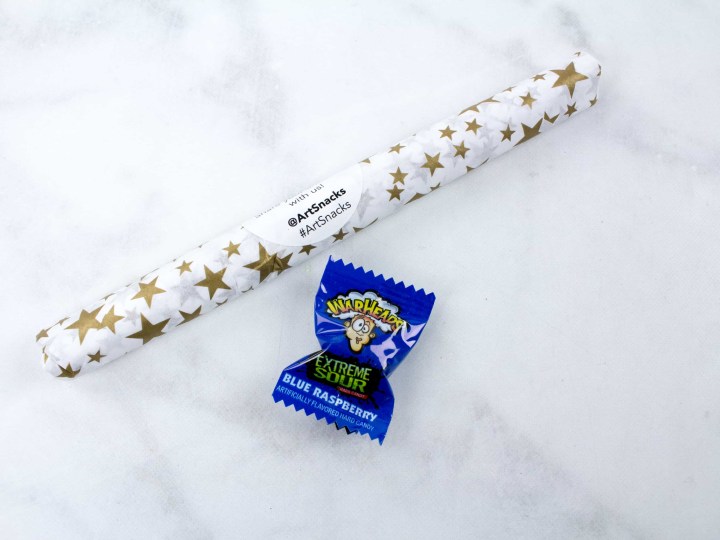 Warheads Blue Raspberry Candy. Oh, what a candy!!! Our box contained a super sour Warhead! I typically enjoy sour candies, but figured that this candy would be more than I could probably handle… and it was! I gave It a good try (long enough to know that someone out there with a stronger constitution will enjoy it!), but finally had  to admit defeat and set it aside.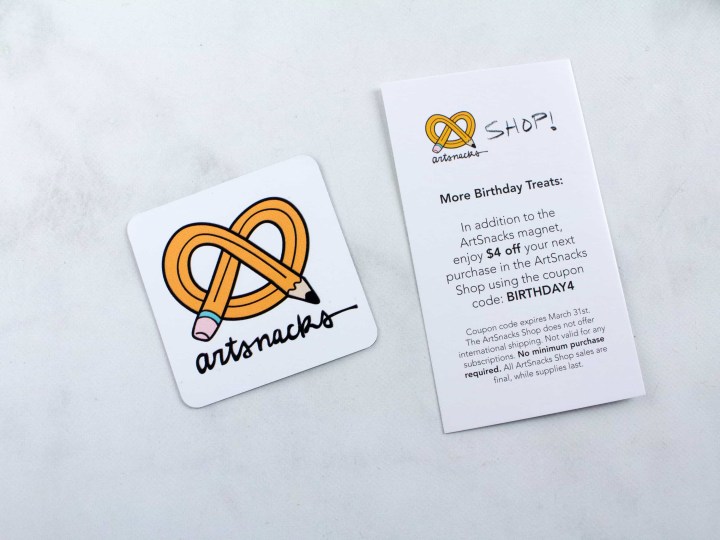 Art Snacks Magnet + Coupon. In honor of Art Snacks 4th birthday, our box contained a magnet in place of the traditional sticker. Our box also contained a coupon for the Art Snacks store – treat your self!
M. Graham & Co. Watercolor Paint in Titanium White & in Terra Rosa ($13.30 on card, $3.01 on Amazon). These watercolors are extremely rich- both in color and texture; and since they're made using honey to seal in moisture, it's of no surprise!
The colors included in the box were Terra Rosa, a beautiful red-brown, and Titanium White Opaque, a nice white for both highlighting and mixing.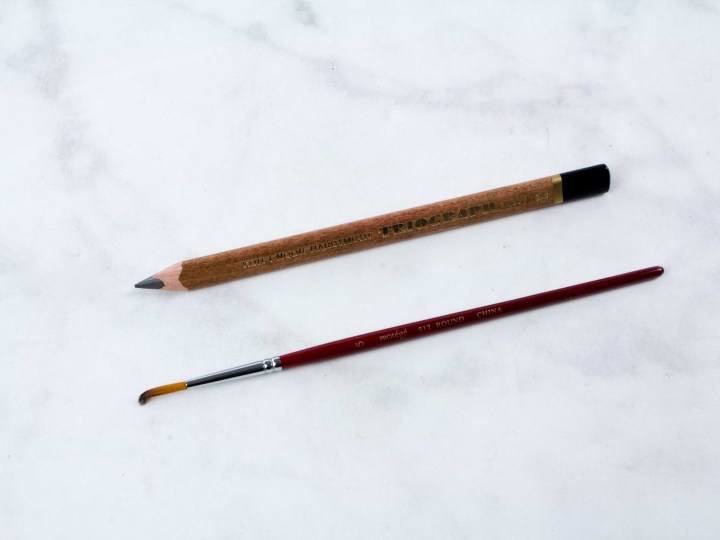 Kohl-I-Noor Triograph 2B Graphite Pencil ($2.50). This pencil is as much of a joy to hold as it is to use. The body's triangle shape means you won't be chasing after it if you set it down, and the cedar wood gives it a nice feel.
Connoisseur Protege Taklon Paint Brush ($2.95). This brush by Connoisseur with synthetic bristles performed just as well as that of sable bristles.
The graphite is smooth and was enjoyable to draw with!
The brush is suitable for a variety of mediums and worked well with the M. Graham & Co. watercolors. It handled water well, put down color nicely, and shaped back up easily after every stroke!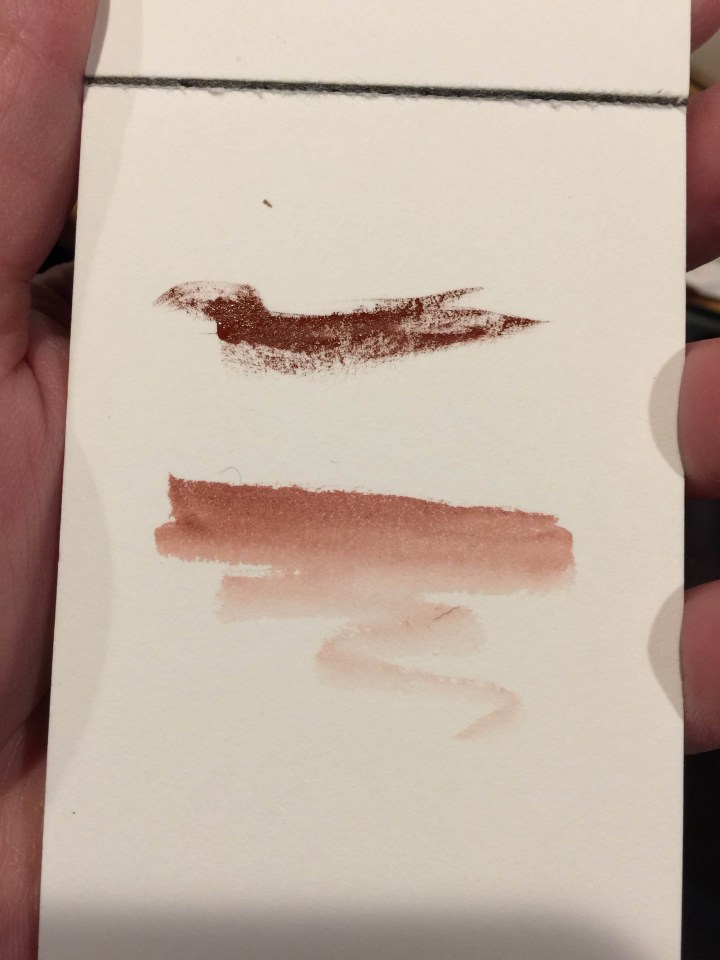 I also personally enjoyed the size of this brush head – it makes details easy to focus on.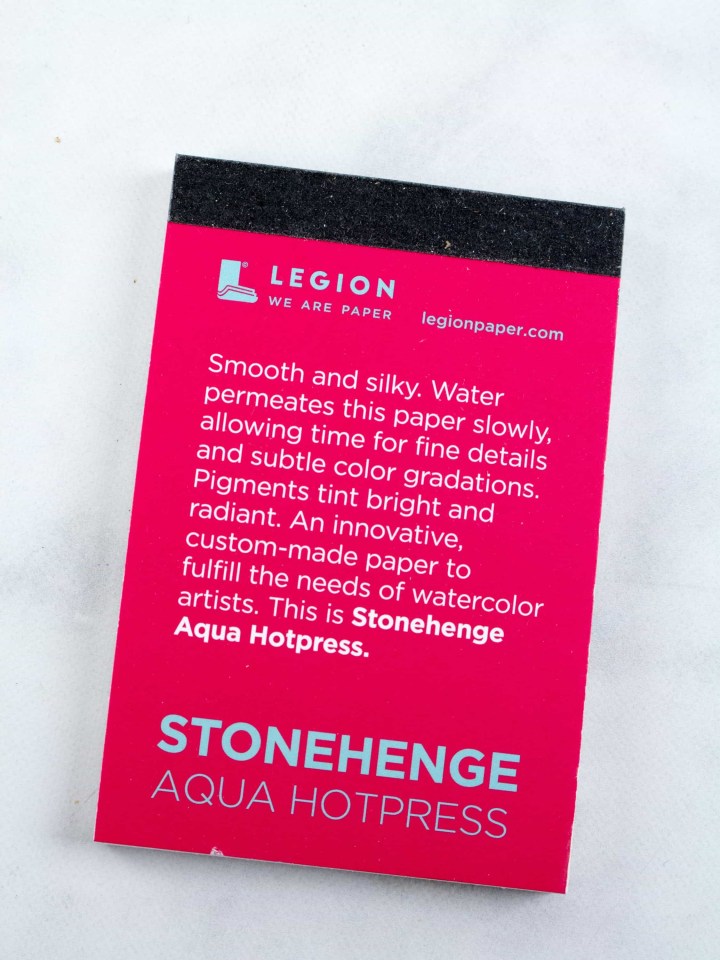 BONUS!
Legion Paper Stonehenge Aqua Hotpress Watercolor Paper. This little pad gives a big experience! Stonehenge is a well-known and loved art paper company, a legacy that shines with this sample of their hotpress watercolor paper.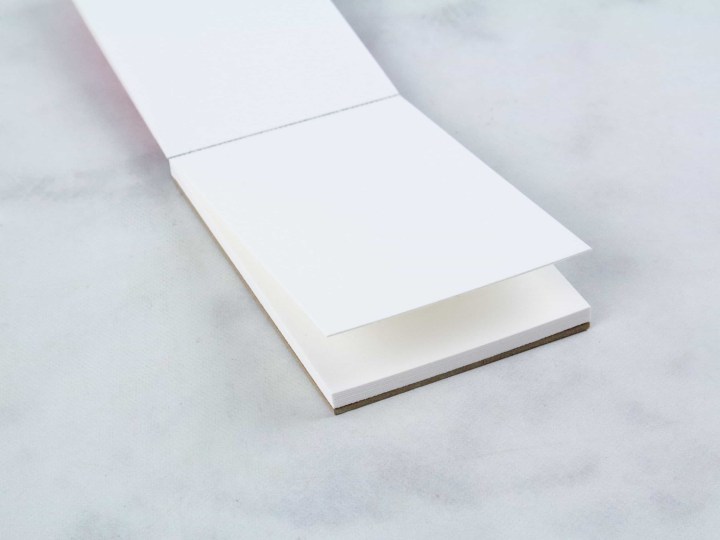 Each sheet is super thick, making warping unlikely. Watercolors will take a little longer to dry, but the polished result that this paper produces is well worth the wait!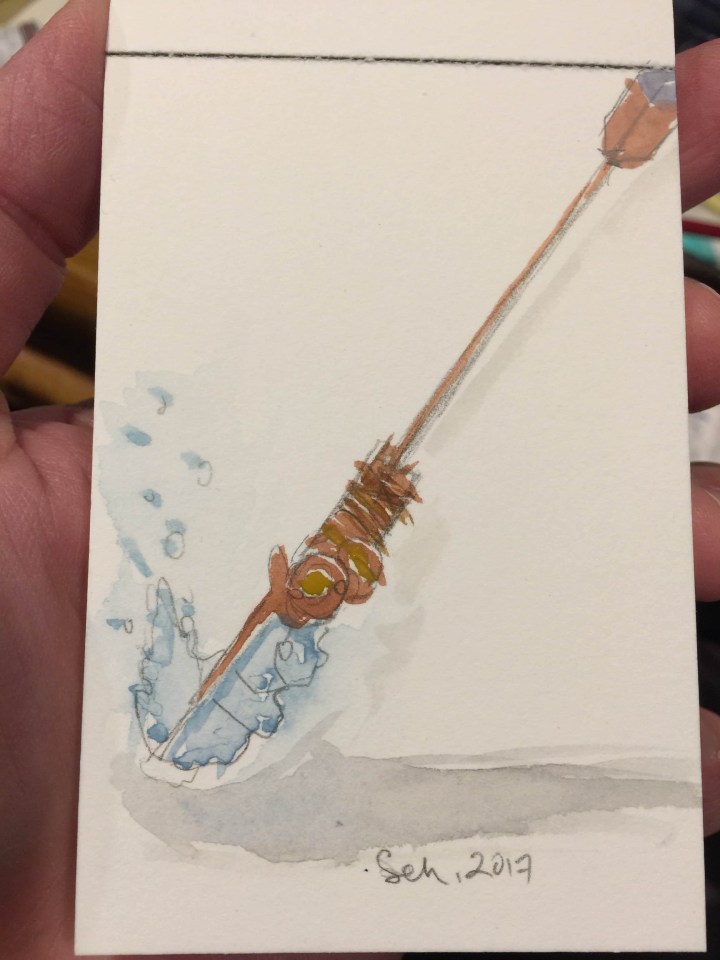 A+ on this month's items!
P.S. Art Snacks' shop is still open! Go there to find everything you need for your artistic endeavors – from sketchbooks to past boxes!