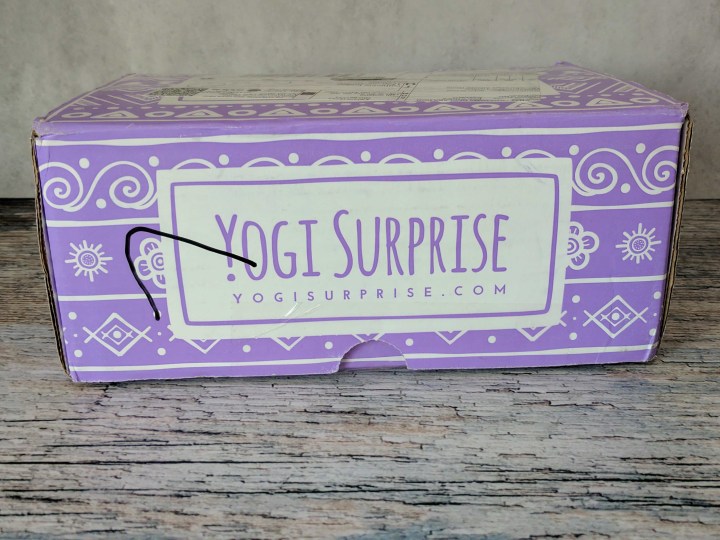 Yogi Surprise is a yoga-inspired monthly subscription box designed to complement your way of living. Each monthly box contains 6-8 products picked by experienced yogis to complement your yoga practice and your life! It's like getting a care package every month!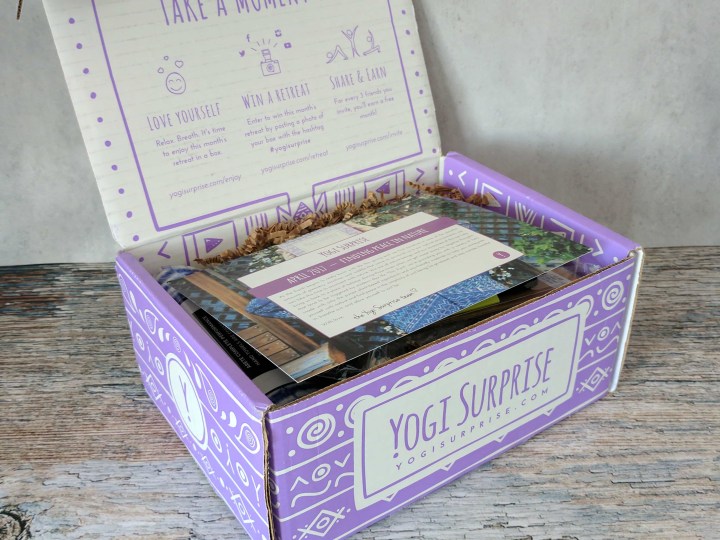 DEAL: Take 15% off your membership for life! Use coupon code HELLOYOGI.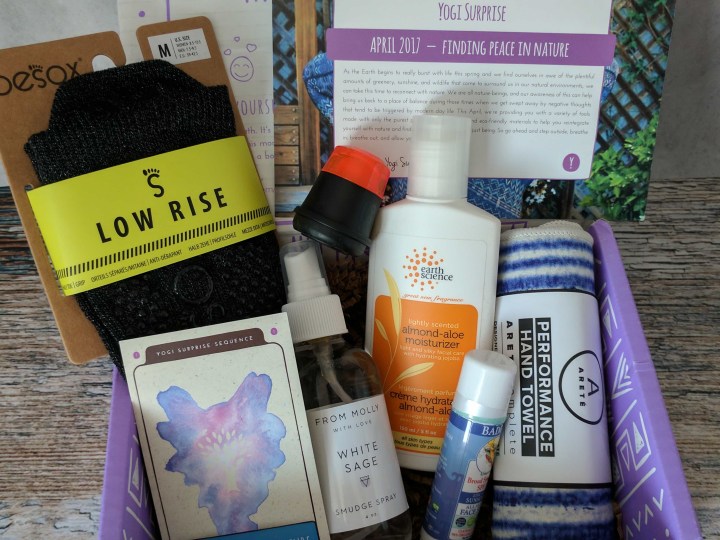 Everything in the box. Lots of interesting thing!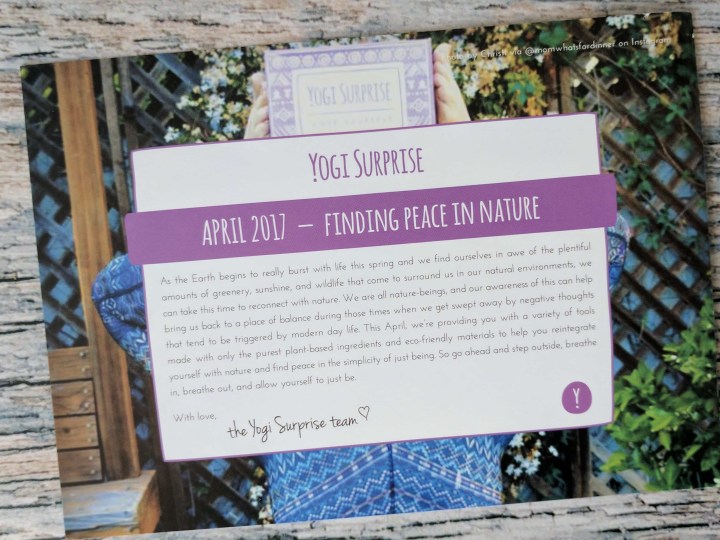 April's theme is "Finding Peace in Nature." This month, we are giving tools made with only the purest plant-based ingredients and eco-friendly materials to help us reconnect with nature and just be.
All the items are well described with some hints on how to use them.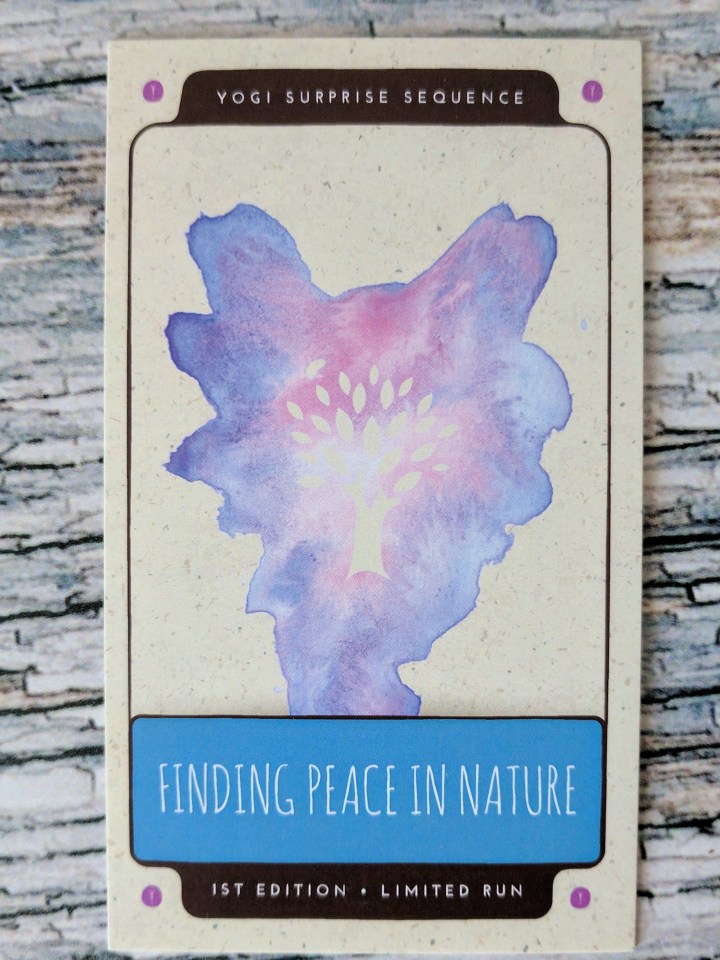 Yogi Surprise Yoga Sequence Series Card. Every month, you receive a little card with a sequence of poses to celebrate the month's theme.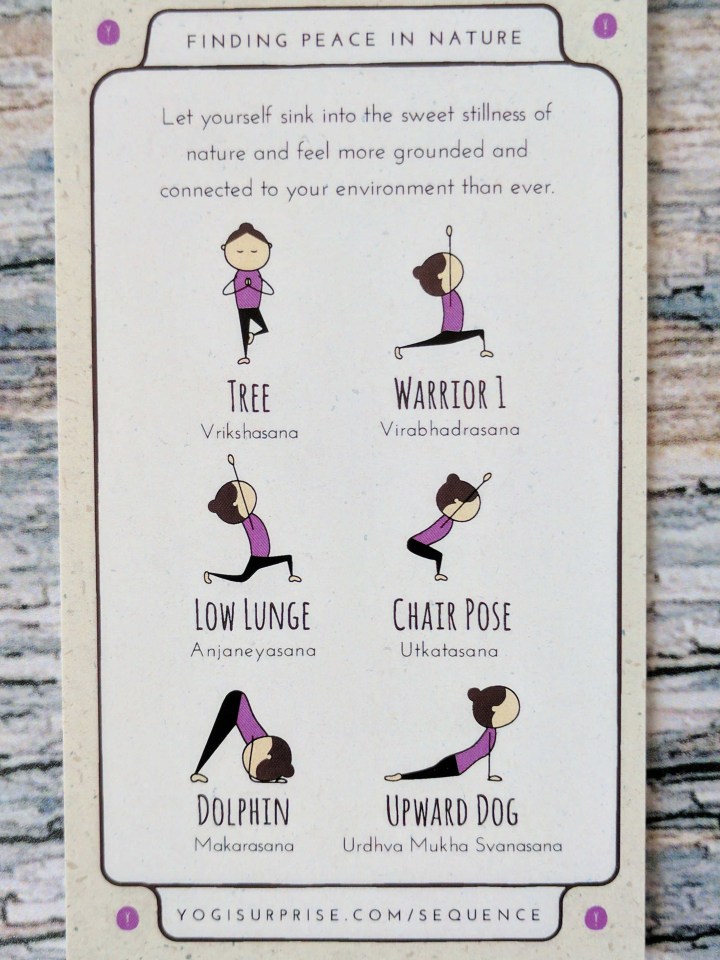 I love getting these sequences! This month, the sequence feel very grounded. I like that they are not numbered, so you can choose the sequence that better work for you! I carry my sequence cards in my yoga bag for when inspiration is a problem! Fun fact: you can download all the previous sequence cards on the yogi surprise website so you can have your own little inspiration book!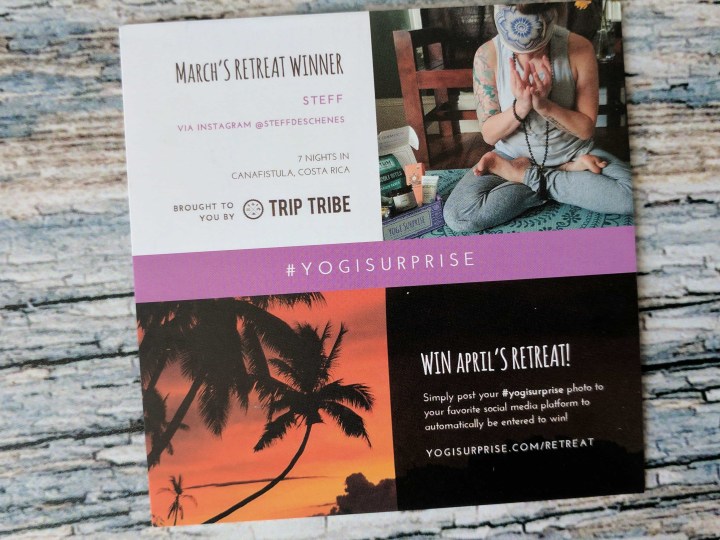 If you share your Yogi Surprise photo on social media, you are automatically entered to win a Yoga Retreat, in collaboration with Trip Tribe. April's getaway is in Greece!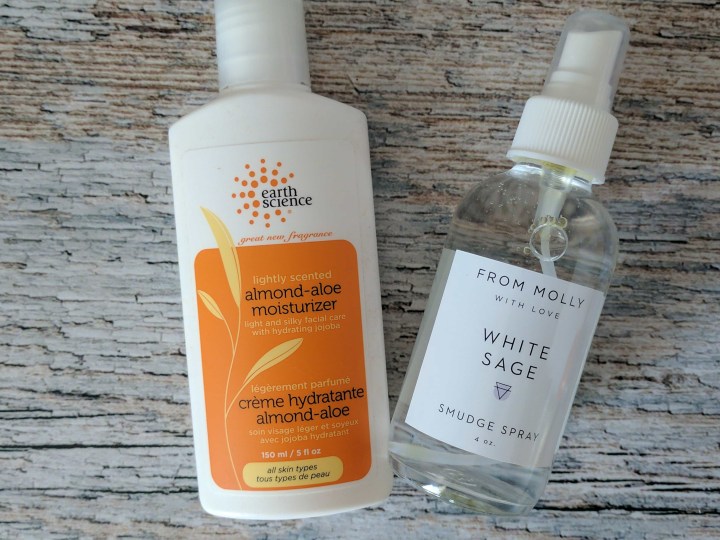 From Molly with Love Sage Spray. Can't burn sage to clean up your environment from negative energy? Never fear, now there's a solution: smudge sage in liquid form! The scent has so much going on, sweet with the rose oil, bright with the lemon oil, cleansing with the sage, and it smells nice. Just spray it around you and enjoy some peaceful energy!
Earth Science Naturals Facial Moisturizer. Made with nice helpful oil (almond, sunflower seed, jojoba, chamomilla) and other nourishing ingredients (shea butter, etc.), this is a lightly scented, very light moisturizing lotion for your face. It doesn't get absorbed quickly into my skin, but once it does, it feels fresh and light It's not oily, just soft. My only problem is with the fragrance used. I love everything about it, except the scent and it's not one I can get used to. I don't know why.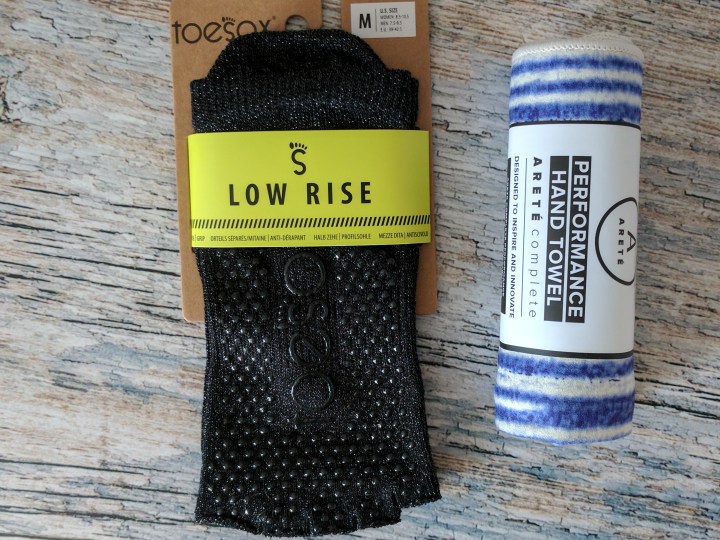 ToeSox. I received the low rise socks, but I know some subscribers received the Mary-Jane socks (where the top of the feet is open). I would have preferred the Mary Jane (the less I'm wearing on my feet, the better I feel), but I like the colour of the one in my box. I've tried them already for a yoga class and a cardio workout and they work great! I tend to sweat a lot, so now I'm not worried I will slip in the Downward Facing dog or any of the lunge or warrior pose. They are slightly too big for my feet, but it didn't seem to cause me any problem so far. I tried them on my old yoga mat (I really should get a new one), on wooden flour, and on the tile. And they stick HARD on the tile, it's amazing! Love them! There was also a 20% discount for our next ToeSox order included in the box.
Arete Complete Hand Towel. Super soft, nice microfiber hand towel.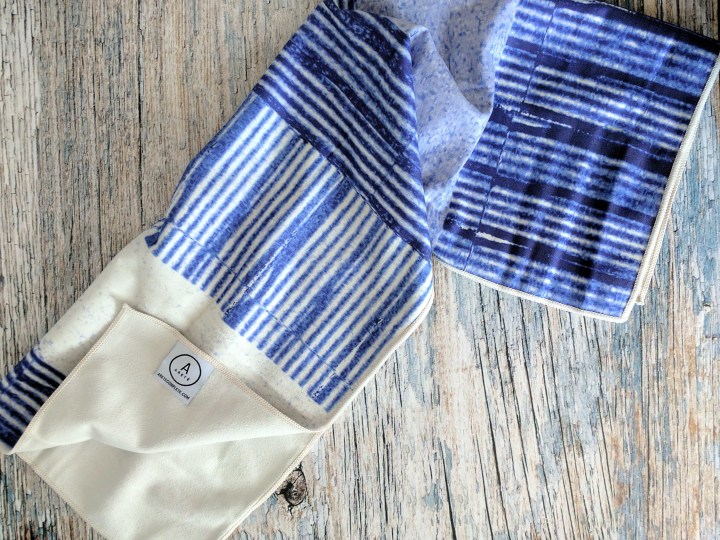 It has a cute stripe design, it's super light and rolls pretty small even though the towel itself is bigger than my own normal hand towel! It's supposed to be slip resistant when damp, but I haven't tried either the super absorbing feature or the slip resistance yet. Very nice item! There was also a discount code for a first purchase of a premium mat size towel included in the box. I might give it a go as shipping to Canada is not outrageous.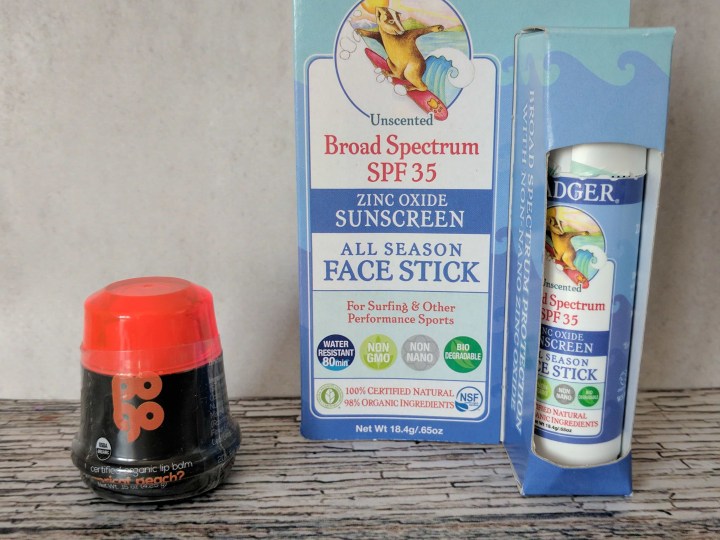 Eco Lips Lip Balm. This lip balm is made with beeswax, sunflower seed oil, cacao seed butter, coconut oil and other organic ingredients. It's a very nice lip balm and the container is made with repurposed plastic, and is designed to be refillable. I like that it stays up when on a desk (it won't roll under the couch, where a lot of my lip balm can be found), and is bulky (but not big) so it's easier to find in my purse's cluster.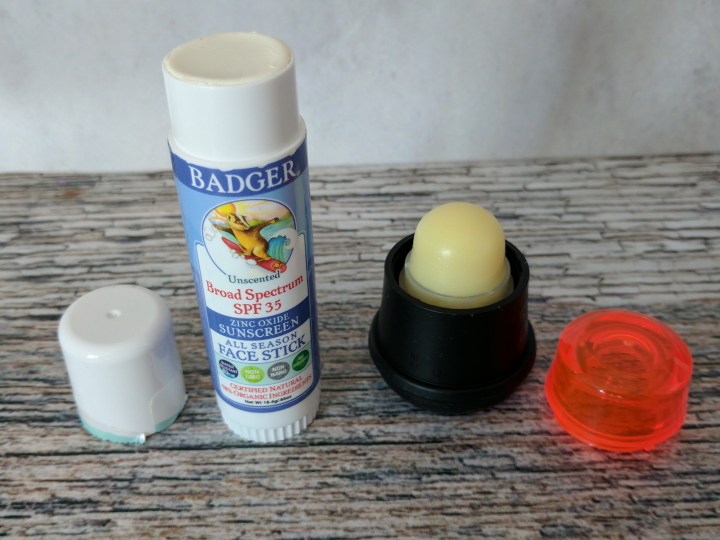 Badger Sport Sunscreen Face Stick. This might be the answer to everything I find wrong about sunscreen! First off, it's on a stick, so no mess in my beach bag and no sand stuck on my hands when trying to apply the cream. Also, no residue on your hands. It is easy to apply, doesn't make you look like a ghost (it's not overly whitening) and it's not sticky! This sunscreen is made with zinc oxide mineral and has also moisturising ingredients as well (beeswax, virgin olive oil, shea butter). I really really like this sunscreen, I just need to find some sun to try it on! There was also a 15% discount code for their online store included in the box.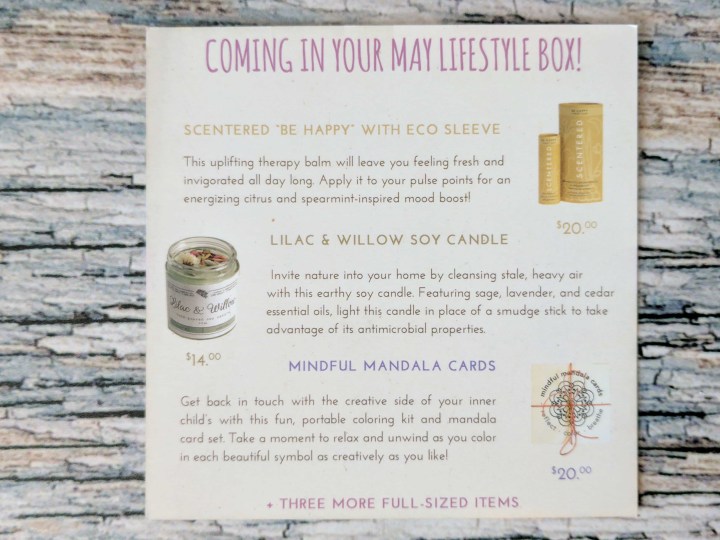 Included in the box, a spoiler for April's Yogi Surprise Box: A therapy balm, a soy candle, and mandala cards.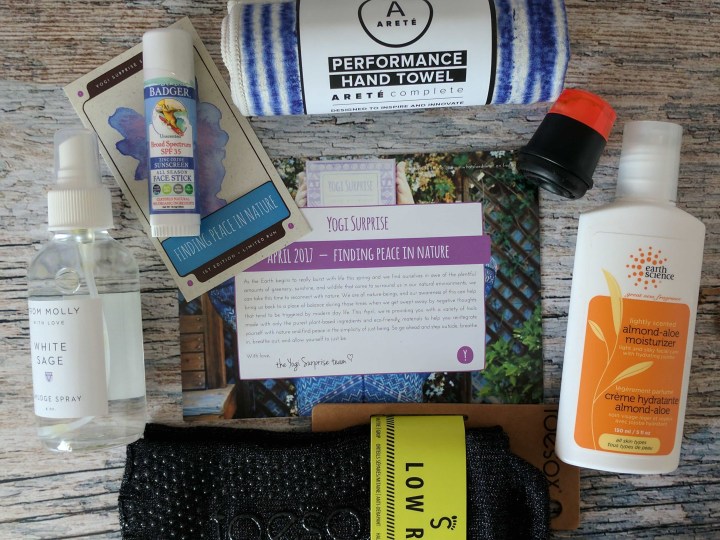 I LOVE this month's box! The socks and the hand towel will come in handy once I start Bikram Yoga, but they are already quite useful for my other workouts! I'm so happy to be able to try a sunscreen stick, and the White Sage Smudge Spray will be perfect for my spring cleaning. The only item I won't be using is the almond-aloe moisturizer, only because I personally can't deal with the scent, but my friend claimed it and loves it. I'm jealous! This was my favourite box from Yogi Surprise so far, I really feel like someone sent me a care package with yoga in mind!
Are you a Yogi Surprise subscriber? What did you think of the box?