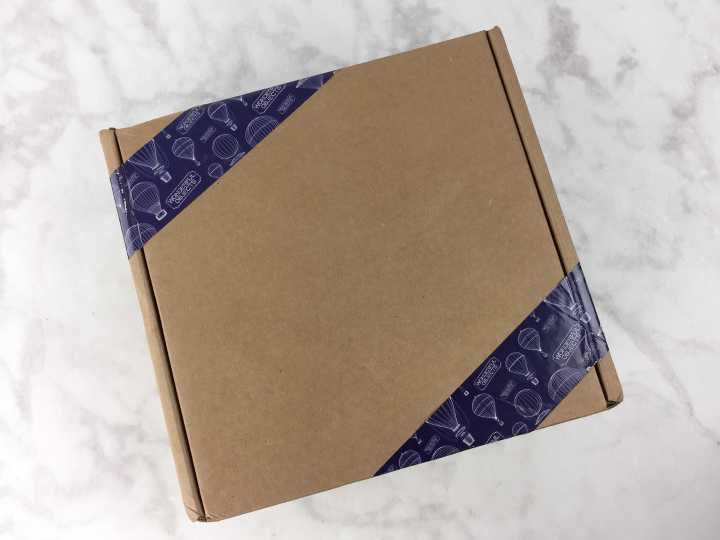 Wonderful Objects Kids Box by Wonder and Company is a quarterly subscription service that lets your kids explore the magic of story-making. For $72 per quarter, you'll get a mystery box that invites children to ask "What ifs…?" and encourages them to find answers through an imaginative and magical way.
The items are wrapped by a blue tissue paper, disguising their nature.
DEAL: Save $10 on any plan with code HELLOWONDER10!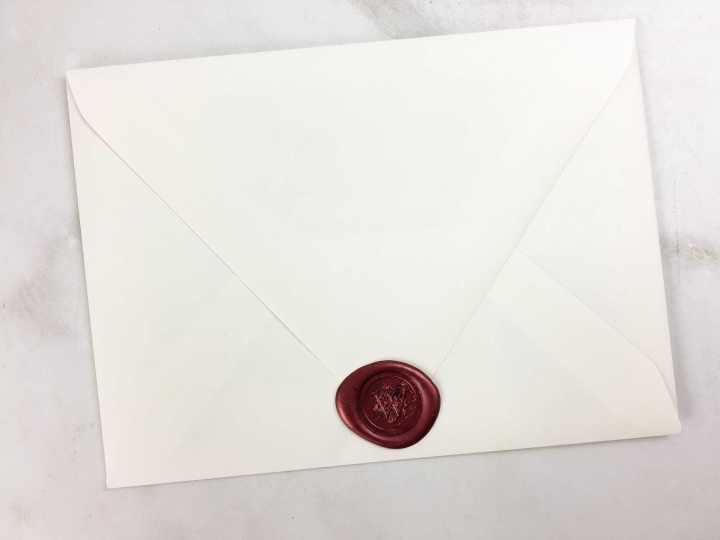 The "Open Me First" envelope is sealed with a wax stamp embossed with the box logo.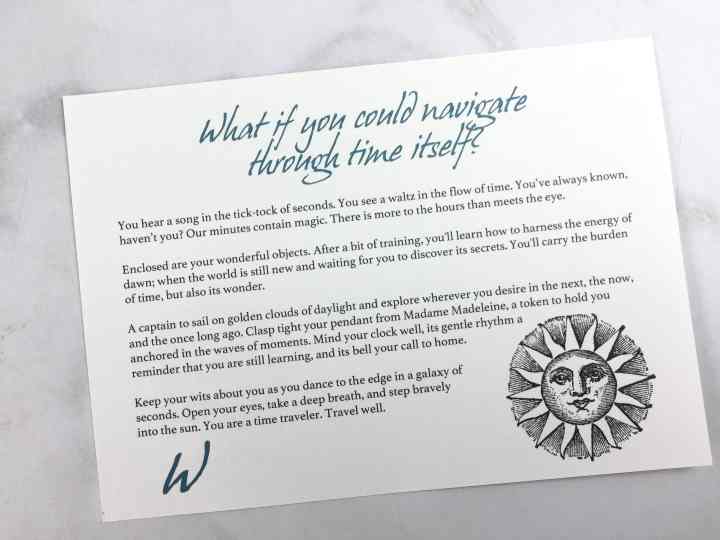 A letter from W serves as the information card for the box, introducing the peculiar contents. It references the teaser mailing (if you missed our review, definitely check that out here before proceeding!).
What if we could navigate through time itself? The card asks children to imagine the waltz in the flow of time (be still my inner astrophysicist!). It tells them that the box includes objects to help harness the energy of dawn, and encourages them to experience the wonder of time.
The other side of the card serves as the information card with a list of all the items in this box.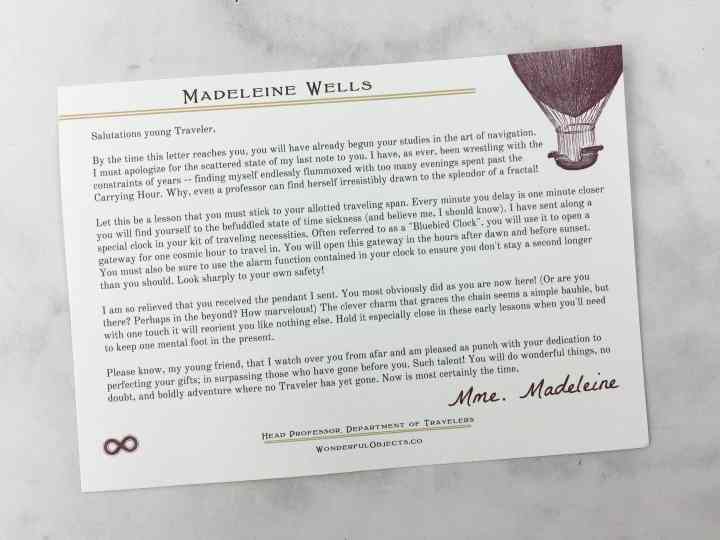 Mademoiselle Wells has sent us a letter, curiously marked with an infinity symbol! Mme. Wells is the Head Professor of the Department of Travelers and this is a followup on the previous letter. Do you remember the first time you discovered fractals? Every bit of this letter is an invitation to wonder for a child.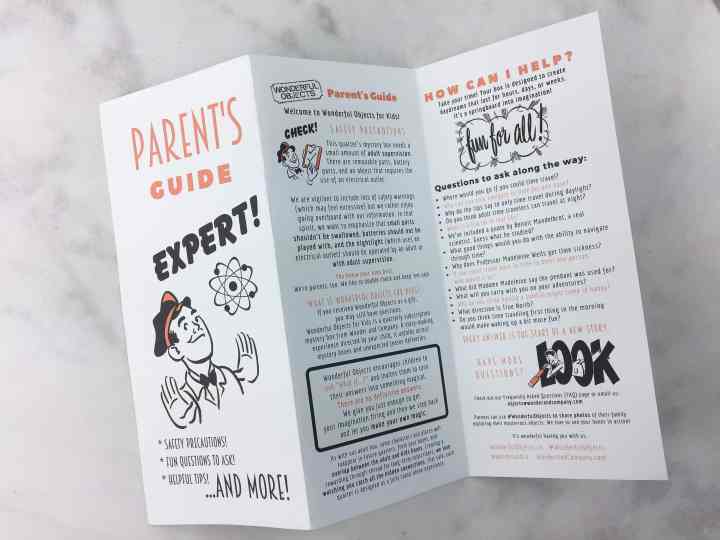 The box also came with a Parent's Guide, which always includes general safety precautions, an explanation if you received the box as a gift or still aren't sure what it's about, and questions to help guide the adventure. Do note that the box is geared to 9 to 14-year-old kids, although younger kids will still enjoy everything too, but they may need a lot more guidance.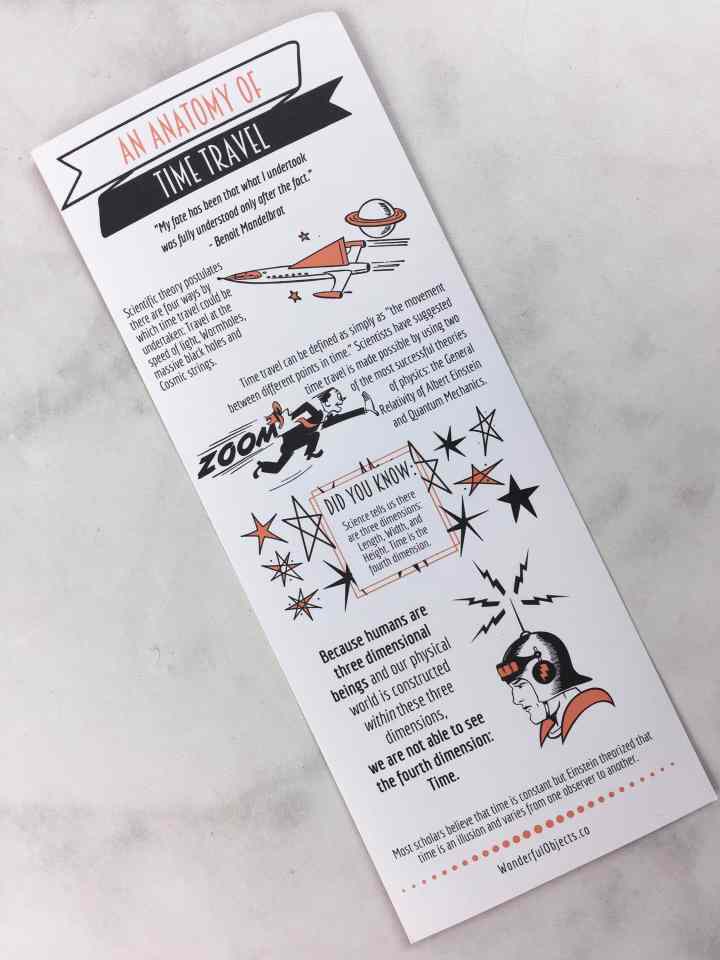 There's also a 2 sided card – the first side has some of the scientific basics of time and time travel.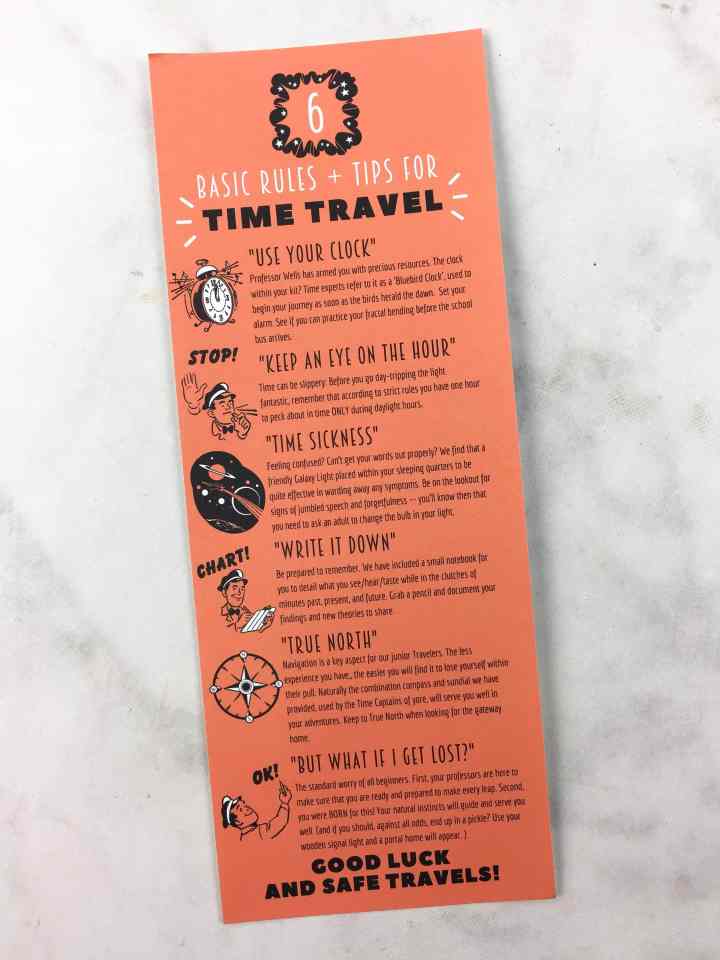 These basic rules and tips for time travel will help your kids implement the wonderful objects they received.
Everything in the box!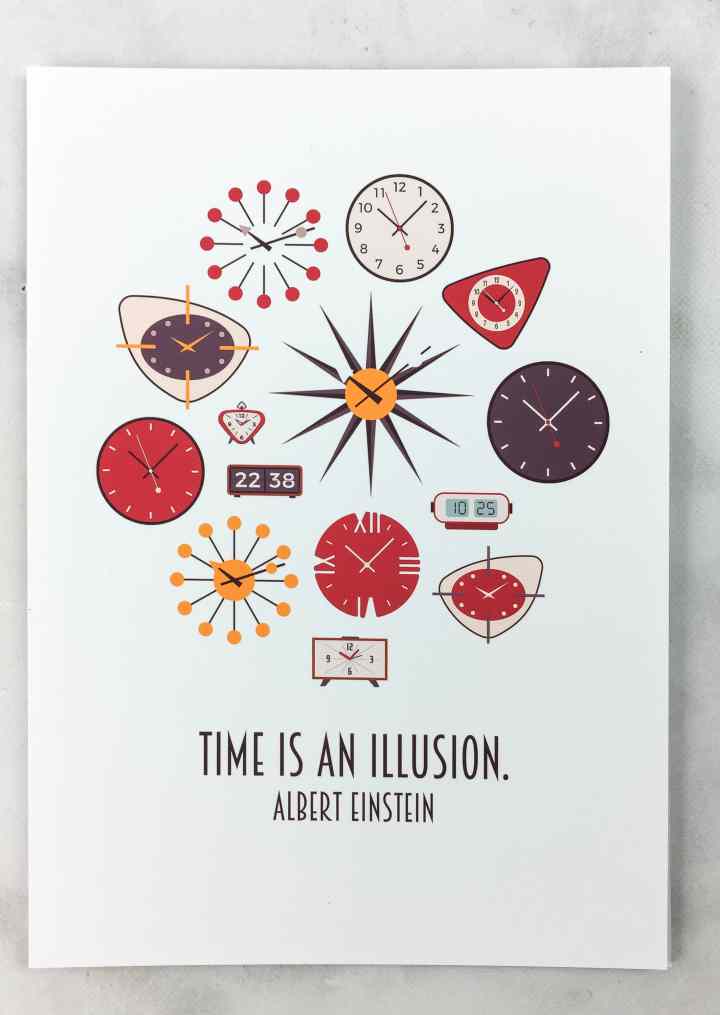 Time Is An Illusion 5×7 Archival Print: This retro print is fantastic! A great 60s style with clocks set at different times, although most of them are set at 10:12. I admittedly haven't puzzled this one out yet.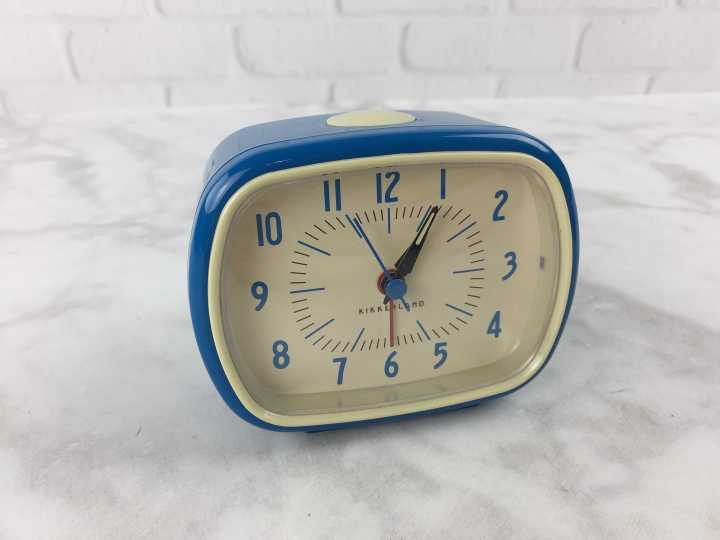 Kikkerland Retro Alarm Clock ($21.94) Groovy! This clock even came with the batteries. Our time travel guide tells us that it's a "Bluebird Clock," meant to wake us up as soon as the birds are up, so we can practice fractal bending before the bus arrives.
Cavallini Vintage Clocks Pocket Notebook ($5.95) This pocket journalist's style notebook is an excellent tool to jot down observations while experiencing time shifts and other time travel phenomena.
What did your time traveler discover?
Kikkerland Bamboo Flashlight ($10) Oh this is the perfectly unobtrusive modern device concealed in a natural looking case, making it easy to hide when we travel to times where this technology hasn't yet been invented.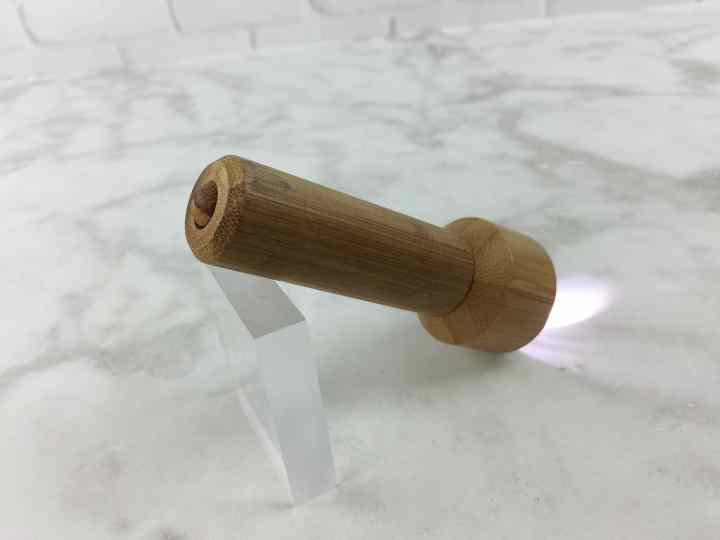 It clicks on and off with a button on the back!
Authentic Models Maritime Pocket Sundial ($14.99) A device fit for a truly professional time navigator! The sundial tells both time and direction, which is necessary when you no longer have the benefit of technologies like GPS and wireless.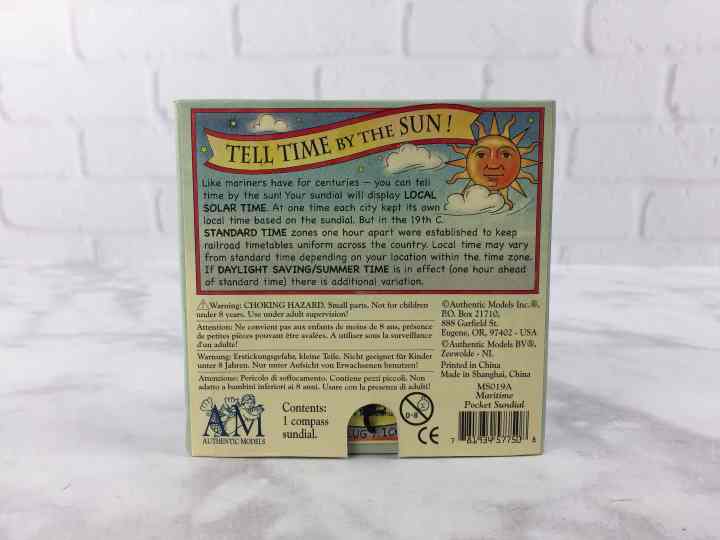 The slipcase and compass help train young time mariners on its use.
This well help us find the gateway when we travel through time and are ready to return.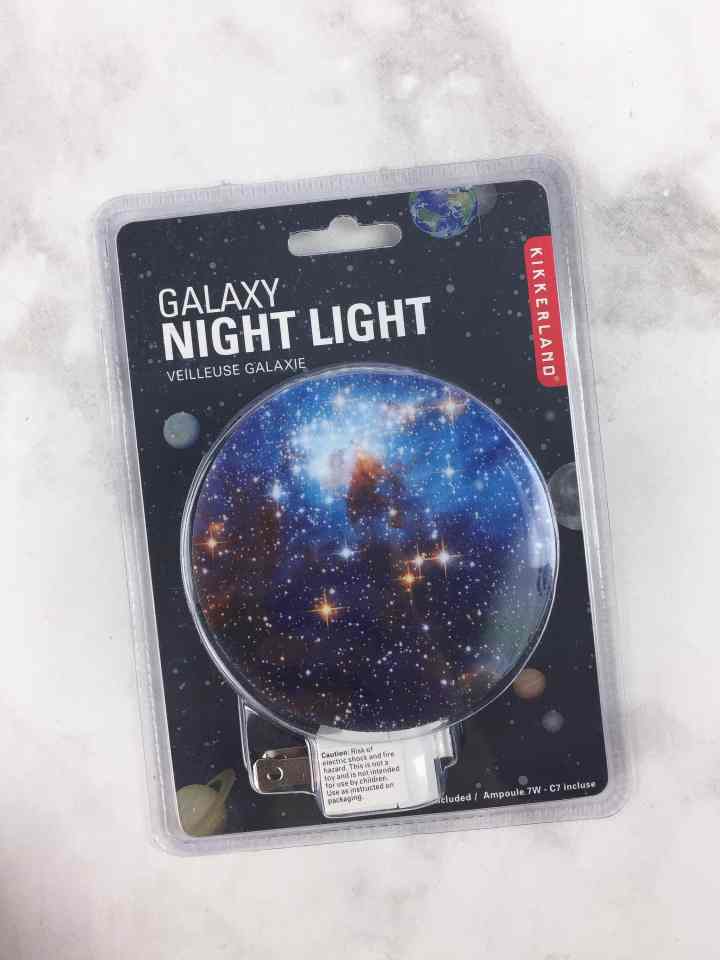 Kikkerland Galaxy Night Light ($7.90)
Finally, this galaxy light is designed to ward off the symptoms of time sickness!
Its soft glow prevents shrieks in the night from children disoriented by time travel!
This box is totally enchanting with its ability to turn ordinary objects into the extraordinary. There's so much to discover and ponder and as soon as they read the card my children were whisked along a magical adventure that they have returned to often since receiving the box. One of the most delightful details is how this box really grabs you from the beginning and pulls you right in. Not to mention the fact that my kids have taken it upon themselves to research fractals, time, and time travel – it's really sparked both their imaginations and interest in science, while providing a fantastic (in every sense of the word) activity.
Visit Wonderful Objects Kids Box by Wonder and Company to subscribe or find out more!