Wine Awesomeness is a wine club subscription box – great wines thoughtfully curated around a fun theme. You can choose reds, whites, or mixed. You can adjust your preferences to style, frequency, and even skip a month right in your account. The 3-bottle box costs $45, and the 6 bottle box is $75.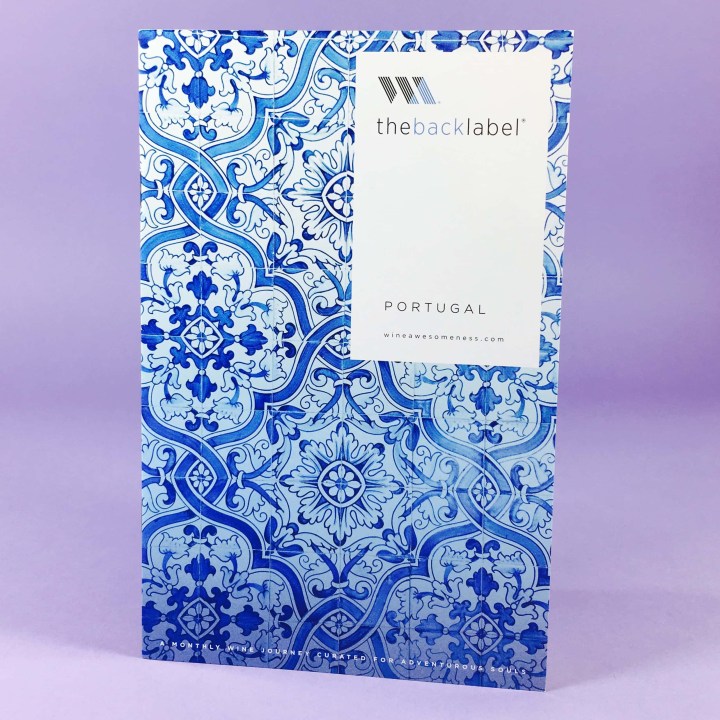 DEAL: Get $10 off your first club 6-pack box! Use this link and coupon code YAY10to get the deal.
I go through one bottle of red and one bottle of white wine a month so the Variety Box is the best choice for me!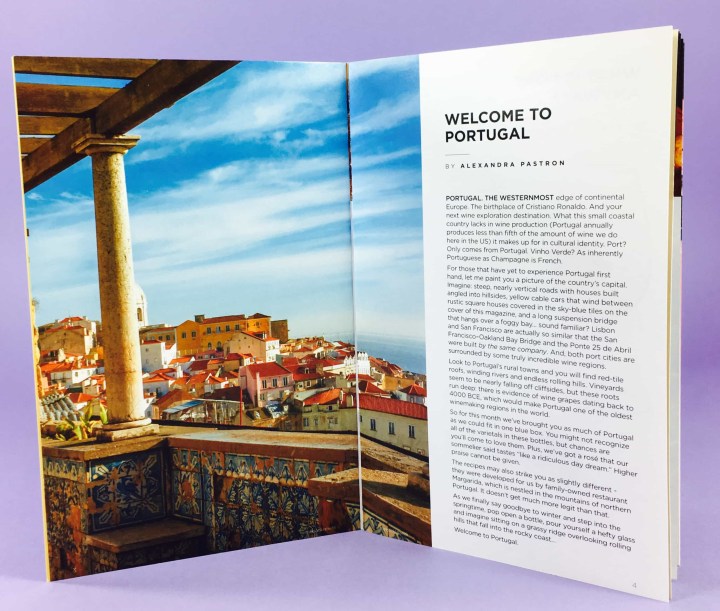 April's theme is Portugal and all of the wines featured this month are from that country.
The Back Label is a mini-mag full of cool stuff – full-page intros with details on the wines, paired recipes for each, and even several articles on the theme and its relation to wine culture. I'm a newbie when it comes to wine appreciation and enjoy the insight this helpful magazine provides.
I love that there is a menu pairing and recipe included for each wine! The recipes this month were provided by Margarida Restaurante, located in Vouzela, Portugal.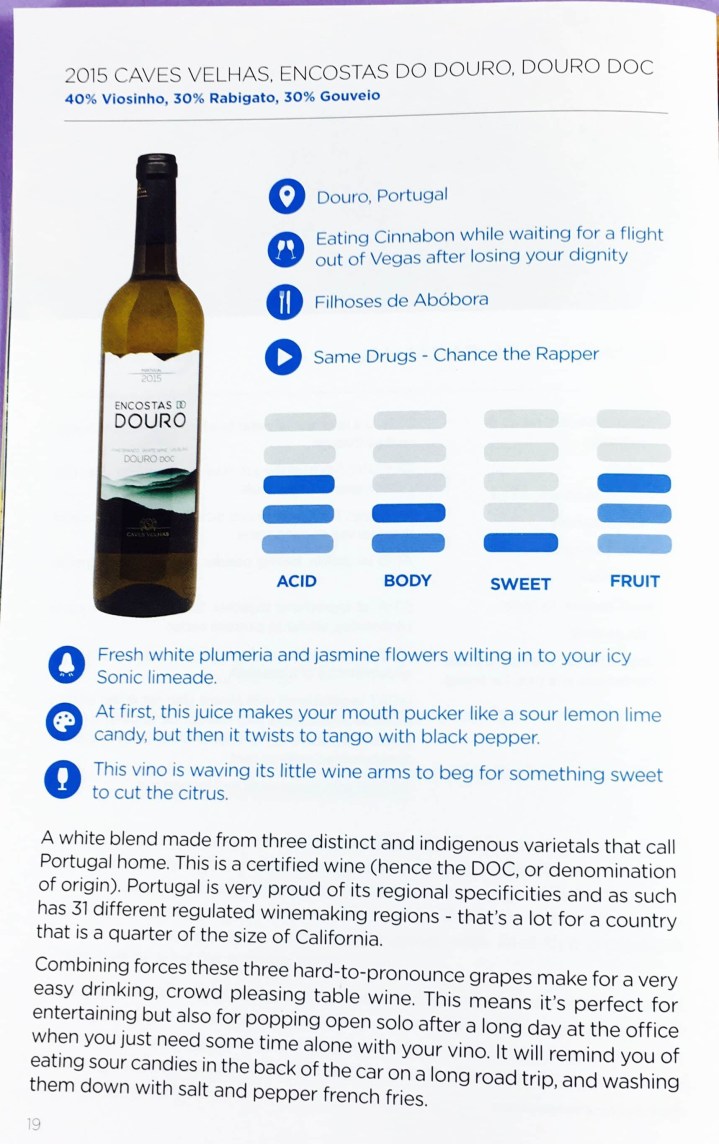 Each wine has its own information page including the following:
Wine Name
Grape
Location
What you should do while drinking this wine (many tongue-in-cheek)
What to eat with the wine
What to listen to while you drink the wine
A cool chart showing a visual on the Acid, Body, Tannin, and Fruit of the wine
Wine Bouquet
Tasting Notes
Description
Recipe
I received the following wines in my April box:
2014 Caves Velhas, Cardeal Colheita Seleccionada Touriga-Nacional is one of Portugal's best grapes and is one of the most important ingredients in port! This wine is comparable to a Cabernet, with a full body and beautiful color. Tasting notes include plum and spices.
2014 Caves Velhas, Encostas do Douro Vinho Tinto I'm not usually a fan of dry wines but this one had low tannins and I slowly savored this lush berry bomb. I thought it had a medium body, my husband said full-bodied, and it had a pleasant aroma, like a sangria.
2015 Caves Velhas, Encostas do Douro Vinho Branco I wasn't a fan of this white wine that had a sour taste and made my mouth pucker. Martin said it wasn't as dry as the red. I never picked up the salt and pepper nuances at all. I tried it with dark chocolate, which can usually makes it more palatable for my tastes, but that just made it worse.
I feel like I've learned a lot about wines in the past few months and a lot of that is due to this subscription! While I prefer sweet, fruity wines such as moscato, I am broadening my palate bit by bit and find that if a wine is too tart, I can always mix it with pomegranate sparkling soda! The convenience of having wine delivered to my home is a big bonus but keep an eye on tracking because an adult 21 or over must be there to sign for the box.
What did you think of this month's Wine Awesomeness? Do you prefer a certain type of wine? Let me know in the comments!