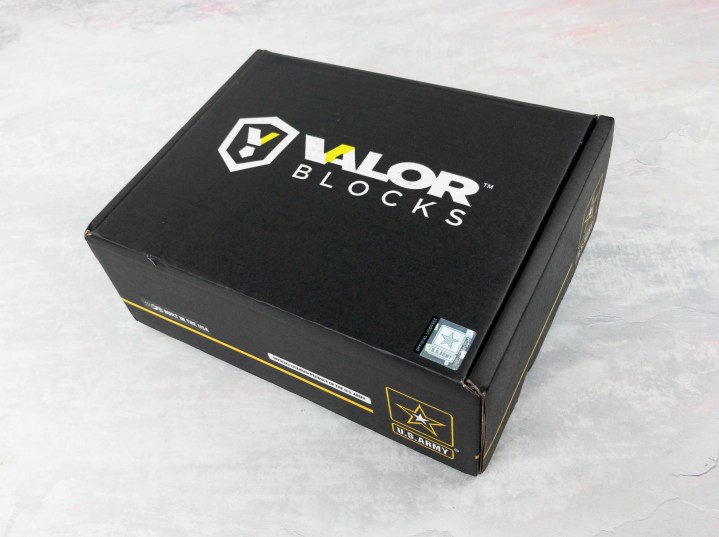 Valor Blocks is a monthly subscription box that features exclusive collectibles and merchandise from the world's most prominent protective services organizations, for $34 per month.
Their new US Army Block is their first block!
DEAL: Active duty members + veterans receive a 10% discount! You'll confirm your identity through a third-party service on checkout.
Valor Blocks comes with licensed products from the U.S. Army.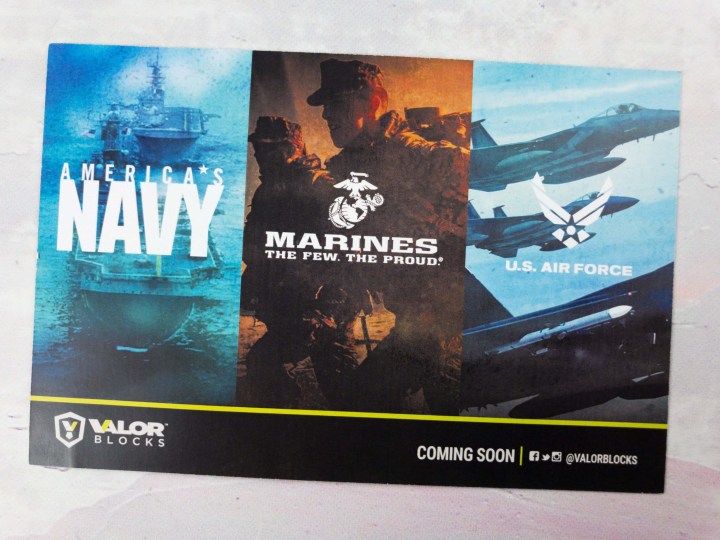 Just like Nerd Block, eventually they'll have a variety of subscriptions – it looks like the U.S. Navy, and U.S. Marine Corps boxes are on their way!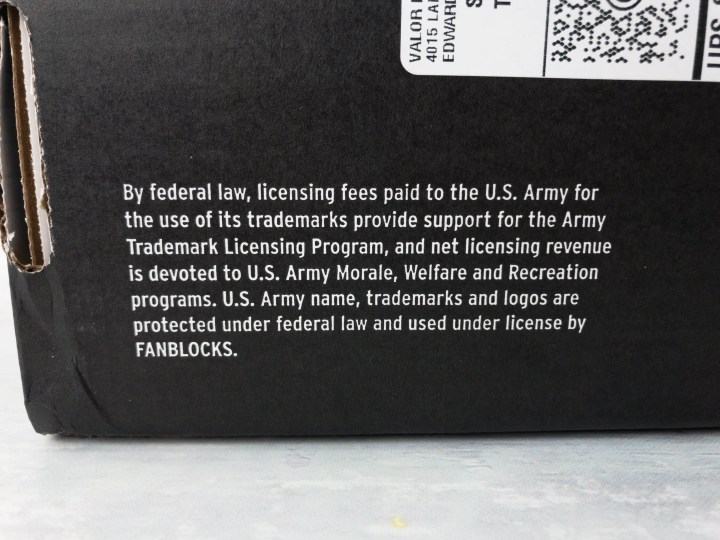 This is a review of the U.S. Army box. I think it's awesome that revenue from licensed products like these goes to MWR programs. MWR programs include libraries, community education and recreation, base childcare, entertainment, and more – things that make a big difference in the quality of life for service members and their families but that aren't always Federal budget priorities.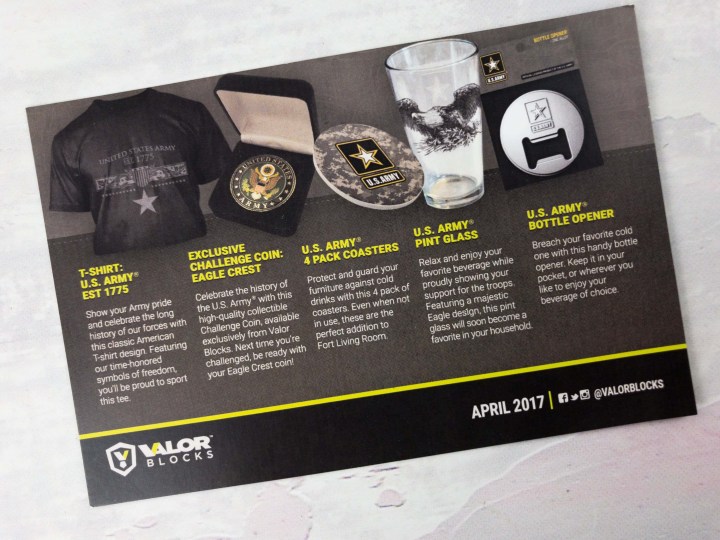 The information card is similar to the old Nerd Block info card (they're from the same family), with a list of items and a short description. The items mostly speak for themselves, so not much explanation is needed.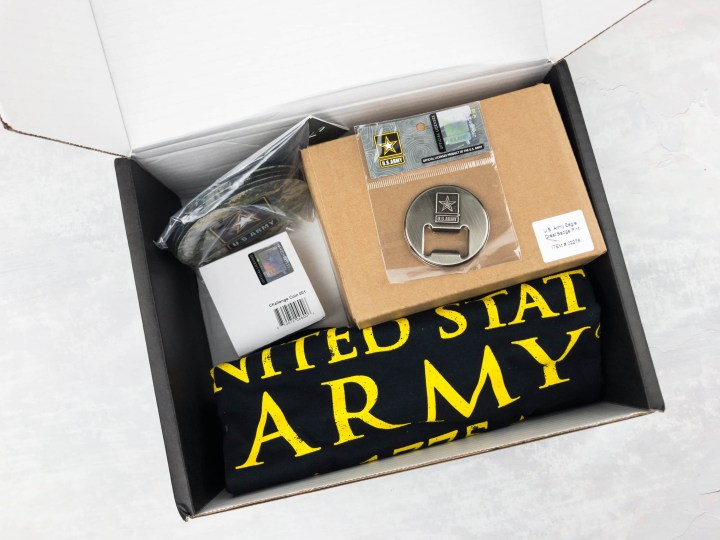 The interior packaging is simple, but the one fragile item was well-protected.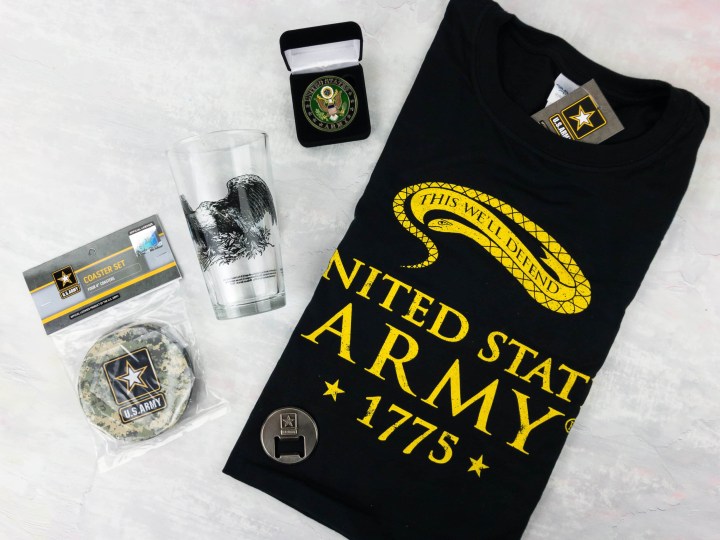 Everything in my April 2017 Valor Blocks box.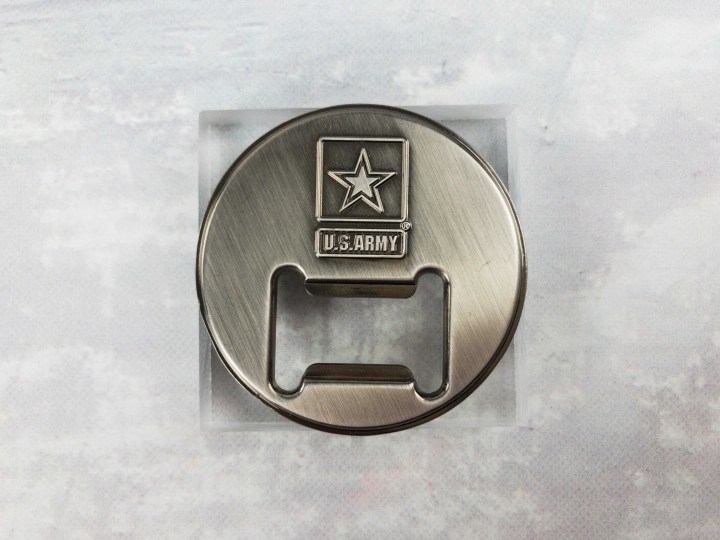 U.S. Army Bottle Opener: Each side of the opener is identical, stamped with the U.S. Army logo in relief. The finish is a handsome brushed nickel with some gun black accents. It is nice and thick – this thing will last forever.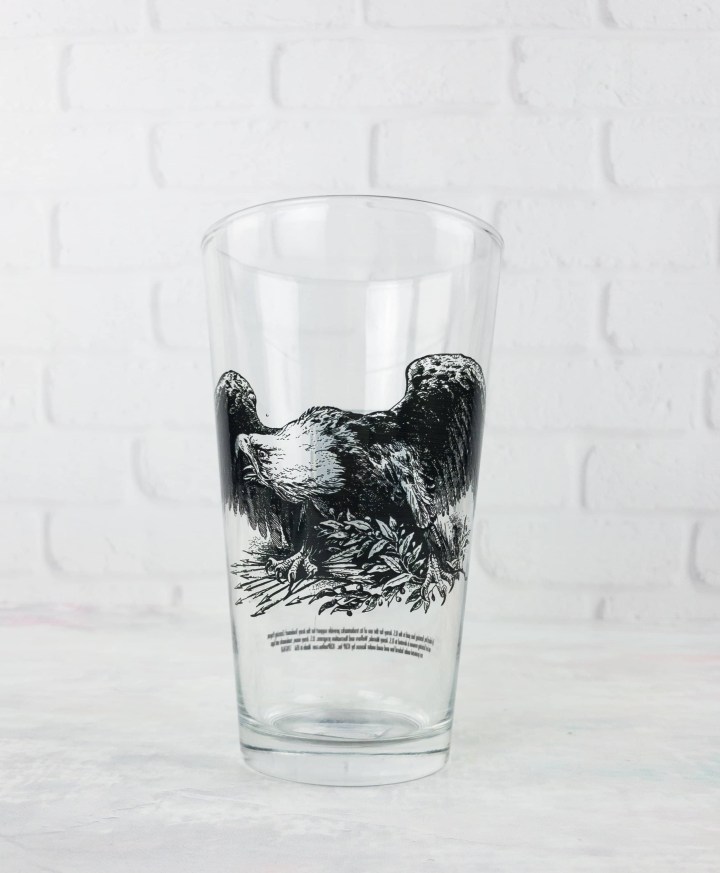 U.S. Army Pint Glass: This standard pint glass has a large eagle print on one side. The quality of the printing is good and highly detailed.
The U.S. Army logo dominates the other side. The text at the bottom is the Federal trademark use notice.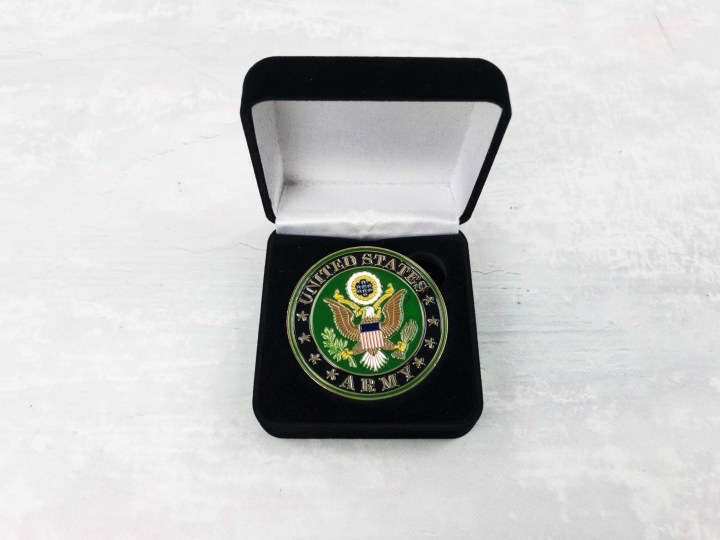 Exclusive Challenge Coin: Eagle Crest: Never buy another round! The challenge coin comes in a black flocked clamshell case.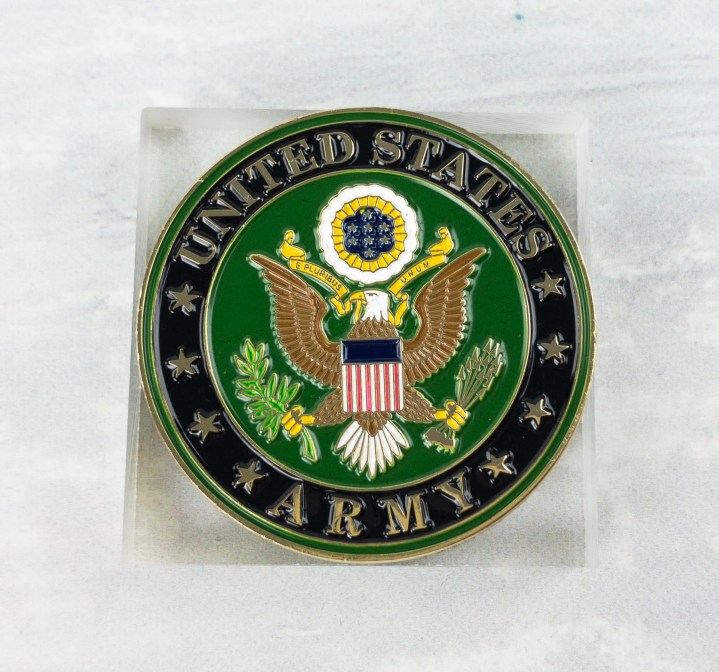 Each side shows a variation of the Seal of the U.S. Army.  The Eagle, escutcheon, olive branch, arrows, and text are all as they appear on the official Seal. The constellation only includes eight stars instead of the expected thirteen.
The coin is quite hefty and thick.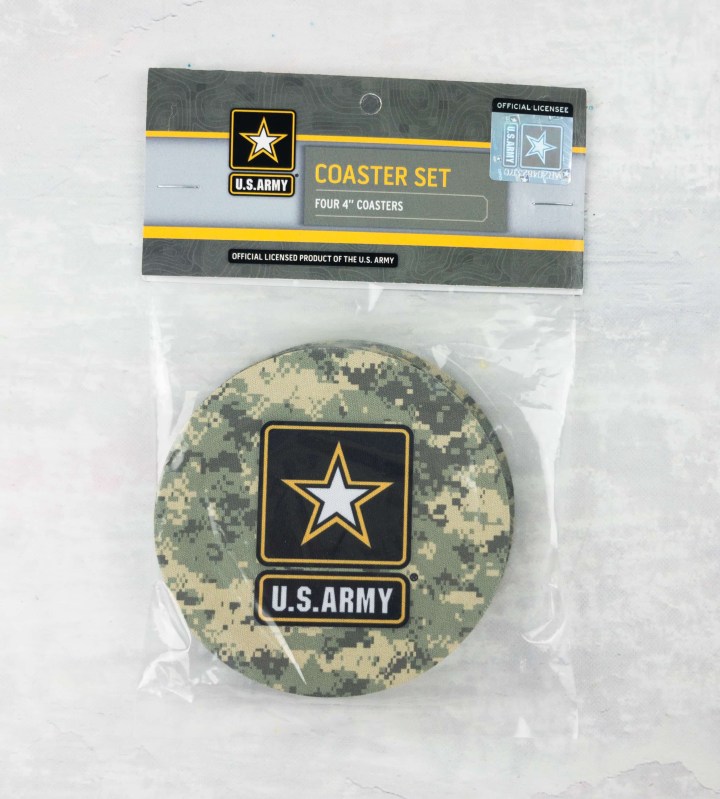 U.S. Army 4-Pack Coasters: Each coaster in the set has a digital camo motif with the U.S. Army logo.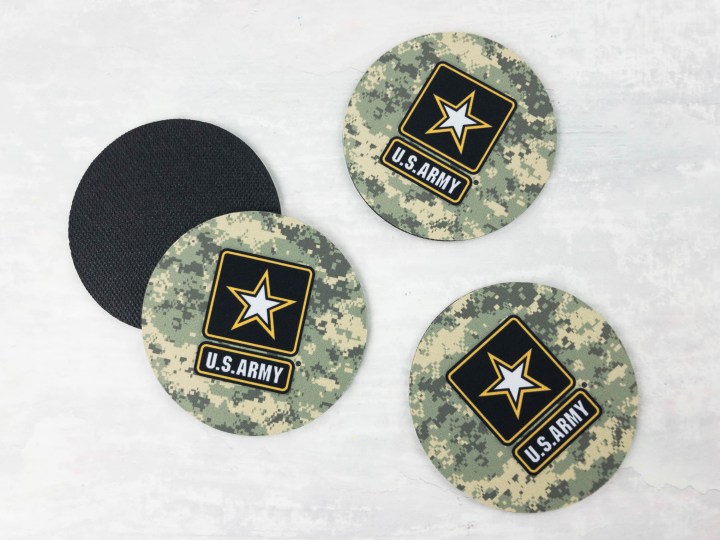 The material is similar to that used for many mouse pads, with a woven synthetic fabric layer atop a dense rubberized foam. Won't clank or stick to glasses and sweat from your mug won't make it through to the table. The underside is slightly textured to prevent sliding.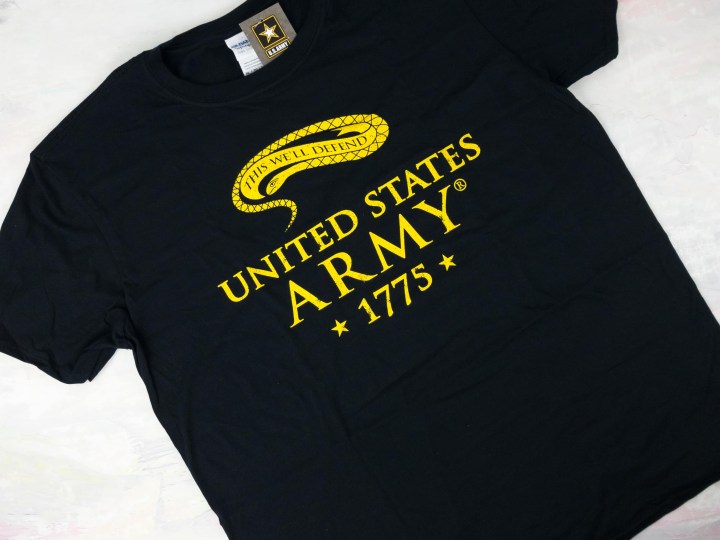 U.S. Army Est. 1775 T-Shirt: This shirt differs from the one pictured on the info card. The card text described the shirt as a U.S. Army Est. 1775 shirt – It's not clear if this is one of multiple designs or a post-printing substitution – but I think I like it better anyway. The shirt is dark black cotton with a standard men's fit.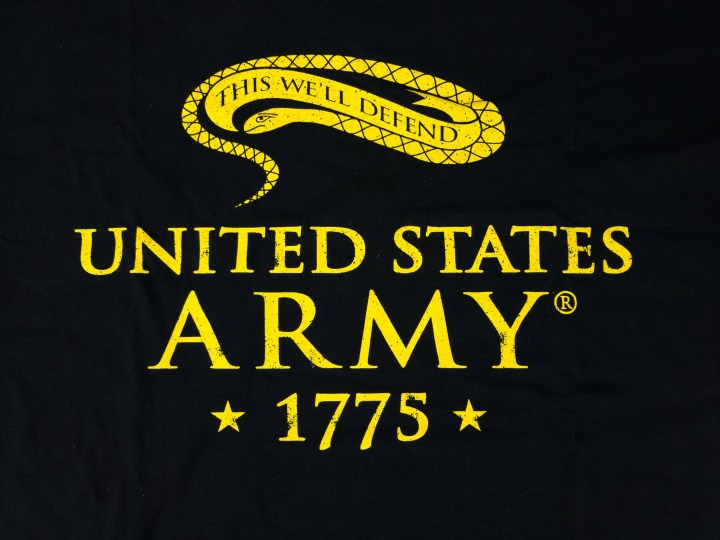 The design features a snake, the symbol of preparedness, and the Army motto, "This We'll Defend," along with "United States Army 1775" in yellow.
This box was a good value, with about $55+ in items or so. Lots of handy stuff, particularly if you are thirsty. This would make a very cool gift box for a service member – wouldn't it be neat to get this on deployment? I think any soldier of his or her family would be interested in the box, and versions for sailors, marines, and airmen are coming soon!