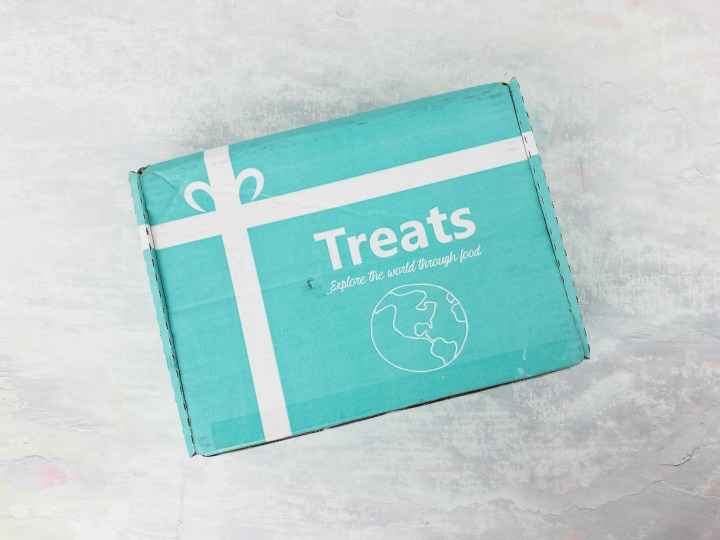 Treats is a monthly snack subscription full of snacks from around the world. You can expect to receive eclectic and interesting snacks that you've never sampled before (unless, of course, you've lived in the featured country recently)! The Standard Pack offers 4-5 snacks, while the Premium box offers 8-10. This, of course, is the Premium Box. It's quick to enroll, and you'll get your first box within a few days of when you subscribe.
The box is crowned with a beautiful postcard welcoming us to this month's Treats destination – beautiful Peru!
The packaging is simple and elegant. Tissue paper keeps the contents a surprise until you are ready to immerse yourself in the destination country's food culture.
DEAL: You can save 15% on your first month with coupon code HELLO15.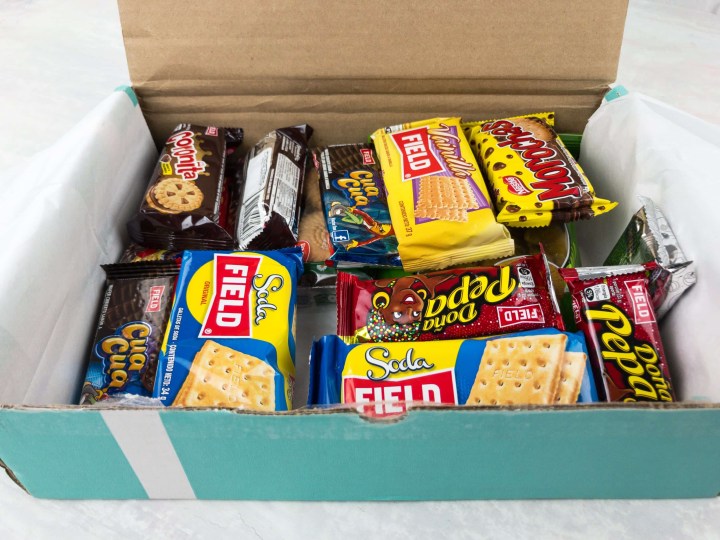 The box is filled to the top with goodies! This month looks to have lots of cookies and biscuits!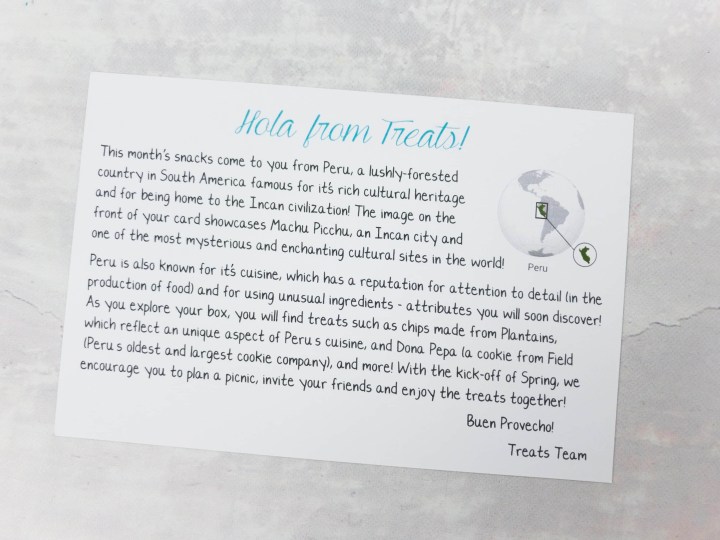 What a treat! We love it when a destination box picks a food culture that hasn't been done a dozen times, and this is our first Peruvian themed box! The back of the postcard points out some of the items with distinctly local and traditional character.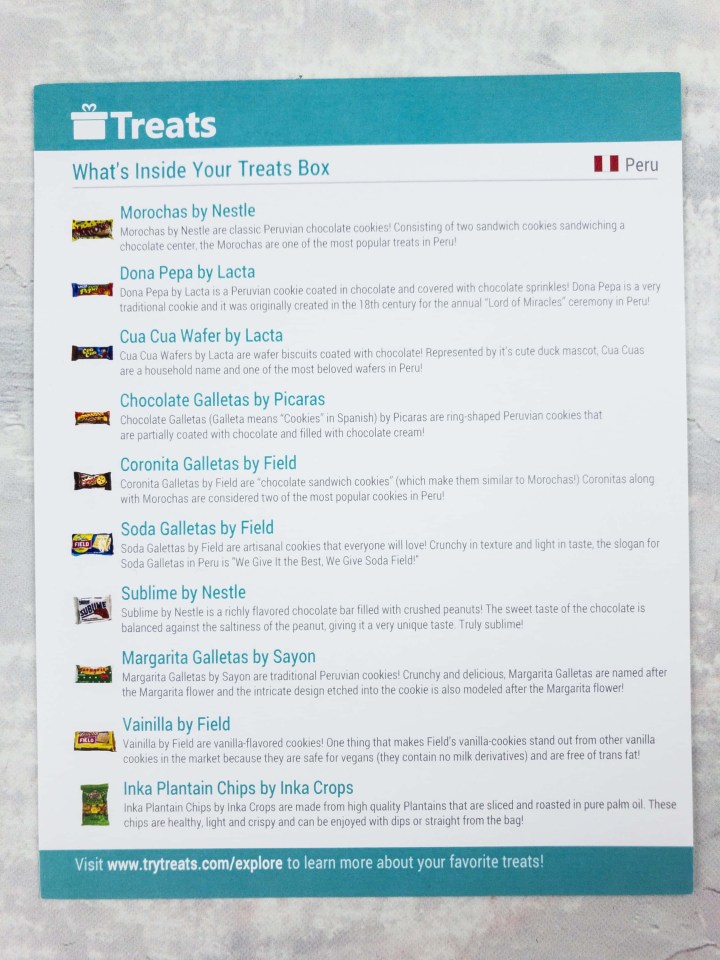 There is also a handy info card that gives the name and maker of each treat, as well as a short description of each. It was cool to see that several companies make local treats in Peru — some countries have only a single main bakery, narrowing the scope of products. The blurbs give you a sense of what to expect, but you'll have to check each treat's label (and possibly hire a translator) for more detailed info on ingredients and nutrition. Even with the card, the only way to truly appreciate everything is to taste it!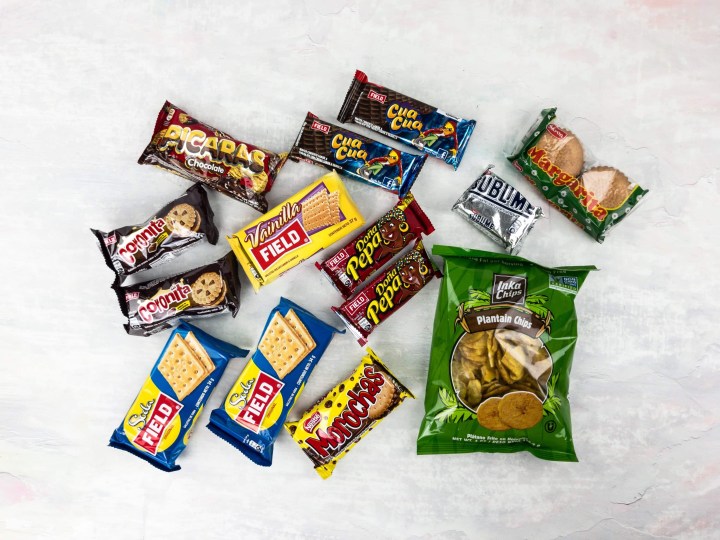 Everything in the box. The composition of each Treats collection depends on the local snacking culture, but there is usually a good mix of sweet and savory and individual and family packs. There were no huge packs in this Treats, other than the big bag of plantain chips. They made up for this by doubling up on many items.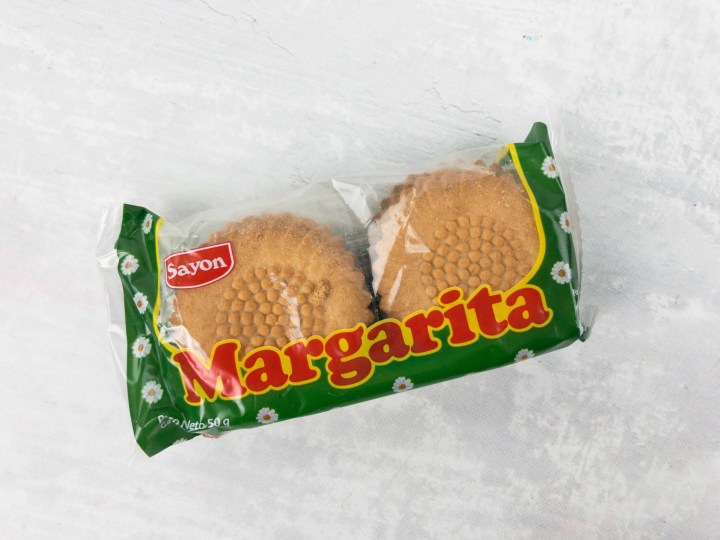 Sayon Margarita Galletas: These are a fairly standard tea biscuit, with a nice crunch and mild flavor. They get their name from the lovely flower stamped on each cookie.
Inka Crops Inka Plantain Chips: Prepared simply (fried, yay!), these chips retained a nice natural flavor. I loved that they didn't have any fishy off flavor, which is sometimes an issue with fried plantain. They also had a great texture, with a nice crispness and no noticeable greasiness. They have a bit of a thirst-inducing quality (though not overly salty), requiring they be consumed with copious amounts of beer.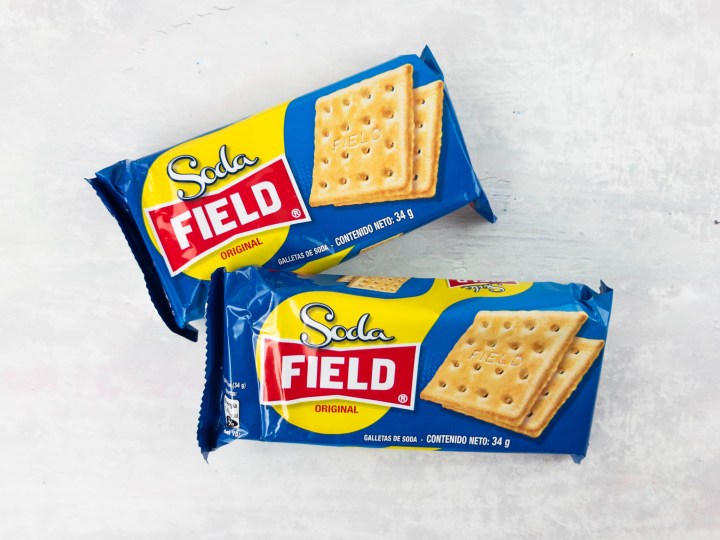 Field Soda Galletas: These crackers are quite unique. At first blush, they appear to merely be a Saltine clone, but they actually have a much more enticing flavor and texture. They are like a Saltine and Townhouse hybrid – they a surprisingly buttery texture and flavor, yet some of the pleasant dryness of a Saltine is still there.
Field Vainilla Galletas: These tea cookies have a snappy texture and are flavored much like a Nilla Wafer.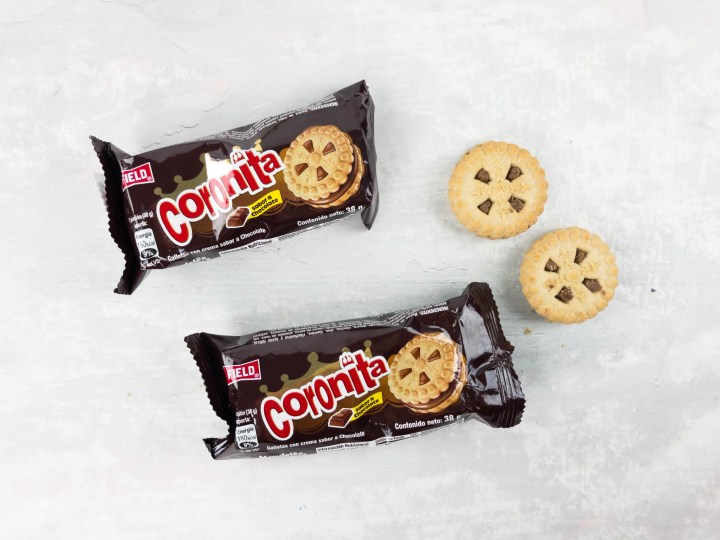 Field Coronita Galletas: These little sandwich cookies look like tiny crowns, hence their name. The cookie is a bit greasy, with the flavor reminding me of Portuguese (lard-made, piecrust-like) cookies. They are filled with a sweet "chocolate" creme that isn't particularly flavorful.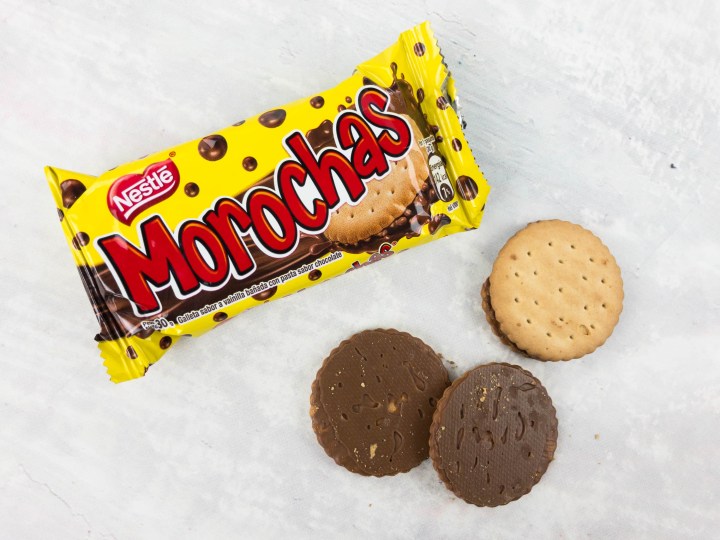 Nestle Morochas: A bit like Elf-made cookies, these little mild cookies have a bit of a snap (almost water-cracker level) and are coated on one side with a chocolate glaze.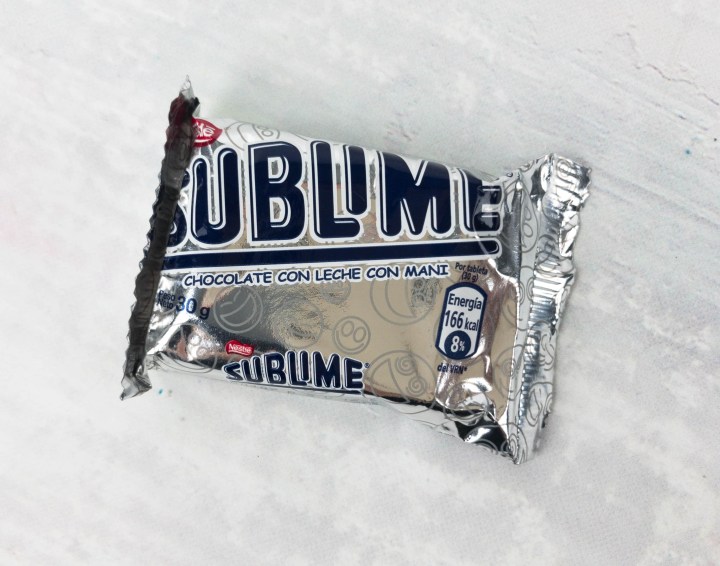 Nestle Sublime:  This little block is made of simple milk chocolate and studded with peanuts.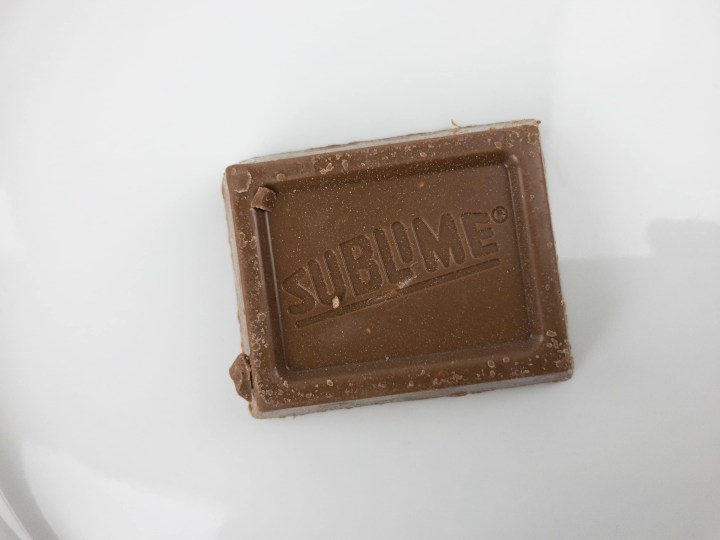 The stamped block is pretty thick, but it isn't overly smooth of flavorful. I thought of a Chunky bar (also by Nestle) when I saw this.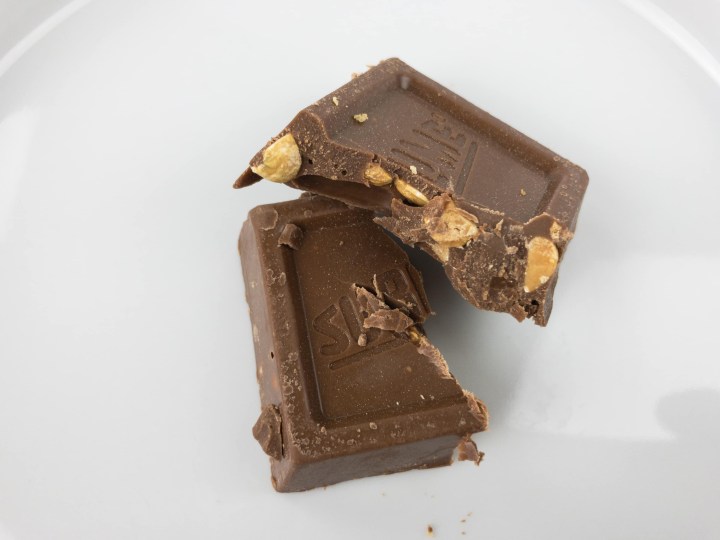 No raisins here, though.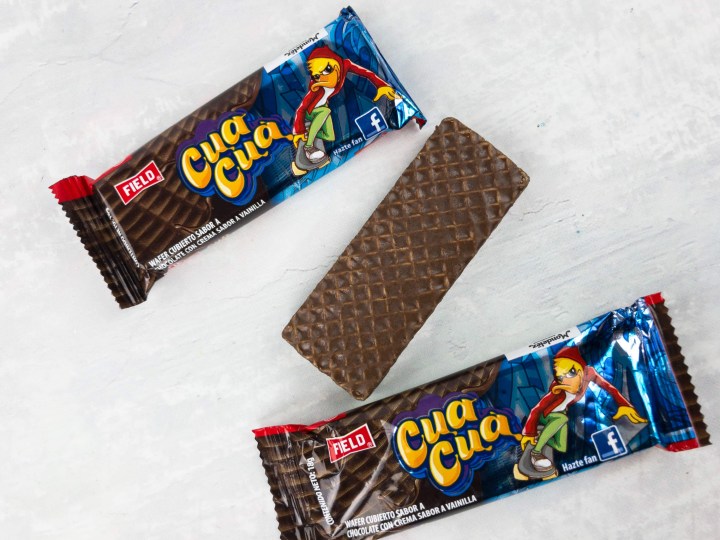 Field Cua Cua Wafer: A light, crispy wafer cookie flavored with vanilla and coated with chocolate. It is a little disorienting to examine, because the creme inside is vanilla flavored, but it is a light brown color. You can taste it, but it looks at first like there is no filling in between the layers of the wafer. Tasty and sweet, much as expected.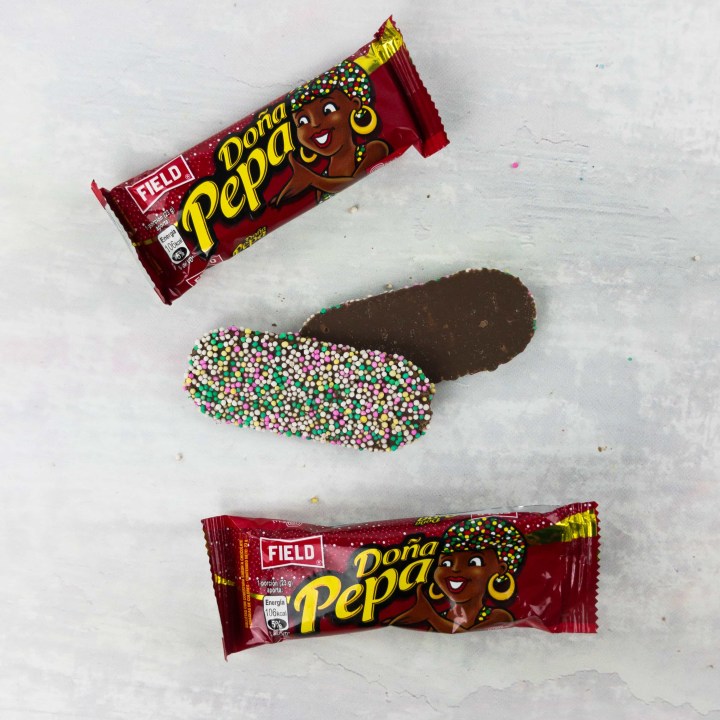 Field Dona Pepa: The wrapper alone makes this candy interesting. It is a cookie coated with chocolate and dipped on one side in pastel colored nonpareils. They come two per pack and are crunchy and fun to make a mess with.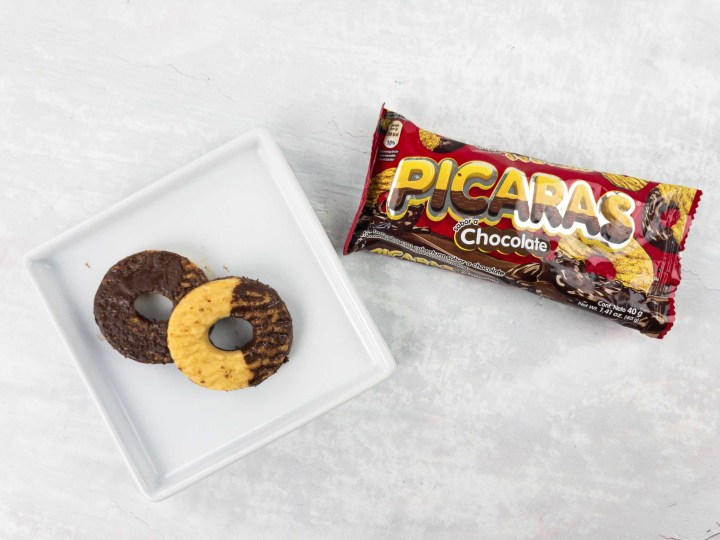 Picaras Chocolate Galletas: I found this to be the most unusual item in the box, especially because it differed from the description provided on the Treats card. The bottom of each doughnut shaped cookie is coated in easily-melted chocolate, and half of the top is also coated. They aren't filled with chocolate creme, though. They are a solid cookie with a very crunchy, slightly oily texture. They also have a unique taste, like they incorporate coconut or even a hint of banana!
Treats is always a lot of fun. This box had lots of cookies with similar textures — what you get is really a function of what is popular in the destination country, a fact that speaks to the authenticity of the box. With great quality and great curation, every box is a treat!
Have you tried Treats yet? What did you think of the box?