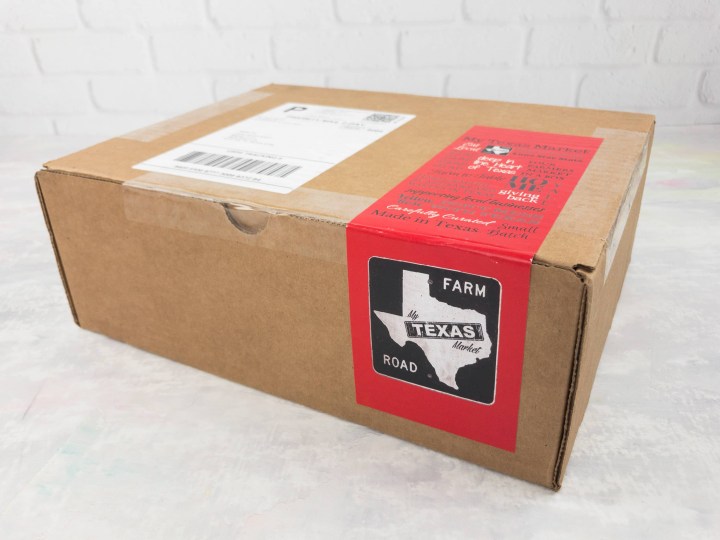 My Texas Market is a monthly subscription that sends a curated collection of small batch artisanal goods produced in Texas to your home. I was so excited to receive this box! As someone who moved to Texas a few years ago, I have come to believe that all things are better in Texas, and what better way to prove it than to sample some local fare?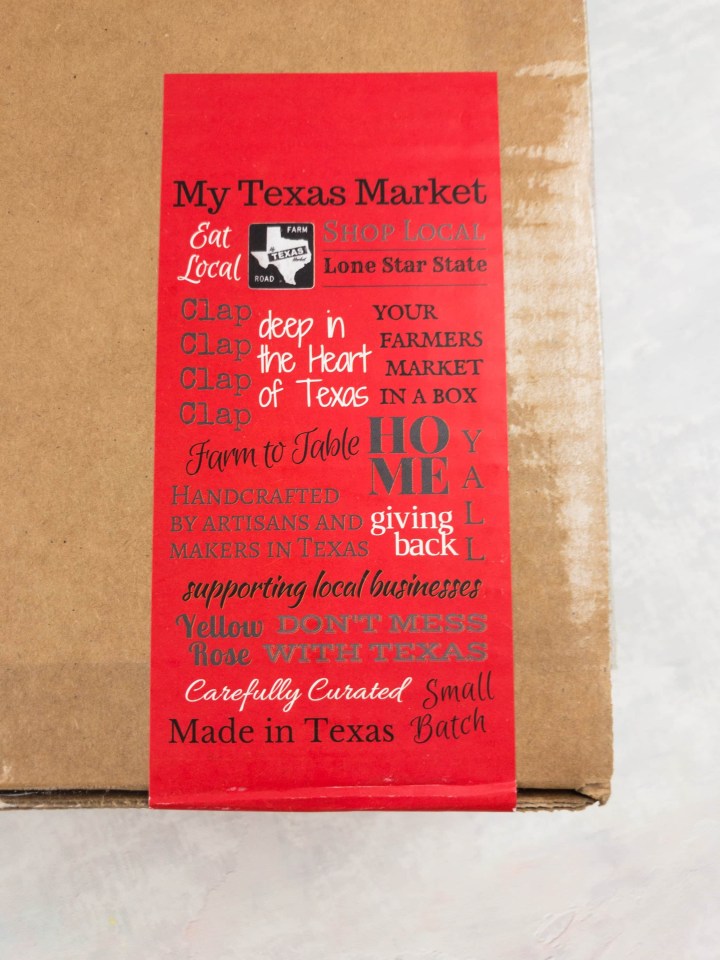 DEAL: Save 10% on your first box! Use coupon code 10FIRST.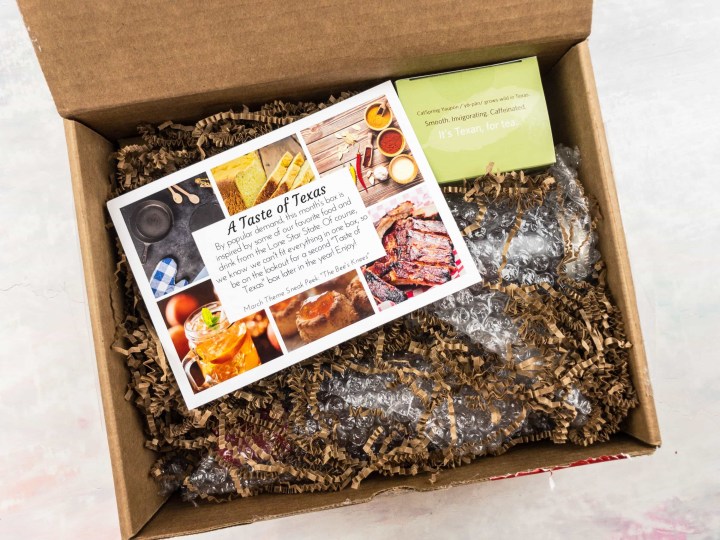 The theme for February 2017 was A Taste of Texas! I couldn't wait to see what My Texas Market included in this box!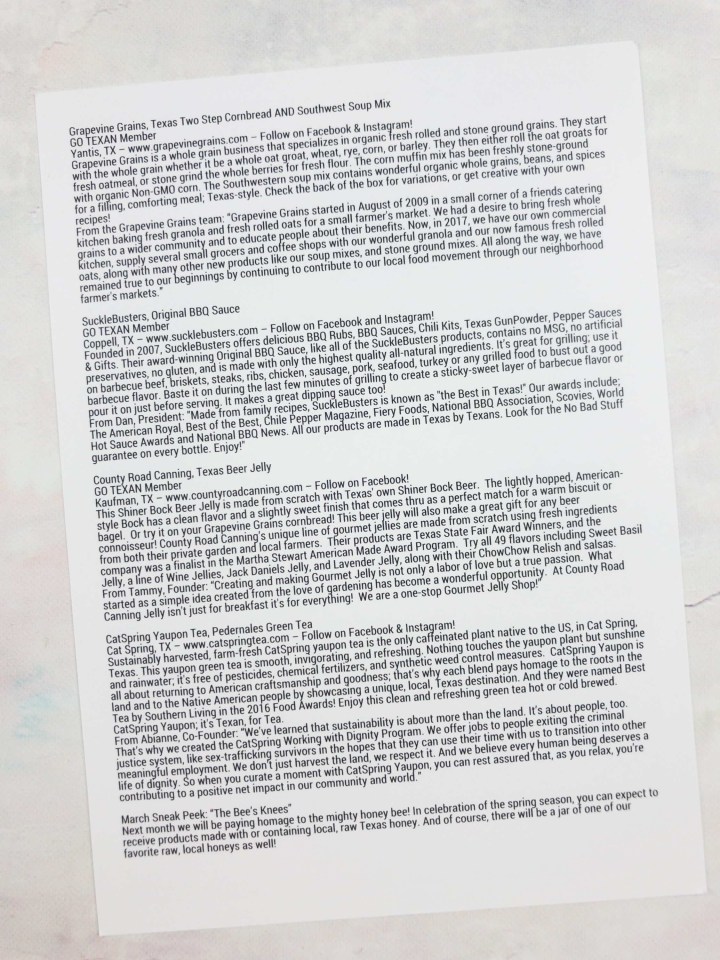 February's box contains jelly, tea, cornbread and soup mix, and BBQ sauce!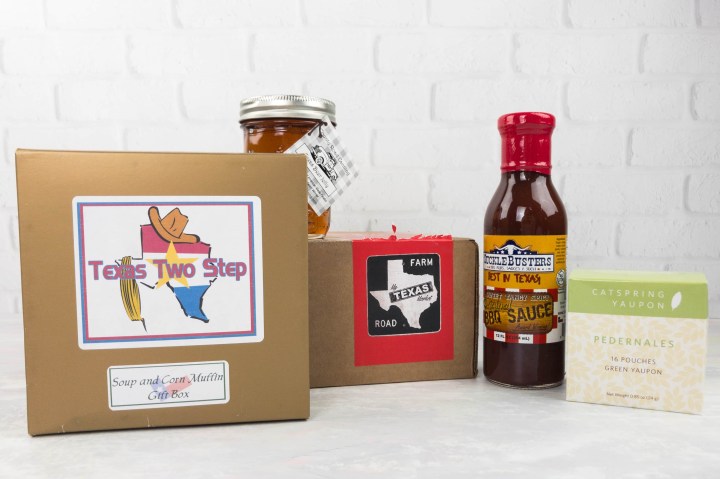 Everything in my box! I love how My Texas Market sources small batch, artisan goods from farmers' markets and local Texas businesses each month and gives 10% of their profits to the Houston Food Bank!
Suckle Busters Original BBQ Sauce ($7.95) Sweet, tangy, spicy, AND all-natural! This sauce is a delicious winner – with 8 major wins to its name! Plus it's got that nice vinegar twang!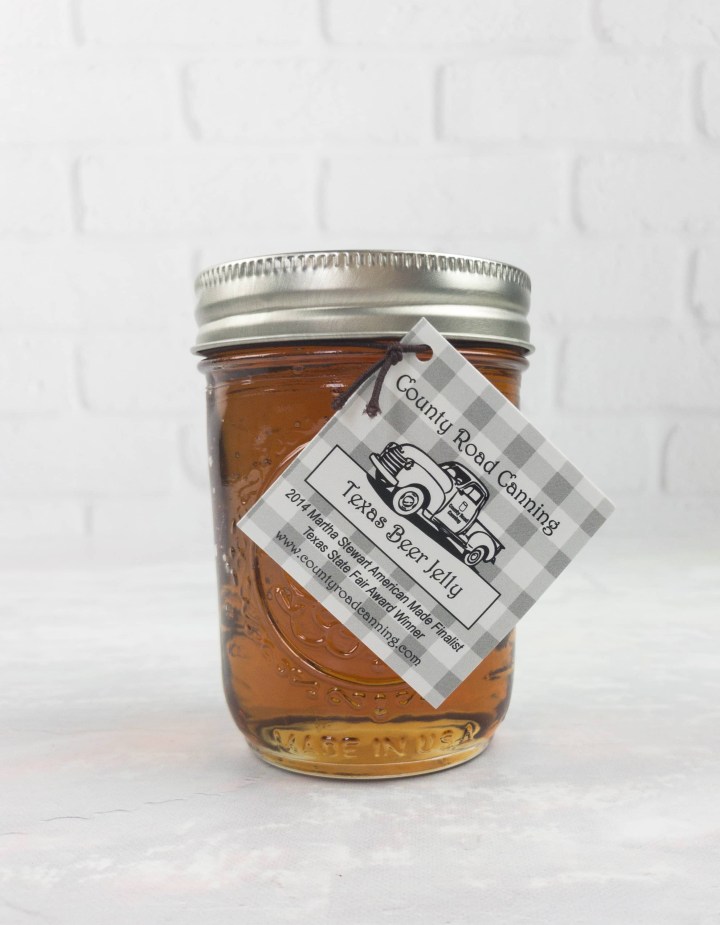 County Road Canning Texas Beer Jelly ($7) This beer jelly is a Texas State Fair award winner – it really is like going to a Texas market!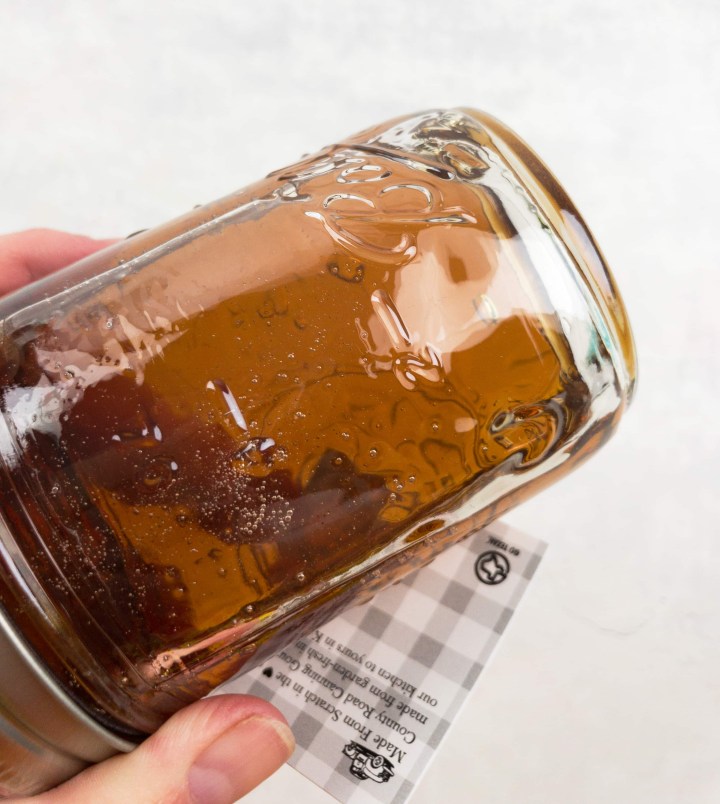 Made with Shiner Bock it has a nummly sweet taste! I used some of this on my cornbread (see below!) and it was amazing – but I'll be pouring the rest over a slab of cream cheese for cracker eating. What can I say – I'm Southern!
CatSpring Yaupon Tea Pedernales Green Tea ($7.95) Apparently Yaupon is the only native thing in the US that has caffeine?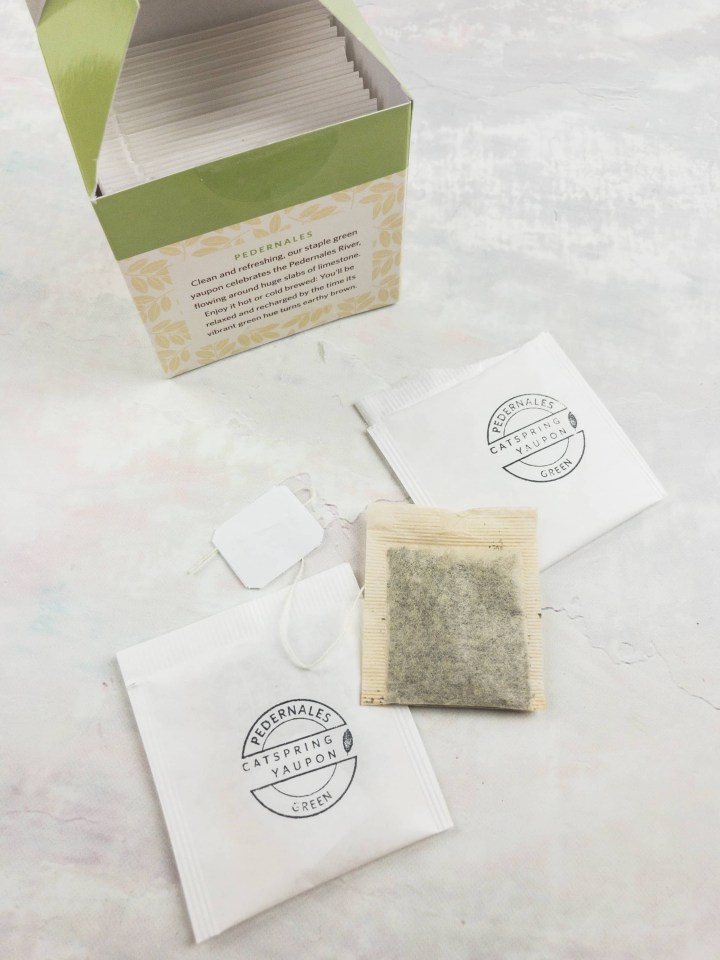 This green tea is made to enjoy hot or cold and there are 16 wrapped packages – perfect for slipping into a lunchbox!
Grapevine Grains Texas Two Step Cornbread ($6) and Southwest Soup Mix ($6) Finally – a gift box of soup and bread!
Soup mixes are one of my favorite things in the world!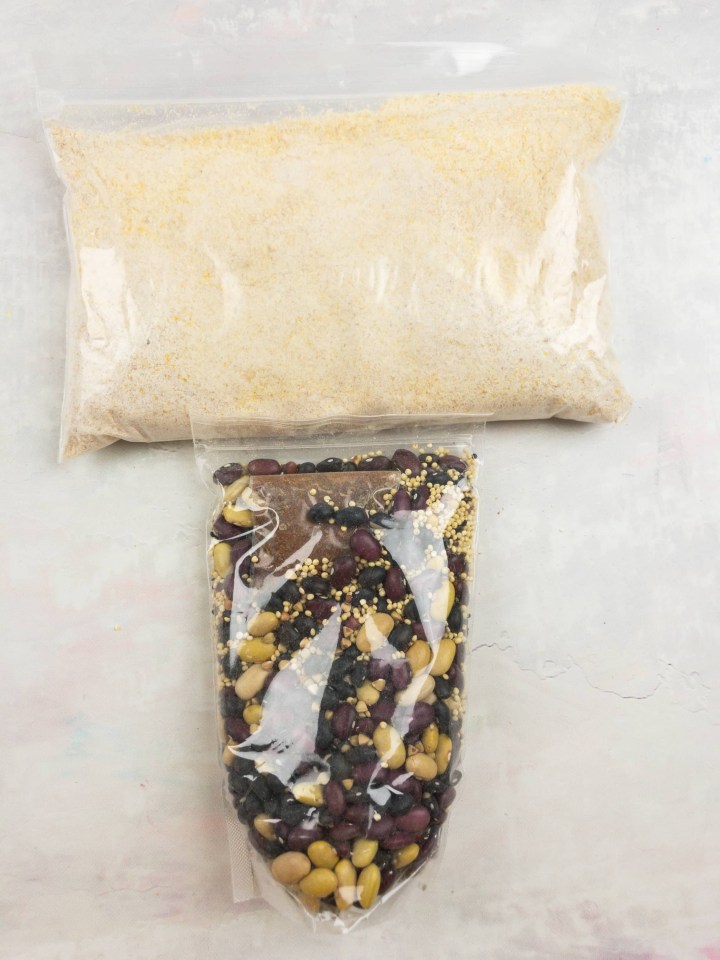 The cornbread mix uses fresh organic stone ground corn, and the soup mix had black and red beans, plus an interesting varietal – Mayocoba – and ancient grains. The spice packet has real, good red Hatch chile powder!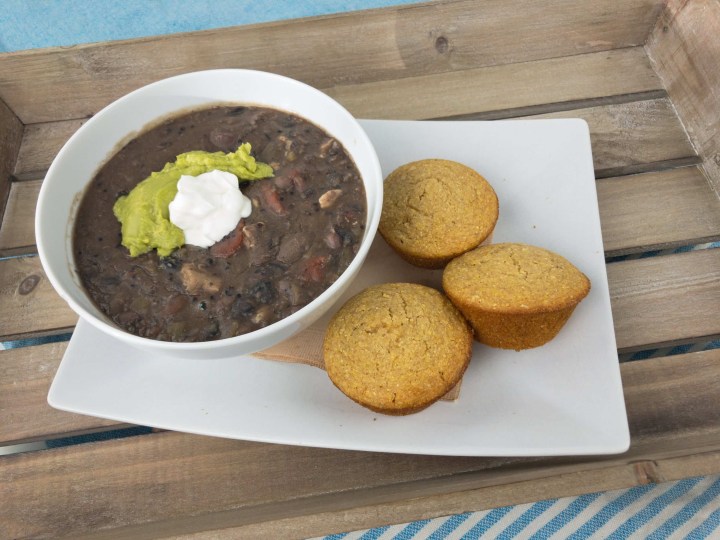 The soup was delicious and the cornbread was sweet and perfect – and hearty, too. You could really taste the stoneground flavor.
I thought My Texas Market really did an amazing job sourcing these items – and I was impressed that they weren't just from local makers – but local makers that cared about ingredients too!
Have you tried My Texas Market? What did you think of this month's selections?