TB12 Performance Meals, in partnership with The Purple Carrot, is a healthy meal subscription box that delivers pre-portioned ingredients to create plant-based, gluten-free recipes based on the TB12 nutritional guidelines.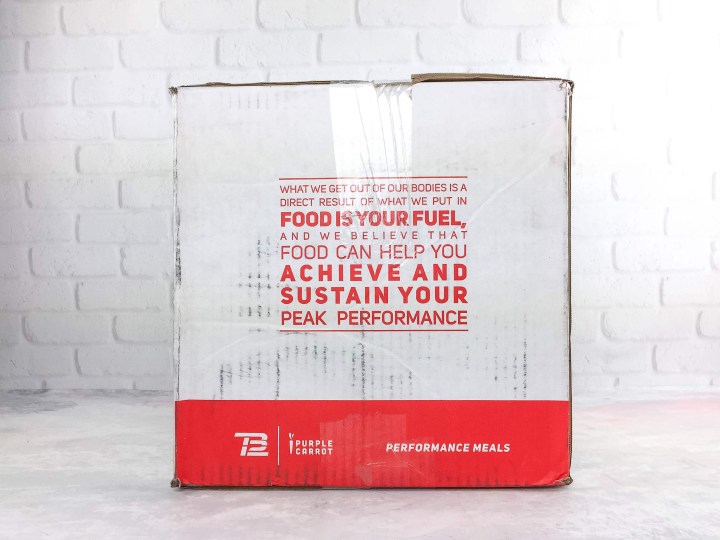 Critics and fans alike recognize that Tom Brady, at an age when most quarterbacks are eyeing retirement, is performing at a higher level each year. He credits his to hard work and a sound diet to leverages the benefits of plant-based nutrition.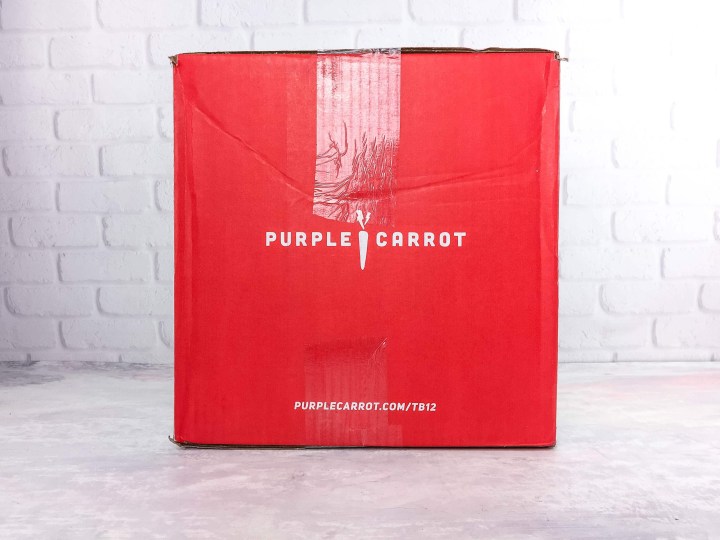 TB12 Performance Meals partners with Tom Brady & TB12 to create meals that help you achieve and sustain your peak performance.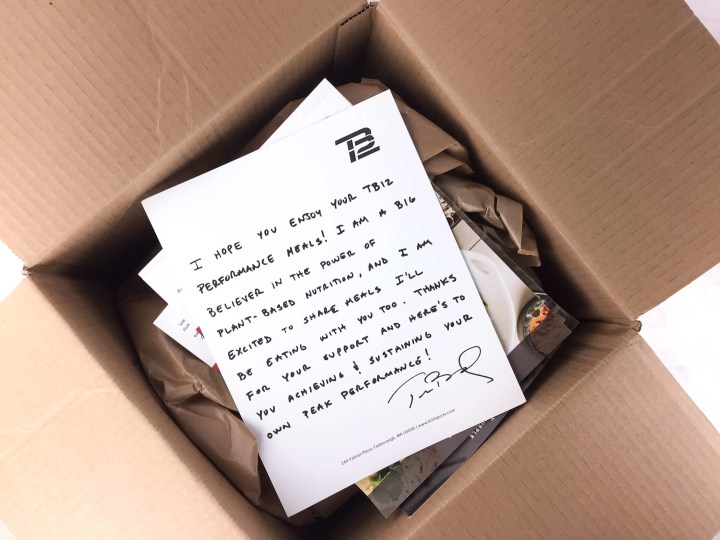 This made my day! The box included a short note from Tom Brady (and yes, it is still on my fridge).
[Note from Brandy: I tried to recycle this and I was Not Allowed. As a Vermonter & life long Patriots fan, having this box arrive during my husband's birthday week was an excellent choice – but don't shy away from it if you don't care about Tom Brady – this box is all about higher protein plant-based nutrition. This box easily contained our favorite dinner kit meals of all time.]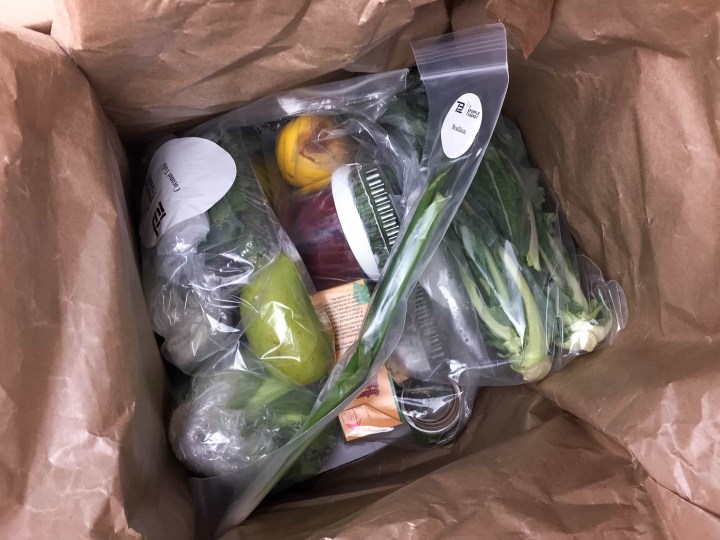 TB12 Performance Meals insulates the food with ecologically-sound padding. A few huge icepacks sit below the food, separated from it by cardboard. I was really impressed with the condition of the ingredients.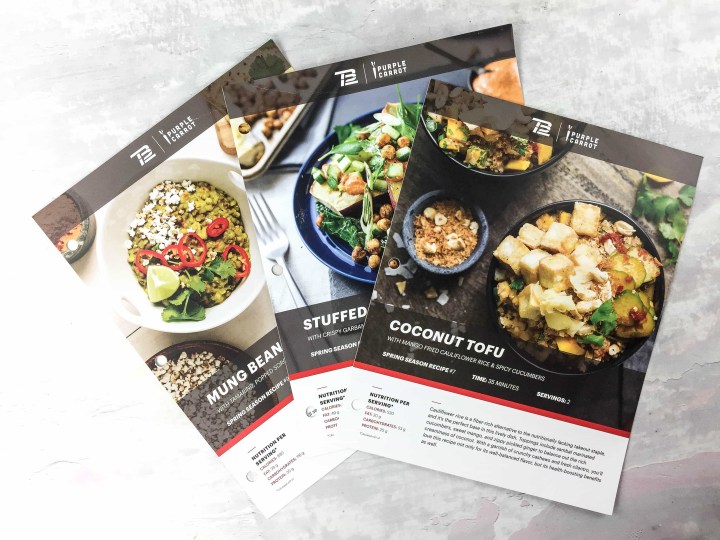 On-card information includes an estimated prep-time, number of servings, and a breakdown of the essential nutrition info (calories, fat, carbs, protein).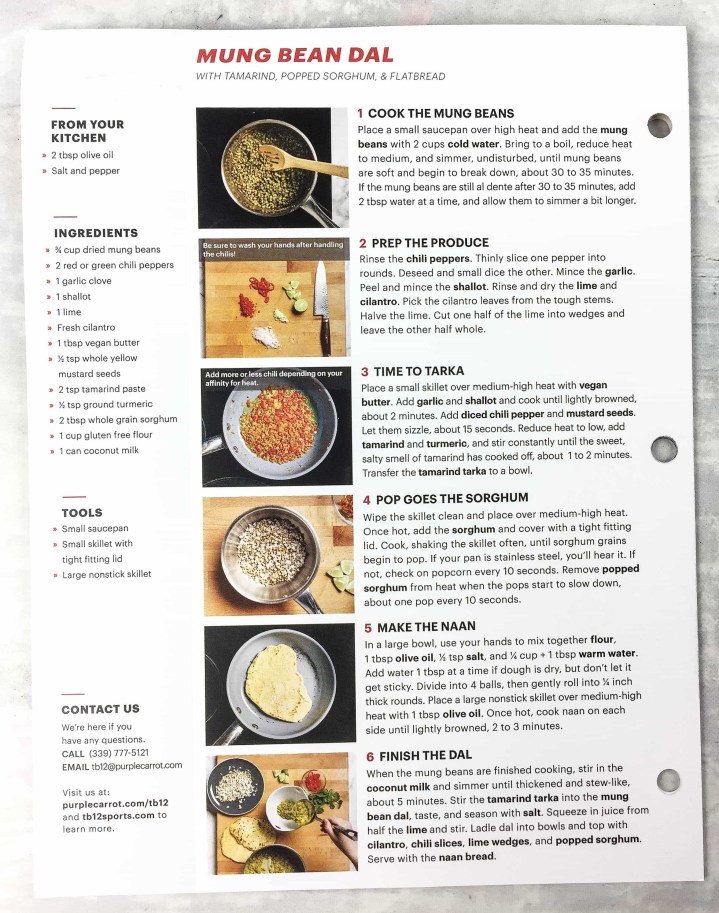 The recipes are really well designed, with most prep done ahead in a mise en place approach. Any items needed from your kitchen, whether food or cooking vessels, are set out separately. As far as ingredients, only olive oil and salt and pepper are needed. Ingredients are bolded for ease of recognition, and they even put ingredients in red font if they are divided and used in more than one spot in the recipe. Handy tips were worked into the text, like how to tell when a phase of cooking is done by smell or sound. They even have a hotline for phone or email help if you need it!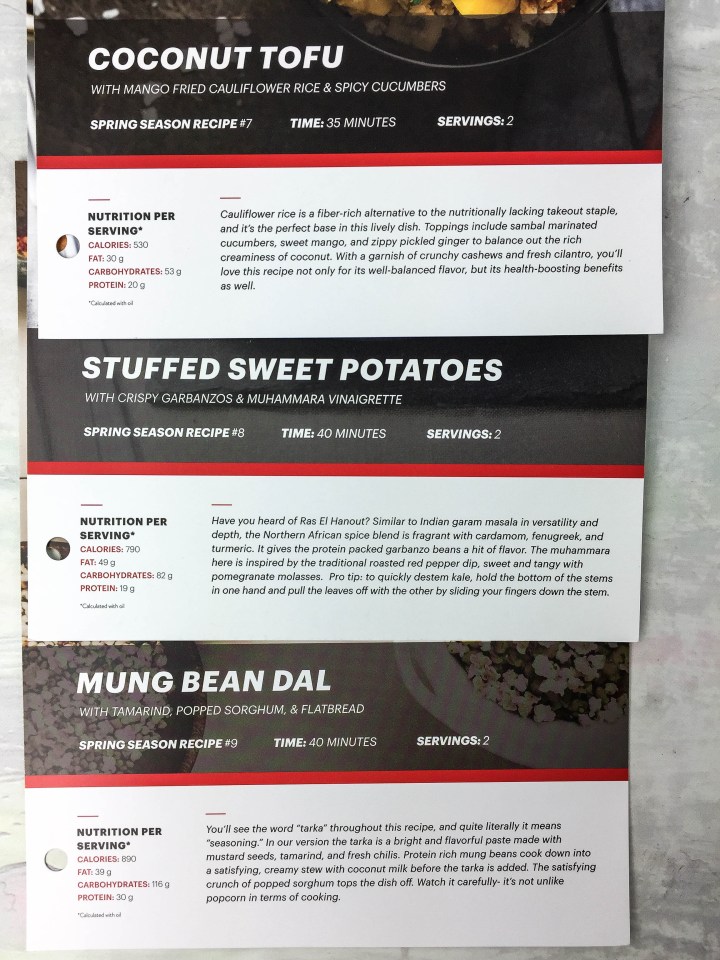 When we chose our meals for this month, we were able to pick from two flights of three meals for each week of the month – you can switch between regular Purple Carrot & TB12. This week we chose the TB12 triplet comprising Coconut Tofu, Stuffed Sweet Potatoes, and Mung Bean Dal.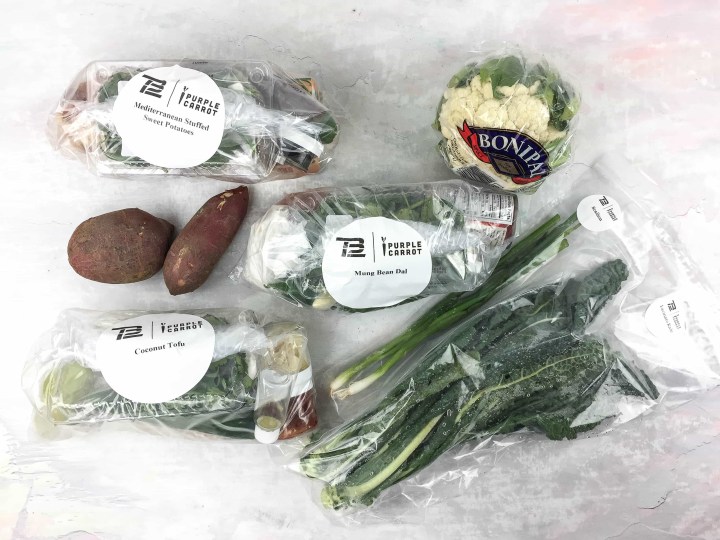 All our food! The meals are bagged separately, with some large or delicate items labeled in individual packages.
Coconut Tofu With Mango Fried Cauliflower Rice & Spicy Cucumbers. 35 minutes, 530 calories per serving.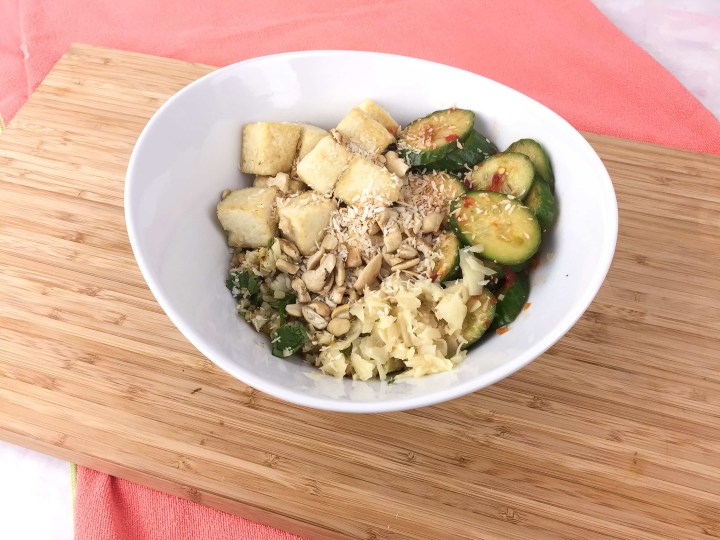 This meal begins with a small pile of riced cauliflower fried in a pan and mixed with cilantro and mango. It's topped with fried tofu cubes, spicy quick-pickled cucumbers, pickled ginger, and toasted coconut and cashews. This is a cook-then-assemble dish, so it takes a bit of time to put together. I probably spent half again as much as the estimated time preparing it, but I'm very methodical, and I also rice my cauliflower with a knife instead of with a food processor. The tofu cooked beautifully, becoming crispy and holding together without soaking up too much oil. In line with the dictates of the TB12 guidelines, coconut oil was provided for frying the tofu, with olive oil reserved for dressings.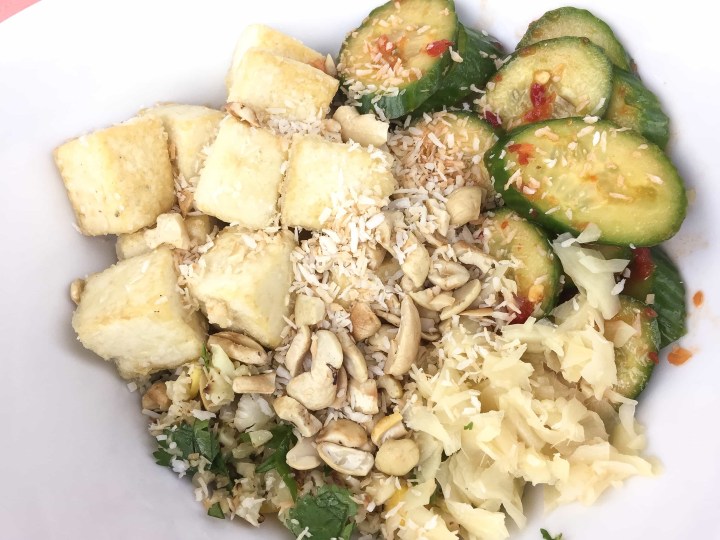 The flavor of this dish was fabulous – sesame, ginger, coconut, mango, cilantro, and spice all coming together beautifully. Texturally, it was amazing, with each element providing a different kind of crunch, crispness, tenderness, or smoothness. It was very satisfying, but I didn't feel weighed down or sleepy afterward.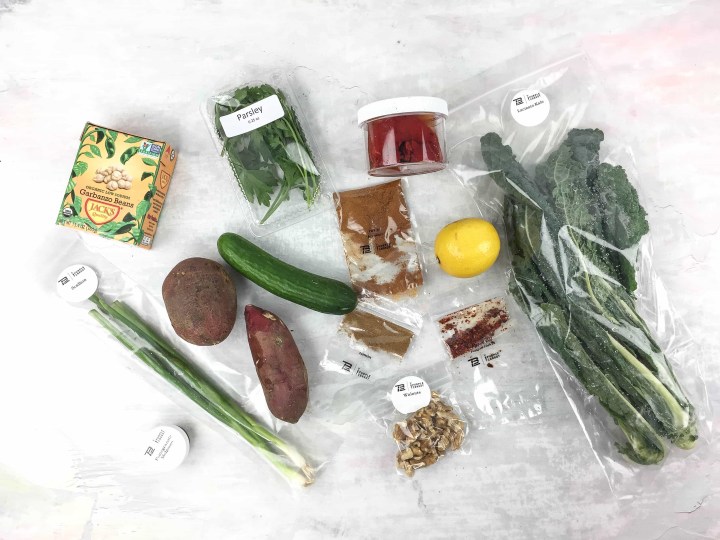 Stuffed Sweet Potatoes With Crispy Garbanzos & Muhammara Vinaigrette. 40 minutes, 790 calories per serving.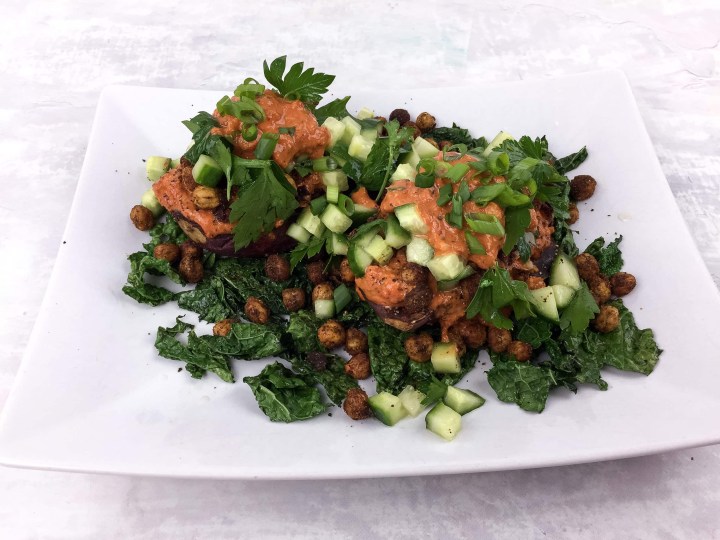 This meal was another textural triumph, combining creamy white sweet potatoes with a silky sauce and crunchy vegetables. The Muhammara vinaigrette was loaded with Aleppo pepper flakes and walnuts, providing a rich and spicy counter to the sweetness of the potato. Bright lemon, parsley, and cucumber livened the dish, with heavily-spiced crispy garbanzos adding a great crunch and a dose of protein. Every bite had a unique proportion of the ingredients, and every bite was great. This dish went together fairly easily – the only part that took me awhile was blending the sauce with a stick blender, as a regular blender was recommended. Again, this meal left me feeling great and energized.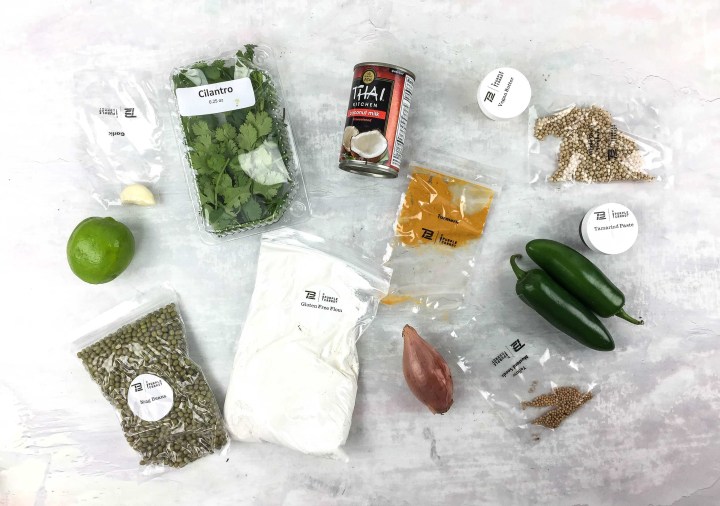 Mung Bean Dal With Tamarind, Popped Sorghum & Flatbread.  40 minutes, 890 calories per serving.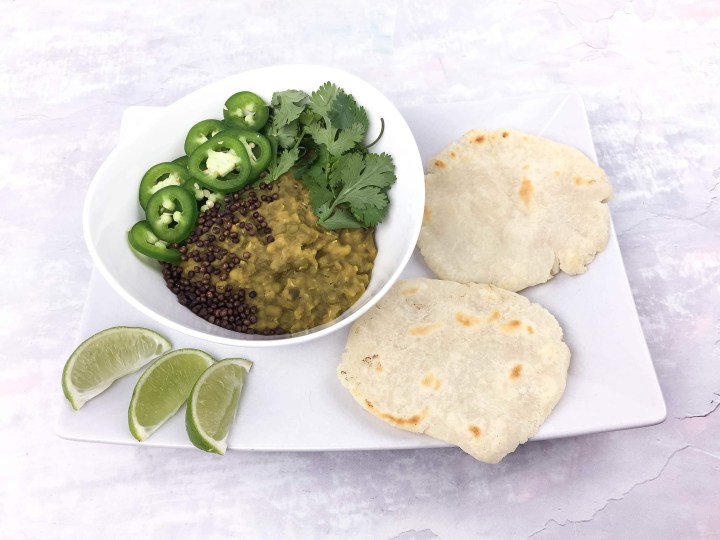 This is the vegan version of a stick-to-your-ribs meal. Vegan butter was even provided to maintain the character of the meal. The Mung beans took a full 35 minutes to cook, but they created a thick and delicious base for the meal. They had a wonderful split-pea type flavor, but they didn't have any of the accompanying bitterness of dried peas. Shallot, garlic, and spice-laden coconut cream transformed the simple beans into an enticing dish. Toasted sorghum added some crunch – mine didn't pop, they just browned. Though they got quite dark, the flavor was still good and didn't taste burnt. Cilantro and thick jalapeño added freshness, crunch, and heat, with a splash of lime brightening the mix. A big surprise was the flavor and texture of the gluten-free naan – it was great! The outside crisped a bit, but it remained soft and had a nice light flavor. I found this dish really satisfying, and it reheated very well, too.
Like many folks, we are always a little skeptical of meals that focus on nutritional composition above all else, but this set of meals did not make taste and afterthought. We were blown away by the TB12 meals! They are possibly the best combinations of textures and flavors we've had in a meal kit, and the quality and condition of the ingredients were as good as we've seen. We tend to eat many hearty and meat-centric meals, and this subscription is a perfect breath of fresh air. These are well-designed, incredibly flavorful meals with superb nutritional profiles, and I highly recommend them whether you are an athlete or just a food lover.