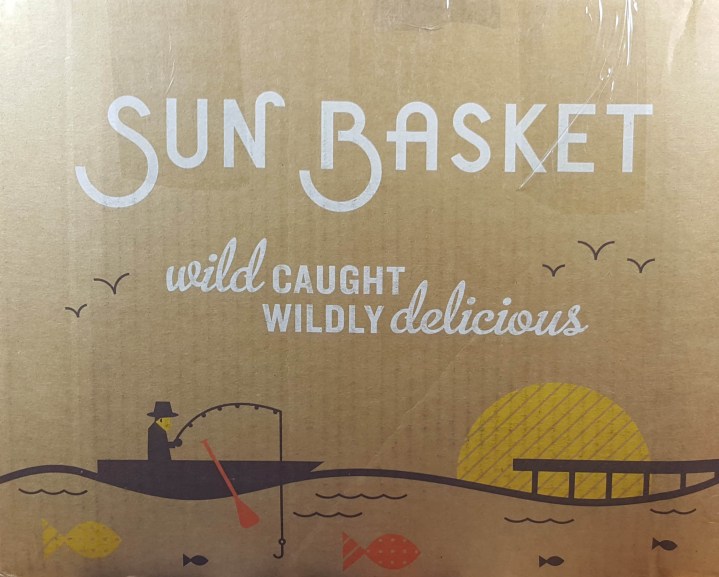 Sun Basket provides chef-developed and nutritionist-approved recipes focused on helping people create delicious, healthy meals using quality ingredients and globally-inspired flavors. Recipes are created by Chef Justine Kelly, formerly of The Slanted Door. Meals are between 500–800 calories per serving and use certified organic produce and responsibly sourced meats and seafood (free from antibiotics and added hormones). Pick and choose 3 recipes between the following meal plan menus for your weekly selections: Chef's choice, Paleo, Gluten-free, and Vegetarian. You can also opt for the Rise & Shine menu which consists of two dinner recipes and two 5-minute breakfast recipes. Sun Basket is now providing 20-minute meals as part of the weekly selection for those short on time.
DEAL: Get 3 meals free! Deal applies automatically, just visit and subscribe.
The outside of each box contains a color-coded label identifying any foods that may be questionable. The coding corresponds to the meal that contains one of the listed ingredients.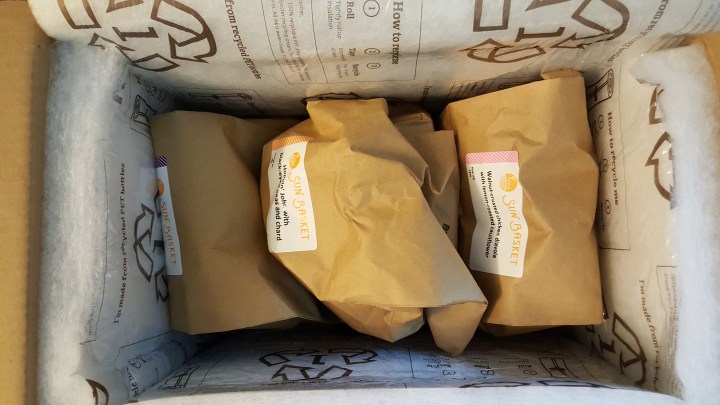 Recipes are separated into individual bags (with color coded labels). Meals are packaged to stay fresh in the box for up to 8 hours after delivery. Note from Sun Basket: recipes with delicate greens and fresh mushrooms are best used within 4 days of delivery. Sun Basket provides most of the ingredients needed for your recipes, but there are a few pantry staples that you'll be asked to add such as olive oil, grapeseed or sunflower oil, plus salt and freshly-ground pepper. Occasionally, you'll be asked for wine or butter as an optional recipe item.
Each week Sun Basket provides information on a featured food item or preparation method. Topics have included seasonal recipes, food sourcing locations, culinary destinations, and Sun Basket facts.
Each recipe card features a full color picture of the final dish on the front, and step-by-step directions with ingredients/quantities on the back.

Here's an example of how each recipe started… Or as some would say, here are the ingredients.
Week 1
Pork with Apple-Celery Salad and Grain-Mustard Pan Sauce: It's not pork chops and applesauce, but I think that Peter Brady would still approve. The apples and apricots added a dose of sweetness that was nicely balanced by the salad dressing and grain mustard sauce. To me, radishes are an under used veggie. I loved the crunch and slight bite that they added to this dish. I have a tendency to cook pork until well done, which sometimes makes it dry. However, even well done, this came out moist and tender.
Walnut-Crusted Chicken Divola with Lemon-Roasted Cauliflower: This was my least favorite meal for the week. The chicken was good (would've been better if I hadn't charred it ?). The cauliflower was not to my liking. The lemon gave it a bitter taste. That combined with the slightly burned chicken was not pleasant. Plus, I would have liked a sauce – this seemed a bit dry.
Hoppin' John with Black-Eyed Peas and Chard: I love this dish! As a good Southern girl, I celebrate the new year with a dish of black-eyed peas, collard greens, and cornbread. This dish takes those elements and gives them a little twist. The Hoppin' John was so packed full of flavor (I do like mine a little spicier, though). The chard cooked so much faster than my traditional greens. I just wished that there were more.
Week 2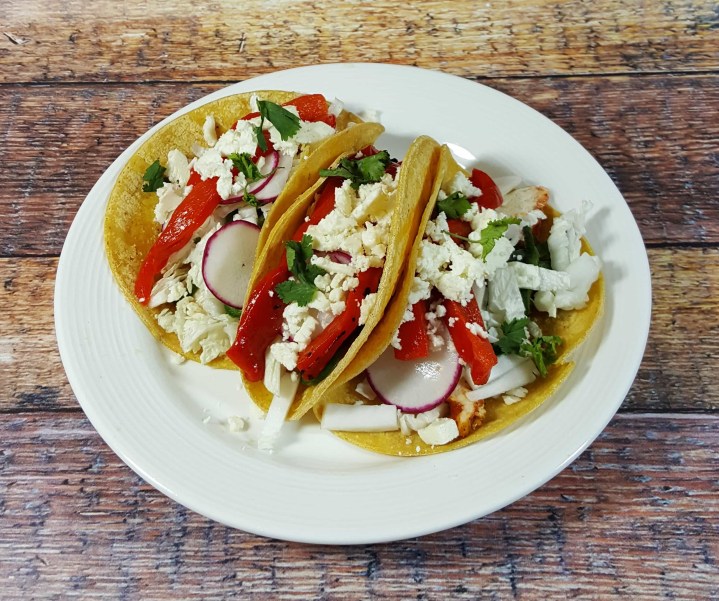 Grilled Chicken Tacos: These were super yummy! The radish and napa cabbage add a lot of texture. The chicken had a small amount of spice which wasn't overwhelming, and the cheese added a nice bit of saltiness. I would have preferred a flour tortilla, but only because I felt the corn taste was a little strong and stood out.
Green Goddess Steak Salad with Kale: Apart from me over-cooking the steak because I was distracted, this dish was amazing. I loved the sweetness and texture that the pears added to the salad. Using kale as the green made this heartier. Word of caution, there was a lot of red onion in this dish, so it may not be a date night recipe. ?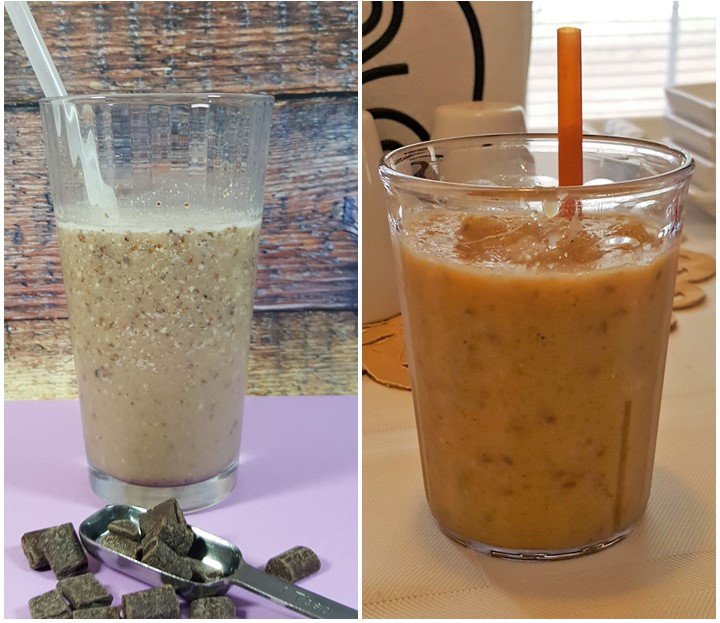 Two Breakfasts, Chocolate-Almond Smoothie and Green Apple-Turmeric Tonic: Each of these drinks was interesting to say the least. I had a hard time with the texture of these, but the chocolate-almond was the easier of the two to down. The green apple-turmeric had an interesting flavor and was more savory than sweet to me.
Week 3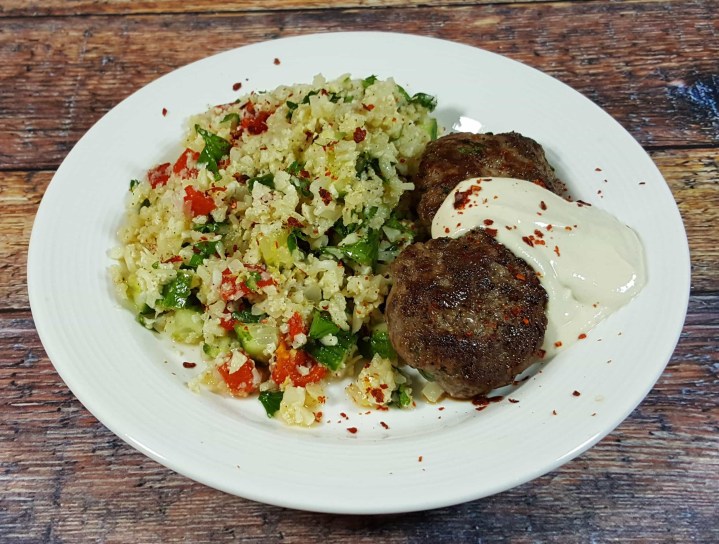 Spiced Lamb Patties with Cauliflower Tabbouleh and Tahini Dressing: I am a fan of Mediterranean food and was excited to get this recipe. Unfortunately, one of my ingredients went bad before I got to make the meal, so the quick veggie pickle is missing. I think that the pickle would have offset some of the bitterness from the tahini, but the individual components balanced well when eaten together in one bite.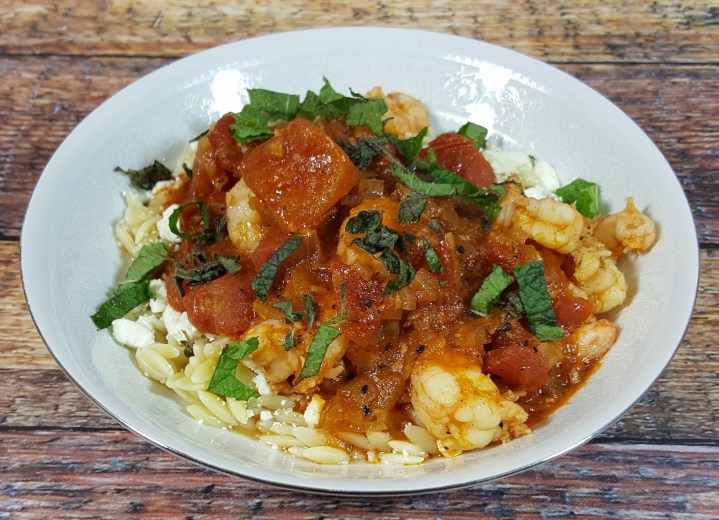 Greek Shrimp with Tomatoes, Feta, and Orzo: More please! I was surprised by how many shrimp were in each portion. I liked that orzo was used instead of a long noodle or rice. The feta and shrimp packed a lot of flavor into the dish, while the tomato added a brightness and tang. All that's missing is a shot of ouzo. Opa!
Salmon-Kale Salad with Avocado and Moroccan-Spiced Almonds: The creamy avocado and flaky salmon paired with the crunch of the toasted almonds = party in my tummy. Even though I am a little tired of kale, the rest of the salad made up for it. Plus, I don't think that spinach or arugula would have been able to stand up to the salmon. There was so much going on from a texture and taste standpoint, that I was sad to get to the bottom of the bowl.
This month's Sun Basket meals contained a world showcase – Mexican, Mediterranean, and American. Even though I select my meals, I never really know if I'll like them until they're completed. I try to stick to meals with familiar ingredients or flavors, but every now and then, I choose something out of my comfort zone. No matter what I choose, I know that the meals will be healthy and easy to prepare.
Sun Basket meals breakdown to $11.49 per person, which is similar to eating out at a casual restaurant. There is also a $5.99 weekly delivery fee. You can choose between the 2-person or 4-person plans (weekly $74.93 and $143.87, respectively). Skip or cancel at any time. Sun Basket has an expanded delivery area. However, they do not deliver to the following states: AK, HI, IA, KS, LA, MN, MO, MT, NE, NM, ND, OK, SD, TX, and WI. They only deliver to parts of AR.
Have you tried Sun Basket yet or any other meal service?

Visit Sun Basket to subscribe or find out more!