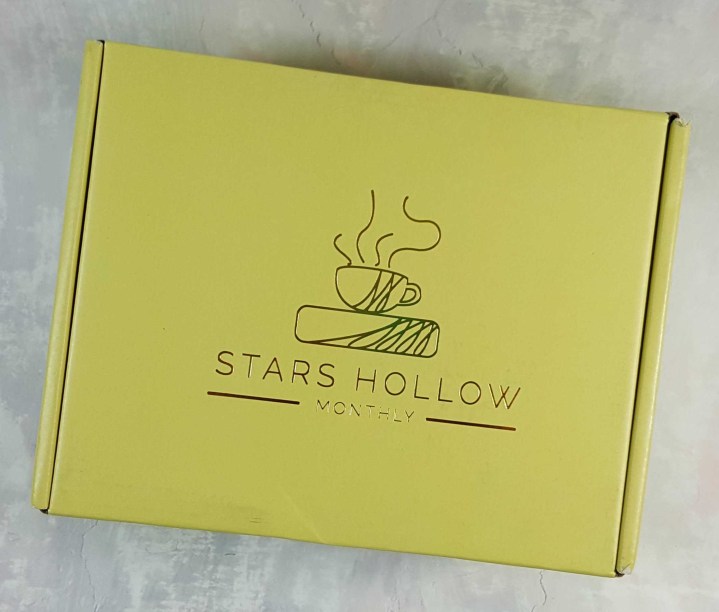 Stars Hollow Monthly will feature 3-5 products which are inspired by the Gilmore Girls and the fictional town of Stars Hollow. (Inspired by, meaning items that relate to, are inspired by, or are artistic renderings of the show and its inhabitants/characters.)  For $34.90, you can expect anything from tee shirts (on occasion), home decor, fashion accessories, bath & body items, and much much more.
The goal for the Stars Hollow Monthly Box is to send subscribers items they will adore as fellow Gilmore enthusiasts, but also items anyone would enjoy – high-quality items that won't gather dust in a drawer somewhere.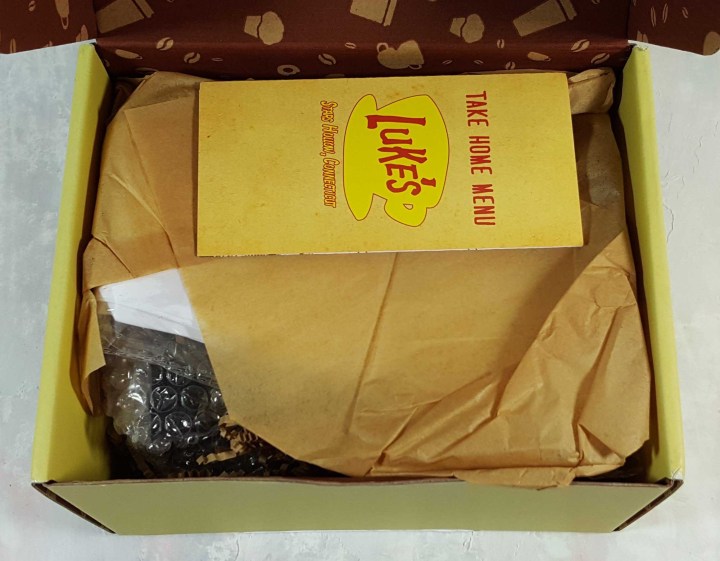 Here's the March Stars Hollow Monthly Box. I have no idea where to start. Everything is awesome!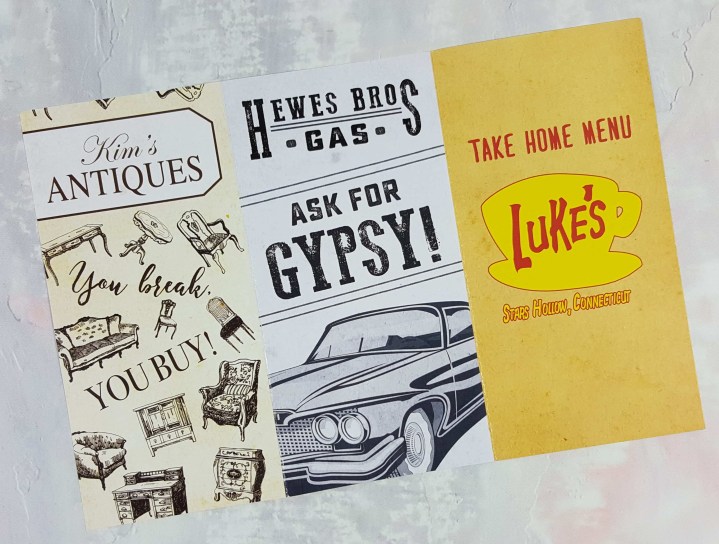 The outside of Luke's menu features ads from around Stars Hollow. This month is still showcasing Kim's Antiques and Hewes Bros. Gas.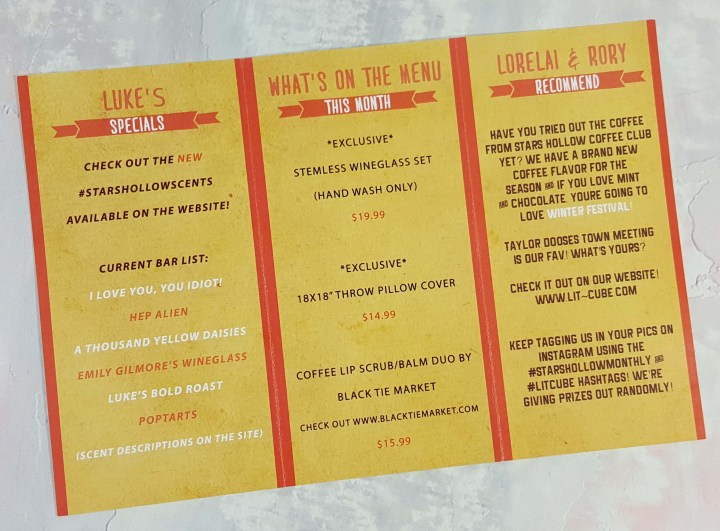 The inside of the menu contains a list of the box contents with pricing, as well as discount codes for some of the items.
*EXCLUSIVE* Stemless Wineglass Set ($19.99): This set of stemless white wine glasses had me doubled over with laughter when I saw them. This is such a great example of the play between Richard and Emily Gilmore. I think I have a boa somewhere that needs to come out. LOL! ?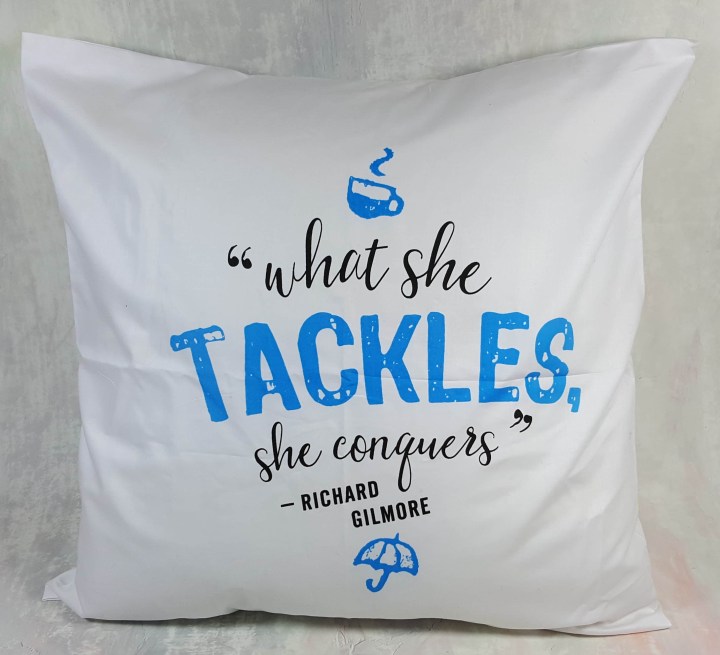 *EXCLUSIVE* 18×18 Throw Pillow Cover ($14.99): This quote from Season 6 perfectly sums up Richard's pride in Rory and her accomplishments. It's such a positive mantra for girls and women as well to remember that you can conquer whatever you're brave enough to go after. Luckily, I had a throw pillow that needed a cover so this could be used immediately.
Coffee Lip Scrub/Balm Duo by Black Tie Market – Vanilla + Arabica ($15.99): Made from a blend of exfoliating fine cane sugar, moisturizing oils, and mango butter, this scrub will leave your lips soft and subtle. The scrub also contains fine ground coffee beans, which help exfoliate for perky lips. The balm is formulated with pure oils, beeswax, and plant butters. It goes on creamy and leaves lips feeling very hydrated. The scent is so yummy – exactly like my favorite latte.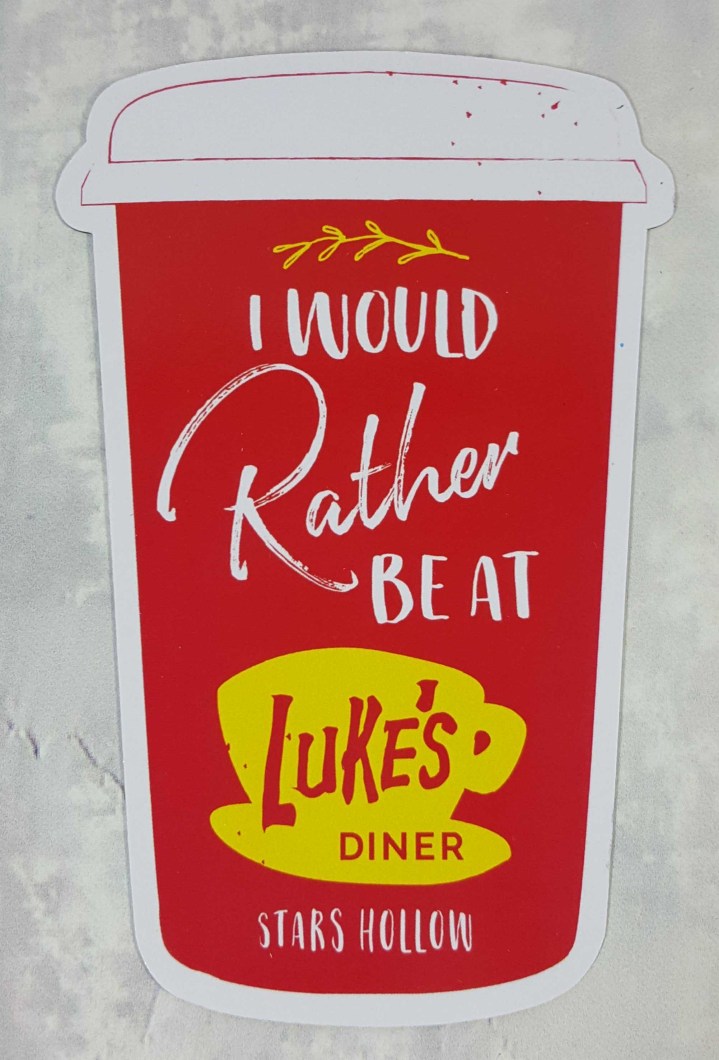 BONUS GIFT – Luke's Diner Magnet: This immediately went on my office fridge because, let's be honest, some days I'd prefer to be at Luke's instead of work.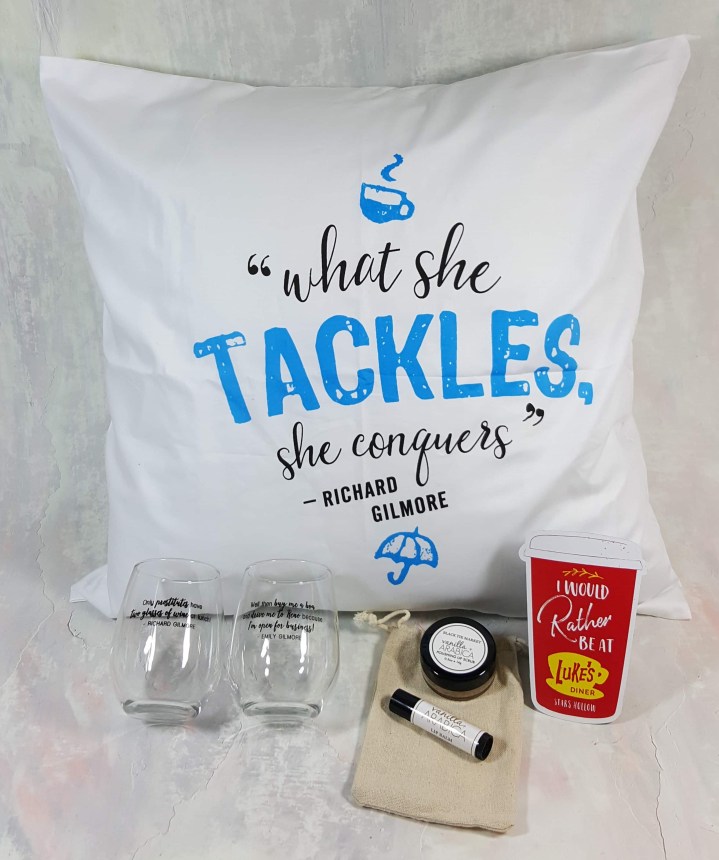 The March Stars Hollow Monthly Box is $51 (not including the magnet). I loved everything that I received this month – the wineglasses made me laugh, the pillowcase made me feel empowered, and the lip products made me feel pretty. It was almost the same as the feels I get when watching an episode of Gilmore Girls. I can't wait to see what April brings.
What was your favorite item this month? Leave a comment below and share your thoughts.