Smartass & Sass Box is the perfect lifestyle box for for women who love to laugh. For only $34.95 per month, you'll get 4-8 hilarious, handpicked and usable items from artists and small businesses.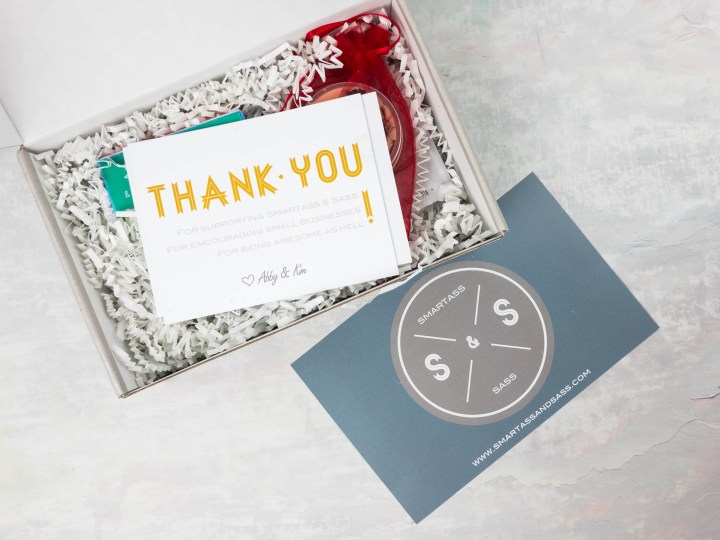 DEAL: Use coupon code MSA10 to save 10% on your subscription.
The theme this month is "Mornings Are Hard." The information card is full of fun and sass. It gives you a list of all the items in the box.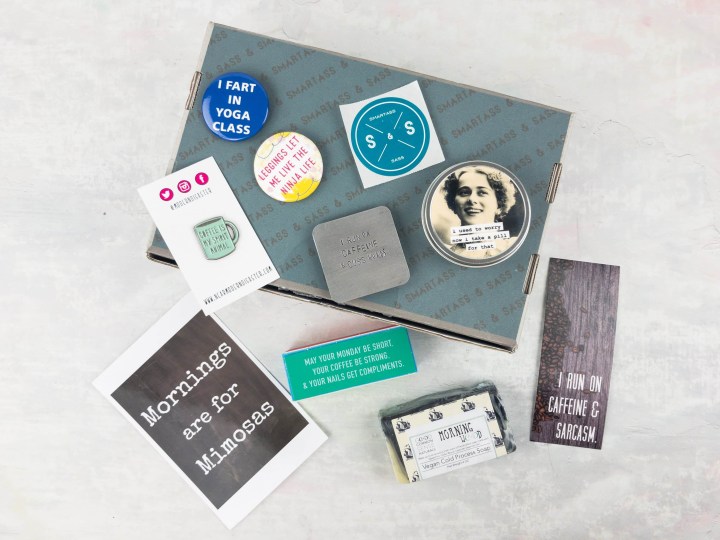 Everything in my Smartass & Sass box!
StarrJoy16 "Mornings Are For Mimosas" Print ($2?) This is a photo print, and while it's cute, I would have liked for it to be a larger frame-able print. The linked print has a value of $6.50, but is significantly larger.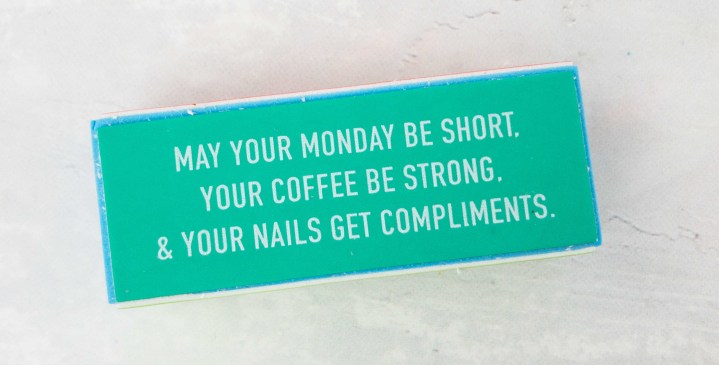 May Your Nails Get Compliments Nail Block ($2?) The info card says that Mondays are always a clusterf*ck but your nails don't have to be. I had wished the info card had also provided the different uses for the sides.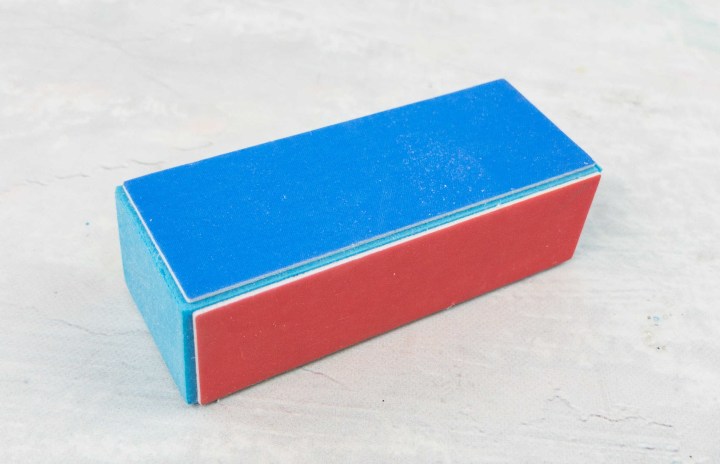 They're usually used to file, remove ridges, smooth, and shine, but there's no indication on the block!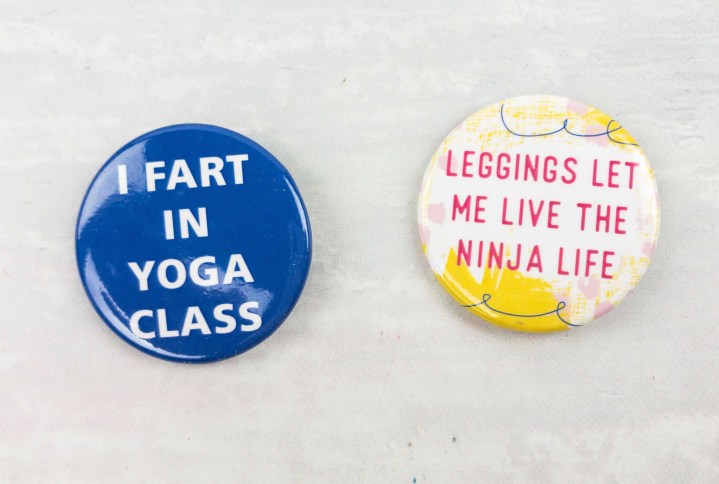 Francine & Georgia "I Fart In Yoga Class" Button Pin
Francine & Georgia "Leggings Let Me Live The Ninja Life" Button Pin
These buttons are a bit larger than normal – 1.75″ wide and have a retail of $1.25 apiece. I think the leggings one is funny, but the farting in yoga class isn't for me. It seems to veer from the funny to just potty humor.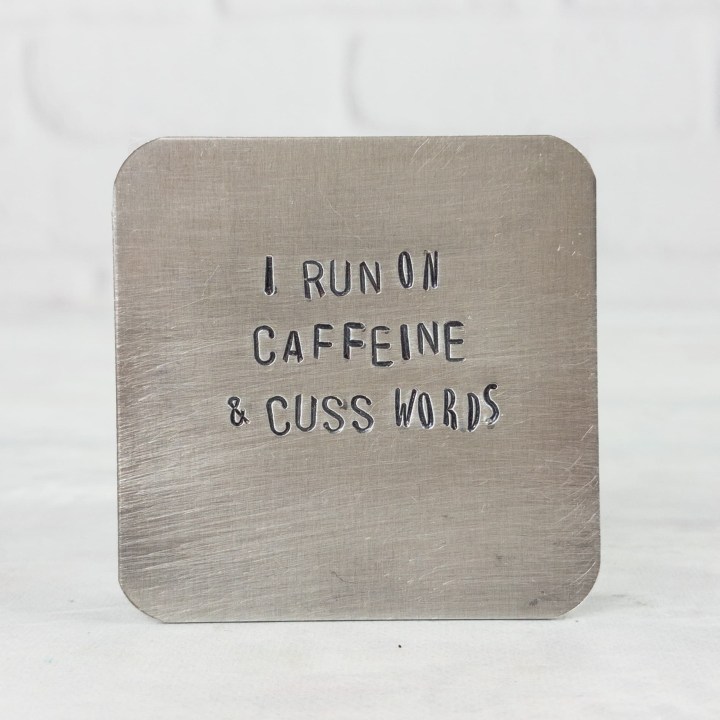 Stampede "I Run On Caffeine & Cuss Words" Magnet ($8) This is easily my favorite item in the box because it's 100% true. Don't think because I don't love potty humor that I don't have a potty mouth, which runs from the banal to the Shakespearean.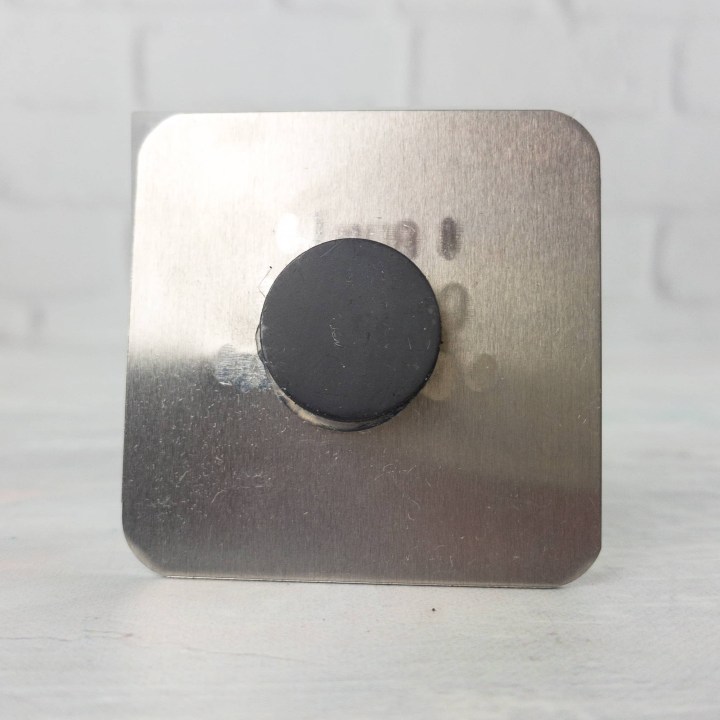 I love a good magnet – right on the fridge in the place where my B is for B—- magnet went before my kids started reading.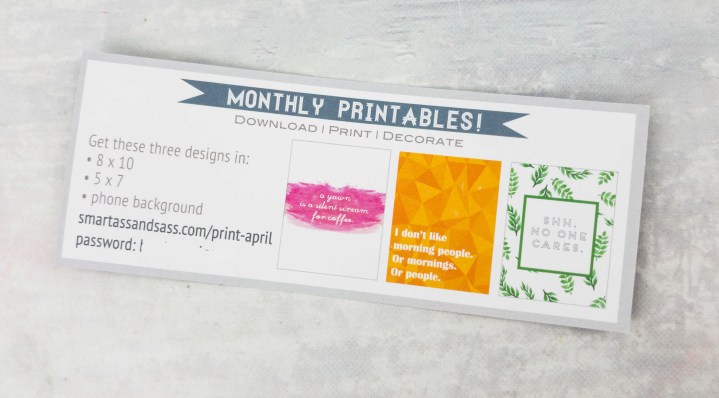 Monthly Printables: Access to 3 monthly printables were included. I make reference to the rightmost one when calculating the value for this box.
"I Run On Caffeine & Sarcasm": This was the other side of the printables card. I found it duplicative of the great magnet, and I don't drink coffee, so its charms were lost on me.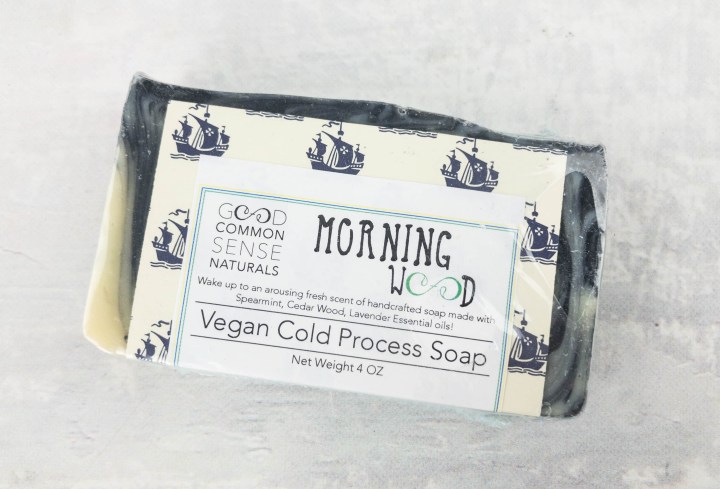 Good Common Sense Skin Morning Wood Cold Process Soap ($7) Well, I guess this is funny, but it's kind of a guy soap. This "Morning Wood" is an arousing spearmint, cedar, and lavender.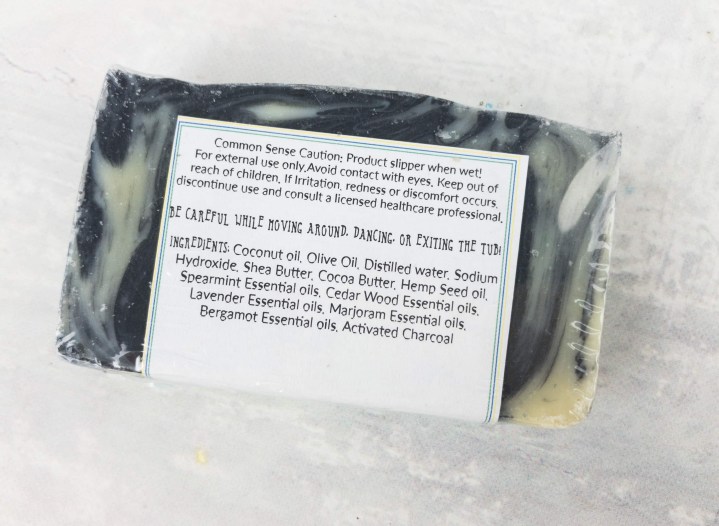 My husband was pumped about this bar, and took it. I didn't mind, because the scent is very masculine.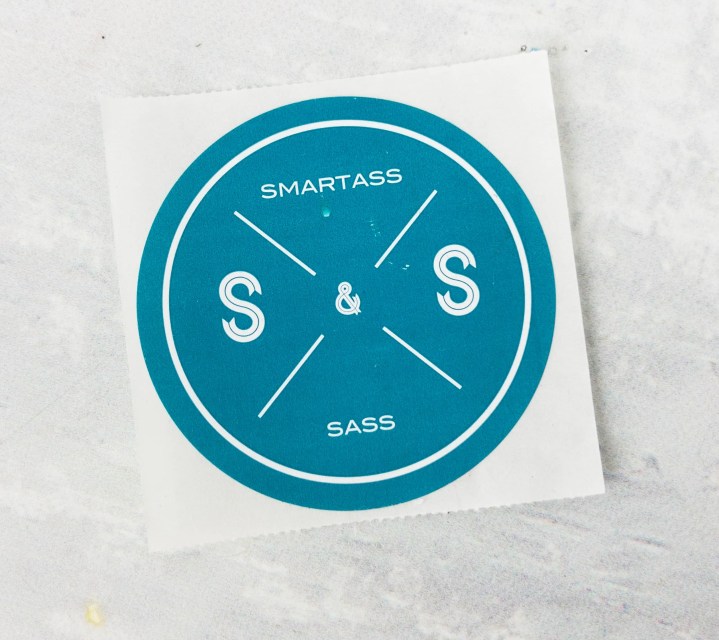 Smartass & Sass Sticker
Near Modern Disaster "Coffee Is My Spirit Animal" Enamel Pin ($10)
This is a cute funny enamel pin and the quality is nice. I'll gift it to a coffee drinker for sure!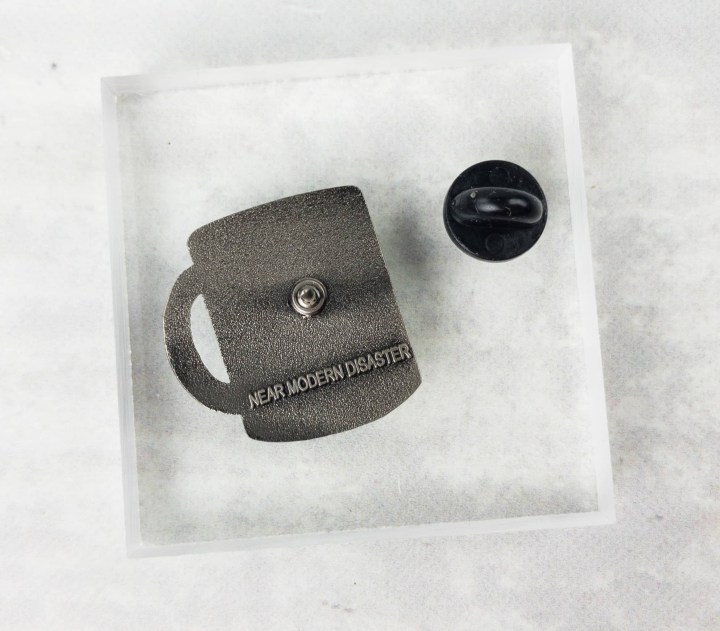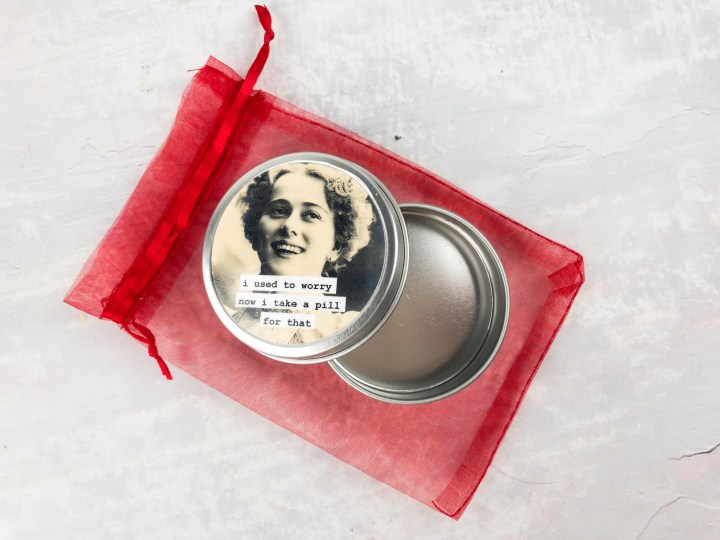 Picard Creative Funny Pill Box ($4.95)  Done in Anne Taintor style, this little tin has a vintage photo with overlaid text. I'm so gifting this to one of my cousins who do take a pill for that (and would find this funny).
I do admit that I signed up for this box knowing that it had some sort of morning/coffee/caffeine theme and I wouldn't like most of it. Frankly, I was just happy there wasn't any actual coffee in the box, although it would have improved the value, and they missed an opportunity to cross-promote with a coffee subscription. I was shocked to find that my estimated value came up to about $36. There didn't seem like a lot of there here, and Smartass & Sass has already emailed out members that they appreciate the feedback and did an entire subscriber survey including the level of profanity subscribers want. I think that's great, but I also wish that this box had a big item to swoon over – at the very least I'm loving that magnet!
One thing of note is that this subscription promises to purchase items at fair prices from artists, so you may want to take that into consideration when determining whether this is the right box for you!