Sci Chic Kids is a monthly subscription box full of fun STEM inspired fashion and educational materials for kids. Explore the fashionable side of science with cool chic science and engineering inspired clothing, jewelry and accessories. Kids will receive exclusive 3D printed plastic science-inspired jewelry not available anywhere else, chic and fashionable clothing, and accessories all with a science inspiration. Plus, learn about the science (and scientists!) that inspired that month's fashions with educational materials. This box is suggested for ages 7-14 years old and costs $19.99/month.
(There's also a box for grown-ups – how fun! Learn more about Sci Chic Monthly.)
Here's the April information card. So fun how it visually highlights the theme (Mechanical & Aerospace Engineering) while listing the items!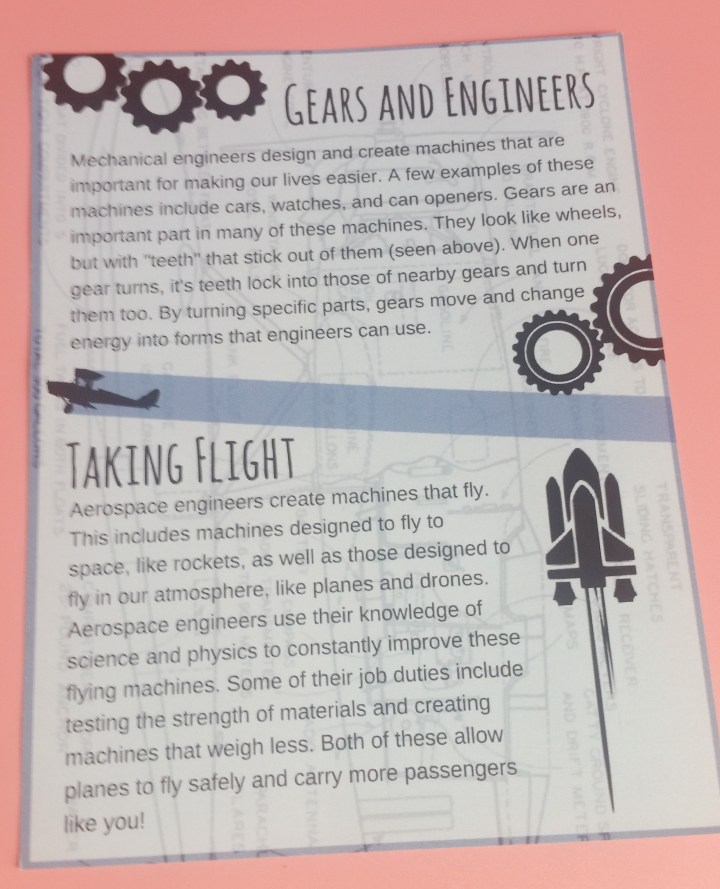 The back of the information card provides more information (at a kid-appropriate level) about the science that inspired the theme. I love this type of information and that every month will focus on a different STEM topic. I reviewed this box with the help of my science-loving 12-year old daughter. She's starting to think about careers and, even though I studied engineering myself, I don't know about all the various STEM fields. Learning about these different careers in such a fun way may spark my daughter's interest in a career to pursue!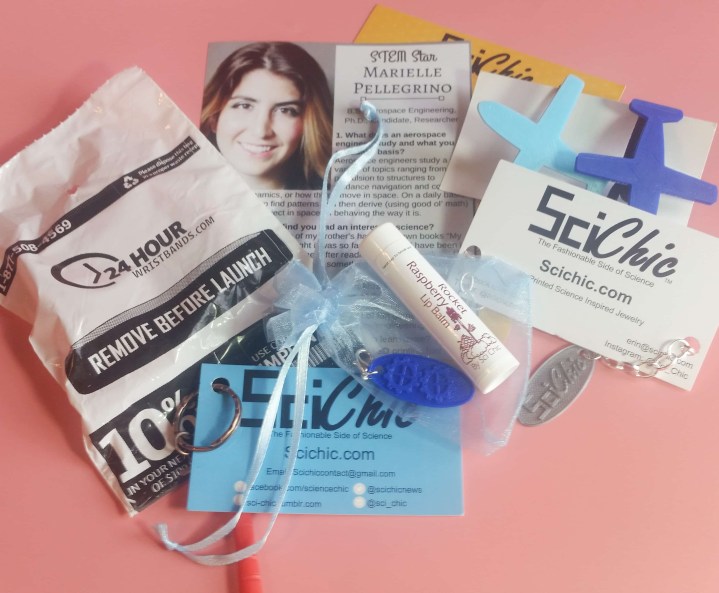 Here's a quick peek of all of the fun items in this month's box. Let's take a closer look.
First up, the Saturn V Plastic Keychain. My daughter, like many of her friends, is super obsessed with keychains. This one is fun because it's unique! Also, it was made via 3D printing. The information card provides a link to the Sci Chic website to see this item (and others) being printed…how cool is that?!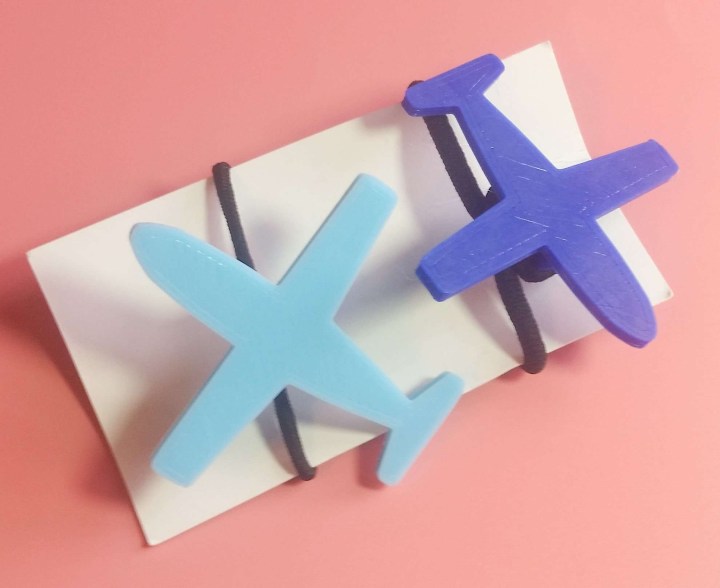 Next up, a set of 3D printed Soaring Ponytail Holders. Again, this is a perfect item for the suggested age range. Cute and silly ponytail holders are always a welcome item in our house.
If there is anything my daughter loves more than keychains, it's Lip Balm…so this Rocket Raspberry Lip Balm was also a hit. (Seriously, I think this box was tailor made for my daughter. It was eerie how it included all her faves, plus science.)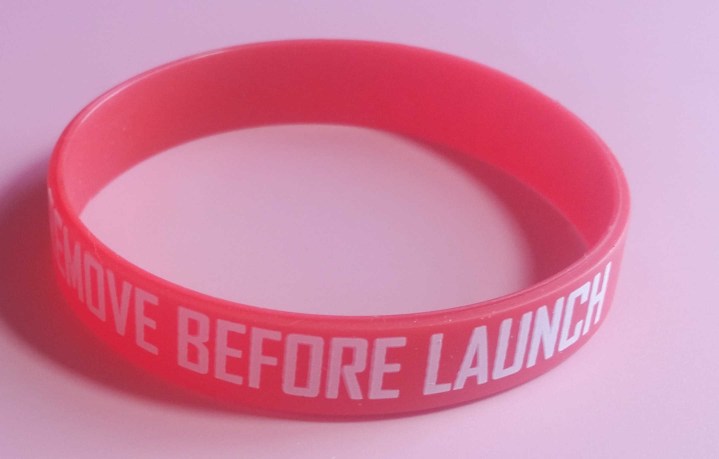 The Remove Before Launch wristband is fun too.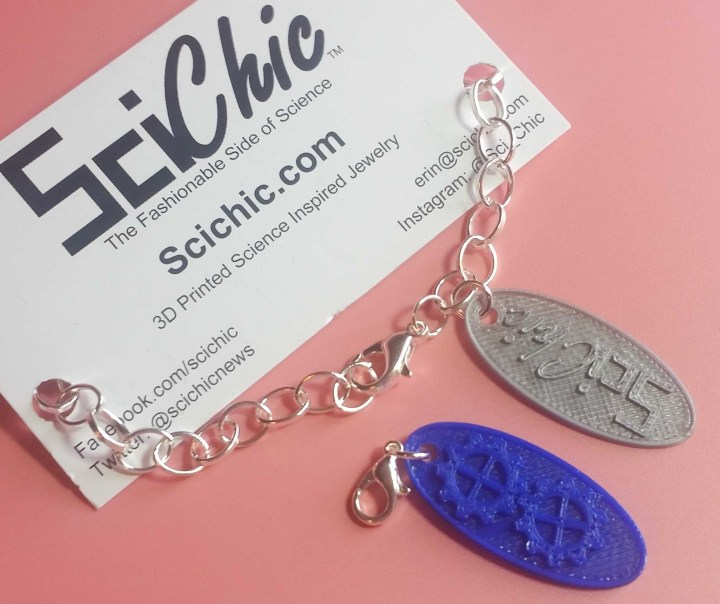 Here is an adorable Charm Bracelet, with the Sci Chic Charm and the Charm of the Month for mechanical engineering. How fun will this be when it's full of all sorts of STEM-related charms? So cute!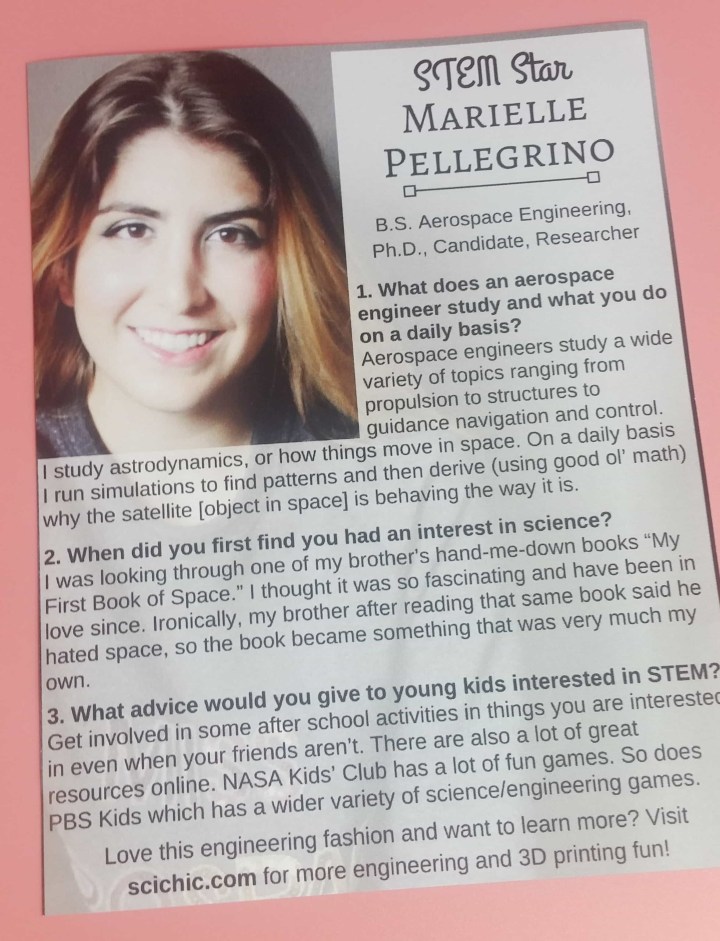 As a mom, I love love love this box. The items are things that my daughter really likes and she gets exposed to a bunch of different STEM fields. In fact, this last item may be my personal favorite – the STEM Star Interview. What a great way to introduce kids to STEM careers than to have them "meet" a real, and cool, scientist in a fun way.
My daughter also like this box. All of the items were "super cute" and were just the type of things she really liked, plus the science wasn't "in her face." (Not that "in your face" science is a bad thing, but I think the fact that this science was more subtly integrated into the box made it a little more fun.) I would recommend this box for kids who are interested in science…or maybe even kids who aren't sure if they're interested in science just yet!